Going away on a trip? Don't leave without these 25 game-changing travel essentials for women!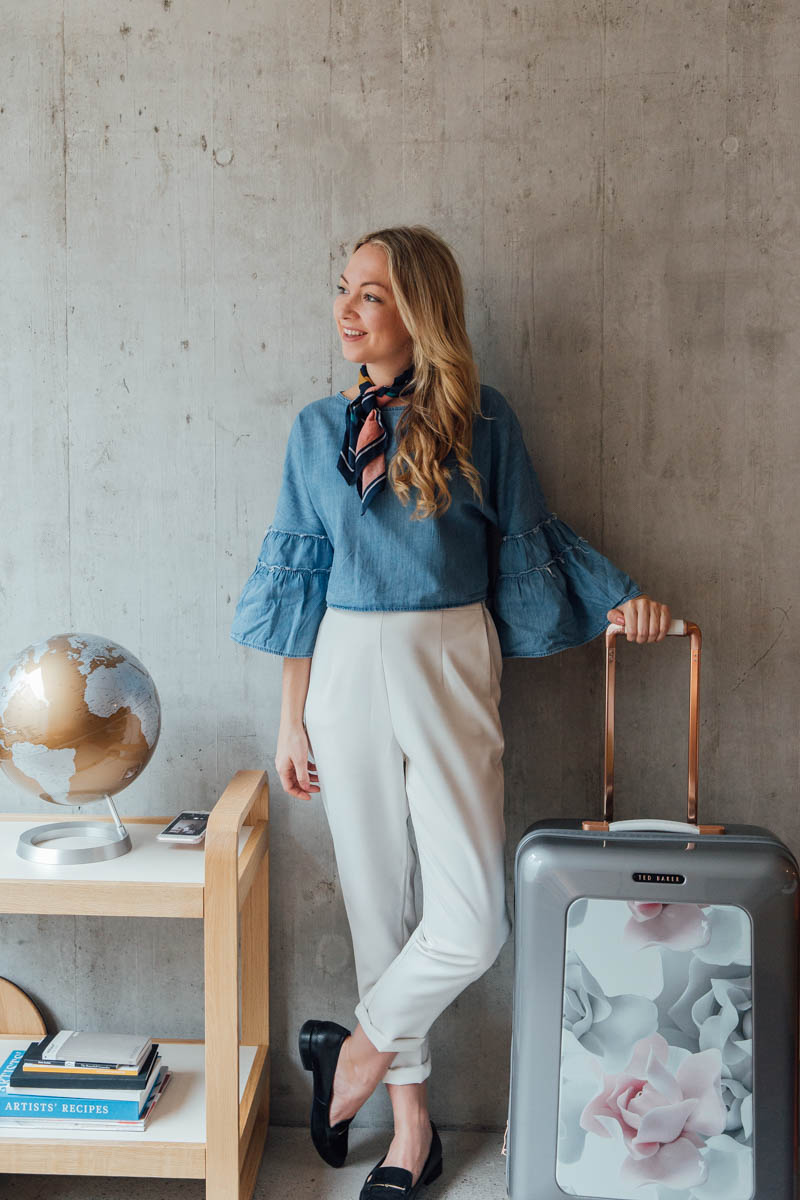 Disclaimer: This post contains affiliate links. If you kindly choose to purchase a product from one of the links, I may earn a small commission from the brand at no cost to you.
After spending the past 10 years travelling to over 60 countries, I have had some time to figure out which travel essentials are actually worth investing in. I genuinely believe every item on this list is going to help enhance your travels!
Organizational Travel Essentials for Women
1. Packing Cubes
Packing cubes are an indispensable travel essential for any women on the go. These clever organizers keep your clothes neat, tidy, and easily accessible, and make packing and unpacking a breeze. They also maximize space in your suitcase so you can fit more travel essentials!
2. Hardshell Suitcase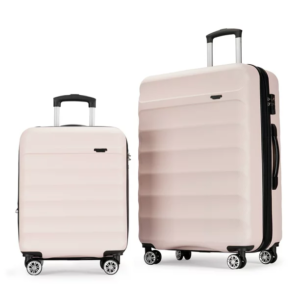 A reliable hardshell suitcase is another travel essential every women needs in her life! This 2-piece luggage set is the perfect combination of aesthetic, durable and great value for money. It's rugged exterior and built-in lock ensures that your belongings will keep safe during transit.
3. Luggage Weight Scale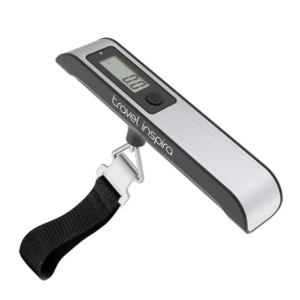 A luggage weight scale is such a handy tool to travel with to avoid costly overweight baggage fees. Simply attach it to your luggage, lift, and you'll instantly know if the weight of your bag is within the airline's limits.
4. Travel Backpack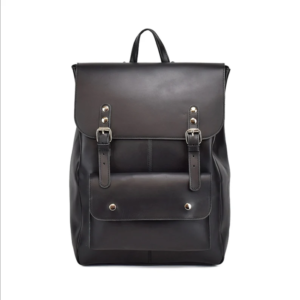 A reliable travel backpack with ample storage and comfortable straps is essential for carrying all your belongings. This 100% full-grain leather backpack is a great size for travelling. It features multiple pockets and compartments and can fit a 15" laptop.
5. Personalized Passport Holder
A passport holder is essential for keeping your documents safe and easy to find while you are travelling. This leather passport holder and bag tag set comes in four aesthetic colours and can be personalized with a gold or silver monogram.
6. Foldable Toiletries Bag
Another handy travel essential for women is a foldable toiletries bag. This is such a great space-saving and organized solution for storing your toiletries. When not in use, it conveniently folds flat, making it easy to pack and carry along on any adventure.
7. Portable Steamer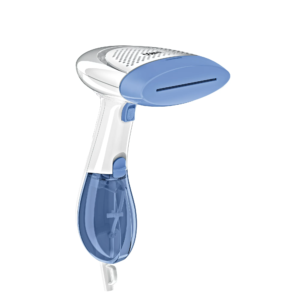 There is nothing worst than opening a suitcase full of wrinkled clothes and not having access to an iron. A portable steamer is a must-have travel essential if you want to keep your clothes wrinkle-free and presentable on the go.
8. Jewellery Organizer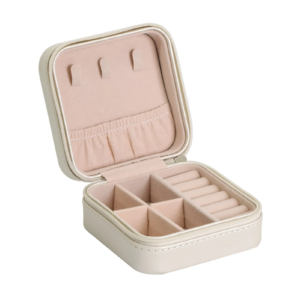 A jewellery organizer is a great way to keep your precious pieces organized and tangle-free. This compact organizer has compartments for earrings, necklaces, bracelets, and rings, ensuring they will stay safe and easily accessible throughout your journey.
READ NEXT: Minimalist Packing List for Females
Electronic Travel Essentials for Women
9. Universal Power Adapater

A universal power adapter is an absolute lifesaver for travelling. Rather than wasting money and space on multiple plugs, this adapter can handle all plug types and voltages. It also has USB sockets, making it easy to charge all your devices at once.
10. Wireless Power Bank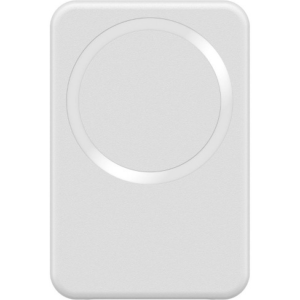 Running out of battery on your phone is one of the worst-case scenarios when traveling. A wireless power bank is an absolute lifesaver in these situations. The power bank magnetizes to the back of your phone, meaning you can charge up your device on-the-go without any annoying cords getting in the way.
11. Laptop Lock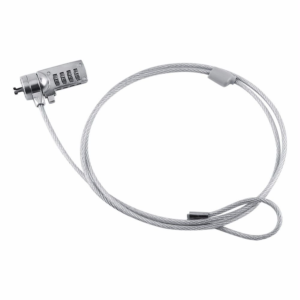 A laptop lock is a really handy tool to carry around when travelling. The lock attaches your laptop to a fixed object, ensuring your laptop doesn't get stolen when you're using it in public. It may seem like overkill, but it is always better to be over precautions with your belongings when travelling.
12. Tracking Device
A Bluetooth tracking device for your suitcase is the travel essential you didn't know you needed. By pairing the device with your smartphone, you can easily locate your suitcase if it goes missing. This eliminates all the stress of lost luggage!
13. Kindle
If you are a woman who loves to read, a Kindle is an essential travel companion! With its lightweight design and a vast library of e-books, you won't have to lug around heavy books or ever run out of reading material while travelling!
Airplane Travel Essentials for Women
14. Airplane Footrest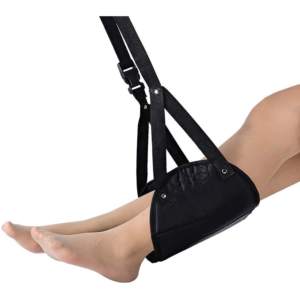 An airplane footrest is one of the best things travel accessories you can invest in to make long flights more comfortable. This portable footrest hooks around the back of the airplane seat, allowing you to elevate your feet and legs. This promotes better circulation and reduces fatigue.
15. Weighted Eyemask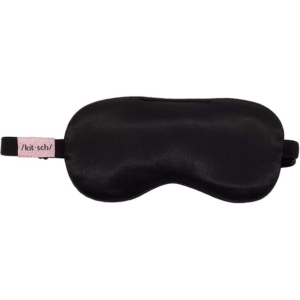 A weighted eye mask is one of the best investments you can make for getting a more restful sleep while travelling. The gentle pressure of this lavender-scented weighted eye mask promotes relaxation and effectively blocks out light, enabling you to get quality sleep even in unfamiliar environments.
16. Neck Pillow
A neck pillow is an absolute travel essential if you are embarking on a long journey. This contoured pillow provides excellent support to your neck and head, ensuring you can rest comfortably during flights or long drives.
17. Reusable Earplugs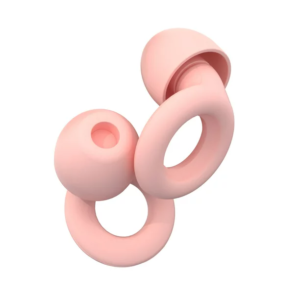 If you are sick of buying disposable earplugs that instantly fall out of your ears, it may be time to invest in a better solution. These earplugs are reusable, made from soft silicone, and offer a noise reduction rating (SNR) of 27 decibels. They are the perfect travel companion for blocking out noise!
18. Refillable Drink Bottle
A refillable drink bottle is a must for travelling. The Stanley Tumbler has quickly become the bottle of choice for women on the go. It holds 40oz and features an insulated design, meaning you can keep your beverages hot or cold for hours as you travel.
19. Noise-cancelling Headphones
Bose noise-canceling headphones are a game-changer for plane journeys. These headphones are incredible at block out unwanted external sounds, including the white noise from the plane. This means you can enjoy your music, podcasts, or simply find peace and quiet amidst the chaos of travel!
20. Airline Headphone Adapter

If you are going to invest in noise-cancelling headphones, make sure you also invest in an airline headphone adapter. This nifty travel accessory allows you to easily connect your personal headphones to the airplane's in-flight entertainment system.
READ NEXT: What to wear travelling: The best outfits for the airport + long-haul flights
Toiletries Travel Essentials for Women
21. Travel-sized Perfume Bottles
Forgot lugging around full-sized bottles of perfume with you while you travel. Instead, invest in some travel-sized perfume bottles. These refillable perfume atomizers are the perfect solution for travelling with your favourite fragrances, oils and aftershaves.
22. Travel Bottle Set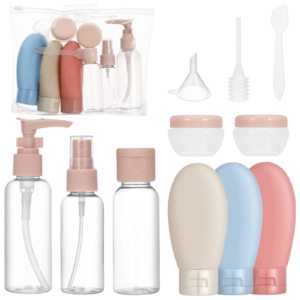 A travel bottle set is the best way to bring your favourite toiletries on the go. With leak-proof and TSA-approved bottles, this set allows you to carry your lotions, shampoos, and other liquids hassle-free.
23. Clear Cosmetics Bag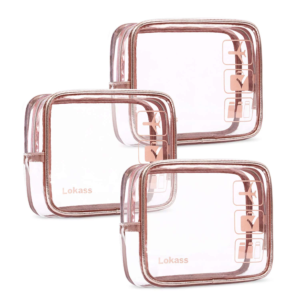 Clear cosmetic bags are the most practical way of packing cosmetics in your carry-on luggage. With a transparent design, these bags allow you to easily see and access your makeup and toiletries, while also complying with airport security regulations.
24. Reusable Makeup Wipes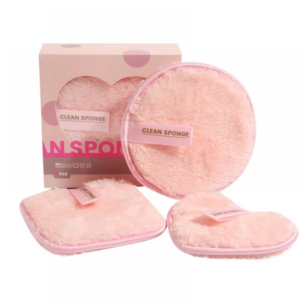 Reusable makeup wipes are a sustainable and eco-friendly alternative to disposable wipes when travelling. Featuring a soft and gentle fabric, these wipes effectively remove makeup while being light, washable and reusable.
25. Tide-to-Go Pens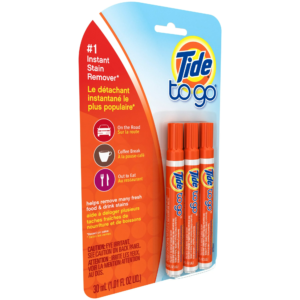 Tide-to-Go pens are a lifesaving travel essential for when you need to deal with unexpected stains. Compact and easy to carry, these handy stain-removing pens provide a quick and effective solution to tackle clothing stains. This is particularly handy if you don't have access to a laundry!
Need more help packing for a trip? Read these articles next:
Found this article useful? Pin it!