If you're planning a European babymoon, get inspired with 27 of the best babymoon destinations in Mediterranean Europe for 2023!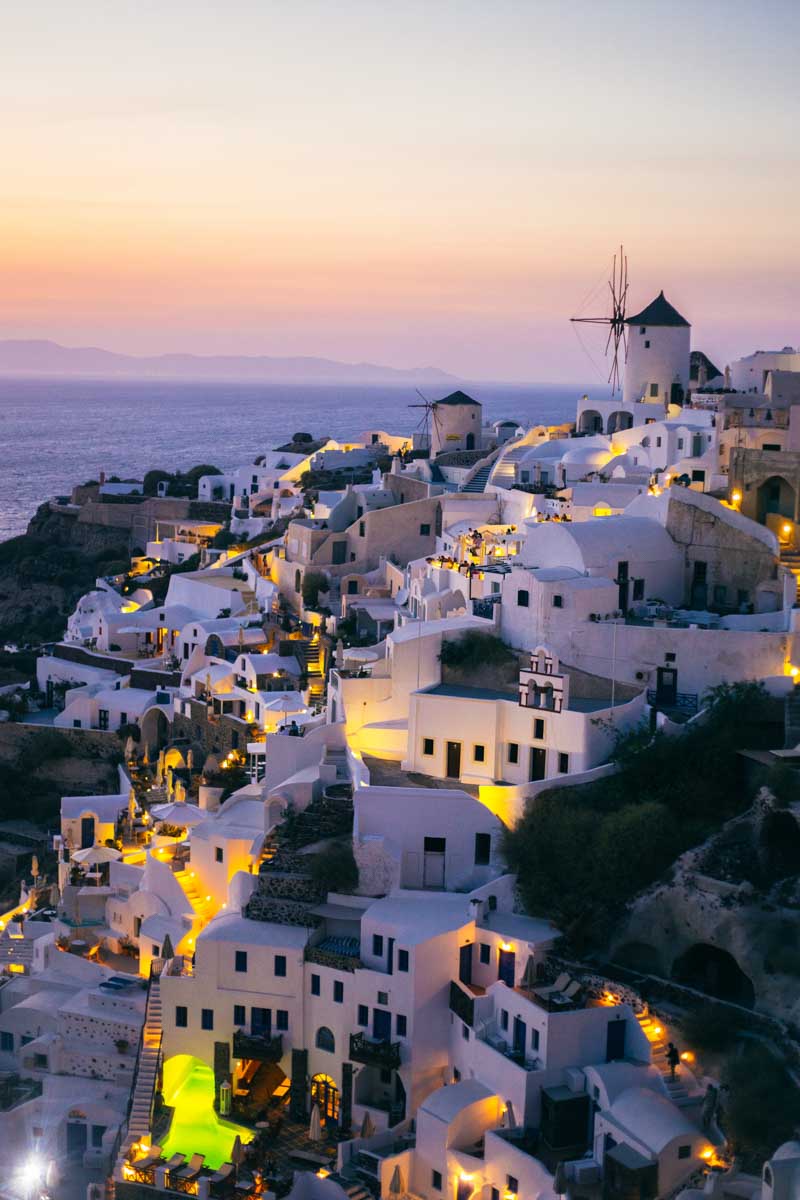 Disclosure: This post contains affiliate links, which means I make a small commission at no extra cost to you if you kindly choose to book via my links!
If anyone deserves a relaxing getaway, it is expectant moms. Cue the 'babymoon'. It is the perfect excuse to celebrate your pregnancy and give you and your partner a final holiday before the baby arrives.
When planning a babymoon in Europe, you want to ensure your trip is as relaxed and comfortable as possible The first step is picking the right destination to visit! Mediterranean countries make a fabulous choice for a babymoon for the following reasons:
Warm climate
Easy accessibility
Delicious food
Sightseeing options
Pampering opportunities
Luxurious accommodation
Whether it is lounging on a Greek island for a week or take advantage of a last-minute cruise to Italy… The Mediterranean babymoon options are endless!
To give you some inspiration for your upcoming trip, I've asked 27 travel bloggers to share their favourite European babymoon destinations within the Mediterranean.
What is a babymoon?
A babymoon is a relaxing trip for moms and their partners. The holiday is designed to celebrate the new family member and give couples a final vacation before their lives change forever. While the focus of a honeymoon is on romance, the focus of a babymoon tends to be more on relaxation.
READ NEXT: 6 Best Spots for a Babymoon in Hawaii
Best Babymoon Destinations in Greece
1. Corfu, Greece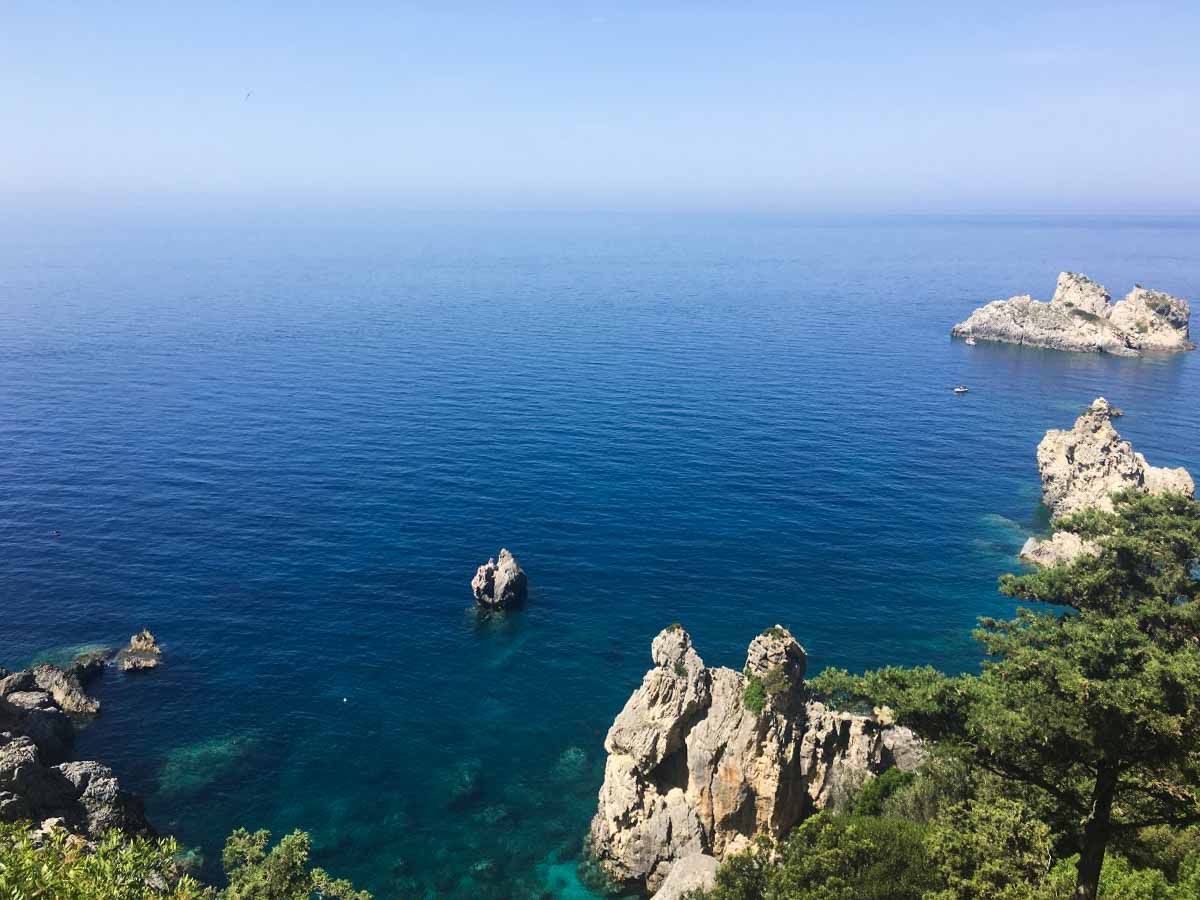 By Lowri from Many Other Roads
For an unforgettable European babymoon, head to the Greek Island of Corfu. This is the perfect destination to come to relax and soak in the sun before the baby arrives!
Known for its white sand beaches and turquoise waters, Corfu is absolutely full of natural beauty. Soak in the views as you go for a leisurely stroll along the beach. Or, dine alfresco at one of the many friendly beachside restaurants on the island.
To make the most of everything Corfu has to offer, it is highly recommended that you rent a car. Although the island does have public transport, it will be a lot easier to get around with a car (not to mention, be a lot more comfortable!).
Where to stay for a Babymoon on Corfu: Stay at the Siora Vittoria Boutique Hotel, a stunning 19th-century restored mansion that has been converted into a hotel. The 9-room hotel is the perfect blend of comfort, romance and privacy- exactly what you want for a European babymoon!
2. Naxos, Greece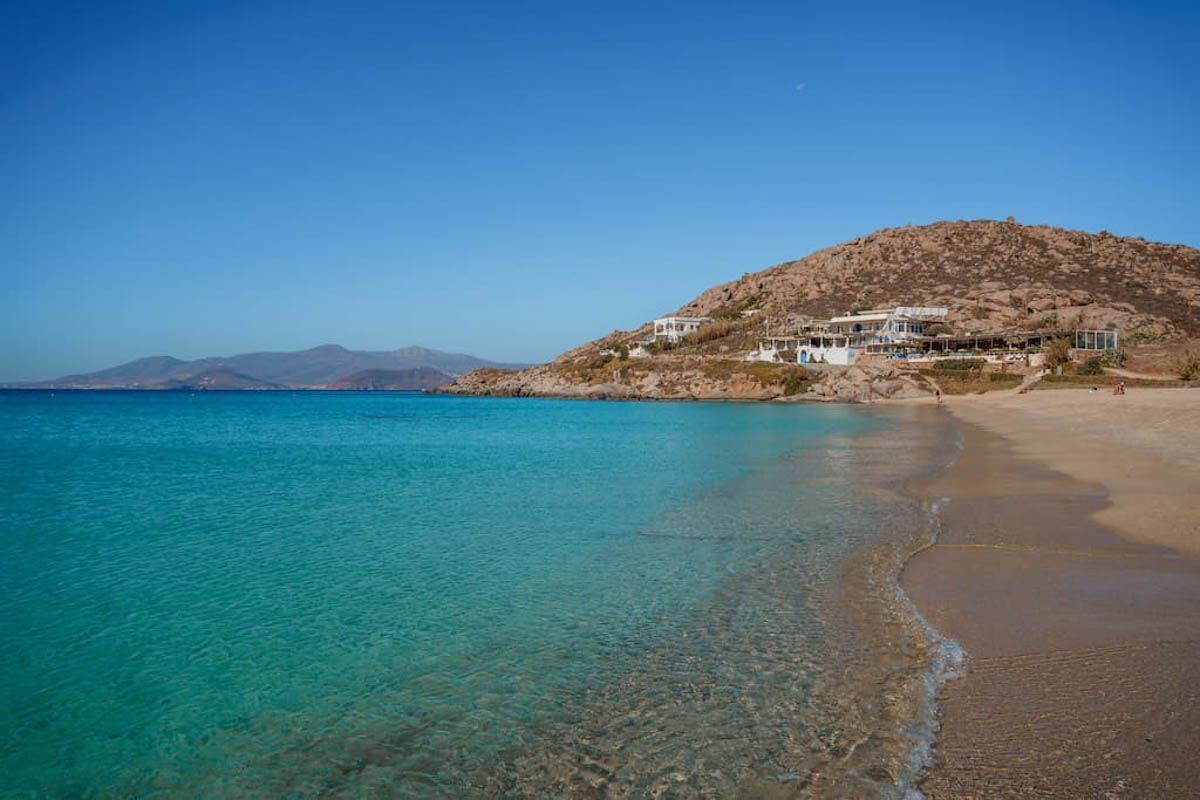 By Mal from RawMalRoams
Naxos may be one of the lesser-known Cycladic Islands. However, with equal charm and natural beauty to its more famous sister islands such as Santorini and Mykonos, Naxos boasts a relaxed vibe, picturesque beaches and quaint towns, making it the perfect babymoon getaway!
The island of Naxos has some incredible beaches that are perfect for relaxing on. Make sure you visit Plaka, Agios Prokopios and Aliko beaches. You can either rent a car or get to the beaches by bus.
Naxos is home to a charming old town, featuring quaint cafes, souvenir shops and excellent fresh seafood restaurants in its marina. Don't skip a visit to Portara (Temple of Apollo), which is the most iconic landmark in Naxos. This massive marble doorway is perched on a hill with a scenic outlook over the city and sea.
Where to stay for a Babymoon in Naxos: If you're looking for where to stay in Naxos, consider Sea Nymphs Suites. These stunning suites are located in Agia Anna, which is a small and charming town with a beautiful beach nearby.
3. Santorini, Greece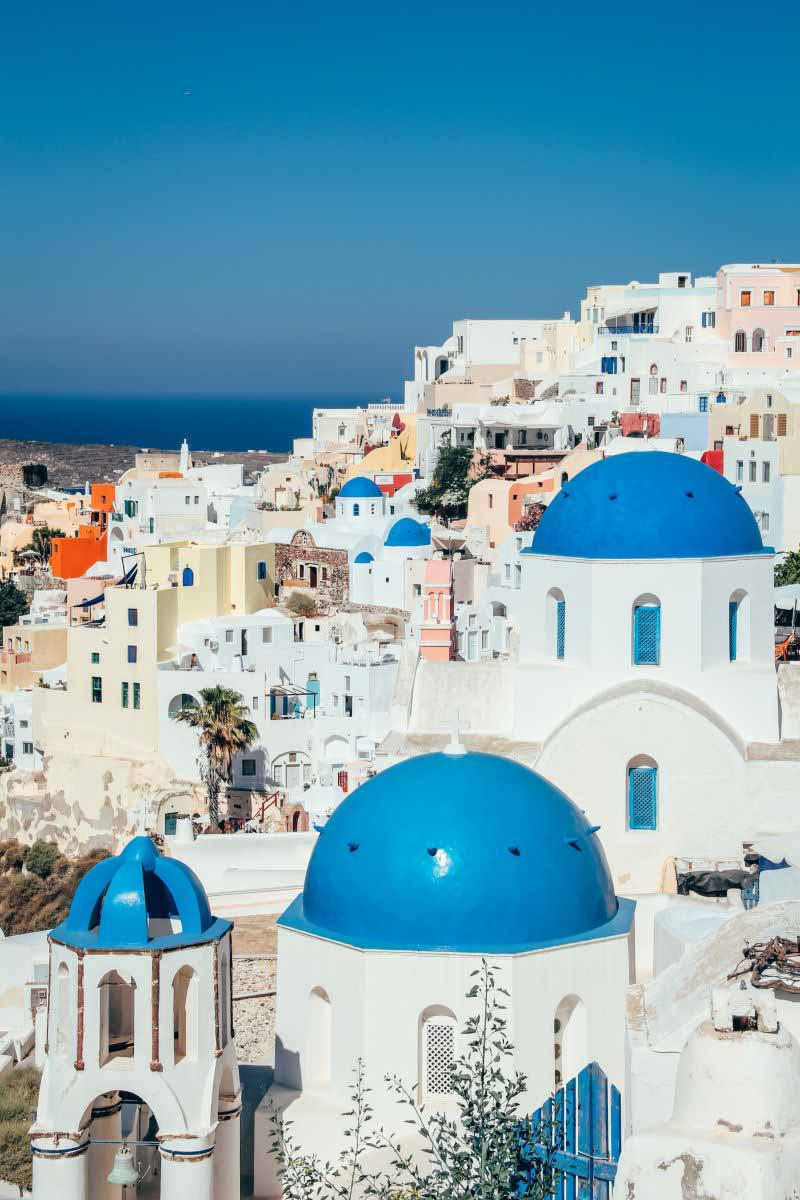 By Chelsea from Adventures of Chels
If you want a truly picturesque place to enjoy your babymoon in Greece, look no further than Santorini. It is the ultimate place to soak in incredible views of gorgeous sunsets, quintessential architecture and the bluest of blue ocean water.
For a relaxed itinerary in Santorini, spend the day lounging at Perissa or Perivolos beaches. Then, head to Oia Castle to take in a famous Santorini sunset. This castle offers perfect views of Santorini's classic white buildings and the soft sunlight reflecting off of them.
If you're after a more active babymoon, take the famous 10.46km (6.5 mile) hike between Oia and Thera. Be warned, the hike is quite challenging and features numerous hills. However, if you are up for it, the views are beautiful.
Where to stay for a Babymoon in Santorini: Consider staying at the Dreams Luxury Suites in Oia for the ultimate Santorini accommodation experience. Each suite features its own terrace with either a swimming pool or jacuzzi overlooking Oia and the Aegean Sea.
4. Athens, Greece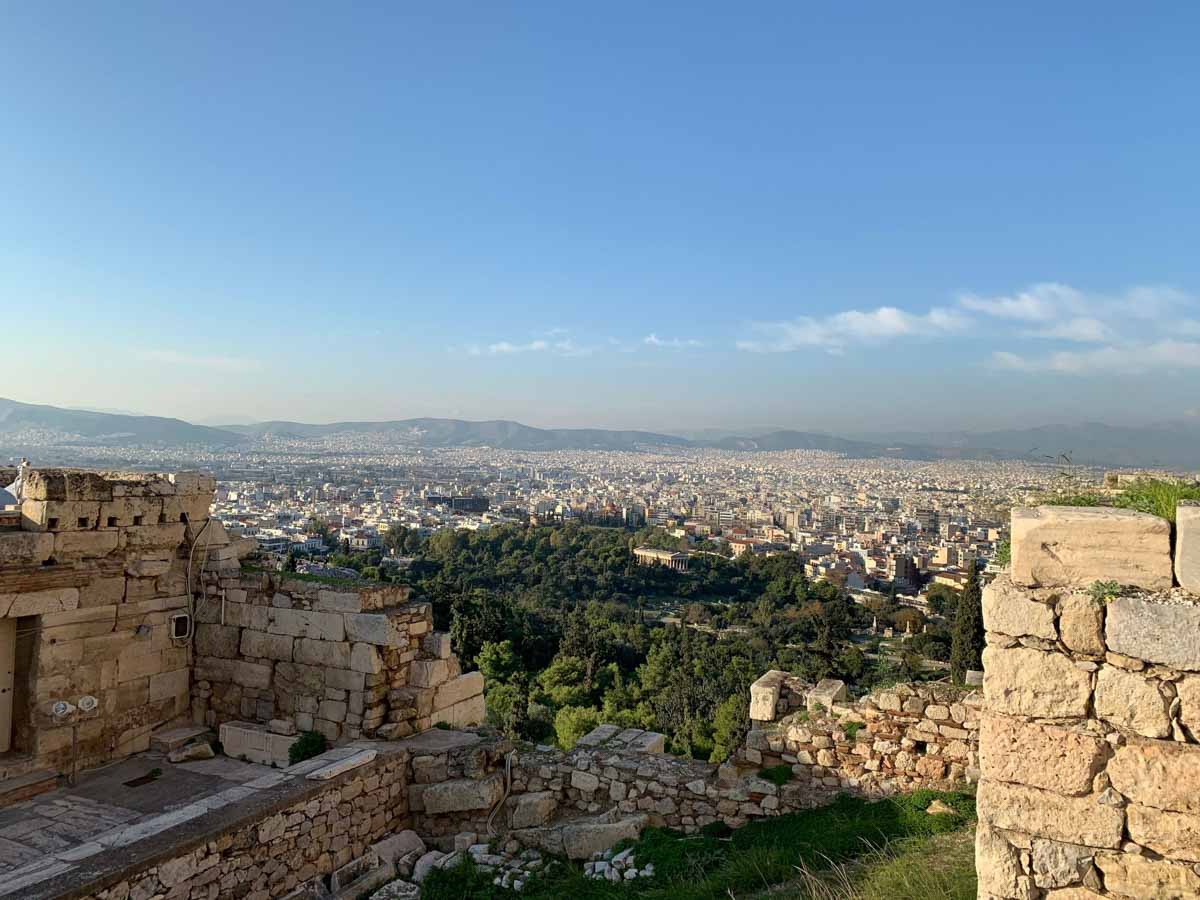 Greece's famous capital city, Athens, is another great choice for a Greek babymoon. The city is served by direct flights from all over the globe. This means you can easily access it without any stopovers, which is ideal for anyone who is pregnant.
With a history dating back over 3,400 years, Athens is the ideal babymoon destination for history buffs. Many ancient ruins still remain in the city, including the crowning jewel of The Acropolis. It's home to some of the most famous ancient buildings in the entire world, including the Parthenon and the Agora.
Aside from delving into history, there are also plenty of relaxing things to do in Athens. You'll find many quiet, peaceful places to relax throughout the city, including beautiful gardens and parks. There is also no shortage of incredible food on offer. Make sure you try Greek classics like souvlaki, gyros and moussaka.
Where to stay for a Babymoon in Athens: Located in the heart of the city you'll find the newly-renovated 5-star Wyndham Grand Athens. The elegant property features jaw-dropping, panaromic views over the Acropolis. You can soak up the views from the rooftop pool, bar and restaurant, which is perfect for the days on your Babymoon that you want to spend relaxing.
Best Babymoon Destinations in Spain
5. Marbella, Spain
By Cristina from My Little World of Travelling
Marbella is a fantastic destination for a babymoon. Located on the beautiful Costa del Sol in the south of Spain, Marbella enjoys a sunny and warm climate. This makes it a perfect holiday year-round.
Marbella has got an enchanting old town, golden sand beaches, incredible food scene and wide selection of romantic hotels and villas. You can also take day trips to beautiful and unique whitewashed towns, like Ronda and Setenil de las Bodegas.
Some of the best things to do in Marbella for couples include exploring Marbella's Old Town and hitting tranquil beaches like Cabopino. For something really special, you can go on a catamaran cruise at sunset or have dinner at a Michelin-star restaurant like El Lago or Skina.
Where to stay for a Babymoon in Marbella: One of the best places to stay in Marbella for couples is the 5-star Nobu Hotel Marbella. The hotel is located right next to the beach and has incredible facilities, including a dreamy pool, gym, spa and incredible Japanese-inspired dining.
6. Valencia, Spain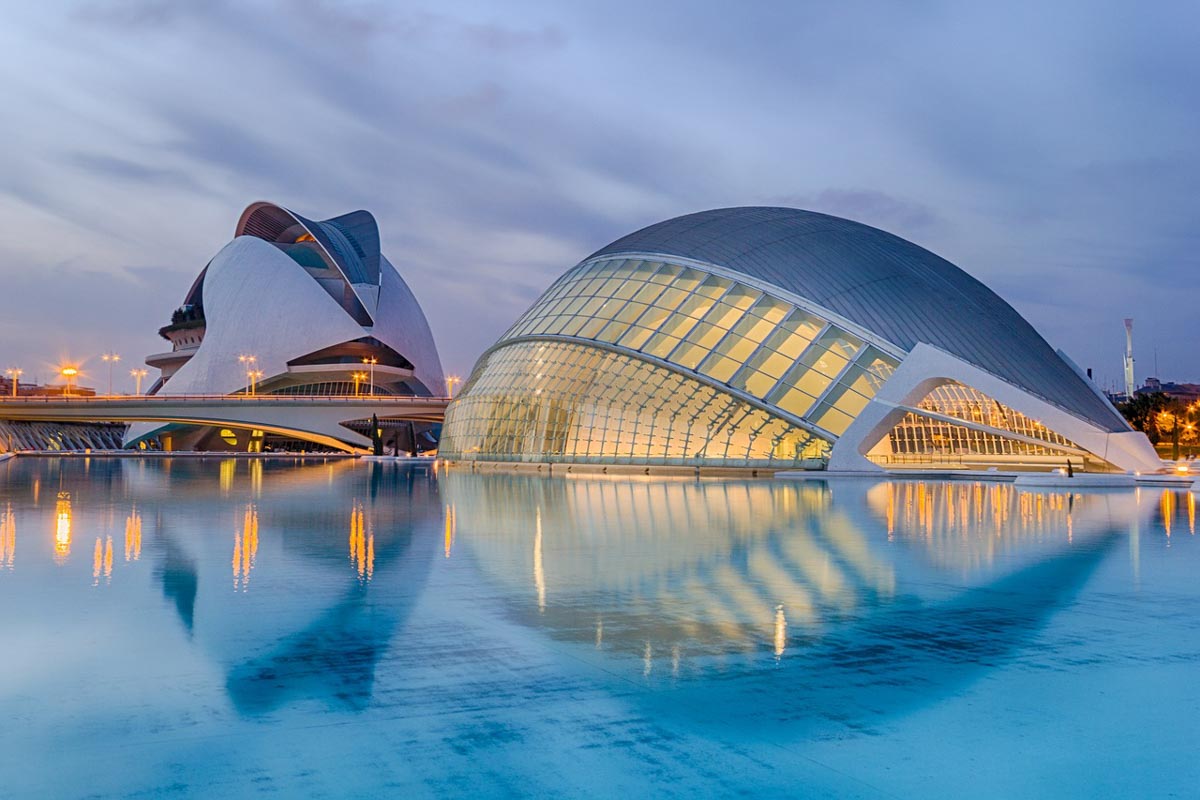 By Valencia Revealed
Valencia has a lot to offer babymooning couples looking for a relaxing and romantic trip before the baby arrives. Whether you want to spend your babymoon taking in the ambience of this diverse city or just relaxing on gorgeous sand beaches, there's something for everyone.
The Gothic cathedral of Valencia, the Plaza de la Virgen, the City Hall, and the UNESCO listed Silk Exchange are just a few examples of the city's rich artistic heritage. Around them you will find many restaurants and cafés, ideal for a romantic evening or resting your feet mid afternoon.
If you want to spend some time in nature, check out Turia Park. This is a former riverbed converted into a beautiful park and has many attractions, including the world-famous City of Arts and Sciences.
Where to stay for a Babymoon in Valencia: Located right next to the beach, Las Arenas Balneario Resort is the perfect spot to stay for a relaxing Babymoon in Valencia. Pamper yourself at the elegant spa, which offers a full hydrotherapy wellness circuit as well as bookable treatments.
7. Seville, Spain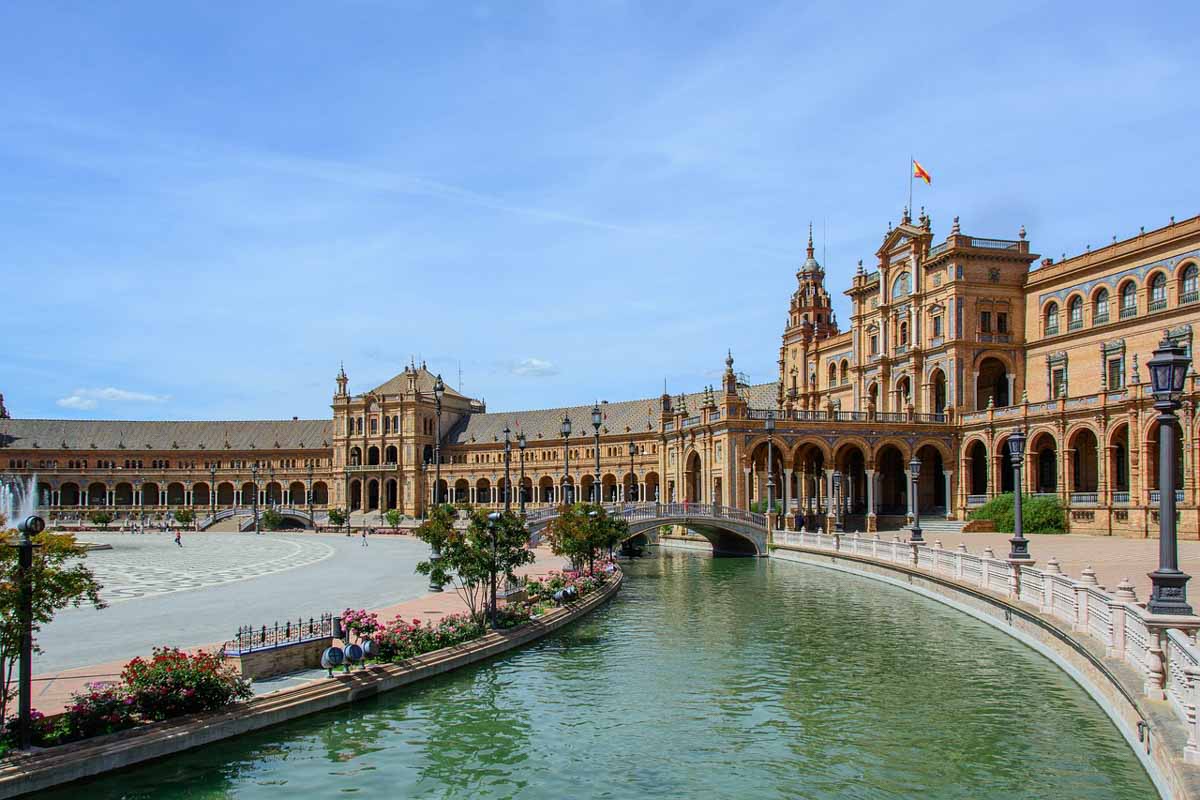 By Alyssa from An Apple a Plane
Seville is the city in Spain that encompasses charm and flare. Located in Southern Spain's Andalucia Region, there is so much this quaint city has to offer parents to be on a relaxing vacation.
Couples can begin the day at a UNESCO World Heritage Site, Alcazar palace. Take your time slowly strolling the immaculate architecture and winding gardens. Plenty of benches provide a space for rest and relaxation in between snapping photos and spending quality time with your partner.
Seville's second UNESCO World Heritage Site is Seville Cathedral. It is the biggest Gothic Cathedral in the world! After a morning of walking, relax at one of the city's many parks like Parque del Alamillo or Parque de Los Principes.
Where to stay for a Babymoon in Seville: Eme Catedral Mercer Hotel offers a luxury 5-star hotel experience with a wellness spa. The wellness spa includes a heated pool, hammam and relaxation area, hydrotherapy, and a variety of massage options.
8. Malaga, Spain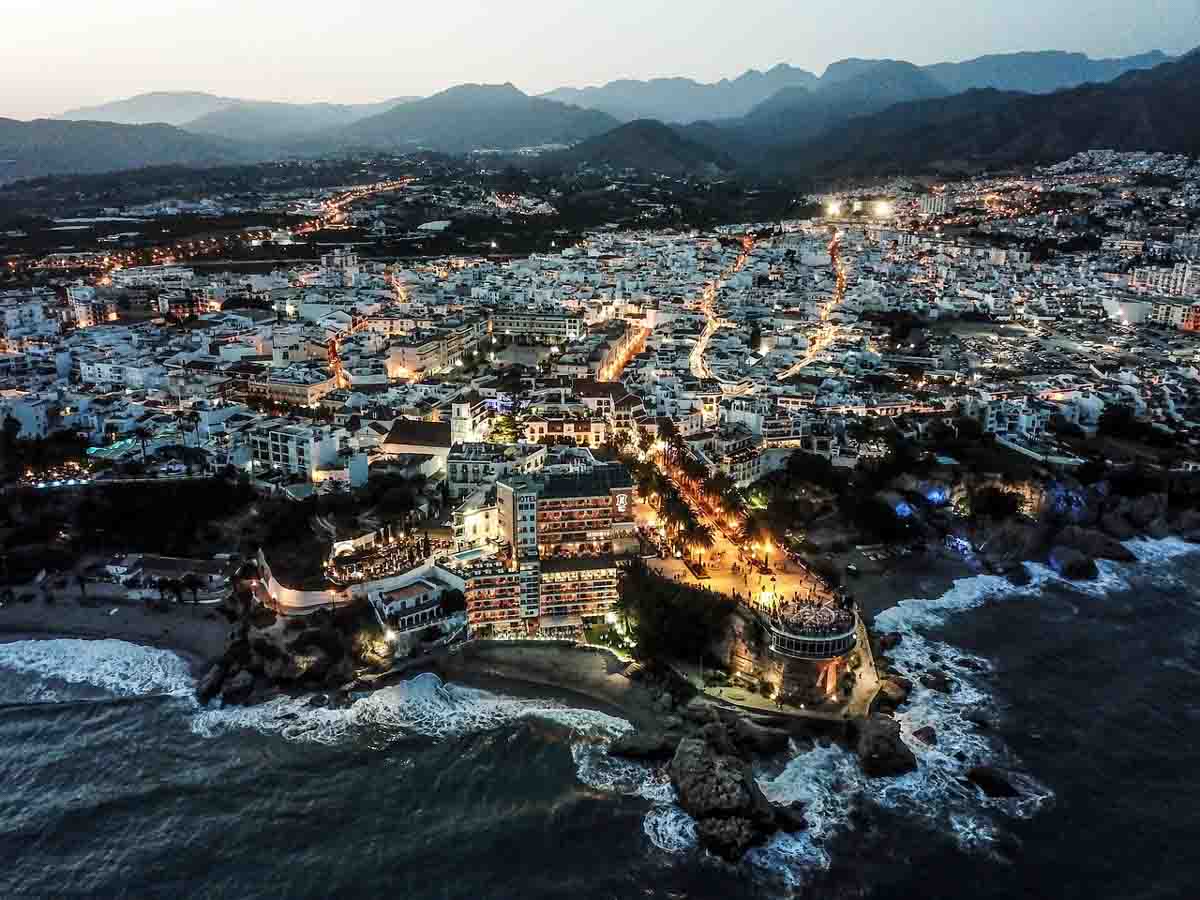 By Milijana of World Travel Connector
If you are looking for a perfect sun-and-sand babymoon destination in Europe, look no further than Malaga in Spain. The city lies on the Mediterranean coast of Andalusia in southern Spain. It is one of the sunniest places in Europe.
Malaga has so much to offer to couples who wish to relax and be pampered on a pre-baby holiday. You can lounge on gorgeous sandy beaches, soak in the sunset on a catamaran trip or unwind at the luxury Hammam Al-Andalus bath.
The list of fun and romantic things to do in Malaga, Spain is endless. Watch a flamenco show with your partner, visit one of Malaga's many museums or explore nearby idyllic white villages. In terms of dining options, there are plenty of romantic restaurants and elegant rooftop bars to visit.
Where to stay for a Babymoon in Malaga: For luxurious 5-star accommodation in the heart of Malaga, stay at the Vincci Seleccion Posada del Patio. Here, you can choose to lounge by the stunning rooftop pool and soak in the views over the city or enjoy a romantic night at the onsite jazz club.
9. Cabo de Gata, Spain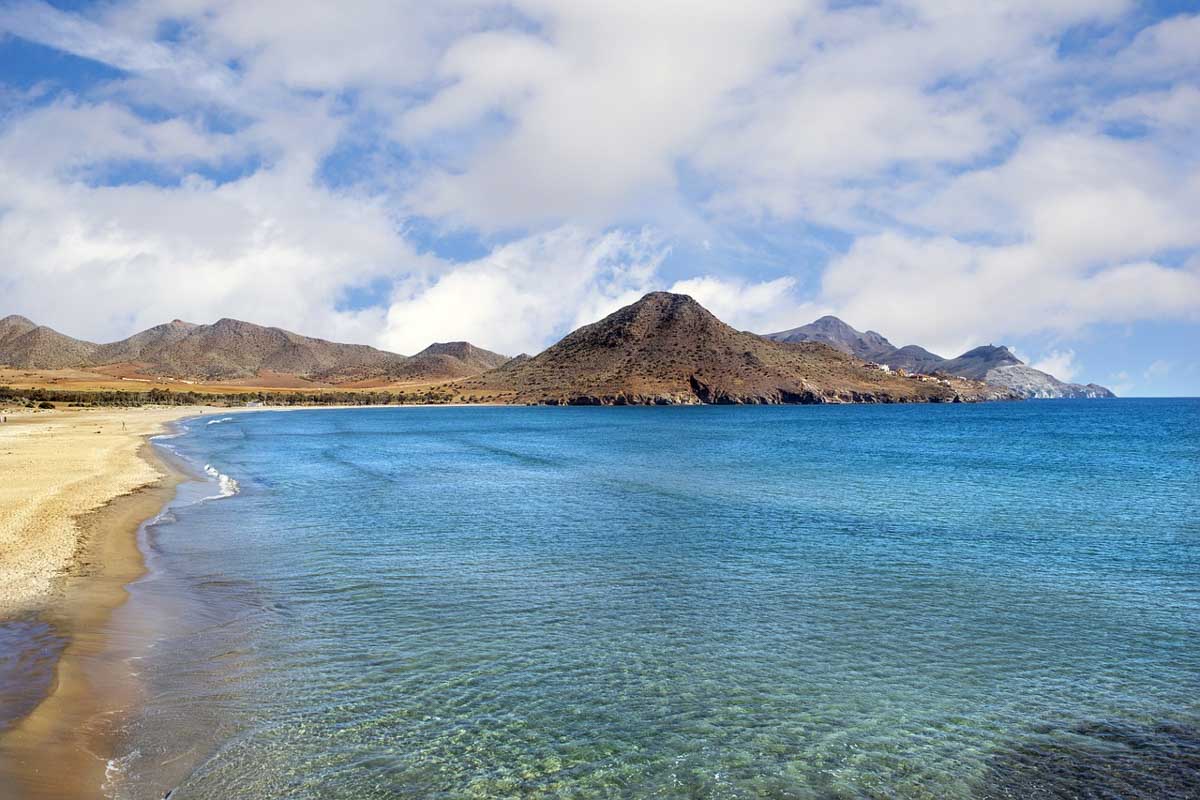 By Linn Haglund of Amused by Andalucia
One of the most romantic places to go for a babymoon is the lesser-visited Cabo de Gata Natural Park in Almeria, southern Spain. The region has a relaxed atmosphere with small white villages dotted along a near-virgin coastline.
Cabo de Gata boasts some of the most beautiful beaches in Andalucia. Worth mentioning are Monsul beach, Los Genoveses beach, and the more remote Los Muertos beach. Not that the latter is hard to get to, so it might not fit every pregnant woman. There are also beautiful urban beaches next to villages such as San Jose.
If you visit outside the hottest months, you can go hiking along the rugged coastline, or visit the Taberna Desert. In the summer, you can go on boat trips, go snorkelling, and enjoy a cold drink in a café.
Where to stay for a Babymoon in Cabo de Gata: An exceptional place to stay for couples in Cabo de Gata is Hotel de Naturaleza Rodalquilar & Spa. This wellness hotel is home to a fabulous spa, offering hydromassage, hamman and sauna as well as an extensive range of massages and treatments.
Best Babymoon Destinations in Italy
10. Amalfi Coast, Italy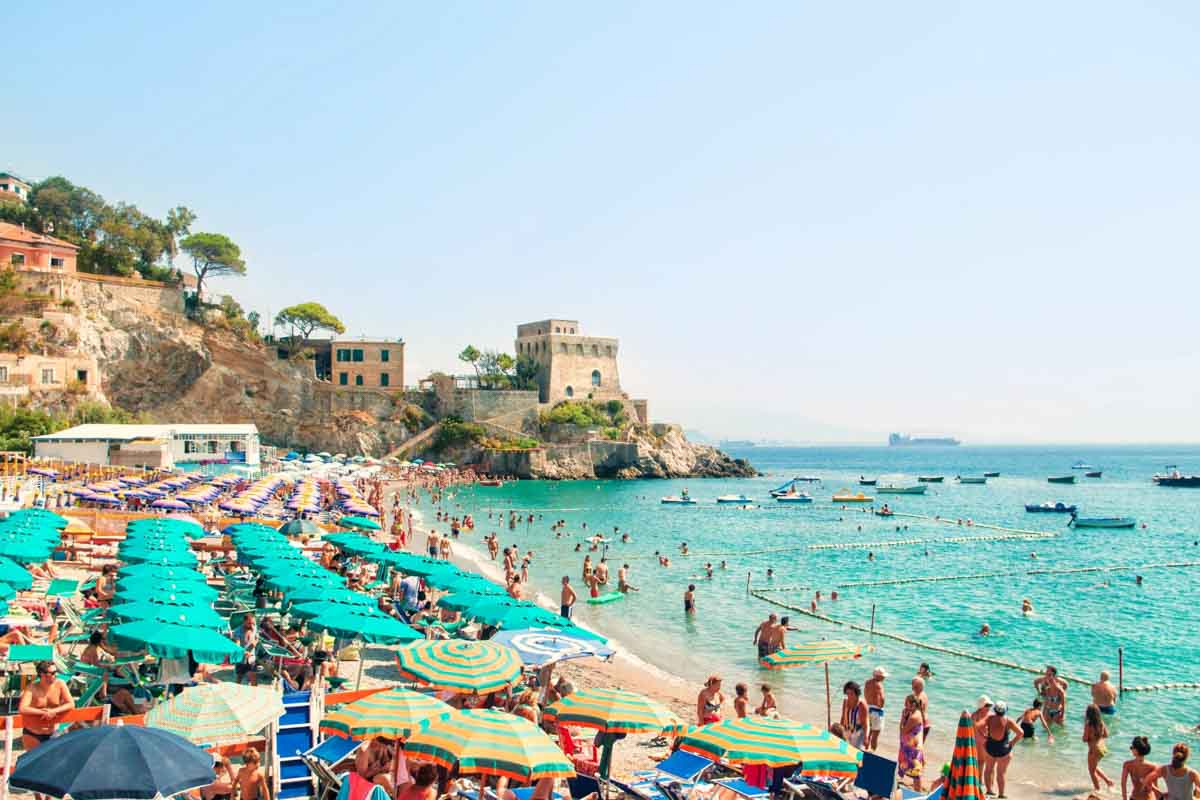 By Victoria from Follow Me Away
The Amalfi Coast is easily one of the best babymoon destinations in the Mediterranean. This stunning coastal area is located at the end of the Sorrentine Peninsula in Italy. It is known for gorgeous beaches, pastel-hued homes, cliff-top views, grand villas, and seaside lemon groves.
For the best views, visit the Infinity Terrace at Villa Cimbrone. Here, you'll find unparalleled views of the coast surrounded by amazing marble statues. Another one of the Amalfi Coast's most picturesque spots is the walk among the flowers in Albori. This amazing place sits high above the ocean and offers visitors sweeping panoramas of the Gulf of Salerno.
If you want to relax, head to Lovers' Beach for sunbathing. It's a lovely, intimate beach that is perfect for couples since it's only accessible by boat and encircled by sheer cliffs and beautiful blue waters.
Where to stay for a Babymoon on the Amalfi Coast: If you're wondering where to stay on the Amalfi Coast, book at room at the luxurious Hotel Eden Roc Suites in Positano. Not only do rooms overlook the ocean but guests can relax in the Turkish baths, sauna, and hot tub before taking a dip in the pool.
11. Capri, Italy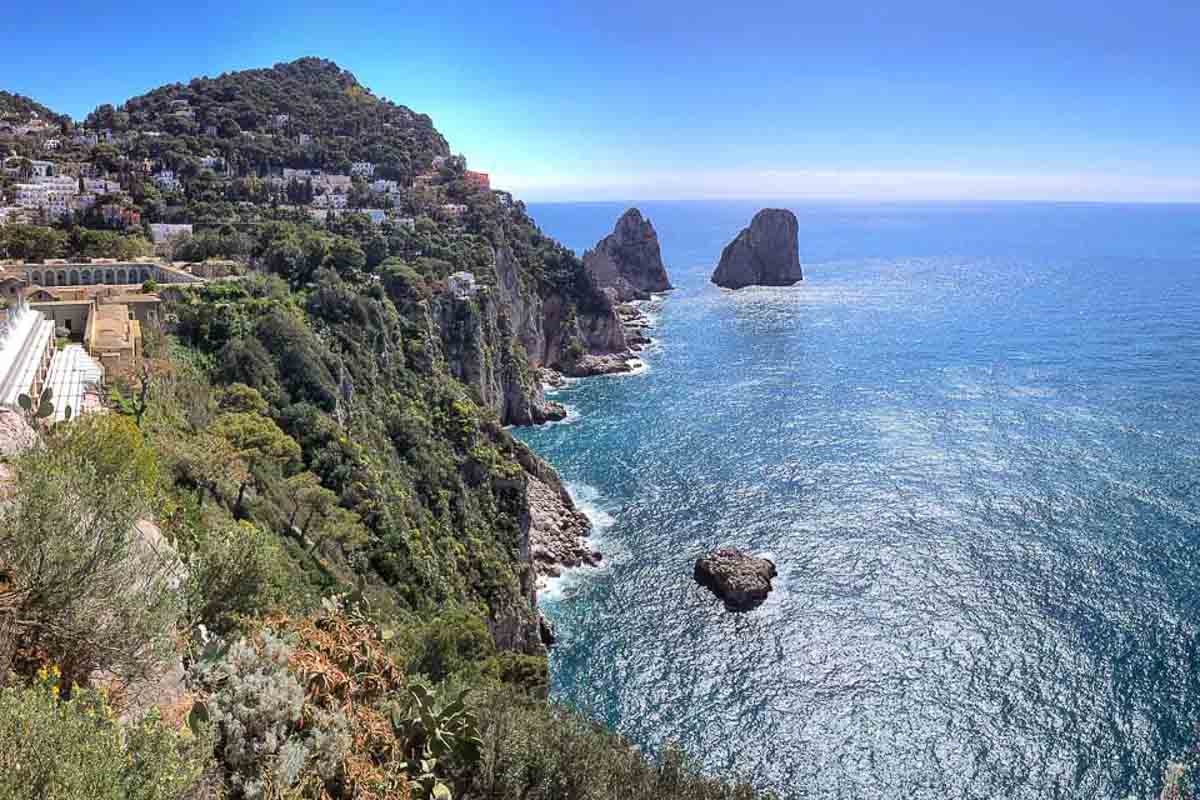 By Lori from Travlinmad
Some destinations lend themselves to a perfect babymoon- affording soon-to-be parents space to relax, reconnect, and pamper themselves before the big day arrives. The A-list destination of Capri Italy may well top the list.
The tiny island in the Mediterranean Sea off Naples in southern Italy has some of the world's most stunning landscapes with a small-town Italian feel. Capri offers plenty of things to do such as high-end shopping and dining, and plenty of luxurious spa and wellness treatments to indulge in for days.
But it's the island's serene and almost heavenly beauty that is perfect for leisurely strolls or doing nothing but taking in the scenery. The exciting chair lift ride to nearby Anacapri is certainly the best way to combine minimal hiking with maximum views!
Where to stay for a Babymoon in Capri: La Minerva Capri is a well-known hotel off a quiet street but a close walk to the Piazzetta that is an excellent choice for a relaxing few days. Their gardens are great for strolling and they are just steps from the Gardens of Augustus.
12. Milan, Italy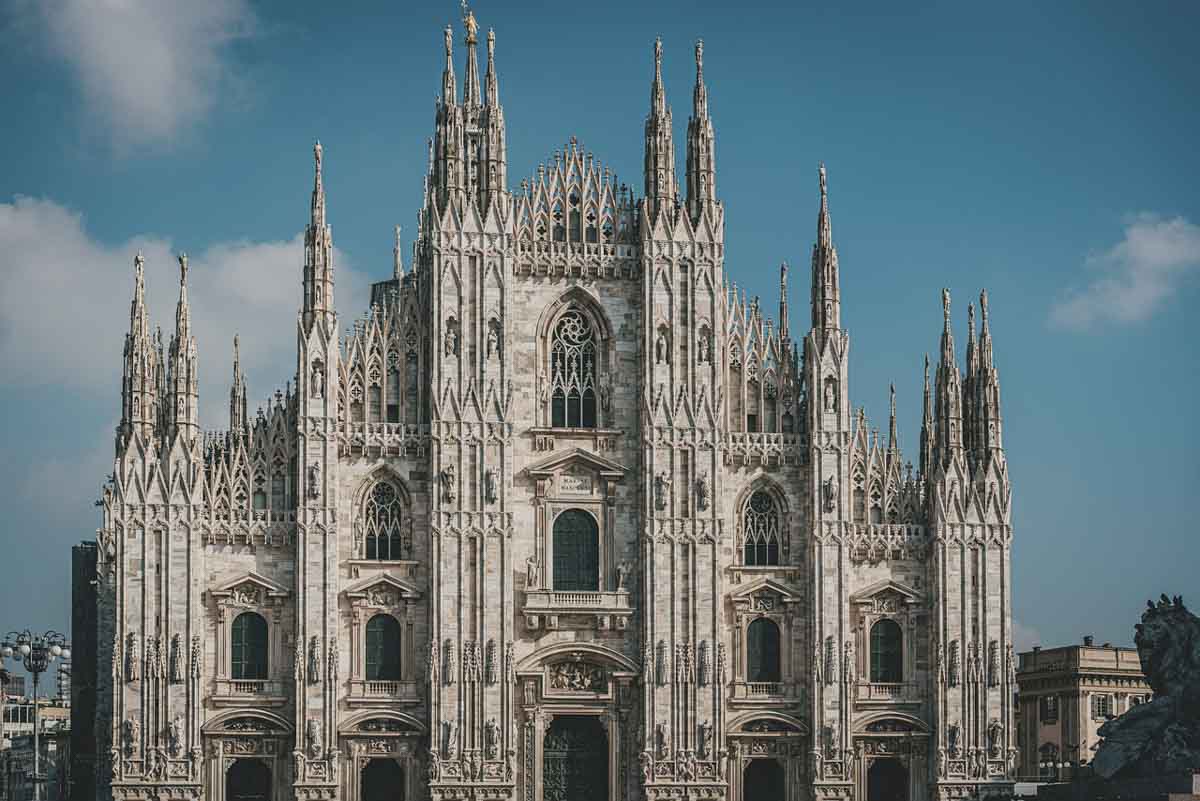 By Kristin of Global Travel Escapades
If you're looking for babymoon destinations in Italy, then consider the vibrant city of Milan. This city is a great place for new parents looking for a romantic escape before the arrival of their little bundle of joy!
To start off, Milan is home to some truly spectacular art and architecture. For example, the Duomo di Milano cathedral is one of the most impressive displays of Gothic architecture. Right next to it is the Galleria Vittorio Emanuele II. Here, you'll find some of the most luxurious stores in all of Europe. The perfect place to splurge before the arrival of your baby!
Another must-visit is the Navigli district, which offers a more casual vibe. This area is brimming with restaurants and even features a couple of canals! It's the perfect place to take a romantic stroll together, or even pick up some souvenirs for your family.
Where to stay for a Babymoon in Milan: If you're looking for luxurious accommodations, check out VIU Hotel Milan. This five-star hotel offers stunning views of the city and all the amenities that you need for a relaxing getaway.
13. Palermo, Italy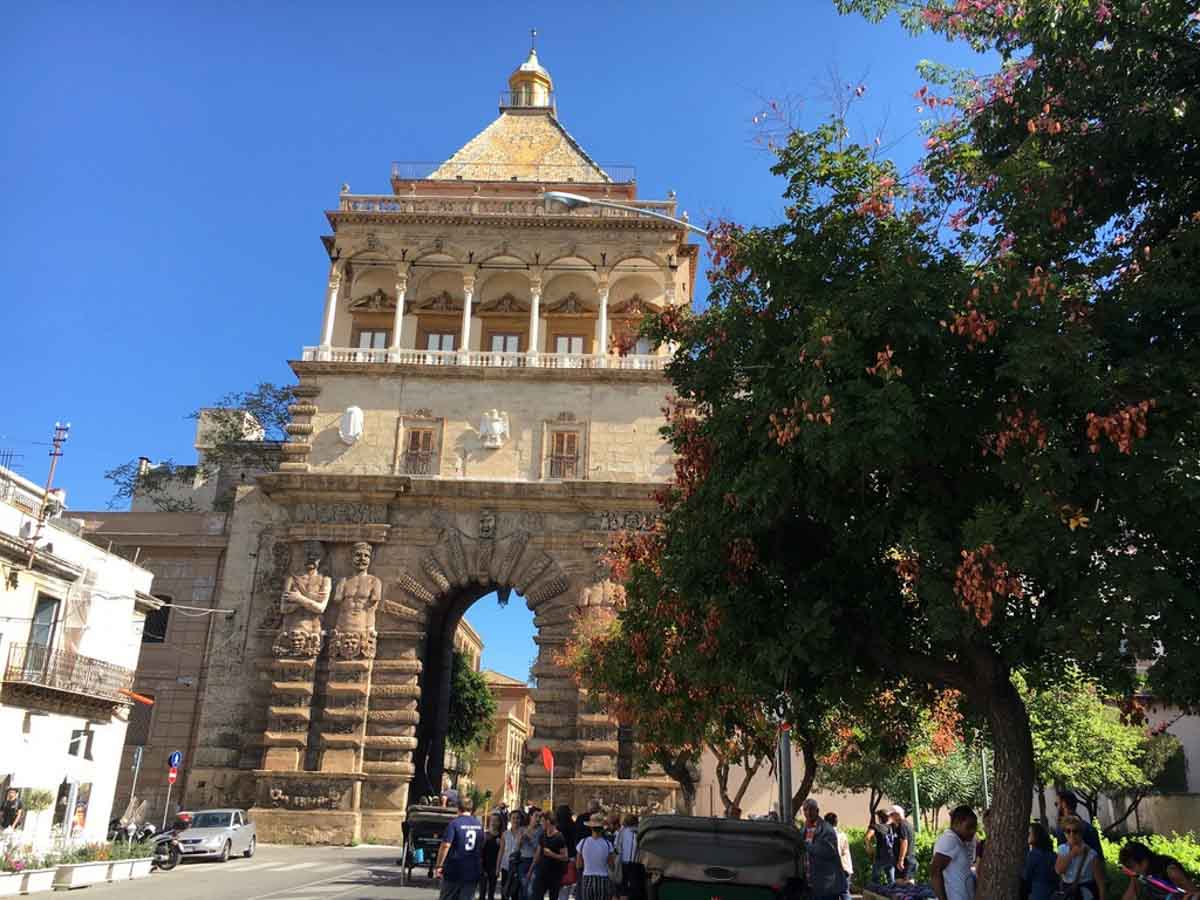 By Catrina from 24 Hours Layover
Palermo, located on the Italian island of Sicily is the perfect Europe Babymoon destination. It's home to perfect year-round warm weather, stunning architecture, beaches and delicious food. Plus, it is one of the cheapest cities in Italy!
Palermo is a stunning city, compact enough to walk around yet full of unique places to visit. The city features some very unique architecture including San Cataldo church, Cappella Palatina, Quattro Canti, Fontana Pretoria and Teatro Massimo.
If you just want to relax by the sea and unwind together before baby arrives, the beach is just 20 minutes away. Mondello is Palermo's local beach and is so stunning. Sicily has the warmest weather in Italy- it is pretty much summer all year round. It makes for a great Babymoon destination even in winter!
Where to stay for a Babymoon in Palermo: Politeama Luxury Suites makes for a convenient and well-priced place to stay. This bed and breakfast features comfortable, air-conditioned rooms that are well-equipped with amenities.
14. Cinque Terre, Italy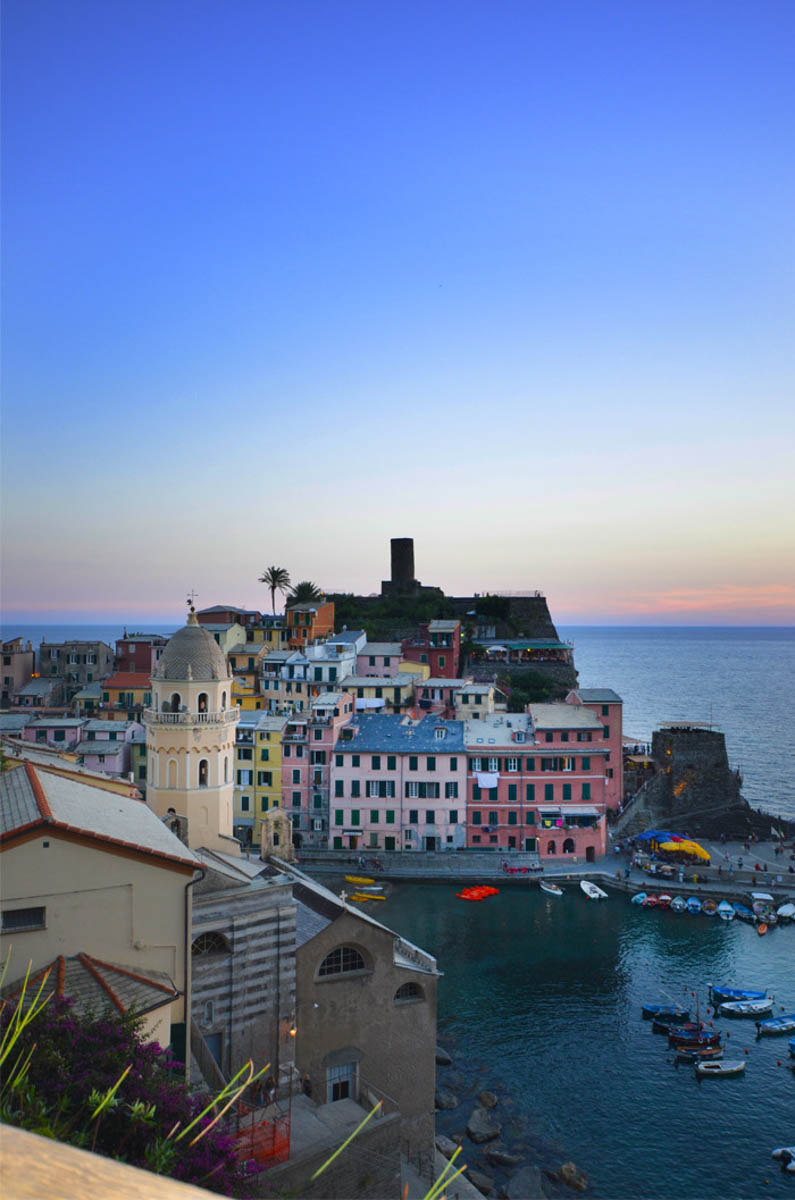 By Lexi from Your Italy Trip
Cinque Terre National Park is ideal for a Mediterranean babymoon. The national park is well known and the villages inside are some of the best Italian coastal towns to visit. There are five villages that makeup Cinque Terre; Vernazza, Monterosso al Mare, Riomaggiore, Manarola and Corniglia.
Cinque Terre is the perfect spot for a romantic getaway before your baby arrives. The brightly coloured buildings contrasted against the sparkling waters make for a truly magical atmosphere. You can soak up the stunning views when dining at clifftop restaurants or sunbathing on one of the many beaches.
There are plenty of things to do in Cinque Terre suited to a pre-baby trip. These include sunbathing, scuba diving, swimming and hiking. The most popular thing to do is explore the five villages via a stunning 5-hour walk. Alternatively, you can catch the train between villages.
Where to stay for a Babymoon in Cinque Terre: For quiet, comfortable accommodation in Cinque Terre, stay at Le Giare Rooms. The quaint guesthouse is located in Riomaggiore and offers spacious rooms with balconies and lovely views.
15. Rome, Italy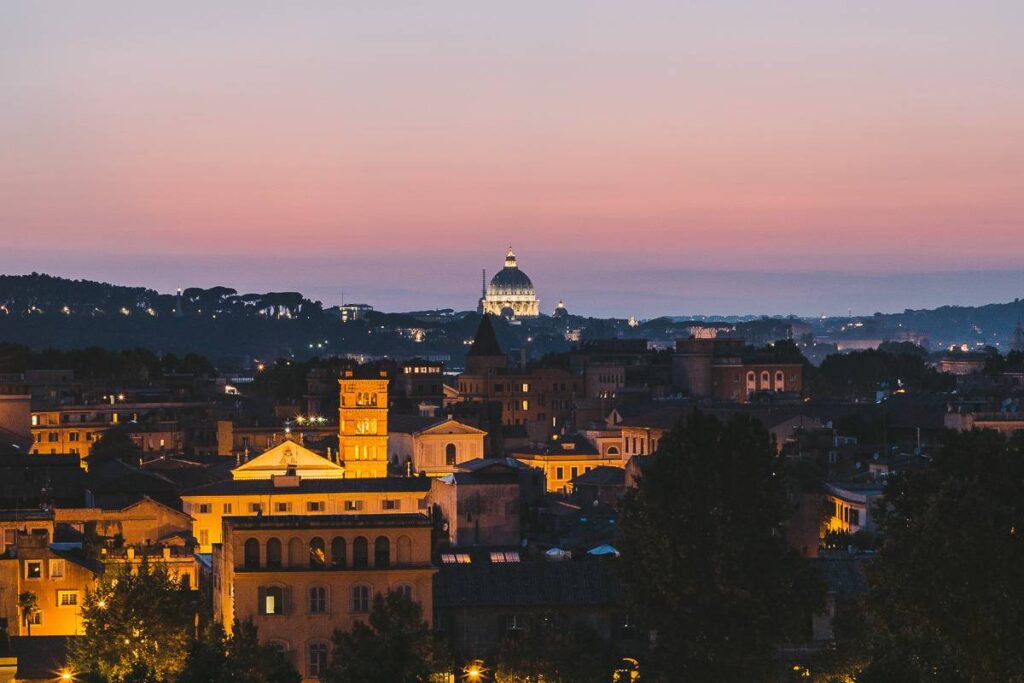 By Dymphe from Dymabroad
One of the best Mediterranean destinations for a babymoon has to be Rome. Italy's capital city is packed with great things to do for couples, whether that is soaking in the rich history or indulging in fabulous food.
Spend the day learning about ancient history at famous landmarks like the Colosseum and the Trevi fountain. After sightseeing, head one of many restaurants in the city where you can enjoy authentic Italian cuisine and relax at the same time.
Rome is undeniably one of the most photogenic cities in Europe. You could take the opportunity on your babymoon to hire a photographer and do a maternity photoshoot around Rome's stunning streets. After the photoshoot, head to Caffetteria Italia al Vittoriano, a cafe on top of a monument from where you can enjoy a view of the Roman Forum.
Where to stay for a Babymoon in Rome: Hidden behind a vine-covered facade, Hotel Raphael is the ultimate retreat away from the busyness of Rome. This magnificent mansion-turned-hotel is filled with an incredible art collection and offers stunning views over the Pantheon.
16. Naples, Italy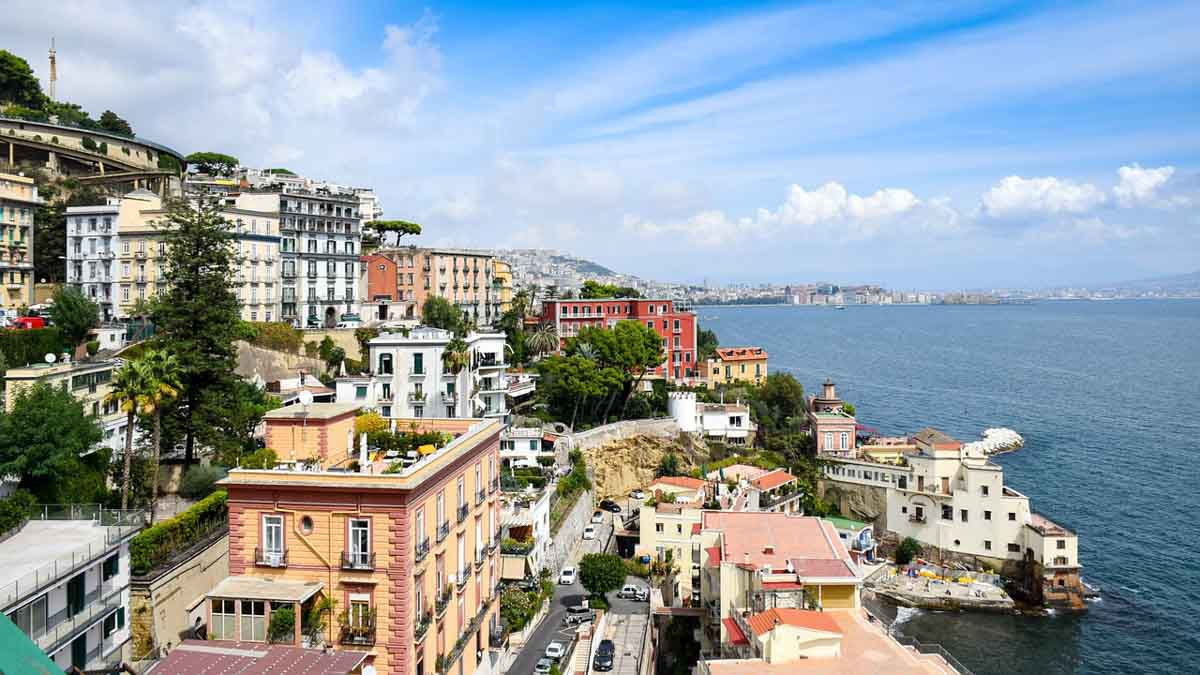 By Kristin Secor from World on Wheels Blog
Naples, Italy is a great European babymoon destination because it offers fantastic food and wonderful things to do. Plus, your trip to Naples can also be easily combined with Rome and the Amalfi Coast for a week-long trip.
Whether you want to take in some history by visiting the ancient city of Pompeii, hone your cooking skills by taking a class, or relax amongst beautiful scenery by taking a day trip to either the island of Capri or Positano, Naples has something for everyone.
You can choose to be as active as you'd like while having plenty of opportunities to relax for a romantic getaway. Who wouldn't want to load up on delicious food during a romantic candlelit dinner after a day of exploring?
Where to stay from Babymoon in Naples: During your time in Naples, plan to stay at La Casa Sul Nilo for a romantic and gorgeous setting that will make you feel like you are sleeping in a palace. It will be the perfect escape to rejuvenate before the baby arrives.
Best Babymoon Destinations in Croatia
17. Rovinj, Croatia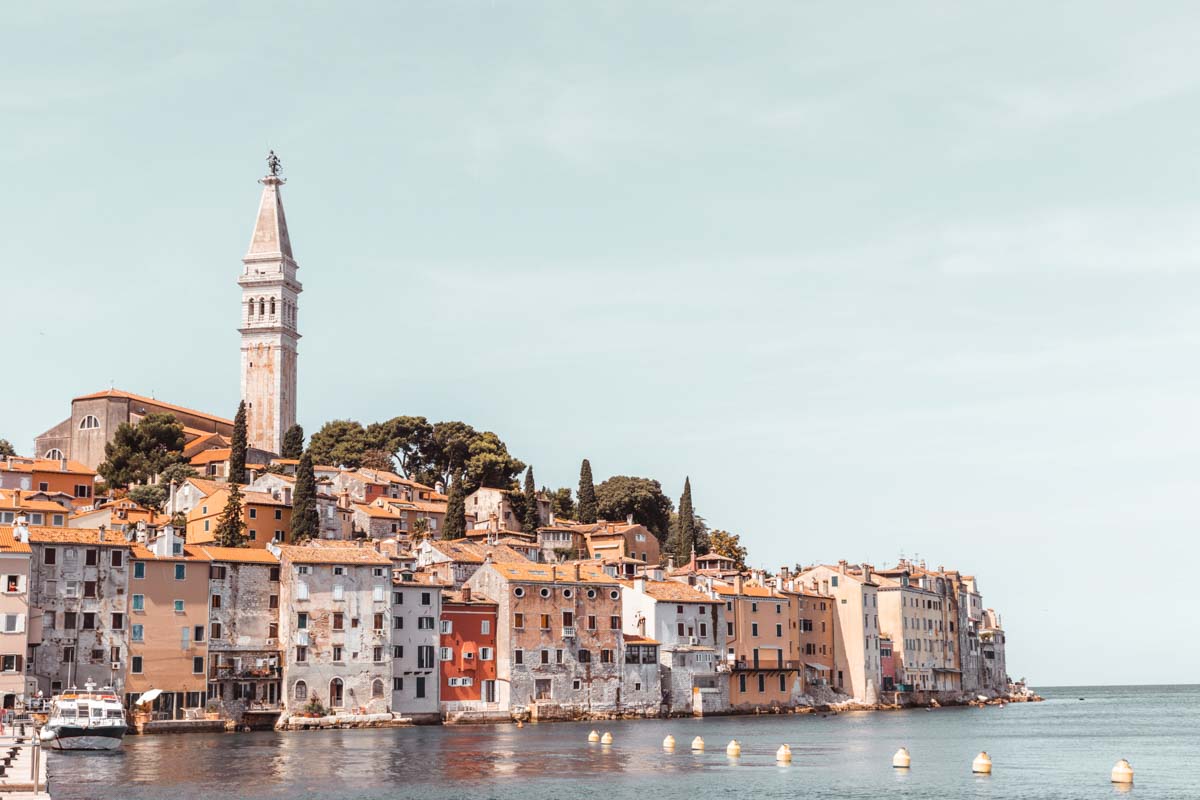 By Olivia from Inspired by Croatia
The romantic seaside town of Rovinj is an excellent destination for babymooning couples in Europe. This Croatian gem offers plenty of opportunities to relax and enjoy quality time with your partner.
Spend your days laying out on the pristine beaches in your own cabana as gentle waves lap the shore. Take advantage of the many wellness centre and spa treatments during your stay. Book a facial, prenatal massage or luxurious body scrub to reach peak tranquillity.
If you're looking for a little more action, you can partake in activities like beach yoga, cycling, paddle boarding, or strolling through the century-old forest park. Satisfy pregnancy cravings by heading into town and exploring Istria's famous cuisine at one of the many cliffside restaurants.
Aside from sampling local delicacies, there are plenty of other things to do in Rovinj. Round out your visit by perusing the artisan shops and galleries that line the town's cobblestone streets, and end the evening with a creamy gelato!
Where to stay for a Babymoon in Rovinj: Hotel Lone is a stunning architecturally-designed luxury hotel in the heart of Rovinj. The hotel features a wellness area with a spa pool, steam bath, sauna and massage room. The ideal spot for babymoon pampering!
18. Pasman, Croatia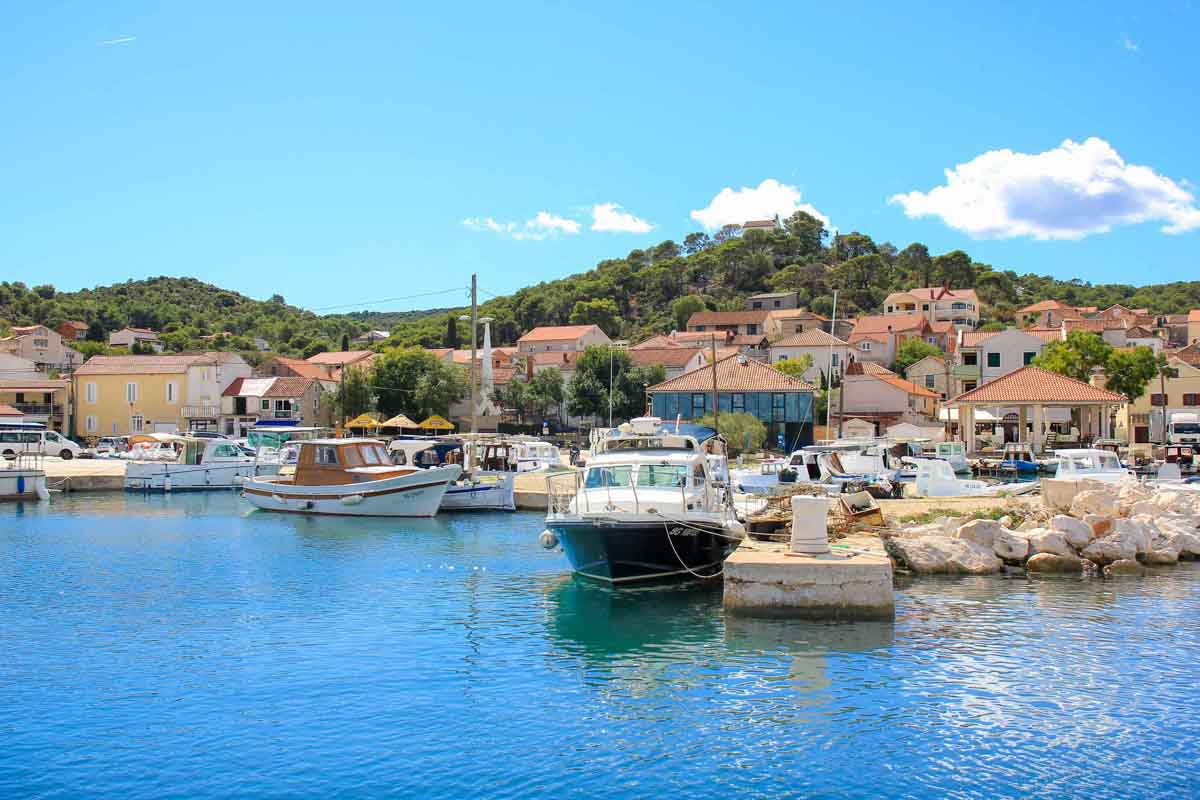 By Martina from Places of Juma
Pasman in Croatia is definitely a true hidden jewel among the babymoon destinations in Europe. This quiet island pearl is still far away from mass tourism and therefore especially suitable for a relaxing getaway.
There is plenty to explore in Pasman. Spend your day strolling through romantic fishing villages or relaxing on the numerous secluded bays. At sunset, be sure to visit the Tkon Lookout Tower. Here, you will have to most stunning 360° view over the island.
In the village Tkon, you'll find a beautiful Dalmatian old town featuring several churches and a charming harbor. Another highlight of the island is the Benedictine Monastery. It dates back to the 12th century and sits majestically on a hill overlooking the island.
Where to stay for a Babymoon in Pasman: For a peaceful stay in Pasman right on the beachside, Pine Tree Mobile Homes is a great option. The mobile homes are private, spacious and well-equipped with everything you need for a comfortable babymoon.
19. Hvar, Croatia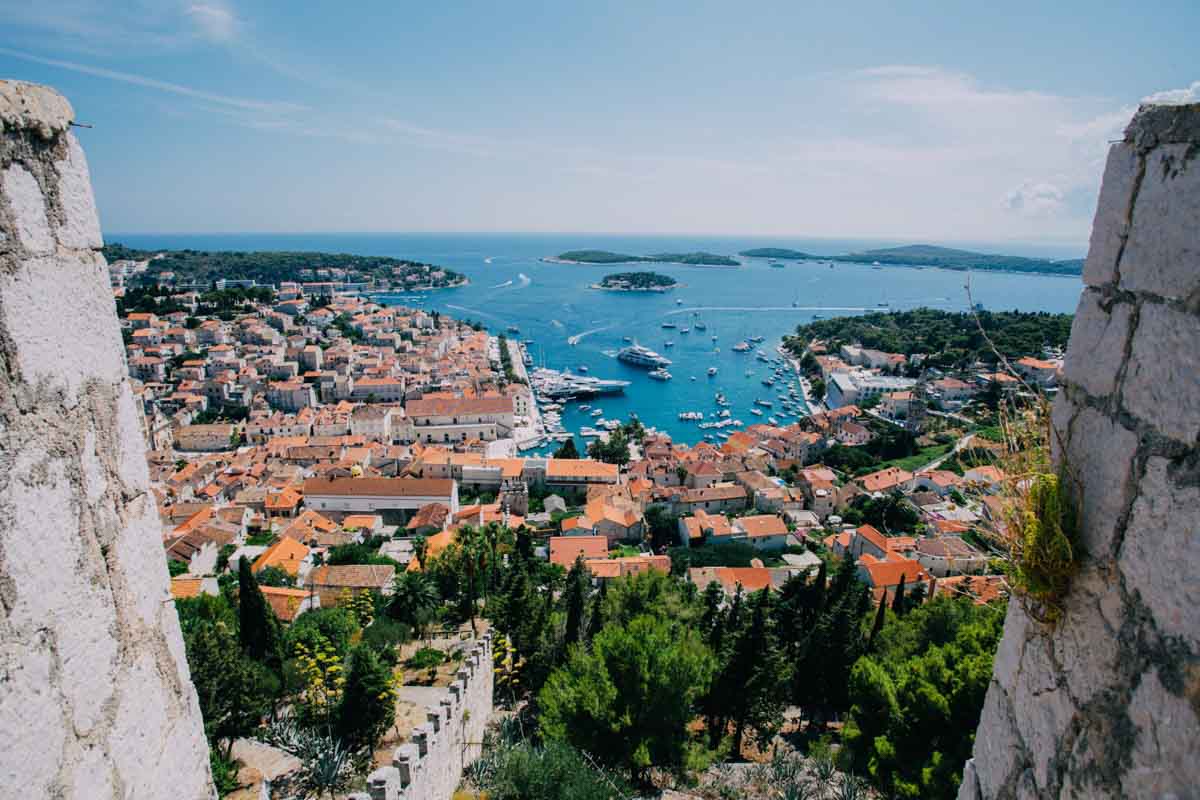 Submitted by Katie from KatieCafTravel.com
Hvar Island is a gorgeous island located in the Adriatic Sea off the coast of Croatia, between the major cities of Dubrovnik and Split. Easily accessed via ferry or short plane ride from the mainland, Hvar makes for a lovely European babymoon destination.
The most popular activity on Hvar Island is to visit its famous beach clubs where you can sip luxury mocktails on a daybed while with a view of crystal clear blue water. You can also go sailing to the world-renown Blue Grotto which is naturally lit up with bioluminescent algae.
Many tourists simply choose to charter a yacht or a speedboat for the day and hang out at one of Hvar's many popular private or more secluded beaches. On the mainland, you can enjoy the medieval Old Town and views from the "Fortica Fortress", a 16th-century stronghold that towers over the quaint village.
In the village, there are tons of restaurants, hotels, and charming things to do. One of the best ways to spend an evening lounging by the beach is by visiting the Hvar open-air cinema, which hosts shows ranging from contemporary Hollywood blockbusters to live ballet performances!
Where to stay for a Babymoon in Hvar: Located in the heart of Hvar, Adriana Hvar Spa Hotel is designed for romance and relaxation. Offering rooms with sea views, a sensory spa with treatments and a restaurant and bar onsite, its home to everything you need for a babymoon.
Best Babymoon Destinations in France
20. Saint-Jean-Cap-Ferrat, France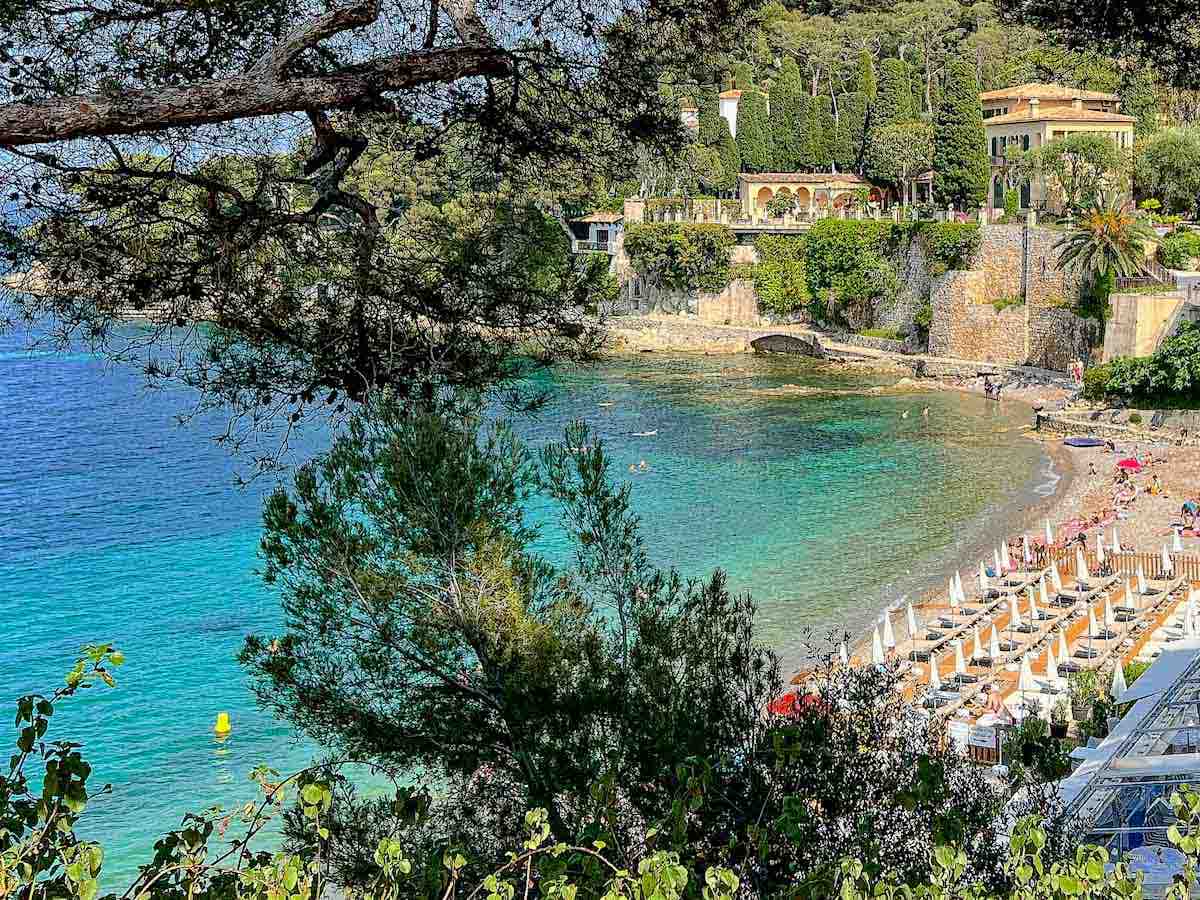 By Sarah from CosmopoliClan
The St-Jean-Cap-Ferrat peninsula is located between the turquoise bays of Villefranche-sur-Mer and Beaulieu-sur-Mer. The international airport of Nice just a short drive away. Unlike some of the most popular hotspots in the French Riviera, Saint-Jean-Cap-Ferrat is surprisingly low-key.
Villa Ephrussi de Rotschild, with its enchanting gardens offering panoramas over both bays, is worth a visit. Savor the moment on one of the benches in the rose garden, enjoy a high tea on the romantic patio or watch the musical fountains from the villa's balcony. Linger on one of the Riviera's most iconic beaches, Plage Paloma, which was named after Picasso's daughter.
Explore a well-paved section of the stunning coastal trail that wraps around the cape before indulging in the freshest seafood at the Saint-Jean village center. This chic peninsula is all about slow travel and impeccable service, making it the perfect destination for parents-to-be.
Where to stay for a Babymoon in St-Jean-Cap-Ferrat: For an ultra-luxurious stay on the Mediterranean, you can't beat the Grand-Hôtel du Cap-Ferrat resort. This 5-star hotel oozes timeless elegance and glamour. The hotel can arrange everything to make your stay ultra-special, from spa and relaxation experiences to private dining with a view.
21. Cannes, France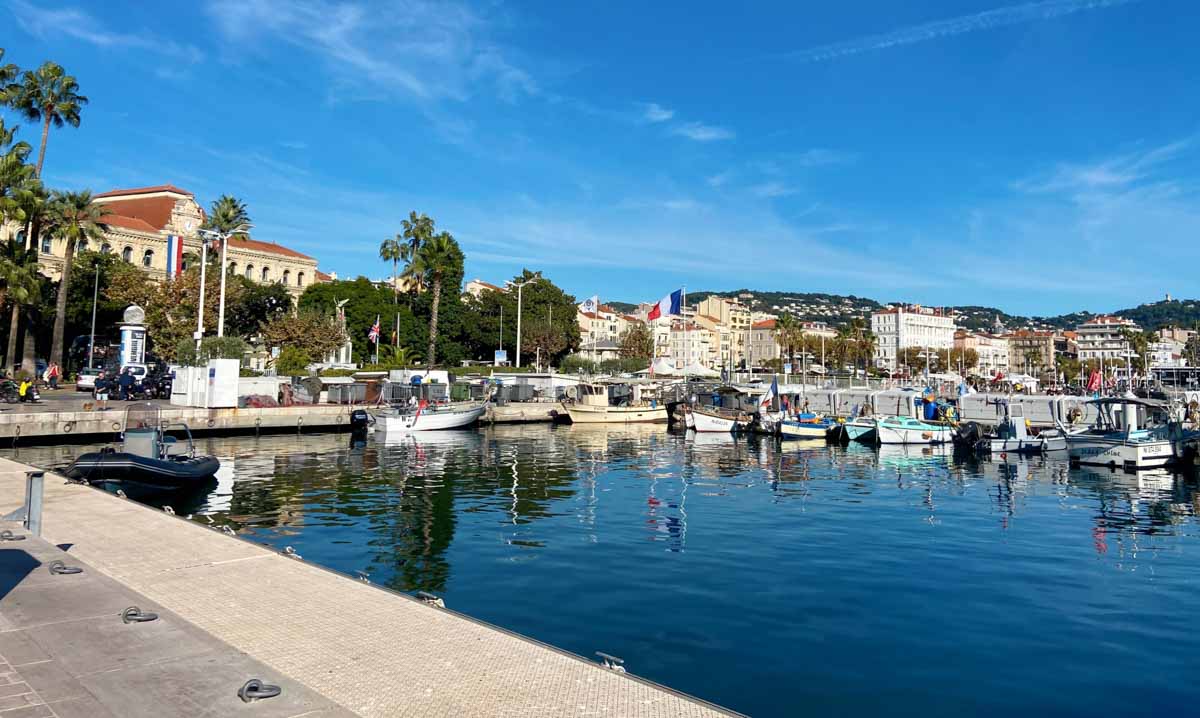 By Cami from Explore the Riveria
The beautiful French city of Cannes, located in the heart of the French Riviera, is an ideal destination for a babymoon getaway in the Mediterranean. With its stunning beaches, fabulous Michelin-star restaurants, and luxury hotels, it offers everything needed to make your special time together unforgettable.
With its pastel-coloured buildings, quaint cobbled streets, and glamorous French style, the city of Cannes exudes a real romantic charm. It also boasts some of the best dining in the Mediterranean. Whether you're a foodie or just looking for a romantic dinner for two, you're be spoilt for choice when it comes to restaurants to dine at.
There is certainly a lot to do in Cannes. You can take a romantic stroll along the Croisette, a 3-kilometre sidewalk that links the beach and city. Or, spend your day relaxing on one of Cannes' stunning beaches. With its white sand and crystal clear waters, it's no wonder that Cannes is a great destination for beach lovers!
Where to stay for a Babymoon in Cannes: Regarding places to stay, there are many great accommodation options to choose from in the city. If you're looking for something extra special, choose a hotel like Hotel Martinez, which offers a luxurious experience and beautiful views of the Mediterranean.
22. Menton, France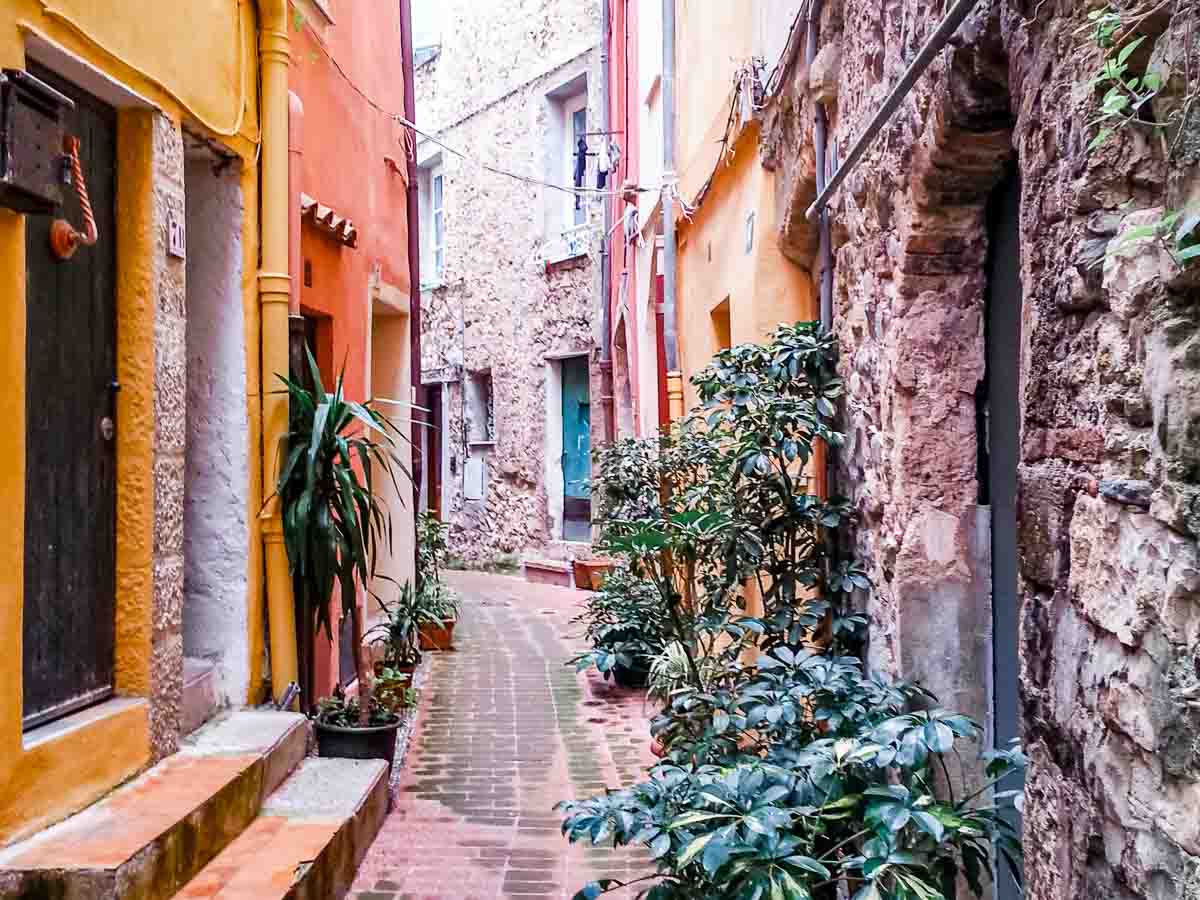 By Stephanie from the Unknown Enthusiast
Menton is a wonderful place for a babymoon in France. The charming city is full of pastel-coloured houses, orange and lemon trees lining the streets, clay tennis courts, and views over the Mediterranean. It is also a great base for doing a day trip into other destinations in Provence.
The town is small and walkable, and has a laidback air. Top attractions in Menton include the Basilica Saint Michel, the hilltop Cimetière du Vieux Château (the Cemetery of the Old Castle), and visit one of the many gardens in the city.
There are also some lovely sand beaches in Menton, which is rare for southern France (most beaches in France are pebbly). Of course, you can also just stroll down the Promenade du Soleil, the pathway along the edge of the city and the beach. This is a great spot for admiring the views and stopping in a cafe for a lingering lunch.
Where to stay for a Babymoon in Menton: For a breathtaking babymoon stay in the Medditerean, head to Princess et Richmond. The hotel is equipped with bright, comfortable rooms, a terrace overlooking the ocean and surrounding mountains and a jacuzzi.
23. Bordeaux, France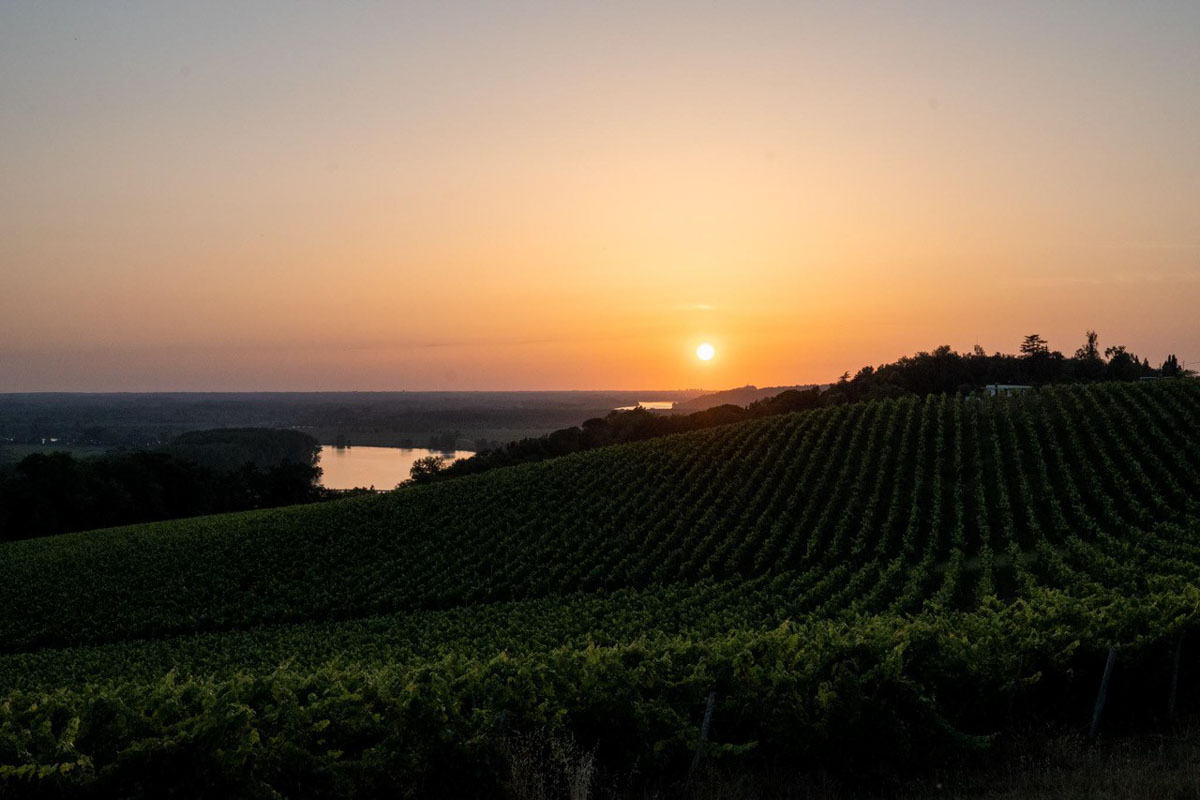 By Victoria from Guide Your Travel Blog
Bordeaux is a beautiful city located in the southwest of France, known for its stunning architecture, world-class wine, and rich cultural history. It is an ideal destination for a babymoon, a romantic getaway for expectant parents to relax and enjoy each other's company before the arrival of their new little one.
One of the top reasons to visit Bordeaux for a babymoon is its excellent wine region. The city is home to some of the finest vineyards in the world, and there are many wineries and chateaus to visit in the surrounding area, including Saint Emilion. This small town is a UNESCO World Heritage site, known for its medieval architecture and quaint atmosphere. You can take a tour of the local wineries and have lunch with a view of the stunning landscape.
In terms of activities, there is plenty to do in Bordeaux for expectant parents. You can take a leisurely stroll along the river, visit the city's many museums and art galleries, or take a boat tour of the region. For some relaxation, you can visit one of the city's many spas or take a walk through the picturesque Jardin Public.
Where to stay for a Babymoon in Bordeaux: The Hotel de Sèze is a luxurious option located in the heart of the city. The property features a private golf course, a spa and a gourmet restaurant for guests to make the most of.
24. Nice, France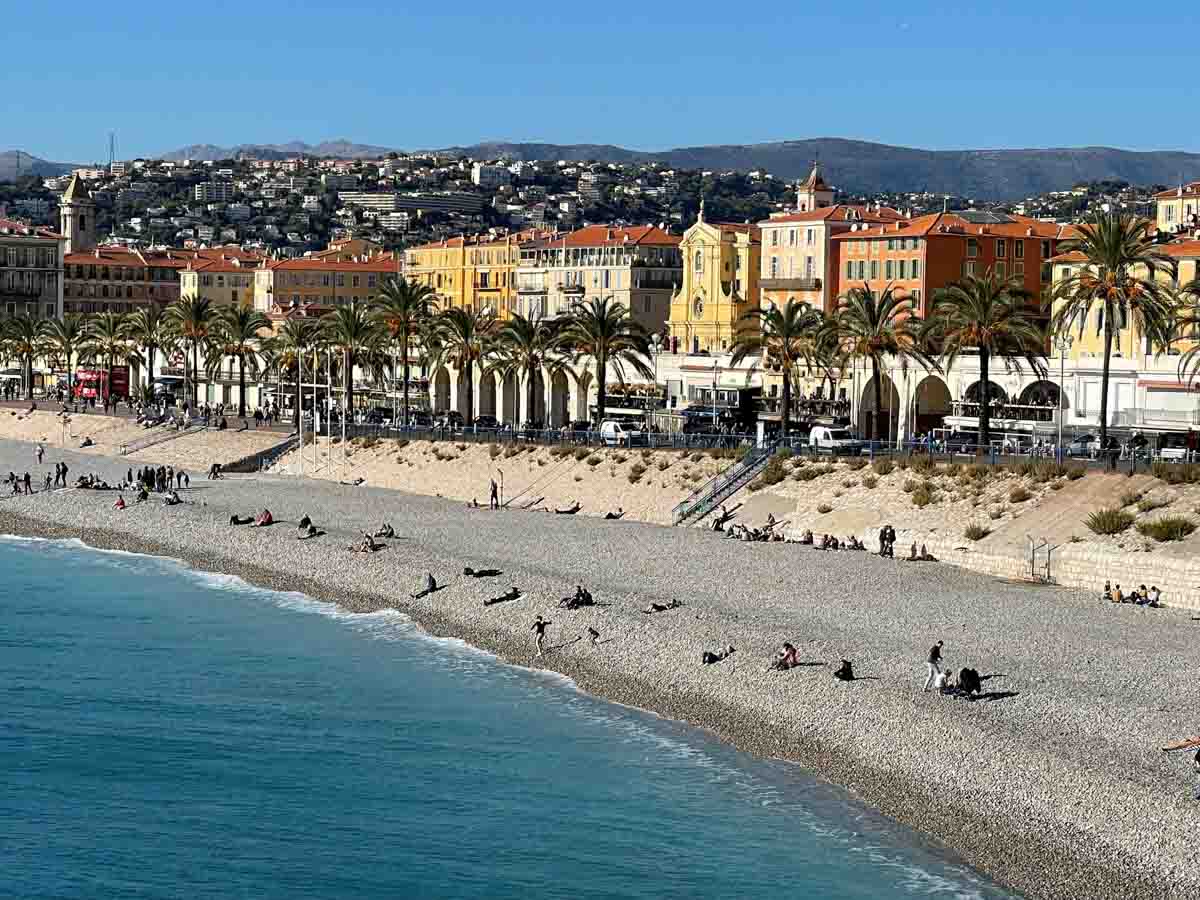 By Denise from Chef Denise
Want a fabulous destination to celebrate your babymoon? Head to Nice on the French Riviera. Here, you'll have ample opportunity to relax, rejuvenate, and bond with your partner before your baby arrives.
The Promenade is a great way to spend time strolling and admiring the beauty of this incredible location. If you are an early riser, Nice has the most beautiful sunrises over the sea. As well as relaxing on the beach, there are also beautiful gardens and squares like Place Messina and Place Garibaldi to linger.
Refuel at the Cours Saleya farmers market where there will be lots of Niçoise specialties. Or roam the cobbled stone streets nearby and indulge in some traditional French dishes. Many of the best restaurants in Nice offer outdoor seating, so you can soak up that Medditterean sunshine.
Where to stay for a Babymoon in Nice: Whisk yourself back to 1913 with a stay at the famous Le Negresco, located near the old town. The hotel is filled with breathtaking artwork and old-world glamour. The rooms also feature spectacular views of the Mediterranean Sea.
Other european Babymoon Destinations
25. Madeira, Portugal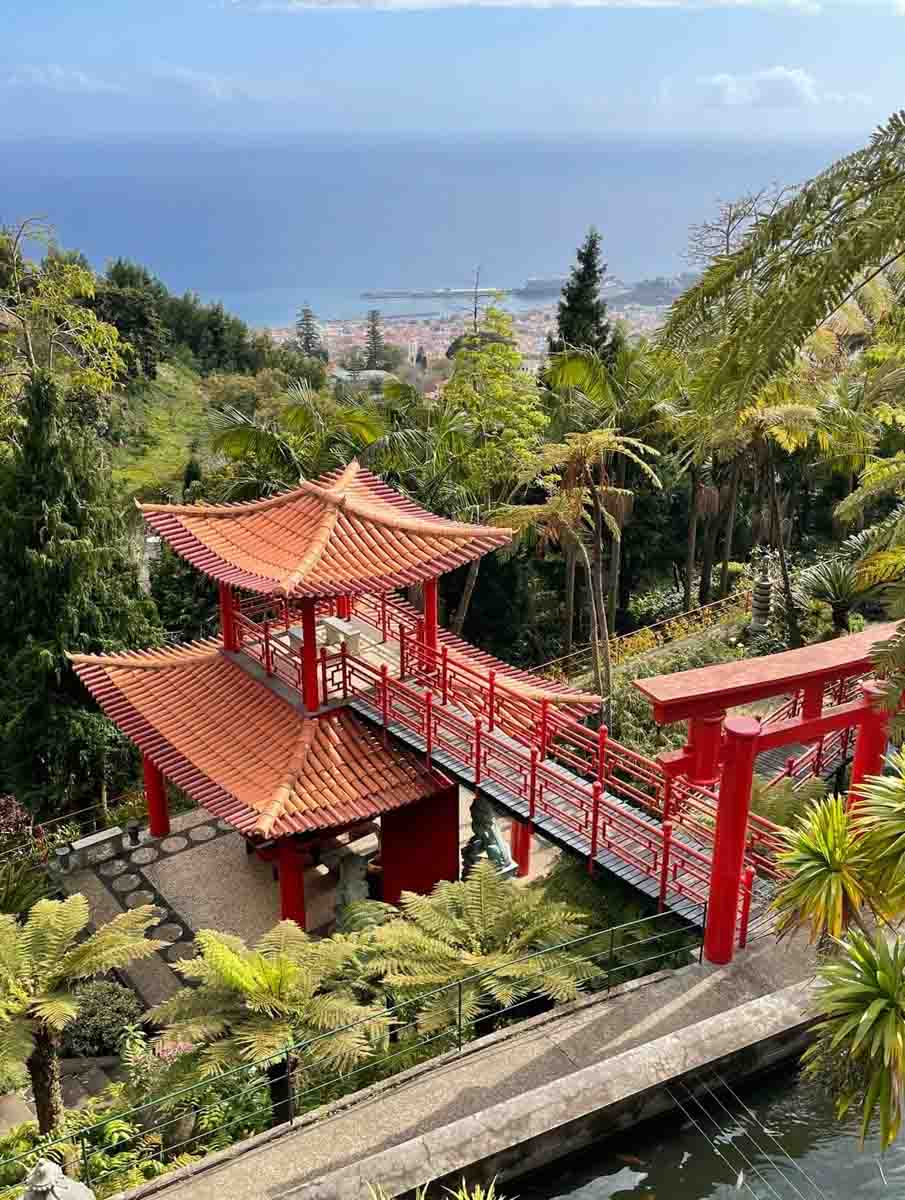 By Jasmine from the Life of a Social Butterfly
For those seeking an exciting and adventurous babymoon destination in Europe, look no further than the Portuguese island of Madeira. Dubbed a European Hawaii due to its sub-tropical climate, a holiday in Madeira can be as exciting or as relaxing as you would like it to be.
Madeira is a paradise for nature lovers. There are natural pools to explore, black sand beaches to wander on, and many waterfalls to chase. One of the best things to do in Madeira is a sunrise jeep tour to Pico de Arieiro. Here, you can get a picture-perfect view of the sunrise above the clouds.
Funchal, Madeira's capital is a frequented cruise stop. It is a great place to dine on the local speciality black scabbard fish, admire the array of painted doors adorning the Old Town and take a cable car to Monte Palace botanical gardens.
Where to stay for a Babymoon in Madeira: If you want some tranquillity away from the crowds of Madeira, stay at Albatroz Beach & Yacht Club. This 20-room hotel is set among subtropical gardens to explore as well as a stunning sea level pool that offers easy access to the ocean.
26. Malta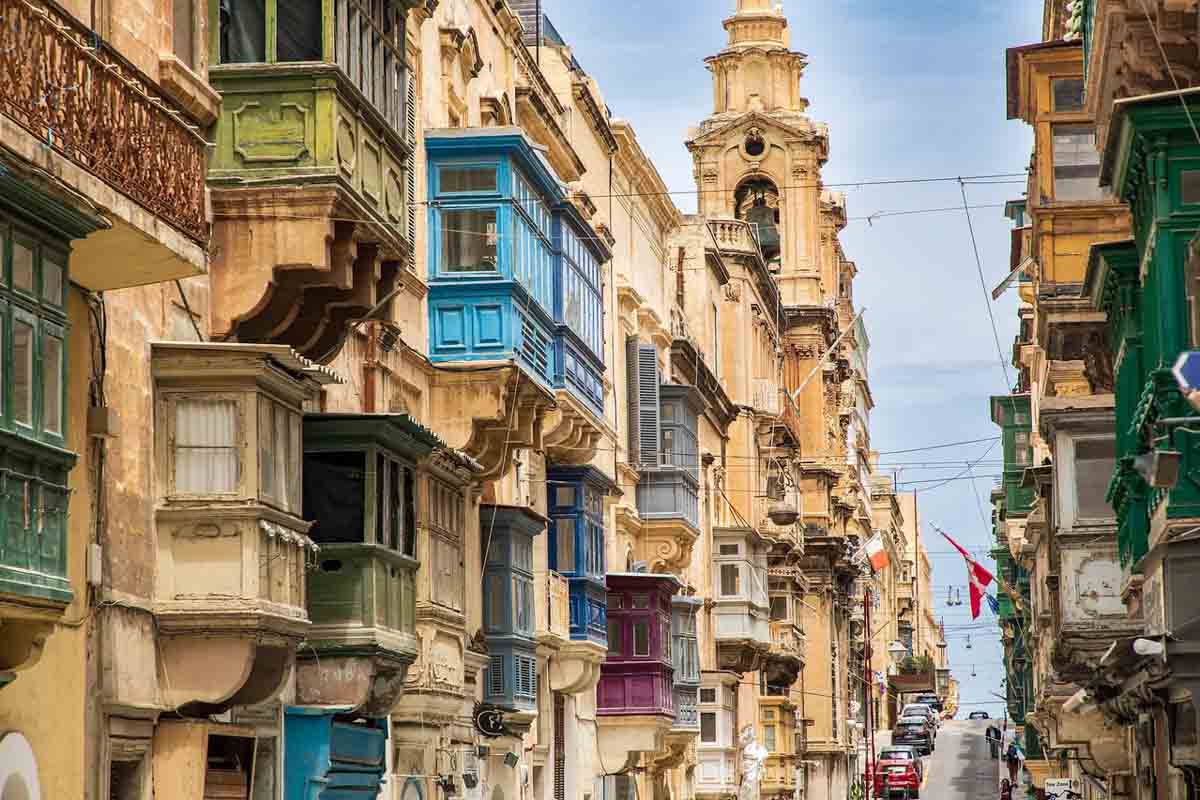 By Sarah Wilson from Life Part 2 and Beyond
With 300 sunny days a year, Malta is the perfect destination for a babymoon. There is so much to do on this tiny island in the Mediterranean. It's also a great place to just relax and be pampered.
Wander the streets of Valletta, the beautiful UNESCO capital of Malta. Here, you can enjoy Maltese cuisine in one of the many cafes and restaurants. Then take a water taxi, cross the Grand Harbour, and explore the picturesque and unspoilt Three Cities.
For beach relaxation, head to the golden sandy beaches on the north of the island. Here, you can take a boat across to the beautiful blue lagoon. Or, if you'd like to indulge in some pure pampering, visit one of the many spas on the island.
Where to stay for a Babymoon in Malta: Stay at the luxurious Hotel Phoenicia, a 1920s-style hotel set on 7 acres of garden. The hotel features live piano music in the lobby, panoramic views over the harbour and spacious, elegant rooms to retreat to.
27. Budva, Montenegro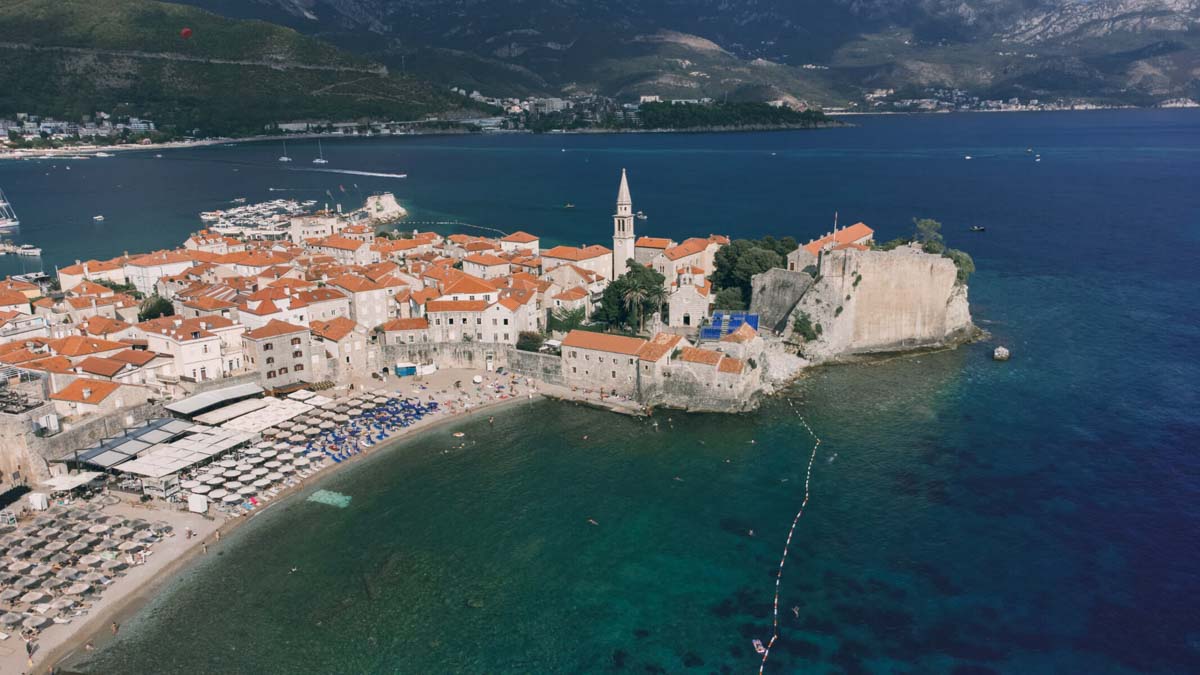 By Fernanda from Mauka Travels
Budva is a beach destination in Montenegro known for its stunning beaches by the Adriatic Sea. It is ideal for moms looking for a relaxing babymoon destination, as the city is surrounded by hotels and resorts with all levels of comfort. From simple apartments to luxurious accommodations, you will find it all.
Budva's Old Town is the city's historical center that hosts most of its cultural and historical landmarks. Make sure you walk around the narrow city alleys and go up to the top of the Citadel for the best views of the city.
Since Montenegro is known for its seafood-focused local cuisine, this is also something worth trying. In Budva, you will find many restaurants that set the perfect scene for a romantic sunset dinner with a view of the sea such as the Zeleni Gaj or the Duckley Seafront Restaurant.
Where to stay for a Babymoon in Budva: Located in the historic district of Budva and just a short stroll to the beach, Avala Resort & Villas is a great base for a babymoon. The hotel offers soothing treatment rooms, an indoor pool, a fitness area, sauna and steam room- everything you need for relaxation and rejuvenation!
Why go on a European babymoon in the Mediterranean?
1. Climate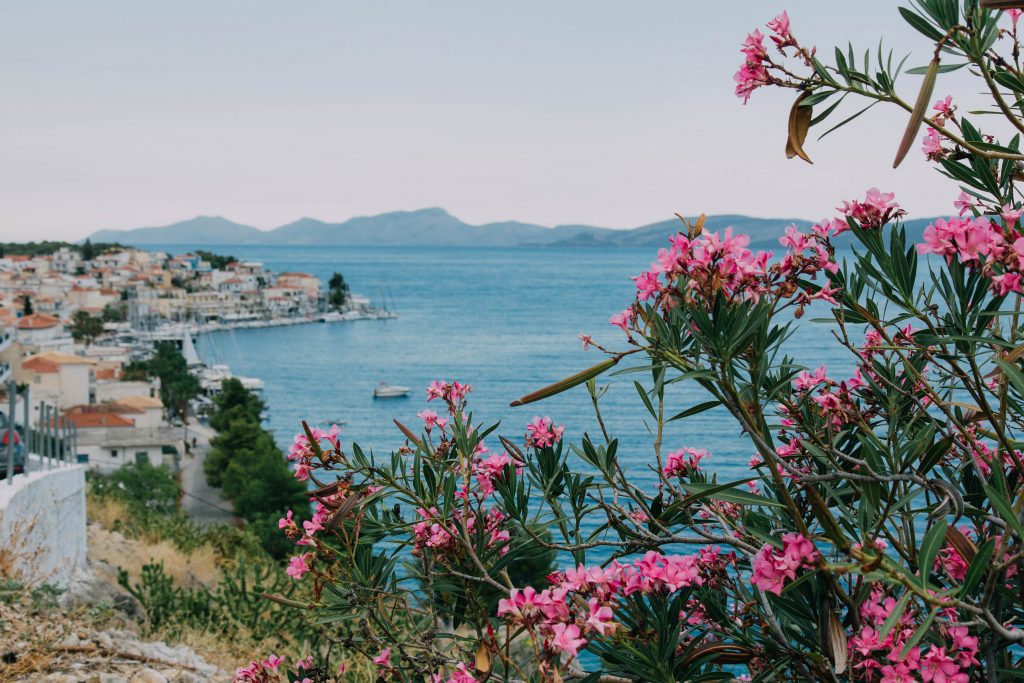 The Mediterranean is known for its mild climate, with warm summers and mild winters. This means that you can head to the Med for your babymoon at any time of the year. From warm beach breaks in January to mild city excursions in August, the Mediterranean offers a lot of versatility for a European babymoon.
2. Accessibility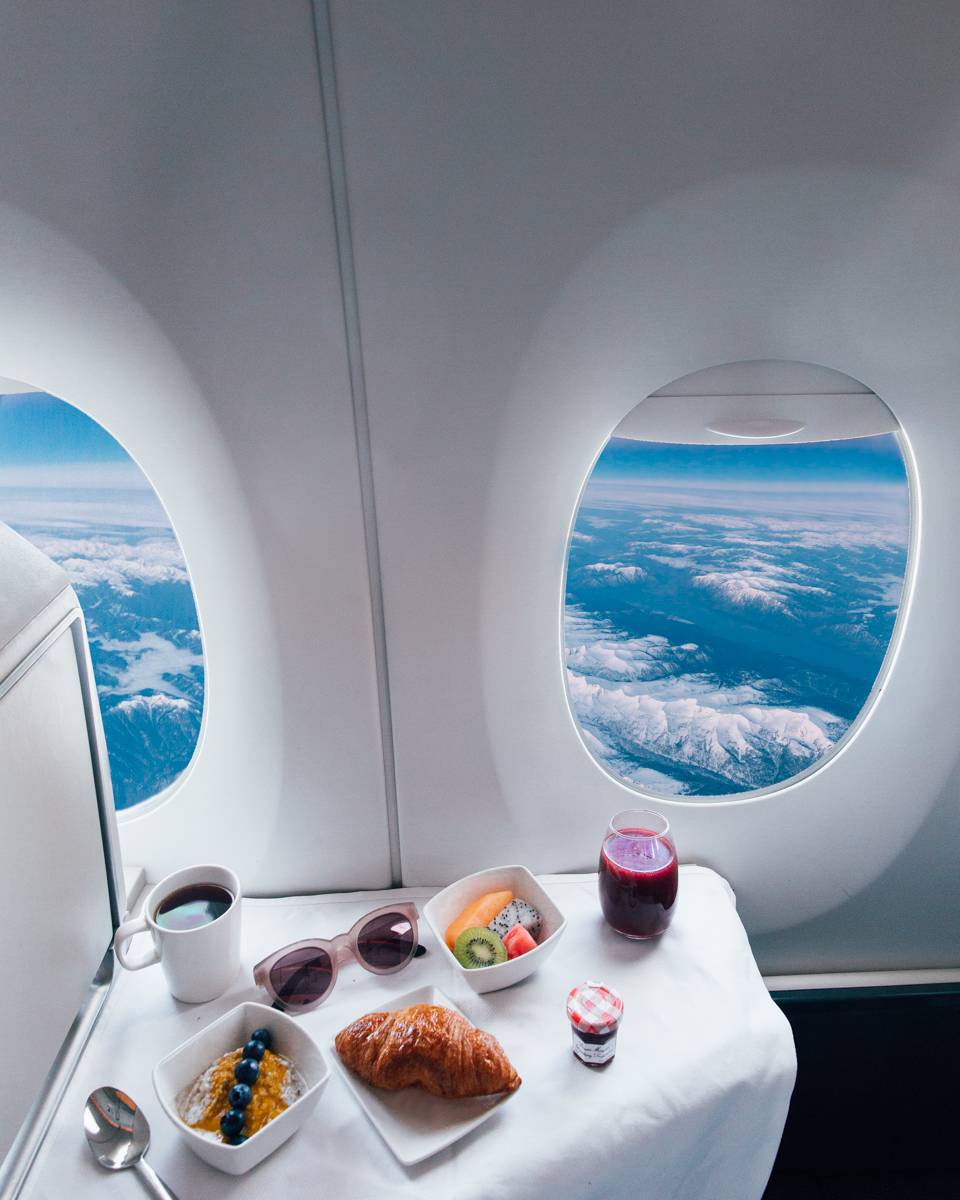 Mediterranean countries tend to have good infrastructure and numerous international airports with flights from all over the world. This makes it easy to get to your destination, which is particularly important for expecting mothers who need comfort and convenience.
3. Pampering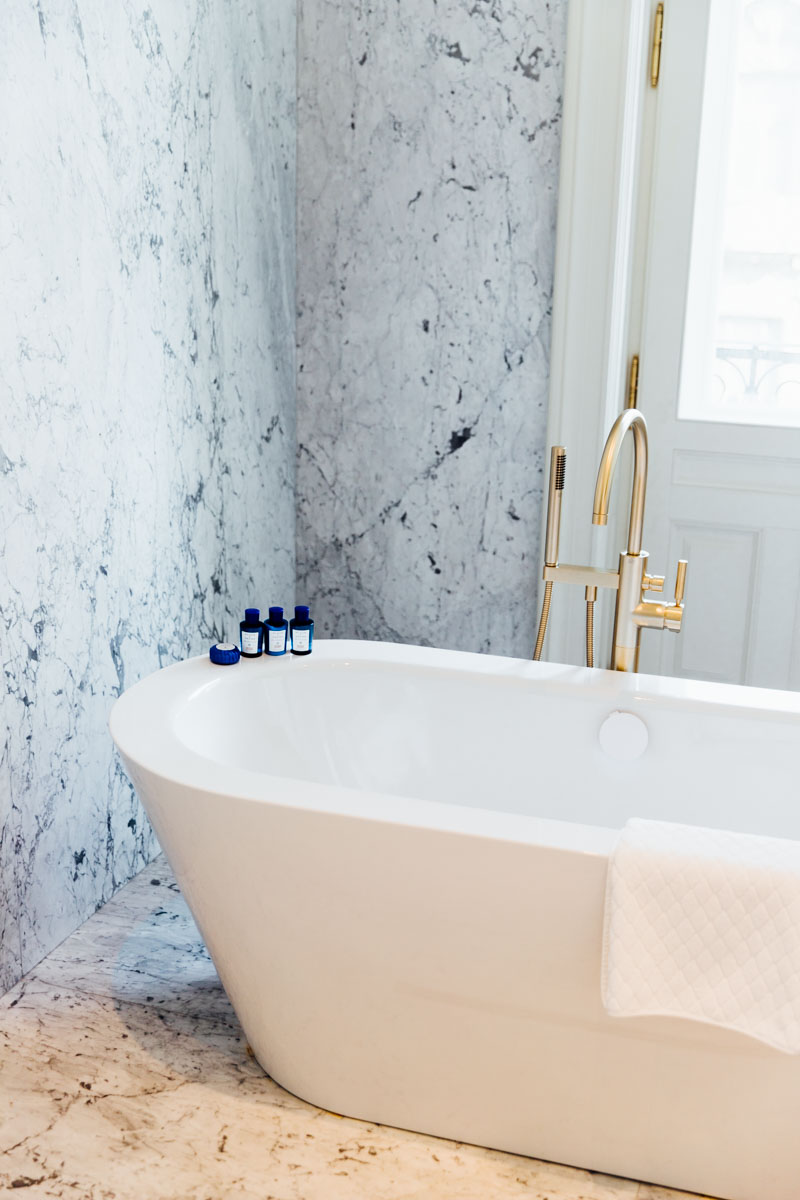 A European babymoon is a perfect excuse for some pampering. You'll find some of the best luxury resorts and spas situated in Mediterranean destinations. These places offer all kinds of spa treatments and massages for expectant moms.
4. Cuisine
It is no secret that the Mediterranean has some of the finest cuisines in the world. A babymoon to the Mediterranean means you'll get to enjoy plenty of delicious dining options before the baby arrives.
5. Sightseeing options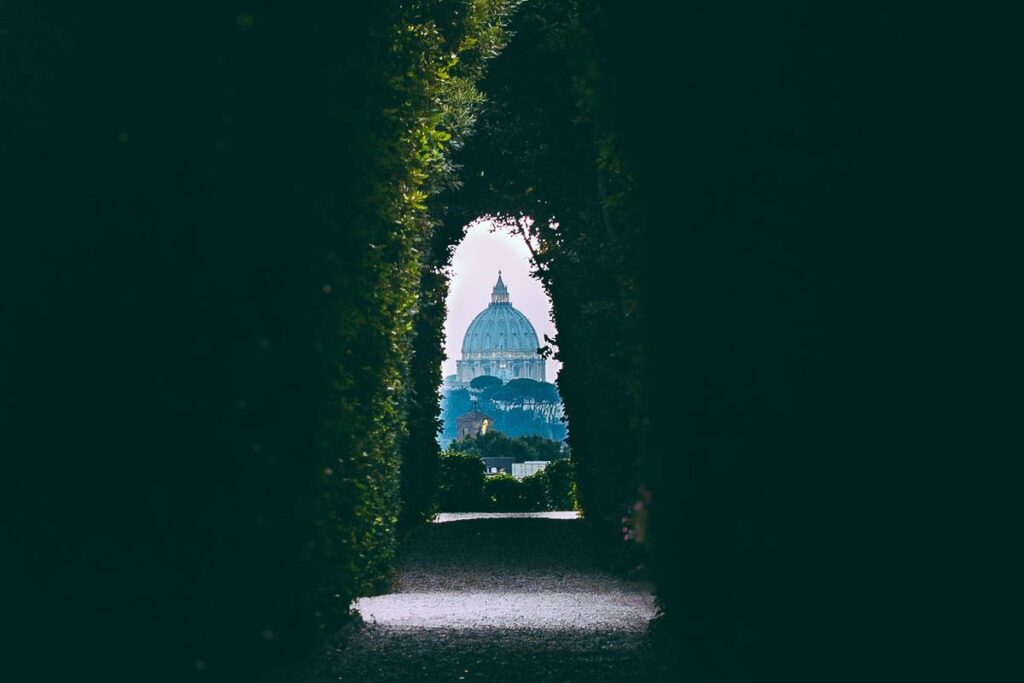 The Mediterranean has no shortage of amazing sightseeing destinations and tourist attractions on offer. If you're looking for a more active babymoon, you can choose anything from hiking in the Alps to world-famous historical sites like the Colosseum.
GET MORE EUROPEAN BABYMOON INSPIRATION:
Found this post on the best babymoon destinations in Europe useful? Save it for later!