Planning to visit the iconic Greek Island of Santorini? From cliff-jumping to quad biking, sunset wine tours to hot springs, here are 10 unique things to do in Santorini in 2022!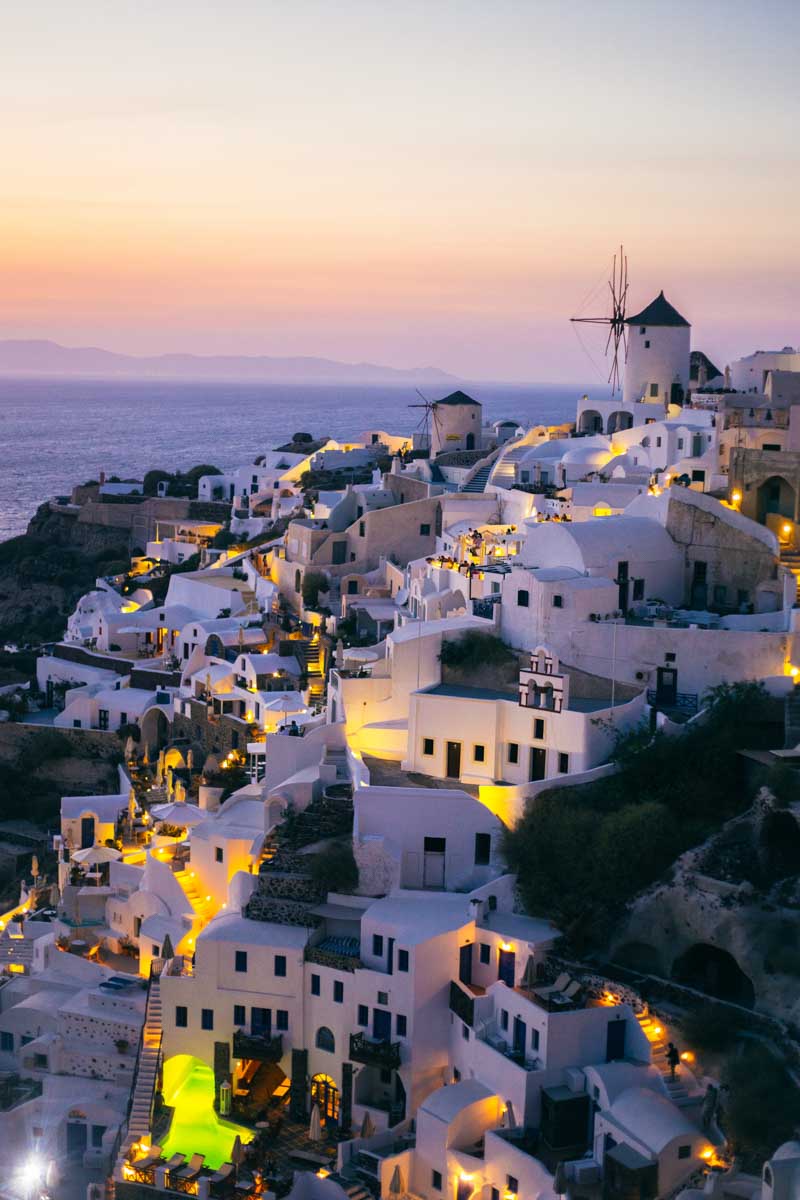 An island with more churches than houses, more donkeys than people, and more wine than water (or so a sign on the bathroom door told me)… Santorini Island really is a place like no either. 
You may know it as the place where hundreds of white-washed buildings are gathered together on a striking volcanic cliff, surrounded by a glimmering azure backdrop. There is no denying that Santorini is an epic sight to behold.
However, there is a lot more to this picture-perfect Greek Island is more than just scenic views. There are so many cool things to do in Santorini that many people visiting don't know about.
During my five days on the island, I climbed an active volcano, jumped off a boat into hot springs and went quad biking on crazy roads. I also sunbaked on black sand beaches, dived into crystal clear waters, drunk cocktails at sunset and danced till dawn!
10 Unique Things to do in Santorini
If you are planning to visit this beautiful Greek Island and want to know what to do in Santorini, look no further. Here my top 10 unique things to do in Santorini!
1. Go cliff jumping in Santorini at Amoudi Bay
Does jumping into crystal clear Mediterranean waters surrounded by the striking cliff faces of Santorini sound like your cup of tea?
Well, then you HAVE TO check out this incredible swimming spot at Amoudi Bay. It was honestly one of the best things I did during my stay in Santorini. 
You can swim straight off the rocks, or if you are game, climb up the stairs of the massive boulder in the water and do your best dive in!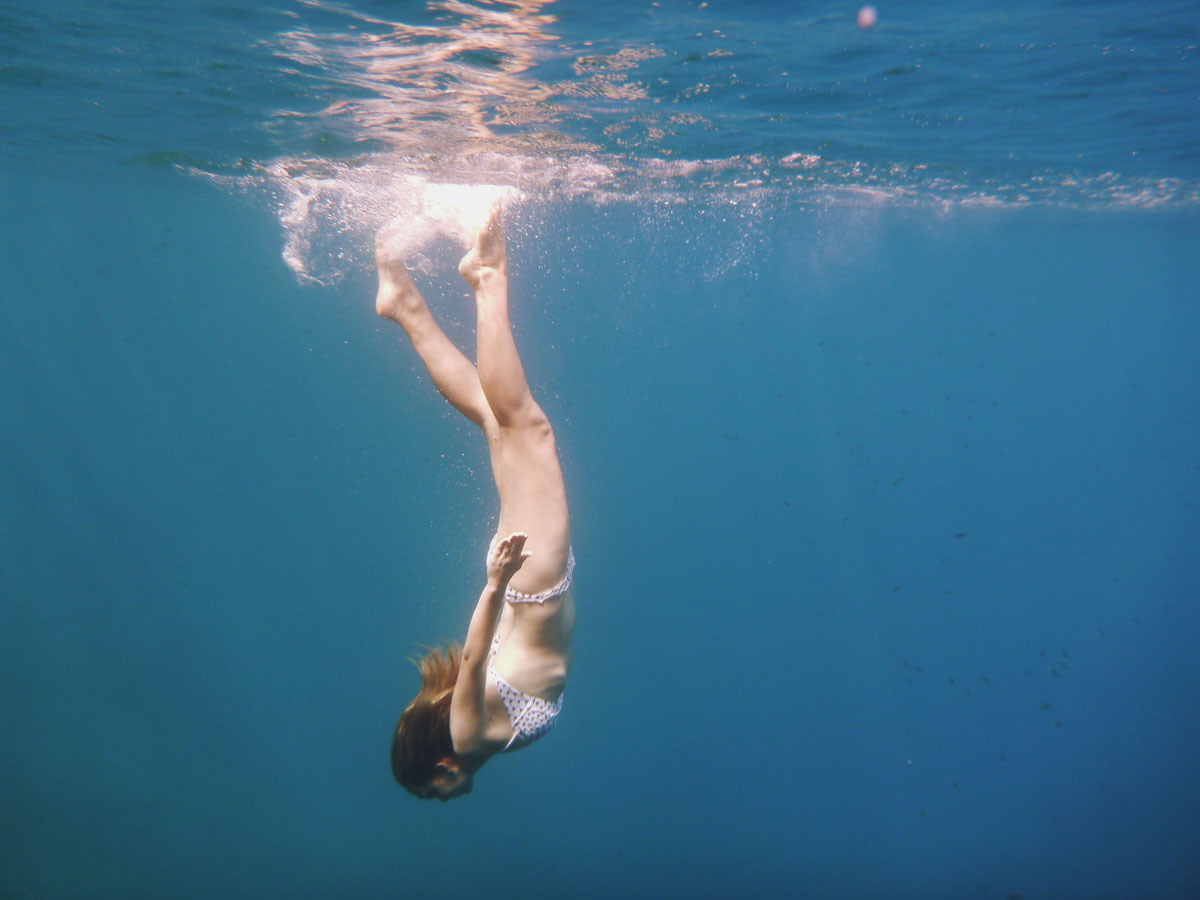 TO GET HERE: This spot is actually quite hidden and requires a bit of stair climbing, but I promise it will be worth it! 
From Oia, look for the big set of stairs that go down to Amoudi Bay. Once you reach Amoudi Bay, walk left along the cliff face. Keep walking over the rocks and eventually, you'll spot paradise.
2. Go on a Sunset Wine Tour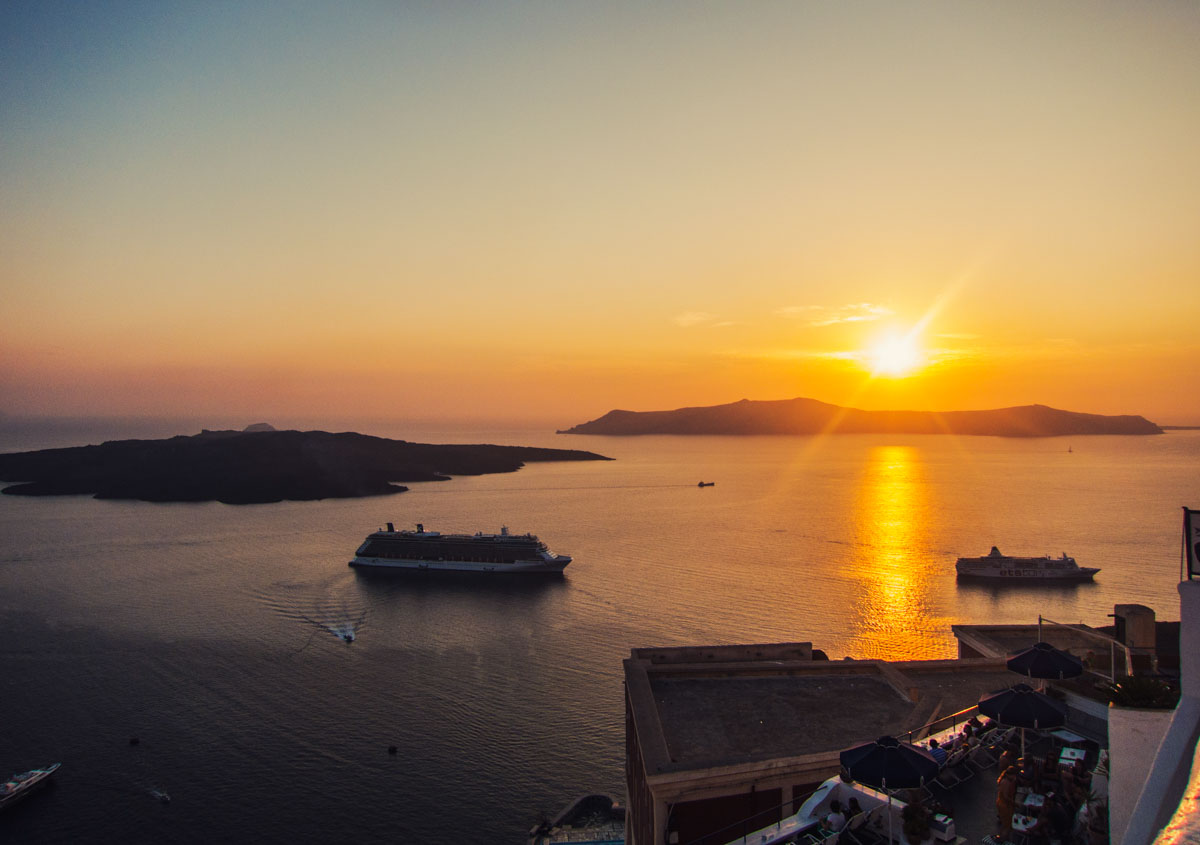 Santorini is home to many fantastic wineries, so make sure you don't leave the island without sampling the island's finest grapes!  
If you want the full experience, take a sunset wine tour. On the tour, you will be taken to 3 traditional wineries to taste over 12 wines. On the final stop, you'll get to sip your wine whilst watching Santorini's famous sunset.
Alternatively, appreciate the iconic Santorini sunset from the water with a 4-hour cruise on board a catamaran. On the cruise, you'll see Santorini from a whole new angle, while enjoying a barbeque dinner and unlimited drinks. You can even jump off the boat for a swim or snorkel!
See also: What it's like to Sail the Saronic Islands
3. Hike the Fira Trail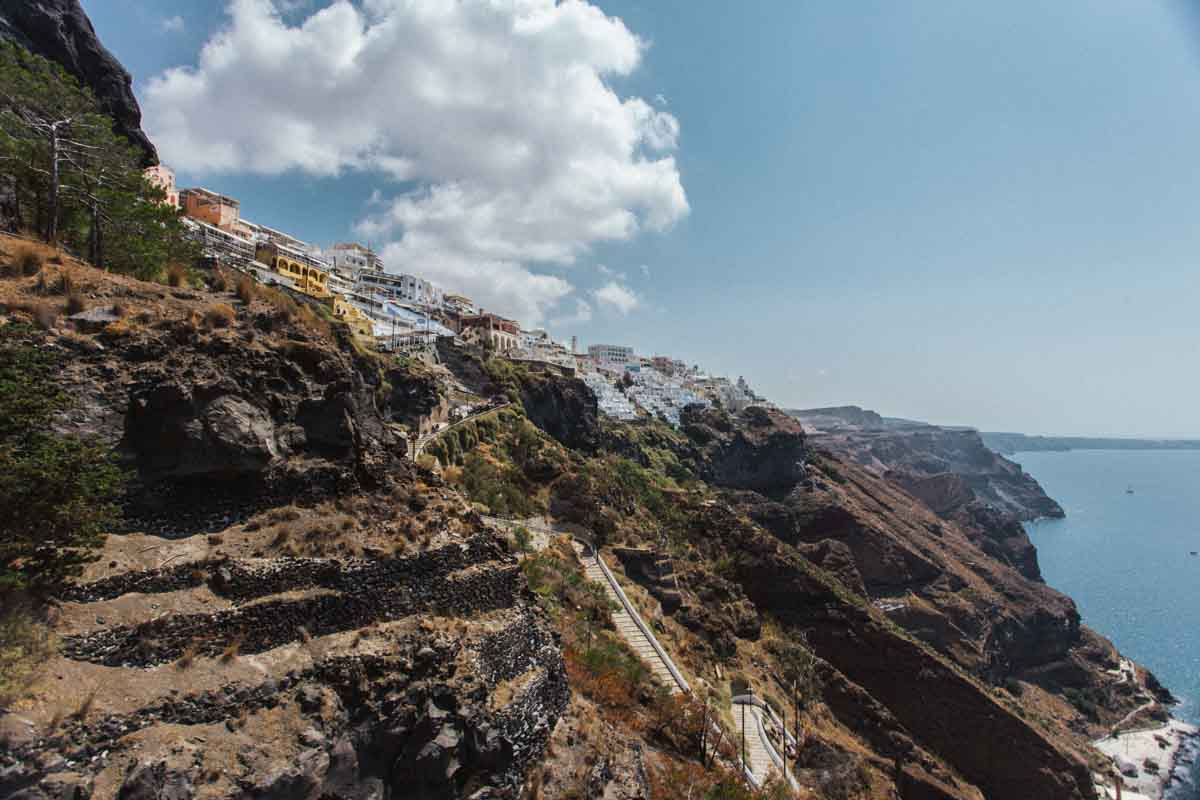 If you want a chance to up your Instagram game with some of the BEST photo opportunities Santorini has to offer, this hike is a must. The hike goes from Fira to Oia and is about three hours long (if you take it at a leisurely pace).
I recommend doing the hike at sunset, as it won't be as hot at this time of day, AND you'll get the most beautiful photos at this time of day!
4. Stay in a Santorini Cave house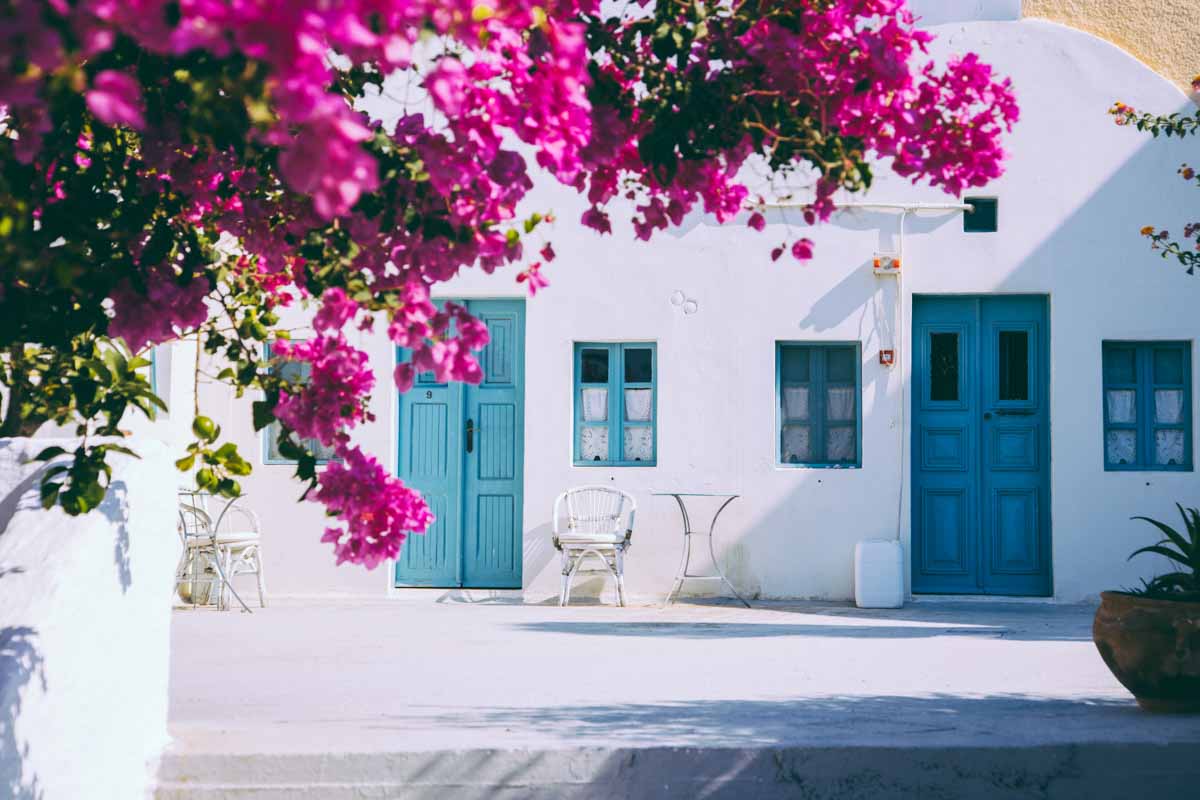 While you are working your way through this list of unique things to do in Santorini, you should be staying somewhere equally as unique! For a unique stay, I would highly recommend Caveland, which is the lovely hostel I stayed at in Santorini.
The hostel itself feels wonderfully Grecian. Think traditional, white-washed cave-style buildings featuring bright blue doors framed by fuchsia flowers. Complete with a pool, super friendly and helpful staff, and morning yoga classes, it is pretty incredible as far as hostels go.
It is also a total bargain for Santorini standards- you can check prices and availability here. Scroll down to the bottom of this article to see more of my accommodation recommendations!
See also: What to Pack for a Week in the Greek Islands
5. Have ultimate gastronomic experience in Santorini
If you are a foodie and want an unforgettable gastronomic experience in Santorini, then this one is for you. Take part in the ultimate Santorini food tour, which includes a cooking class, wine tasting and lunch!
First, you'll visit a winery and a farm to sample local wine and seasonal produce. Next, you'll take part in a hands-on cooking lesson with a local chef where you'll learn to cook authentic Santorinian recipes. Finally, you'll have a Greek feast for lunch, featuring local delicacies and paired wines!
PS. If you want to try your hand at making some delicious Greek food at home, check out my recipe for the iconic Greek dish of yemista (vegetarian stuffed peppers)!
7. Jump off a boat into Santorini's natural hot springs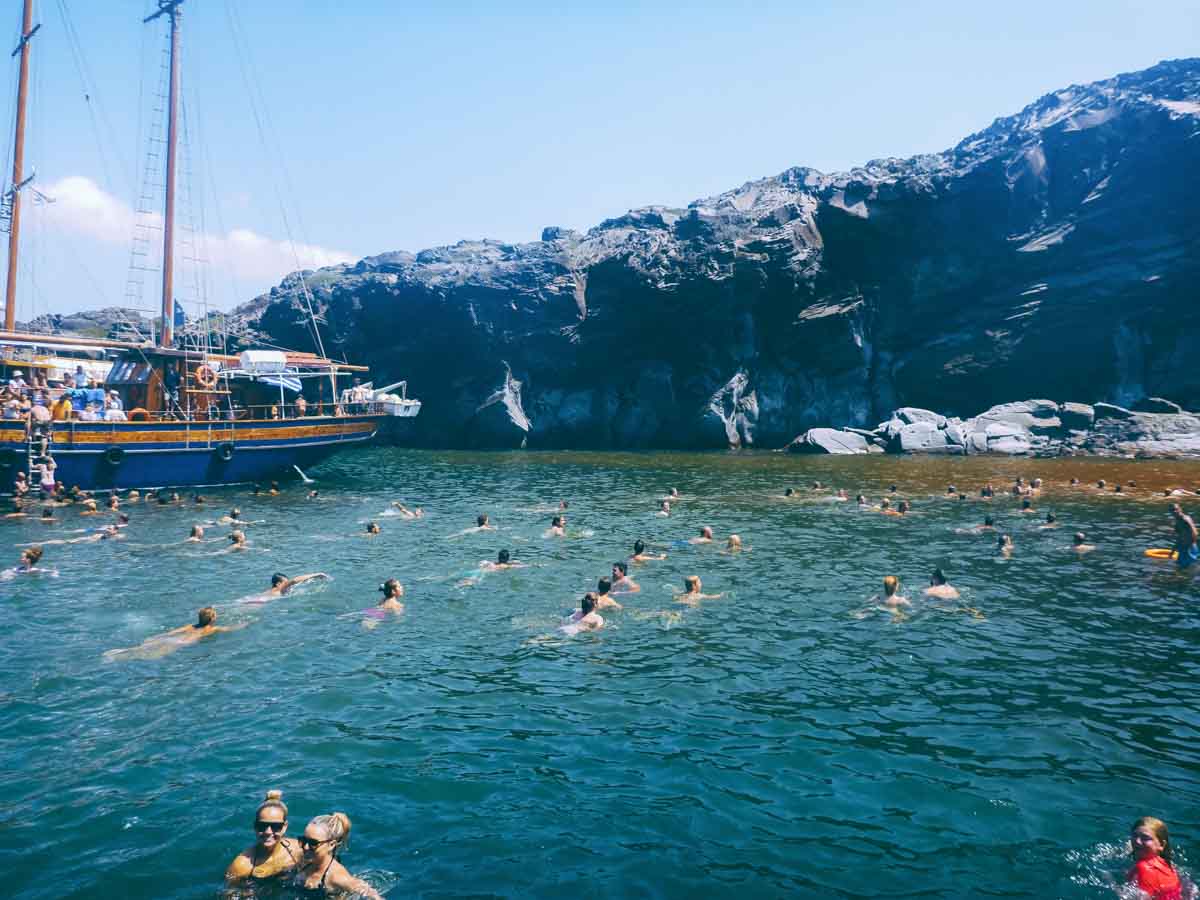 Picture this. You're on a boat. You dive off into the cool Mediterranean ocean. After twenty meters of swimming, the water changes color and temperature and you've in natural hot springs! This is just another one of those unique things to do in Santorini that you simply can't miss.
I'd highly recommend the boat tour I did, which departed from Old Fira port. You are taken around in a traditional wooden yacht, which you get to jump off the side of to get into the hot springs.
The tour also takes you to the volcanic island of Nea Kameni, where you get the opportunity to hike around the rim of an active volcano.
The tour fills up quickly, so be sure to book in advance. You can check prices and availability for the hot springs + volcano boat ride here.
7. Hire a quad bike and drive around Santorini Island
What better way to explore this beautiful island than cruising down the roads with the wind in your hair!? Hiring a quad bike (or ATV) for the day is surprisingly cheap and only requires a standard license. It's a great way to discover areas that aren't accessible by bus.
If you are nervous about driving on the busier roads, head towards the black sand beaches of Kamari and Perissa. It's a super easy drive with virtually no traffic. Just you and the open road baby!
Alternatively, if you don't have a driver license, you could cruise around the island on an electric bike tour instead.
If you want more of an adrenaline dose, Santorini also offers an endless array of activities including helicopter tours, parasailing, and scuba diving.
8. Experience the REAL meaning of dinner with a view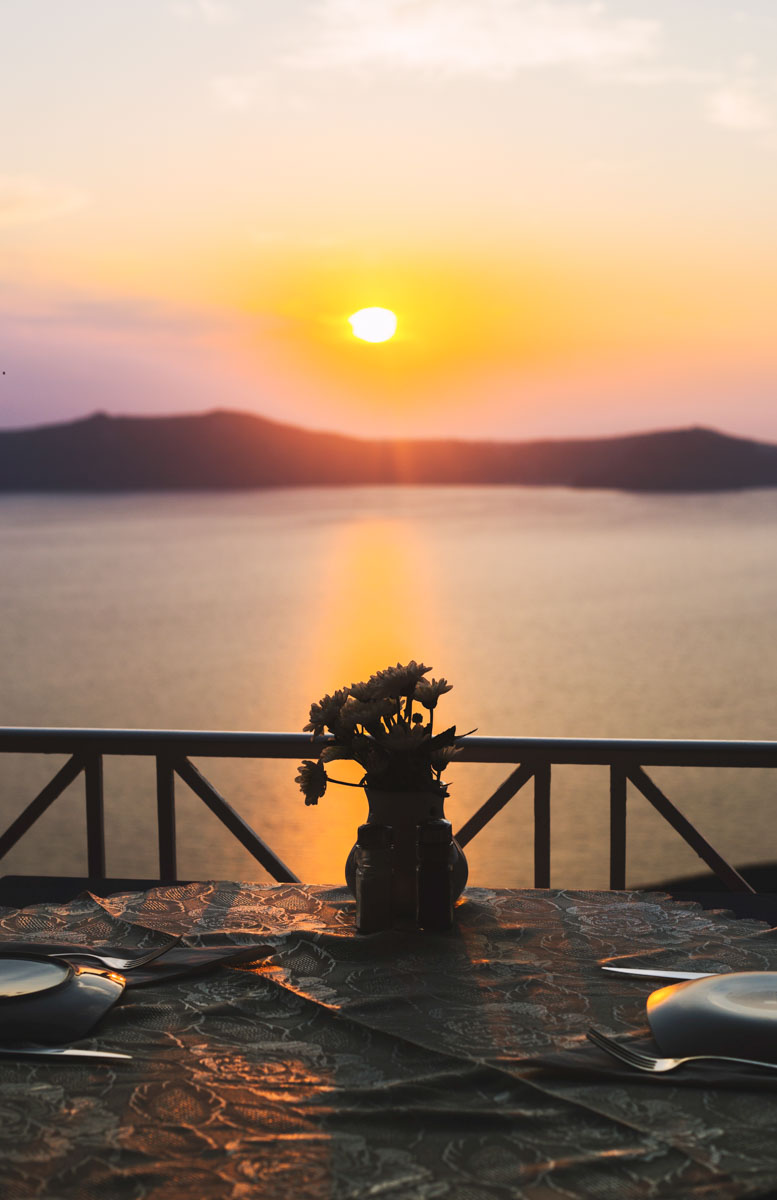 It's not every day you have the option of dining with arguably one of the best views in the world. Even if you're on a budget, choose at least one night to splurge a little at one of the many restaurants overlooking the ocean.
Time your reservation for sunset and prepare to have your mind (and hopefully tastebuds) blown.
The last night we were in Santorini we ate out at Volcano Blue, a reasonably-priced restaurant along the water at Fira with a priceless view. The timing of our meal could not have been more perfect.
Not only did we get to watch that fiery red ball descend into the shimmering ocean, we also got to witness a spectacular firework show over the volcano once the sun went down!
9. Sunbake on Santorini's black sand beaches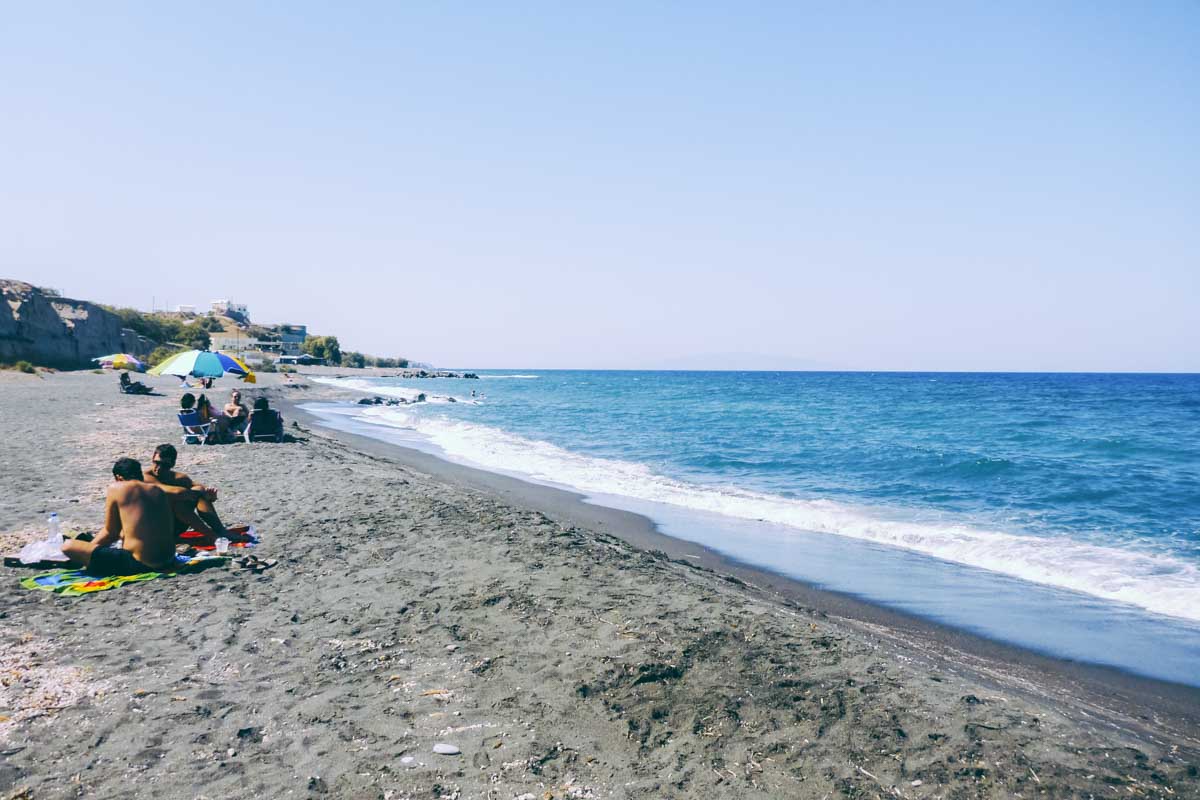 For a unique, and to be honest, slightly painful experience, head to the black sand beaches of Kamari and Perissa. Within seconds of stepping on to that hot sand in summer, your feet will fry and you'll turn three shades darker. But hey, that's all part of the fun- right?
Luckily you can rent out a sun lounge and an umbrella to avoid these things, and then after a dip in the water, you can always retire to one of the many restaurants lining the beach for a well-deserved drink.
10. Get the best spot to watch the sunset in Santorini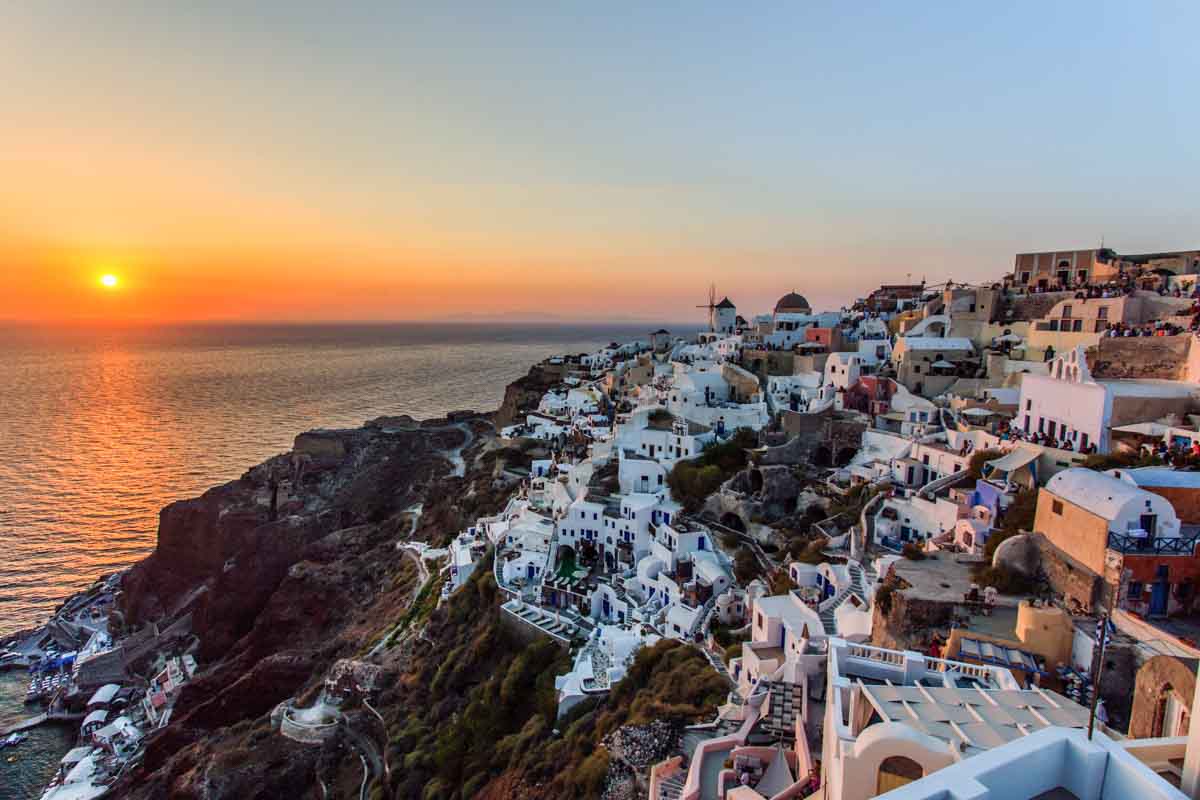 So I know it's an obvious one, but there is a very good reason why this is recommended on every Santorini guide imaginable. I'm not exaggerating when I say that sunset at Santorini was by far the most spectacular sunset I have ever seen. Ever.
There aren't many crowds that erupt in a round of applause once the sun makes its final descent beneath the ocean. This is one of those pinch-yourself kinds of moments, one that you are going to remember for the rest of your life.
To make watching the sunset over Oia the BEST experience possible, securing a good spot will make all the difference.
My advice? Bring a little picnic, arrive at the very least an hour before sunset, and make your way up to the viewing platform and secure a good seat. Take a million photos, but also don't forget to take time to really be in the moment, to soak it all in.
Where to stay on Santorini Island?
If you want to browse a curated selection of the very best hotels in Santorini, I'd recommend checking out Safara. Booking through Safara means you get the best hotel rates as well as 10% credit back from every stay. If you sign up using my link, you can also get a $100 credit to spend on your first stay!
Budget Accommodation in Santorini $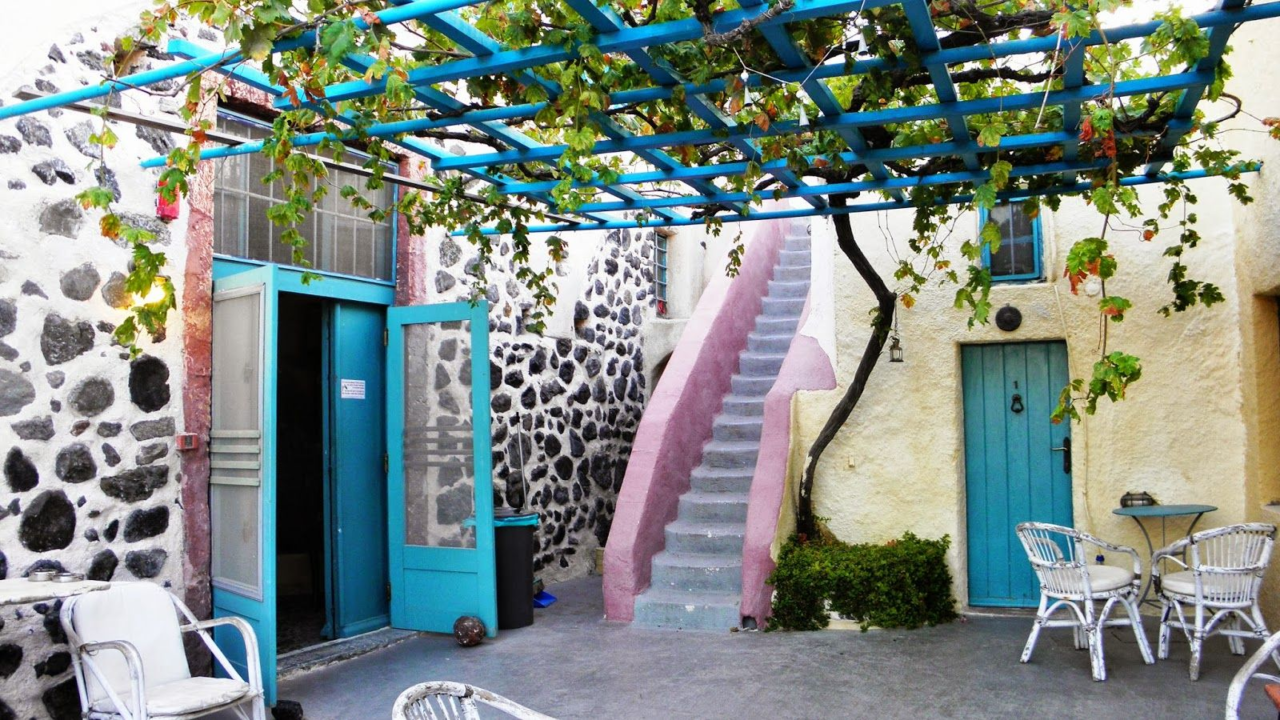 Caveland (Karterados)– a hostel with stunning cave rooms, a pool and outdoor area, free wifi and breakfast included. Check prices & availability here.
Mid-range Accommodation in Santorini $$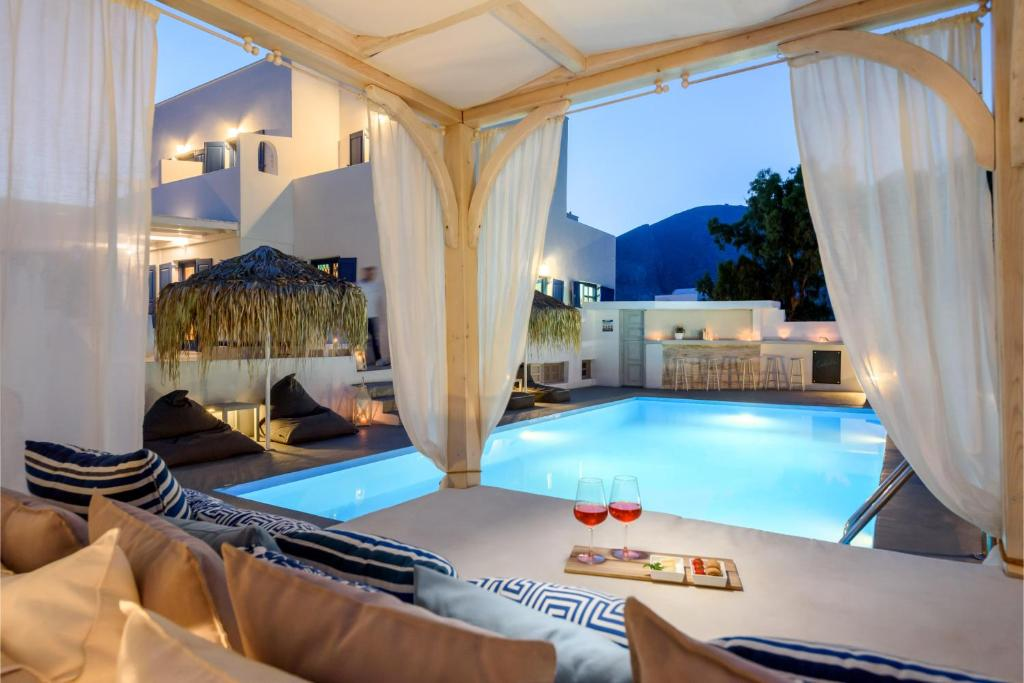 Aegeeis (Perissa)- Beautifully decorated, affordable accommodation featuring a gorgeous outdoor area with a pool, a bar, a shared lounge and a garden. Check prices and availability here.
High-end Accommodation in Santorini $$$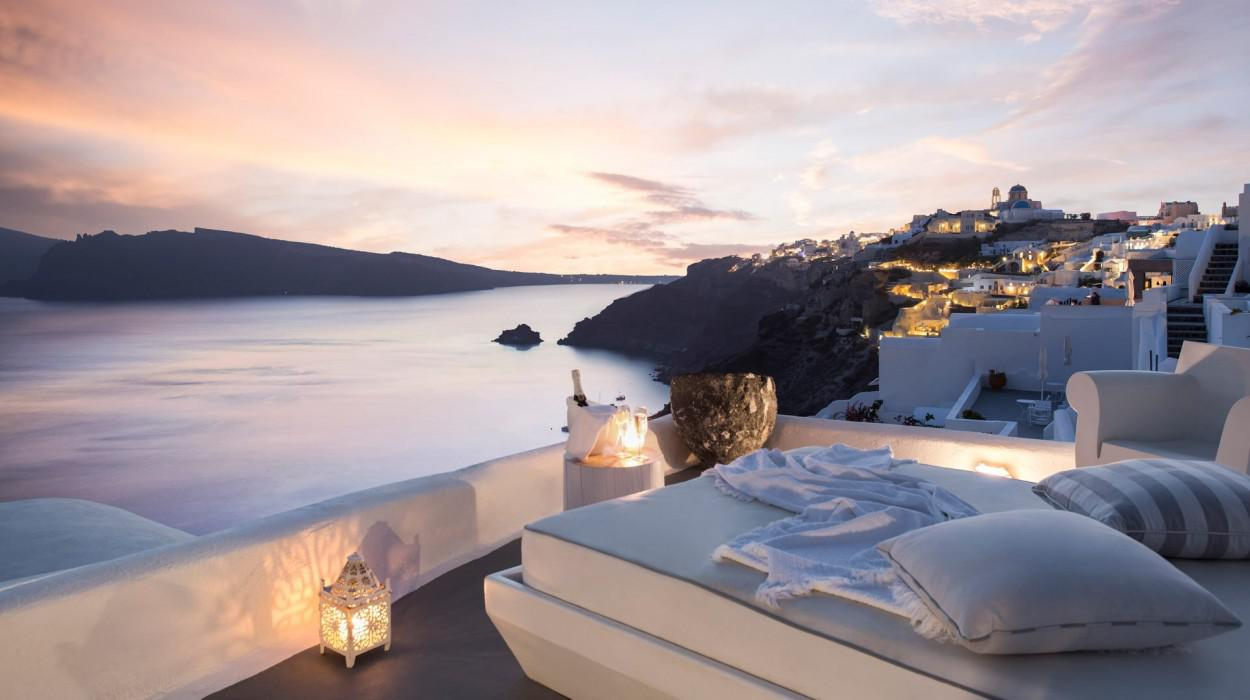 Kirini Suites and Spa (Oia)- five-star luxury experience in the iconic town of Oia, incredible suites with private plunge pools, outstanding service. Check prices and availability here.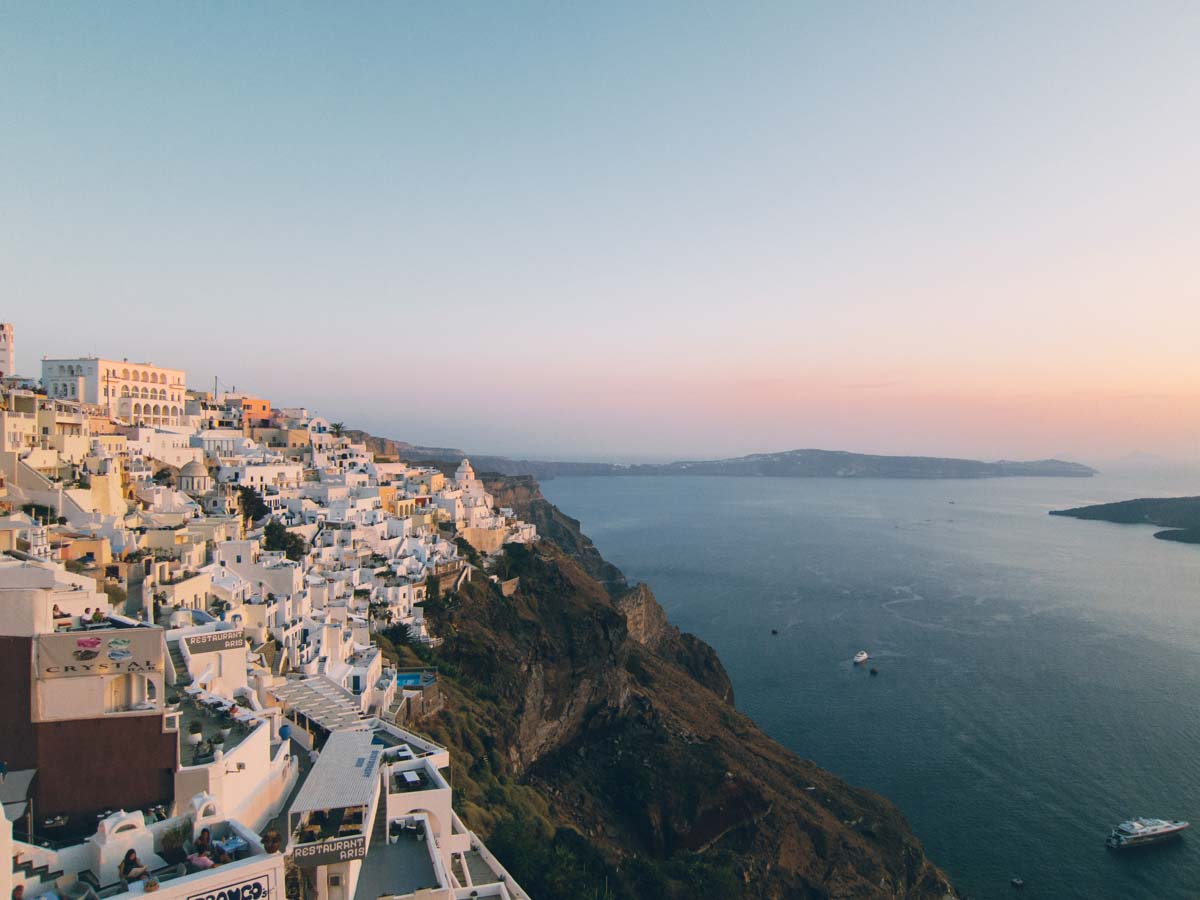 How do you get to Santorini?
There are two main ways you can arrive in Santorini- by boat or by plane. If you fly into Athens, you can catch the Blue Star ferry to Santorini, which will take eight hours and cost from €38. There are also high-speed boats that will take only 4-5 hours but cost you more.
Flying into Santorini can actually be cheaper than the ferry, especially with the rise of budget airlines like Ryanair. One of the easiest ways to find cheap flights to Santorini is through comparing flights on Kayak.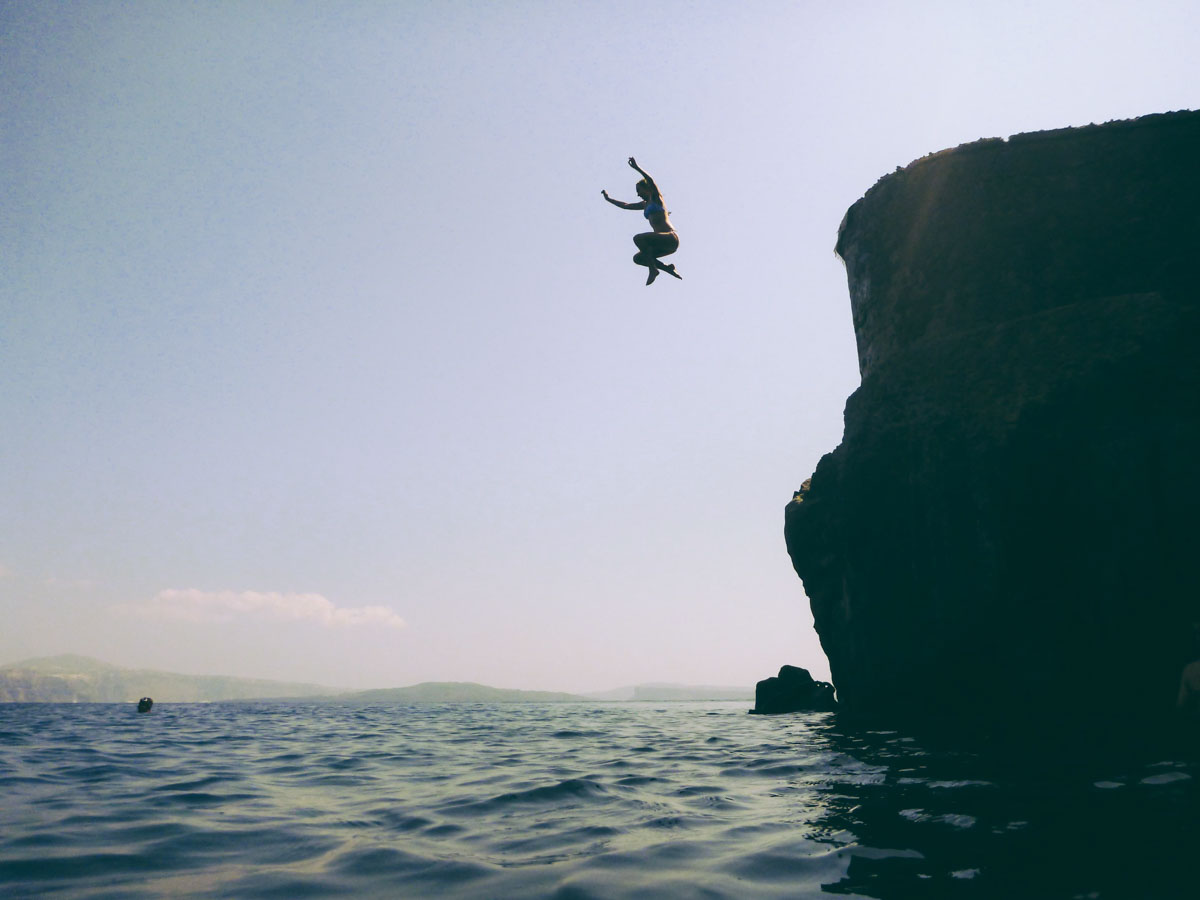 Do you need travel insurance for Santorini?
I highly recommend getting travel insurance before ANY international trip. World Nomad's offer the most flexible worldwide cover that I have come across, and you can purchase a policy online, even if your trip has already commenced. If you're not traveling with tech gear, you may also want to check out SafetyWings, which is a bit more affordable.
READ NEXT: Saronic Islands in Greece: What it's Like Sailing
Found this article on unique things to do in Santorini useful? Pin it!