Here's what it's like to take a luxurious southern Spain road trip!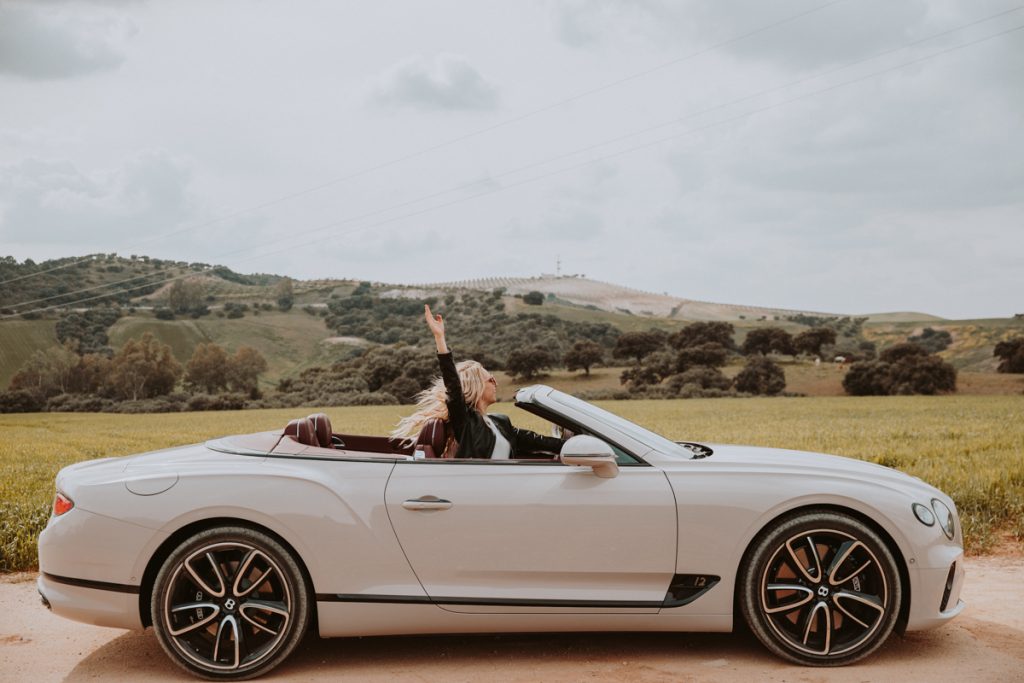 If someone had told me that one day that I'd get flown across the world to spend the day test driving one of the most luxurious cars in the world, I would have laughed in their face.
Yet, last week, this somehow became my reality.
Arriving at Marbella Beach Club
After thirty hours spent travelling in a plush seat in the Emirates business class cabin, I step off the plane in Spain and into another plush seat – this time, in a chauffeured luxurious Bentley. Next thing I know, we are arriving at the Marbella Beach Club, one of Andalusia's most exclusive addresses. After briefly freshening up in my massive suite, I am whisked off to welcome drinks at one of the most beautiful villas I've ever laid eyes on.
The Welcome Party
Champagne is placed in our hands as we walk through the French doors to the sight of a postcard-worthy pool, palm tree and sunset combination and everyone dressed to the nines… It really feels like we have just walked on to the set of The Bachelor.The centrepiece of this scene is a glossy white convertible- the car that has brought us all here. Before we know it, we are getting beckoned inside a room to be shown exactly what the Bentley Continental GT Convertible is all about. Excitement courses through my veins as I realise that is the very car I am going to be driving through the Spanish countryside the next morning.
Dinner at a Three Michelin Star Restaurant
Once the presentation concludes, we are whisked back into our fleet of chauffeured Bentleys and taken down the road for dinner. Of course, we aren't just going to any old restaurant for dinner. We have a private room booked out inside Dani Garcia's casual three Michelin Star restaurant. I find my place card on the table and next to it a personalised vegetarian menu explaining the degustation that we are about to experience.
An untold number of courses and paired wines later, we are back at the hotel bar drinking champagne cocktails and listening to live jazz, before finally calling it a night. I hadn't seen a bed in two days, so I am very thankful to wrap myself in the silky sheets of the lush bed and get a few moments of shut-eye before the next day's big adventure.
Getting into the Bentley
I don't know if it is the jetlag or excitement that jolts me awake bright and early, but by 5.30am I am ready for the day to begin. Breakfast is served at the same lavish private villa we had been at the night before, and the spread on offer is nothing short of extravagant.
A quick five minutes driving briefing later and I have the keys of a $400,000 car entrusted into my hands. All I recall from the briefing is that this car can go up to 333 kilometres and 0 to 100 kph in 3.8 seconds, the knowledge of which has me mildly petrified but also raring to go.
Next thing I know, I am sitting in the driver's seat of a dove grey Bentley convertible. Not just any seat, but a plush leather number that adjusts 20 different ways and has in-built heating and massage functions. In one click the roof is down, in another the classy wood veneer rotates to become a 12.3" touchscreen console.
The road trip commences
Suddenly, we are off. Our route is set from Marbella to Seville, a three-hour scenic drive that winds around breath-taking mountains before crossing through the rolling hills and olive groves of the Andalusian countryside. These three hours are some of the most terrifying and exhilarating hours of my life.
It doesn't take long for me to understand why they have trusted me to drive this thing. This car is not only insanely fast and powerful, it is also extremely clever. With features such as pre-sense automatic braking and active lane assist, I don't think this car will let me crash, even if I tried.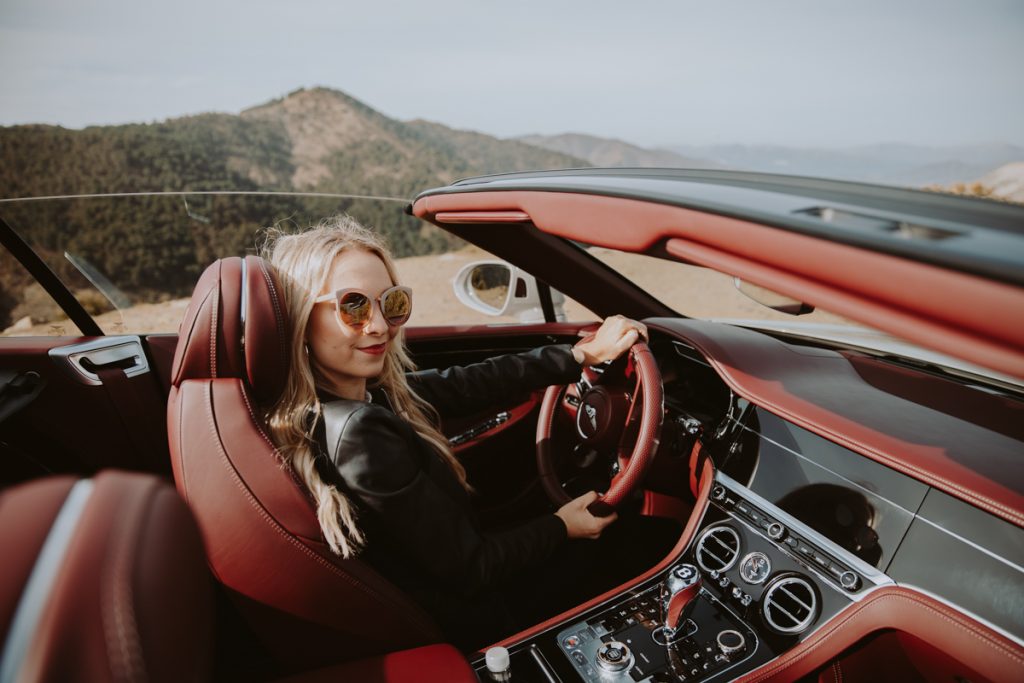 The moment I start driving this beautiful beast is the moment I fall in love. The steering is buttery smooth, and the rate of acceleration is like nothing I have ever experienced before. A hologram on the windscreen provides GPS directions and speed limits, which gives me no excuse for getting lost nor speeding (I still manage to do both). The 10-speaker system means we can blare obnoxiously loud music and attract even more bewildered stares than two girls in their twenties driving a Bentley would normally attract.
Coffee stop at a private villa
We are told we're stopping for a coffee break, which I naively assume will equate to a quick cappuccino at a roadside café. Instead, we find ourselves rolling down a seemingly endless driveway before arriving at a painstakingly beautiful private villa nestled amongst the olive groves. The villa is an Andalusian country house that has been restored by a couple with a fantastic eye for design. Now, they rent it out for high-end photoshoots or exclusive events like this one.
The quick cappuccino I was imagining turns out to be a lavish spread of locally-made cheeses and marmalades, Jamón ibérico cut straight from the bone, freshly-squeezed juices and smoothies, even cake made with olive oil from the surrounding groves. After our 'low-key' coffee break and a million photos of the gorgeous villa, we are off on our final stretch to Seville.
Arriving in Seville
Arriving in Seville to finish our southern Spain road trip is like arriving in a fairytale – every inch of this city radiates beauty and enchantment. Except, instead of arriving in a magical pumpkin carriage like in a fairytale, we arrive in a hotted-up Bentley (although with the number of stares we are getting, you'd think we were inside a giant pumpkin).
We check into the iconic Hotel Alfonso XIII, which is a stunning display of Moorish architecture and Andalusian design and truly felt fit for royalty (after all, it was commissioned by the king of Spain to international dignitaries during the 1929 exhibition).
It was here that we have to say goodbye to our beautiful Bentley. In this moment, I feel what Cinderella must have felt as her fairytale evening came to an end and her magical carriage turned back into a pumpkin. Only in my case, it's a Bentley Continental GT Convertible that is performing a degrading transformation into the Toyota Corolla that awaits my return back home.
Final thoughts
Afterwards, as I sit reflecting on what I have just experienced, I have an important realisation. Whilst getting a taste of the absolute high-life was a lot of fun and driving one of the most luxurious cars in the world is an experience I will never forget, I feel a strange sense of gratitude. The fact that this was all so far from my day-to-day reality means I was truly able to relish every moment of the experience. When things in our life become normality, it is all too easy to take them for granted.
This leads me to thinking about the things in my life that I do take for granted. Sure, I may not drive a Bentley on the daily, but even the fact that I have a car to drive is a privilege that many people in the world do not have. Society makes us believe that happiness can found in worldly possessions – that somehow, if we have cooler car or a newer iPhone or more fashionable clothing, we might reach a high level of satisfaction. Truth be told, the only way we are going to find happiness is when we find satisfaction with exactly who we are and what we have.
Now, every time I climb into my Corolla, I remind myself of just how blessed I am. I mean, I wouldn't complain if it had a convertible roof and went 100km/h in 3.9 seconds. But then again, that might just ruin the novelty…
Big thanks to Bentley for hosting us on a truly memorable Spanish roadtrip!
Have you ever been on a southern Spain road trip? Let me know below!
For more Spanish travel, read these next:
Liked this southern Spain road trip? Pin it for later!