Wondering what to do in Sweden's capital in winter? Look no further. These are the 20 best things to do in Stockholm come December!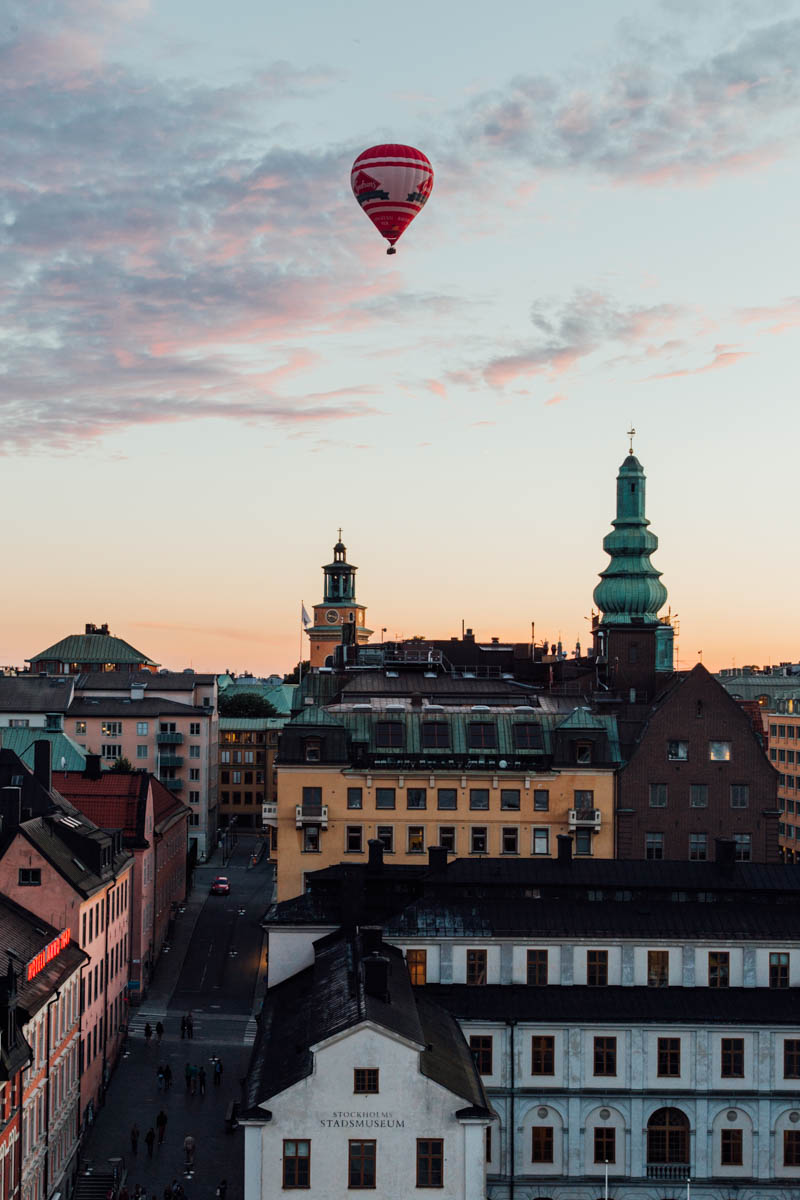 Disclosure: This post contains affiliate links, which means I make a small commission at no extra cost to you if you kindly choose to book via my links!
The days may be short and the temperatures may be low, but don't let that stop you from visiting Stockholm in winter. It's during this time of the year that the hip capital of Sweden comes alive!
Come December, Stockholm turns into a winter wonderland. The streets get bedazzled with fairy lights and twinkling Christmas trees. The Old Town fills up with festive Christmas markets. Ice-skating rinks pop up throughout the city.
There are so many fun things to do in Stockholm in winter, so rug up, and get ready for a magical side to this Scandi city!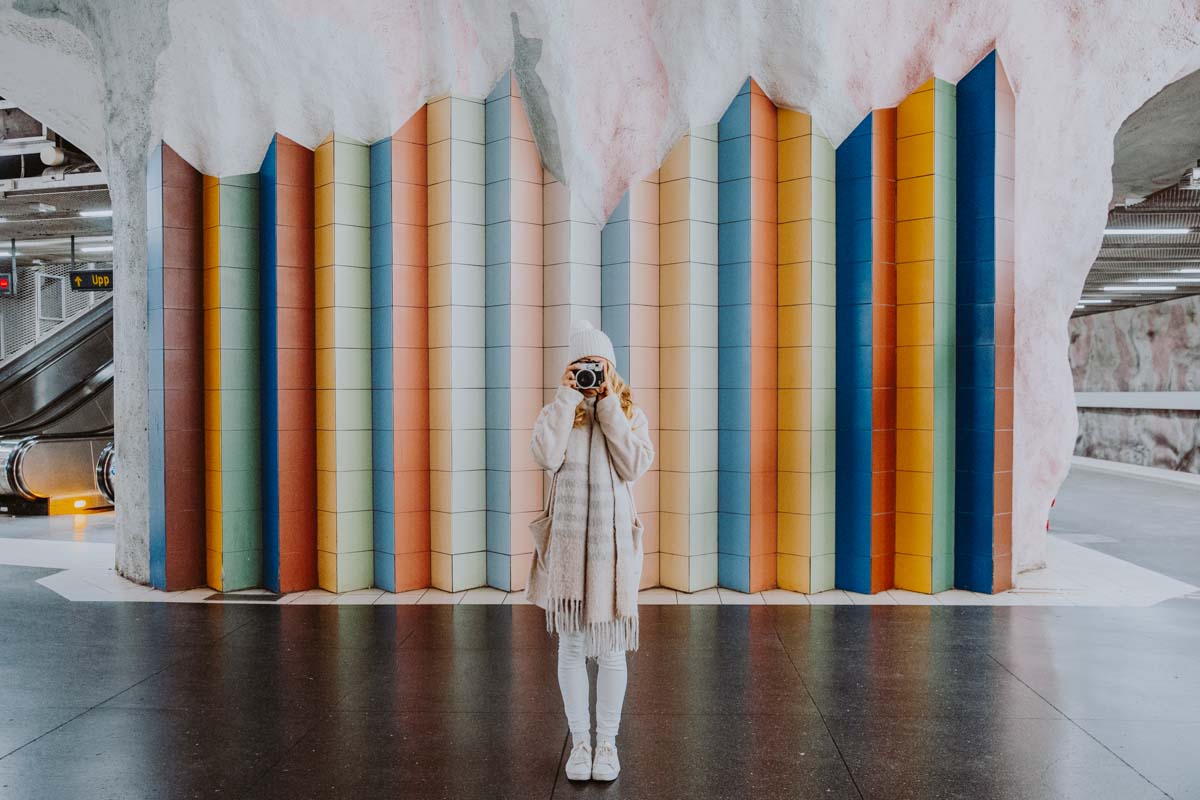 Stockholm All-Inclusive Attractions Pass
If you're planning to do a selection of activities from this list, it may be worth buying a Stockholm all-inclusive attractions pass. You can choose your pass duration (from 1- 5 days) and you'll get entry to over 45 attractions, galleries, museums, boat tours and more around Stockholm.
You can check pricing + purchase a Stockholm all-inclusive attraction pass here.
Free things to do in Stockholm in Winter
1. Visit the World's Longest Art Gallery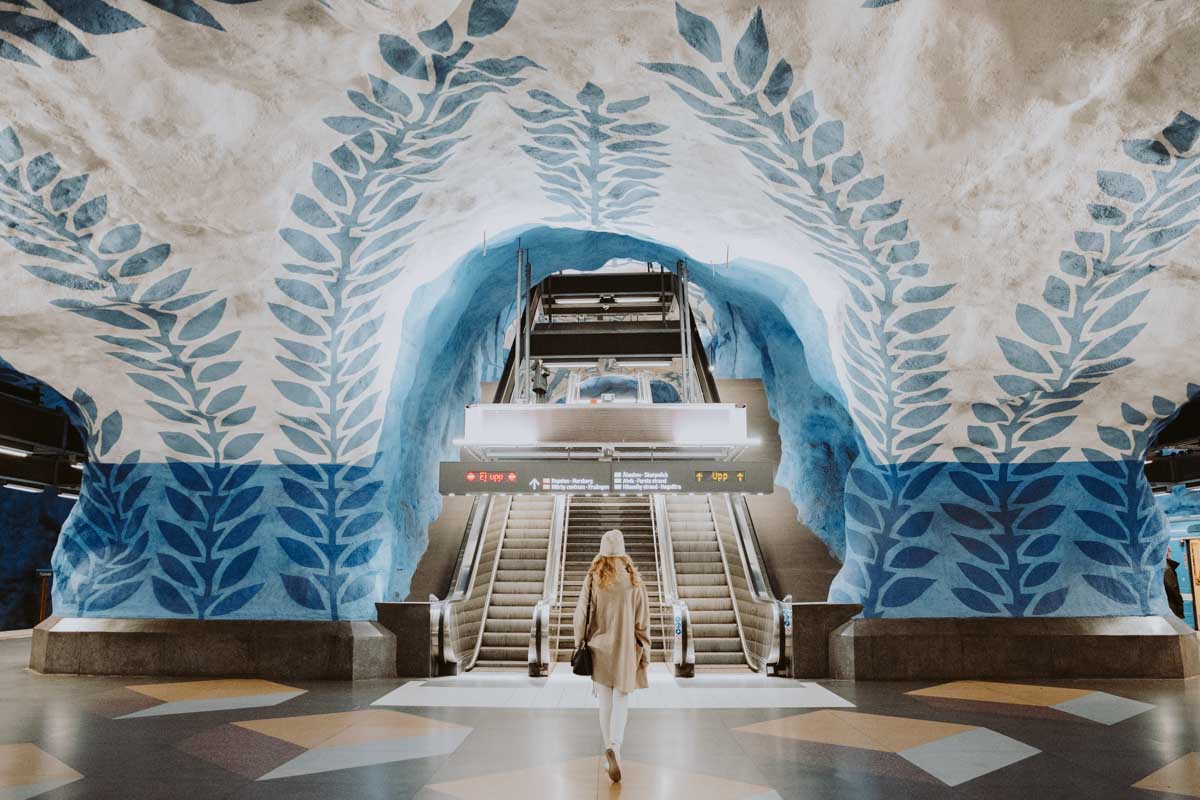 Riding the subway may sound like a strange suggestion of what to do in Stockholm in winter, but hear me out. This is seriously one of the coolest things to do in the city!
Around 90 or so of Stockholm's underground stations have been decorated by artists who have created a funky variety of designs for each station. This makes the 110-kilometre stretch of subway stations the world's longest art gallery.
Address: Check out this guide to Stockholm's Subway Art to find out all the best stations to visit.
2. Admire Stockholm's Public Library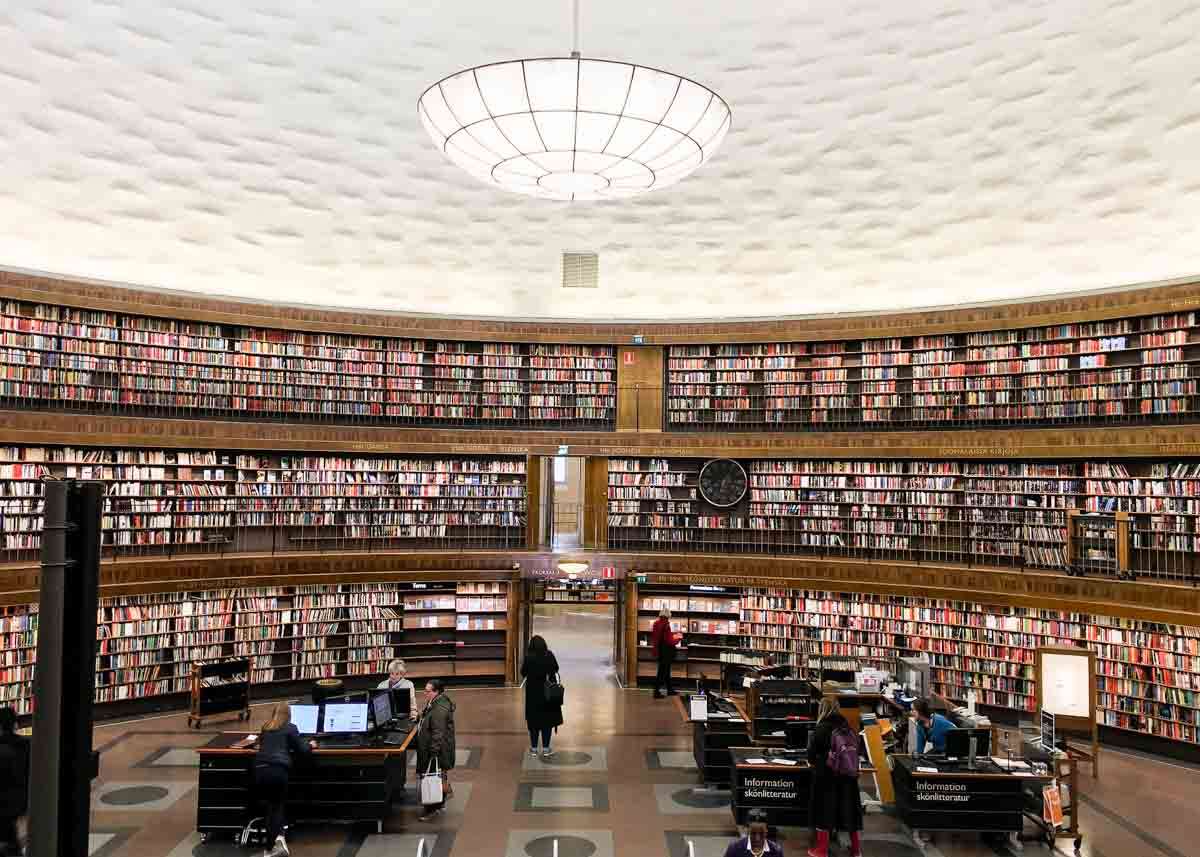 Listed as one of the world's most beautiful libraries, a visit to the Stockholm Public Library is a must-do. Indoor activities like this are key to surviving Stockholm in winter! Designed by the famous architect Gunnar Asplund, it's one of the city's most notable structures.
The stucco-clad exterior of the building is a striking composition of a cylinder rising out of a rectangular base. The interior is even more magnificent, with three stories of books forming the circular walls of the building.
Address: Sveavägen 73, 113 80 Stockholm
3. Go on a Self-guided Walking Tour of Gamla Stan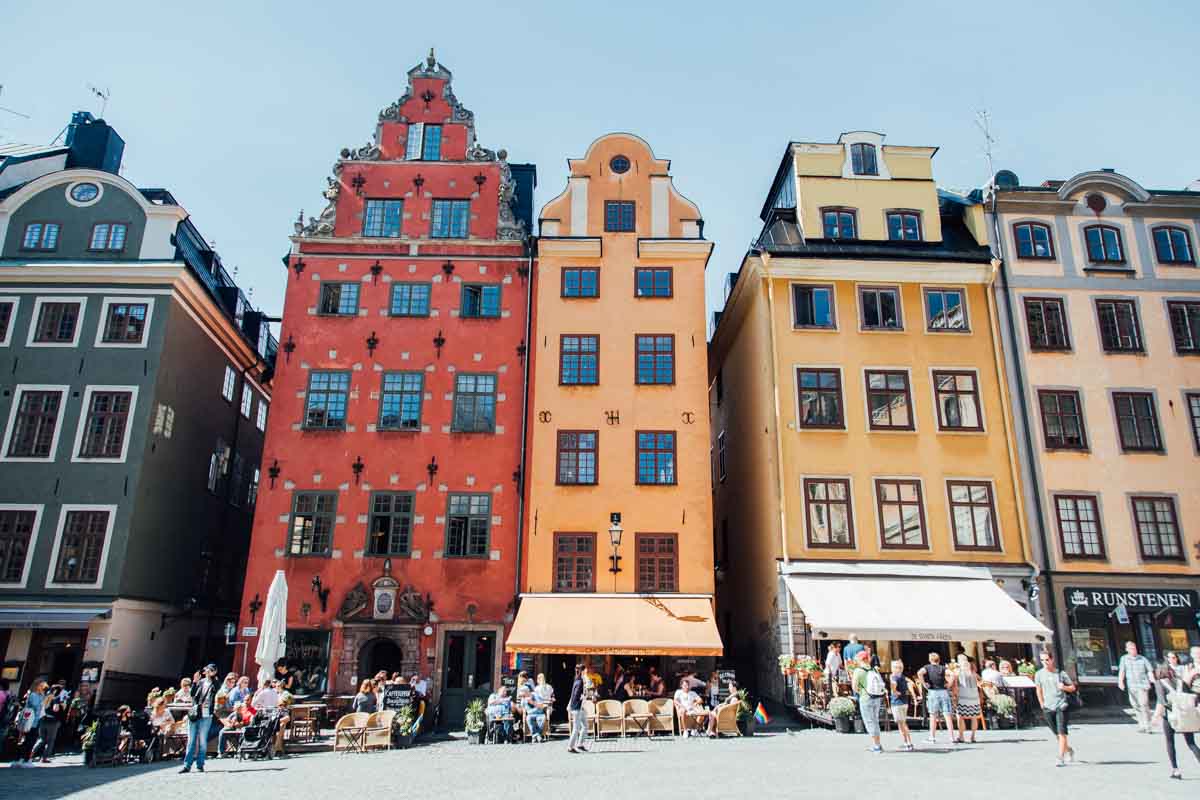 By Taryn from Happiest Outdoors
If you visit Stockholm in winter, don't miss the old town, Gamla Stan. The 13th-century town is situated across several interconnected small islands at the edge of the Baltic Sea archipelago.
The maze of cobbled streets, tiny alleyways, soaring church spires, and quaint squares are perfect for wandering through. Most of the district is closed to cars, making it perfect to explore on foot.
To make sure you hit the key sights, take a self-guided Gamla Stan walking tour. The tour is totally free and lets you set your own pace. Alternatively, you can book an Old Town Walking Tour to have an expert local guide show you around.
4. Watch the Royal Guards Ceremony at The Royal Palace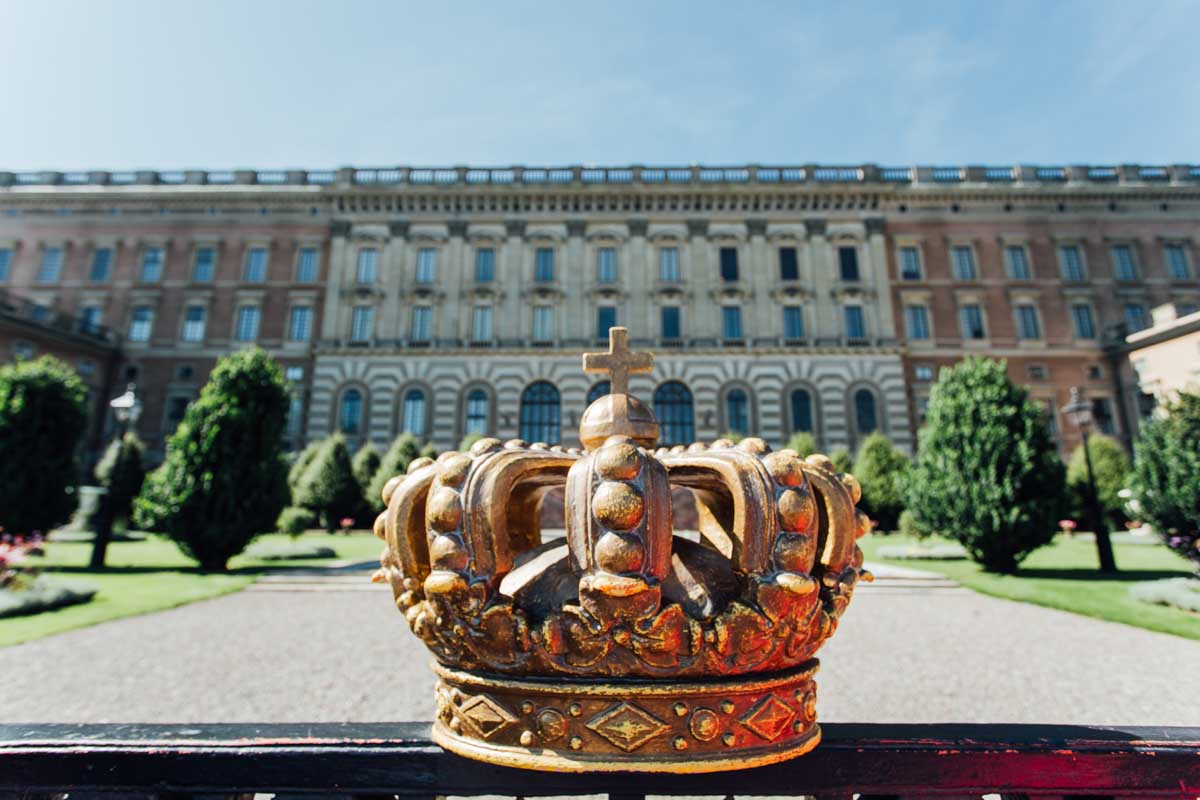 By Lucy and Dan from Thoroughly Travel

The Changing of the Royal Guard is an activity not to be missed on a trip to Stockholm in Winter. It's a colourful military tradition that dates all the way back to the 1500s! Those on a budget in Stockholm will be pleased to know attendance is free.
During winter in Stockholm, a ceremony is held on Wednesdays and Saturdays at 12:15pm, with a parade held on Sunday at 1:15pm. Try to arrive 10 minutes early for a front-row position to this historical procession, which takes place in the Royal Palace's Outer Courtyard.
Afterwards, escape the cold and explore inside the Royal Palace, which is one of Europe's largest. As the official residence of the King of Stockholm, the Baroque-style Royal Palace consists of 11 floors of 600 ornately decorated staterooms and three museums.
Cost: Admission inside the Royal Palace costs 160 SEK for adult and 80 SEK for kids. The tickets include entrance to the Royal Apartments, the Treasury and the Tre Kronor Museum.
Address: Kungliga slottet, 107 70 Stockholm
5. Peruse Stockholm's Modern Art Museum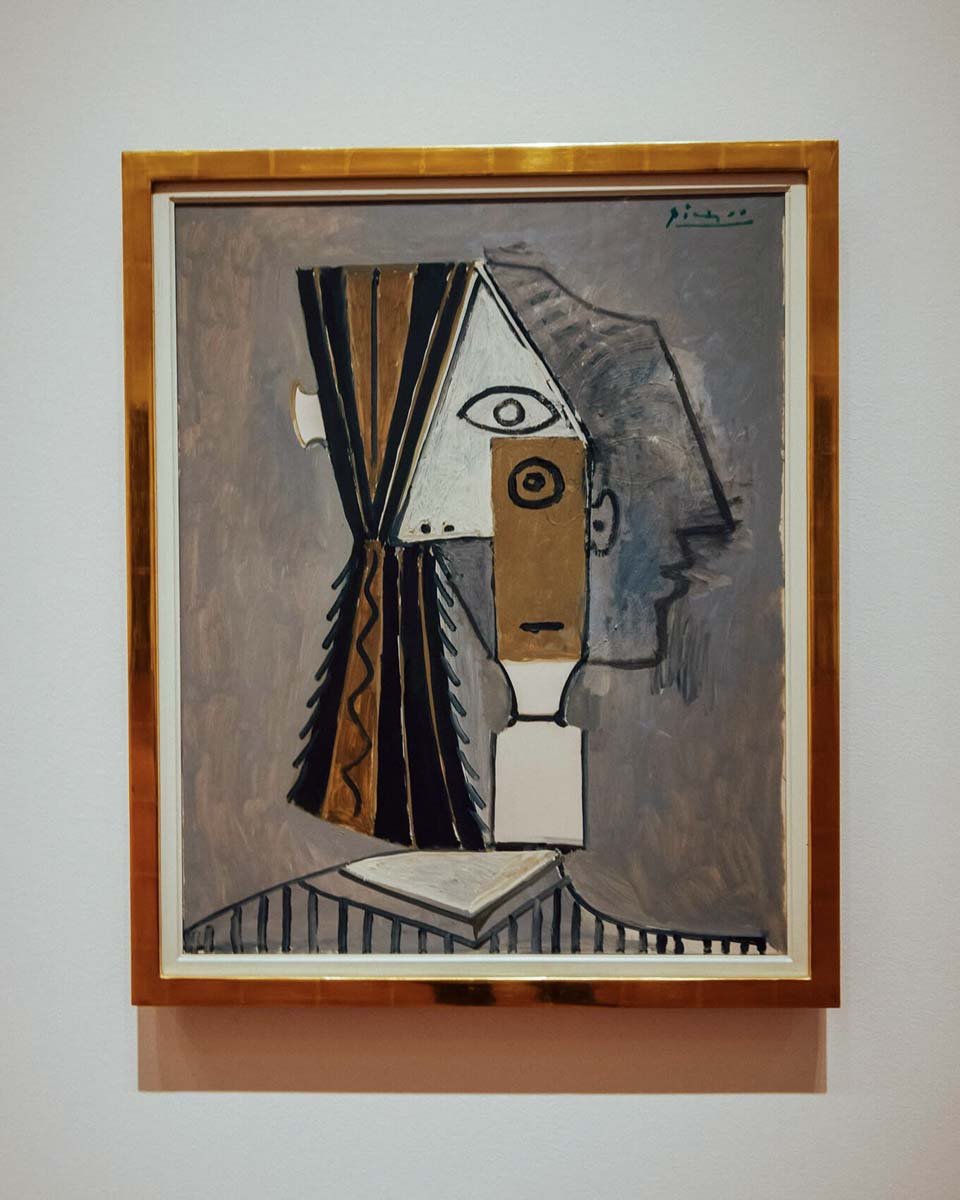 By Alina from World of Lina
Another one of the best things to do in Stockholm in winter is visit the Modern Art Museum, the "Moderna Museet". This museum is located on the island of Skeppsholmen, not far from Stockholm Palace (which is one of the most famous landmarks in Sweden).
As the name indicates the museum houses a great selection of modern and contemporary art pieces. This includes pieces from famous artists such as Pablo Picasso, Salvador Dalí and Henri Matisse. Plus, if you head to the museum between 6pm-10pm on a Friday, you can get in for free.
Address: Exercisplan 4, 111 49 Stockholm
Christmas things to in Stockholm in Winter
6. Explore the Old Town Christmas Market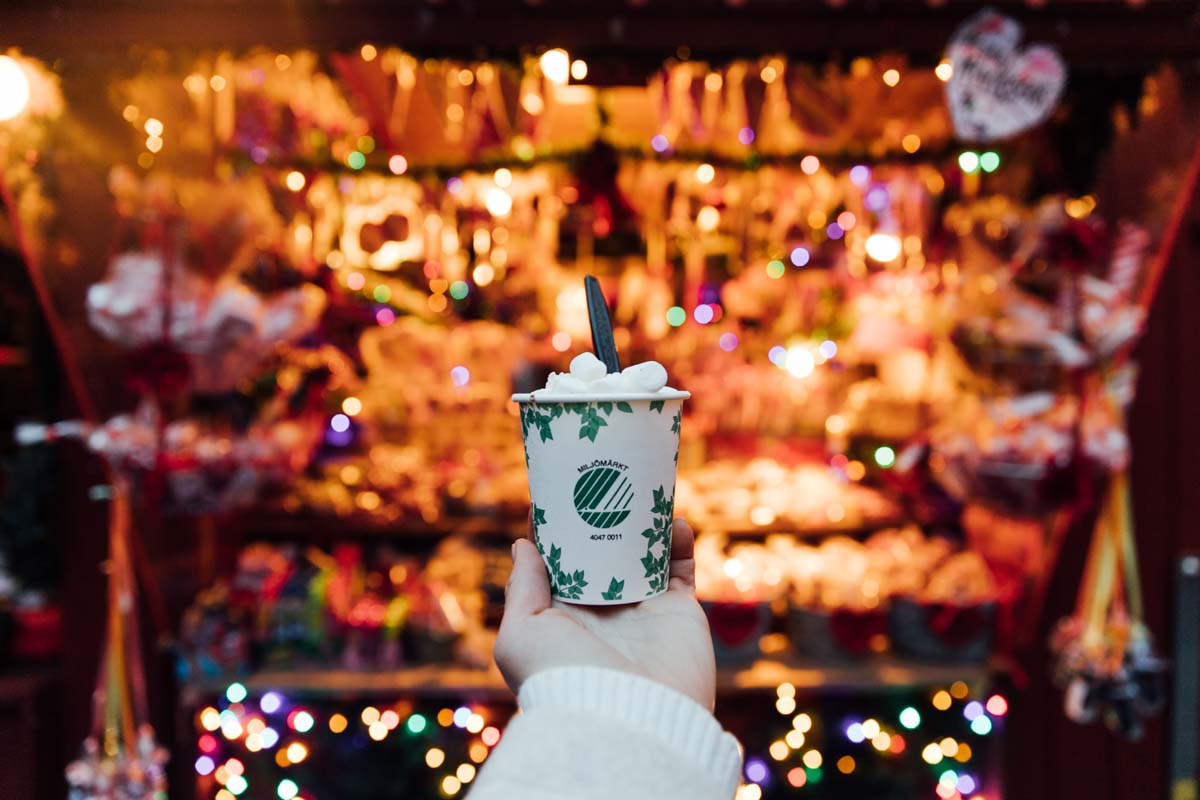 If you are visiting Stockholm in December, do not miss the city's fabulous Christmas markets! The Old Town Christmas Markets are a small cluster of cheerful cherry-red stalls nestled in Stortoget Square. The square dates back to medieval times and is surrounded by a mishmash of colourful buildings from bygone centuries.
The stalls sell various Christmas goods ranging from hand-decorated local crafts to Swedish Christmas market food and drink. Try your luck at one of the game stalls. Or, go for a wander whilst clasping a steaming mug of glögg (mulled wine) or hot chocolate topped with cream and marshmallows.
Address: Stortorget, 111 29 Stockholm
7. Visit the Marzipan Boat Market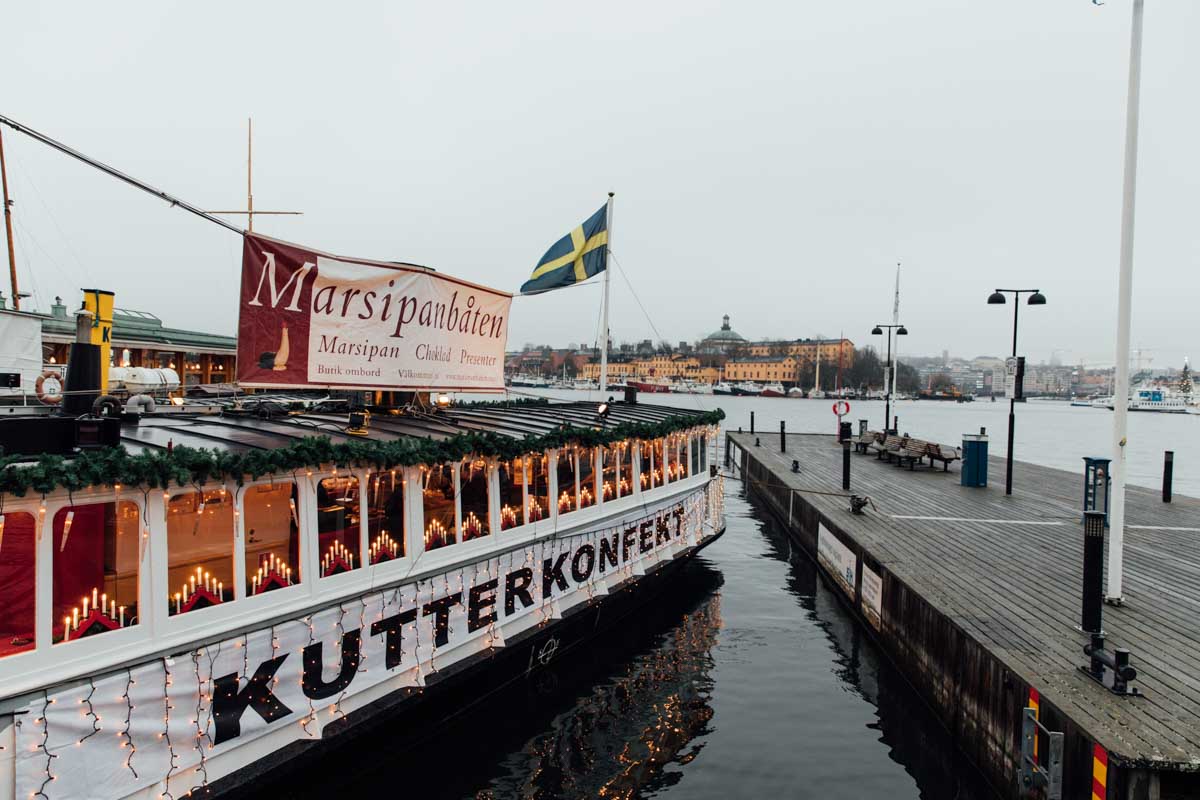 If you're looking for festive things to do in Stockholm in December, visit the Marziban boat market! This is a Christmas market located on a 1930s ferry moored at the quay. Scamper aboard to sample all the sweets you can get your hands on!
There is a bounteous supply of the finest quality marzipan. They also have a great selection of other sweet treats in the form of chocolate, toffee, truffles, mints, and jams. It's the perfect place to buy a Christmas present for your loved ones.
Address: Strandvägskajen 18, 114 37 Stockholm
Indoor Things to Do in Stockholm in Winter
8. Try some heart-warming Swedish Food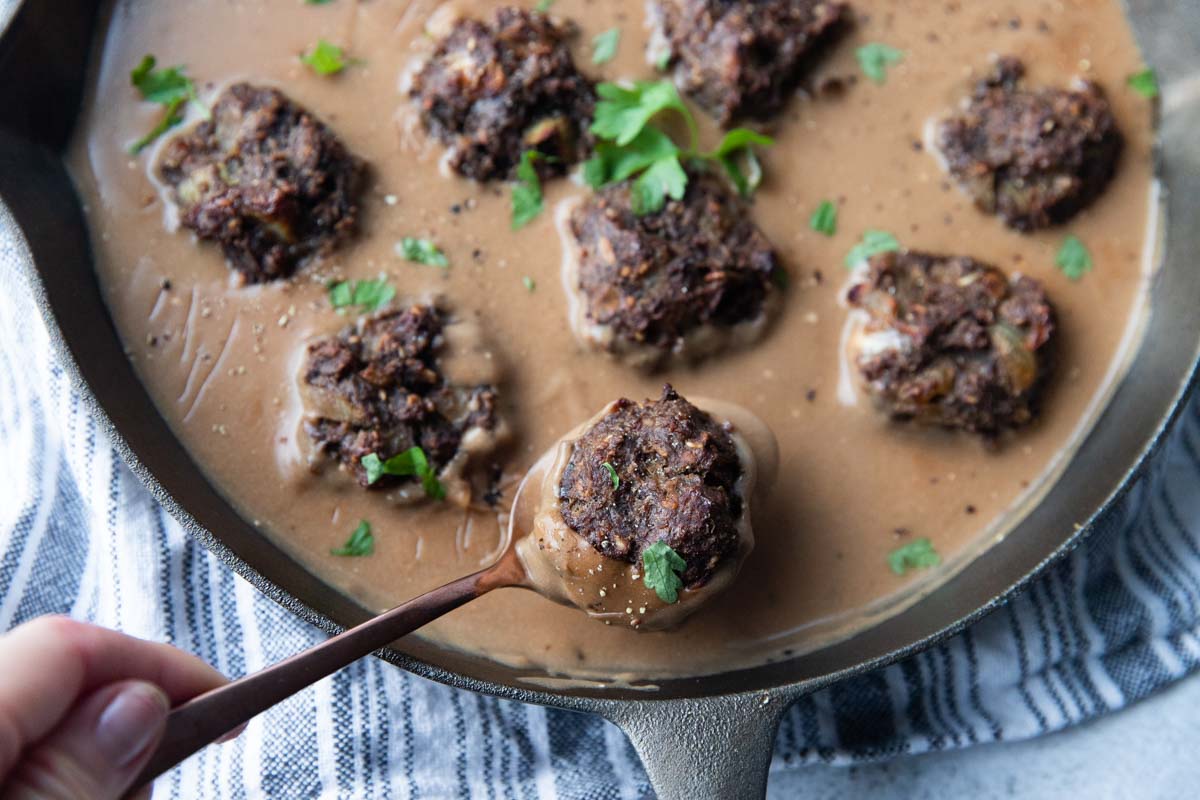 If you're visiting Stockholm in winter, you will need some serious comfort food to keep you warm. Thankfully, Swedish cuisine is seriously hearty! Here are some of the most iconic Swedish foods to try in Stockholm during winter:
Swedish Meatballs– You can't leave Sweden without eating everyone's favourite IKEA meal. Meatballs are served in a creamy sauce with mashed or boiled potatoes and accompanied by lingonberry sauce. Comfort food doesn't get better than this!
Kroppkakor– Kroppkakro is another popular dish made up of, you guessed it, meat and potatoes! Potato dumplings are typically filled with fried pork and topped with bechamel and lingonberry sauce.
Pickled Herring– Pickled herring is a very traditional Swedish dish, dating back hundreds of years. Still to this day, it is served around Christmas, Easter and Midsummer. If you are visiting Sweden in winter, it's a food you have to try at least once!
Kalops– This hearty meat stew is the perfect dish to eat during winter in Stockholm. Meat in slow-cooked with allspice and bay leaves, then served with picked beetroot and boiled potatoes.
9. Check out the International Film Festival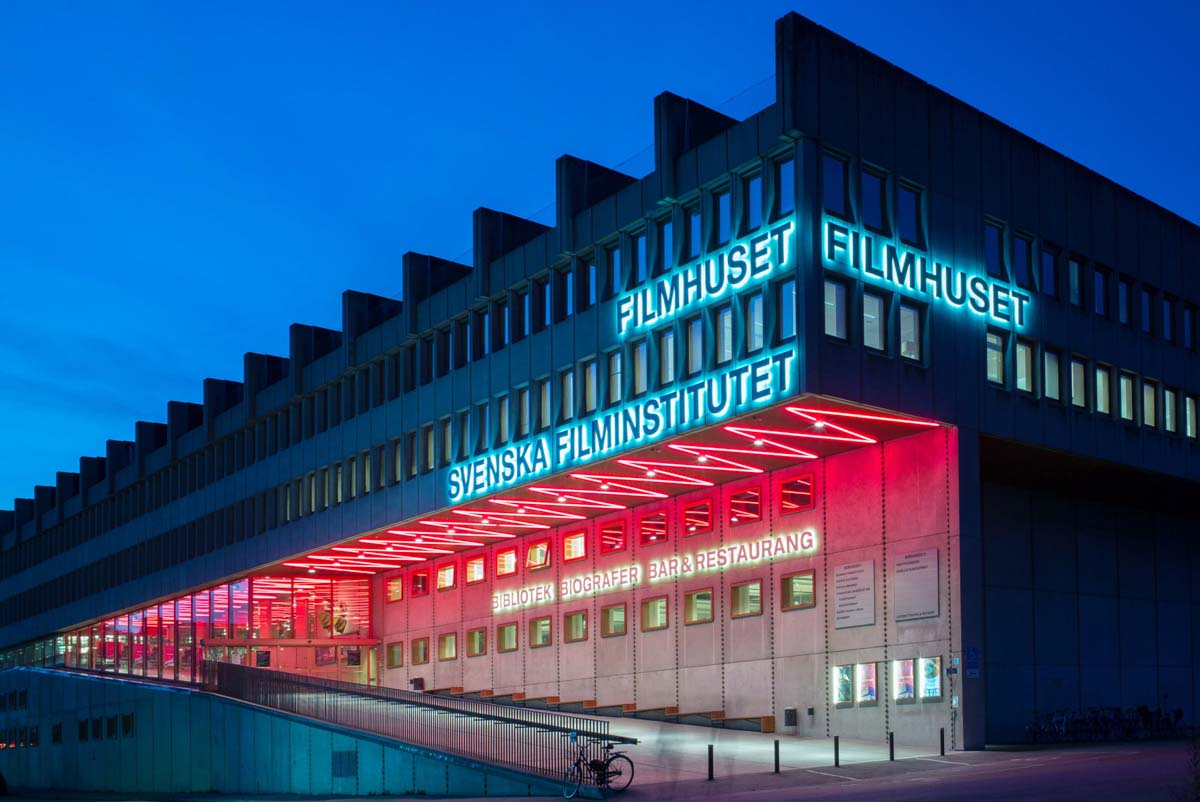 by Izzy from The Gap Decaders
One of the best things to do when you visit Stockholm in winter is to check out the International Film Festival. Inaugurated in 1990, the film festival is held annually in the second half of November.
The city comes alive during the festival, as celebrities visit and regular screenings take place in Stockholm's cinemas, namely Skandia, Victoria, Sture, Zita, Filmhuset and Klarabiografen. There are also digital and live seminars and the opportunity to meet international filmmakers and actors.
Cost: To attend screenings and other events, you need to purchase festival membership online, which costs 300SEK for a year. You can buy tickets for the films and events you want to attend during the festival.
10. Go for Fika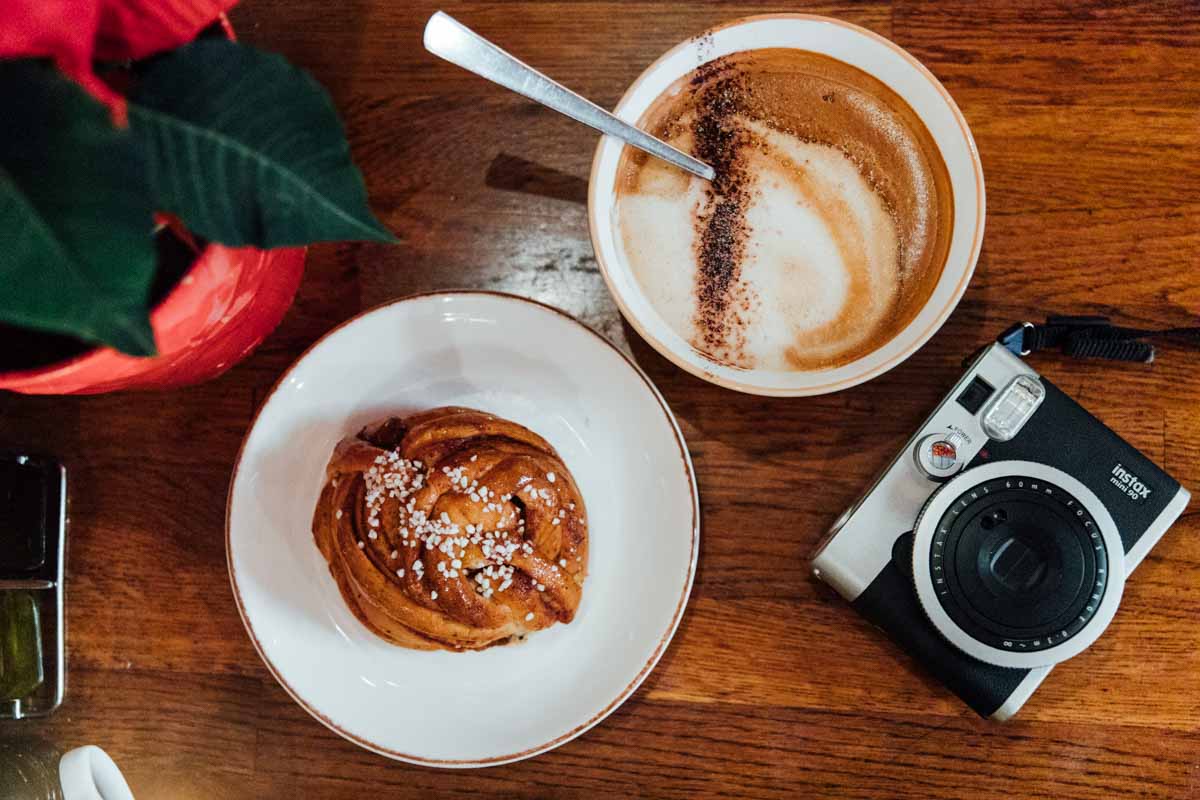 While in Sweden partaking in fika is a must – particularly during winter. This is a great Swedish tradition that consists of meeting with a friend to chat over coffee and a sweet treatin the warmth of a cosy café or bakery.
Cinnamon buns (kanelbullar) have got to be the most popular treat to have for fika. Valhallabageriet, Gateau, Rosendals Trädgård and Fabrique are highly-rated bakeries around Stockholm that offer exceptional buns and other Fika treats.
Alternatively, book a guided Fika tour to have a local show you the ins and outs of this Swedish social ritual (and try some delicious treats along the way!)
11. Visit the fascinating Vasa Museum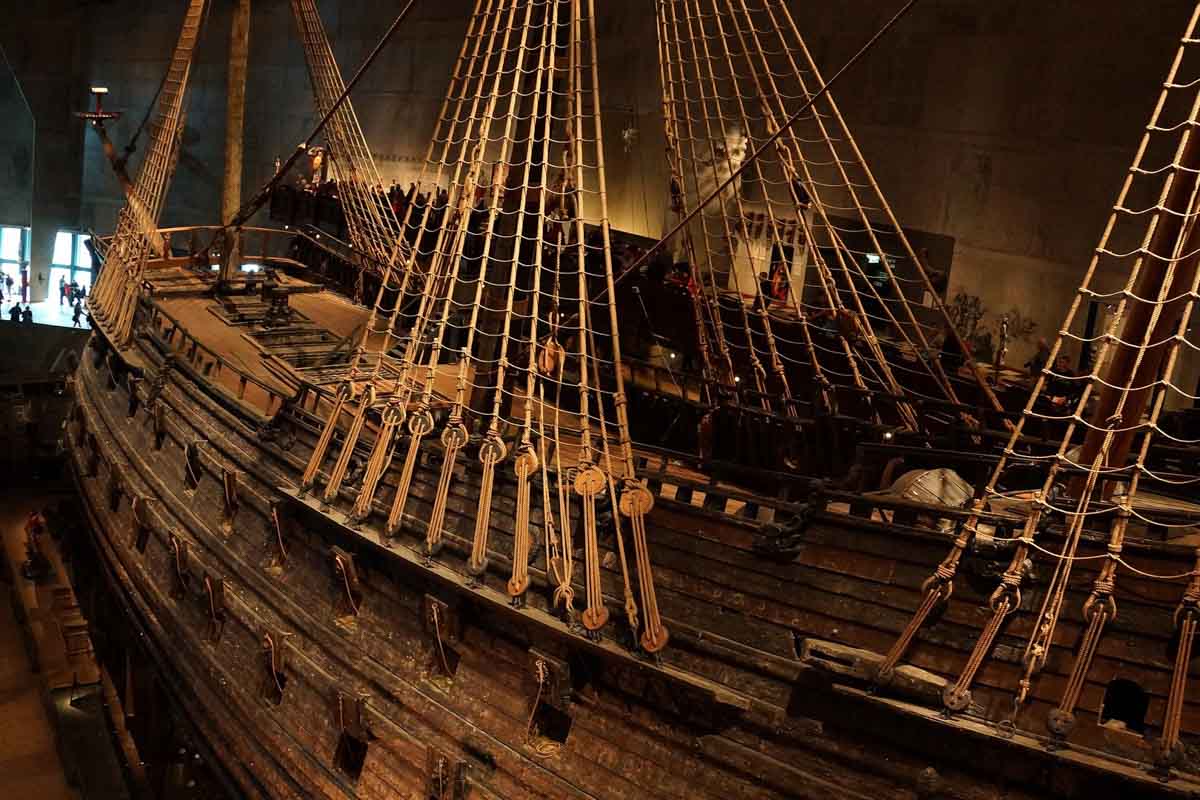 By Kristin from Global Travel Escapes
If you're visiting Stockholm for a limited amount of time, one attraction you won't want to pass up on is the Vasa Museum. This museum is dedicated to the 17th century Vasa Ship, which sank in the Stockholm Harbor just 20 minutes after it set sail!
Inside, visitors have the opportunity to learn all about the story of this incredible ship as well as Stockholm's history during the time period. There's also a film visitors can watch to gain insight on exactly how the ship was recovered from the hundreds of feet below the water's surface.
Address: Galärvarvsvägen 14, 115 21 Stockholm, Sweden
Cost: 170 SEK (October – April); 190 SEK per adult (May – September). Pre-book your tickets here.
12. Take part in a Stockholm Food Tour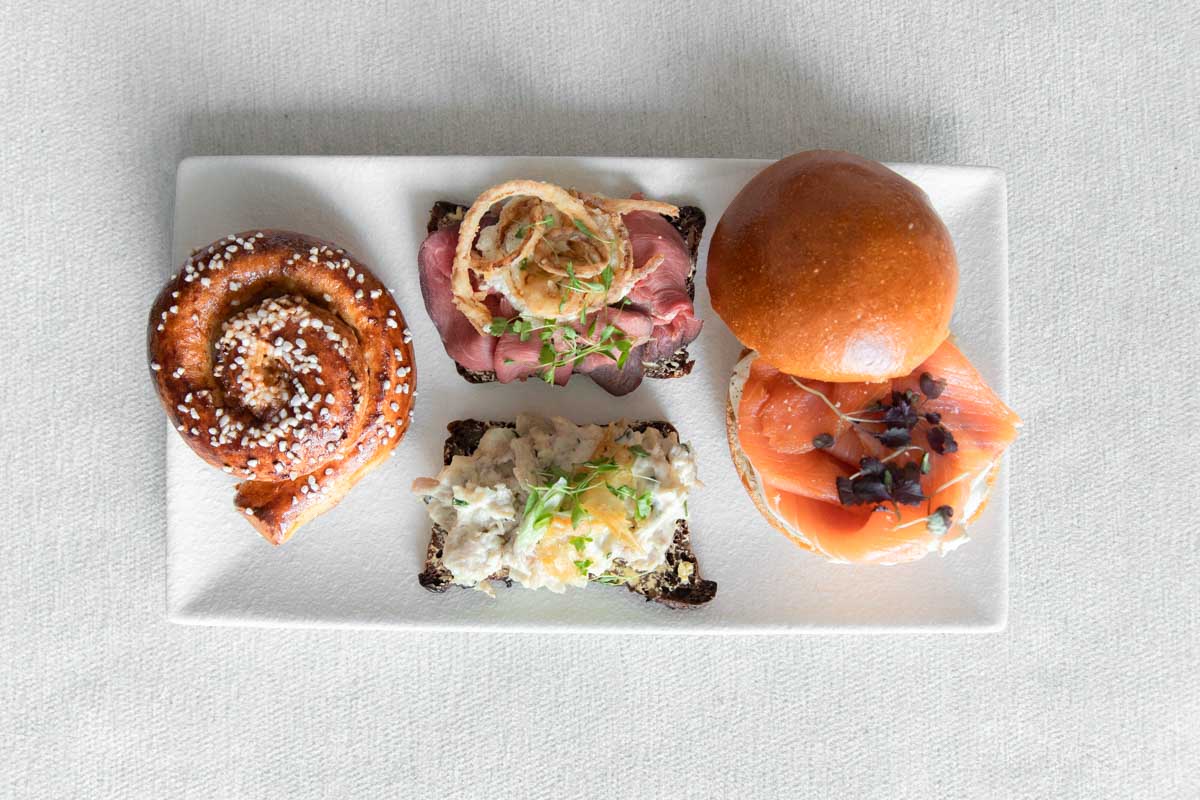 By Kasia from Perfect Day Somewhere
If you're wondering what to do in Stockholm in winter, look no further than the Stockholm Food Tour. The tour takes place in various neighbourhoods around Stockholm and includes stops at local markets, food shops, and restaurants.
This food tour is a perfect winter activity for the following reasons:
It's a fun and interactive way to explore the city and learn about Stockholm's history and food culture.
Many of the dishes and food items featured on the tour are perfect for the cold winter months. Think hearty stews, cured meats, and warm breads.
The tour mostly takes place indoors and out of the cold. This means you can enjoy the culinary experience without having to brave Stockhom's winter weather!

Starting Point: Östermalms Saluhall
Cost: You can find out pricing + book your food tour here.
13. Take a Guided Tour of the Stockholm City Hall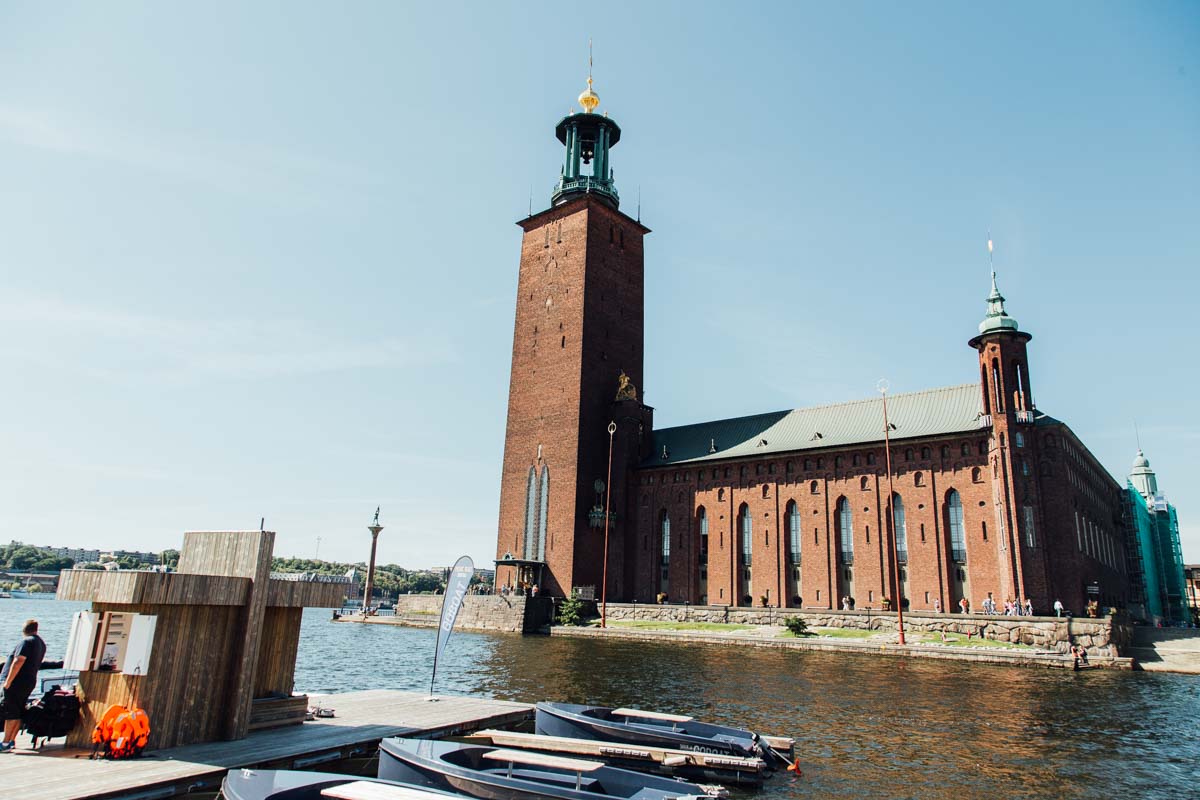 by Kenny from Knycx Journeying
As one of the city's most striking landmarks, Stockholm's City Hall is a great place to escape from the winter weather. Located on the waterfront and within walking distance of the main train station, it is one of the must-see places in Stockholm.
Built in 1923, the Stockholm City Hall was originally the city's civil office. Nowadays, it functions as a government office and is also the venue for the Nobel Prize ceremony. If you want to peek into the beautiful rooms of this landmark, be sure to sign up for a 45-minute guided tour.
Cost: The guided tour is about 45 minutes, it costs 90 Krona (~ US$8) and the Stockholm Pass holders can enjoy free entry.
Address: Hantverkargatan 1, 111 52 Stockholm
14. Visit Stockholm's Abba the Museum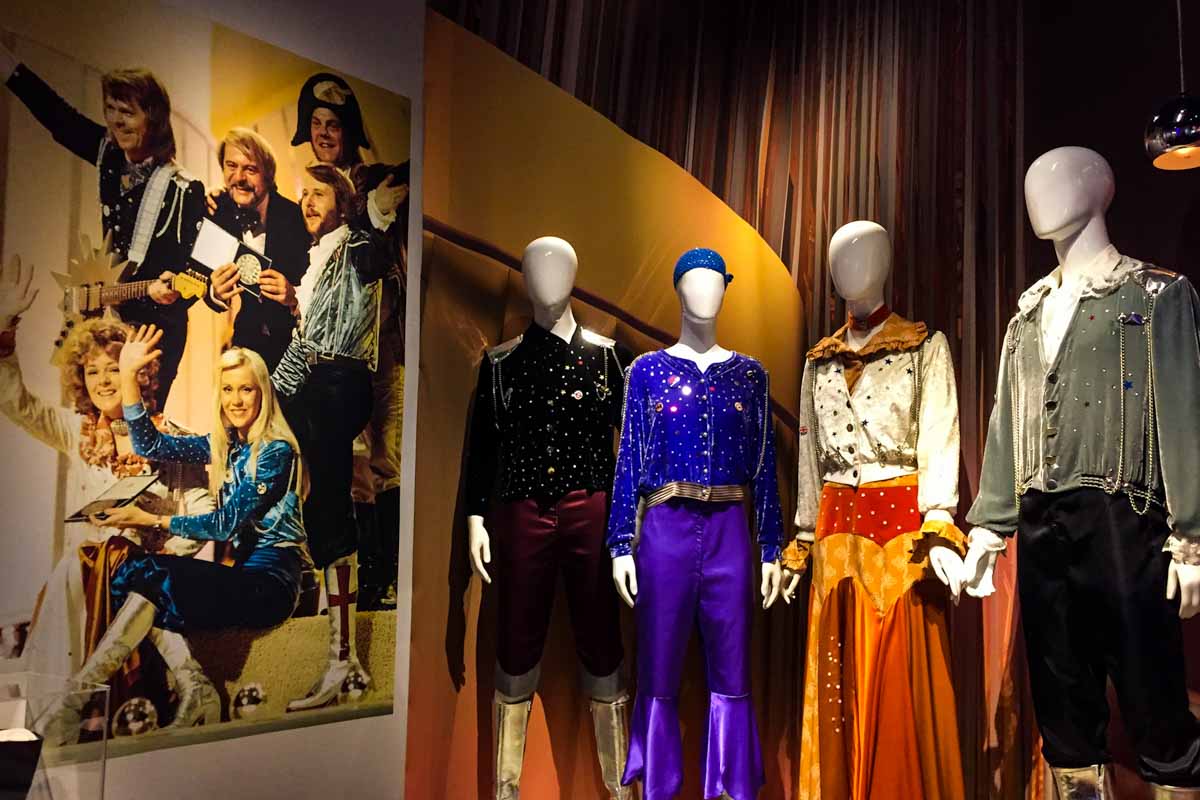 By Emma from Travel on a Time Budget
If you're a fan of Abba, then a visit to the 'Abba the Museum' is a perfect thing to do on a winter day in Stockholm. Not only will it get you out of the weather and into the warm, but it's also a really feel-good thing to do which is bound to lift your spirits!
There is a range of things to see and do in this unique museum. These include displays of costumes, records and other interesting memorabilia, plus information on the history of the band and the four members.
The museum is also interactive which adds to the fun of it. You can go into a recording booth and sing some songs, mix some music and join holograms of the band on stage. At the end, there's even a dance floor where you can bop along to some of Abba's most iconic songs.
Address: Djurgårdsvägen 68, 115 21 Stockholm, Sverige
Cost: See pricing + pre-book your tickets to the Abba Museum here.
Outdoor things to do in Stockholm in Winter
15. Go on the Stockholm Fire and Ice Tour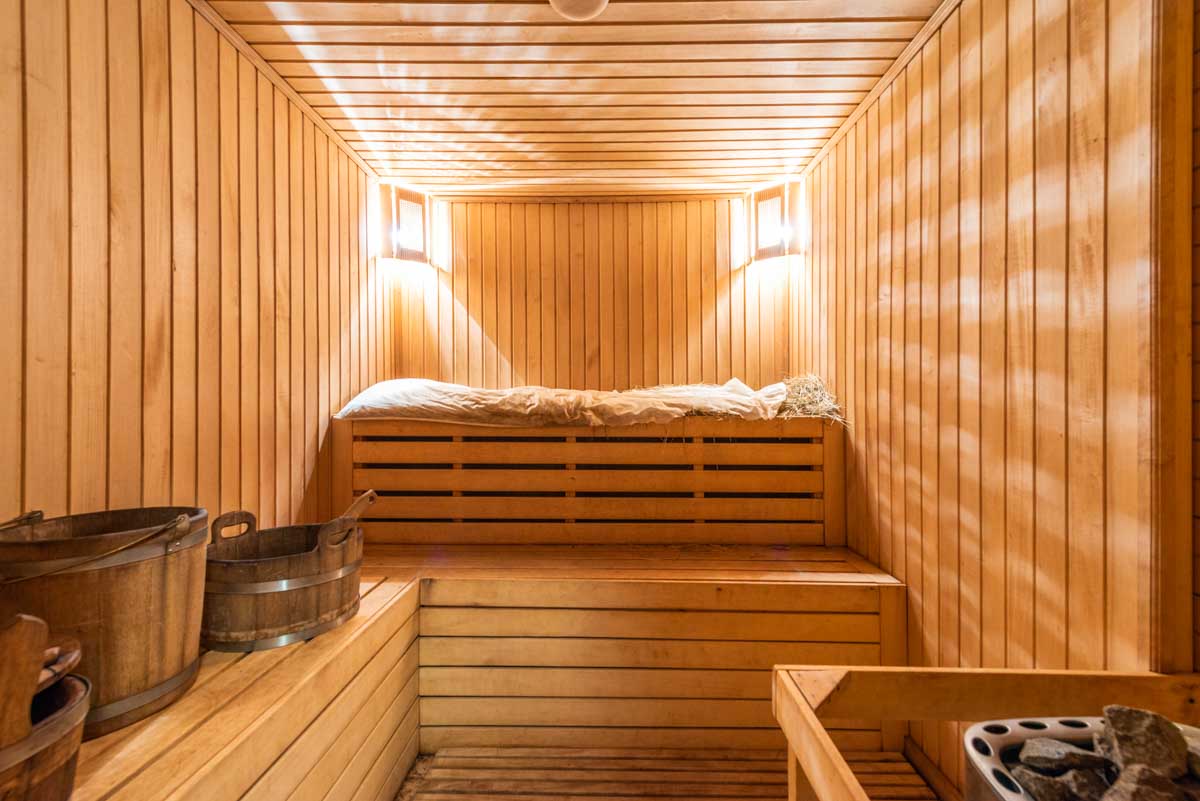 By Alison from the Gallivanting Spoon
The Stockholm Fire and Ice Tour is a great way to rejuvenate your body in the wintertime. This fun all-day excursion includes a very scenic bike ride, a sauna, a rustic lodge lunch, and even a cold plunge into an icy lake!
The guided tour starts in the centre of Stockholm, where you hop on bikes and ride for half an hour to the natural reserve. Next, you'll relax in the sauna before the ultimate adrenaline rush of a cold plunge into a lake! Finally, you'll cozy up by the fireplace and enjoy a well-deserved lunch with wine and beer.
Cost: This all-day affair will put you back about $280 but it is well worth the unique experience.
16. Explore Stockholm via Ferry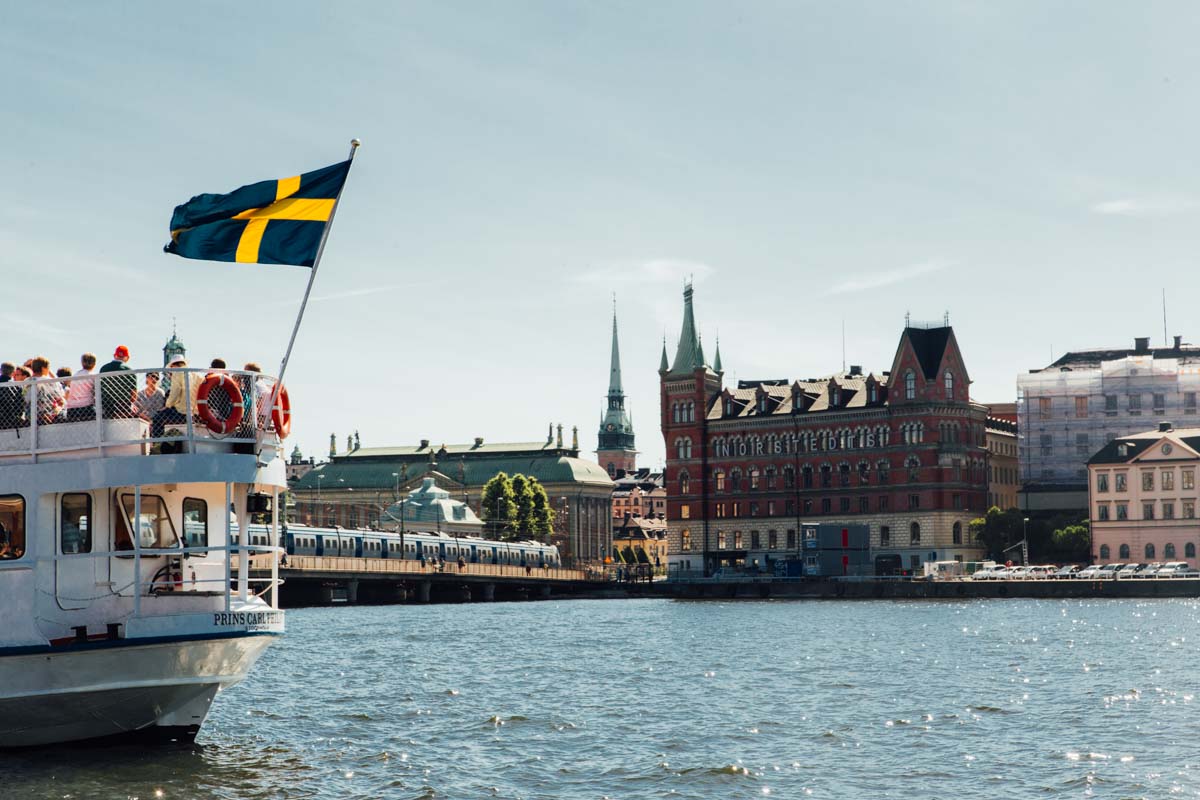 By Noel with USA Road Trip Now
Exploring the city by ferry is one of the cheapest and best things to do in Stockholm during winter! Stockholm is a city built on islands, so there is no better way to explore the many neighbourhoods than from a water vantage point.
The ferry system is part of Stockholm's SL public transport network. This means you can use a contactless card or mobile device for pay-as-you-go travel on all ferry services, which is fairly inexpensive. This will save you the money you'd spend on a touristy boat ride around the city and allow you to travel through the city like a local!
17. Winter Kayaking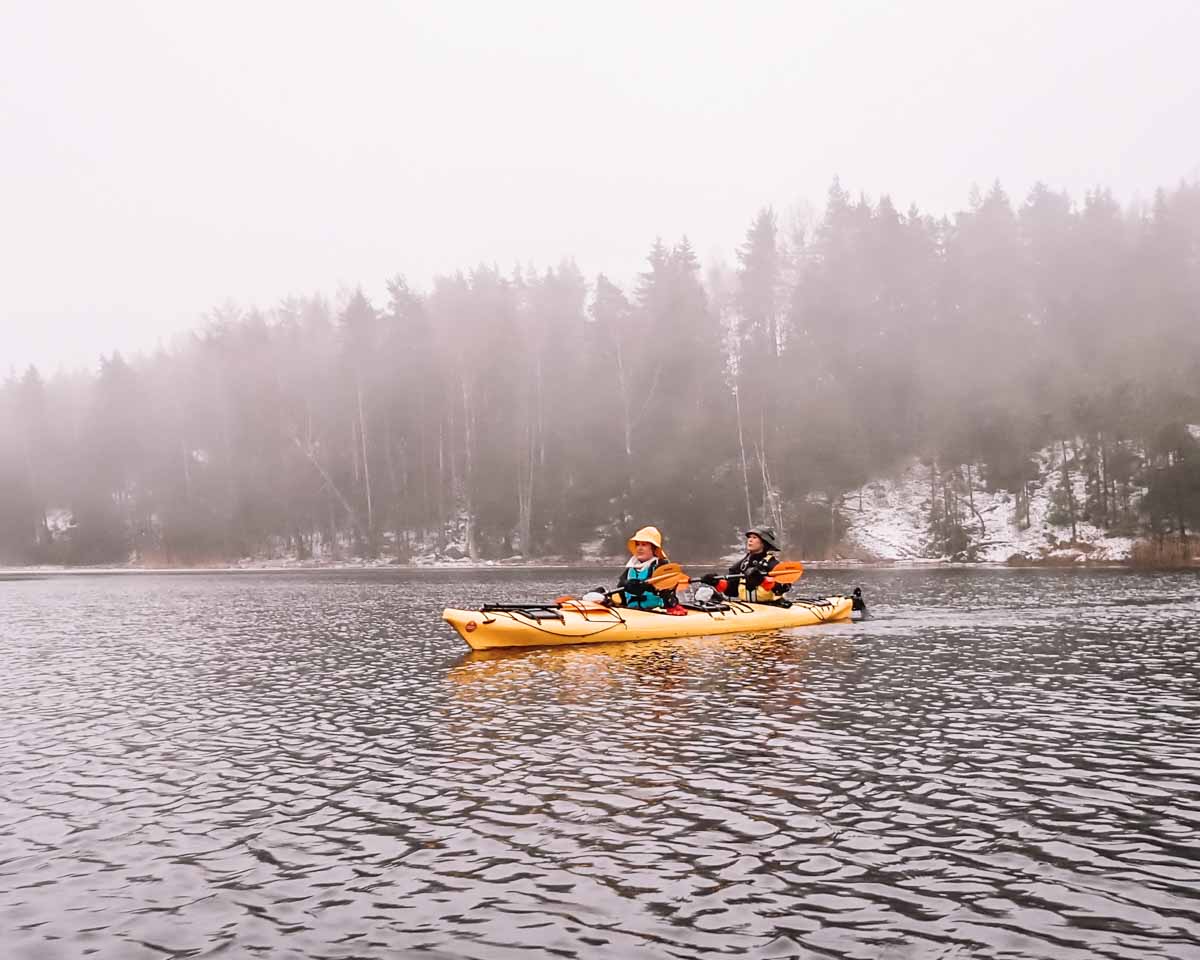 by JJ from Travel Across the Borderline
One of the best things to do during the winter in Stockholm is to go kayaking. Winter kayaking is a unique experience and very different from kayaking in the summer. The water will be full of ice that you'll need to smash a path through with your oats. This is all part of the fun!
Once you are on the water, you will find yourself surrounded by stunning icy views of the Swedish archipelago. You can explore small islands, go around rocky outcrops and take in the stunning winter scenery.
The best place for winter kayaking is Vaxholm, which is a short bus ride from the centre of Stockholm. You can rent kayaking gear or book a guided tour of the archipelago at Skargardens Kanocenter. Make sure to wear several layers of warm clothing and pack a dry suit in case of emergencies.
18. Visit Drottningholm Palace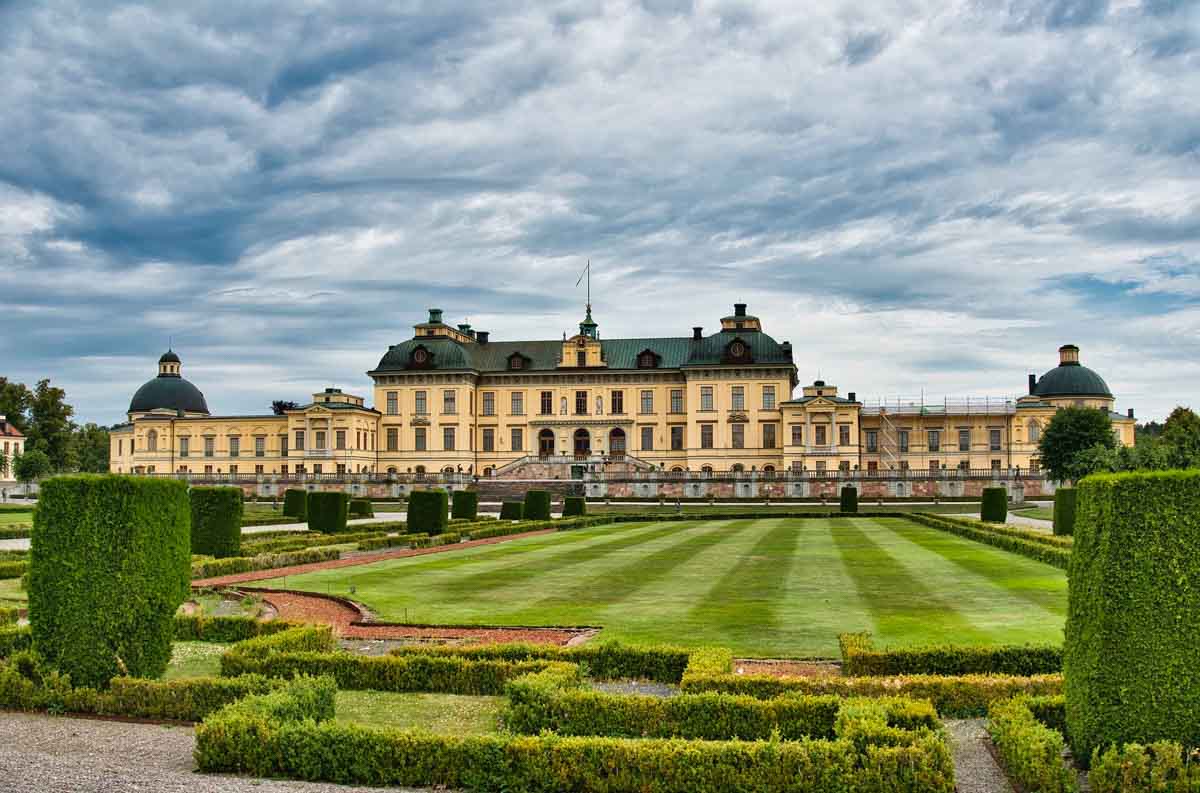 By Gabi from Under Flowery Sky
Drottningholm Palace, a UNESCO World Heritage Site belonging to the Swedish royal family, is a must-visit in winter. The palace dates back to the 17th century. With its elegant gardens and lake, it holds a similar allure and beauty to Versaille.
The entire Palace is open to the public, except the southern wing where the royal family lives. Beyond the main building, the Palace consists of a Theatre, Church and Chinese Pavilion. The theatre itself still holds performances, particularly during summer.
Drottningholm Palace is located on the lovely Lovön island Ekerö municipality. Ekerö is actually a peninsula, easily reachable by metro and bus from Brommaplan. There are also boat tours that depart from Stockholm City Hall, which is a popular way to visit the Palace.
Cost: The gardens are free to visit, but entry inside the palace costs SEK 130 (US$16.30) for an adult and SEK 65 (US$8.10) for a concession.
Address: 178 93 Drottningholm, Sweden
19. Explore the World's Oldest Open-Air Museum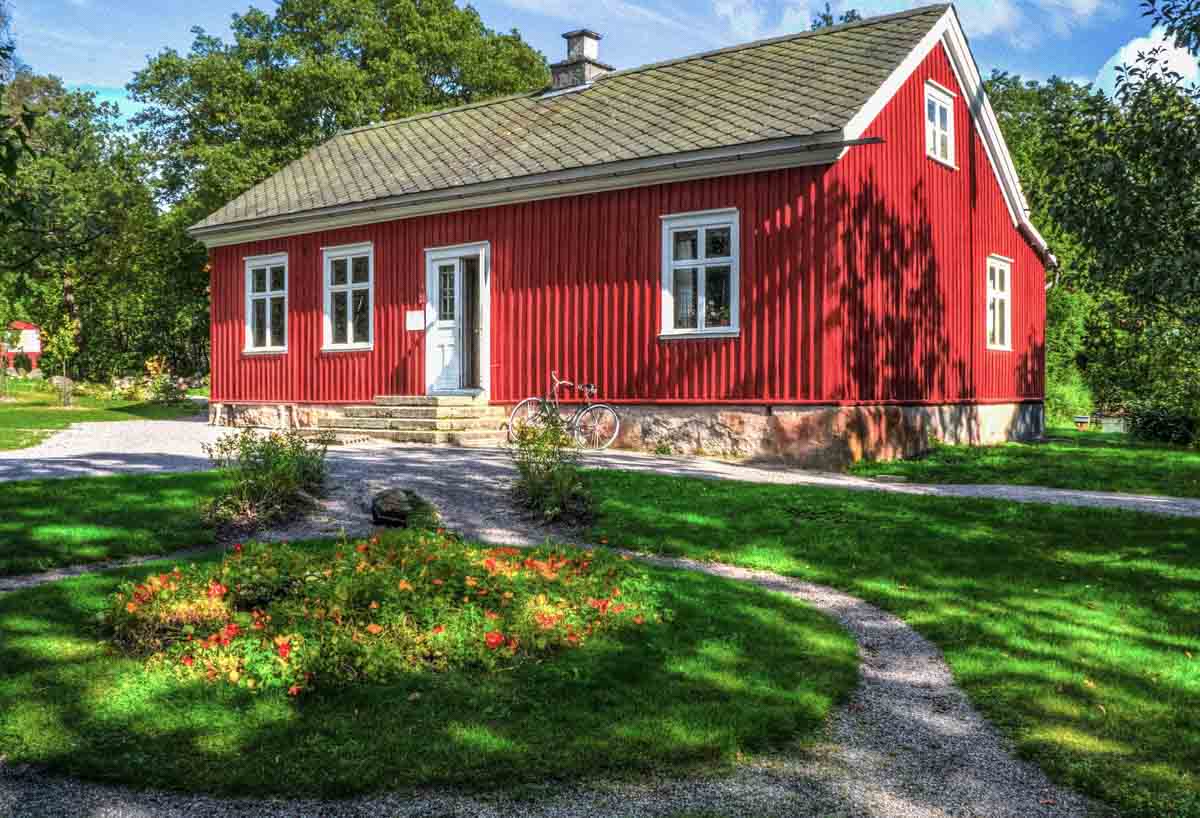 By Holly from Budget Bon Voyage
Skansen is the world's oldest open-air museum and is another great thing to do in Stockholm in winter. Here, you can learn about Swedish history from 1720 to the present day.
At Skansen, you can see traditional Swedish houses and farmsteads from across the country all in one place. There is also a wildlife park where you can see Bison, Moose and Reindeer, as well as the Baltic Sea Science Centre and Skansen aquarium.
As Skansen is mostly outdoors, make sure you wrap up warm during the winter. Also, bring some comfortable sturdy boots as you may encounter some snow or ice.
How to get there: To get to Skansen from the city centre, you can walk, ride a bike or take the number 7 tram which takes you to the front entrance of the museum.
Cost: Adults from 185 SEK depending on the season. Children from 70 SEK. Children under 4 always have free entry. You can pre-purchase your ticket here.
20. Go Skiing at Hammarbybacken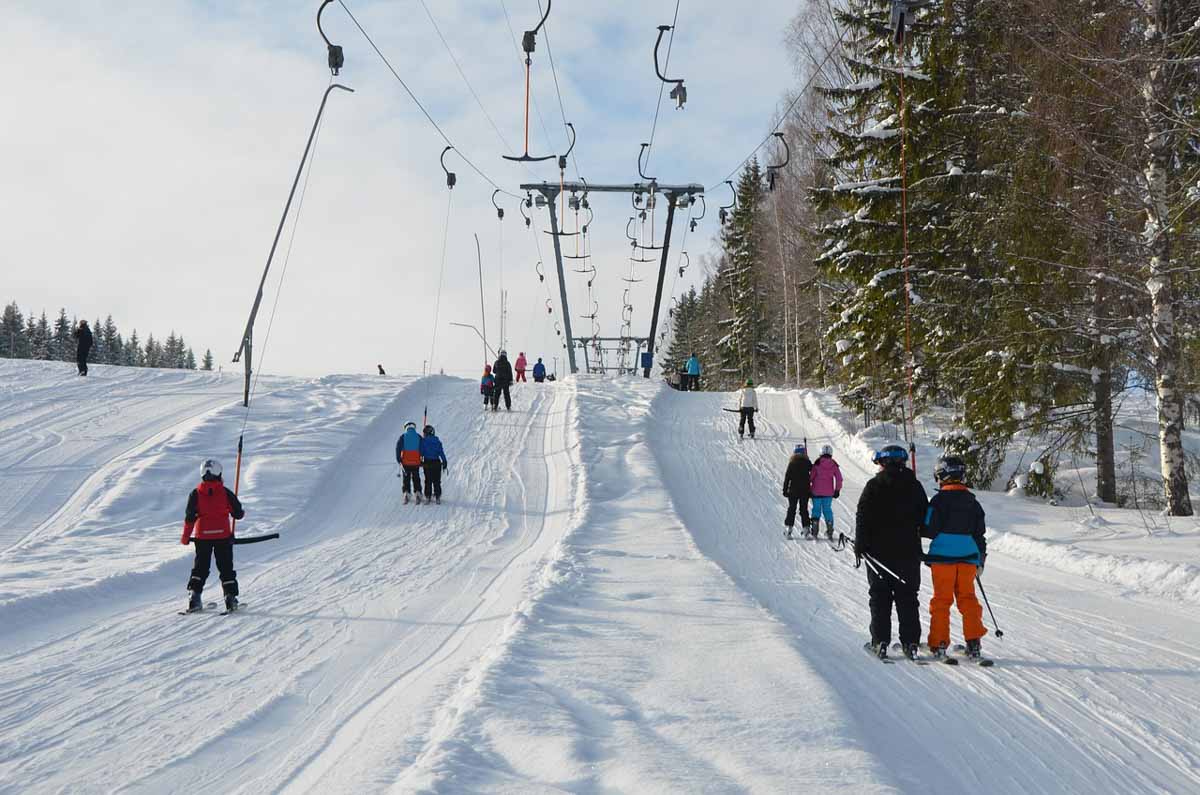 By Jessie Moore from Pocket Wanderings
For a fun adventure-filled day trip just outside of the city, head to Hammarbybacken ski resort. With the snow-covered hills and beautiful views, it's the ideal winter activity in Stockholm.
Featuring a green run and a blue run, it's a great little ski resort for beginners. There are also plenty of red and black runs and a snow park featuring jumps, boxes and rails for more experienced skiers. The ski resort is also very family-friendly, with a children's area, wind shelter and café serving up a wide menu of comforting food.
How to get here: Take the number 74 bus and get off at Sickla Quay stop, then it's a short walk to get to Hammarbybacken.
Stockholm in Winter FAQ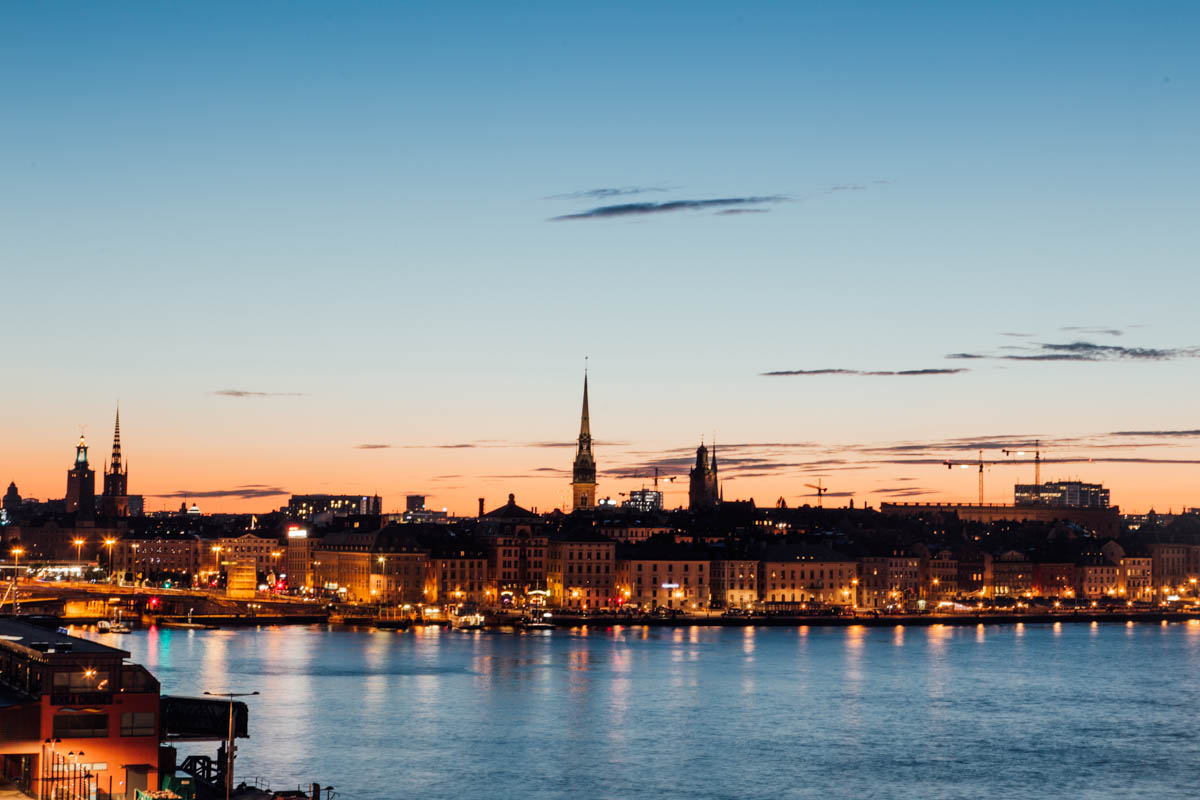 How many hours of daylight does Stockholm get during winter?
Winter in Stockholm begins in December and carries on through to March. Although Stockholm receives more daylight hours than the rest of the country during winter, the days are still short. December 21st marks the shortest day of the year, with 6.05 hours of daylight in total.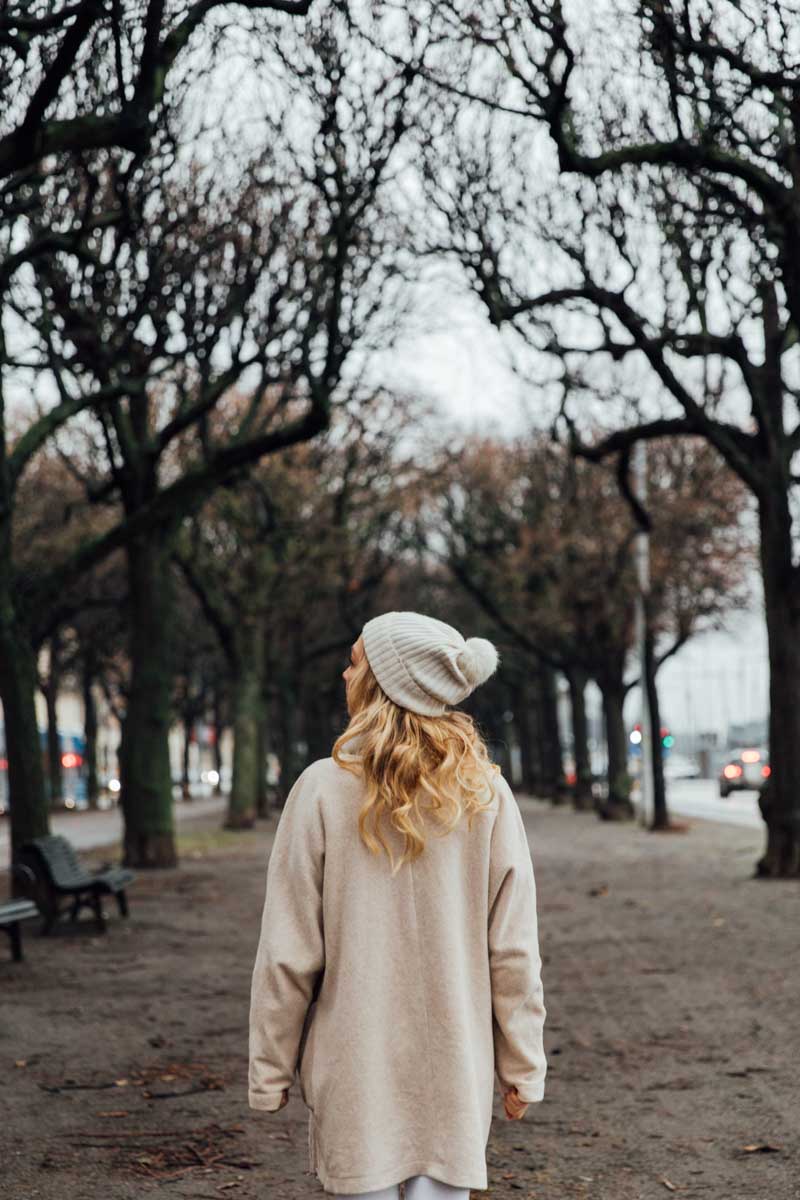 What is the weather like in Stockholm in Winter?
To put it bluntly, Stockholm in winter is very cold. December, January and February are the coldest months of the year. The temperature during this time sits at an average of 1°C during the day. However, it can drop down to as low as -15˚C.
On the plus side, Stockholm in winter is pretty dry compared to other European cities. The air feels very crisp. As long as you come prepared to Stockholm with lots of warm winter clothing, you will be more than fine!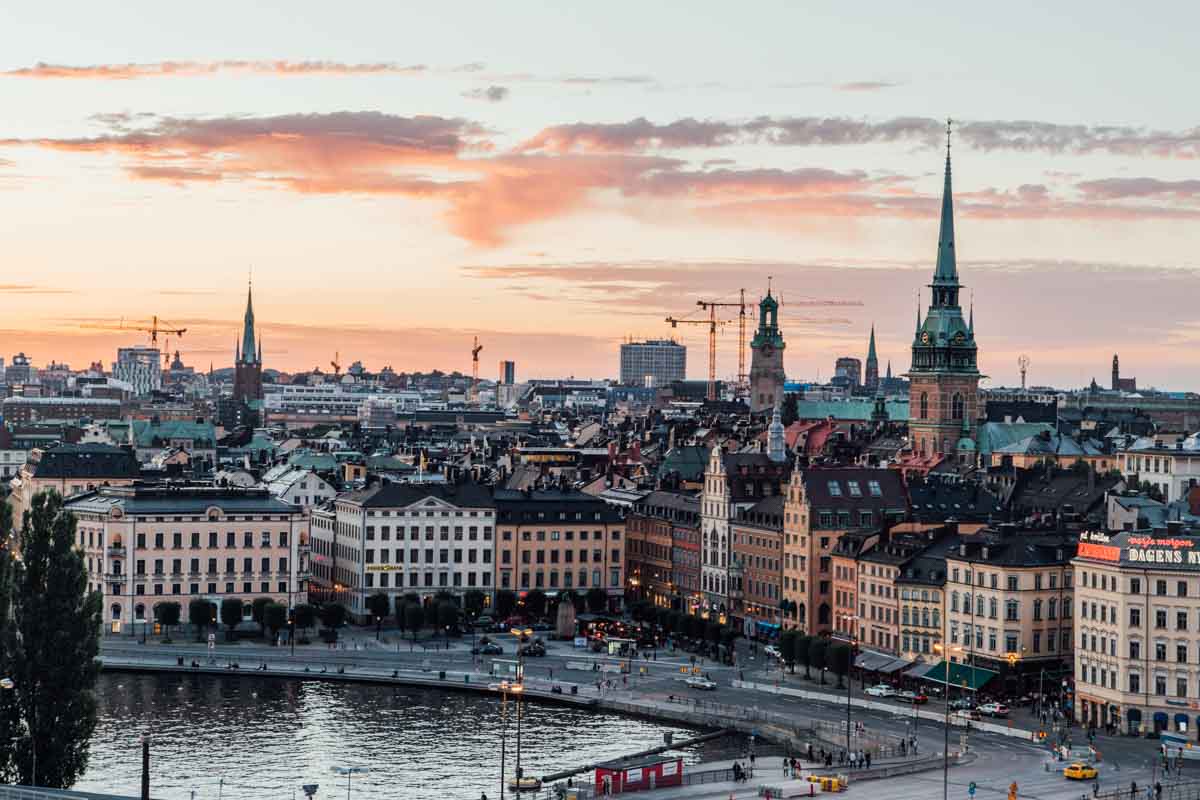 Will it snow in Stockholm in December?
If you're hoping for a white Christmas in Sweden, you may just be in luck! It is very likely to snow in December in Stockholm. On average, snow is observed on 20% of those days, with the likelihood of a snow shower increasing towards the end of the month.
Get more winter travel inspiration:
Like this article on visiting Stockholm in winter? Pin it + save it for later!