It may not get as much attention as its Nordic neighbours, but the capital of Finland has a lot more to it than initially meets the eye. Here are all the best things to do in Helsinki in the winter!
---
I'm a big believer in revisiting cities that may not have enamored us the first time around. Often, a bad experience on an initial visit can cloud our entire judgement.
The first time I visited the Helsinki, I didn't exactly fall in love with the capital of Finland. It was coming to the end of summer and the days were still long and nights were short. Yet, despite an undeniable cheer in the crisp spring air, the mood of the city didn't quite infiltrate into my own spirit.
I'll be honest. It wasn't Helsinki's fault but mine. It was actually the very first time I had been completely alone in a city, and perhaps at not the best of times. I had just cut the final ties from my long-term boyfriend, so I ended up spending four days wandering rather aimlessly around the city, sporadically breaking into fits of sobs during my explorations. During this first visit to Helsinki, some things really did NOT go to plan (you can read about it here).
Helsinki Secret Residence Program
Alas, when I got invited back to Helsinki to take part in the Helsinki Secret Residence program, I knew I had to take up the offer. It was time to revisit the city and give it a second chance (or perhaps, let it give me a second chance).
The idea of the Helsinki Secret Residence program is to give bloggers and influencers the chance to experience the city without being confined to the strict confines of a schedule. I was provided with a gorgeous apartment for the week (decked out by famous Finnish designer Marrimeko) and given lots of suggestions on places to eat and things to see and do.
Revisiting Helsinki allowed me to delve much deeper into the many facets of the city. After six days of exploration, I felt I had become well-acquainted with the local cuisine, outstanding design and architecture, sauna culture, and natural beauty of Finland's capital.
Somehow, amongst the harshness of winter, I found myself growing an unexpected fondness for Helsinki. Perhaps it was the charm of the frozen lakes and parks covered with a splatter of snow. Or the cozy cafes luring me in with coffee, cinnamon buns, and a crackling fire. Maybe it was simply the beauty of being able to walk the streets or visit popular sights without being overwhelmed with crowds of tourists. Or the glorious ice skating rink acting as the centerpiece for the city.
Whatever it was, I found Helsinki at this time of year to be utterly endearing.
Alas, whilst many may shy away from visiting this city during this time of the year, I would argue that winter may just be one of the most magical times to experience Helsinki. Perhaps you'll just have to come and see for yourself…
Things to Do in Helsinki in the Winter
1. Explore the City's Creative Side
Scandinavian/ Nordic design and architecture has clearly made its mark on a global stage. Just walk into a bookstore and you're likely to find an entire section devoted towards the movement. In fact, Finnish design is considered to be some of the best in the world. Helsinki has no shortage of galleries and exhibitions that exemplify this. Here are a few ones worth checking out:

2. Go have a Finnish Sauna
Don't even think about visiting Finland without taking part in a sauna… This age-old tradition is such an integral part of Finnish culture that you'll find more saunas in the country than cars on the street!
For a unique sauna experience, I would highly recommend checking at Loyly. This newly-established timber structure resides upon the Helsinki harbour. It offers both a public sauna and restaurant on its premises. Typically, saunas are separated by genders and taken naked. However, Loyly is more about a social experience, meaning both genders go into the same saunas wearing swimwear. The complex consists of two state-of-the-art saunas, one normal and one smoke sauna, modern changing rooms, showers, and a super cosy lounge area where you can enjoy drinks by the fire.
Once you are finished detoxing, drop by Loyly Restaurant for a bite to eat. If I can give you one piece of advice, it is to try their Finnish take on French Toast. The thick, fluffy toast topped with lashings of cream, cloudberry jam and cinnamon sugar is what indulgent comfort-food dreams are made of.
3. Visit Suomenlinna
Situated just a short ferry crossing from Helsinki lies the fortress of Suomenlinna, which is one of the most visited places in Finland. Comprised of six islands, this UNESCO World Heritage Site is made up of fascinating ruins, artistic gardens, a maze of tunnels and a selection of cafes and restaurants. It is a great place to spend the day exploring, and only takes 15 minutes to get to by ferry from Helsinki.
Try one of these tours that include Suomenlinna:
4. Go Ice Skating
As the weather starts to get chilly, Helsinki slowly turns into a winter wonderland as ice skating rinks pop up throughout the city. If you are in need of a warm-up, head to the Jääpuisto Ice Park (right in front of Helsinki's main station) for a few laps of the rink followed by an indulgent hot chocolate at the adjoining cafe.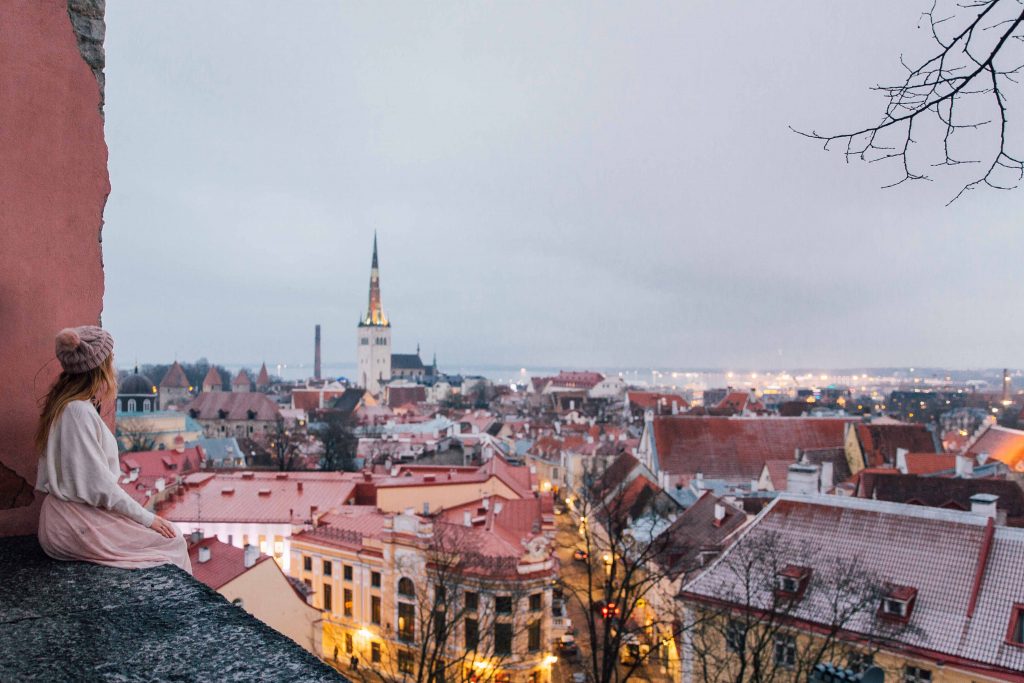 5. Day Trip to Tallinn
One of the coolest thing about Helsinki is its geographical position. Just across the Baltic Sea lies Estonia, Russia, and Sweden. In just a short 2-hour boat ride from Helsinki, you can reach the fairytale town of Tallinn.
And if you are expecting a dodgy little ferry to take you between these cities, you'll be pleasantly surprised. The Tallink MegaStar is a luxury cruise ship, complete with a vast selection of restaurants and cafes, duty-free shops, and plenty of comfortable lounges.
Arriving in Tallinn feels just like being dropped off right into a Disney movie. The city is a maze of towering spires, pastel-coloured facades, cobblestone alleyways, and quaint little stalls selling mulled wine and colourful bouquets. Be sure to stroll through the streets of old town and walk along the 2.4 kilometres of the remaining city wall, and also head to the Kohtuotsa viewing platform for the best panoramic views over the city! If you don't know where to begin with your explorations or you are limited on time, I would suggest pre-booking a local guide to show you around the city.
For a full Tallinn tour to and from Helsinki, book one here
6. Venture beyond Helsinki and to Finnish Lapland
If you are visiting Helsinki in winter, I would highly recommend venturing beyond the city and exploring Finnish Lapland. Visiting this magical winter wonderland was honestly one of my biggest highlights of travelling thus far!
You can take an overnight train up to Finnish Lapland and explore the area from there. Such as:
There are so many unique activities on offer in this part of the country… Watch the video below to see my favourite things I did in Finland:
Where to Stay in Helsinki
$$$ Hotel F6
This incredible four-star is centrally located. It's decorated in chic, Nordic style, and is rated by guests as the best place to stay in Helsinki! What more could you ask for? Check here for rates and availability.
$$ AirBnb
There are some seriously beautiful Airbnb's on offer in Helsinki for reasonable prices. Plus, if you sign up using this link, you can score $40 off your first stay!
$ The Yard Hostel
With a focus on Finnish design and local art with a touch of urban jungle, The Yard has got to be the coolest hostel in town. Offering both dorms and private rooms, even if you don't want to share a room with strangers you can still soak up the amazing atmosphere of this place! Check here for rates and availability.
To compare all hotels around Helsinki, check here
Where to Eat & Drink in Helsinki

Lunch at Juuri
Juuri is one Helsinki's hottest restaurants, and at lunch, you can experience a meal at this fine dining establishment for a fraction of the dinner prices. The place is particularly famous for its Sapas, which is a Finnish version of Spanish Tapas. I sampled a few of the Sapas for my starter (each were meticulously presented and tasted delicious) had Arctic char for my main (which is a fish not dissimilar to salmon) and had a selection of local Finnish cheese and cloudberry jam for dessert. The whole three-course meal only cost 26 euros, which is very reasonable considering the normal price of a meal in Helsinki.

Dinner at Savotta Rivotola
Before visiting Helsinki, I didn't know much about Finnish cuisine. The only thing I really knew was that they had a fondness for consuming reindeer meat. Which is not the biggest draw for a vegetarian. However, my first dinner out in Helsinki at the Savotta Rivotola was a pleasant surprise. From a refreshing entree of parsnip and celeriac puree, a hearty main of potato gnocchi served with scrumptious field mushrooms and a dessert of berry compote and licorice ice cream (the Finnish have an undying love for anything of the aniseed variety), this was just the beginning of a delicious (and surprisingly vegetarian-friendly) journey that Finnish cuisine took me on.
Coffee at Cafe Regatta
Cafe Regatta is one place you absolutely must visit during your stay in Helsinki. Situated on a stunning lake (of course, completely frozen over in winter), it is just about the coziest cafes I've ever been to. In summer, you can sit outdoors and enjoy gorgeous views over the lake. In winter, everyone squeezes into the eclectically-decorated interior of the tiny wooden cabin. They then sip on hot chocolate and indulge in fresh-out-of-the-oven cinnamon buns.
Last Minute Winter Helsinki Tips
Travel Insurance
Don't forget to get to get some, especially if you're going anywhere there's snow and ice involved. Use World Nomads if you're traveling with tech or SafetyWings if you're on a budget.
For more winter travel in Europe, check these posts next:
Liked these things to do in Helsinki in winter? Pin it for later!