If you're wondering if Japan in the winter is worth visiting, the answer is yes! If you're planning to visit the north island of Japan from December- March, here are the best things to do in Hokkaido during that time.
Disclosure: This post contains affiliate links, which means I make a small commission at no extra cost to you if you kindly choose to book via my links!
You know what I ADORE most about Japan? Every season in the country is unmistakably unique. The landscape constantly changes, meaning revisiting the same spot at a different time of year feels like a whole new experience. In springtime, everything is festooned with the baby pink tones of the iconic cherry blossoms. As summer begins, landscapes across the country erupt in greenery and smatterings of colourful flowers. The greenery slowly evolves into the rich, warm tones of autumn. Then winter comes around and litters everything with powdery white snow.
Whilst mainland Japan attracts hordes of tourists year-round, the north island of Hokkaido truly comes alive in the winter months. People from all over the world flock to Hokkaido for its world-famous skiing. However, the region has so much to offer in winter than just an epic, powdery snow. From sumptuous local cuisine, unique winter festivals, and an assemblage of magnificent landscapes, here are ten of the coolest things to do in Hokkaido, Japan in the winter!
Best Things to do in Hokkaido in Winter
1. Check out Japan's Winter Festival
If you've ever dreamed of being teleported to the landscape of the movie Frozen, the Sounkyo Hyobaku Festival may be the closest you'll come to it. Running from late January to late March, this "Ice Waterfall" Festival is a winter wonderland of ice sculptures of all shapes and sizes. The highlight of the festival is the magnificent ice castle, which really is a sight to behold! Afterward, check into the nearby Sounkaku Grand Hotel to defrost in the hotel's hot springs and experience a traditional Japanese-style guest room.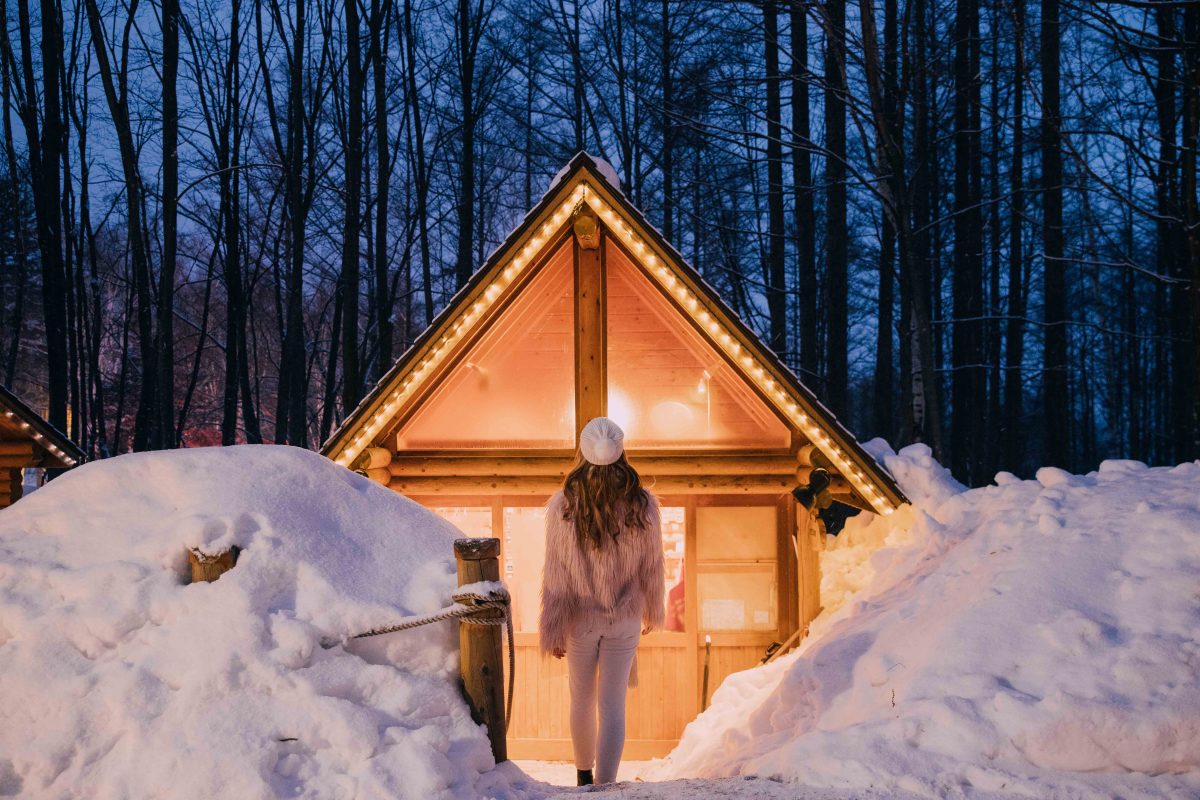 2. Get lost in the magic of Ningle Terrace
Located next to the New Furano Prince Hotel, Ningle Terrace is an enchanting collection of boutique cottages selling specialty arts and crafts. Nestled amongst the forest, all the structures and walkways are made from natural timber. They've also been adorned with fairy lights. The shops are open year-round. However, the place is most magical when it is winter in Japan as everything gets covered in a layer of fluffy coat of snow. This was undoubtedly my favourite place, and I really couldn't recommend it more!
3. Soak in Hot Springs
For the uninitiated, an onsen refers to a hot spring and its surrounding facilities. It plays a massive role in Japanese culture. Generally, you're required to go inside the onsen completely naked. If this makes you uncomfortable, it's best to check if genders are segregated first. Most onsens have indoor and outdoor pools… I would definitely recommend going for the outdoor ones. There's nothing quite like being immersed in hot water when it is freezing cold outside!
4. Sample some of Hokkaido's best produce
When it comes to Hokkaido's specialities the region is most famed for its fantastic dairy products. Hokkaido cheese tarts, for example, have become popular throughout the world. Reminiscent of cheesecake, the sweet baked tart is delectable in every way. You'll also find fresh, creamy milk ice cream sold just about everywhere. It doesn't matter what the temperature is outside, people will still be eating it! Apart from the dairy products, the region is also known for its melons, potatoes, and famed Hokkaido crab.
5. Go skiing/ snowboarding at Furano
Hokkaido is world-famous for its powder skiing. One glimpse upon a ski field here and you'll see why. Although I didn't get a chance to go skiing myself, we went up the Furano Ropeway to check out the Furano Ski Field. I can confirm that it is one of the most incredible ski spots I've ever laid eyes on! The powder is incredible, and the landscape is simply out-of-this-world.
Check here for transfers to and from Furano
There are plenty of other ski fields scattered around Hokkaido, including Niseko and Rusutsu- you really are spoilt for choice here.
6. Board the Aurora Icebreaker Ship
If you want a taste of what it is like to cruise through the Arctic, hop onboard the Aurora Icebreaker. The cruise sets off from the town of Abashiri, which is the southernmost place in the northern hemisphere to witness the phenomena of drift ice (which actually spreads down Russia)! If you are lucky, seals, marine wildlife and birds can be spotted resting on the ice.
Keep in mind there are no guarantees that you'll see anything of the boat ride. Sadly, when we went out we didn't get to see any ice as apparently it had drifted too far away!
Book a tickets to the Aurora Icebreaker here or book a sightseeing tour of Abashiri combined with a trip on the Aurora here

7. Learn how saké is made
Saké is Japan's most traditional alcoholic beverage and is a wine made out of fermented rice. As Sake is best brewed in cold climates, Hokkaido is a prime location for this production to happen. As a result, you'll find a lot of sake factories in the region, with many local makers valuing quality over mass production. Visiting a local factory is a great way of learning the true art behind Sake-making and understanding that not all Sake is made equal.
8. Take part in Japanese winter activities
For those who aren't inclined towards skiing or snowboarding, don't think you have to miss out on all the winter fun! There are still plenty of ways you can enjoy in the snow. This includes snow tubing, sledding, and ice skating. You'll find these activities offered at ski resorts, amusement parks, and festivals, like Kiroro Resort & Snow World, throughout Hokkaido during winter.
9. Experience the natural beauty of Biei
Located between Asahikawa and Furano lies the little town of Biei. With its vast fields and rolling hills, this place is certainly is not short of a picturesque landscape or two. Some of Biei's most famous attractions include the Blue Pond (pictured above), Patchwork Road, and the Ken and Mary Tree (a lone tree in a valley, made famous by a Nissan ad in the 70's). Although these landscapes are most popular during the summer months, they still have plenty of charm when covered in snow (and can be enjoyed without the masses of tourists)!
You can see the Blue Pond and Biei by booking this tour
10. Try out some of Hokkaido's speciality restaurants
Sushi at Sushi Yasu
One cannot come to Japan without feasting on sushi. If you are in Abashiri, Sushi Yasu is a traditional sushi restaurant opened in 1956. It boasts food made with high quality, fresh ingredients from the Okhotsk Sea. Some of Sushi Yasu's specialities of the restaurant include salmon, scallops, Hokkigai, button shrimp and crab Sotoko. If seafood isn't your thing, they also offer a range of vegetarian-friendly dishes such as vegetable tempura and tofu hot pot.
Japanese/ Italian Food at Ristorante Foresta Verde
Japanese and Italian cuisine may both be prominent players on the world food stage, but never before have I seen the two cuisines coming together. Ristorante Foresta Verde is the perfect initiation into Japanese-inspired Italian food (which I have since learned is actually a very popular combination within Japan). Everything is made from fresh, local ingredients, and despite a few curious flavor combinations such as spaghetti with cabbage, the food here is actually very tasty. The restaurant itself has a lovely ambience, offering views of Asahikawa's cityscape and the Daisetsu Mountains.
Gibier Cuisine at Kumagera
Gieber Cuisine is certainly one of the more unique specialties of the region. It is a game meat restaurant serving venison hot pot. As a vegetarian, it certainly was not my cup of tea (I just ate a tofu hot pot), but the other people I was with seemed to enjoy it!
Gengis Khan at Tonden Farm Factory Restaurant
Gengis Khan is a Hokkaido speciality that involves cooking your own meat and vegetables over a hot plate, which is then dipped into a special sauce after cooking. We tried Gengis Khan at the Tonden Farm Factory, where they had an all-you-can-eat set up where you could select your own meat/ vegetables to take back to your table and cook yourself!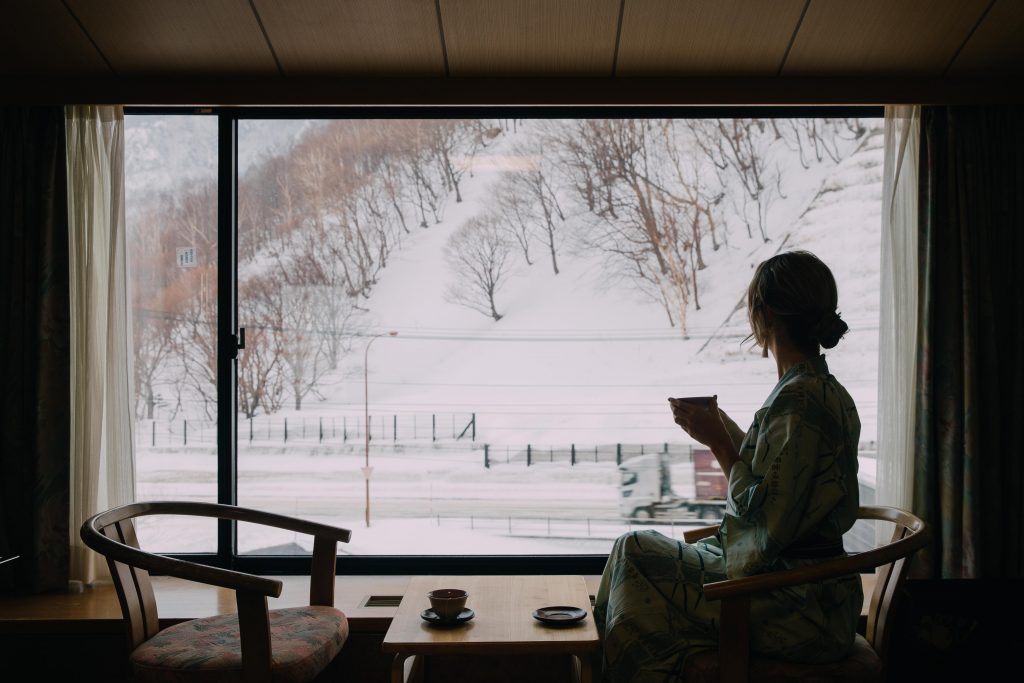 Before You Go to Japan in Winter
Before you go to Japan, I'd recommend downloading the free Japan Official Travel App. The app includes public transport information, maps showing where you can find free WiFi spots, ATM's and restrooms and general handy travel tips for Japan. The app also has a discover section, which includes articles which are great if you need inspiration on things to do or where to eat in a certain location. It is super useful to have a single App that includes everything you need to travel Japan in the one place!
For more winter activities in Hokkaido, Japan check here.
For more Japan travel, read these next:
Liked these things to do in Hokkaido in winter? Pin them for later!
This article was in collaboration with JNTO, however, as always, all opinions are my own.