Explore the crystal-clear waters, mystical caves, and vibrant marine life of the 12 most beautiful cenotes in Riviera Maya.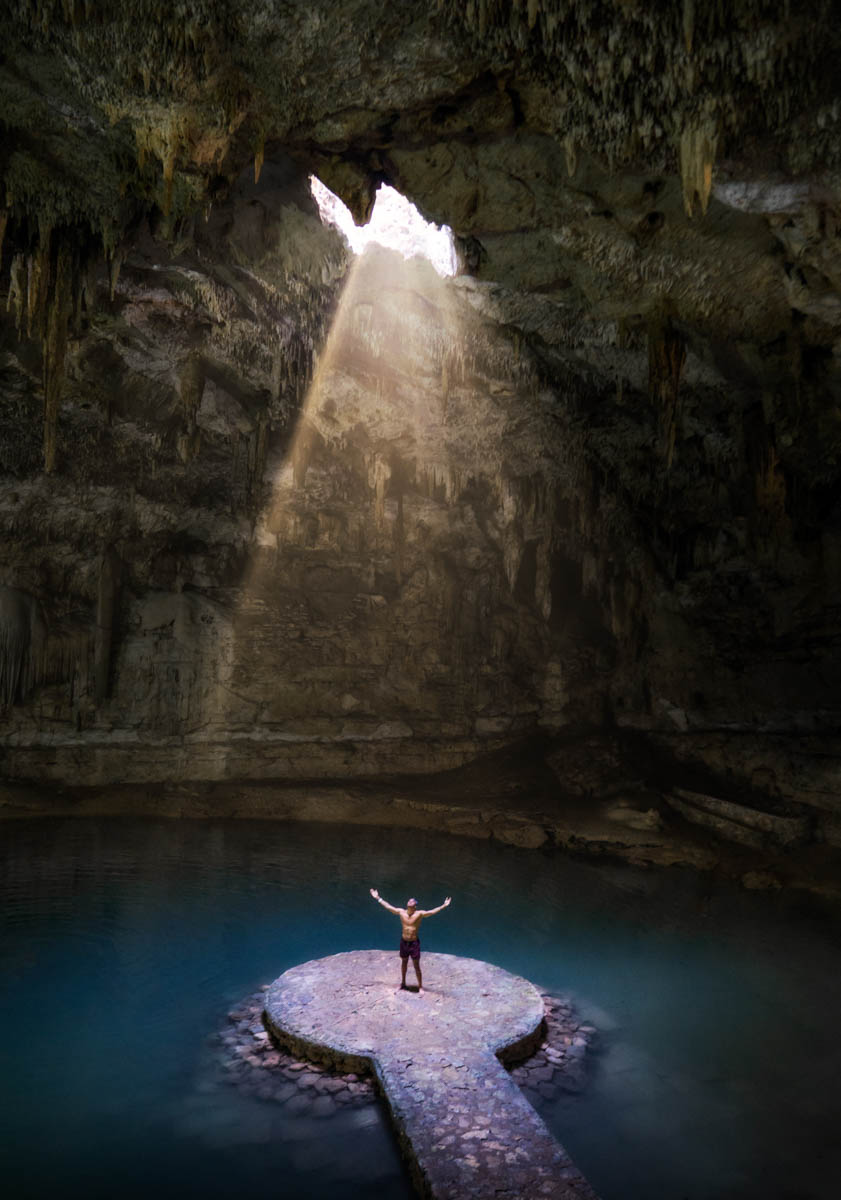 Welcome to the enchanting world of Riviera Maya, a tropical paradise located on the East Coast of Mexico. Hidden under the surface of the Mayan Riviera lies a network of natural wonders known as cenotes.
The cenotes of Riveria Maya are truly a site to behold. Each one is filled with unique geological formations, turquoise waters and incredibly biodiverse marine life. There are over 300 cenotes in Mayan Riviera alone, so let's get stuck into the best ones to visit!
What are the Riveria Maya Cenotes?
A cenote is a natural sinkhole that is formed through the collapse of limestone bedrock. This process reveals a pool of pristine groundwater from beneath the surface of the Earth.
The word "cenote" is derived from the Mayan word "dzonot", which means sacred well. These geological wonders hold a lot of cultural significance to the Mayan people, particularly in the Riviera Maya region.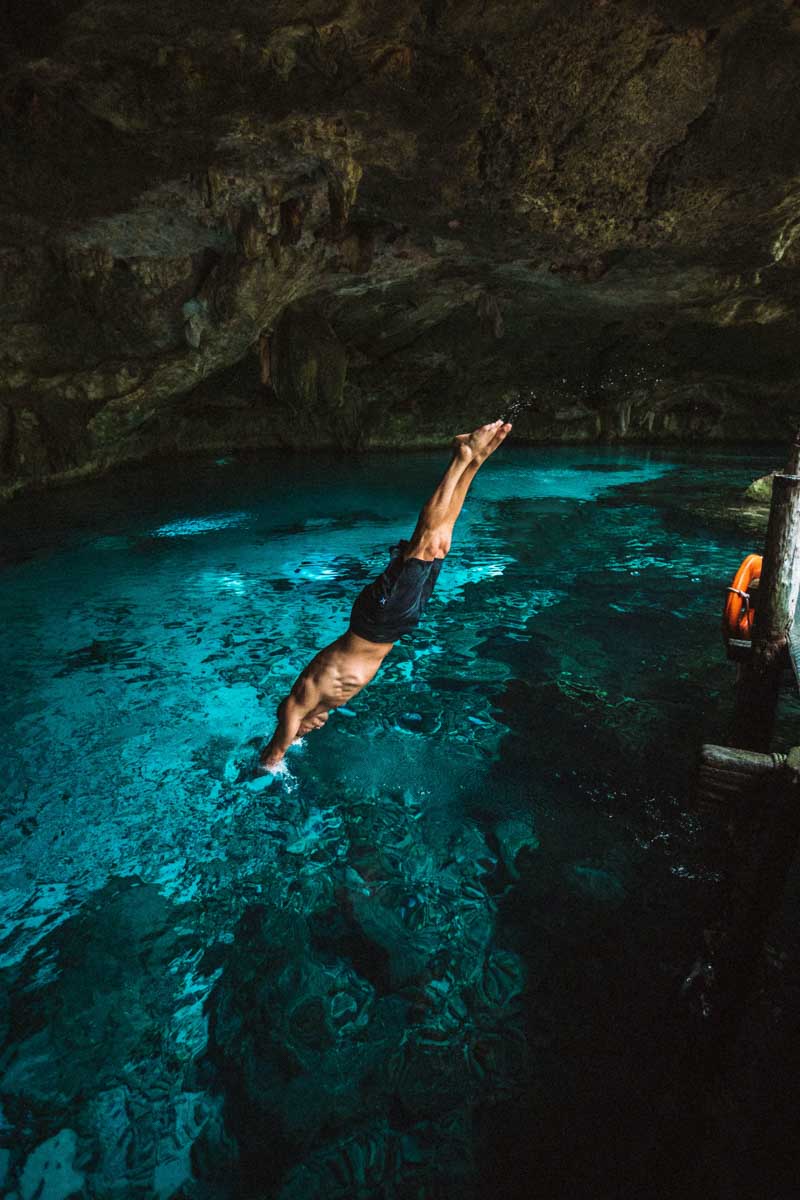 Cenote Tour of Riveria Mayan
If you're staying in Tulum, I'd highly recommend going on this epic Four-Cenote adventure. The tour includes a day of swimming, canoeing, zip-lines, and jungle trekking to four of the best cenotes in Riveria Mayan.
12 Best Cenotes in Riviera Maya
1. Dos Ojos Cenote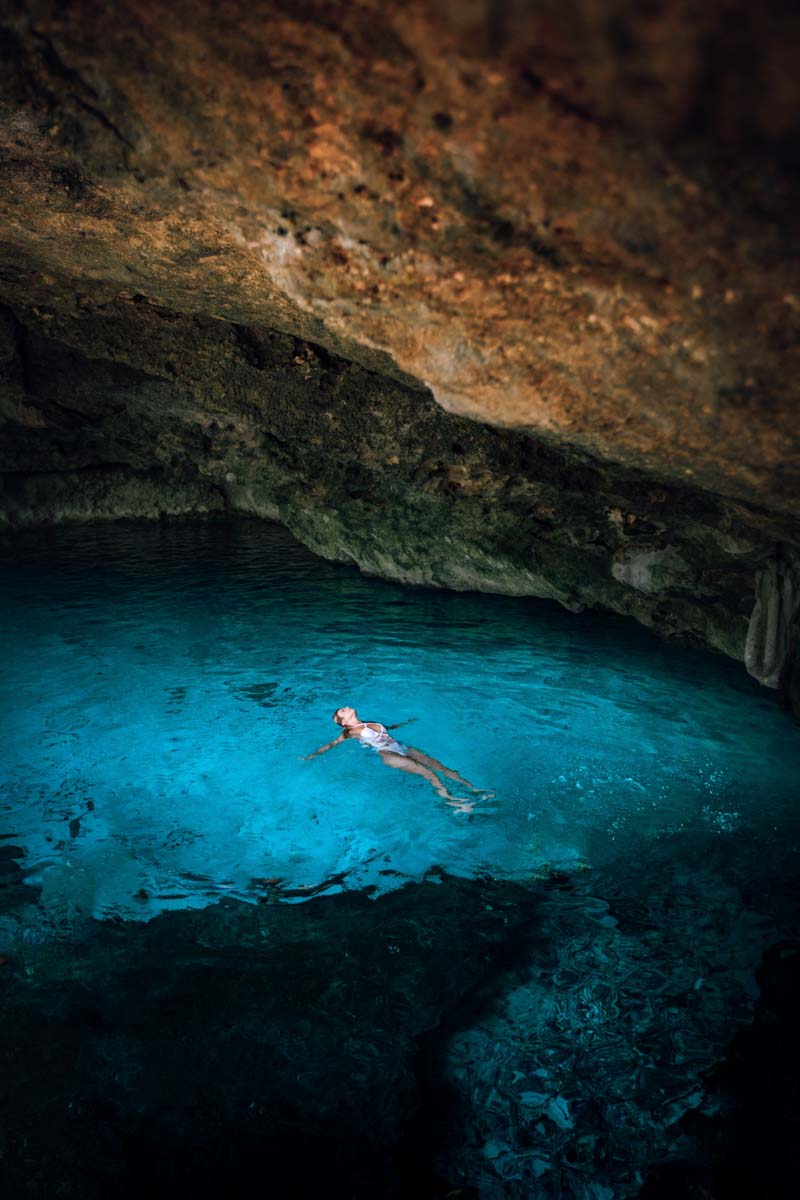 BEST CENOTE FOR: Snorkelling/ Scuba Diving
The most famous cenote in Rivera Maya is the awe-inspiring Dos Ojos Cenote. This is one of best scuba diving spots in Mexico. Here, you can snorkel or scuba dive through the crystal-clear waters as ethereal light beams illuminate a mesmerizing underwater world.
Dos Ojos Cenote Facilities:
At the cenote, you'll find bathrooms, lockers and snack shops onsite. There is also a place where you can rent snorkelling gear for around 100 pesos. Alternatively, join a day tour to Dos Ojos from Tulum, which includes equipment rental, entry, transport and lunch.
ENTRANCE FEE: 350 pesos ($18USD)
2. Ik Kil Cenote
BEST CENOTE FOR: Cliff-jumping
Ik Kil Cenote is easily one of the most visually stunning cenotes in the Mayan Riveria. Located near the famous Mayan ruins of Chichen Itza, this cenote is surrounded by enchanting hanging vines and filled with emerald waters.
Ik Kil Cenote Facilities:
One of the best features of the Ik Kil Cenote is the diving platform. Take a leap into from one of the two platforms, which are approximately 14ft or 17ft high. Onsite you'll also find a store, a restaurant, and changing rooms.
ENTRANCE FEE: 80 pesos ($5USD)
3. Gran Cenote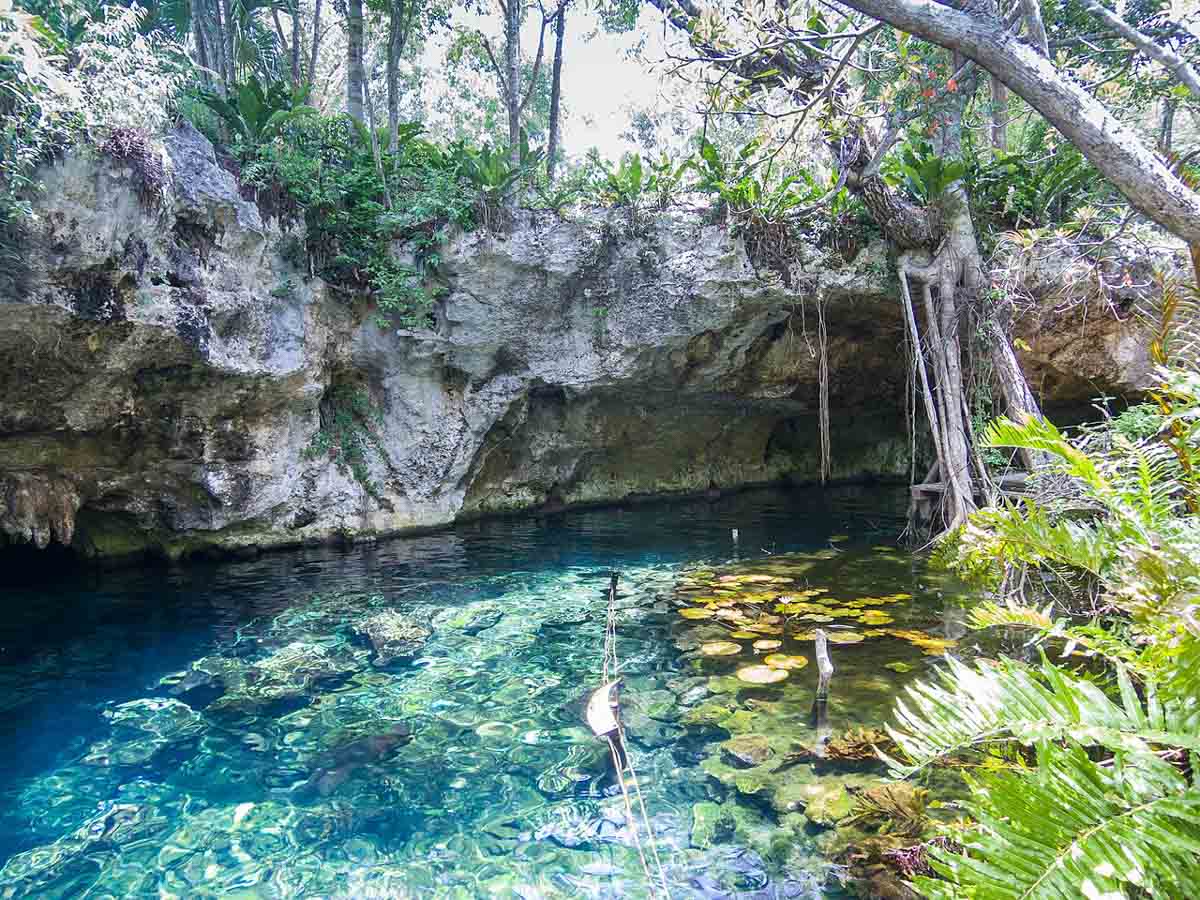 BEST FOR: Photography
Prepare to be awestruck by Gran Cenote, one of Riveria Maya's most captivating natural tapestries. With its stunning stalactites, stalagmites, and clear azure waters, this open-aired cenote is a photographer's dream. The vibrant marine life also makes it a great spot for snorkelling.
Gran Cenote Facilities:
The Gran Cenote is well-equipped with facilities, including bathrooms, changing rooms, lockers and a small shop selling snacks. There are shaded picnic tables so it's also a nice spot to bring a picnic.
ENTRANCE FEE: 500 pesos ($25 USD)
4. Cenote Calavera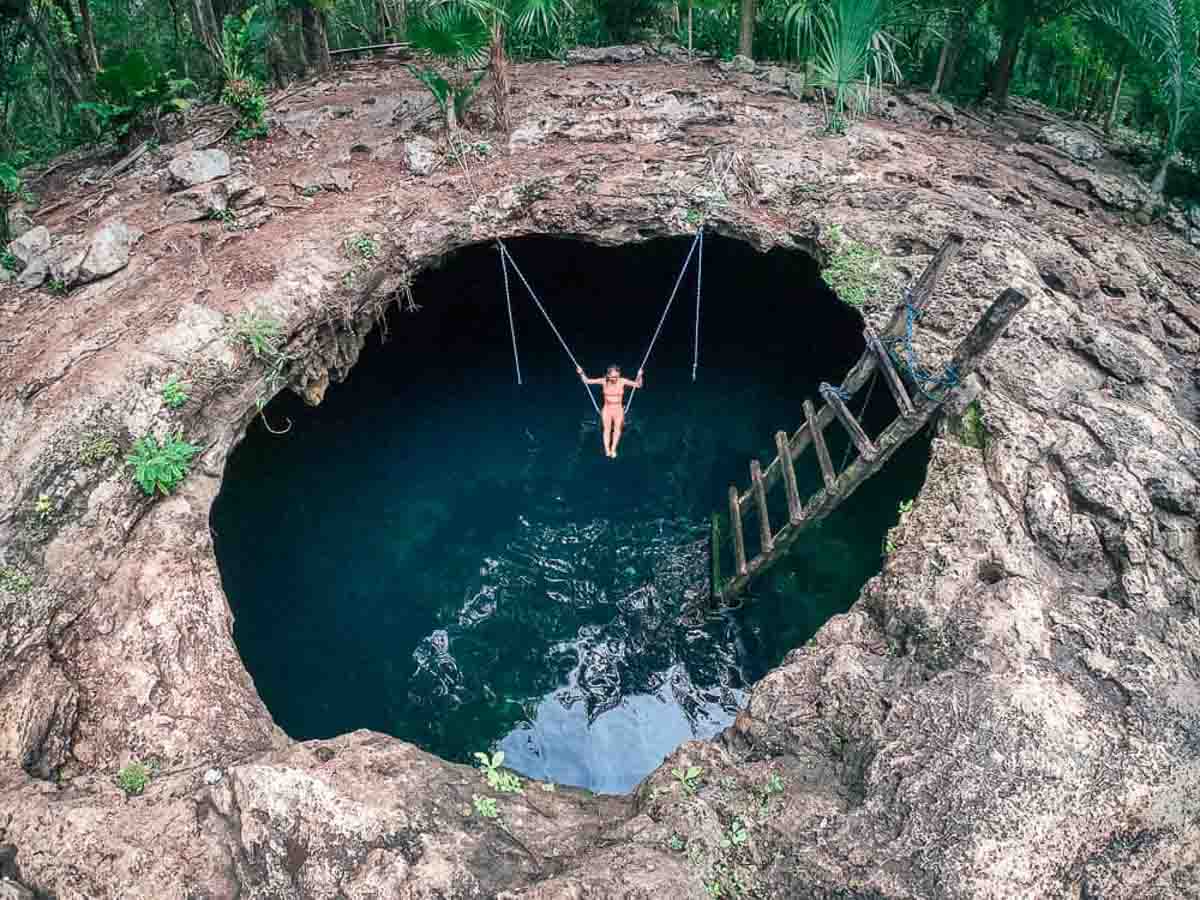 BEST FOR: Unique rock formation
Cenote Calavera is one of the most intriguing cenote formations in the Mayan Riveria. It features three interconnected sinkholes resembling skulls, hence the name "Calavera". These natural rock formations are perfect for scuba diving, swimming and cliff jumping.
Cenote Calavera Facilities:
The facilities at Cenote Calavera are quite basic compared to some of the more cenotes in Riveria Maya. There are basic restrooms, showers and a small resting area. However, there are no lockers or places to eat, so make sure you prepare accordingly.
ENTRANCE FEE: 250 pesos ($14USD)
5. Cenote Azul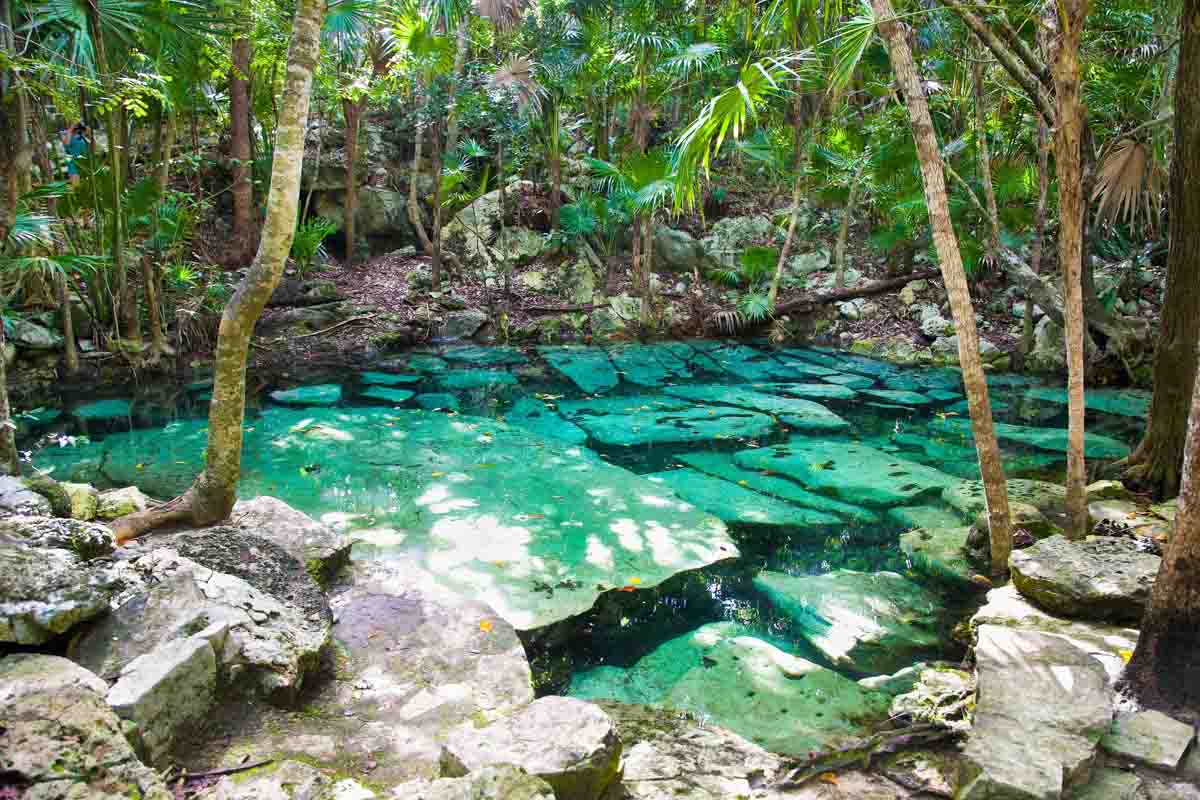 BEST FOR: Families
Nature's palette comes alive at Cenote Azul, with the vivid azure hues of water blending with the surrounding greenery. This large open cenote features various shallow and deep sections, making it a great spot for families to visit.
Facilities at Cenote Azul
Cenote Azul is well-equipped with facilities, including a changing room, toilets, equipment rental and a small shop to buy snacks. There is a lot of area to relax around the cenote so it's definitely a spot that you can spend a few hours at.
ENTRANCE FEE: 140 pesos ($7USD)
6. Cenote Taak-bi-ha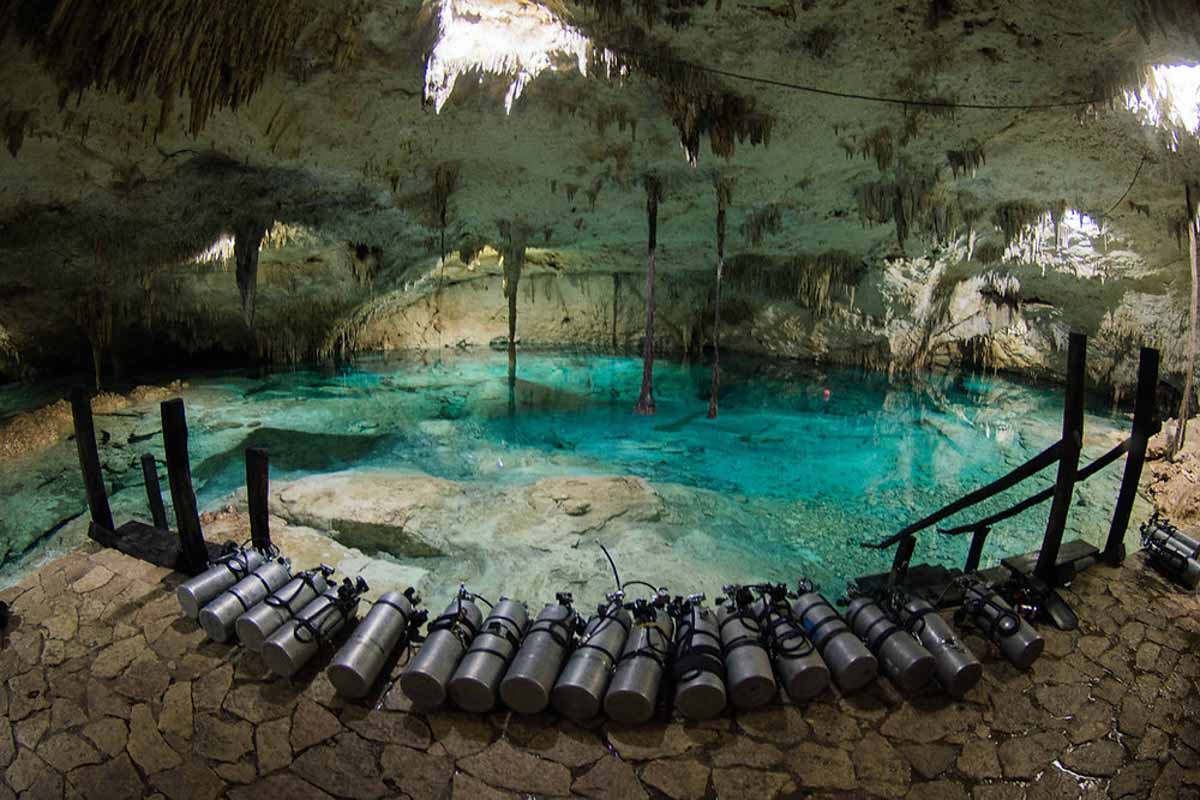 BEST FOR: Adventurous Souls
For those seeking a unique adventure, Cenote Tak Be Ha is the spot to go. This cenote is situated inside a huge cave, which means it is only accessible by climbing down a narrow opening. Once inside, you're rewarded with the untouched beauty of limestone stalagmites encasing turquoise water.
Facilities at Cenote Taak-bi-ha
Cenote Taak-bi-ha is limited in facilities, with showers and toilets but no lockers to store your things. You do have the option to rent snorkelling gear and can also scuba dive here for an additional fee.
ENTRANCE FEE: 350 pesos ($20USD)
7. Cenote Carwash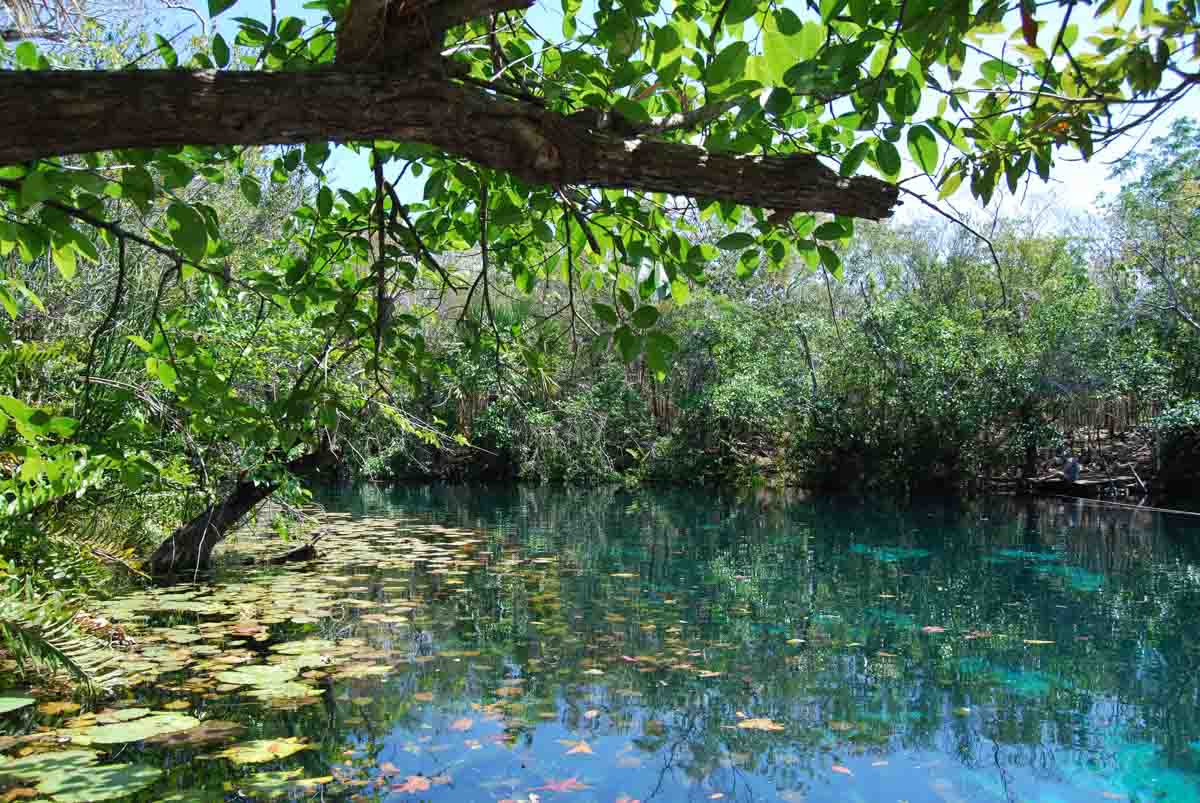 BEST FOR: Accessibility
What once served as a spot for locals to wash their cars is now one of Riveria Maya's most accessible open cenotes. Cenote Carwash is a large, pond-like cenote filled with aquamarine water and surrounded by lush vegetation. It's home to a variety of wildlife, including colourful fish, turtles and the occasional little alligator!
Facilities at Cenote Carwash
If you want to make a dramatic entrance to Cenote Carwash, you can make a splash via the rope swing or the jumping platform! Facilities at the cenote include toilets, lockers and picnic tables, making it a nice spot to have lunch.
ENTRANCE FEE: 100 pesos ($6 USD)
8. Cenote Suytun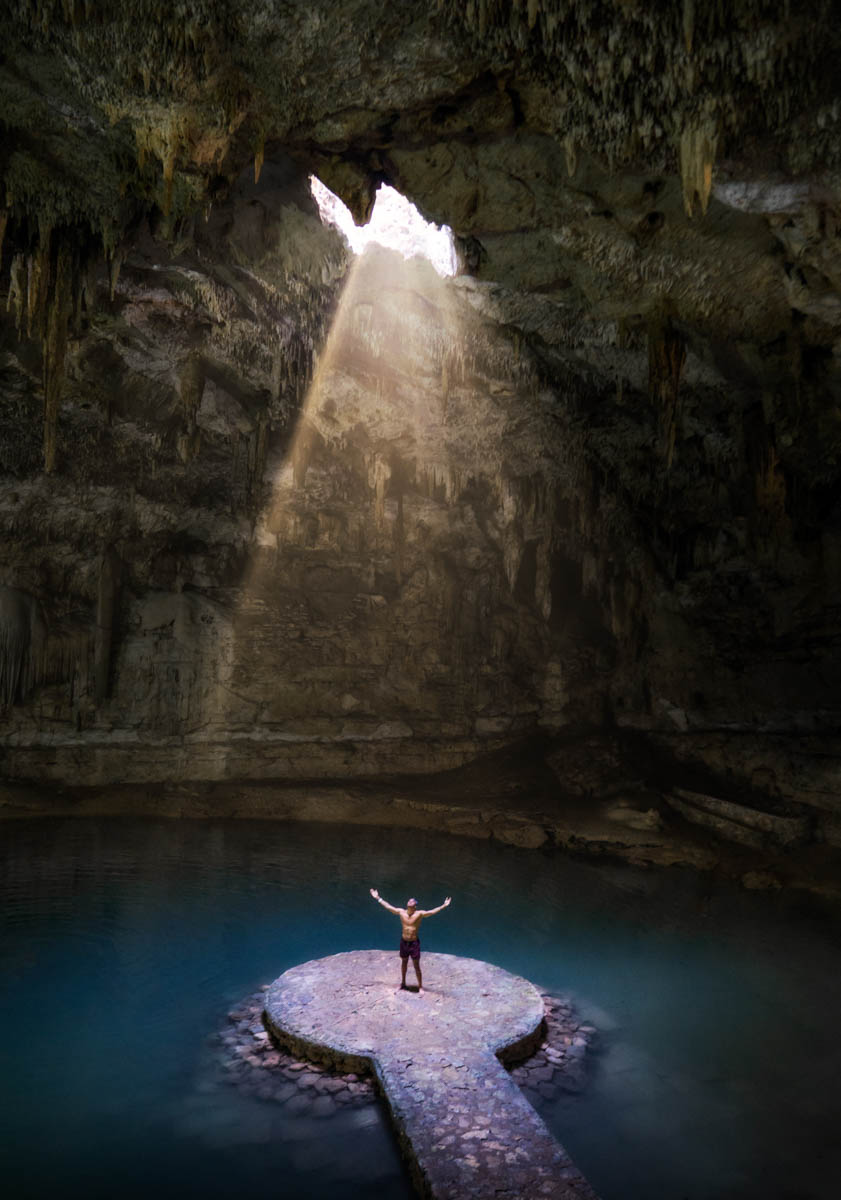 BEST FOR: Instagram Photos
Cenote Suytun is one of the recognizable cenotes in the Mayan Riveria, and in fact, the whole of Mexico. When the sun is out, a beam of light shines down into this mesmerizing cave cenote, illuminating its unique floating platform and turquoise waters. It is truly a sight to behold.
Facilities at Cenote Suytun
The facilities at Cenote Suyton are very basic, and include bathrooms, changing rooms and showers. There is also an on-site buffet restaurant if you want food. Life jackets are also mandatory if you want to swim in this cenote.
ENTRANCE FEE: 150 pesos ($7.50USD)
9. Cenote Cristalino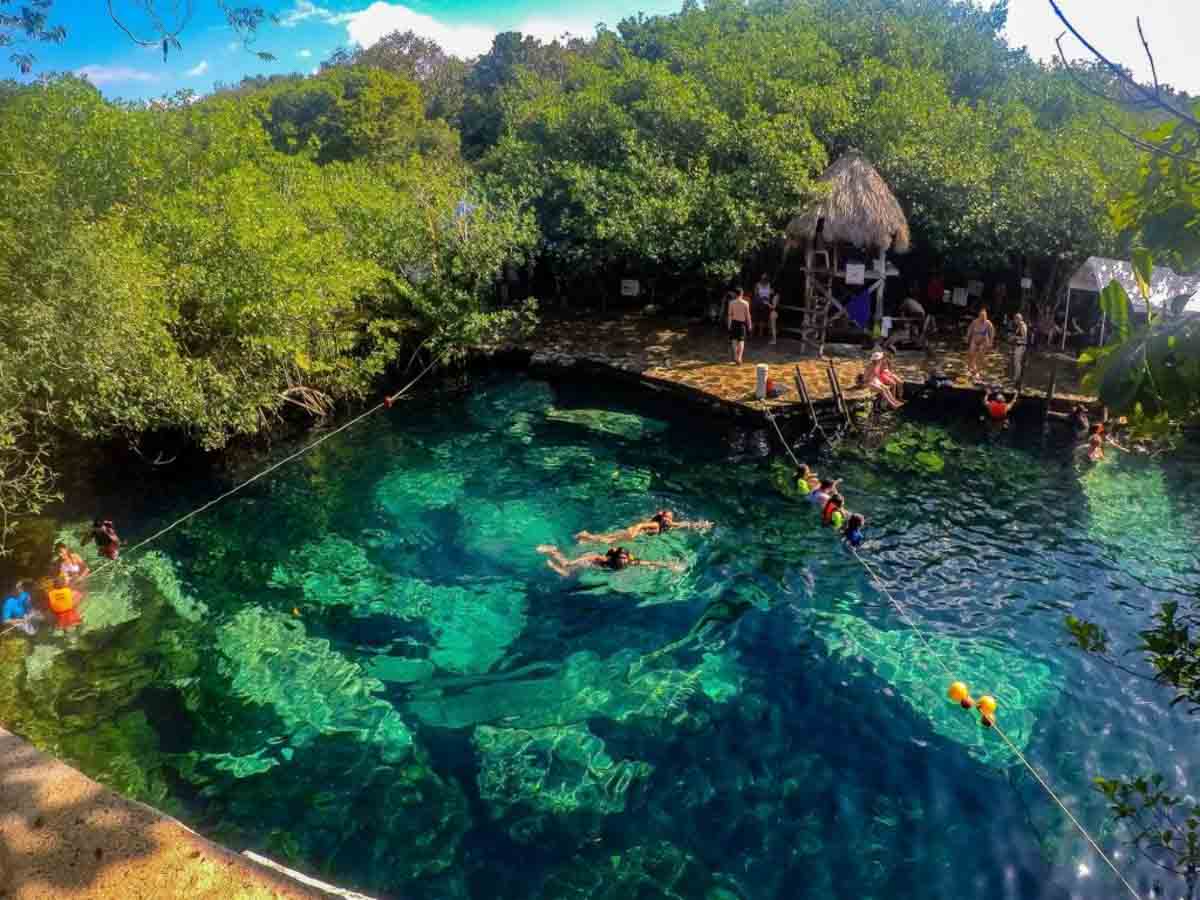 BEST FOR: Hidden gem
Nestled amongst dense jungles you'll find Cenote Cristalino, a hidden gem waiting to be discovered. This is one of the Riveria Maya's quieter cenotes, so is a great choice for those who want to avoid the crowds. It's a lovely spot to snorkel through crystal clear water alongside colourful fish.
Facilities at Cenote Cristalino
Despite being uncrowded, Cenote Cristalino is fairly well-equipped with facilities. There are clean toilets and showers, locker rentals, life jackets and sun loungers at your disposal. There are also a few snack stalls in case you get hungry.
ENTRANCE FEE: 200 Pesos ($12USD)
10. Cenote Multum-Ha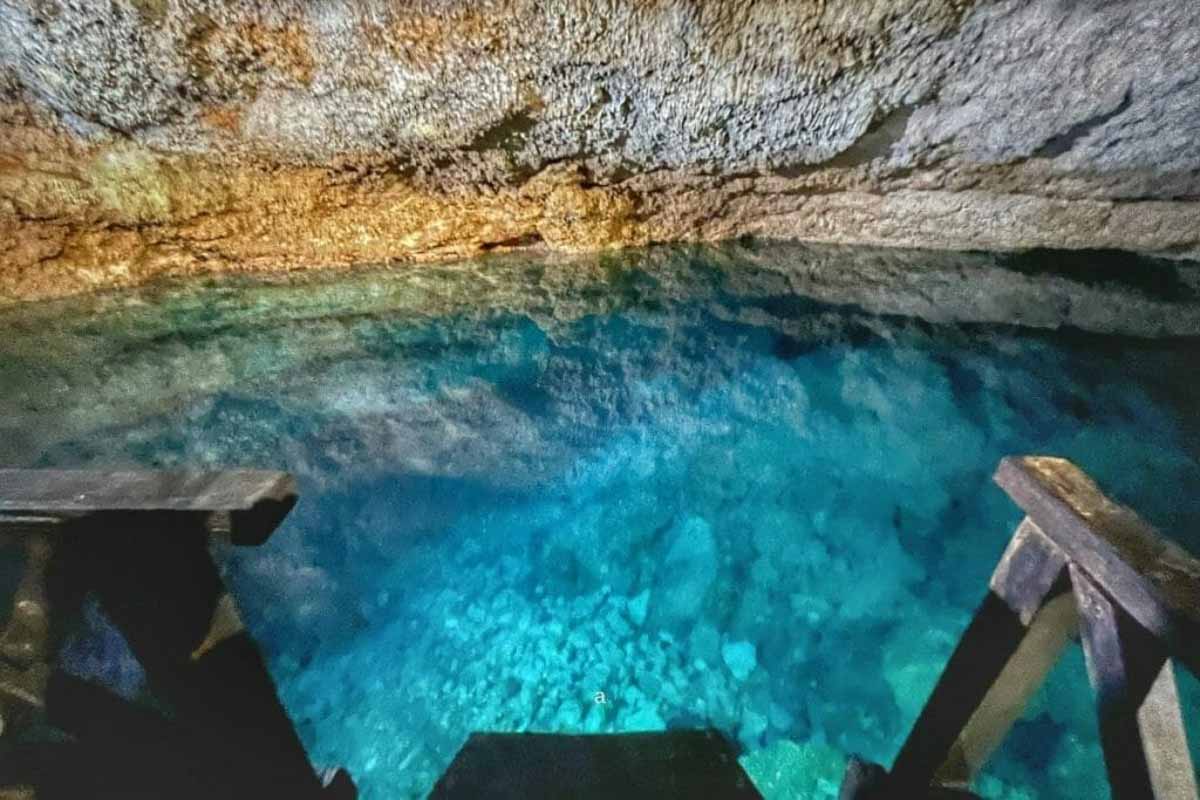 BEST FOR: Underground Cenote
Multum-Ha is one of the most stunning underground cenotes in Riveria Maya. This hidden cenote is situated down a long winding stairway that takes you 18 meters underground. Here, a natural pool of crystal-clear water is enveloped by a mystical cavern and lush vegetation.
Facilities at Cenote Multum-Ha
The facilities at Cenote Multum-Ha are basic, with just a shower, and restroom onsite. If you choose to swim, you are provided with a lifejacket. Otherwise, make sure you come equipped with your own snorkel gear and snacks if you need them.
ENTRANCE FEE: 100 pesos ($6USD)
11. Jardin Del Eden Cenote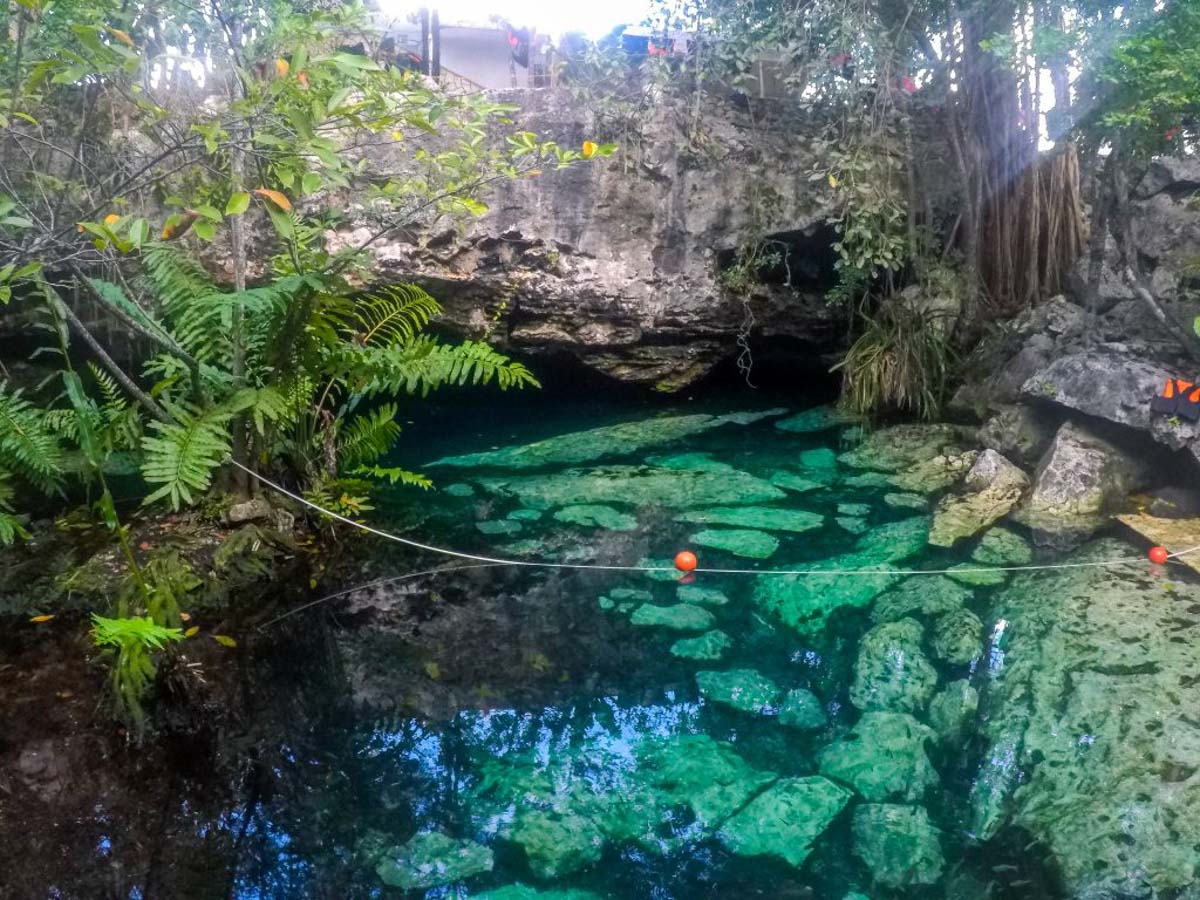 BEST FOR: Underwater Exploration
Jardin Del Eden is one of the biggest cenotes in Riviera Maya. With its vivid turquoise water and lush surrounding jungle, the name "Garden of Eden" makes a lot of sense. This is one of the best cenotes for scuba diving and snorkelling as there is much to explore.
Faciltities at Jardin Del Eden Cenote
The Jardin Del Eden Cenote features several platforms, making it great for cliff jumping. There's also a big wooden deck that you can lounge on. Facilities are very simple, offering only toilets and outdoor showers.
ENTRANCE FEE: 200 Pesos ($12USD)
12. Cenote Chaak Tun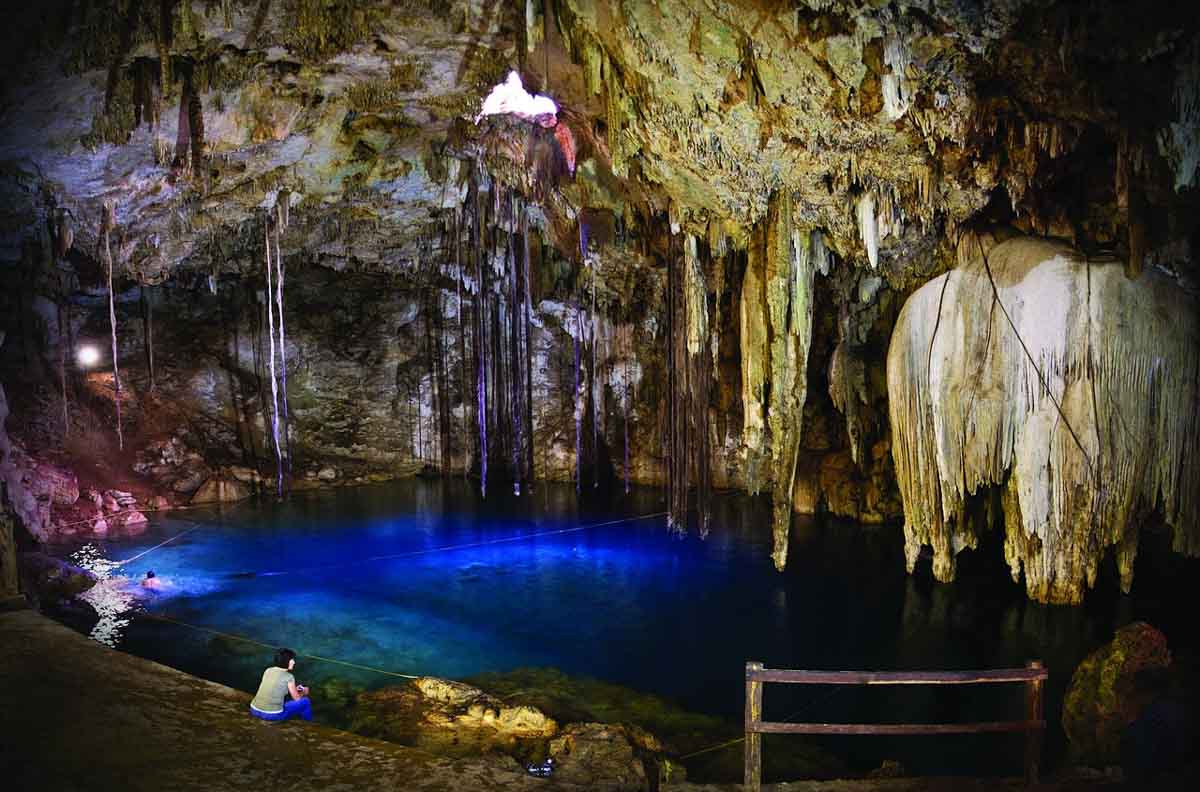 BEST FOR: Guided tour
Among the most complex and beautiful of the Mayan Riveria's cenotes is Chaak Tun. This gateway to ancient Mayan rituals can only be accessed by guided tours. On these tours, you'll get the chance to explore the underground rivers, stalactite formations, and mystical caves that were once used for sacred ceremonies.
Tours of Cenote Chaak Tun:
As you cannot access Cenote Chaak Tun on your own, I would suggest booking this Cenote Exploration Tour. On the tour, you'll spend 2-3 hours exploring the cenote's breathtaking interior with a professional guide. The tour includes all gear, entry fees, snacks and water.
ENTRANCE FEE: Included in tours
Where to stay in Riviera Maya
From all-inclusive resorts to unique boutique hotels, there are many stunning resorts in Riviera Maya to suit every budget. Here are a few I would recommend looking into:
BUDGET-FRIENDLY HOTEL: Aloft Tulum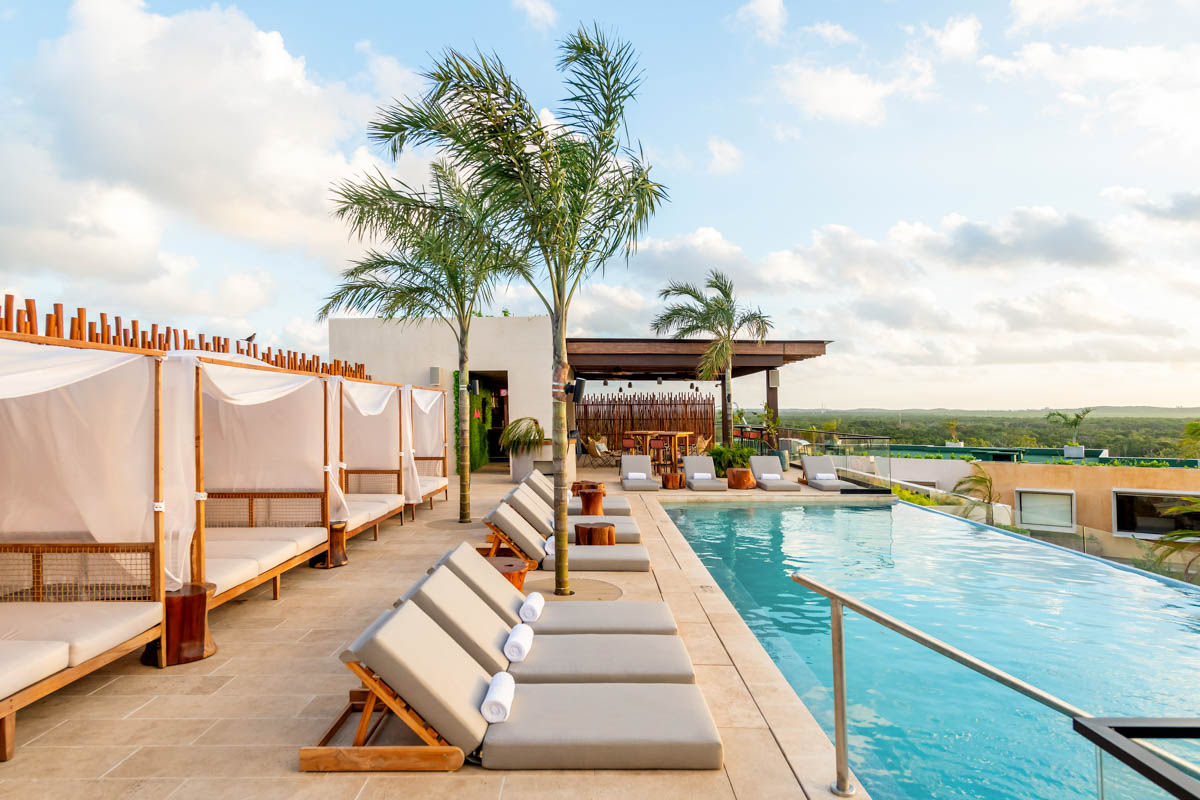 For a beautiful, budget-friendly hotel located in Tulum, I'd recommend Aloft Tulum. This boutique hotel features a beautiful outdoor pool, free bikes a fitness centre, and air-conditioned rooms.
ALL-INCLUSIVE RESORT: Iberostar Grand Paraiso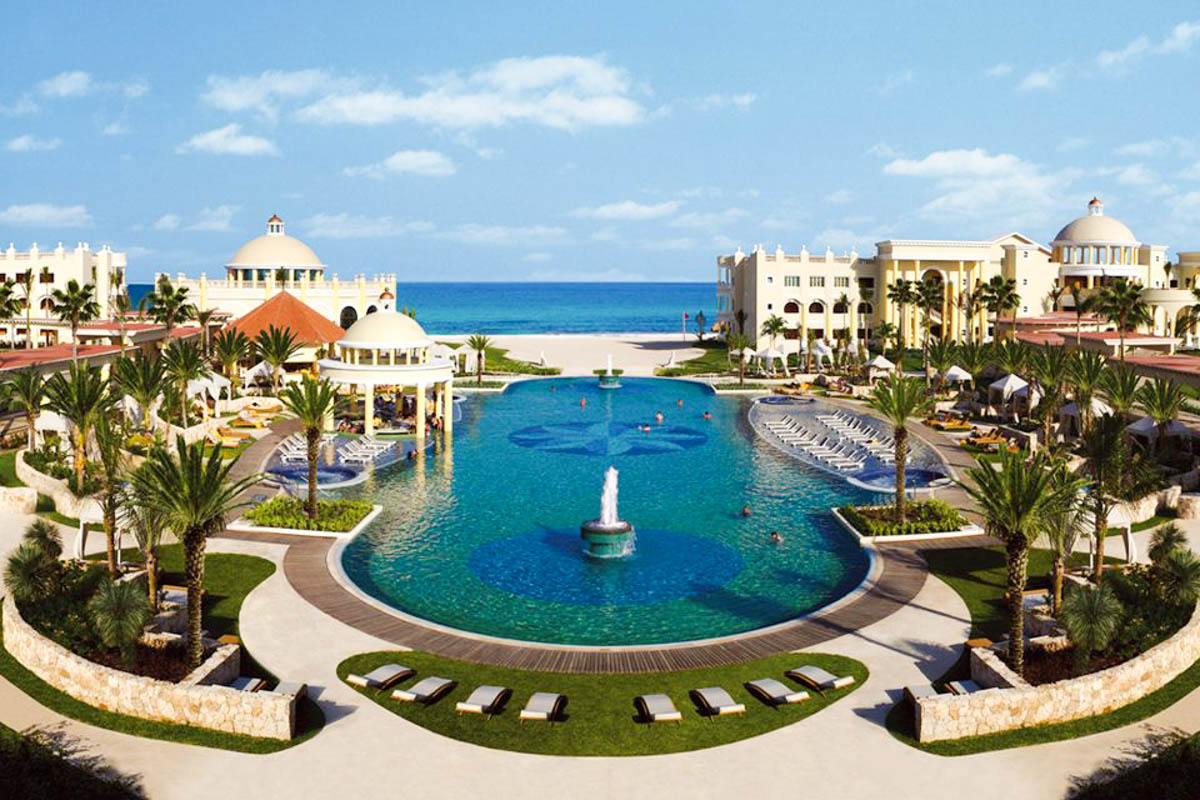 If you're looking for an adults-only, all-inclusive resort in the Riviera Maya, the Iberostar Grand Paraiso is a great option. Located right on the beachfront, this luxury hotel features spacious suites, 7 great dining options, a golf course and lavish swimming pools.
LUXURY RESORT: Grand Velas Riviera Maya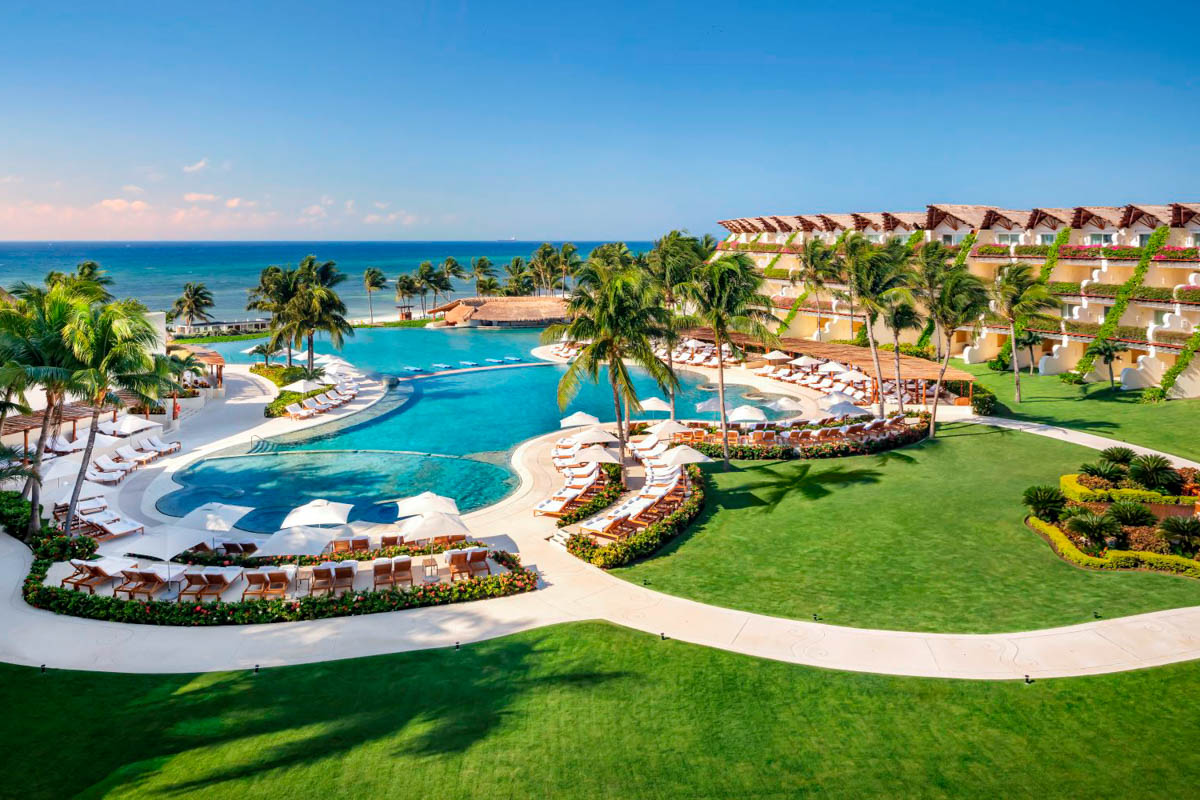 If you want to splash out on an ultra-luxurious hotel in the Riviera Maya, you can't go past the Grand Velas Riveria Maya. Overlooking the Caribbean, the property features infinity pools, a luxury spa, and restaurants offering world-class cuisine.
Get inspired for your next nature-based holiday:
Like this article on cenotes in the Riviera Maya? Save this post!