Thinking of doing the Tour du Mont Blanc? Read my honest review of the 10-day Guided Hiking Tour I did around Mont Blanc!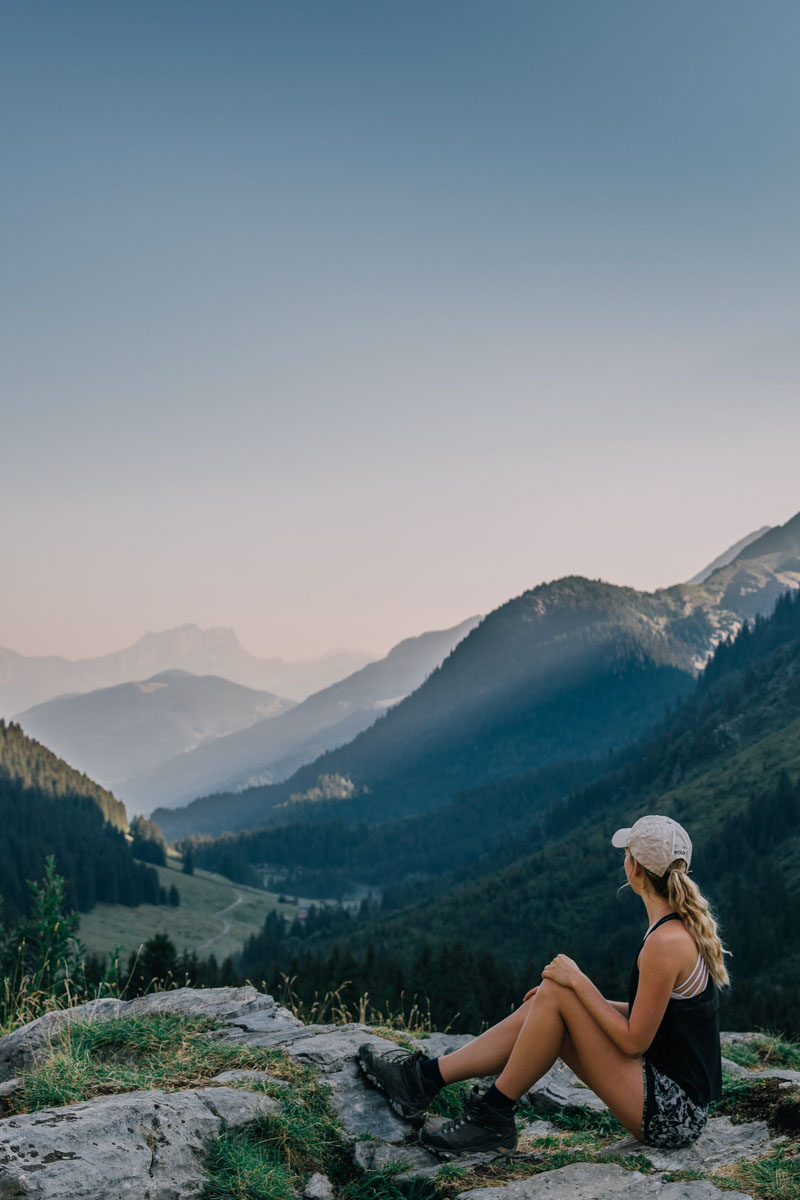 Disclosure: This post contains affiliate links, which means I make a small commission at no extra cost to you if you kindly choose to book via my links!
10 days. 3 countries. 120km of hiking. 10,000 meters of ascent and descent. Passing through France, Italy and Switzerland and circling around Europe's highest Mastiff, the Tour Du Mont Blanc (or the TMB) is one of the world's most iconic hikes.
Despite having very little hiking experience, one day I found myself signing up for a 10-Day Mont Blanc Hiking Tour with G Adventures. I am so glad I did. I can now confidently say it was one of the BEST trips I've ever done in my life.
If you're considering going on a Mont Blanc guided tour, this article will take you through exactly what to expect. My hope is that by the end, you'll be booking a Tour Mont Blanc hike… Trust me, it will be one of the best decisions you'll ever make!
Tour Du Mont Blanc FAQ:
How fit do I need to be to be for Tour de Mont Blanc?
While the Tour De Mont Blanc is not exactly a walk in the park, anyone with a moderate level of fitness should be able to complete the hike. You just need to be comfortable walking up 24 kilometres/ 14 miles in a day, keeping in mind there are a lot of inclines and declines.
On the Mont Blanc tour that I went on, everyone had varying levels of fitness and hiked at very different paces. Some of us powered ahead and others took it at a leisurely pace. We would have specific meeting points along the way, which meant no one ever lost the group.
Tour Du Mont Blanc: Self-Guided or with a Guide?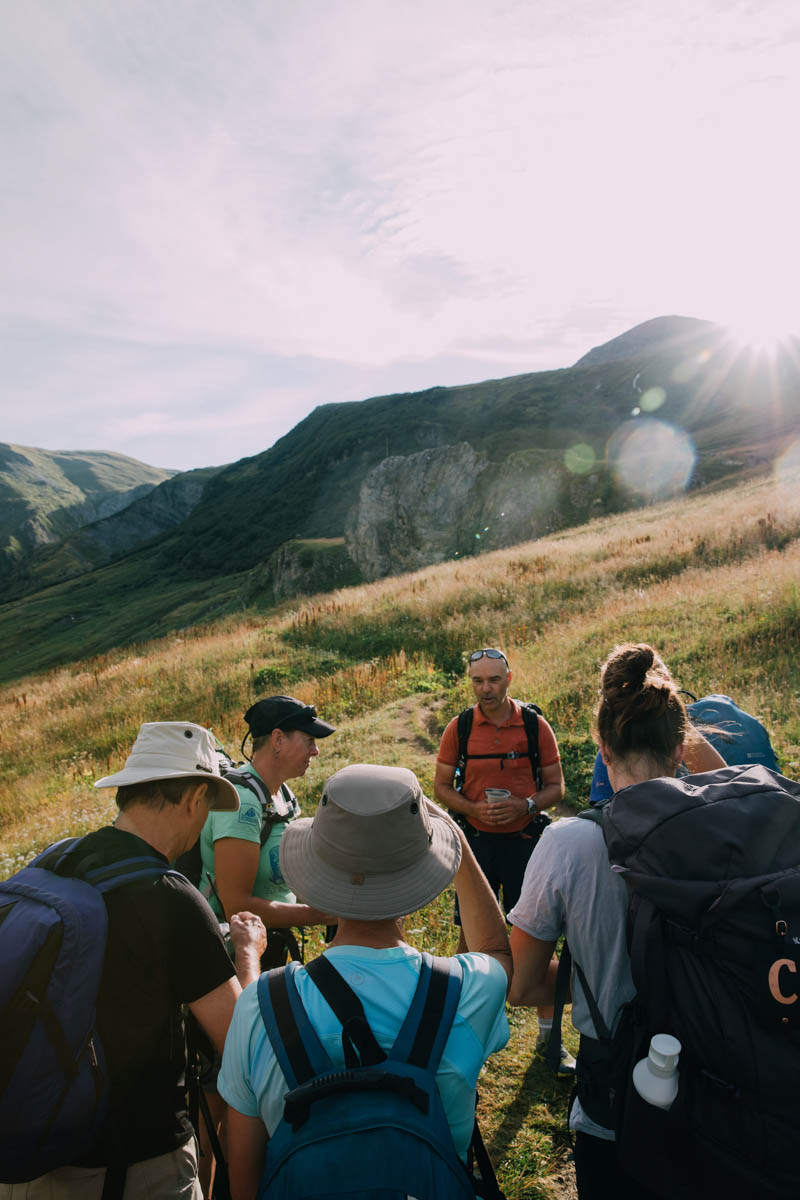 Although you can do the Tour De Mont Blanc hike on your own accord, I would personally recommend going with a tour group. Doing a Mont Blanc guided tour means all you have to worry about is making it from point A to point B each day.
Every morning, our tour leader would set the expectations for the day. He'd let us know how long we'd be hiking for, how hard the hiking would be and where we could stop for the bathroom and for snacks/ lunch.
On the tour I went on, all of our accommodations, breakfast and dinners were sorted for us. All we had to buy was lunch which would be at a designated lunch stop. This logistically made the hike so much easier.
You can find out all the specific details on the Mont Blanc tour I went on here.
Where to Stay during the Tour de Mont Blanc?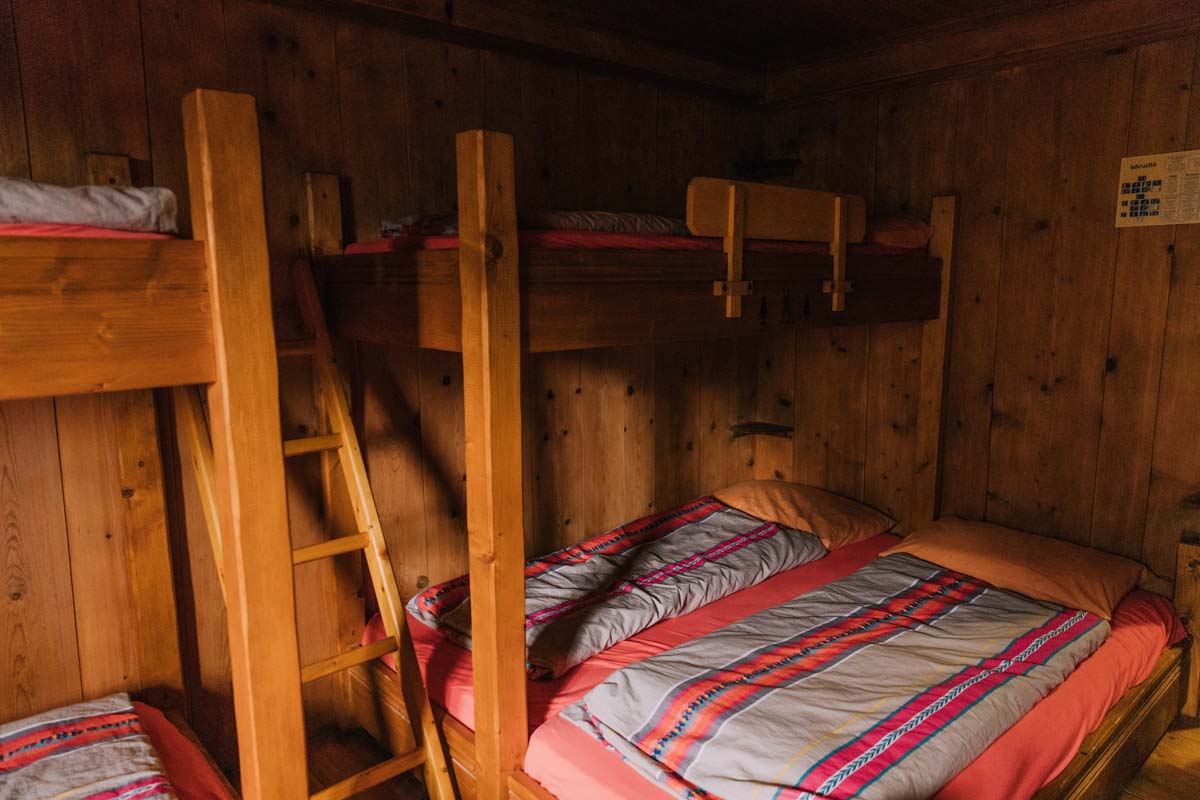 When hiking the Tour de Mont Blanc, most people stay in mountain refuges along the way. Most of these refuges feature dorm-style rooms, toilets, showers, and an onsite restaurant.
I was honestly pleasantly surprised by how nice the refuges were. They were all quaint, clean and well-equipped. It was also amazing having an onsite restaurant to go to for post-hike drinks, a homecooked dinner and breakfast in the morning.
These refuges do book up well in advance, so keep this in mind if you choose to do a self-guided Mont Blanc tour. As I mentioned above, the guided tour I went on included our accommodation and meals onsite.
What do you eat when you climb Mont Blanc?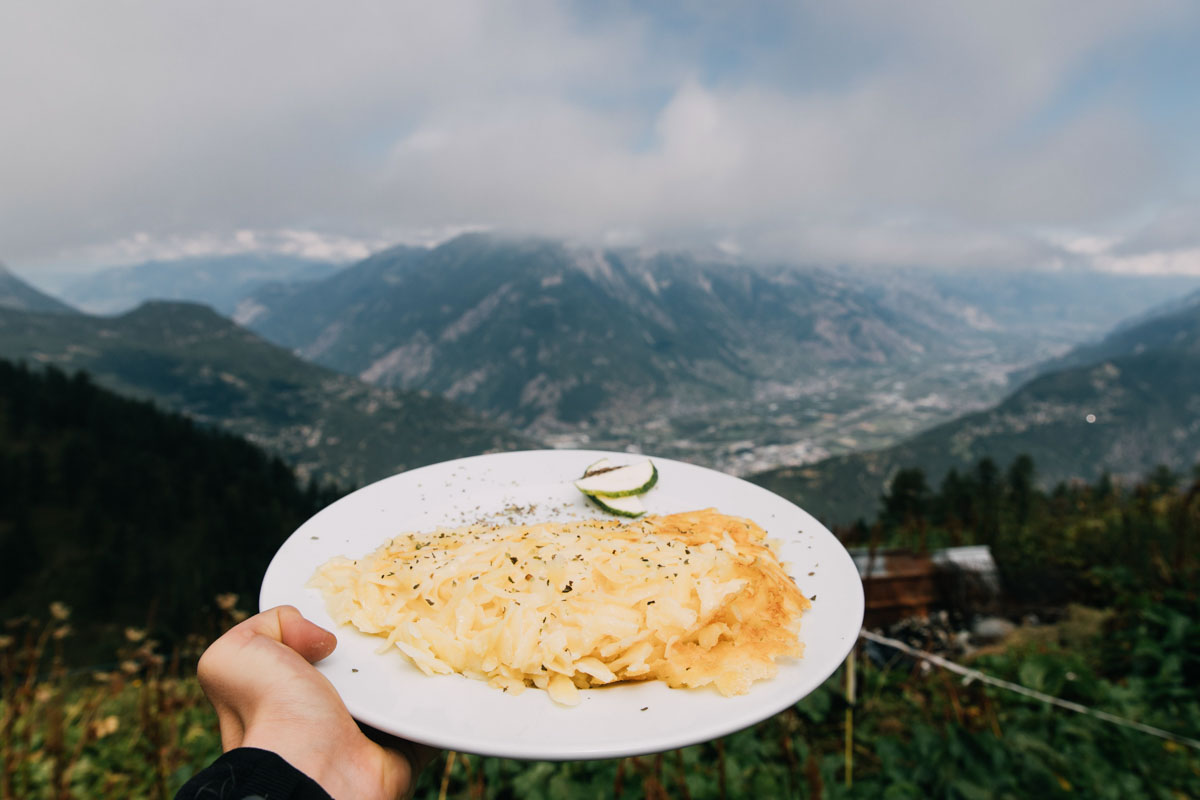 Forget dehydrated pasta and protein bars. When hiking Mont Blanc, you'll be eating an abundance of rich, hearty and delectable Mountain food across France, Italy and Switzerland.
Breakfast
Breakfast at refuges tends to be basic, but is more than enough to fuel you up for a day of hiking. It generally includes a range of bread and spreads, cereal, yoghurt, coffee and occasionally some fruit or pastries.
Lunch
There are a few options for lunch when hiking Mont Blanc. You can purchase a packed lunch from your refuge, stop for a meal at a refuge along the way or grab supplies from a grocery store. Our tour leader always let us know informed on which refuges were worth buying meals from and which weren't.
Dinner
Dinner at the refuges is almost always a phenomenal 3-course meal including a light soup, plenty of bread, a hearty main and a decadent dessert. After a long day of hiking, there really is nothing better than getting served a substantial meal like this!
Snacks
Although there are places to buy snacks along the way of the Mont Blanc hike, they do tend to be expensive. I would advise bringing some snacks like protein bars and nuts with you on the hike.
What do I pack for the Tour du Mont Blanc hike?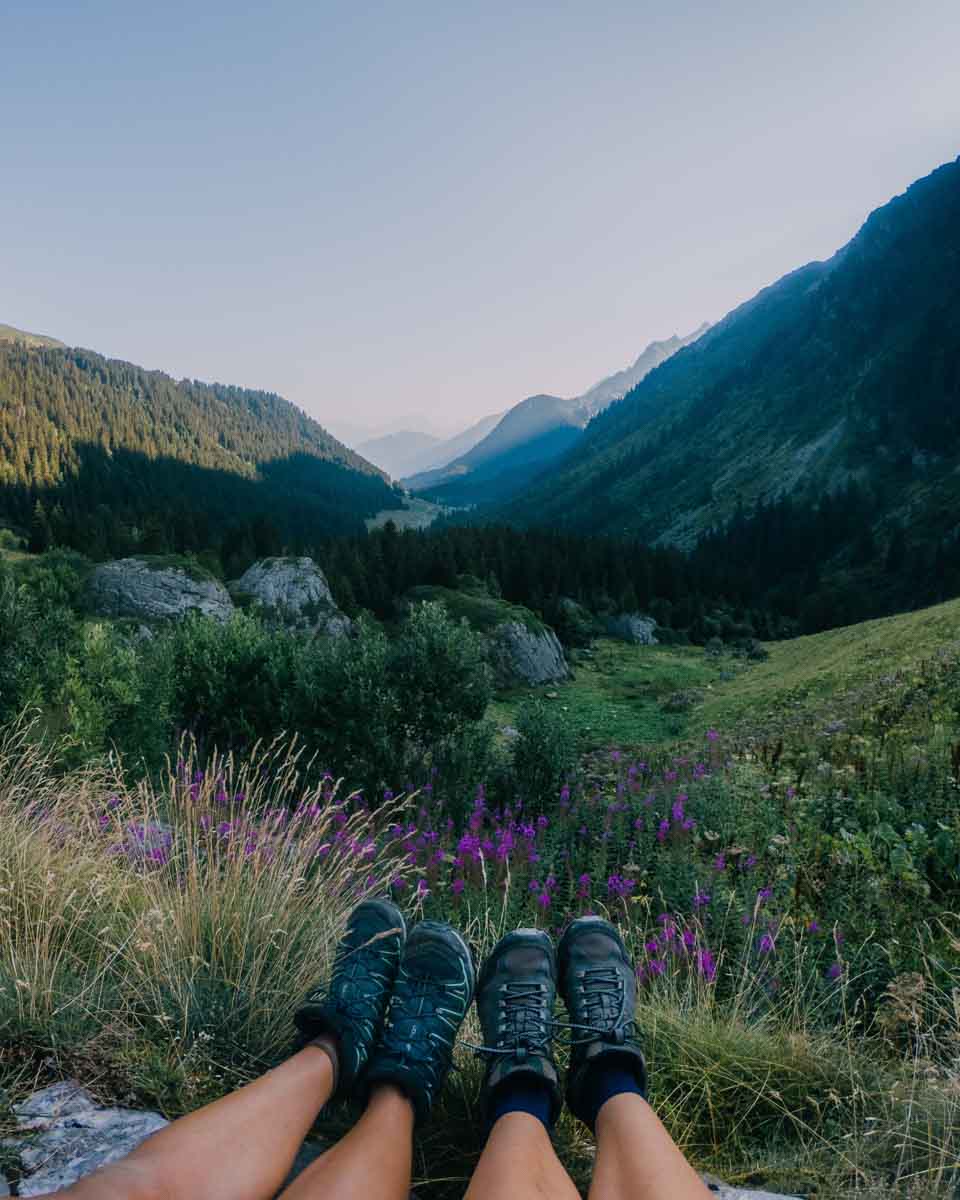 The key to packing for the Mont Blanc hike is to bring as little as possible. After all, the more you pack, the harder your hike is going to be! Staying in refuges means you don't have to carry bedding or meals which really helps to keep the weight down.
Check out my guide on what to pack for a hiking trip to see a detailed list of my recommendations!
How many days does it take to hike the Tour de Mont Blanc?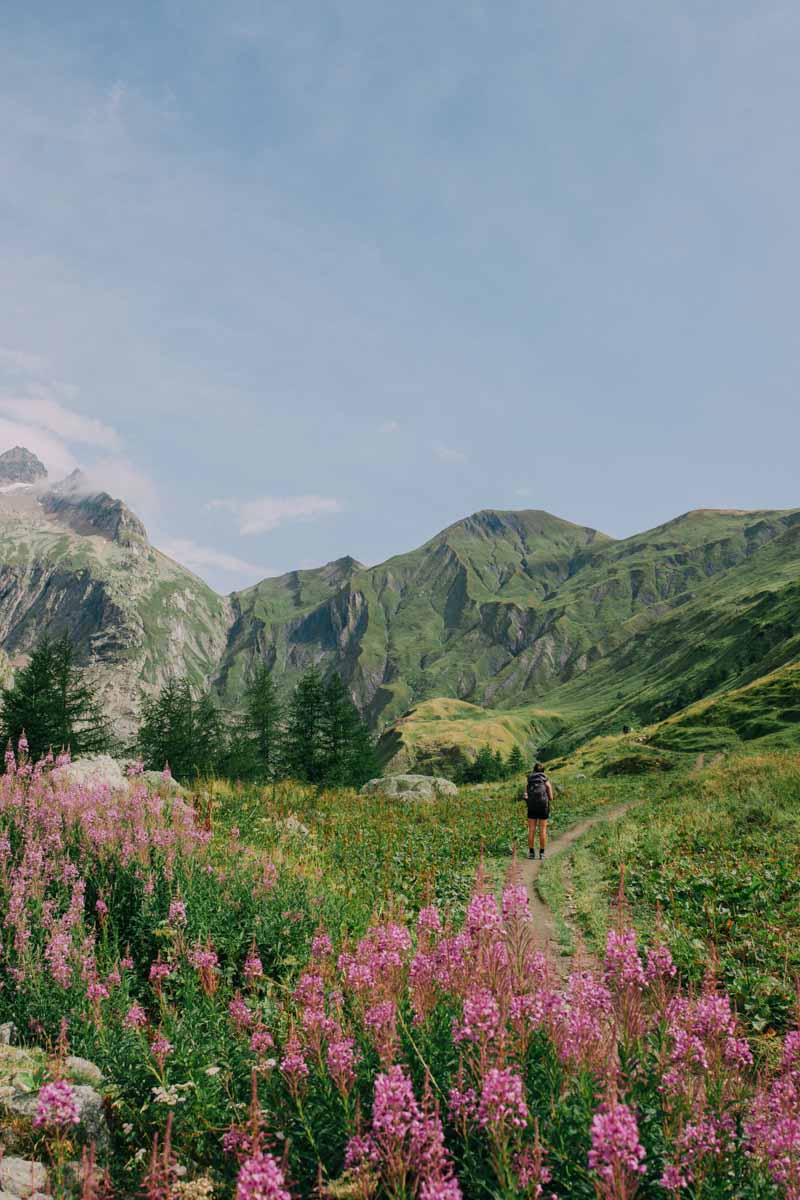 The Tour de Mont Blanc trail is 170km in length, and most people take between 6-12 days to complete it. It really depends if you want to power through the hike or take it at a leisurely pace!
The Mont Blanc Guided Tour I signed up for with G Adventures was a total of 10 days in length. However, we only hiked for 7 of these days. Halfway through we had a free day in Courmayeur, which broke up the journey nicely and gave our legs a much-needed rest.
Tour De Mont Blanc Hike 10-day Itinerary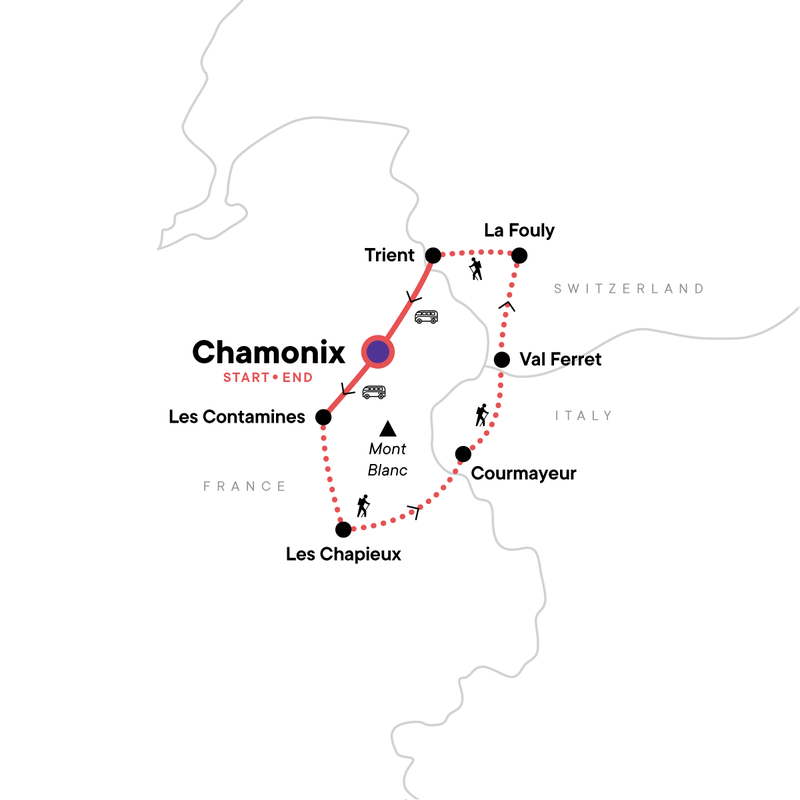 Day 1: Chamonix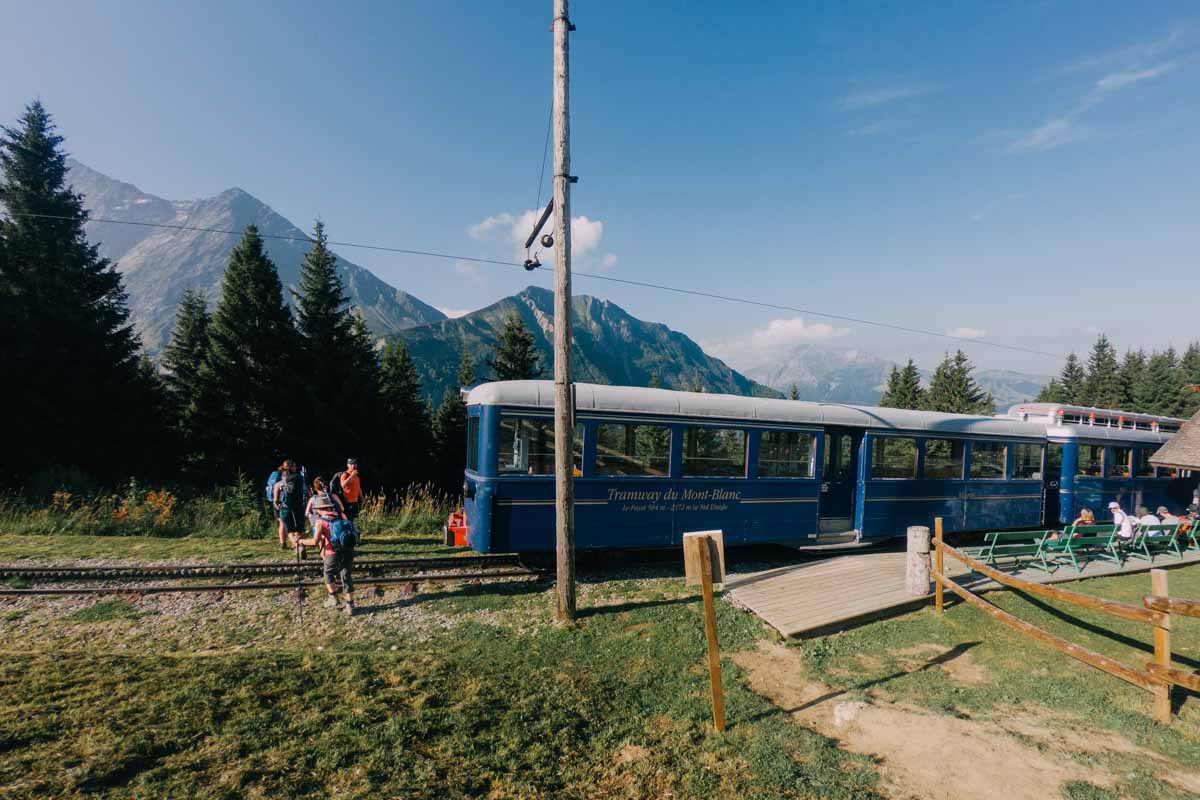 Our journey began in France's heart of adventure, the quaint town of Chamonix. The town is filled with outdoor shops, so it was a great opportunity to grab last-minute gear and stock up on snacks.
On our first evening, we took the opportunity to dine at a local restaurant to indulge in some regional specialties like raclette and fondue. We also met up with our friendly tour leader and group and got an overview of what we were in for over the next 10 days!
Day 2: Les Contamines-Montjoies
Hiking Distance: 24km (15 miles)
Approximate Hiking Time: 8.5hrs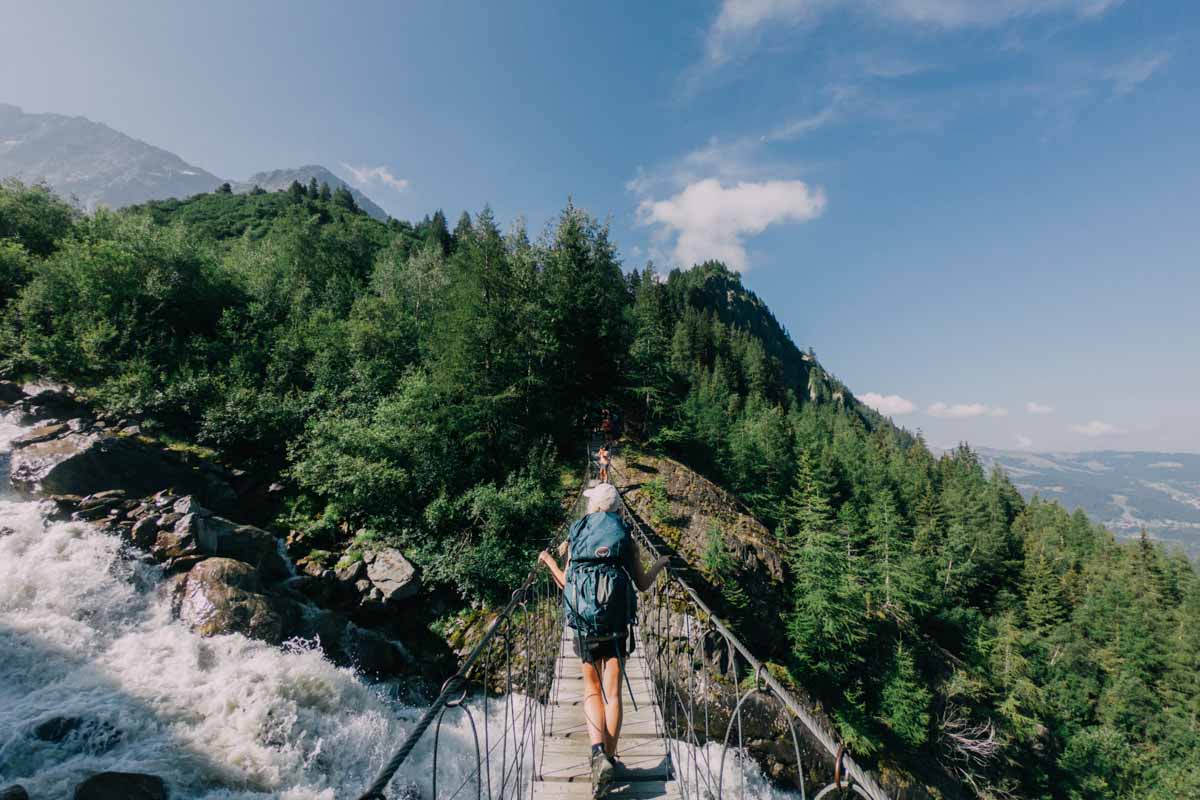 After fuelling up on the expansive breakfast buffet at Hotel Gustavo's, we hopped on a local bus to Les Houches. We then caught the cable car to the beginning point of our hike.
Our first day of hiking was full of ascents and descents. It was fairly strenuous, but swapping between the inclines and declines made it bearable. As did the INSANELY picturesque views.
The ever-changing scenery took my breath away. When panoramic mountain views didn't surround us, we were trailing through enchanting forests and the quaintest little towns.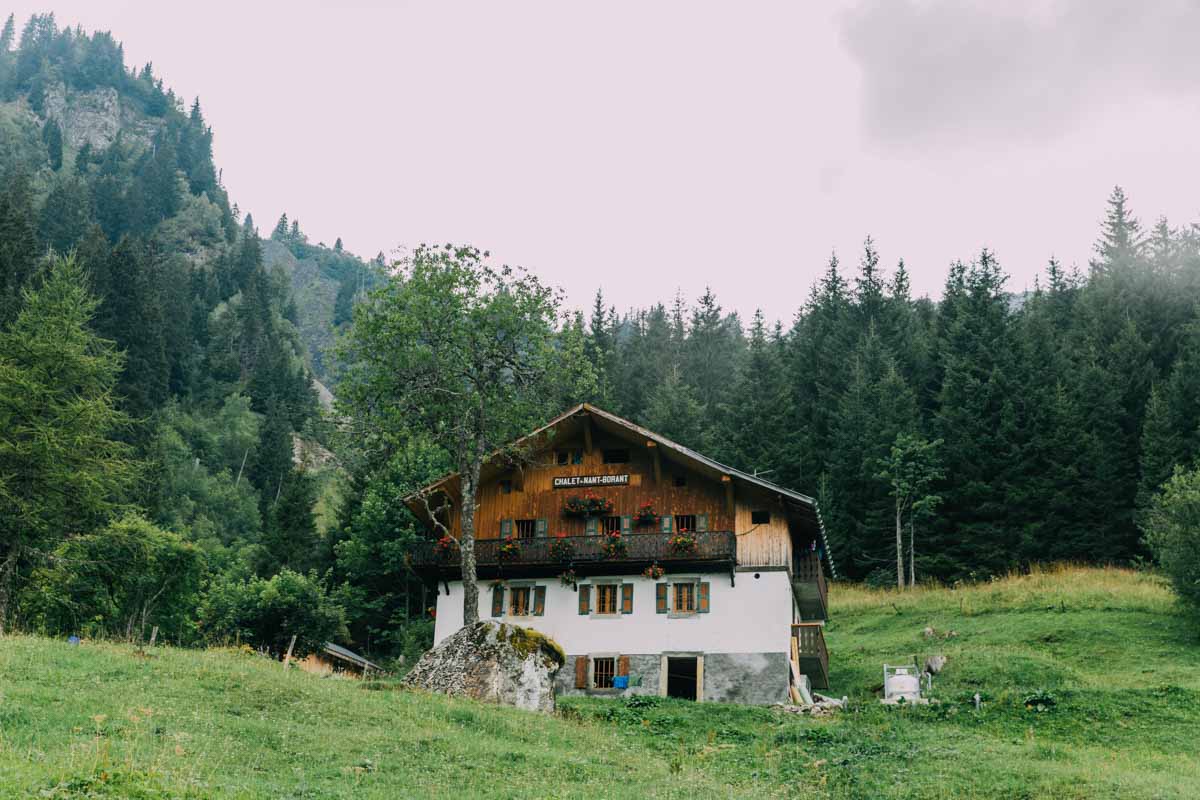 After 8 hours of hiking, we finally made it to our first refuge. It was a gorgeous wooden chalet peering out over the mountains. The day of hiking felt beyond worth it as we kicked off our hiking boots, sipped on cold cider and watched the sunset on the horizon.
Dinner was a hearty soup, crusty baguette slathered with butter, a delectable slice of vegetable quiche, multiple servings of creamy potato bake and apple tartin for dessert. After all that food and exercise, I practically rolled into my bunk bed and fell asleep instantly.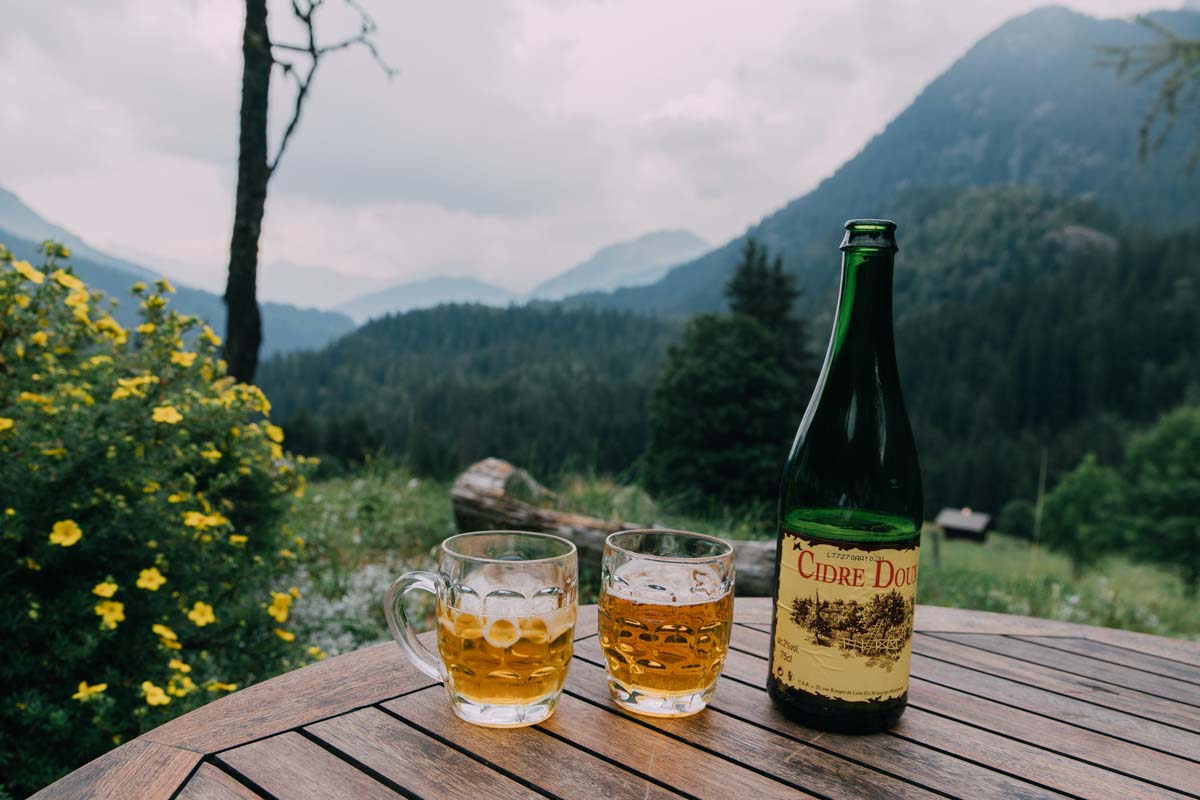 Day 3: Les Chapieux
Hiking Distance: 18km (11 miles)
Approximate Hiking Time: 7hrs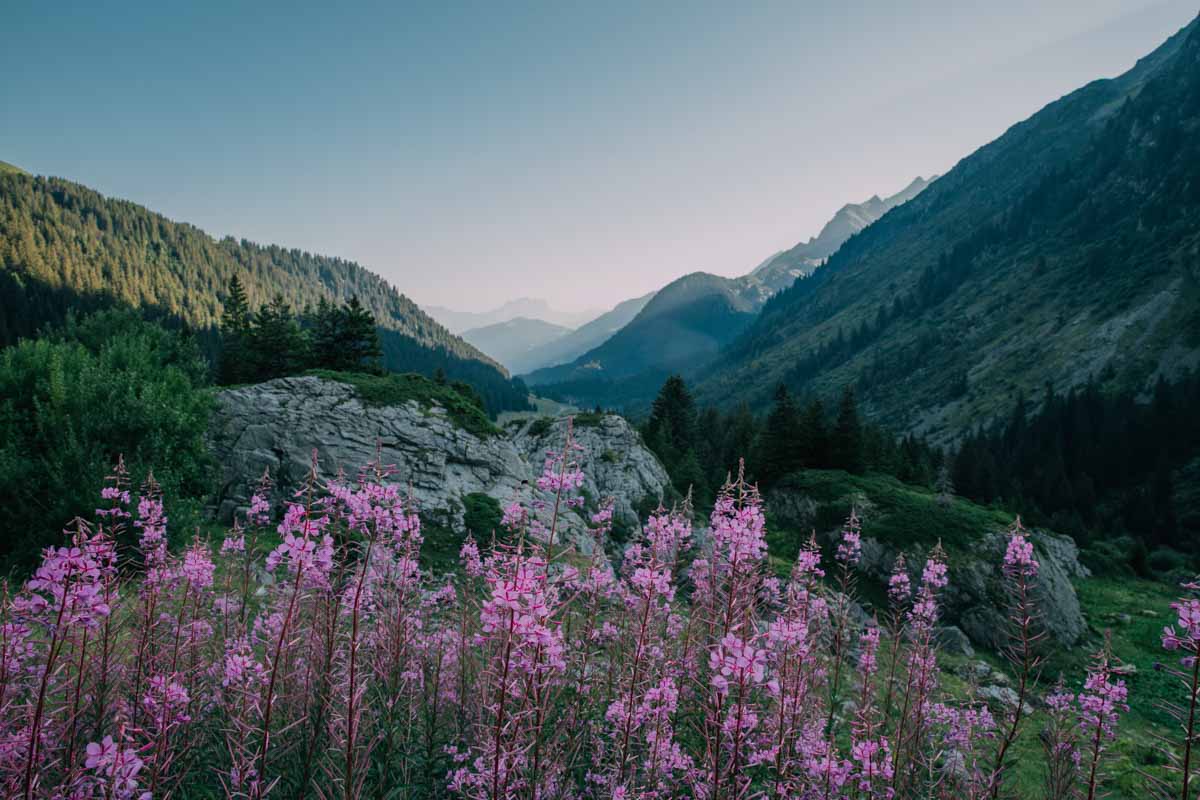 Today, we woke up to the sight of the sun peeking out over the mountains, the smell of strong coffee and fresh croissants wafting through the air. We thoroughly fuelled up on breakfast as this was our most challenging day of hiking, tackling the Col Du Bonhomme.
Our first four hours were spent climbing the steep incline of the mountain. It was definitely one of the hardest sections of the hike. However, with regular photo and snack stops, the time passed quickly.
Once we made it to the top of the summit, we feasted on a packed lunch whilst staring in awe at the valley in front of us. The next two and a half hours was a steep descent, which took so much more concentration than the uphill section!
Before we knew it, we had made it to the tiny town of Les Chapieux. We celebrate with a lovely glass of local wine from the local bar, before being treated to another lavish 3-course meal and turning in for an early night.
Day 4: Courmayeur
Hiking Distance: 23km (14 miles)
Approximate Hiking Time: 5hrs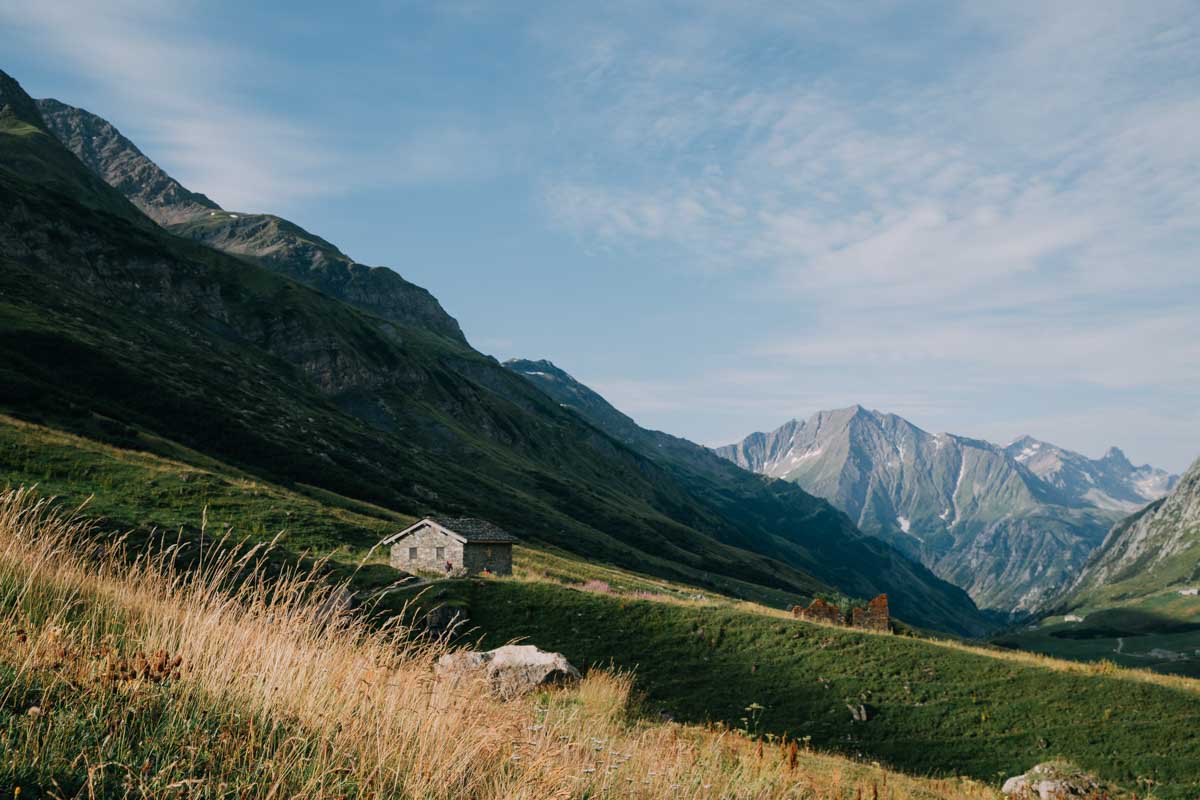 Today, we set off bright and early on our hike to Col de la Seigne, where we would be crossing the border from France into Italy. The hike began with a 2-hour upward sojourn through sweeping mountain vistas.
Once we had crossed into Italy, we began hiking down to stunning open pastures filled with wildflowers, gushing waterfalls and smiling cows. We stopped at Refugio Elisabetta, where we ate a decadent lunch of spinach and ricotta ravioli as we looked out at the mountains.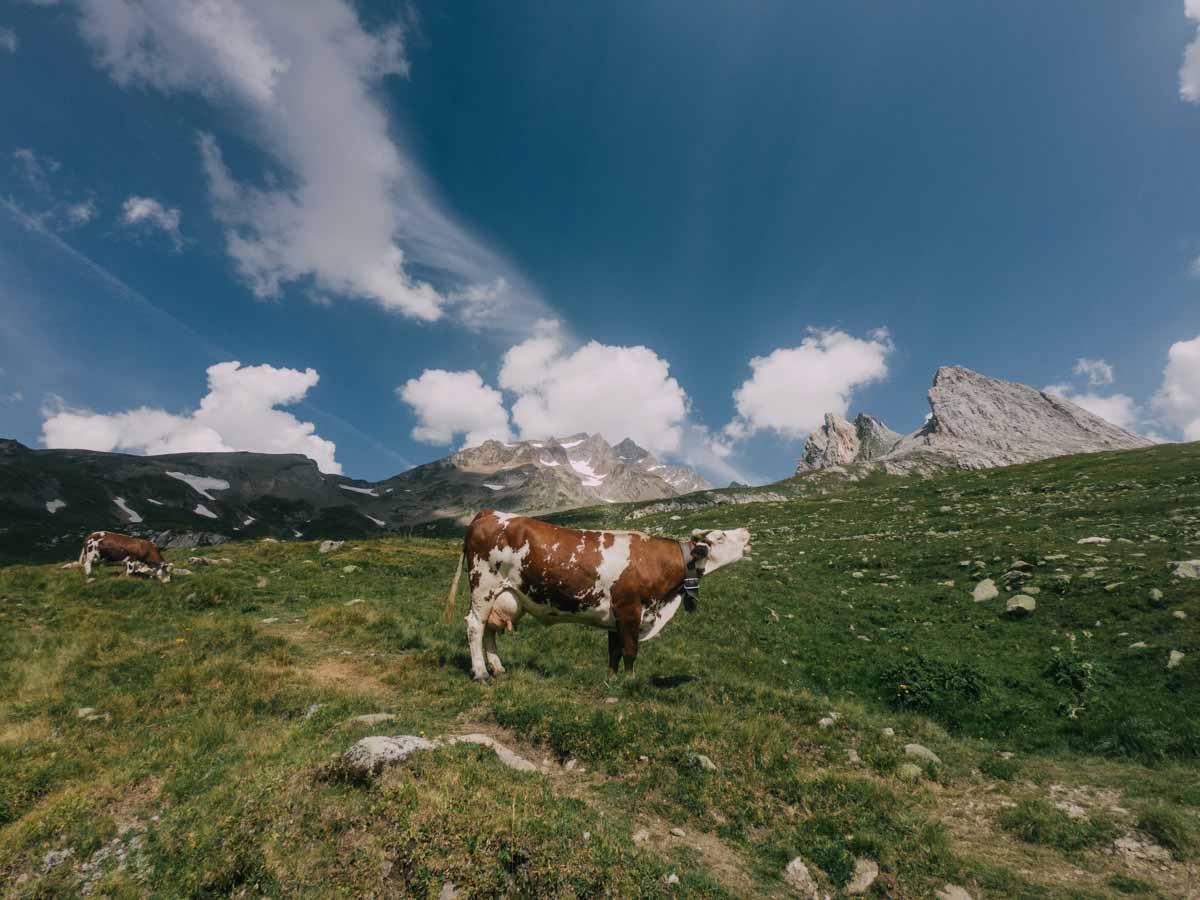 After lunch, we had a short hike to a bus that took us to the buzzing alpine town of Courmayeur. Within seconds of getting off the bus, we all raced to the nearest gelato shop and ordered three well-deserved scoops of creamy goodness.
We checked into a kitschy little place called Hotel Cristallo. After sharing dorms the nights before, I was happy to discover we would have our own hotel rooms for the next two nights as tomorrow was our official "rest" day.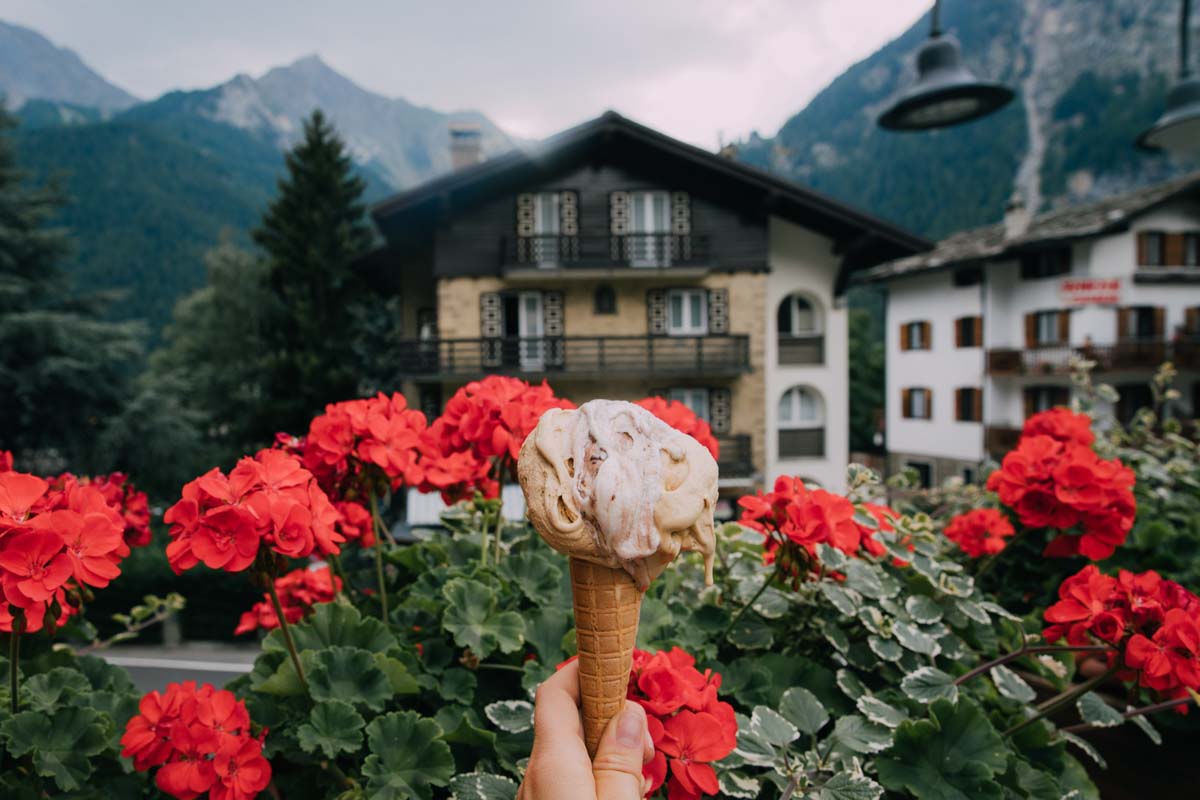 Day 5: Courmayeur
Hiking Distance: 0km (rest day!)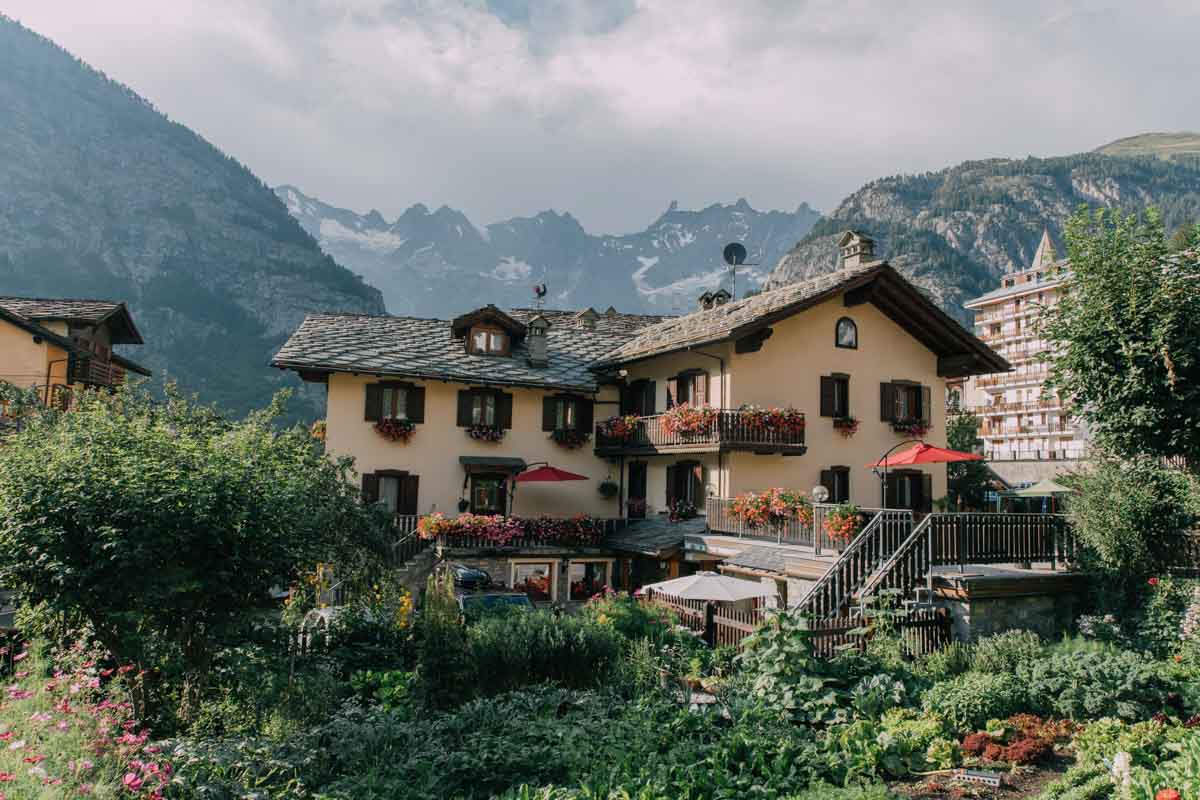 After a blissful sleep-in, we spent our morning off slowly meandering around the beautiful town of Courmayeur. The main street of the town was filled with an interesting mix of adventure and outdoor stores juxtaposed with very high-end, designer stores.
Once we had explored the stores, the rest of the day was spent doing nothing but eating and drinking. It started with a visit to Caffe Del Posta to indulge in Italian Hot Chocolate, which is the thickest, richest hot chocolate you could ever imagine.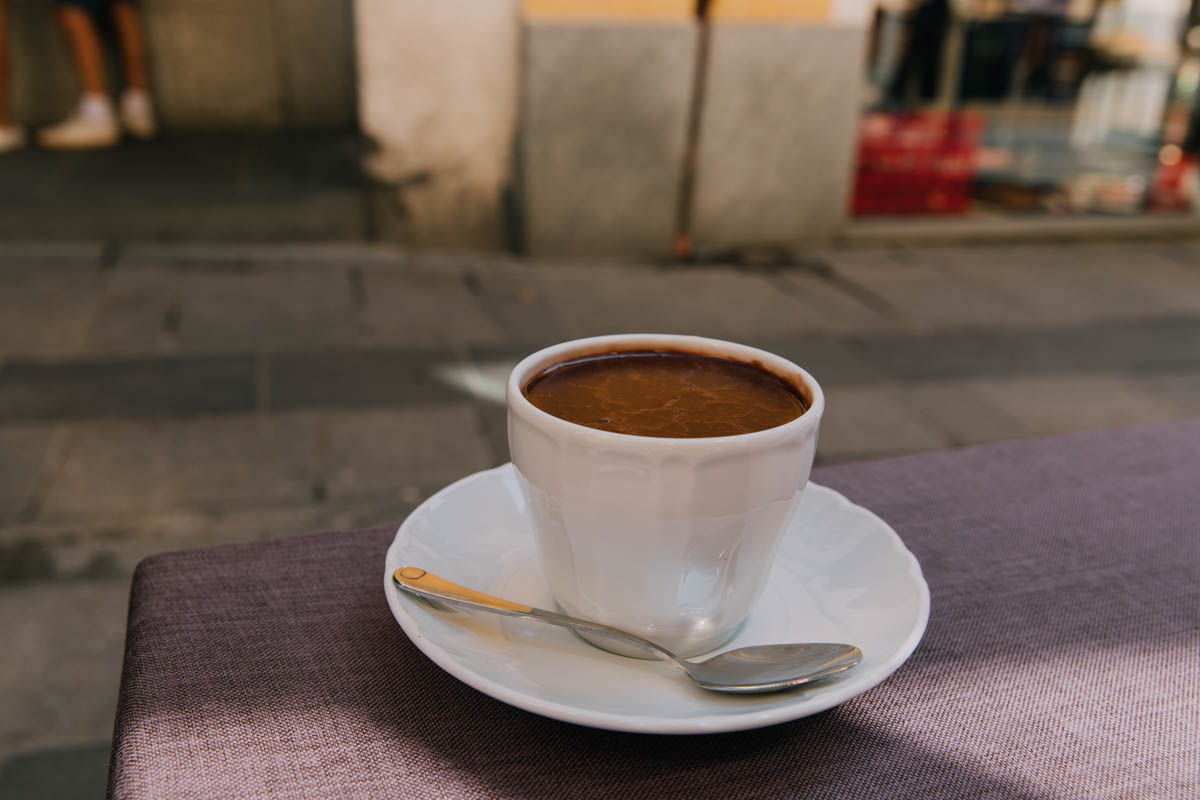 Originally, our plan was to head to Grand Hotel Courmayeur to use their spa, but when we found out the spa was closed we ended up on their balcony, sipping cocktails and staring out in awe of the surrounding mountains.
The rest of the day was spent indulging in all the Italian food we could get our hands on- focaccia, gelato, Aperol spritzes and of course, loads of delicious pasta. After all, we had four more days of hiking to burn off the calories!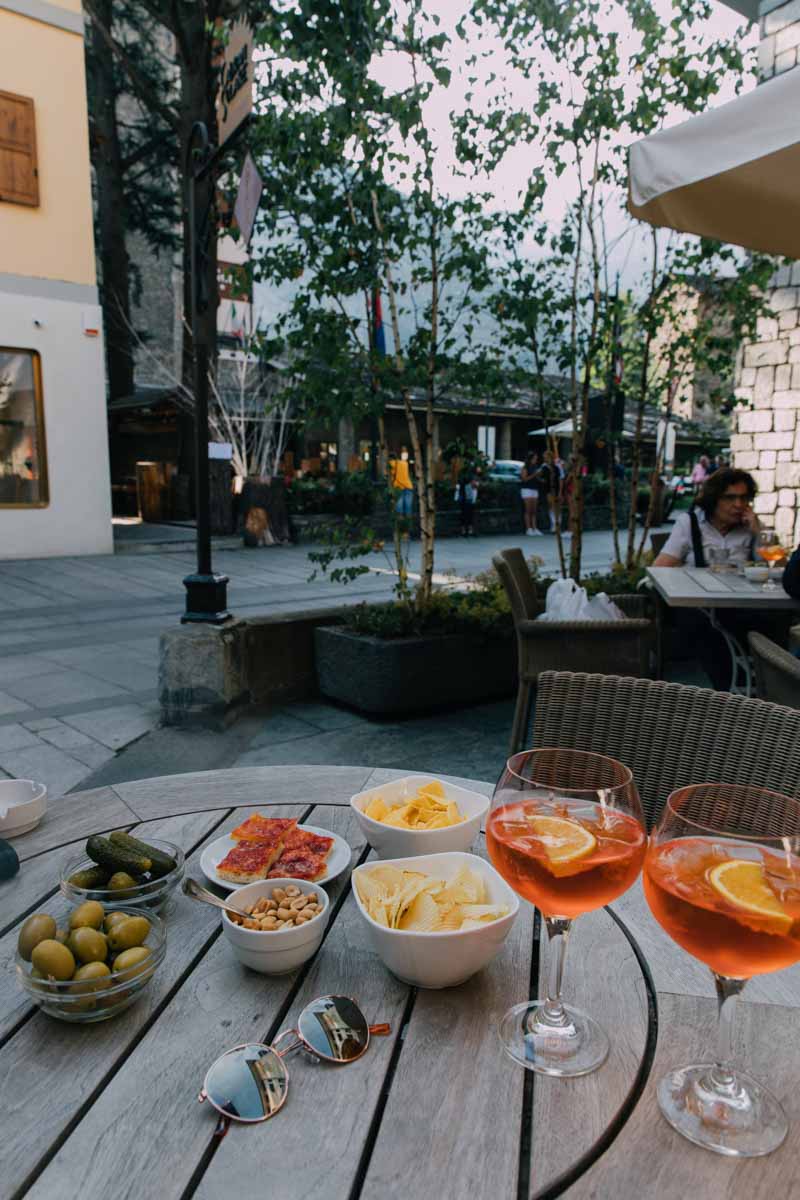 Day 6: Val Ferret
Hiking Distance: 14km (8.6 miles)
Approximate Hiking Time
: 5hrs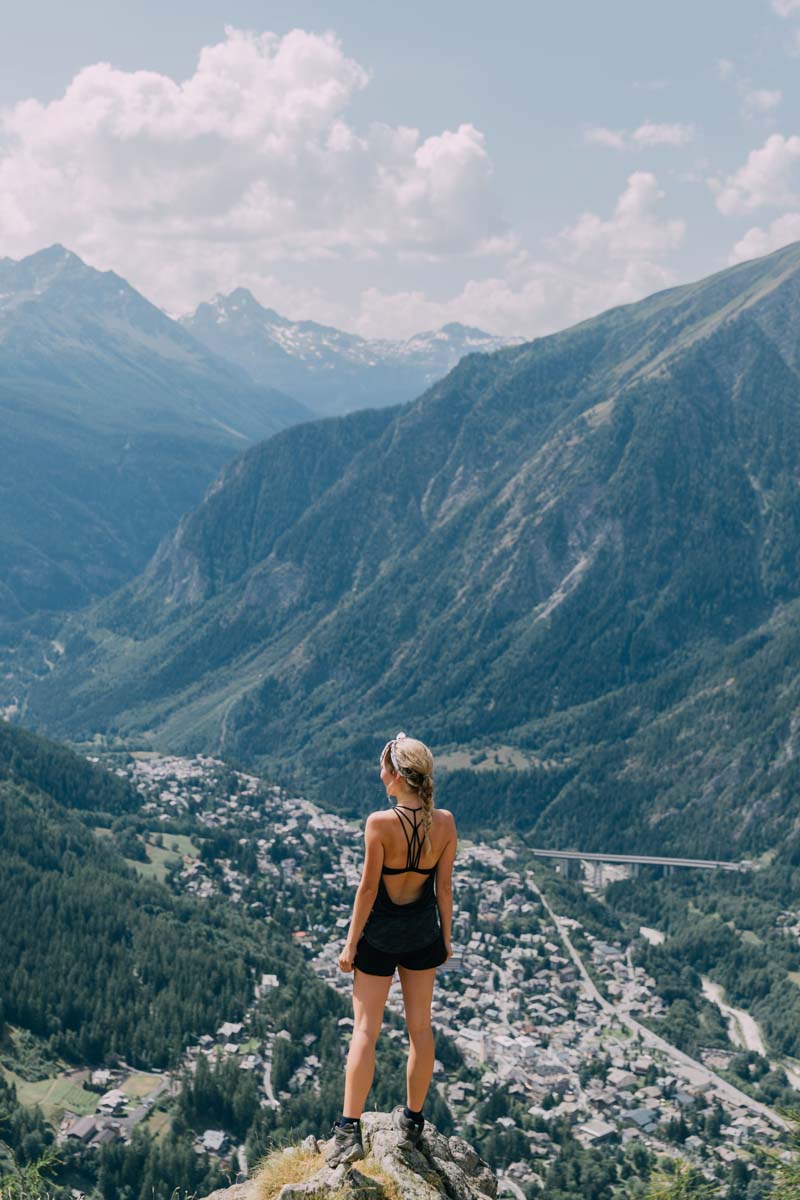 Our next day of hiking started off with a gentle meander through town and quickly turned into a solid uphill hike through the shady forest. Although I loved hiking through open valleys on the preceding days, the shade was much appreciated.
Once the trees did clear, we were greeted with some seriously spectacular views. We finally got to lay eyes on the mighty Mont Blanc mastiff! After a lunch stop on the top of the mountain, we followed along a balcony path and through the forest before making it to Refugio Bonatti.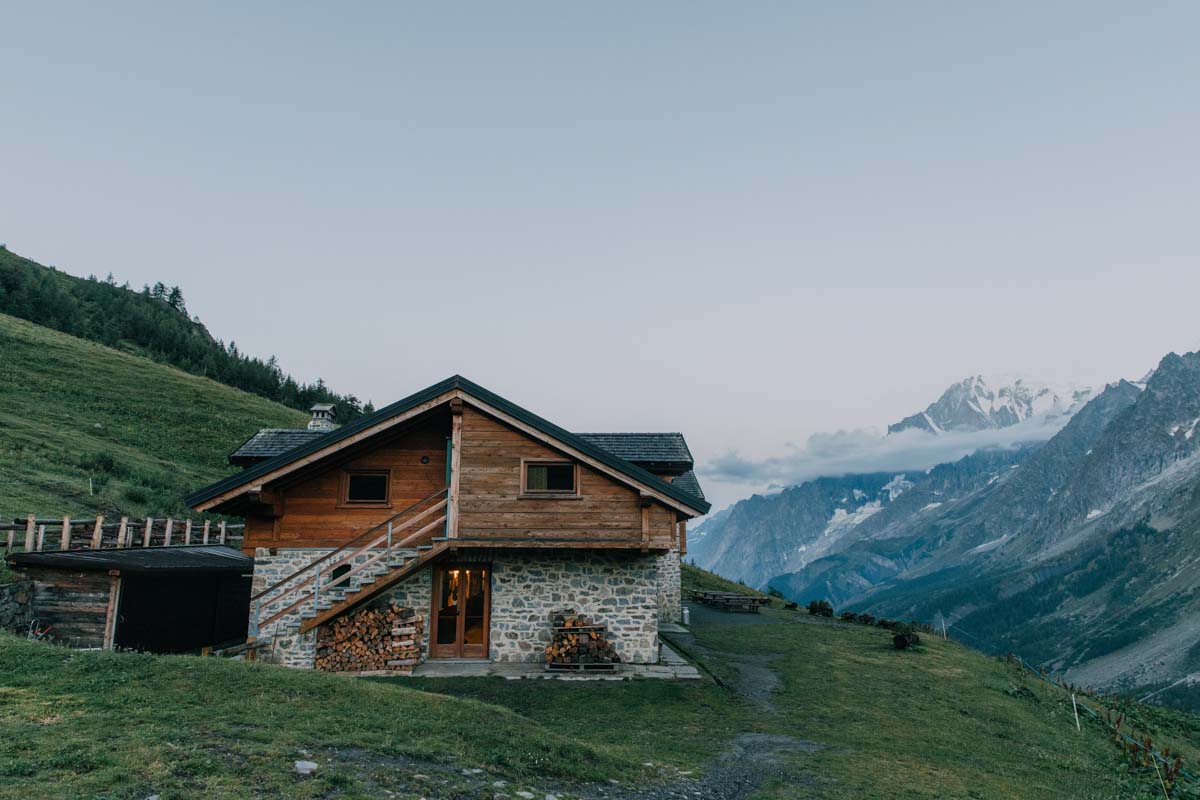 The accommodation had a jaw-dropping view over the Italian Val Ferret… When I walked outside it felt like the mountains were literally on our doorstep. That evening, we played cards until the sun dropped below the horizon, before retreating inside to feast on the best refuge food of the trip.
Day 7: La Fouly
Hiking Distance: 20km (12.5 miles)
Approximate Hiking Time
: 6hrs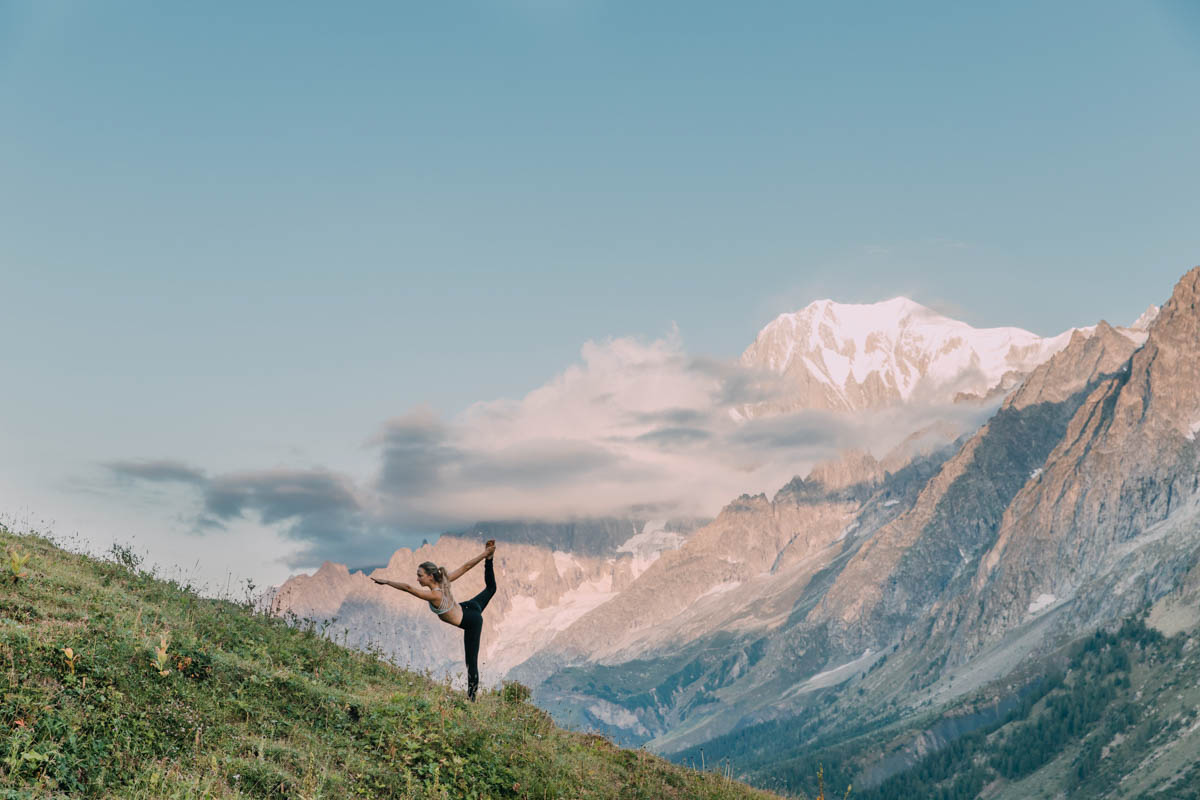 I woke up bright and early in order to soak in the sun rising over the Val Ferrett and do some yoga with a view. Our first two hours of hiking were fairly lax- we meandered down a fairly flat path before stopping at a cafe that served incredible espresso.
It was all uphill after this. We had a very steep hour-and-a-half climb up to Grand Col Ferrett. This was one of the most challenging sections of the hike- both because of the steepness and the fatigue that was setting in from previous days.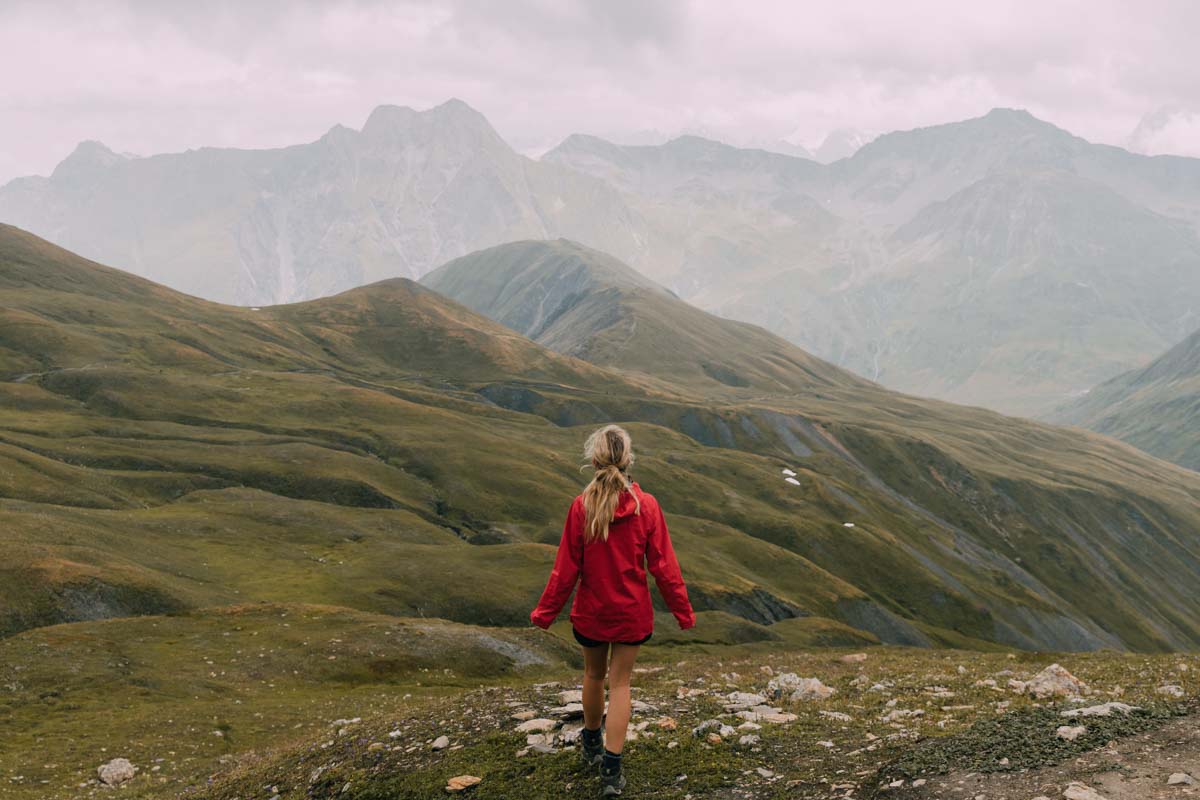 As we ascended to the top and crossed into Switzerland, we had planned for a picnic lunch. However, a storm was rolling in so we pushed on for another few hours of hiking. Walking in the rain was more punishing than I expected.
It suddenly got very cold and I was eternally grateful for my waterproof jacket! After hiding out in a refuge and finally getting to eat lunch, the rain began to ease and we walked down another hour and a half town to the little Swiss town of La Fouly.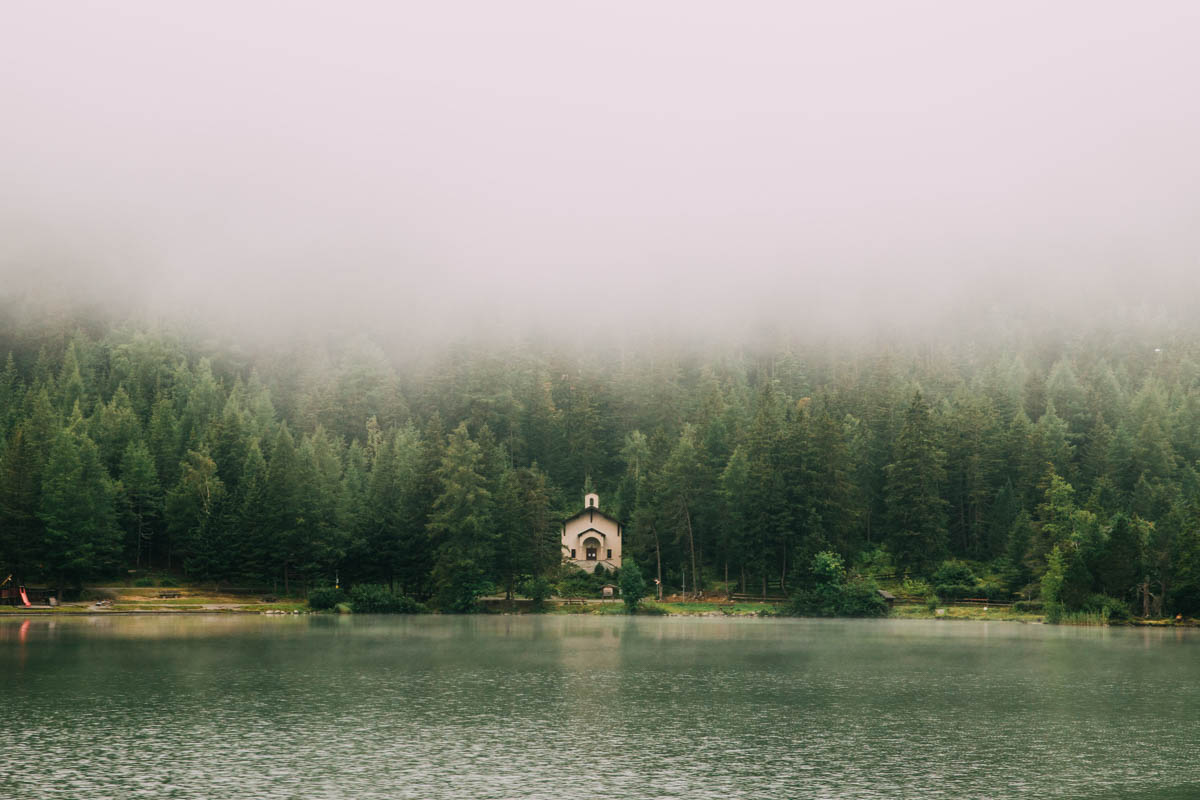 Day 8: Trient
Hiking Distance: 16km (10 miles)
Approximate Hiking Time
: 5hrs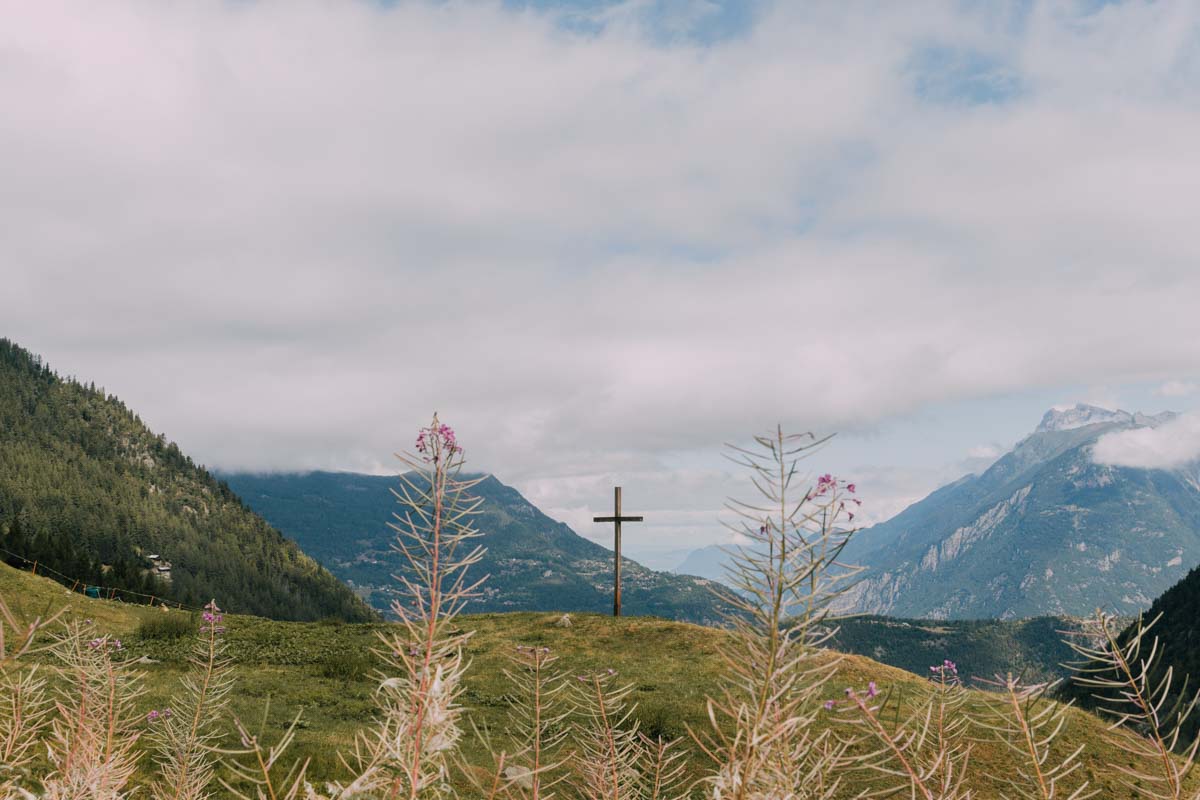 Today began with an hour-long bus ride to the picturesque valley of Champex. The first part of our hike was an easy meander through open fields filled with wildflowers, cows and quintessential Swiss chalets.
We started our steep ascent for the day through dense forest. Once we came out from the forest, we traversed around an open path before finally making it to a lovely little refuge with a phenomenal view over the valley.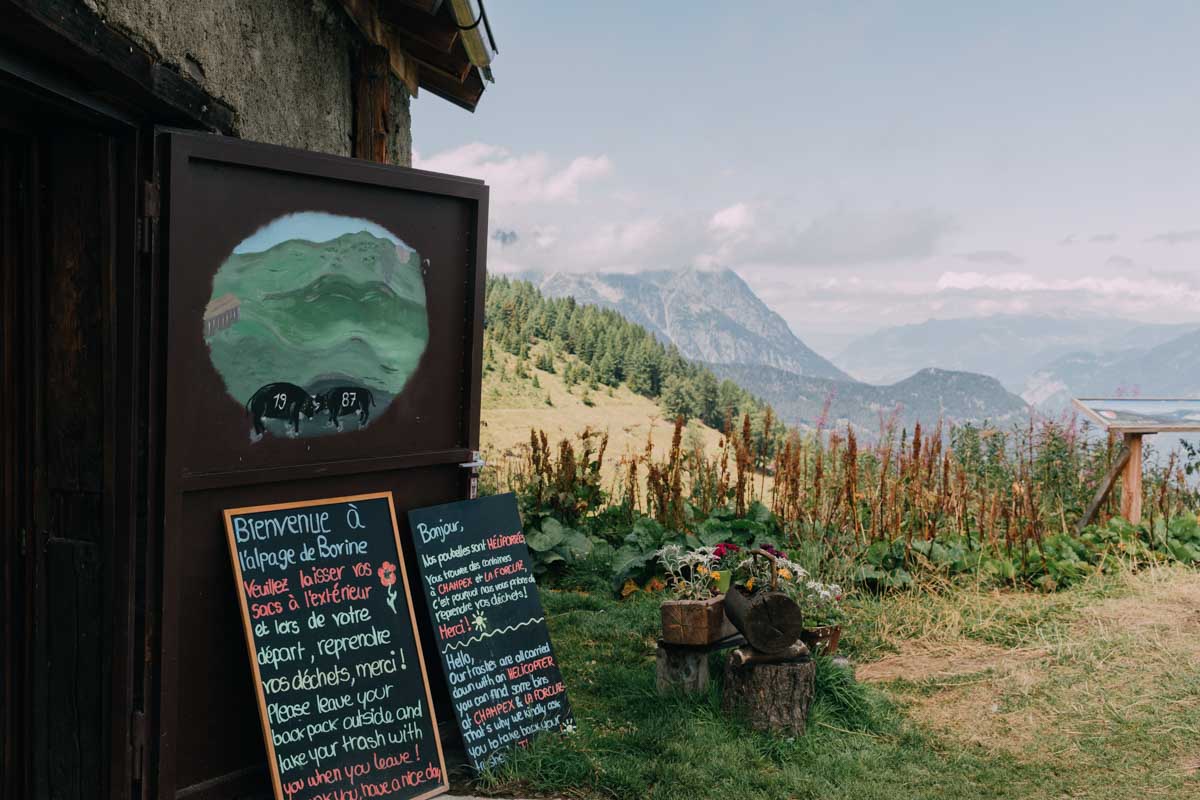 Here, I grabbed a Rosti au Fromage for lunch, which is fried shredded potato with Gruyere cheese. It was possibly the most delicious thing I have consumed on a hike, period.
We spent the next few hours climbing down to the town of Trieste and arrived in the late afternoon at our accommodation. It was the first evening that my muscles were REALLY starting to feel tired on the hike.
Day 9: Chamonix
Hiking Distance: 14km (8.7 miles)
Approximate Hiking Time
: 5hrs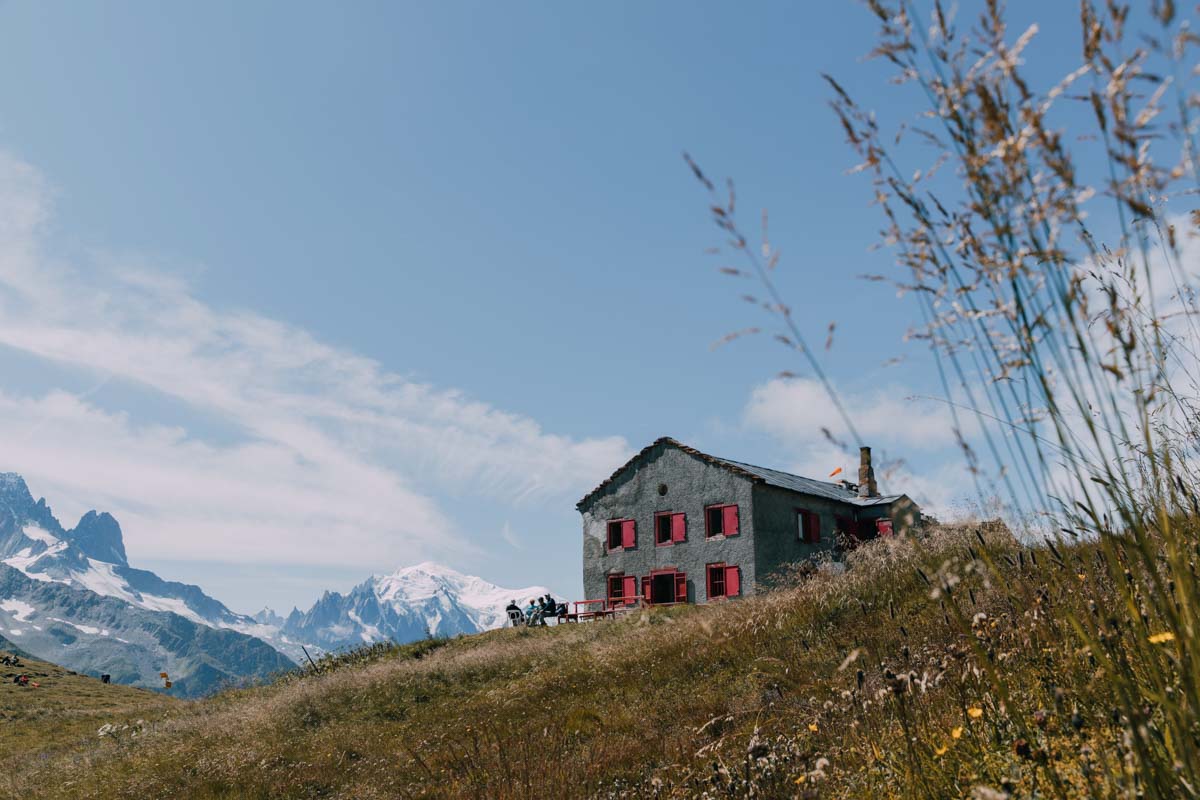 Our final morning began with an uphill battle, both physically and mentally. Although my calves were burning more than they had ever burned before, I powered up the Col de Balme with all the energy I had left within me.
Reaching the peak was a rather surreal moment. I sat and ate my picnic lunch, looking out over the magnificent Mont Blanc Mastiff and thinking how far we had all come. Not only with the distance we had covered but with the little family our group had formed in the past 8 days.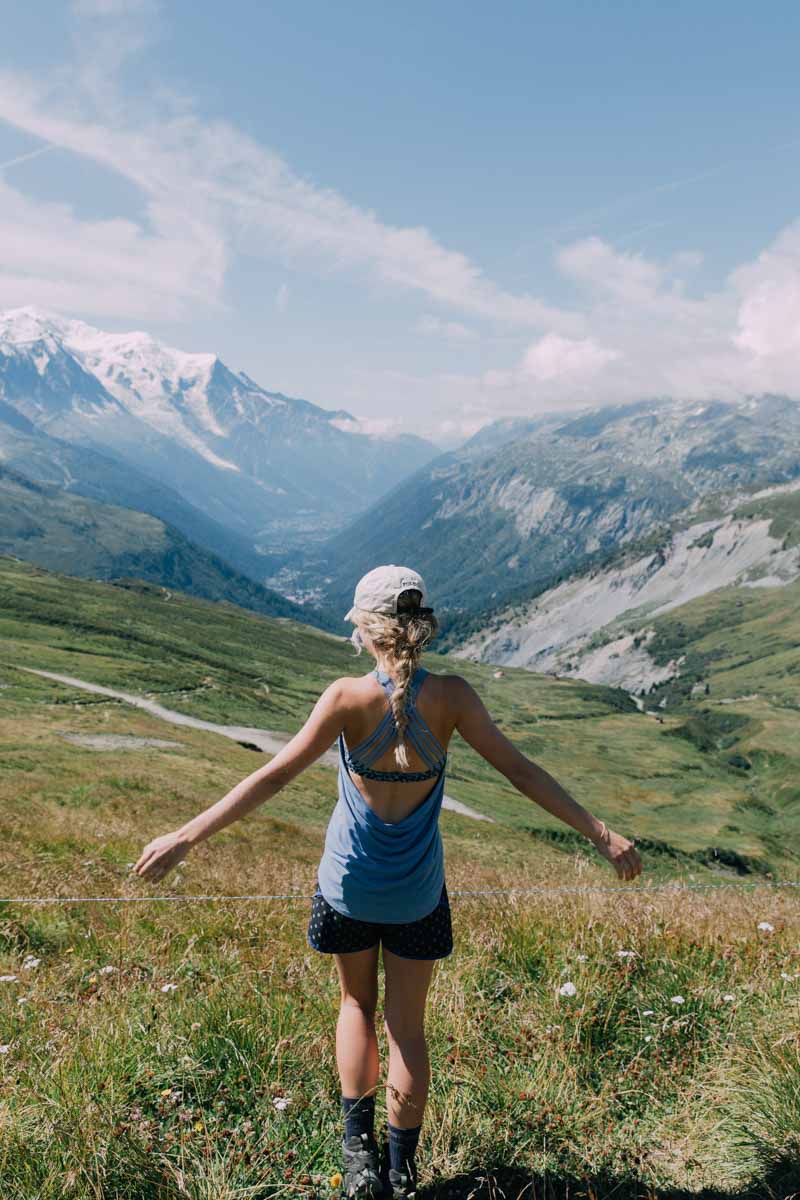 Our final descent down the mountain towards Chamonix was bittersweet. Part of me was excited to be back on flat, paved ground, and the other part was devastated that we had reached the end of such an epic hike.
Day 10: Chamonix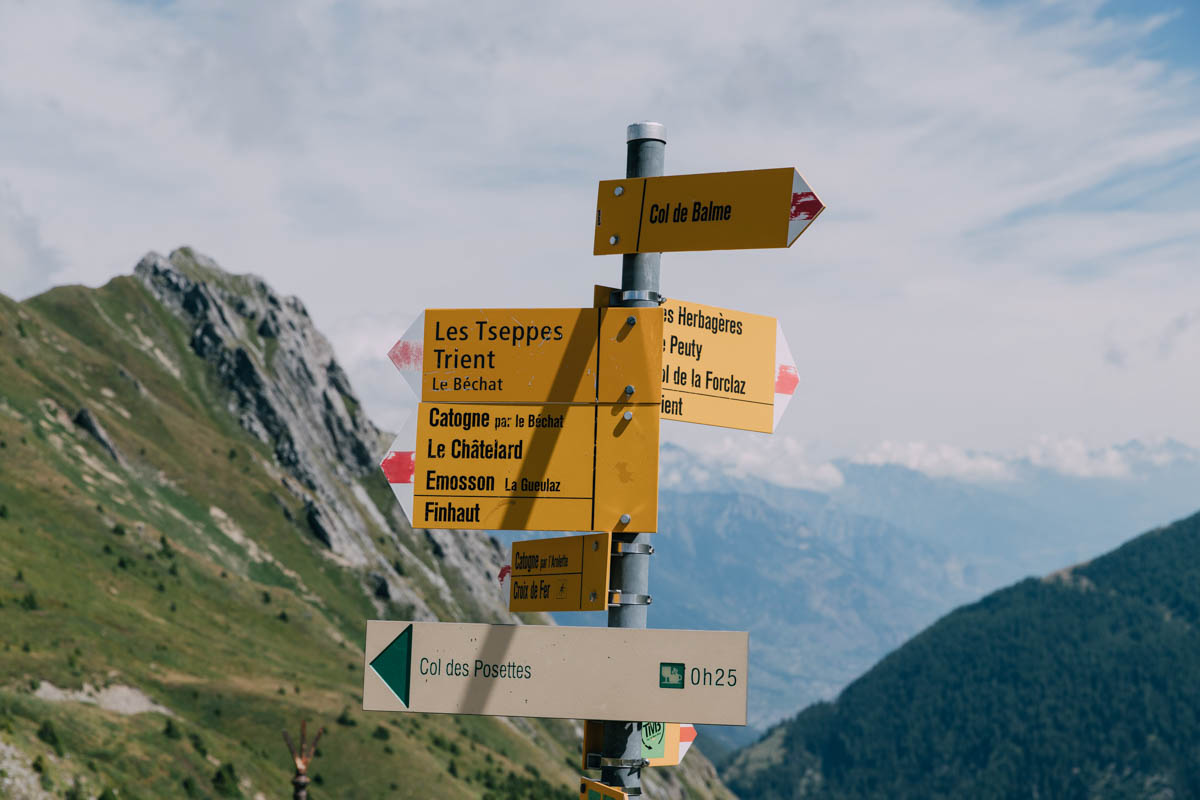 We finally made it back to the hotel in Chamonix we had slept on the first night of our trip. As I threw the pack off my back, took off my well-worn hiking boots and washed every last bit of dirt off my body, I flopped onto the hotel with the strangest feeling.
Normally, at the end of a trip, I feel completely drained, both physically and mentally. Although I had been exerting myself for the past eight days, a strange sense of exhilaration coursed through my veins. I felt more ALIVE than I had for weeks.
My Final Thoughts on Tour du Mont Blanc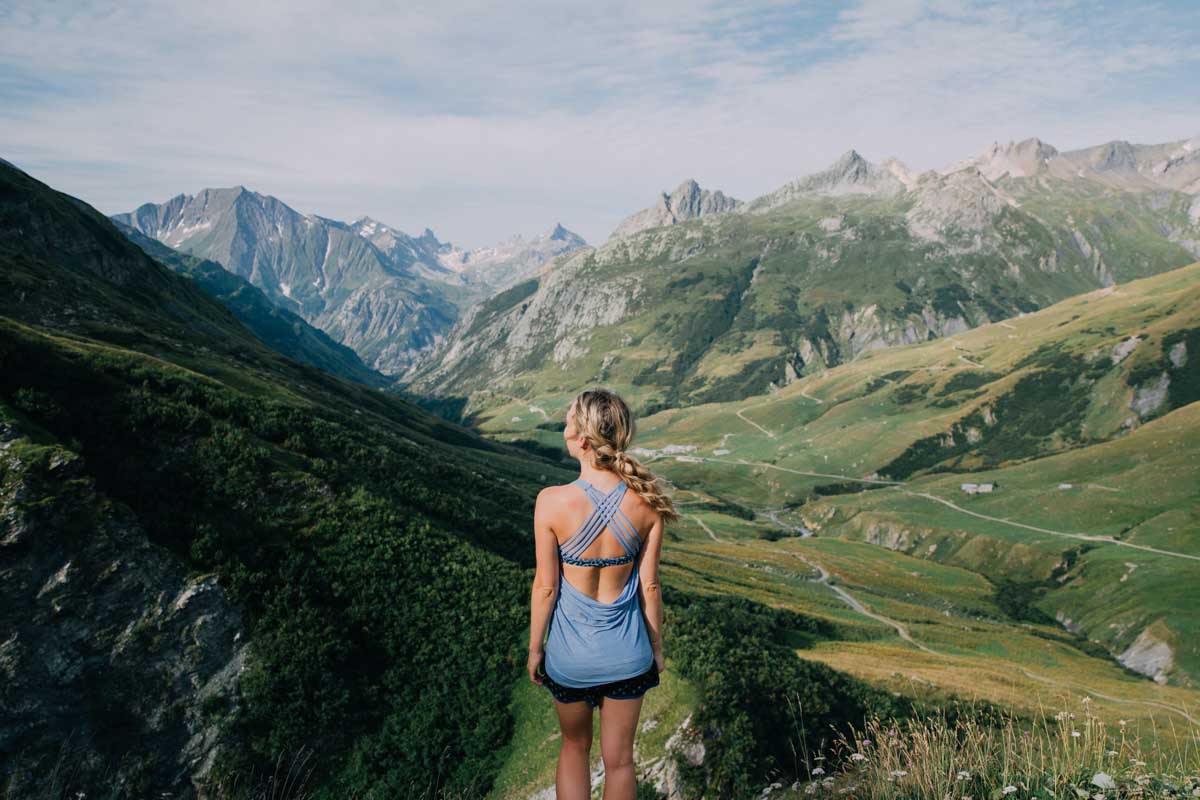 It is incredible what 8 days spent in nature and disconnecting from the world can do for the soul. This hike has inspired me to make more of my travels centred around getting active in the outdoors. It really has been one of the most enjoyable trips I've taken to date.
How to Book this 10-Day Mont Blanc Guided Hike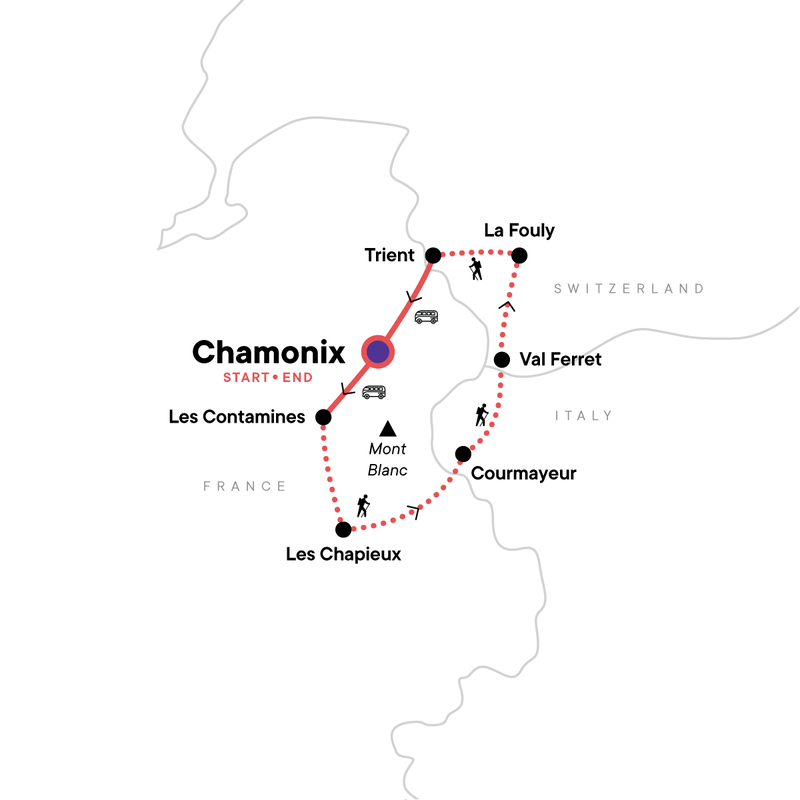 If this post has inspired you to want to take on the epic adventure of Tour de Mont Blanc yourself, I couldn't recommend G Adventure's Trekking Mont Blanc tour highly enough. Our tour guide was incredible, everything was very organized and it is very fairly priced.
Liked this post on hiking Tour du Mont Blanc? Pin it for later!