The ultimate guide to visiting the Catlins in 2022, including the best things to do, where to stay and how to get around the South Island of New Zealand's most overlooked destination.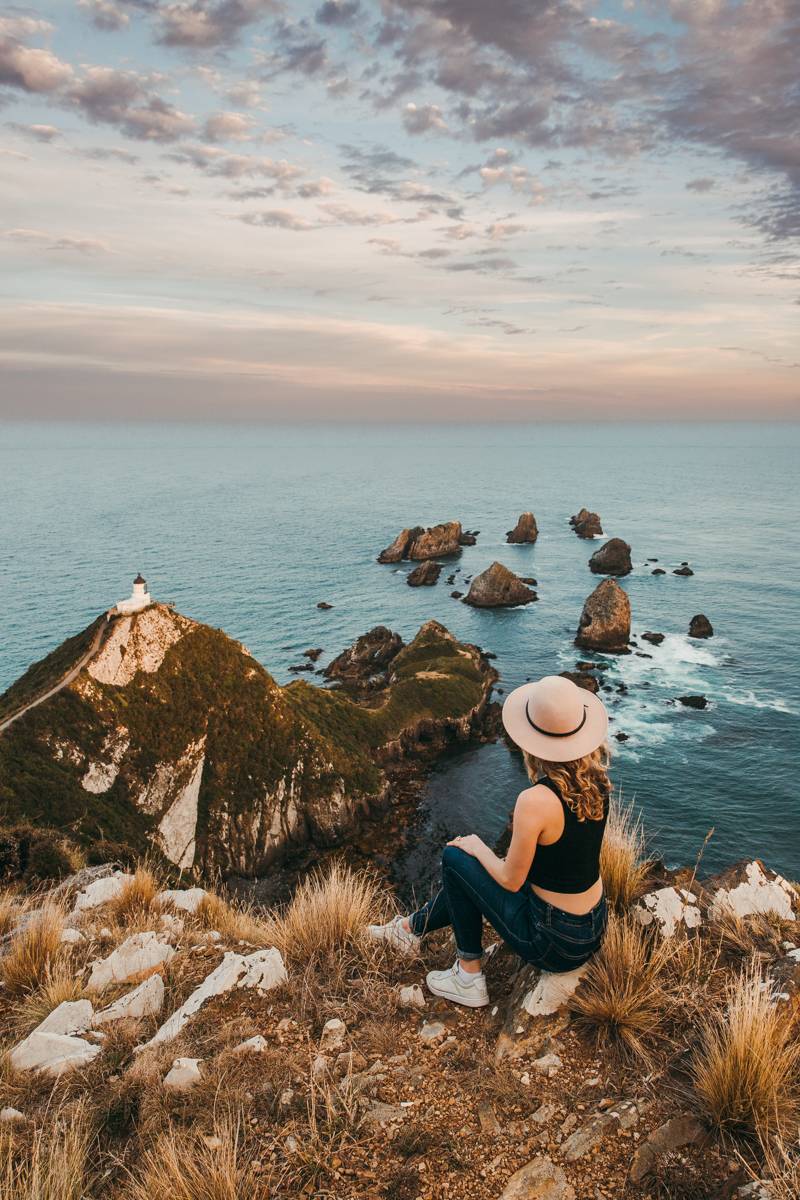 The Catlins is one of New Zealand's most underrated gems. The region, located in the Southernmost part of the South Island, is brimming with unspoilt, unique beauty.
Whether it is marvelling at panoramic coastlines, chasing waterfalls nestled in lush rainforest, exploring sea caves or getting up close and personal to rare wildlife… The list of what to do in the Catlins is endless.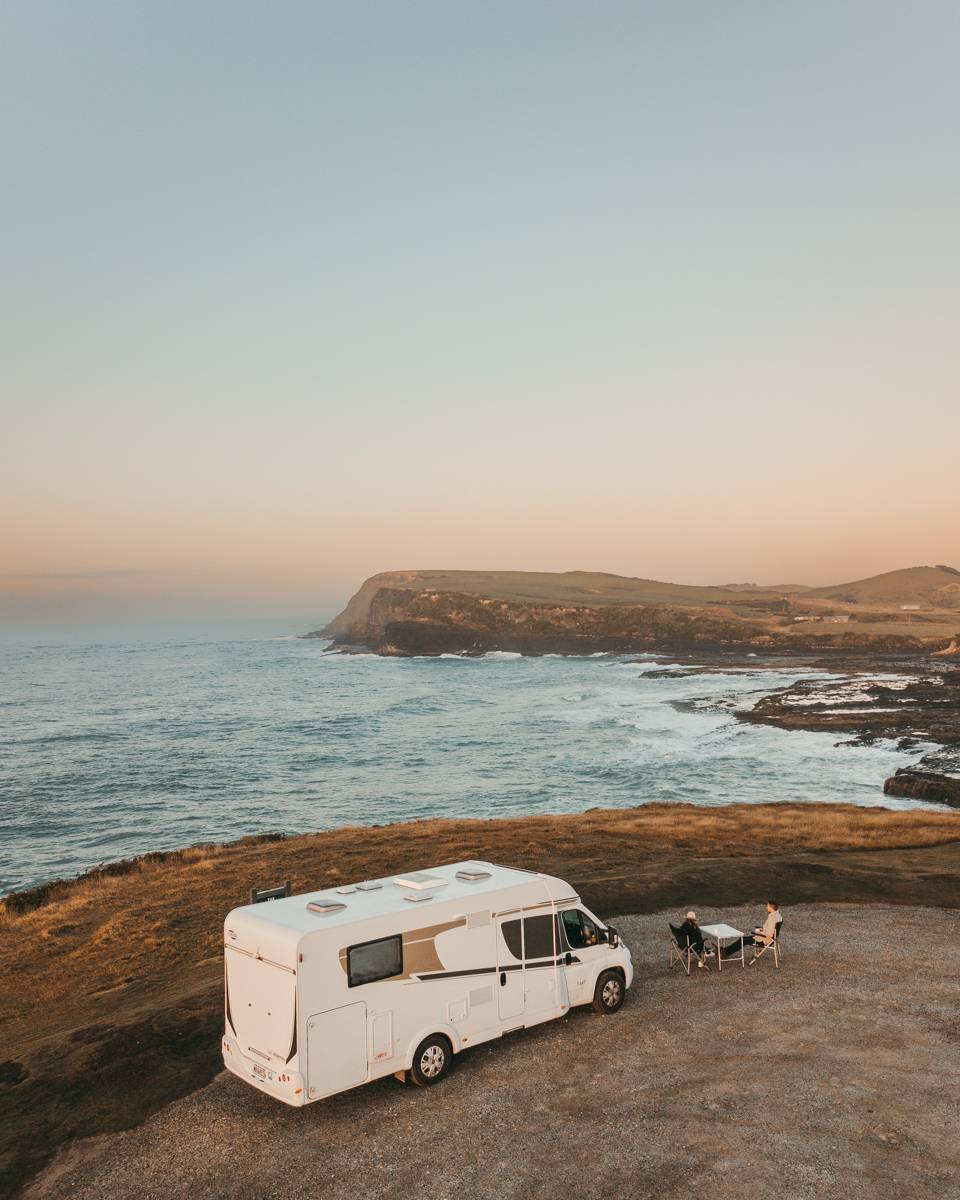 How long do you need to explore the Catlins?
You can drive from one side of the Catlins to the other in two hours, so technically you could explore the region in a day. However, there are so many things to do in the Catlins, I'd recommend two days at minimum.
We stayed three nights in the Catlins which gave us more than enough time to see the highlights. It was nice to be able to explore at a leisurely pace and take the time to see everything we wanted to see.
The best things to do in the Catlins NZ
1. Take a picturesque walk to Jack's Blowhole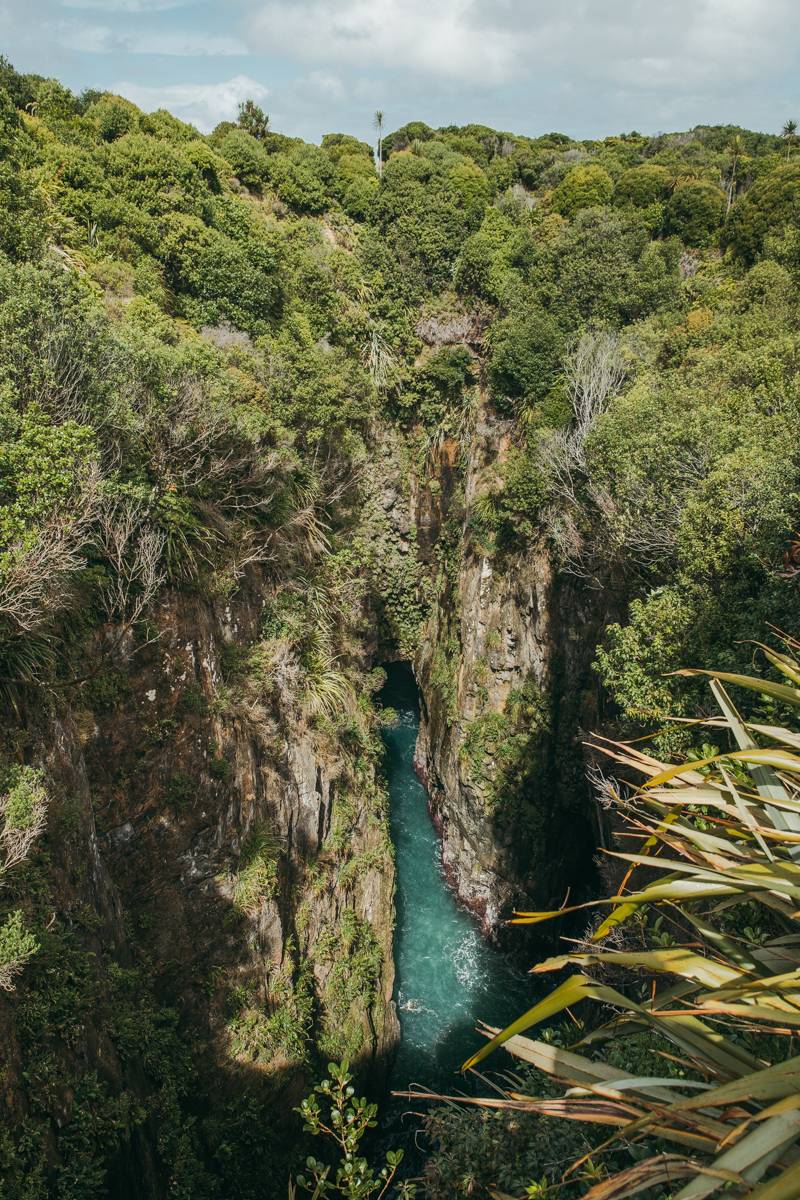 Before you even reach this natural phenomenon, the picturesque walk to Jack's blowhole is worth the effort alone. The walk starts at Jack's Bay and takes 20 minutes each way. You'll pass through sheep-clad pastures and be treated to many stunning coastal views along the way.
When visiting Jack's Blowhole, don't expect the kind that dramatically spurts out water. This is more of an ultra-deep gorge surrounded by trees that you peer down upon from above. Spurting water or not, it's still a cool sight to see.
2. Spot the Sea Lions at Jack's Bay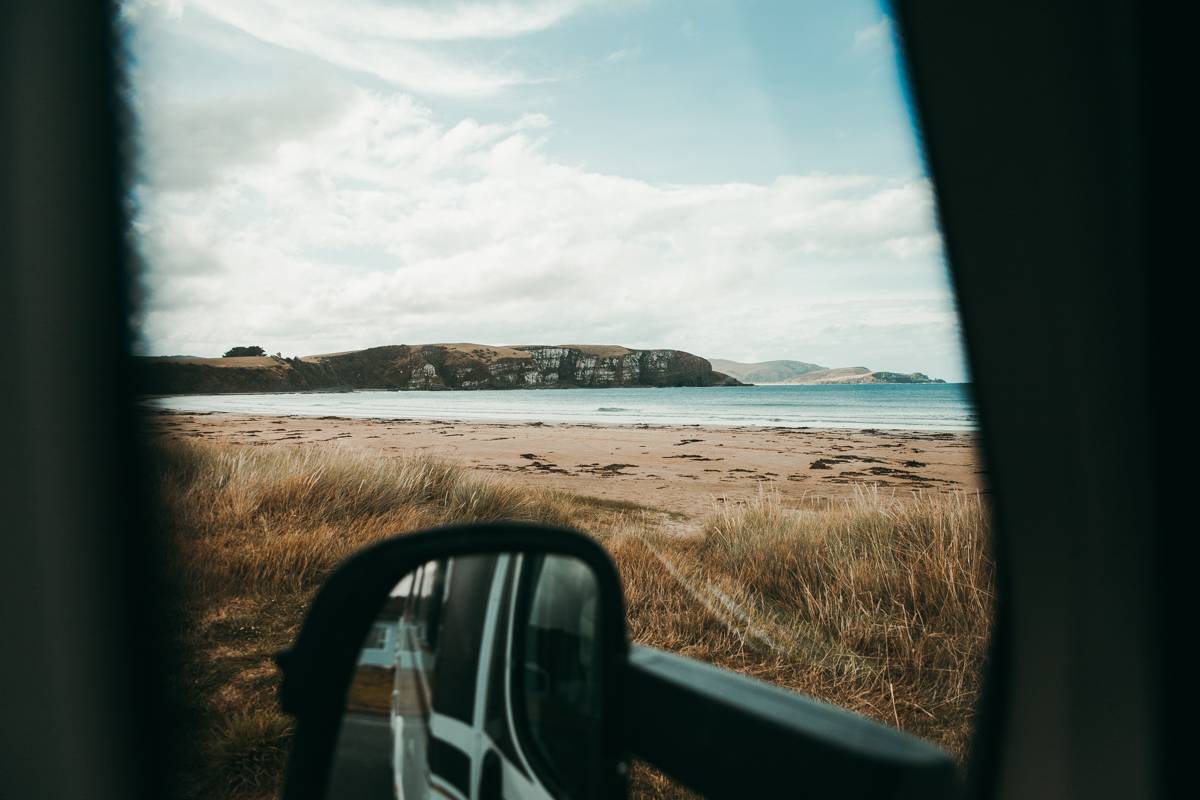 While you are in the area, Jack's Bay is a nice little beach to spend some time on. It also happens to be a popular hangout spot for sea lions. If you are lucky, you might spot some of these funny creatures!
3. Visit the iconic Nugget Point Lighthouse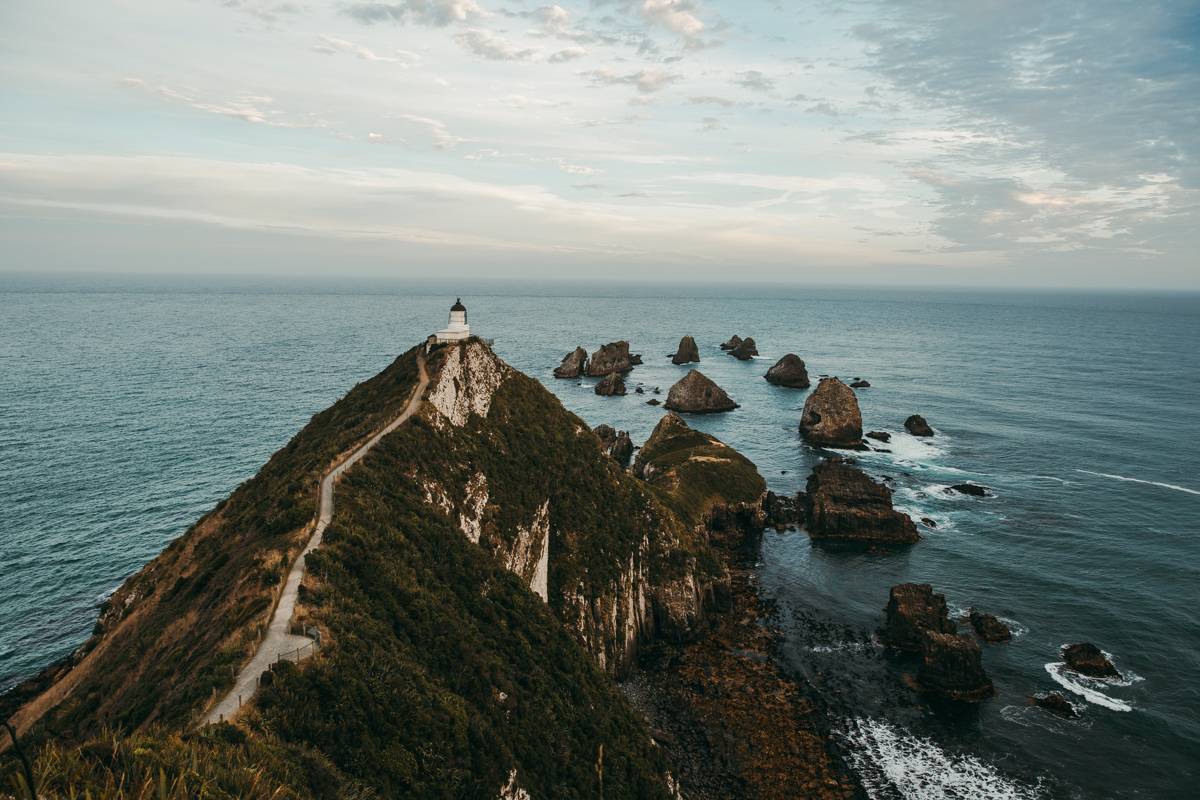 If you google image search the Catlins NZ, photos of the Nugget Point lighthouse will probably be the first thing to pop up. Would you believe me if I said this dramatic peninsula is even more spectacular in real life?
To get here, you drive up to the Nugget Point car park and walk about 15 minutes along an easy path that leads up to the lighthouse. For the most epic photo opportunities, I'd highly recommend visiting Nugget Point at either sunrise or sunset.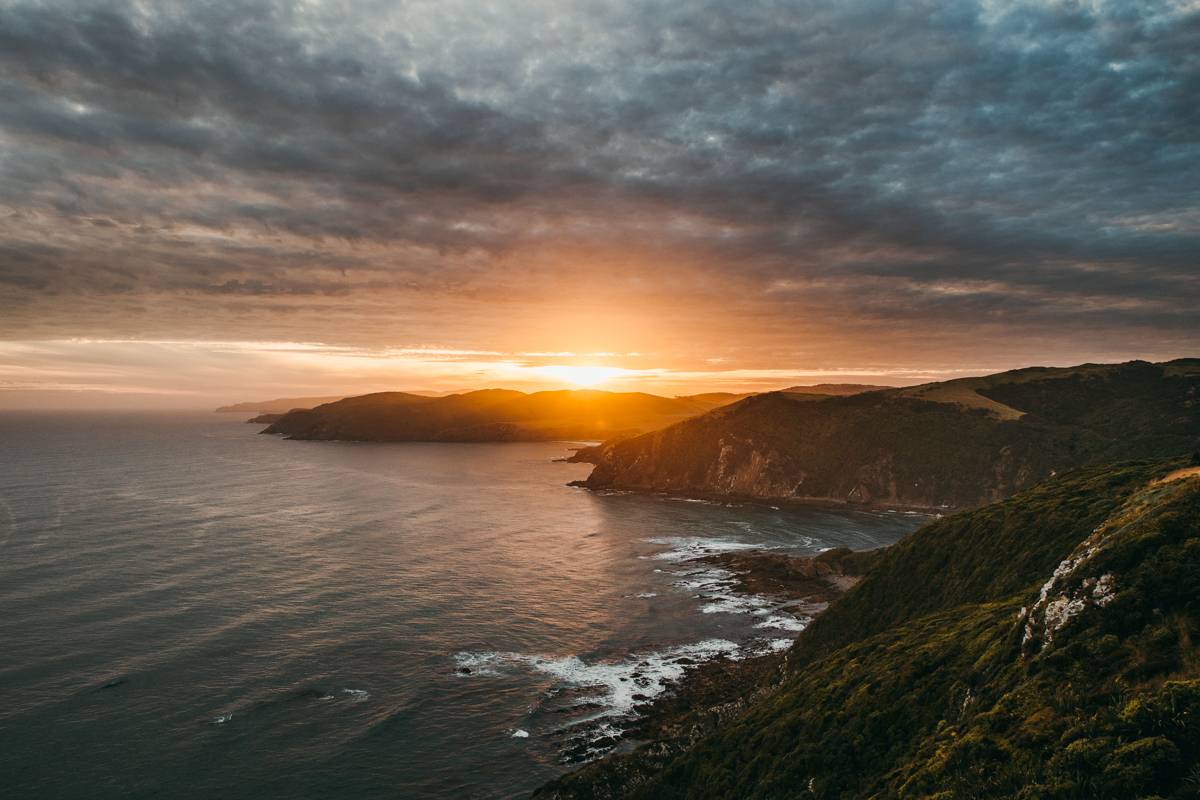 TOP TIP: To get the dramatic perspective of Nugget Point you see in most photos, you've got to stray from the walking path. Look out for an ominous red sign that says "danger unstable cliffs".
Here, you'll find a dirt trail that will lead you up to a higher vantage point. Just make sure you proceed with caution and take the trail slowly.
4. Stop for lunch at Florence Hill Lookout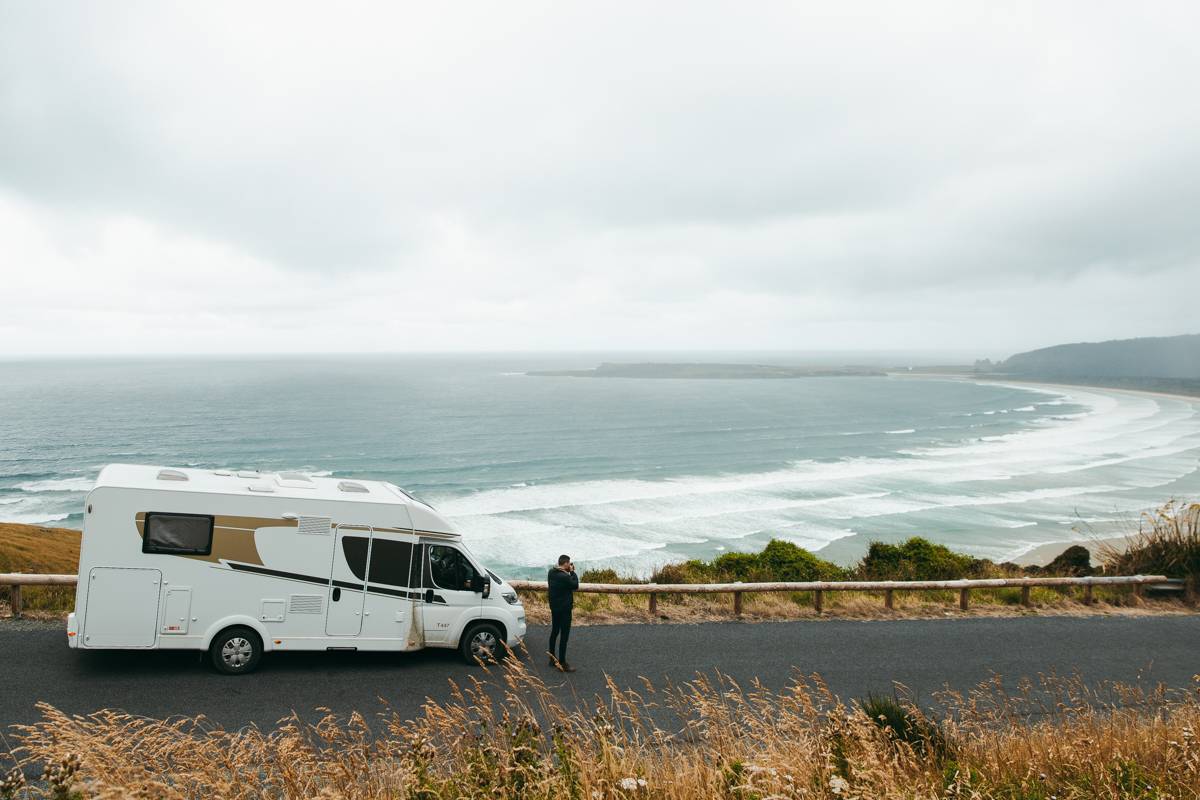 Located just off the Chaslands highway is the stunning Florence Hill Lookout. With sweeping panoramic views over Takaukau Beach and the surrounding lush rainforest, it is a very photo-worthy lookout. It also makes for a nice lunch spot.
5. Have a picnic at Slope Point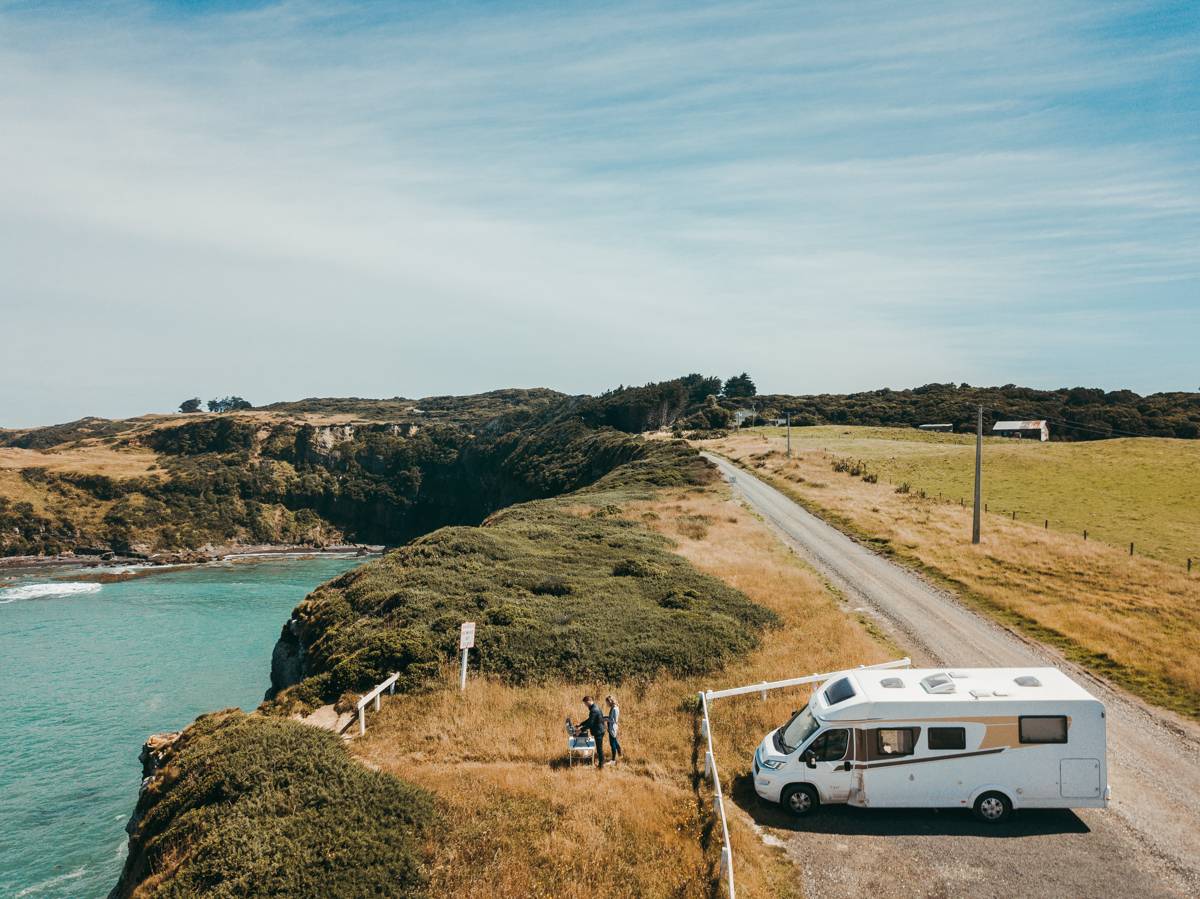 Slope Point lookout is the southernmost point of the South Island. If you want the bragging rights, you can take a 20-minute walk from the car park to a cheesy sign that tells you this. Bragging rights aside, the lookout is said to be pretty underwhelming.
I'd recommend skipping the walk and driving two minutes up the road instead. Here, you'll find another small gravel car park. Walk a few paces to the little jut out where you'll get some seriously epic views over cliffs and the ocean. If you're lucky and it isn't blowing a gale, it's a fabulous spot for a picnic.
6. Take a photo of the epic wind-swept trees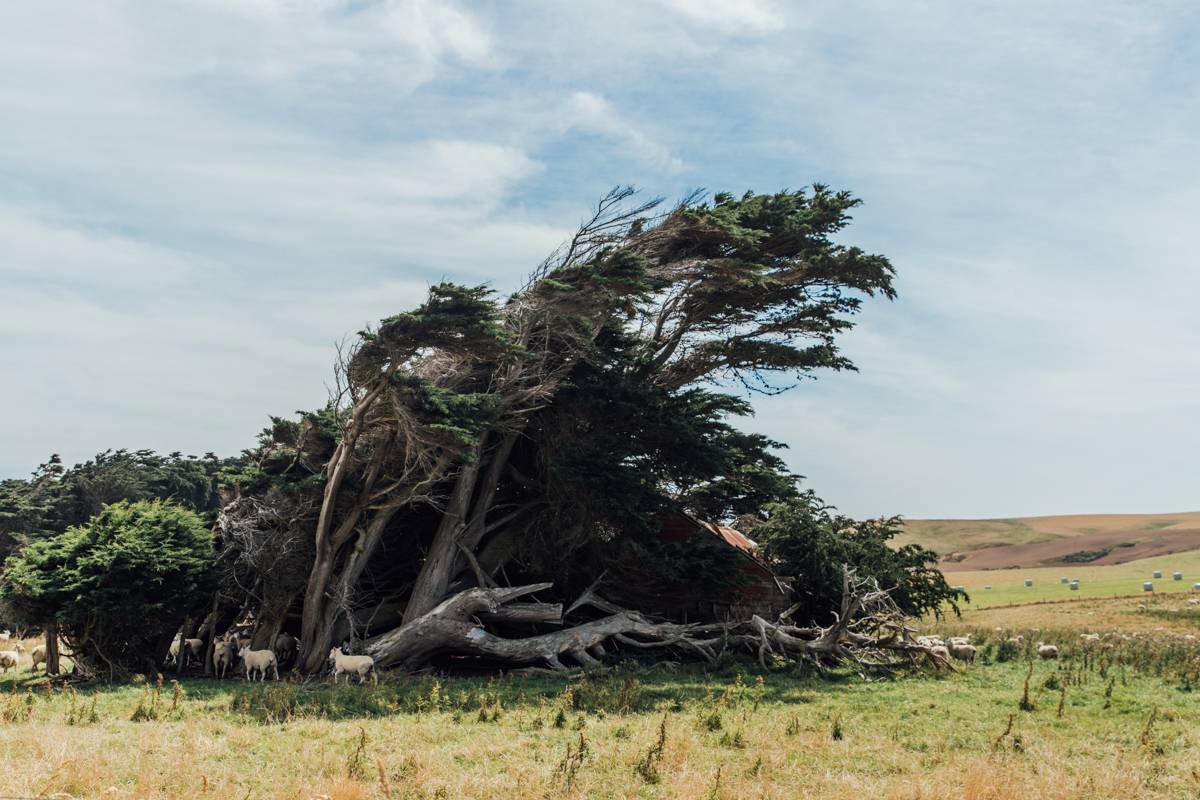 Just across from the Slope Point car park you'll find a forest of dramatic wind-swept trees. Strong winds from Antarctica blow over 3000 kilometres and smash into Slope Point. These winds have caused the trees to go permanently crooked.
7. Explore the Cathedral Caves
Cathedral Caves are said to be some of the most impressive sea caves in New Zealand. There are 200 meters of tunnels reaching heights of 30 meters to explore. It is one of the places we regrettably didn't make it to on our Catlins road trip, but is said to be well worth the visit.
To access the caves, it's a 30-minute walk through bushland to reach the pristine Waipati Beach. Make sure you time your visit correctly as you are only able to access the caves during low tide.
It is one of the few natural attractions you actually have to pay a fee for to cover the use of the car park and access to the beach. At the time of writing, the cost is $2 for children and $10 for adults.
8. Visit the stunning Curio Bay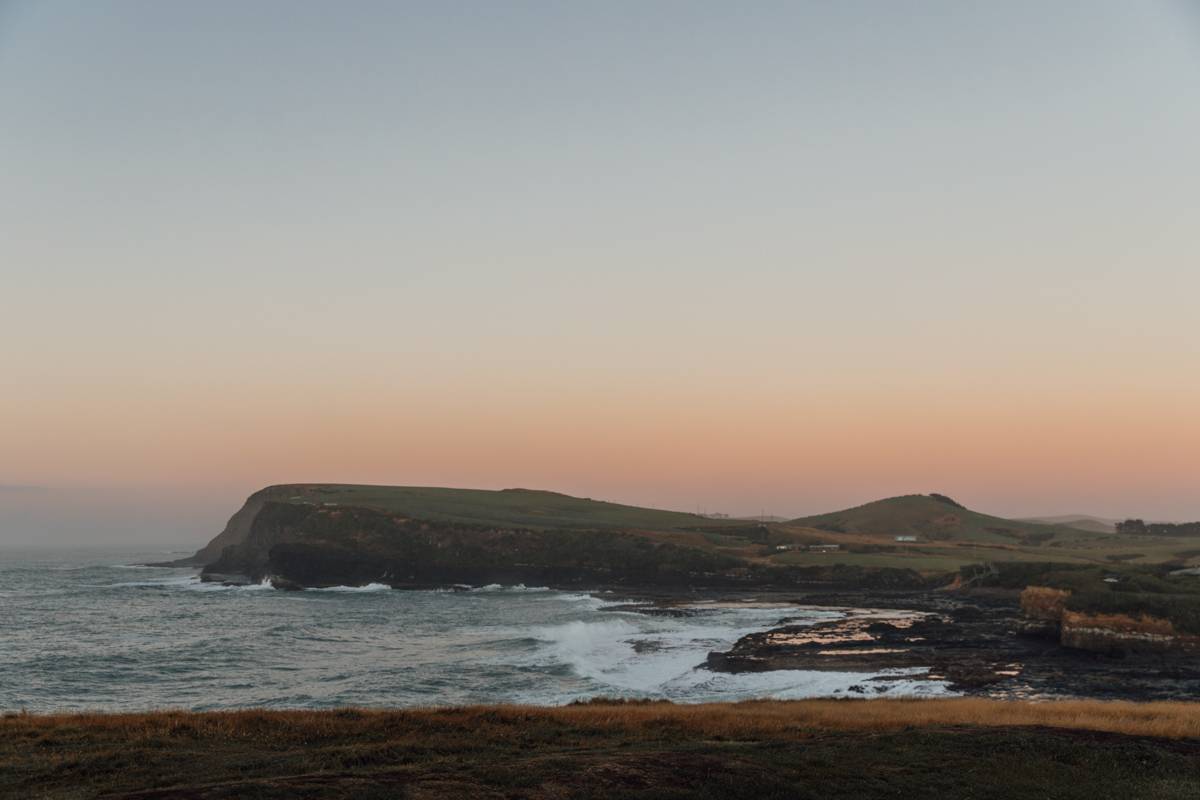 Curio Bay is one of the Catlins most fascinating and beautiful spots to visit, for a range of different reasons. Not only does the area boast a beautiful, rugged coastline, but it is also home to very rare wildlife and a 170 million-year-old petrified forest. Below, I've outlined some of the top things to do in Curio Bay.
9. Witness the Curio Bay Petrified Forest
A petrified forest sounds like something straight out of a Harry Potter novel. In reality, it is a 170-million-year-old forest from New Zealand's Jurassic age that has been fossilized. I won't get into the science behind it, but if you are interested, you can read more about it here.
Curio Bay's Petrified Forest is best viewed at low tide from the viewing platform. I'm not going to lie, on first glance, it looks like a rather unremarkable group of rocks.
However, once you look a little closer (and wrap your head around how old the tree fossils are), this living forest is quite the sight to behold.
10. Spot the Yellow-eyed Penguins
Head to the same viewing platform in the late afternoon and you might be lucky enough to see another very rare sight. Namely, the protected yellow-eyed penguins coming to shore. Sadly, we didn't spot any when we visited, but we were told at the time that at least four penguins come onshore every evening.
11. Swim with the Hector's Dolphins in Porpoise Bay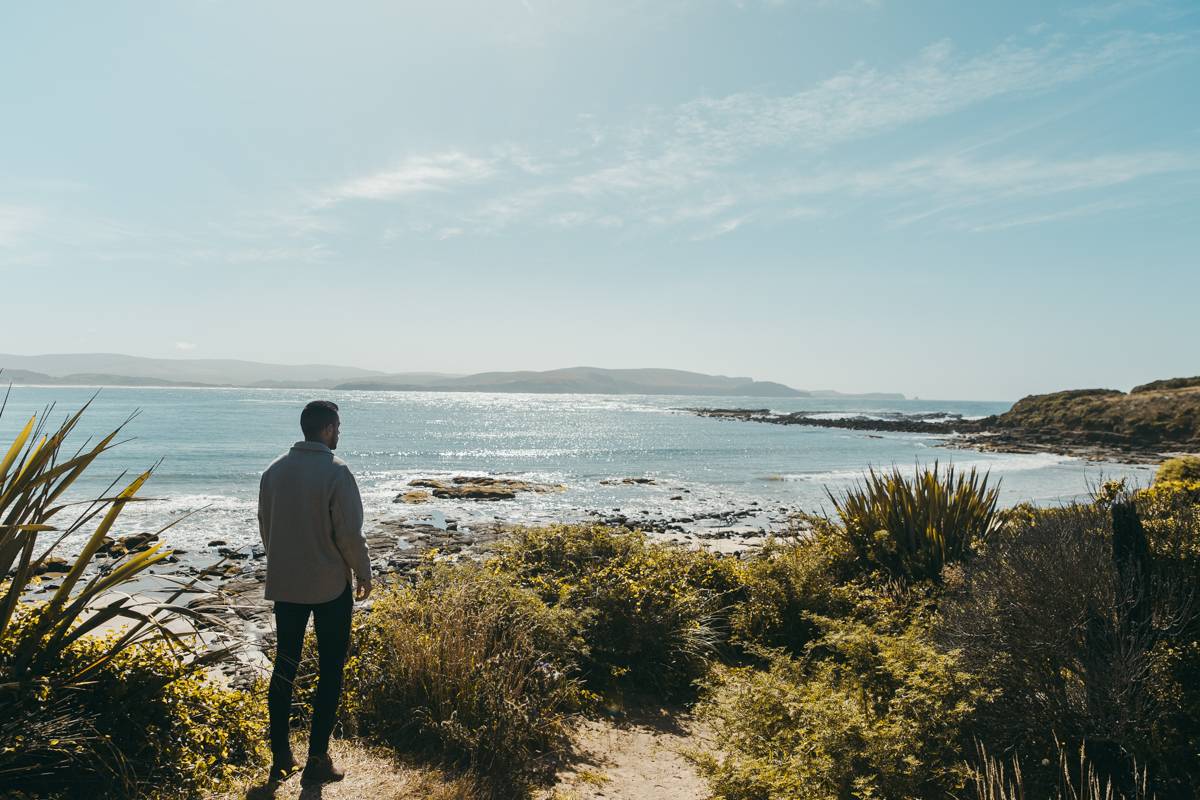 On the other side of Curio Bay is Porpoise Bay, which is a stunning stretch of beach where you can walk, swim and surf. Here is one of the few places where you can see Hector's dolphin, which is the smallest and rarest dolphin in the world.
If you can brave the cold temperatures, Porpoise bay is a great place for swimming and surfing. If you're lucky, you may be able to get up close and personal with Hector's dolphins as they are often found playing around in the surf!
The Best Waterfalls in the Catlins
Thanks to its coastal rainforest and high rainfall, the Catlins is blessed with some of New Zealand's most spectacular waterfalls. Exploring these waterfalls is definitely one of the best things to do in the Catlins NZ!
Below are some of my top picks for waterfalls in the Catlins:
12. Purakaunui Falls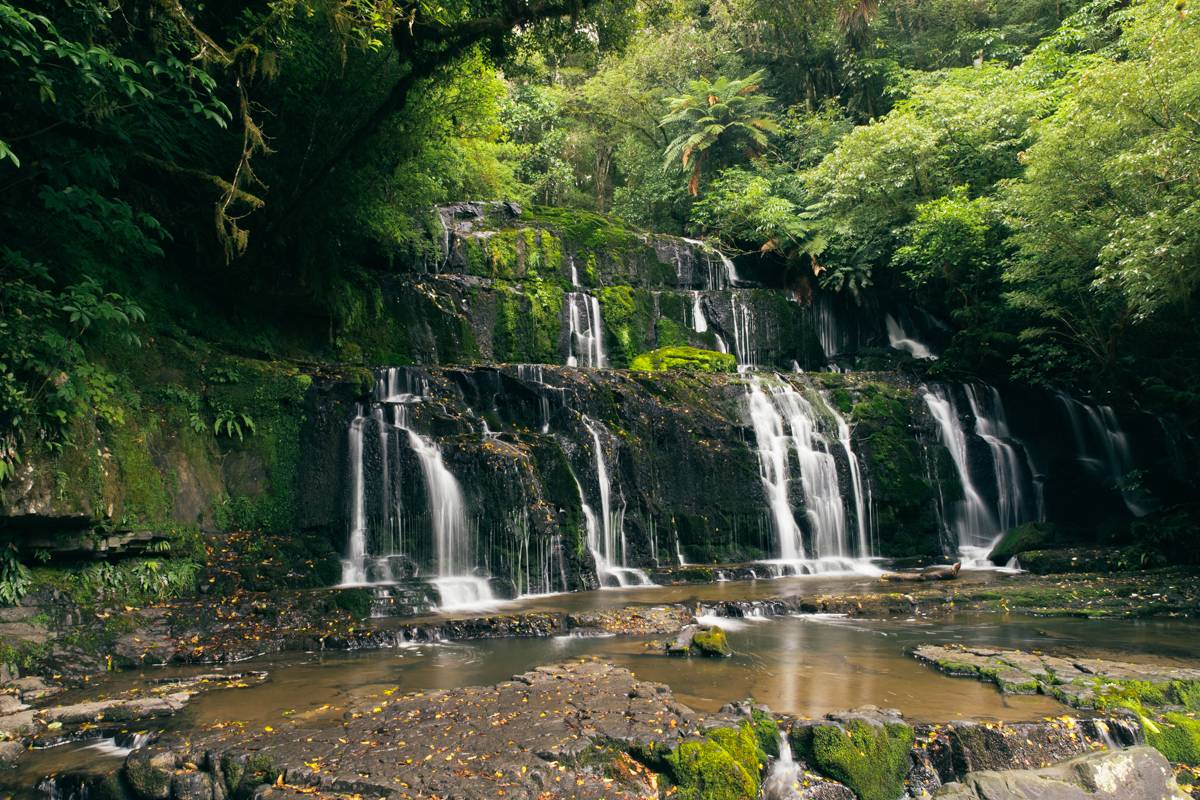 Take a short 10-minute stroll through the forest to reach Purakaunui Falls, a cascading three-tiered waterfall in the heart of the Catlins. As far as Catlins waterfalls go, Purakaunui is one of the region's most iconic. It's well worth the visit.
13. Koropuku Falls
We didn't end up visiting Koropuku Falls during our time in the Catlin's. However, it looks beautiful. It's a small 10-meter waterfall nestled in the forest. There is no official track leading to the falls so it is harder to find than other Catlins waterfalls.
14. McLean Falls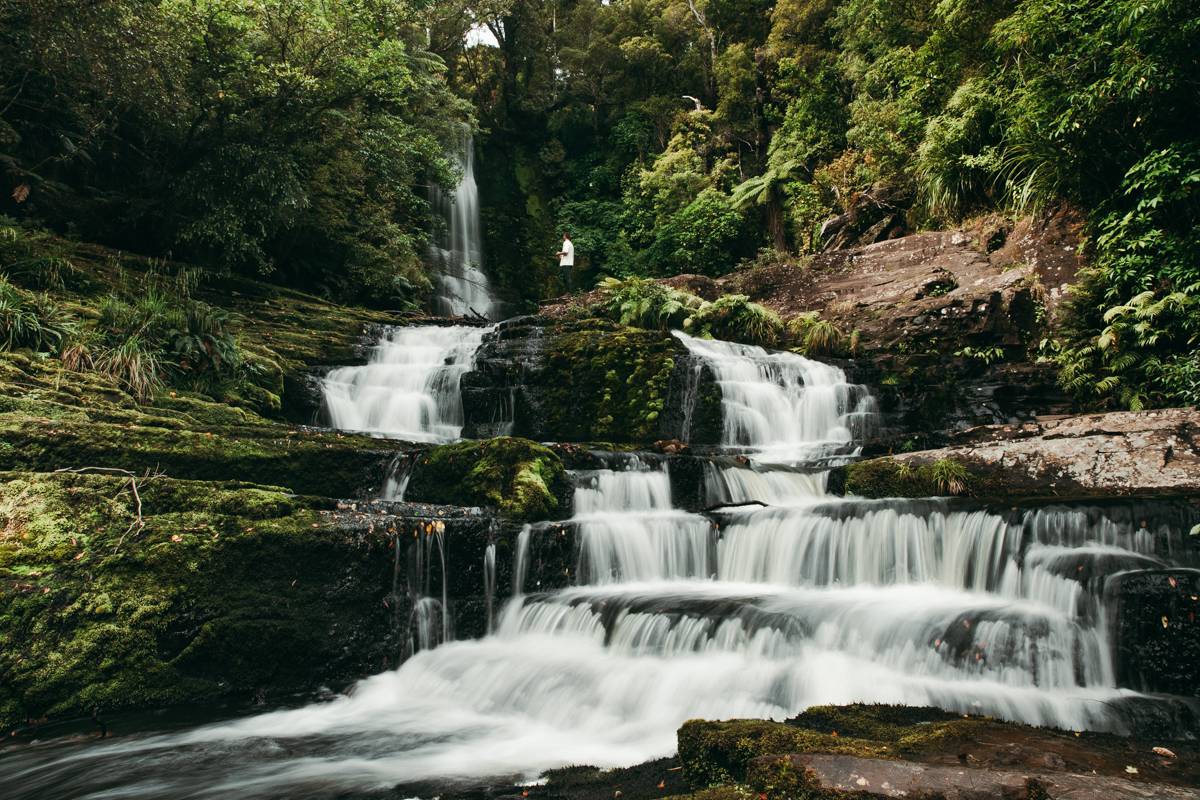 In my opinion, the best Catlins waterfalls are the McLean Falls. It's a 15-minute walk from the car park through a mystical, lush rainforest to get to the falls. The waterfall starts by cascading down a dramatic 20m ledge before splitting off into small falls.
It's a truly epic sight to behold. If you're going to visit any waterfalls in the Catlins, I'd highly recommend this one!
15. Niagra Falls
I am very glad I researched Niagra Falls before making the mistake of visiting this Catlins "waterfall". The name was given to this place as a joke, as there is nothing about these underwhelming rapids that slightly resembles Niagra Falls.
Go there for a laugh or maybe just leave it off your Catlins Itinerary…
The Best Places to Eat in the Catlins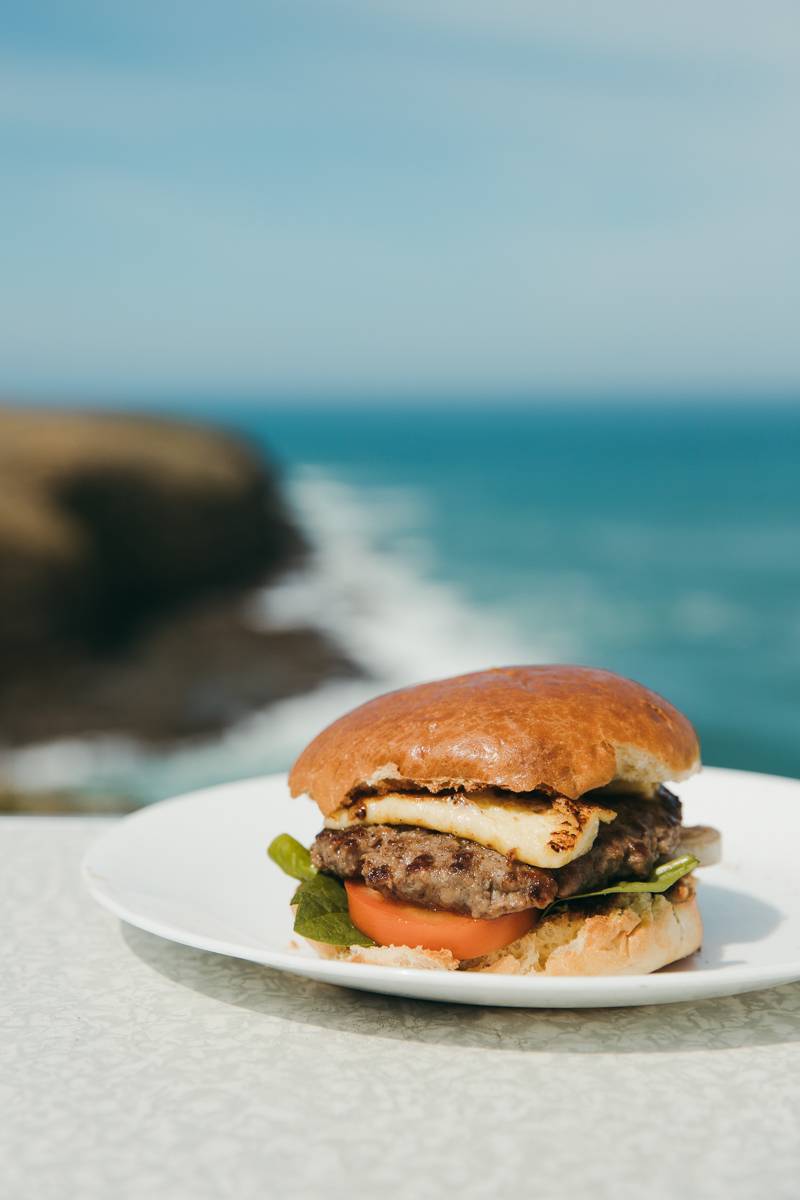 I'll pre-warn you right now… There is not a huge range of options when it comes to places to eat in the Catlins. We bought groceries at the New World in Balclutha and cooked most of our meals in a motorhome.
However, there are a few of the noteworthy restaurants and cafes in the Catlins that I have outlined below:
16. Get a coffee from Tahatika Coffee Traders
If you want a good cup of coffee in the Catlins, Tahatika Coffee Trader is the spot to go. Located in the Owaka township, this quirky coffee shop is probably the most hipster place you'll come across in the area!
17. Get Fish & Chips from Bake House Take Aways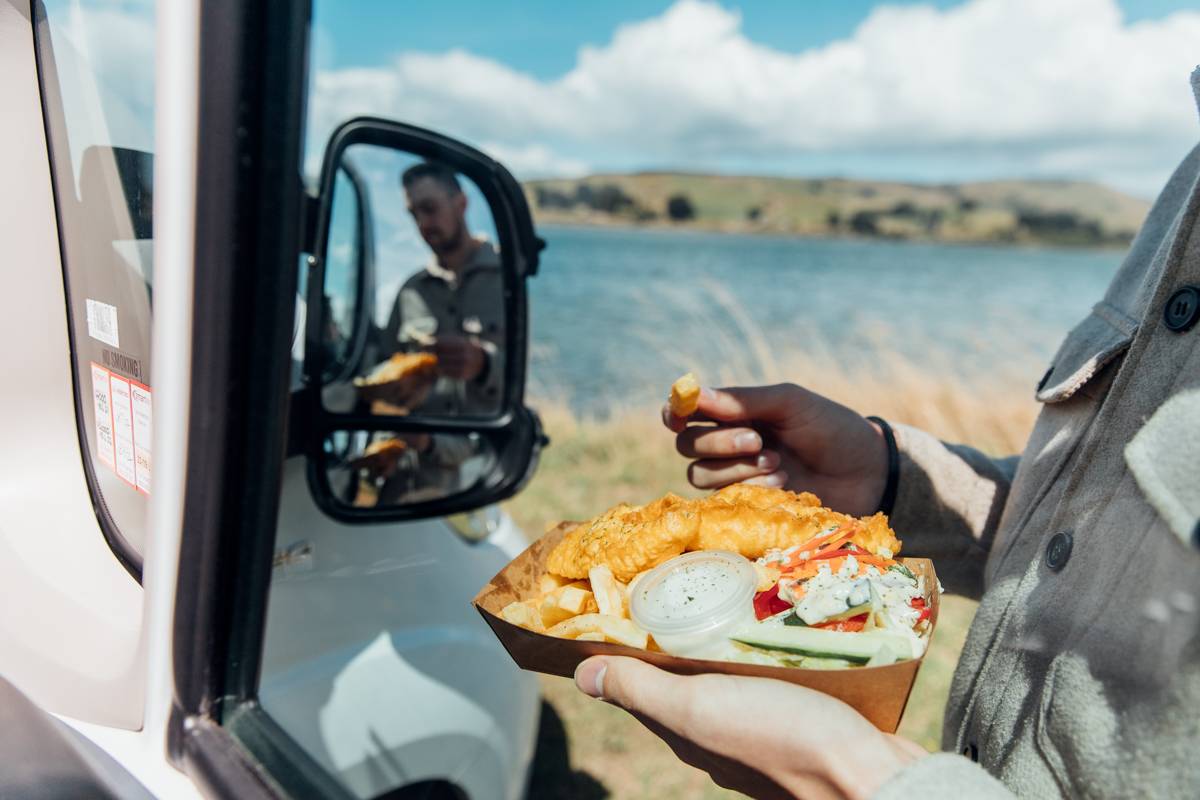 If you happen to have cravings for fish and chips, pizza, sushi or Japanese curry, this little food truck has you covered. The place is run by a Japanese family, so the diverse & eclectic menu offerings kind of make sense.
James got fish and chips from here and they were actually very good. The Japanese curry also looked very legit!
18. Have a hot drink at Niagara Falls Cafe
If you're en route to Curio Bay or made the mistake of stopping by the previously mentioned Niagara Falls, pop into Niagara Falls Cafe for a cuppa. This cafe is housed inside a converted school and is quirky to say the least.
However, I can attest that they do a really good chai latte. I didn't try anything on the menu, but everything is homemade using local ingredients and sounded pretty good!
19. Go for Brunch at NEUX Bar & Kitchen
If you're passing through Kaka Point (the town nearest to Nugget Point) and want to grab a bite to eat, stop by NEUX Bar & Kitchen. Sadly the cafe wasn't open when we were in the area, but it gets really good reviews and has a great-looking brunch menu.
Best Places to Stay in the Catlins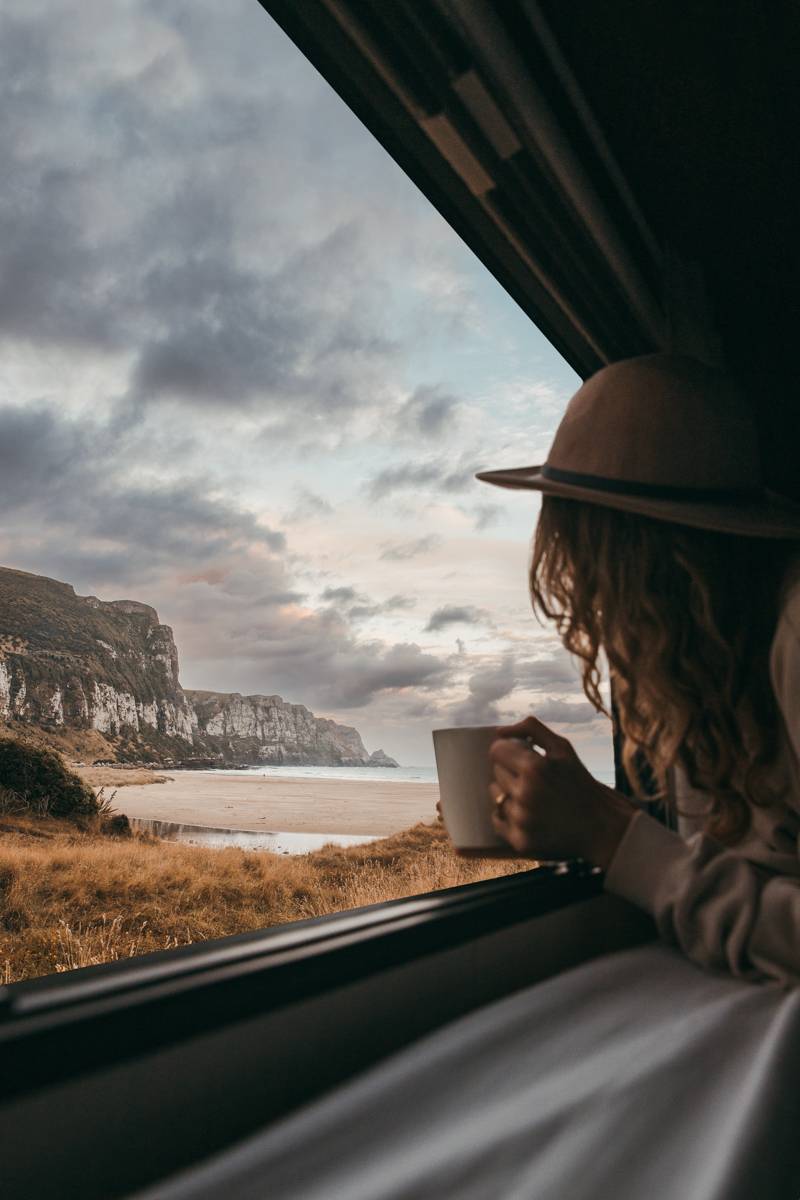 There is a variety of accommodation available in the Catlins, including holiday houses, bed and breakfasts and motels. However, I would personally recommend staying at camping grounds. After all, the Catlins is all about the incredible scenery. There is no better way to immerse yourself in the beauty of these landscapes than by camping right in the midst of them!
Below are some of the spots I'd recommend camping in the Catlins:
20. Camp at Curio Bay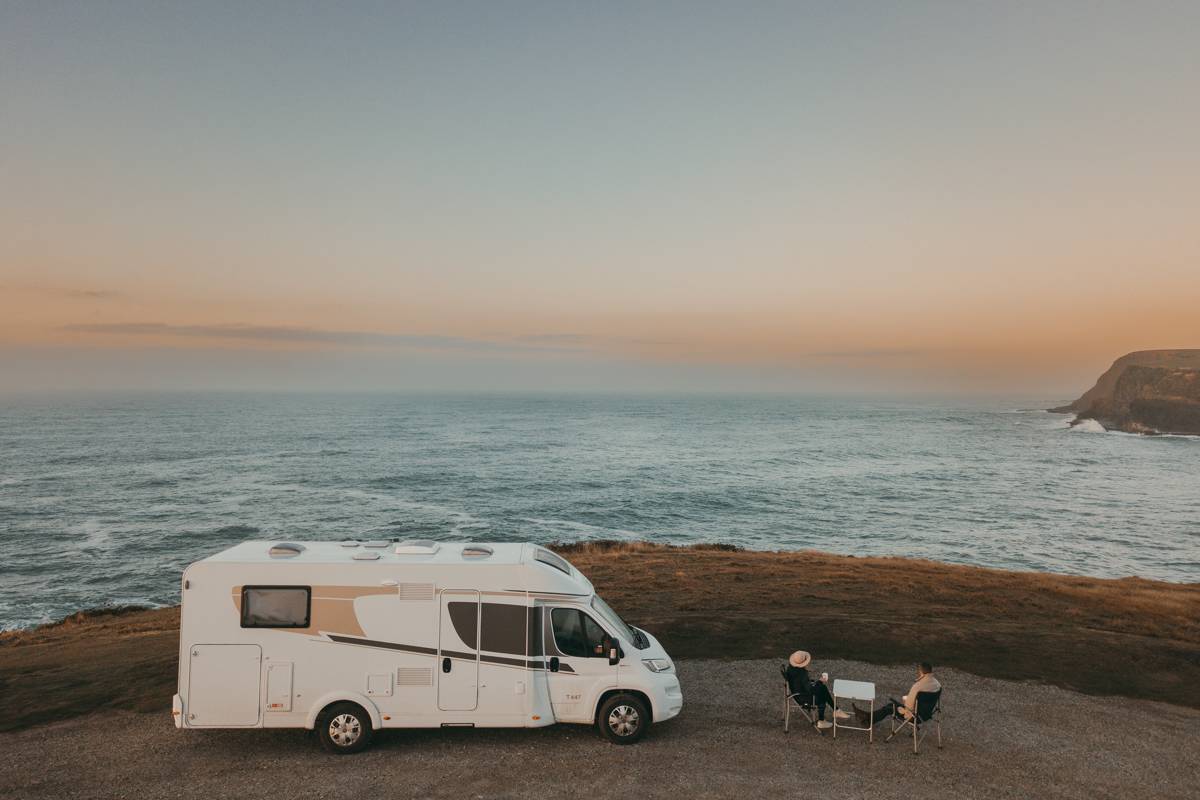 As there aren't any freedom camping or DOC sites at Curio Bay, the best option is to stay at the Curioscape Campground. Although the prices to book a site are quite steep, it is one of the best campgrounds in the Catlins.
Curioscape is positioned up on a hill with stunning views over Porpoise Bay on one side and Curio Bay on the other. The campsite is lined with alleys of natural flaxes, making each spot nice and private. For an extra $5, I'd highly recommend booking a site with a sea view!
21. Camp at Purakaunui Bay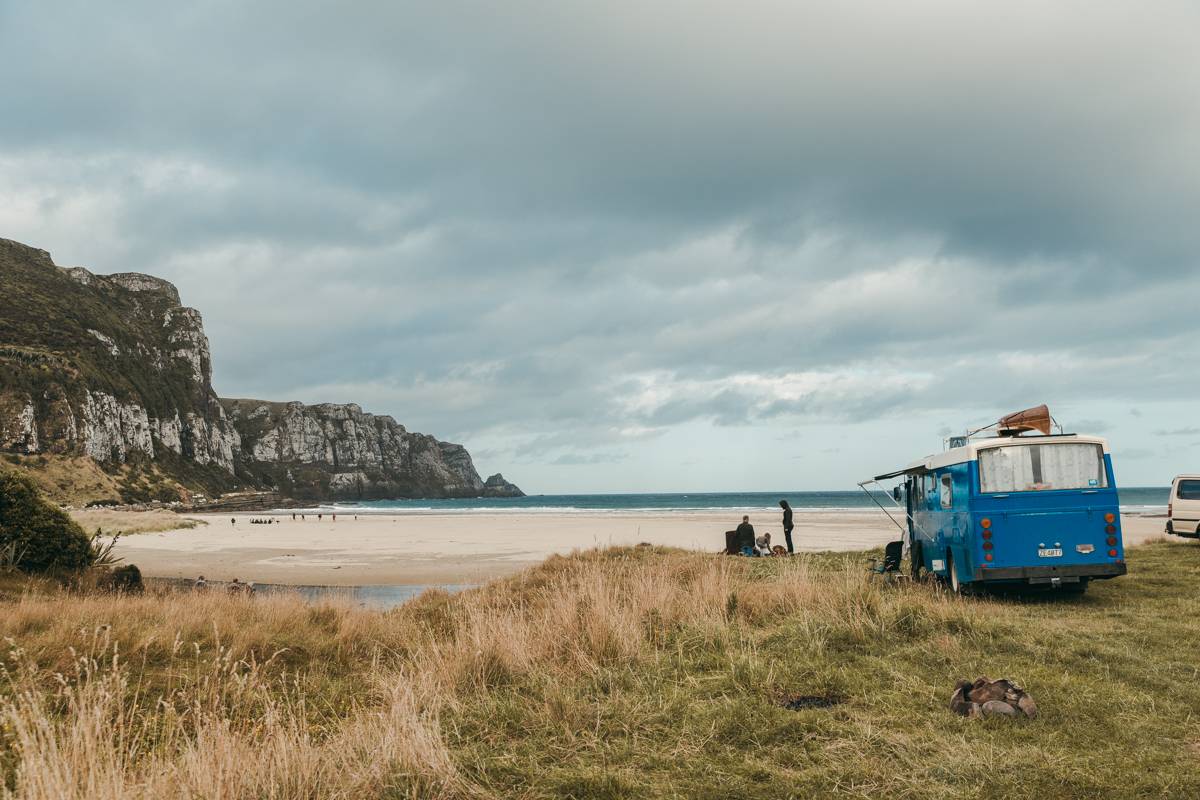 My favourite place for camping in the Catlins was the DOC campsite at Purakaunui Bay. Overlooking a surf beach surrounded by striking cliffs, the views from this campsite are seriously stunning.
Access to the campgrounds is down an unsealed gravel road near Purakaunui Falls. There are no designated sites at the campgrounds so I would recommend arriving early to secure a spot with a good view. The facilities are very basic (just toilets), but that is what you'd expect for a $10 per night campsite.
22. Camp at Owaka Town
Unfortunately, we didn't come across many freedom camping sites in the Catlins. Owaka Town was one of the only places we found with a designated freedom camping area. It's nothing fancy, but it's a convenient spot to stay overnight without having to pay (and it's right next to a dump station).
23. Camp at Papatowai Campsite
Another affordable place to camp in the Catlins is the Papatowai DOC Campsite. The camping ground is nestled in the bush with easy access to both the beach and the estuary. It's a super peaceful location with lots of nice nature walks nearby.
How to get to the Catlins NZ
The Catlins is apart of the Southern Scenic Route, which is a 600km stretch of road passing with some of New Zealand's most stunning scenery at every bend. If you have the time, it is well worth driving the whole Southern Scenic Route and making the Catlins a part of a longer road trip itinerary.
Getting from Dunedin to Catlins
The distance between Dunedin to the Catlins (Owaka) is 109km which takes approximately 1 hour 30 minutes to drive. If you are planning to drive from Dunedin to Invercargill via Catlins, this will take 3 hours and 20 minutes.
Getting from Invercargill to Catlins
The distance from Invercargill to the Catlins (Owaka) is 80km which takes approximately 1 hour to drive. The quickest way to get to the Catlins would be to fly into Invercargill airport and rent a car from here to drive to the Catlins.
How to get around the Catlins NZ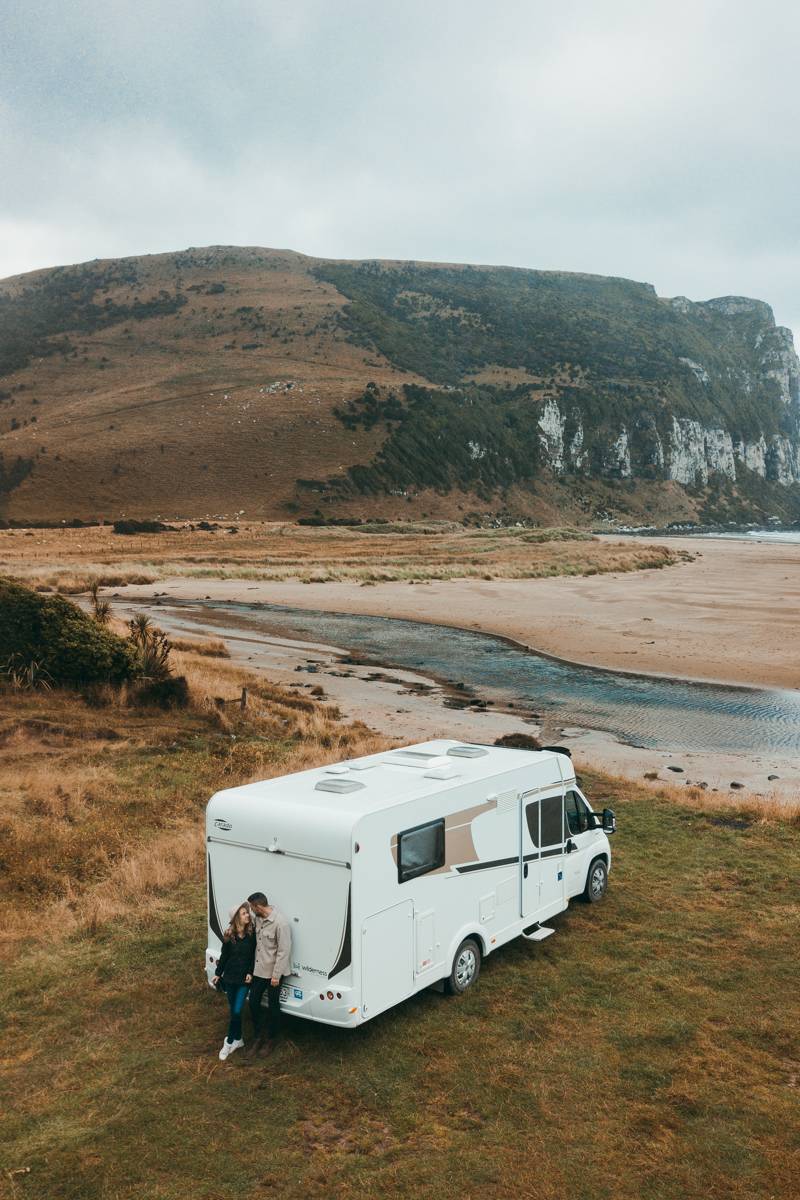 If you are visiting the Catlins, I would highly recommend driving as transport is very limited in the region. Below are the three options I would recommend for getting around the Catlins NZ (depending on your budget):
Car + camp (budget)
If you are on a tight budget, your best option for getting around the Catlin's is to hire a cheap rental car and camp your way around. There are a few cheap DoC campsites in the Catlins where you can pitch a tent. Most offer basic facilities and are a lot more affordable than private campsites.
Campervan (mid-range)
If you have are on a mid-range budget for your trip to the Catlins, Campervans are a great option. Having a vehicle that you can sleep and cook makes the camping experience a whole lot better.
Keep in mind if you don't have a certified self-contained campervan, you are technically limited on where you can camp. You'll have to factor in camping grounds sites that offers toilets, showers, and running water.
You can compare the options the best campervan hire in New Zealand here.
Self-contained Motorhome (luxury)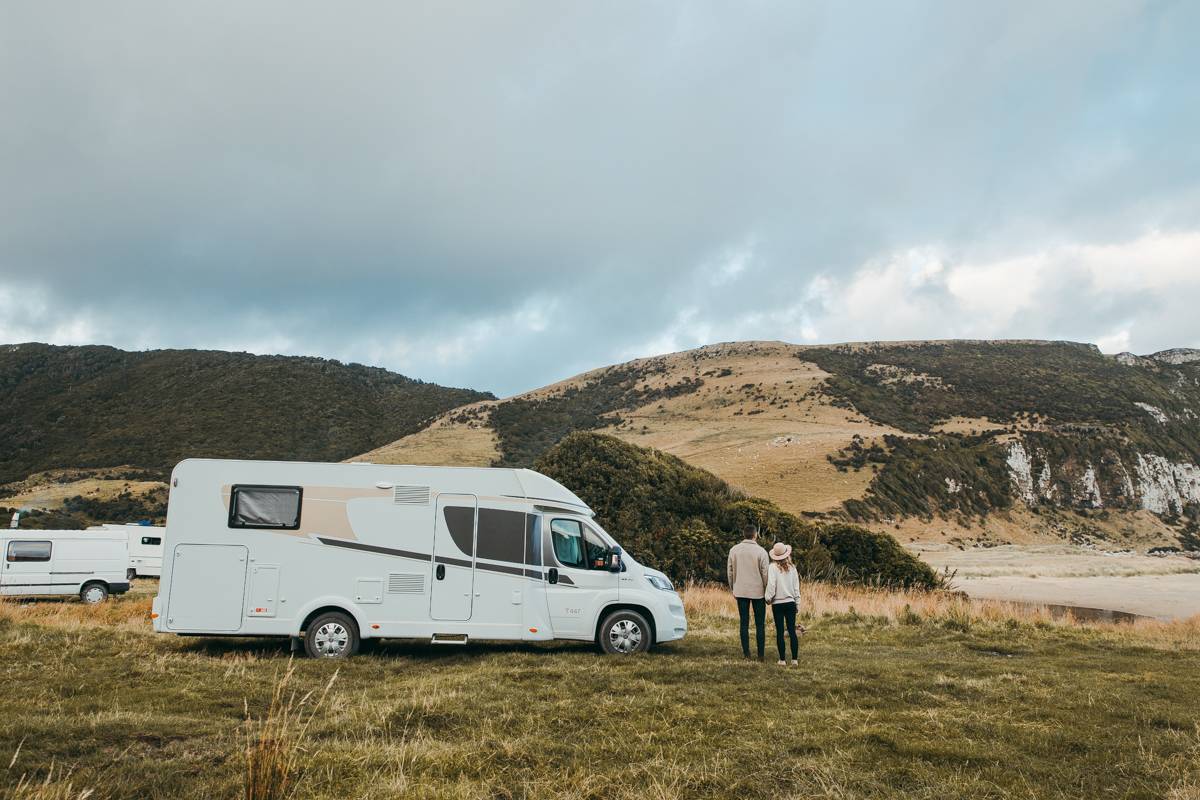 For the most comfortable way to road trip around the Catlins, I'd recommend a self-contained motorhome. The convenience of essentially having a home on wheels is unparalleled. This certainly isn't a cheap option, but if you are able to splash out, I guarantee you'll love exploring the Catlins this way!
We hired a Wilderness motorhome for the duration of our trip. It is my third time going on a road trip on the South Island of New Zealand in one of these luxury vehicles, and I have had extremely positive experiences each time. The motorhomes are extremely well equipped and maintained, and the Wilderness staff are very helpful if anything does happen to go wrong.
We were particularly thankful to have a cozy motorhome to retreat to whenever the weather in the Catlins turned an unpredictable corner (which seemed to happen a lot!).
Weather in the Catlins NZ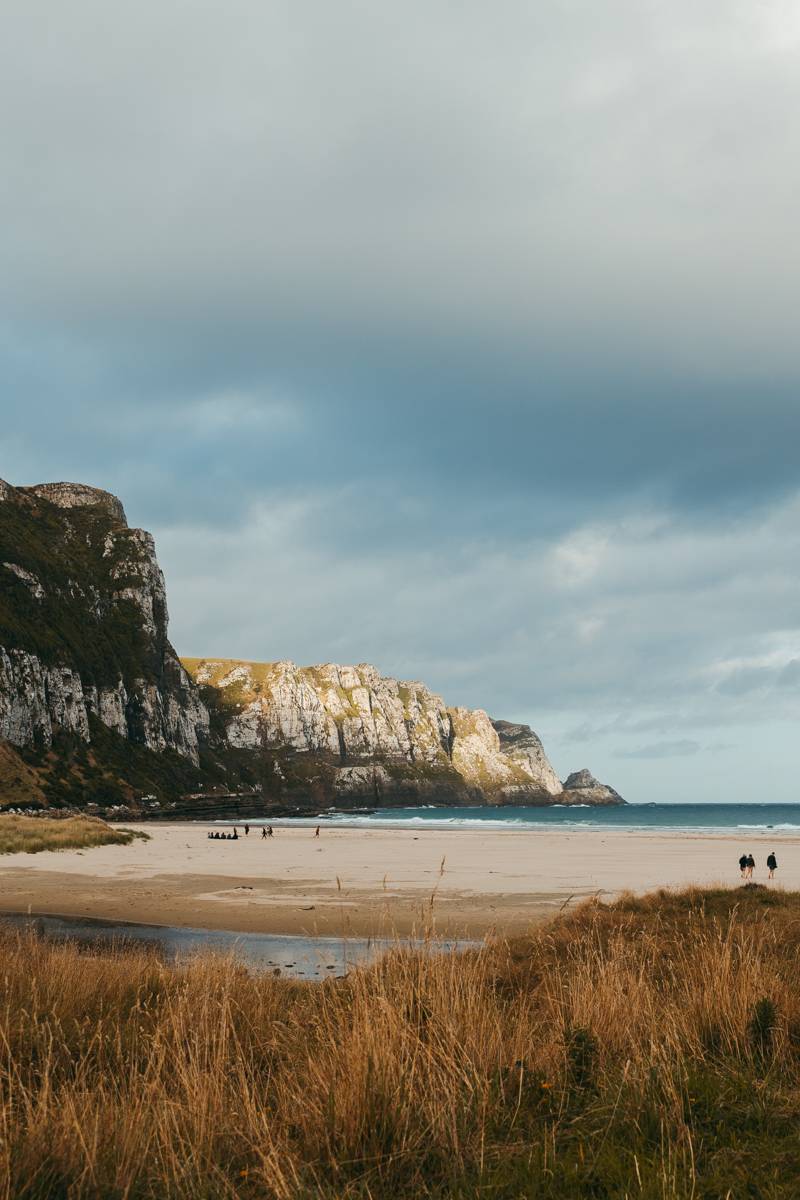 The Catlins is known for its wildly varied weather. We went in February (which is meant to be summer). One minute it would be sunny and boiling hot, the next it would be windy, raining and freezing!
Typically, summer temperatures hover around 16-24C and winter temperatures around 8-13C. The area is very lush which means it does rain a lot, with an average annual rainfall of 1300mm. It's also prone to weather patterns from the sub-Antarctic ocean so the winds can be very strong!
Whatever time of year you decide to visit the Catlins, just come prepared for dramatic weather changes one way or another. You could say it is part of the region's charm.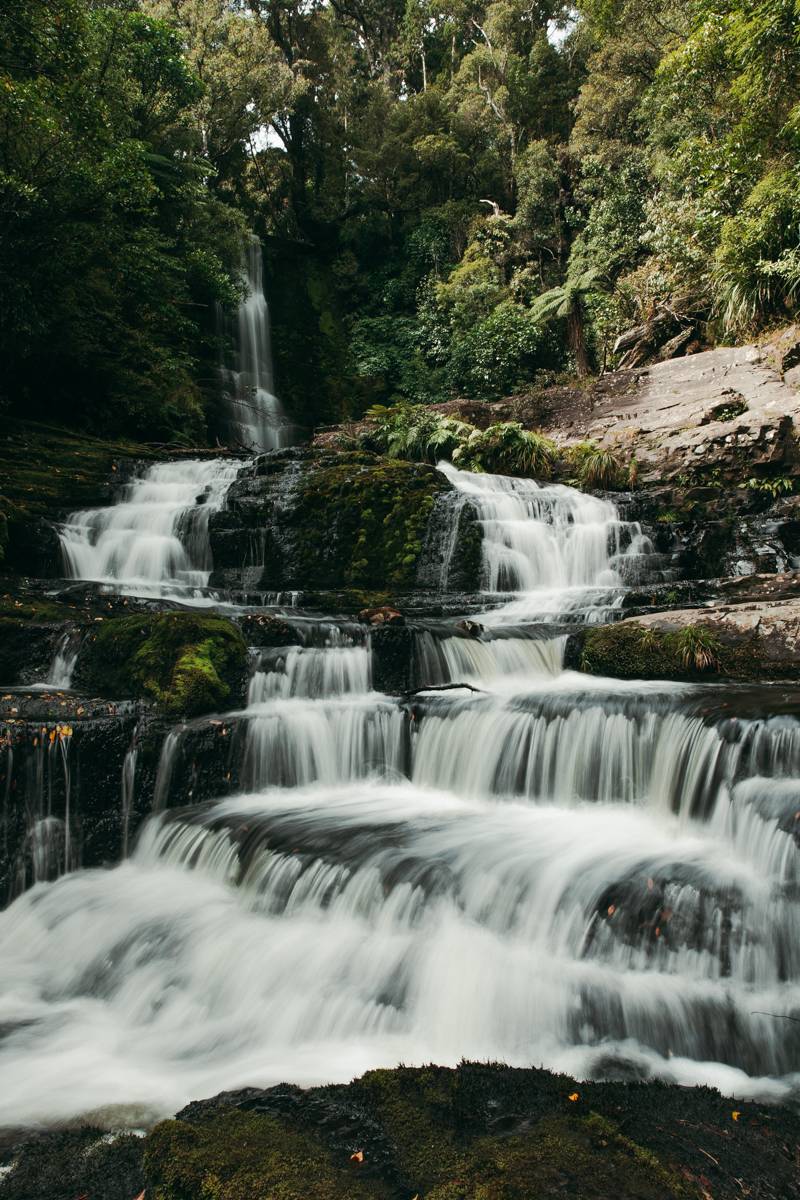 I hope this guide inspires you to explore the South Island's most underrated gem, the Catlins, on your next trip around New Zealand! If you do, be sure to tag @polkadotpassport in your photos on Instagram so I can see where you went!
Like this post on things to do in the Catlins? Pin it for later!