If you've never been, here's why you need to visit Luang Prabang right now!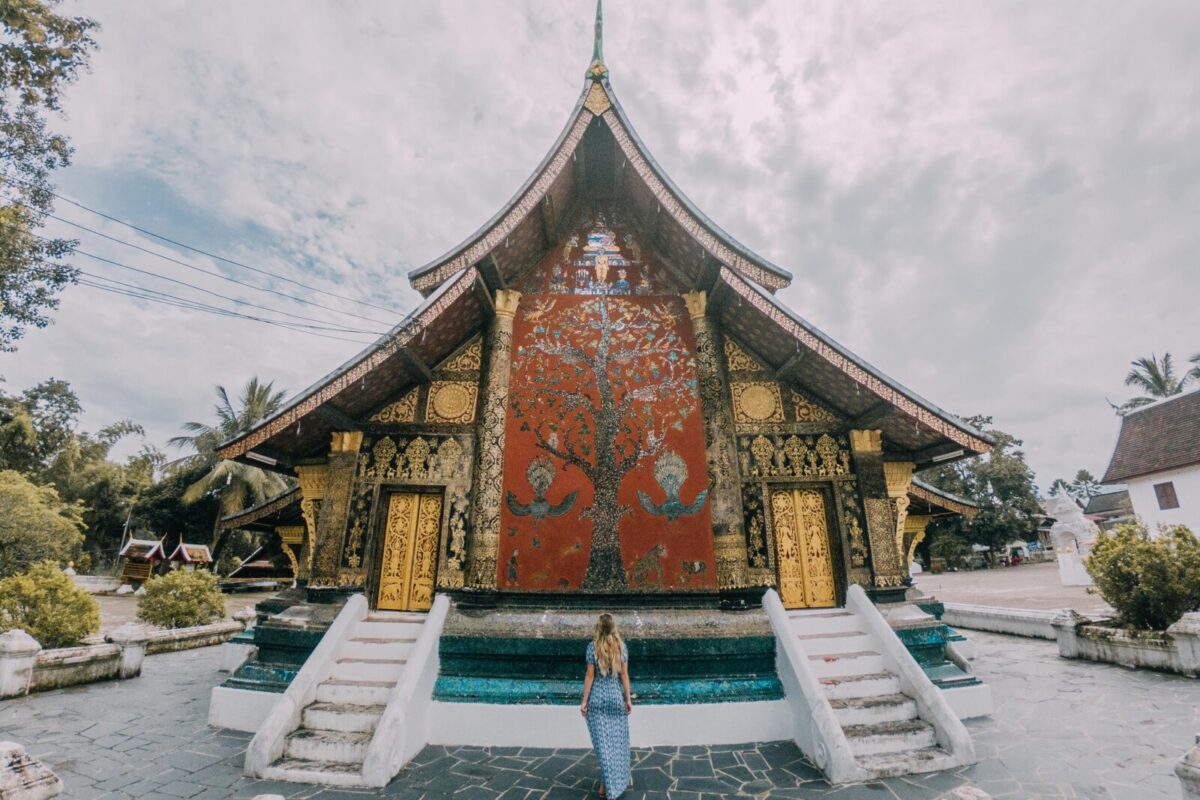 Recently I was fortunate enough to visit Luang Prabang, a town hidden amongst jungle-covered mountains in Northern Laos. Now I can't deny, before I visited Luang Prabang I knew next to nothing about Laos. It's one of those destinations that have somehow become overshadowed by the more touristy Southeast Asian countries such as Thailand or Vietnam. Consequently, I wasn't sure what I was getting myself in for, but was nonetheless excited to visit one of the rare few places that remain largely unsullied by hordes of tourists. And I have to say, the result was absolutely charming.
Luang Prabang is a sanctuary of tranquillity- the perfect escape from frenzied city life. The town itself is a kaleidoscope of colour, consisting of an aesthetic mixture of French-colonial architecture and local décor, all surrounded by lush greenery and enclosed by the Mekong and Nam Khan Rivers. To me, one of the biggest draws of Luang Prabang is its inhabitants- the locals themselves are unbelievably lovely; they welcomed us with genuine warmth wherever we went. There are many other allures that this town provides- from adventuring in nature to devouring Lao cuisine, and so I thought I'd provide you with some of the key reasons to visit Luang Prabang before Laos becomes inundated with other (fellow) tourists.
Adventuring
As a town surrounded by jungle-covered terrain, it should come as no surprise that Luang Prabang provides awesome opportunities for adventuring. There is an ample supply of hiking trails, mountain biking tracks and waterfalls to chase (such as the renowned multi-tiered Kuangsi waterfall).
Nahm Dong Adventure Park– The Nahm Dong adventure park provides many awesome escapade options, including over 800 metres of ziplines to ride through the jungle, treetop walks to clamber across, and waterfalls to swim under. If you visit during low-season as we did, there's a decent chance monsoon rains will be deluging Laos with vast amounts of water. If that is the case, the adventure park provides the more sheltered options of bamboo weaving, mulberry paper production and Lao cooking classes.
Exploring Luang Prabang Town- The town itself is also great to explore if you are in the mood for more "relaxed" exploration- hire a motorcycle, scooter, or bike and brave the challenge of navigating the town's streets and dodging worrisomely laden fellow-scooter riders, or alternatively take a river cruise along the meandering Mekong River to unwind at sunset with a cocktail in hand.
Cuisine
As an avid foodie, Laos was a great chance to try a new type of cuisine. While I'm usually a vegetarian, for the duration of our visit to Laos I decided to adopt pescatarianism in order to experience some of Laos' most iconic dishes. Lao food, like much Southeast Asian food, is fresh, herbaceous, and overwhelming in flavour. Lao cuisine appears to focus on a few key dishes, such as Mekong River Weed, Luang Prabang's take on sushi, made with riverweed and stuffed with sticky rice and a delicious chilli paste, mokpa, which is fish tossed in herbs and steamed in banana leaves, Luang Prabang salad (I felt like this was a Lao take on the nicoise salad- a salad with eggs and greens with a delicious egg-mayonnaise type dressing), O-lam (a mushroom and vegetable stew with spicy bark), and of course green papaya salad, all served with sticky rice.
Manda de Laos– As for where to go, there are several hole in the wall style spots to grab some delectable freshly made dishes, or if you're in for the full dining experience, I can't recommend Manda de Laos highly enough. The restaurant is set in a beautiful, candlelit wooden building which opens out onto a waterlily pond and we were supplied with more delicious food than even we could handle.
Secret Pizza– If you're wanting a break from Lao cuisine (which will be unlikely considering how tasty it is), it is useful to note that Luang Prabang is a town full of expats, meaning that there are several other great restaurants featuring a variety of cuisines. One recommendation is Secret Pizza, which is run by an Italian and offers some of the best pizza I've tried outside of Italy.
Le Banetton– And of course, as an ex-French colony, there is a notable French influence in the town, which means you won't find it hard to find a good fresh croissant (such as those served at the renowned Le Banetton), which, when accompanied by a Lao-style coffee (black coffee with a hearty dash of condensed milk) is the perfect start to one's day.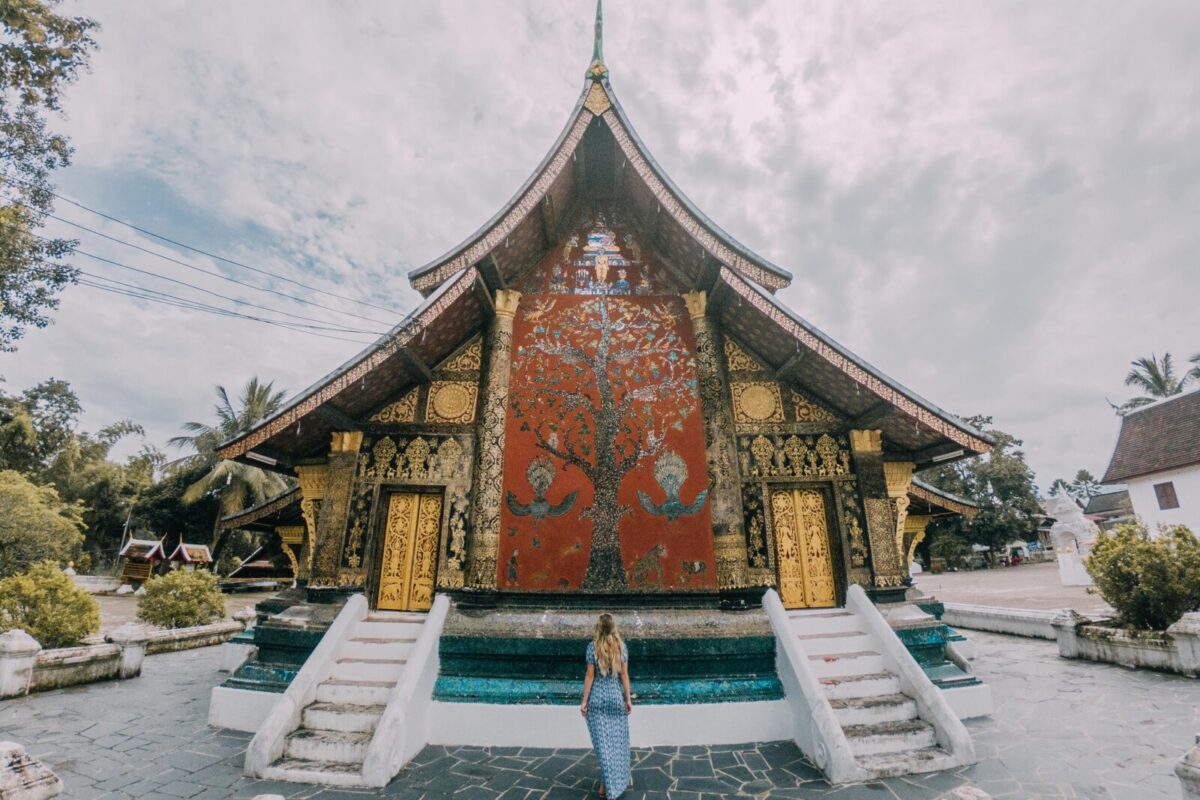 Culture
If you're an aficionado of all things cultural, Luang Prabang is a rather intriguing find. Luang Prabang was historically home to the king of Laos prior to the revolution in 1975, and to this day remains an important spiritual centre. As such, Luang Prabang is host to a plethora of intricately decorated temples and monasteries as well as a royal palace complex, all of which are fascinating to explore. These buildings are only some of the many beautiful UNESCO protected sites of Luang Prabang. Also, as a spiritual hub Luang Prabang is a common pilgrimage destination, and every morning hundreds of monks emerge for almsgiving, an intriguing event to behold.
As for history, as aforementioned, I knew little about Laos before visiting. It was only after talking to Luang Prabang inhabitants and visiting a couple of museums that I discovered Laos' heartbreaking past. Over two million tons of bombs were dropped on Laos during the Vietnam War (as a point of comparison, that is more than the entirety of bombs dropped during World War Two), making it the most heavily bombed country, per capita, in history. The country was absolutely devastated, with each generation continuing to feel the effect of the bombs (as up to 30% of the bombs dropped failed to explode, causing more than 20,000 injuries and fatalities from the end of the war to this day). The economical cost has likewise been severe, with much of the land contaminated with unexploded ordnances (UXOs), leaving it unfarmable. This is a significant contributor to the poverty and malnutrition of the country, leaving Laos as one of the poorest countries in Southeast Asia, with 40% of its children suffering from malnutrition. Paying a visit to the UXO museum provided a sobering but important education to me on the history of the region, and the repercussions that are felt to this day.
Sustainable businesses
One of the things that most impressed me about Luang Prabang was the prominence of sustainable businesses. These businesses are often run by expats working alongside the locals to improve the self-sustainability of the region.
Laos Buffalo Dairy– One example of this is Laos Buffalo Dairy, a dairy farm which rents buffalo from the surrounding farmers to vaccinate, nourish, and milk them. They produce a variety of delicious buffalo milk products at the same time as providing instructions to local farmers on how best to care for the animals, as well as the benefits of milking buffalo as a source of protein (which is especially important considering the impact of malnutrition on the country), all whilst delivering a source of sustainable income for the farmers.
Saffron Coffee– Another great business is Saffron coffee, a crop-to-cup coffee shop that practices sustainable farming at the same time as providing Melbourne-worthy coffee to all coffee addicts craving a fix.
Ock Pop Tok– A third such business is Ock Pop Tok (meaning "East meets West"), a now Laos-wide fair trade business that sells textile and artisanal products of local women utilising traditional methods, and in return provides them with competitive wages, enabling the women to support their families.
Accommodation
Bursari Heritage– If you're wondering where to stay in Luang Prabang, I'd highly recommend our own accommodation- Bursari Heritage, a spa resort consisting of tastefully decorated French-colonial villas built along the bank of the Nam Khan River. The spa treatment included one of the most soothing massages I've ever received, and if you arrange transport from the airport with Bursari they'll pick you up in a black 60's "New York Mobster-esque" Mercedes. Trust me, "it's an offer you can't refuse". Check prices and availability here.
Pullman– If you're after more high-end options, a brand new 123-room Pullman has popped up in Luang Prabang which offers luxury suites that overlook central rice paddies and views of the surrounding mountains. Check prices and availability here.
Rosewood– The Rosewood is another sumptuous option, with rooms varying from gorgeously decorated rosewood villas to a tent perched up on the hill amidst the jungle, all situated around a river and surrounded by lush greenery. Check prices and availability here.
MyLaoHome– Alternatively, if you're travelling on a budget but still appreciate aesthetic accommodation, you can head to MyLaoHome, which is one of a whole series of guesthouses set in French colonial buildings, conveniently located in the middle of town. Benny (who was our tour guide for the week) not only runs this guesthouse, but also offers day or multi-day tours to see the highlights of Luang Prabang.
Getting to Laos
In the past, getting to Luang Prabang from Australia or New Zealand would be a rather tedious journey, involving catching multiple flights with different airlines. Getting to Laos is now easier than ever, thanks to Singapore Airlines offering direct flights between Singapore and both Vientiane and Luang Prabang with their regional airline, Silk Air. We flew directly from Auckland to Singapore with SIA, then caught an easy 3-hour Silk Air flight to Laos. It was such a treat being able to do this whole journey with an airline as safe, reliable and comfortable as SIA!
For more Southeast Asian travel, read these next:
Liked this post on why you should visit Luang Prabang? Pin it for later!
Thank you to Singapore Airlines for supporting this amazing trip!