Wondering what to eat in a city as diverse as Malaysia's capital? Here's my guide to all the best Kuala Lumpur street foods to try!
I may have only had a mere two days to explore the city of Kuala Lumpur, but I made it my goal to sample as much local cuisine as I could! The goal was to find out how much I could fit in my stomach in a short space of time.
From the intense spiciness of the laksa and the curries to the decadent sweetness of the shaved ice desserts and iced coffees, I was able to sample from every end of the spectrum. If you are planning a trip here, here's the ultimate Kuala Lumpur street food guide!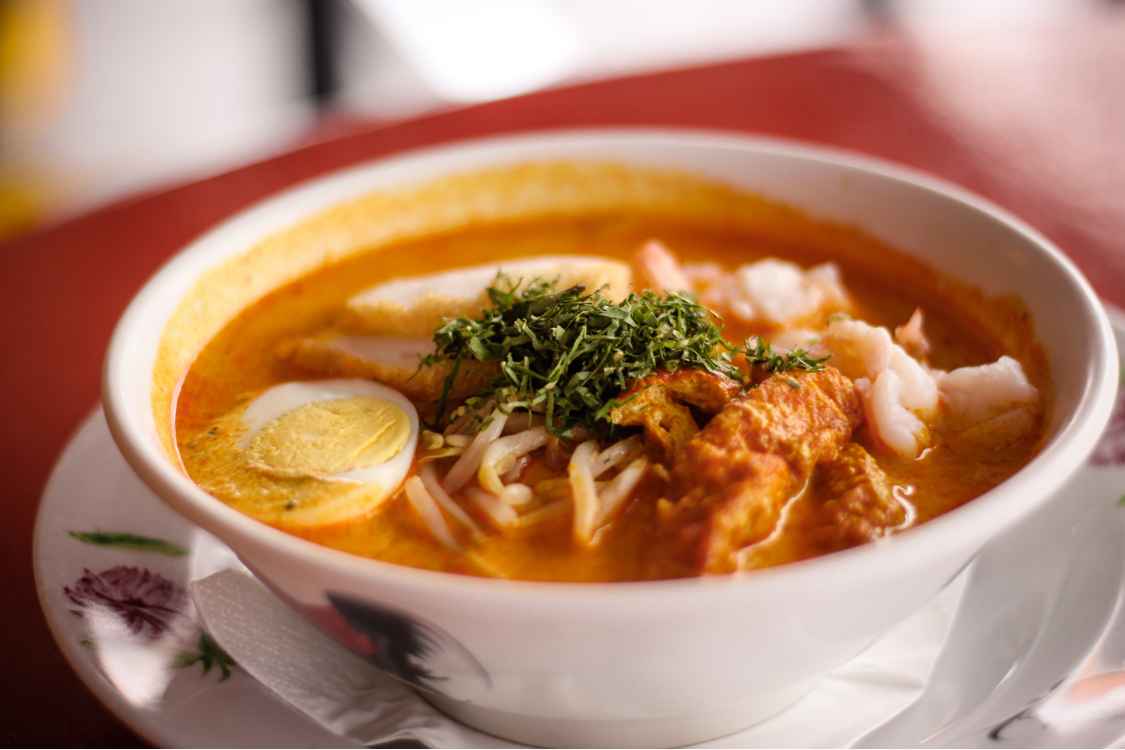 1. Laksa
You can't leave Kuala Lumpur without trying Laksa! This famous Malay dish is made of rice noodles and chicken, prawn or fish, served in a rich, spicy broth made of curry coconut milk or sour asam. I'd recommend trying it at Little Penang Café.
2. Banana Leaf Rice
In the colourful neighbourhood of Brickfields, you'll find Kuala Lumpur's version of Little India. Head to one of the rustic, family-run restaurants to sample different types of fragrant curries on banana leaf plates. Make sure you eat in true Malaysian style- with your hands!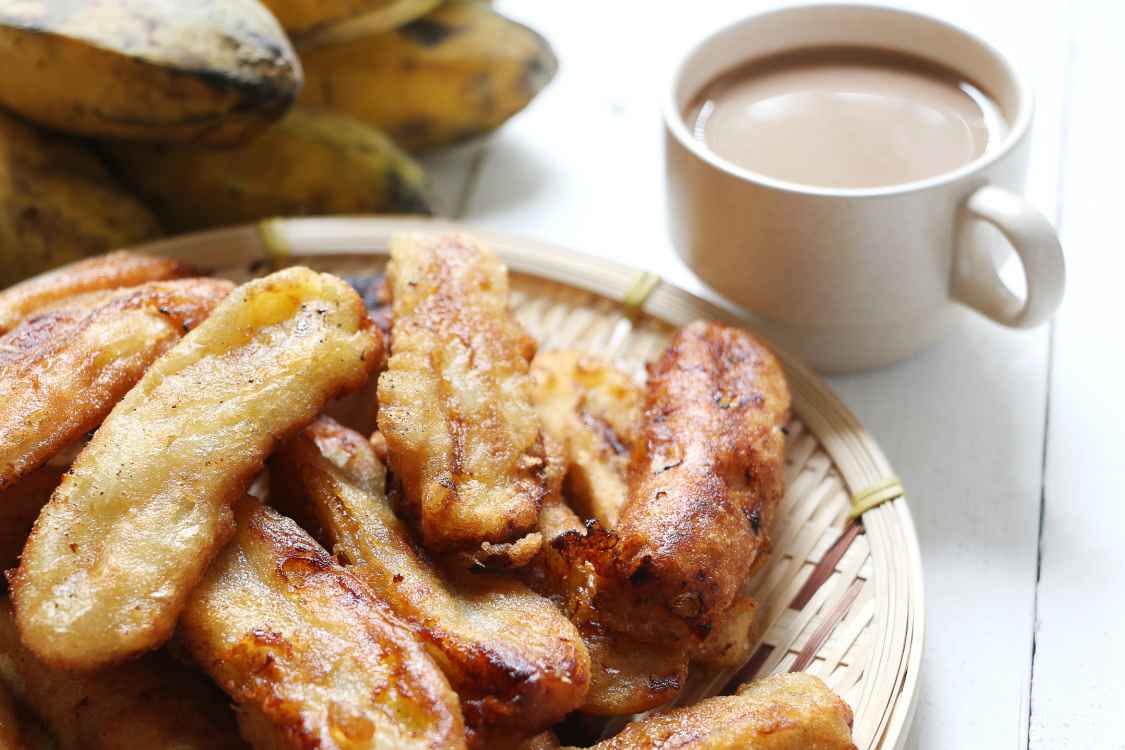 3. Pisang Goreng
Swing by a street vendor and pick up some fresh banana fritters, or pisang goreng as it is called in Malaysia. Bananas are dipped in batter and deep-fried till golden perfection! Crisp on the outside and sweet and moist on the inside, it is one of Kuala Lumpur's best street foods.
4. Chendol
Another favourite local dessert in Kuala Lumpur is Chendol. The dessert consists of shaved ice, green rice flour jelly noodles, coconut milk, palm sugar syrup, and red beans. This sweet, cold delight is a welcoming way to cool down in the Malaysian heat.
5. Kopi Tarik
When you're in Kuala Lumpur make sure you head into an old-school coffee house. Sample the famous kopi tarik (iced coffee), which is made up of coffee, condensed milk and sugar. This typically comes served in their version of a takeaway cup – a plastic bag with a straw stuck in the side!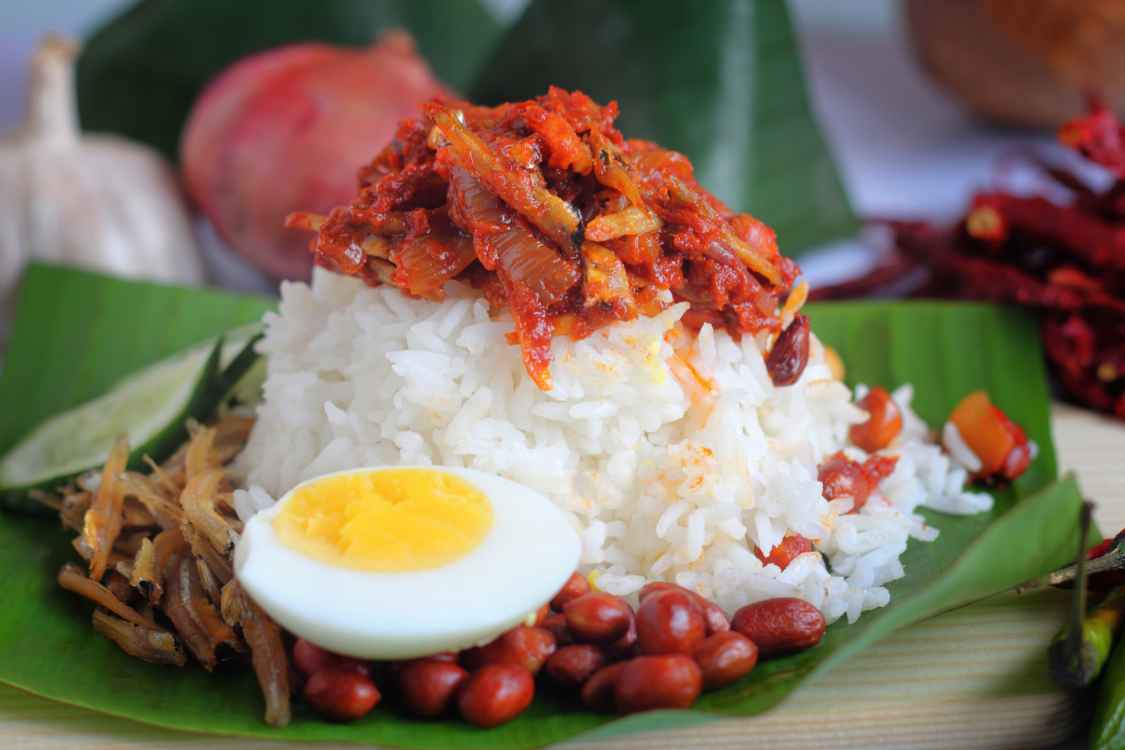 6. Nasi Lemak
Nasi Lemak is a fragrant rice dish cooked in coconut milk and Pandan leaf. It is often served with fried chicken wing, fried anchovies, peanuts, cucumber, tomato and a hard-boiled egg. Madam Kwan does a particularly good version of this street food.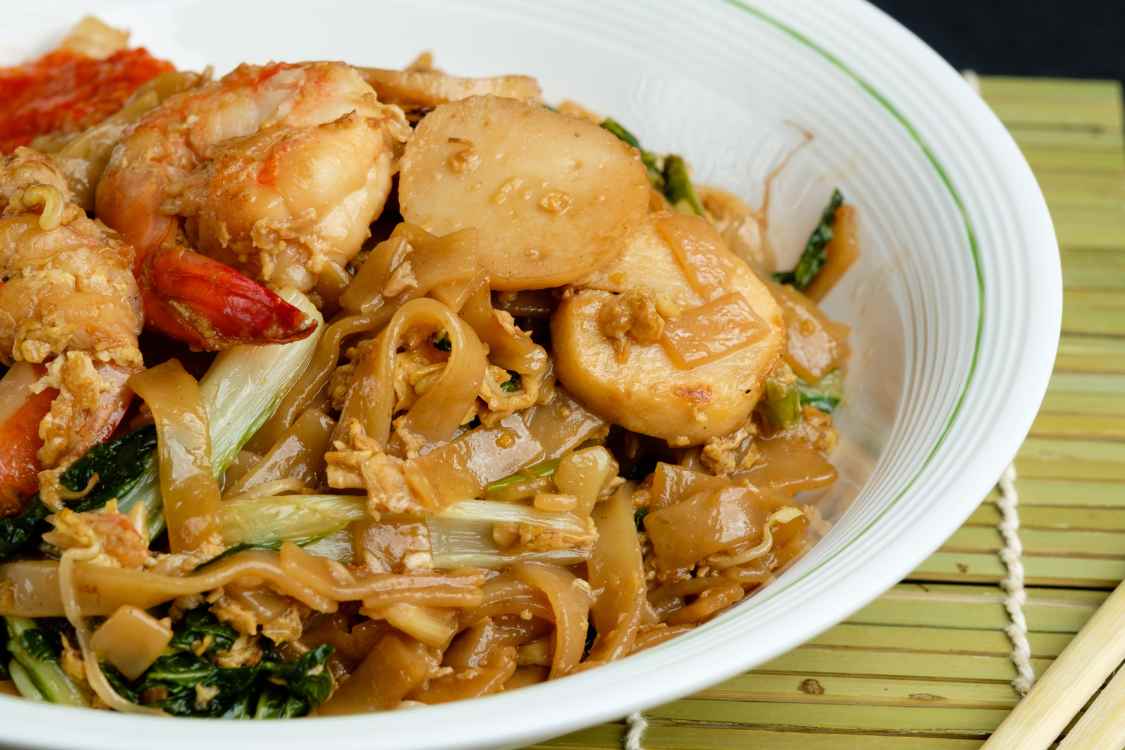 7. Char Kway Teow
Char Kway Teow is a popular street food made with flat rice noodles, prawns, Chinese sausage, bean sprouts, and chives, all stir-fried together in a flavorful mix of soy sauce and spices. It's a delightful dish that showcases the Chinese influence on Malaysian cuisine.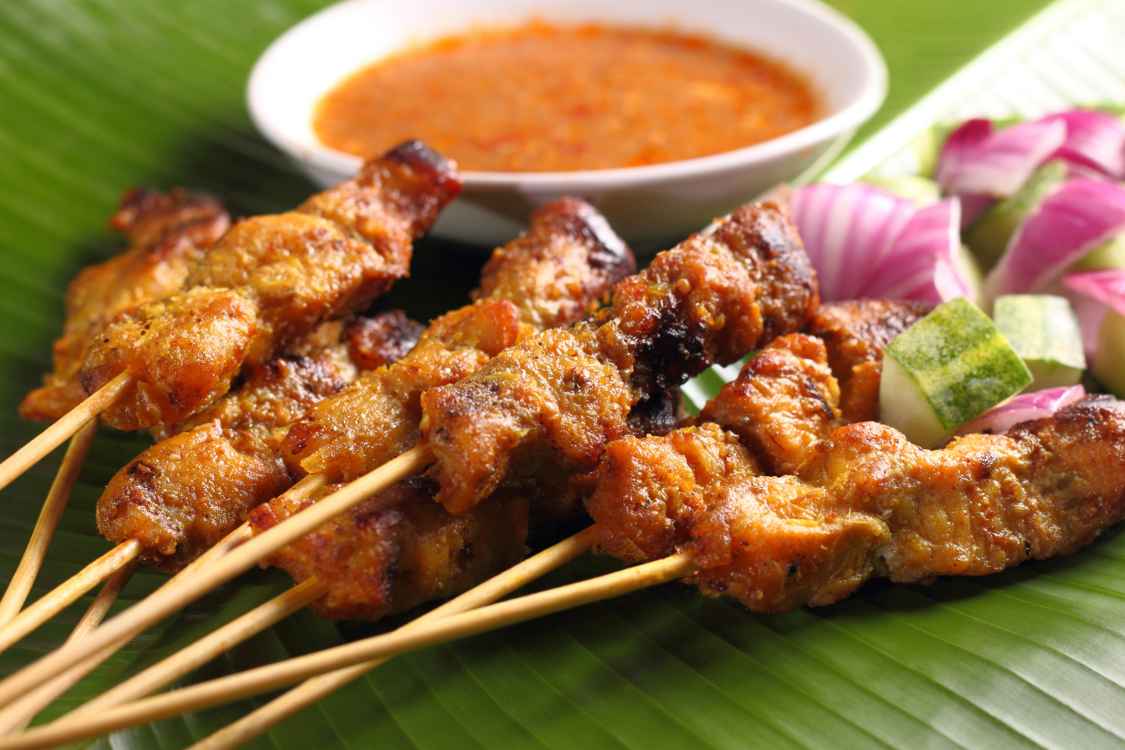 8. Satay Skewers
Satay is a favourite street snack in Kuala Lumpur among locals and visitors alike. These succulent skewers of marinated meat, usually chicken, beef, or lamb. They are grilled to perfection and served with a side of peanut sauce, cucumber, and rice cakes.
9. Roti Canai
Originating from Indian cuisine, Roti Canai is another popular street food in Kuala Lumpur, particularly around breakfast time. This flaky, crispy flatbread is typically served with various accompaniments such as dhal, chicken or mutton curry.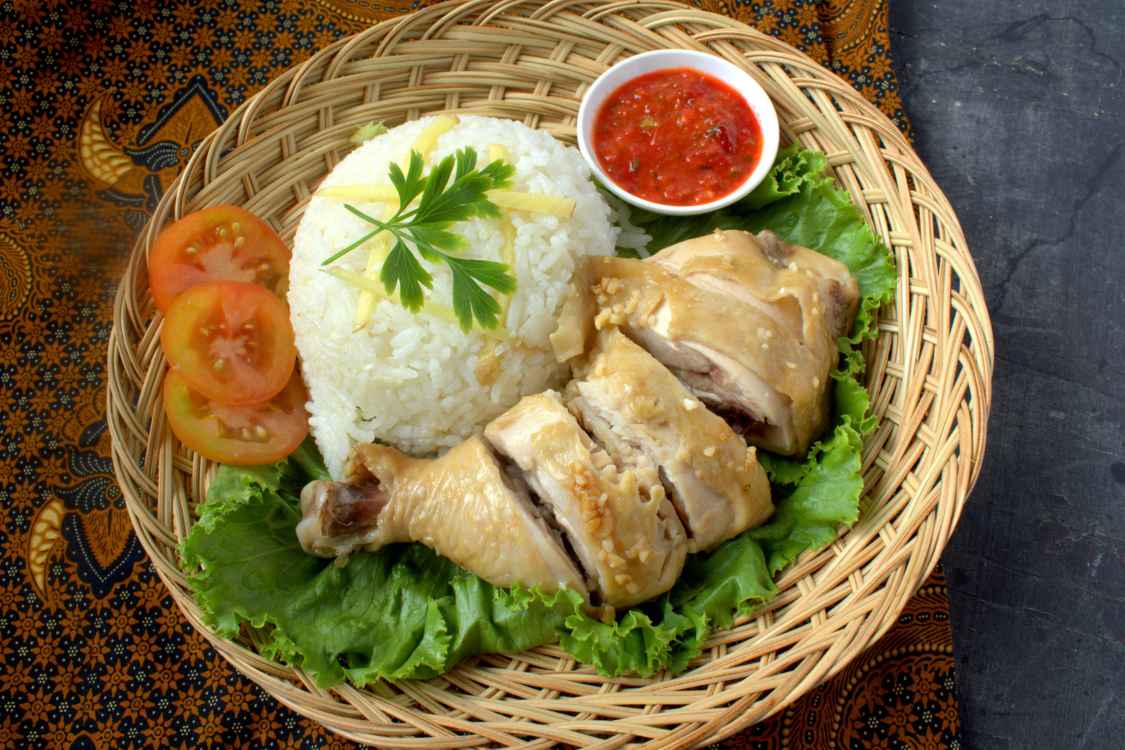 10. Hainanese Chicken Rice
Hainanese Chicken Rice is a beloved dish that has found a home in Kuala Lumpur's culinary landscape. Tender poached chicken is served with fragrant rice, accompanied by chili sauce, ginger paste, and a light soy-based dip.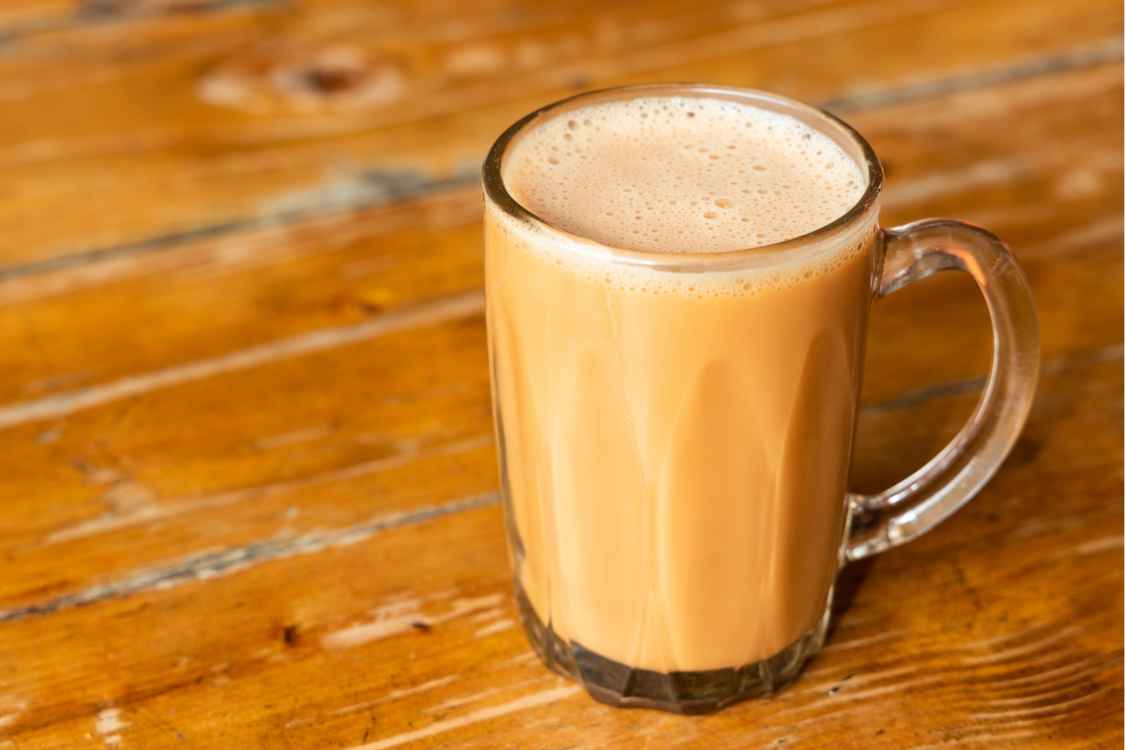 11. Teh Tarik (Pulled Tea)
Made from black tea and condensed milk, Teh Tarik is one of Malaysia's favourite drinks. If you are wondering about the name, pulled Tea comes from the pouring process of "pulling" the drink during preparation.
Kuala Lumpur street Food TOUR
if you want to experience the best of Kuala Lumpur street food, I'd highly the Kuala Lumpur Food Experience. This 3-hour walking tour takes you through hidden backstreets and narrow alleyways of the city.
The tour is a great opportunity to sample some of the best local cuisine around. It was also a chance to learn about the history and melting pot of cultures that make up this diverse city.
Where to Stay in Kuala Lumpur
During my time in Malaysia, I stayed in a two-bedroom apartment at Ascott Kuala Lumpur. Situated in the heart of the business and entertainment district, the serviced residence could not be located in a better position for exploring the city.
The most impressive part of Ascott Kuala Lumpur would have to be the facilities level. Located on this level is a giant outdoor pool, a jacuzzi, a spacious gym, a day spa and a guest lounge, all with prime views over the city!
If I have one piece of advice for you before planning your Kuala Lumpur food visit… Come with an empty stomach and be ready to immerse yourself in a diverse and delicious cultural experience!
For more Southeast Asia travel, read these next:
Like this Kuala Lumpur food guide? Pin for later!
I was invited to stay as a guest at Ascott Kuala Lumpur, however as always, all opinions are my own.