Wondering what to eat in a city as diverse as Malaysia's capital? Here's my guide to all the best Kuala Lumpur food to try!
I may have only had a mere two days to explore the city of Kuala Lumpur, but I made it my goal to sample as much local cuisine as I could! The goal was to find out how much I could fit in my stomach in a short space of time. From the intense spiciness of the laksa and the curries to the decadent sweetness of the shaved ice desserts and iced coffees, I was able to sample from every end of the spectrum.
If you are planning a trip here, here's the ultimate Kuala Lumpur food guide!
Kuala Lumpur Food Guide: 4 Ways to Explore
1. Go on a Food Tour
The highlight of my time in Kuala Lumpur was the fantastic KL food tour. The Kuala Lumpur Food Experience was a 3-hour walking tour which took us through the hidden backstreets and narrow alleyways of the city. The tour was a great opportunity to sample some of the best local cuisine around. It was also a chance to learn about the history and melting pot of cultures that make up this diverse city. Check here for prices & availability
Stop 1: Little India
We started the tour in the colourful neighbourhood of Brickfields, which is considered Kuala Lumpur's Little India. Our first stop was a very rustic, family-run restaurant, where we sampled different types of fragrant curries on banana leaf plates and ate in true Malaysian style- with our hands! After our Indian feast, we continued strolling through the neighbourhood to a street vendor that sold tea-time snacks. We collected goodie bags filled with curry puffs, white lentil doughnuts, and my personal favourite- banana fritters. After this, we moved on to another street vendor to sample a favourite local dessert called 'Chendol'. Consisting of shaved ice and a range of toppings, it was a welcoming way to cool down in the Malaysian heat.
Stop 2: Chinatown
Our next stop was Chinatown, where we wandered down a little laneway and into an old-school coffee house. Here, we sampled their famous iced coffee, which was made up of coffee, condensed milk and sugar, served in their version of a takeaway cup – a plastic bag with a straw stuck in the side! After the caffeine fix, we wandered further through markets filled with fresh fish, fruits, and vegetables, and out on to the lively main street of Chinatown. Our next and final stop on our tour was a noodle house, where we sampled three different types of Chinese noodles, including Loh Shu Fan (which rather unfortunately translates as rats' tails due to the noodles uncanny resemblance).
2. Eat (& Shop) at Shopping Malls
Kuala Lumpur is home to some of the most impressive shopping malls in Asia. In Malaysia, malls aren't only a place locals come to shop, they also come to these complexes to eat! Coming from Australia, the idea of eating inside a shopping mall conjures images of having fast food in dirty food courts. Yet in Kuala Lumpur (and many large Asia cities), this is where you find some of the most popular dining establishments! Malaysians love spending their time away from the humidity and inside malls with air conditioners. Hence the plethora of good restaurants and cafes you can find inside. The two I would recommend would be Little Penang Café for Laksa and Madam Kwan's for Nasi Lemak.
3. Dine with a View
Fine dining restaurants and bars with a view are a popular hit in Kuala Lumpur. One of the most popular establishments is the Troika Sky Dining complex, which is a collection of restaurants and bars on the 23rd floor of a building, offering epic views over the city. I visited Fuego, which offered a divine range of tapas and unique cocktails to match. Highlights of the menu included the signature guacamole, soft-shelled crab, ceviche, and churros (they were easily the best ones I've ever had). Another amazing bar worth checking out is Sky Bar, which has unbeatable views over the iconic Petronas Twin Towers.
4. Tick Off the Local Food Bucket List
The best way of experiencing the local food culture is simply trying as many local dishes as you can. Here is a list of dishes I'd recommend to include in your food bucket list when in Malaysia:
Laksa
A spicy noodle soup consisting of rice noodles with chicken, prawn or fish, served in a rich, spicy broth made of curry coconut milk or sour asam.
Nasi Lemak
A fragrant rice dish cooked in coconut milk and Pandan leaf, often served with fried chicken wing, fried anchovies, peanuts, cucumber, tomato and a hard-boiled egg.
Ice Chendol
A sweet treat made out of palm sugar, coconut milk, jelly, shaved ice
Teh Tarik (Pulled Tea)
Made from black tea and condensed milk, Teh Tarik is one of Malaysia's favourite drinks. If you are wondering about the name, Pulled Tea comes from the pouring process of "pulling" the drink during preparation.
Pisang Goreng (Banana Fritters)
You can't leave Malaysia without trying this popular local snack. Pisang Goreng is a banana covered in batter and deep-fried till golden brown. Sweet and moist on the inside, it is best eaten hot from a street vendor.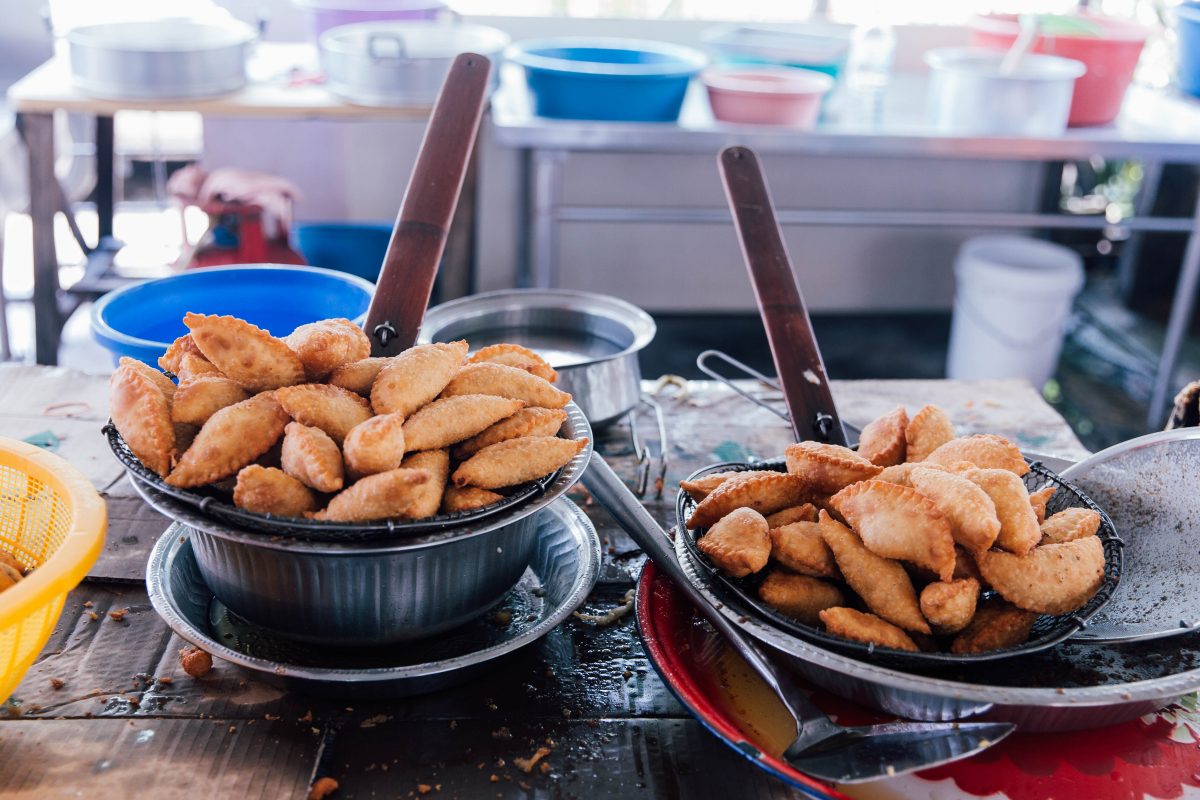 Where to Stay in KL
During my time in Malaysia, I stayed in a two-bedroom apartment at Ascott Kuala Lumpur. Situated in the heart of the business and entertainment district, the serviced residence could not be located in a better position for exploring the city. Ascott Kuala Lumpur is just a stone's throw away from many of the city's hotspots, including the iconic Petronas Twin Towers and the massive KLCC shopping centre and its adjoining park.
Book a stay now or check here to compare prices & availability
The apartment we stayed in was super spacious, with two bedrooms, two bathrooms, a massive living room, and a kitchen. Alongside the standard one-bedroom apartments, the serviced residence also offers options up to three-bedroom apartments, making it a very popular choice among families. Ascott Kuala Lumpur had a renovation in 2014 to enliven the place. The décor is tasteful and homely, which means the apartments feel more like a home away from home rather than a typical hotel room.
The most impressive part of Ascott Kuala Lumpur would have to be the facilities level. Located on this level is a giant outdoor pool, a jacuzzi, a spacious gym, a day spa and a guest lounge, all with prime views over the city! The property also offers a tennis court, children's playground and an endless list of amenities including dry cleaning, airport transfer, room service and housekeeping service.
Within the vicinity, you can also find Ascott Sentral Kuala Lumpur and Somerset Ampang Kuala Lumpur offering you great accessibility to various places of interests. You can also check out Ascott's range of luxury serviced residences around the world here.
If I have one piece of advice for you before planning your Kuala Lumpur food visit… Come with an empty stomach and be ready to immerse yourself in a diverse and delicious cultural experience!
My General Travel & Photo Tips:
Travel Insurance
I highly recommend getting travel insurance before ANY international trip. World Nomad's offer the most flexible worldwide cover that I have come across, and you can purchase a policy online, even if your trip has already commenced. If their prices are too high for you, you can also check out SafetyWings, though SW doesn't cover tech.
Booking Flights
To book flights, I always use flight search engine, Skyscanner. I find it the easiest way to compare flight prices across airlines and get the best deals. Skyscanner also have a free App (available on iOS or Android) which is great for booking flights on the go.
Photography Gear
Here is a list of the photography gear that I always travel with:
Photo Editing
I use Lightroom and Photoshop to edit all my photos. Both these programs are included in the Adobe Creative Cloud subscription (which you can get a free 30-day of here).
For more Southeast Asia travel, read these next:
Like this Kuala Lumpur food guide? Pin for later!
I was invited to stay as a guest at Ascott Kuala Lumpur, however as always, all opinions are my own.