If you're looking for the perfect 3-day itinerary for Singapore, I put together a guide from my trip!
Despite flying through Singapore at least a dozen times in my life, ashamedly, I had never managed to leave the airport and explore the city! (Although, let's be honest, Changi Airport is basically a city in itself).
Finally, the opportunity arose for me to explore this tiny, dynamic country. After spending nine days tantalizing my taste buds with local delicacies at hawker centres, ogling at the city's cutting edge architecture, and sipping on Singapore Slings at rooftop bars, I was really questioning why it had taken me so long to explore this buzzing metropolis!
I spent nine days altogether in Singapore, and on three of those days I had the pleasure of staying at the brand new Ascott Orchard. During this time, the friendly hosts at Ascott ensured I made the most of my time. They arranged an array of cultural and gastronomic experiences around the city. For anyone planning to spend a few days in Singapore, here is the three-day itinerary that I followed:
The Perfect 3-Day Itinerary for Singapore
Day One
Breakfast: Kaya Toast
To start off this itinerary for Singapore, I headed out to try the most popular breakfast in town – Kaya Toast. For those wondering, Kaya is a very sweet coconut jam. It is generally enjoyed by locals slathered on toast with a generous dollop of butter. You'll find it served with soft-boiled eggs and a (sickly) sweetened coffee. I tried Kaya Toast at a place called Ya Kun Kaya Toast, which is a chain of coffee shops that you can find across Singapore. My thoughts on Kaya? A delicious, diabetic nightmare. I remained on a serious sugar high for the rest of the day.
Morning: Cooking Class
After breakfast, I headed to Singapore's Chinatown to take part in a cooking class at Food Playground. I spent the next few hours learning about Singapore's traditional cuisine and then attempting to make some of the local dishes! It was fascinating to learn that Singaporean food has been derived from array of cuisines, most notably: Chinese, Indian, Malay (which makes sense, given these are Singapore's most prominent ethnicities).
The first thing we cooked in our class was Satay, a much-loved street food amongst Singaporean locals. I thought I was doing really well with my satay sauce until my cooking teacher tried some and almost spat it out! It turned out that I had managed to add a tablespoon of salt instead of sugar and ruined the entire thing! The next dish we whipped up was Char Kway Teow, a very simple yet tasty fried noodle dish. Finally, for dessert, we made Kueh Dar, which are pandan pancakes with coconut filling, which were absolutely delicious. Luckily, I managed to not mess up the final two dishes, which meant when it was finally time to eat I had something edible to munch on.
The class was the perfect hands-on way of diving deeper into Singaporean cuisine and it was great coming away knowing new cooking skills (like realizing the difference between salt and sugar!). They even provided the recipes of what we cooked so we could go home and try them ourselves. I also really loved that the Food Playground operates as a social enterprise, providing employment opportunities to stay-at-home mothers and active seniors by hiring them as cooking teachers! Check here to book your own class
If Food Playground is booked up, try a traditional snacks cooking class, an ondeh ondeh and chicken rice class, or a 3-hour class with a local.
Afternoon: Chinatown
Once I had successfully become a MasterChef, I spend the rest of the afternoon exploring Singapore's famous Chinatown, taking time to absorb the city's rich Chinese history and culture. I wandered down narrow alleyways, stumbling upon traditional Chinese tea shops, sampling street food at hawker centres, and admiring the temples scatted around the place.
Some places worth checking out include:
Chinatown Street Markets– If you are into souvenir shopping, Pagoda Street is the place to go. Filled with street vendors selling all sorts of interesting trinkets and generic souvenirs, the markets are a great place to score a bargain.
Maxwell's Hawker Centre– Arguably one of the best Hawker Centres around (which, if you are wondering, are like open-air food courts dedicated to selling street food), a visit to Chinatown isn't complete without trying a few Singaporean specialities, including the famous Tian Tian Chicken on Rice.
Buddha's Tooth Relic Temple – This temple was built in recent years. However, its ornate interiors contain comprehensive art and history exhibits that tell hundreds of years of history.
For a more guided experience of Chinatown, check out this food tasting and walking tour.
Evening: Cocktails at 1-Altitude
Singapore has no shortage of rooftop bars with incredible views over the city, so I decided to head straight to the top- 1-Altitude Bar, the highest alfresco bar in the world. Admittedly, the place is a tourist haven. For a steep $30 entry fee (including a drink), it's unsurprising that there aren't many locals about. However, the cocktail was delicious and the 360 views over Singapore were truly spectacular, so I had no regrets about my decision. If you decided to visit, make sure you do so at sunset to get the best view possible!
Day Two
Breakfast: Arab Street
I headed to Arab Street bright and early. It was a delight to the senses- my eyes were filled with the vibrant colors of the textile shops lining the streets, my nose with the rich aroma of curry wafting out of the restaurants, and my ears with the call of prayer floating out of the mosque across the street. I headed to Zam Zam Singapore and sampled Prata, which is a delicious Indian roti bread that you can only find in Singapore, normally served with a small curry. After this, I perused the vibrant streets for awhile before getting trapped in a massive thunderstorm.
Morning: National Museum
My next stop was the National Museum of Singapore, which dates back to 1887, is the oldest museum in the country. Luckily, this establishment isn't a conventionally dull history museum, as I tend to avoid those places. Instead, the museum adopts modern, multi-modal ways of presenting history and culture, hosting a range of festivals, art installations and special exhibitions throughout the year. For example, during my visit, I explored a fascinating exhibition titled "What is not visible is not invisible", which was an interactive collection of installation artworks by international artists.
Book tickets to the museum here
Lunch: Dim Sum
After the museum, I headed to Din Tai Fung for Dim Sum. I could not believe the quality of the food here, given it is a chain restaurant. Here, I literally ate the best dumplings of my entire life! There is even a glassed-in kitchen in the centre of the restaurant, which means you can also watch the chefs hard at work making dumplings!
Afternoon: Gardens by the Bay
It was finally time to visit Singapore's most popular tourist attraction, Gardens by the Bay. Spanning across 250 acres of reclaimed land, it was a great place to go to escape from the concrete jungle. (Although there was no escaping the crowds!)
Gardens by the Bay is comprised of several different indoor and outdoor gardens. Whilst the outdoor gardens are free, you have to purchase tickets to visit the indoor gardens. This includes the Flower Dome, which encompasses several different gardens representing regions across the world, and the Cloud Dome, which features a 35-meter waterfall and spectacular array of tropical plants.
My favorite part of the gardens was the Supertree Grove, which features giant, tree-like structures with vertical gardens. At night, these structures came alive in an elaborate sound and light show, which really made me feel like I was in Avatar.
Get tickets and skip the line to Gardens of the Bay here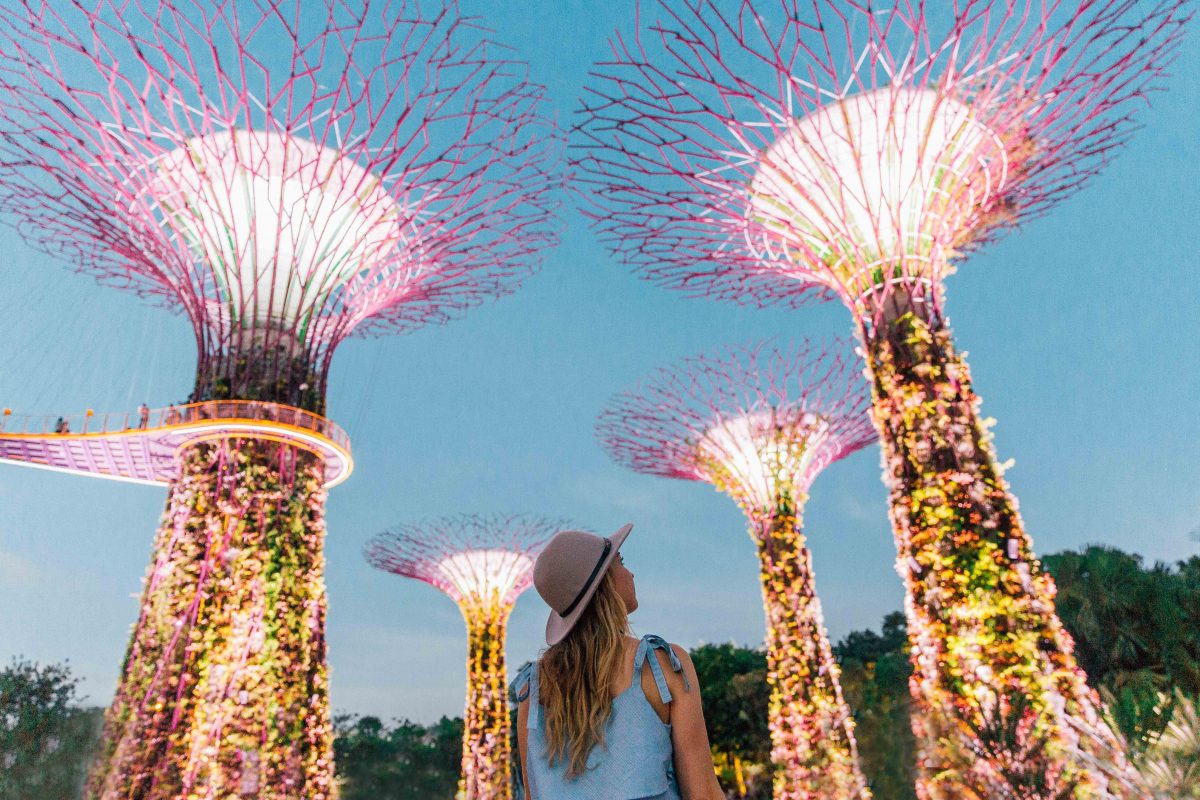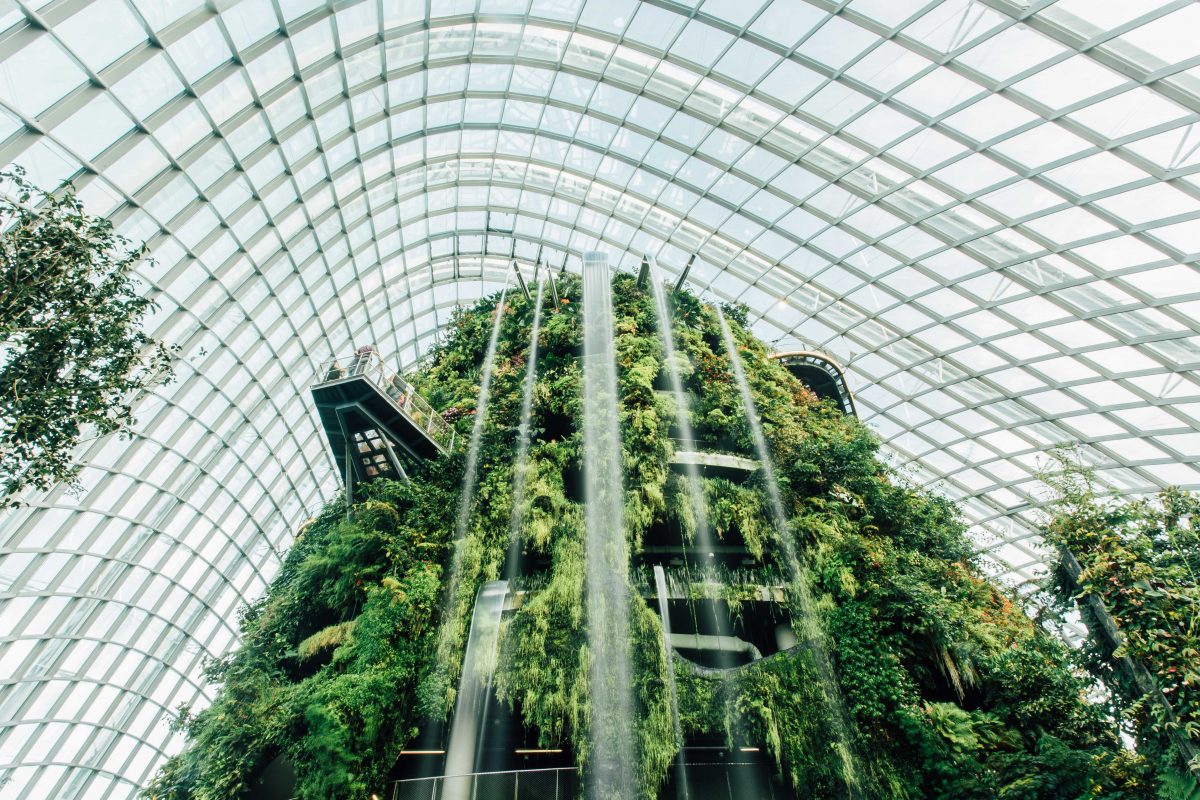 Night: Satay by the Bay
After watching the Supertree light show, I headed to Satay by the Bay, which is a hawker center located down by the water next to Gardens by the Bay. As I entered, the smell of rich satay sauce filled my nose.
But instead of sampling the skewered nutty goodness, I opted to try a local favorite- carrot cake. Despite the name, carrot cake actually does not contain any trace of carrots and is most definitely not a cake! Instead, it consists of rice flour combined with radish mixed with egg, and you can get a white version which comes plain, or a black version that comes with a sweet, dark sauce. It is definitely one of those things that tastes better than it sounds!
Buy a voucher to Satay by the Bay here
Day Three
Morning: Mount Faber Cable Car to Sentosa
I woke up bright and early and caught an taxi over to Mount Faber. Here's where I caught the cable car over to Sentosa. You can easily drive to the island. However, I figured I would take the novel way of getting there and soak in a nice view of Singapore whilst I was at it.
Sentosa is a resort island located just half a kilometre away from the south coast of Singapore. It's insanely popular with tourists and locals alike- attracting over 20 million visitors per year. Here, you'll find 14 hotels, a 2-km stretch of man-made beach, 2 golf-courses and a massive range of attractions, including a water-park, luge track, and Universal Studios. It feels worlds away from the high-rises and traffic jams of the city. It's the perfect place to escape for the day (or the weekend)!
Get cable car passes here and get a Sentosa FUN pass here
Afternoon: Universal Studios
As an absolute theme park fiend, I knew that the one thing I HAD to do on Sentosa was visit Universal Studios. I've been to Universal Studios in Japan and in LA and loved them both, so I thought it was time to tick USS off my list!
Although smaller than its international counterparts, USS still has a solid range of rides, attractions, and shows. I ended up purchasing an express pass for the rides so I didn't have to waste the day queuing up, and it turned out to be a very worthwhile investment. I managed to ride the four big rides in less than an hour!
Get tickets to Universal here and express pass here
Evening: Walk the Southern Ridges and Henderson Wave Bridge
After an adrenaline-filled day at Sentosa, I headed back on the cable car to Mount Faber. But the day wasn't over yet! I decided this was the perfect opportunity to walk the Southern Ridges. It's a 9km trail connecting a series of parks along the southern ridge of Singapore.
It was so nice to FINALLY be surrounded by nature. I was also pleasantly surprised by how much green space there actually is in this city! A highlight of the track is the Henderson Waves Bridge, which connects Mount Faber with the neighbouring Telok Blangah Hill Park. The bridge itself is a pretty unique architectural feat, and is particularly cool when viewed at nighttime!
Night: Chili Crab at Red House
To end this perfect itinerary for Singapore, I knew it was time to try one of the most famous local dishes- Chili Crab. I headed to Red House Seafood, which has been an institution for Chili Crab since 1976. This dish does not come cheap, nor does it come without getting your hands messy. VERY messy. But there is nothing that a bib, a few (hundred) moist towelettes and a bowl of water can't fix.  And after sampling the sweet taste of this chili-drenched crustacean and lapping up the rich sauce with fried buns, I knew it was all worth it.
Tips for this Itinerary for Singapore
Where to Stay in Singapore
Throughout my three days of adventure, I stayed in a one-bedroom premier apartment at the brand new Ascott Orchard Singapore. The property is located on Orchard Road, which is at the very heart of Singapore's shopping and business district.
From the moment I walked through the doors, I knew this wasn't going to be another generic serviced apartment block. Adorned with designer décor (think Chanel handbags in glass cabinets) and a strict monochromatic colour scheme, the property exudes luxury from top to bottom.
This place is a haven for designer-brand lovers. It's steps away from Singapore's famous Orchard Road (lined with class shopping malls). Real fans can even opt to stay in one of the presidential apartments. Said apartments have been entirely decked out by Fendi.
After the past few months jumping from hotel room to hotel room, being in a serviced apartment was a refreshing change. It was great to have a lounge room to spread out in! Not to mention a proper kitchen to cook in, and a washing machine to do my laundry (at long last)! The apartment was filled with luxurious touches. This includes a freestanding bathtub with views over the city, Nespresso machine and fluffy bathrobes.
Although Ascott is an apartment complex, it still offers all the luxuries of a 5-star hotel. This includes daily cleaning, turn-down service, and a concierge. The property also has a luxurious pool, jacuzzi, and gym on site. It also has a third-party café where breakfast is served daily.
It was the perfect little home away from home during my 3 days in Singapore.
Compare all hotels in Singapore here
How to Get to Singapore
Being an international hub, Singapore is one of the most easily accessible places to get to! This is due to the high volume of flights flying from/ through/ to Changi Airport.
From Australia, you'll find many low cost carriers such as Jetstar and Scoot offering return flights as affordable as $299. Singapore is also the perfect gateway to the rest of Asia. You'll also find a HUGE volume of ridiculously cheap flights to nearby countries. Just download the free Skyscanner App (available on iOS or Android), search from Singapore to "Everywhere", and you'll see what I mean!
Packing for Singapore
The country is pretty much hot and humid all year around, so you want to dress accordingly. Stick to loose, breathable fabrics and, of course, a hat to protect you from the sun! You can see my favorite ethical brands here, and shop some of my recommended items below:

Travel Insurance
I highly recommend getting travel insurance before ANY international trip. World Nomad's offer the most flexible worldwide cover that I have come across, and you can purchase a policy online, even if your trip has already commenced. If their prices are too high for you, you can also check out SafetyWings, though SW doesn't cover tech.
For more of my Singapore travels, read these posts:
What are the best places to visit in Singapore in 3 days for you? Let me know in the comments below!
Enjoyed this 3-day itinerary for Singapore? Pin it for later!