From riverside igloos to retro pastel fit-outs, flower walls to former loos… Here are 19 of the most instagrammable cafes in London in 2023.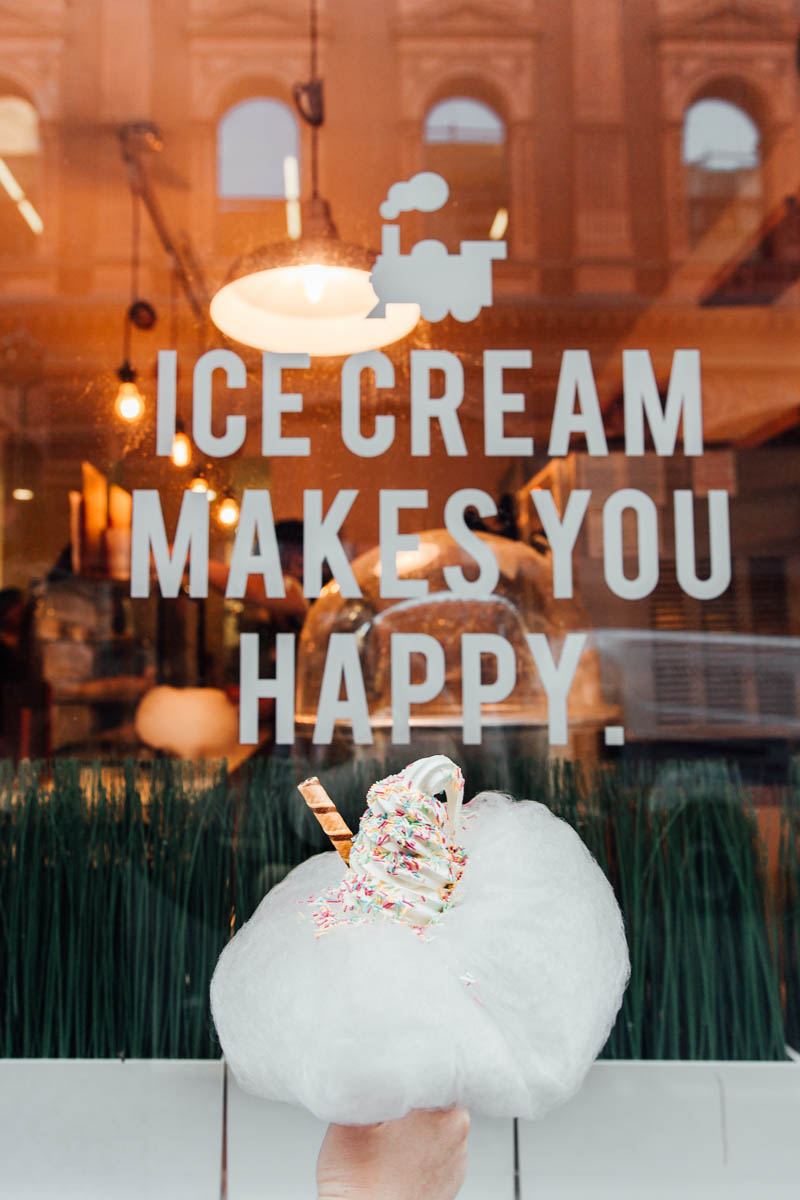 "Camera eats first."
No phrase could be more true when it comes to eating out these days. It's no surprise that more and more cafes are popping up across London with ridiculously aesthetic decor, and food to match.
If you're looking for an Instagrammable cafe in London that boasts both style and substance, look no further. Each venue features a mouth-watering menu selection along with endless opportunities to snap away for the 'gram!
1. DYCE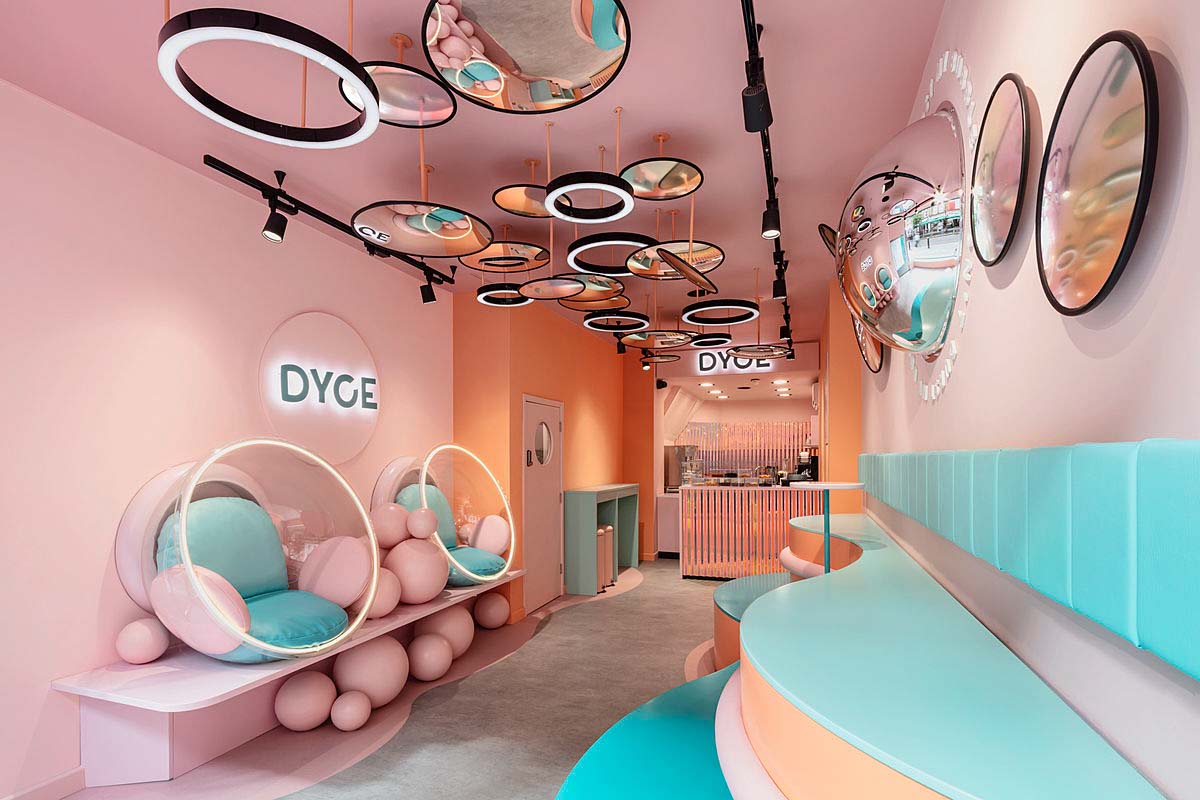 By Sanika from Trailing Pages
Instagrammable cafes are an ever-growing concept in London. One place leading the charge is DYCE London, a dessert parlour and brunch spot in Marylebone. Winner of the Restaurant & Bar Design Awards in 2020, this place is worth the travel across London!
It's hard to miss DYCE cafe- the retro pink and blue interior stands out from the street. Mirrors hang from the ceiling and on the walls, creating the perfect Instagram selfie opportunity. The food is equally as Instgrammable, with every dish plated to photogenic perfection.
What to order: Alongside brunch classics like avocado toast and acai bowls, DYCE has a few signature menu items that you don't want to miss. The lotus biscoff hot chocolate is as delectable as it sounds. The 'doffles', an extravagant combination of waffles and a doughnut, are another must-try.
Address: DYCE London, 27 James St, London W1U 1DX
2. The Glade at Sketch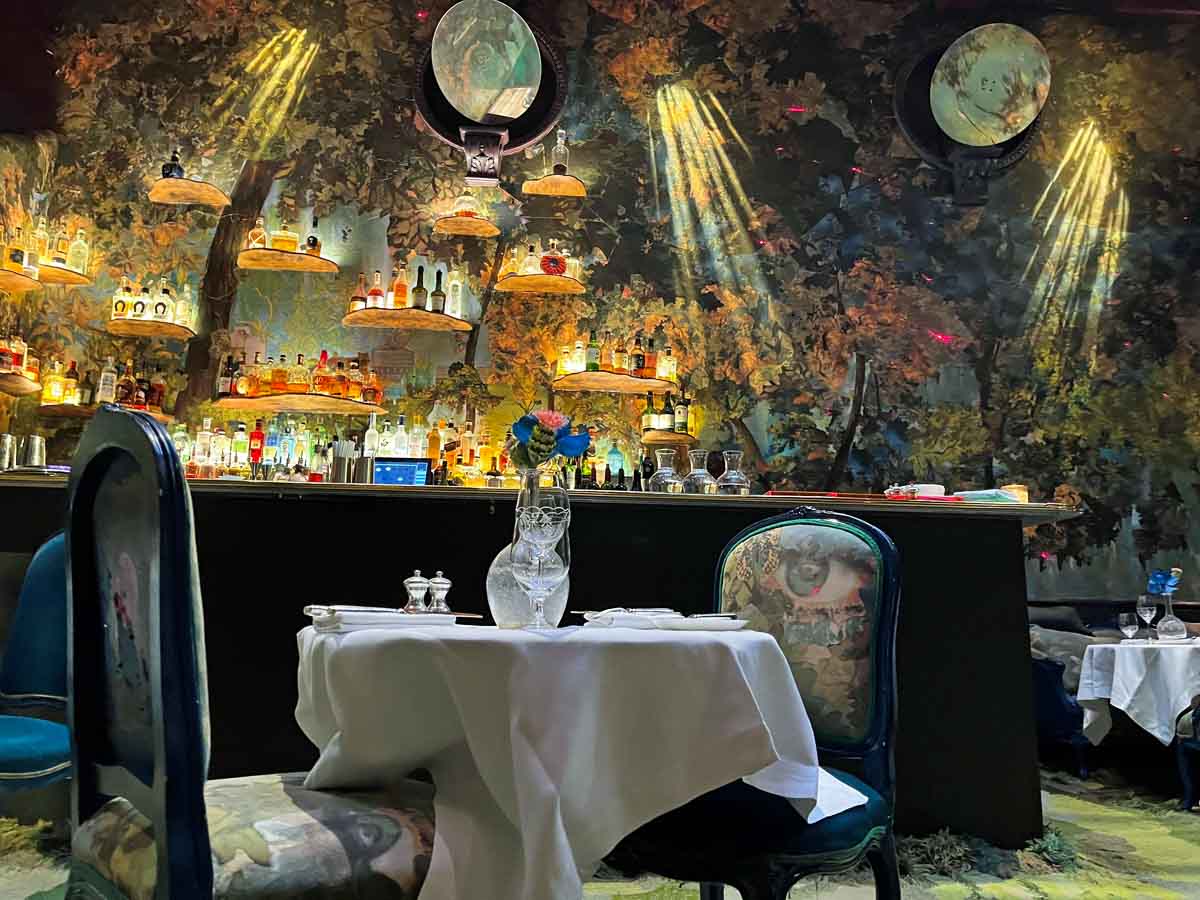 By Kristin from Scotland Less Explored
Sketch is without a doubt one of London's most Instagrammable hotspots. Home to four different restaurants, none is more photogenic than The Glade. With walls elaborately decorated with foilage, the space literally feels like an open space in a forest.
The Glade is open for breakfast and lunch, although tables are notoriously difficult to get without a reservation. In the evenings, the space turns into a walk-in cocktail bar. There's always a wait, but worth it to have a drink under the amazing forest canopy. Plus, you don't want to miss the photo opportunity in the iconic Sketch bathrooms!
What to order: If you come for breakfast, the acai bowl or the tempura eggs are solid choices. Lunch is a 2 or 3-course fixed-price menu, with the theme of the lunch menu changing throughout the year.
Address: 9 Conduit St, London W1S 2XG
3. Duck & Waffle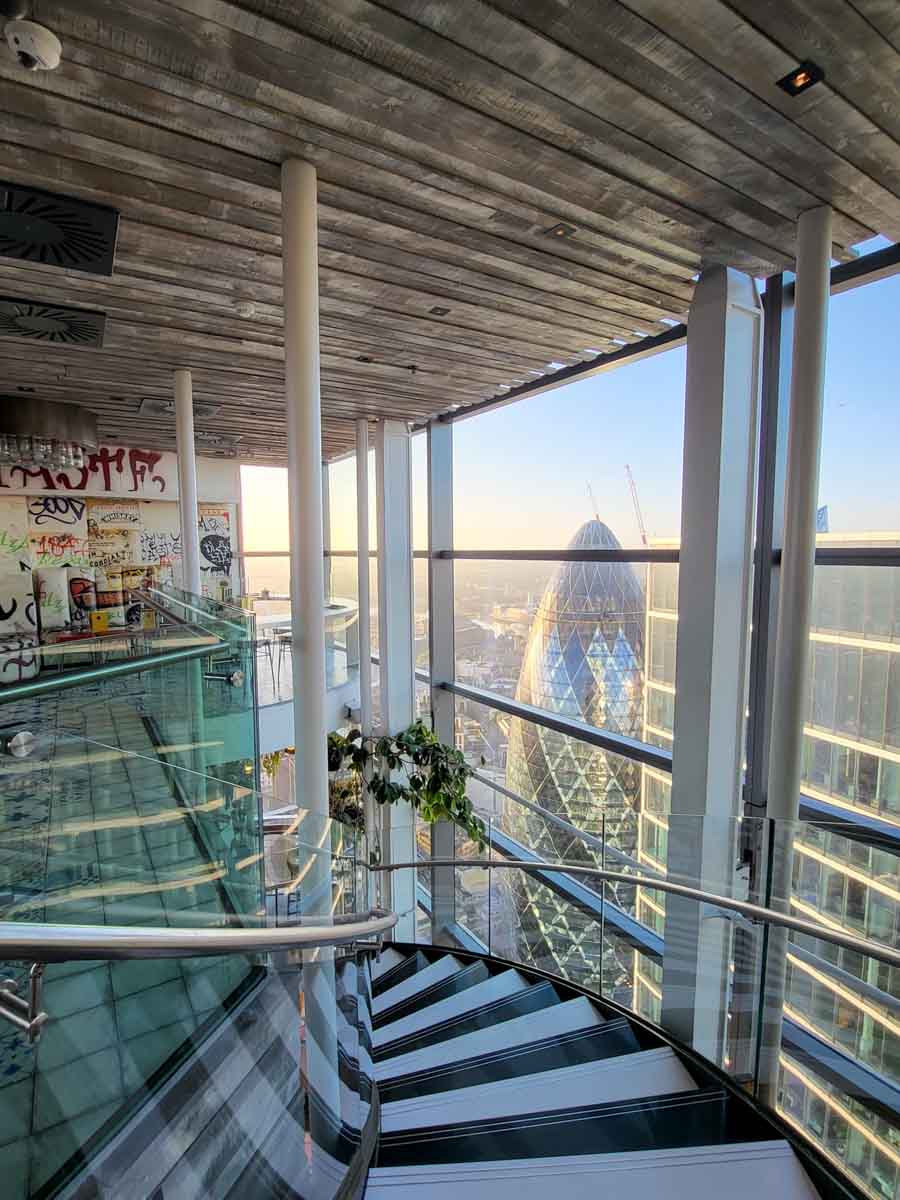 By Miriam from Miry Giramondo
When it comes to instagrammable cafes in London with a view, it's hard to top Duck & Waffle. Located in one of London's tallest buildings, the cafe offers the most breathtaking views over the city. What could be better than feasting on delicious food as you admire iconic landmarks like the Gherkin and St Paul's Cathedral?
The best thing about Duck & Waffle is it is open all day, so you can come here for breakfast, lunch or dinner. The menu consists of twists on English classics, with an emphasis on local, seasonal, and sustainable ingredients.
What to order: True to its name, the signature dish of this cafe is the Duck & Waffle. A crispy duck leg confit is served with a fried duck egg, mustard maple syrup, and of course, a waffle. This unique combination is worth trying!
Address: 40th floor of 110 Bishopsgate, London EC2N 4AY
Want to try some of the most famous food London has to offer? Book in for a 3-Hour Secret British Food Tour!
4. Coppa Club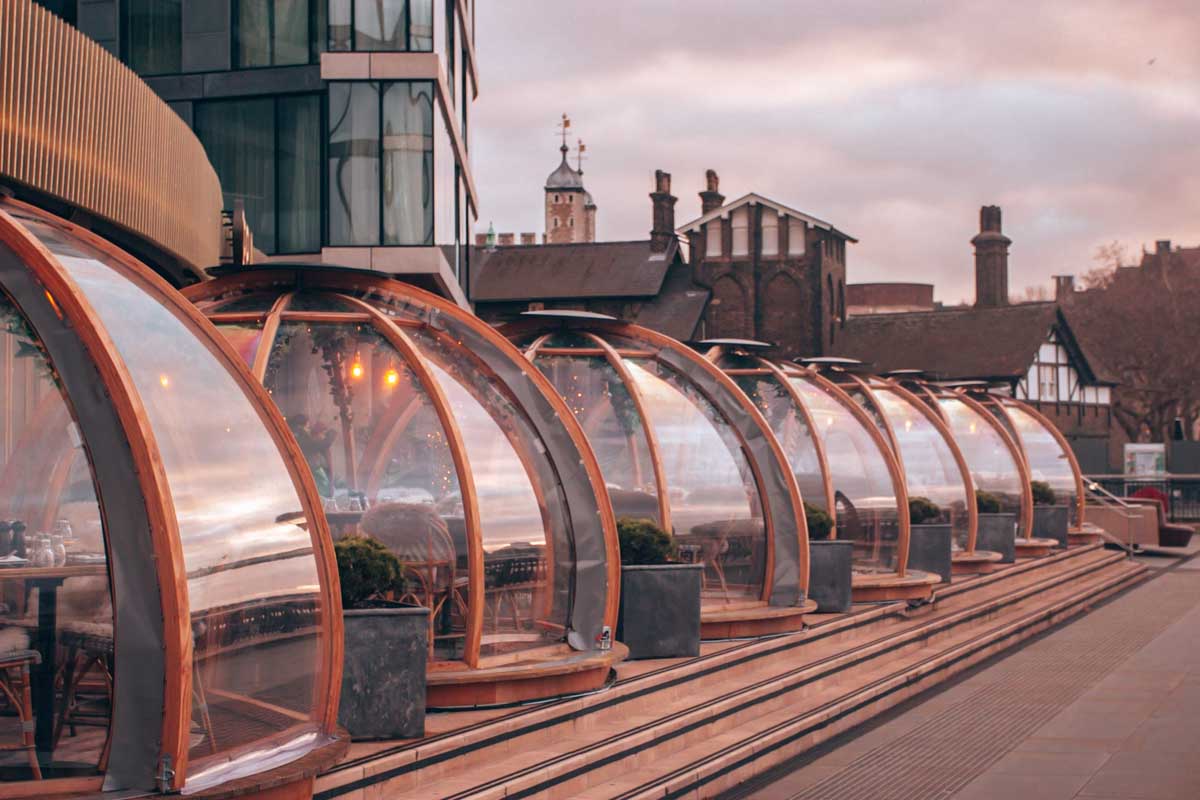 By Christine Wheeler from Live Love Run Travel
The London Coppa Club igloos are undeniably one of the most Instagrammable places you can eat in London. Located on Three Quays Walk, these cozy riverside igloos feature the most stunning views over Tower Bridge.
The Coppa Club serves everything from breakfast and brunch to late-night eats. As you can imagine, these Instagrammable igloos are super popular, so it is best to get a reservation ahead of time. Sunset is a particularly spectacular time to book!
What to order: If you go for breakfast, buckwheat pancakes with bacon and maple syrup are a must. If ordering from the all-day menu, the marinated chicken with rocket and parmesan fries or any of the sourdough pizzas go down a treat.
Address: 3 Three Quays Walk, Lower Thames Street, London, EC3R 6AH
5. The Attendant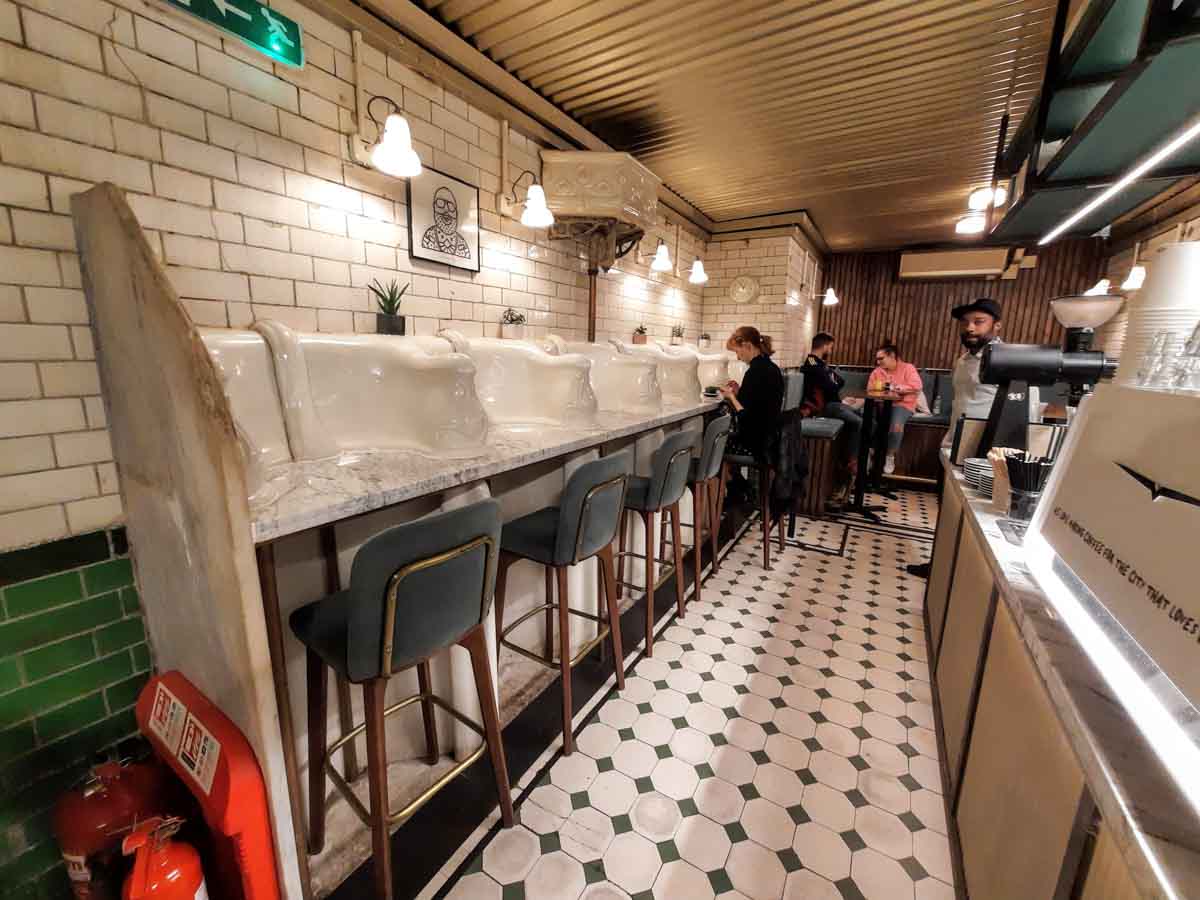 By Becki from Meet Me In Departures
Did you know there is a coffee shop in London inside a TOILET?! Yes, you read that right. The Attendant is a quirky cafe located in the heart of Fitzrovia, situated inside a former Victorian men's toilet. It is now one of London's most bizarre and Instagrammable cafes.
Now, before you question the hygiene of such an establishment… The place has obviously been deep cleaned and lovingly restored. They've still kept many of the fittings from when it was a public toilet, such as the original Doulton & Co porcelain urinals, cistern and wall tiles!
What to order: Don't just visit the Attendant for the photo opportunity… The coffee here is also really good. You can't go wrong with any of their speciality coffee and cakes. The banana bread is to die for!
Address: 27A Foley St, London W1W 6DY, United Kingdom
6. The Knot Churros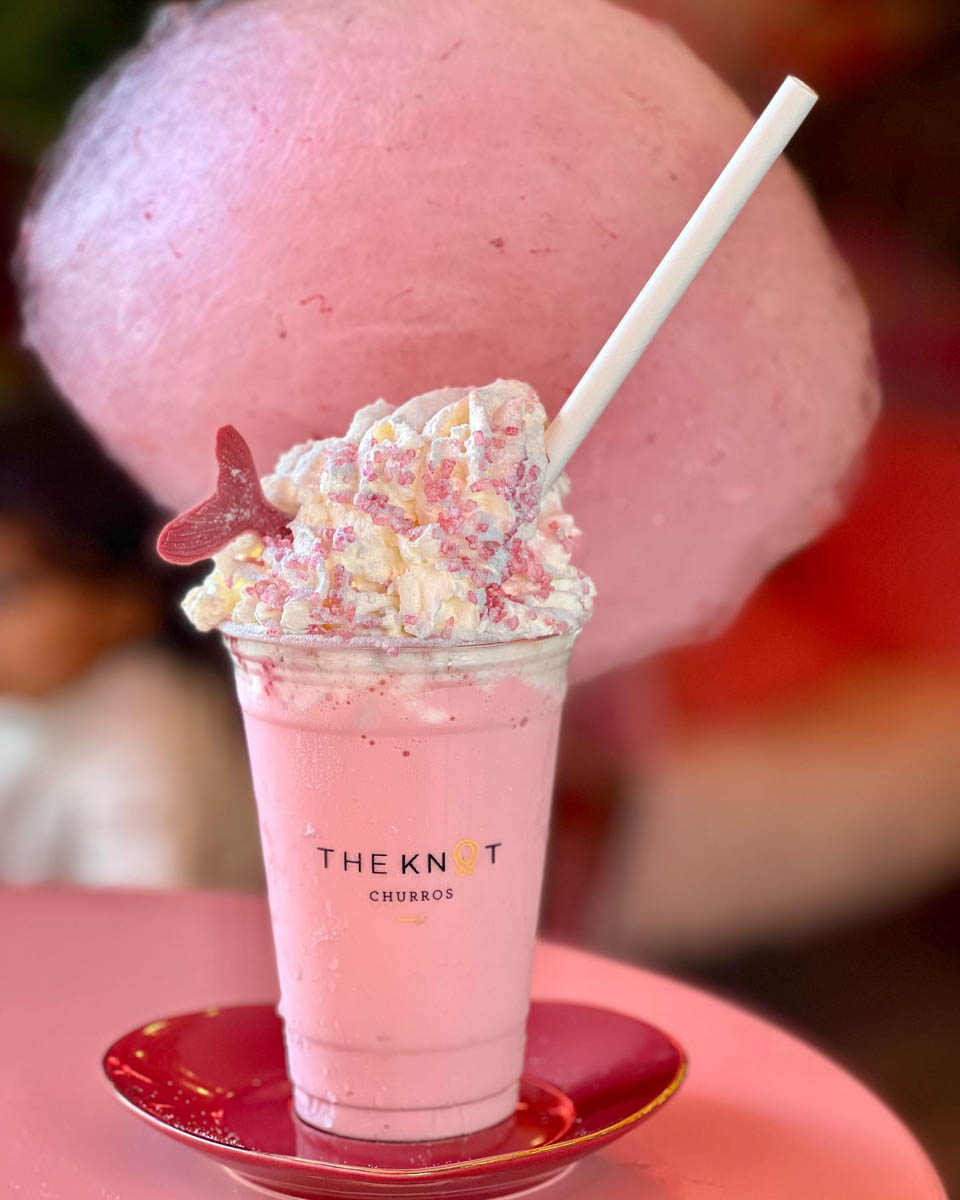 By Elina from Empnefsys & Travel
If seriously Instagrammable desserts sound up your alley, you've got to visit The Knot Churros. Located in South Kensington, near many famous museums, this London cafe is the perfect spot to indulge after a busy day exploring London.
This fun and colourful cafe serves up delectable churros in all sorts of creative ways. You'll also find elaborate drinks like cotton candy hot chocolates and biscoff milkshakes. If you are feeling something savoury, they even serve rainbow bagels!
What to order: The most popular menu items here are the churros with ice cream. The Little Mermaid has to be the most Instagrammable of the flavours. It comes with pink soft serve, churros dipped in strawberry chocolate, sprinkles, cotton candy and a mermaid tail for good measure.
Address: 3 Bute St, South Kensington, London SW7 3EY
7. Mayfair Lavender Farm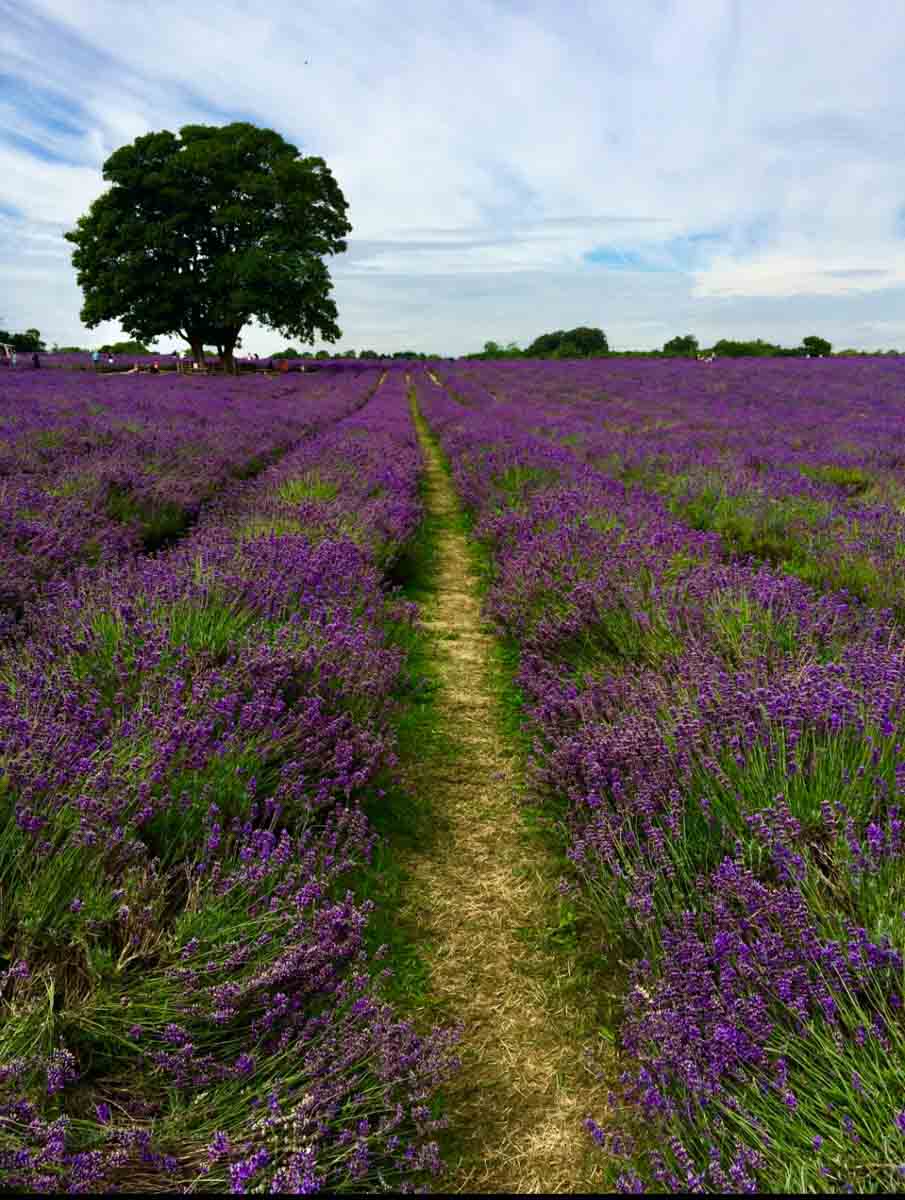 By Karen from Travel Mad Mum
If you fancy a trip outside of Central London, head to Mayfield Lavender Farm. This 25-acre lavender farm with a café and shop in the southern part of Greater London. The café is especially popular with Instagrammers during the summer months when the lavender is in bloom.
Mayfield Lavender Farm Café provides an unreal al fresco dining experience, with picnic tables overlooking the fields of purple. They offer cream tea and afternoon tea hampers, which include a selection of homemade, lavender-infused treats like scones, macarons, shortbread and fudge.
What to order: The cafe is best known for its uniquely floral lavender tea- it's a must-try! If you're after something a little stronger, don't miss the lavender cider.
Address: Lavender Field 1 Carshalton Road, Banstead SM7 3JA
8. Milk Train Cafe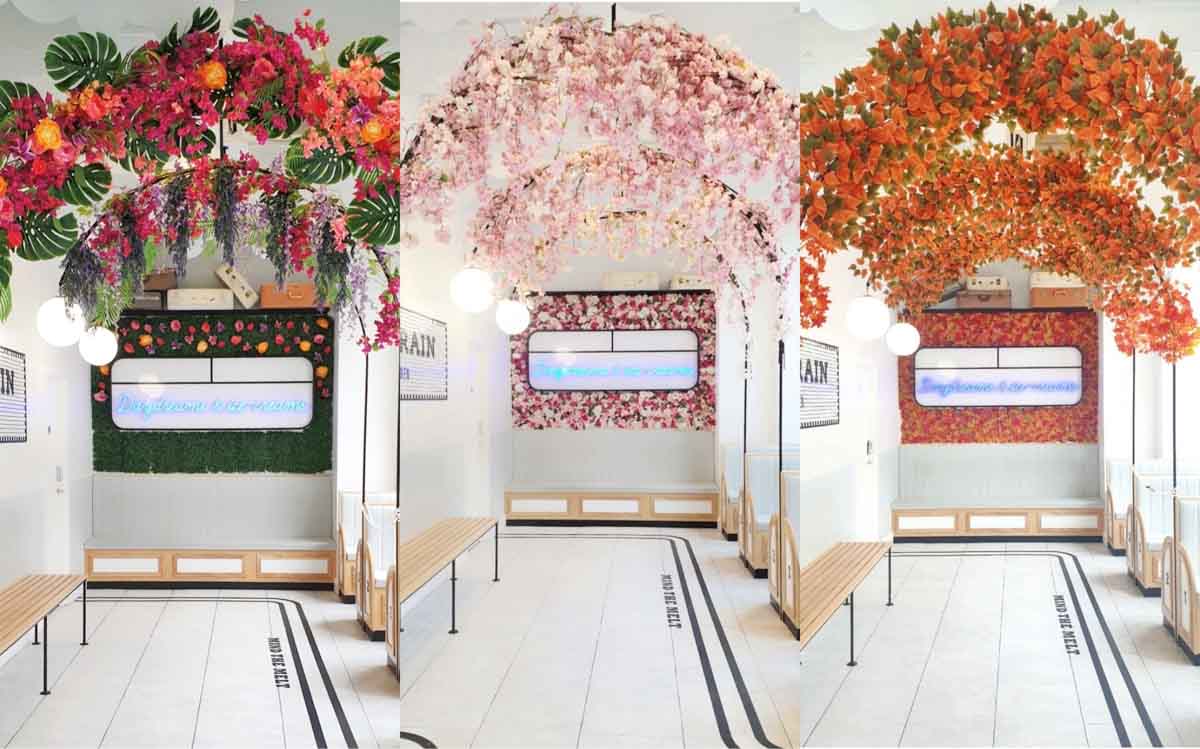 By Brianna from Travel Munchers
Located in the heart of Covent Garden, Milk Train is UK's first candy floss ice cream cafe. The decor is super Instagramable, and changes with the seasons. This means a new Instagram opportunity for each time that you visit!
The cafe offers candy floss ice cream cones, milkshakes, and marvellous 'inspired by travel' ice cream pints. You can also create your own ice cream and milkshakes by swirling the creamy ice cream base with different mix-ins.
What to order: For the most Instagrammable dish, you can't go past the candy floss cloud ice cream cone or shake. These unique creations are definitely what Milk train is best known for!
Address: 12 Tavistock Street WC2E 7PH
9. Farm Girl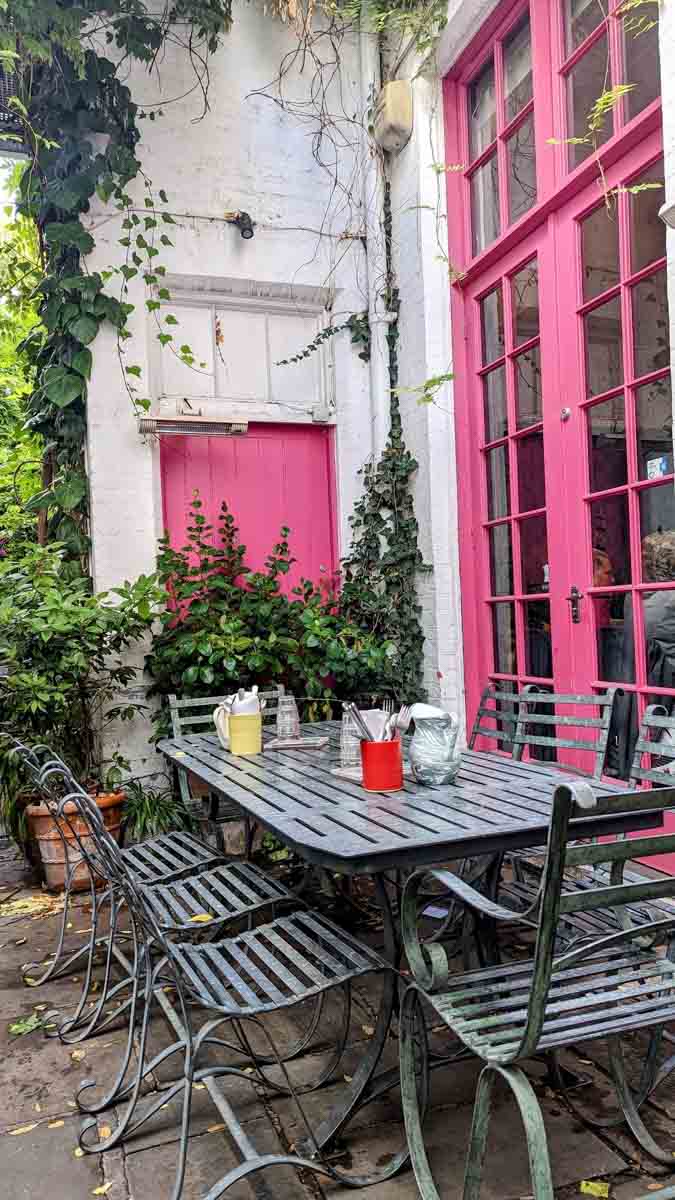 By Rebecca from Veggies Abroad
Whether it's the brightly coloured exterior or quaint secret garden entrances, you'll immediately be drawn into Farm Girl. This hip, health-focused café is one of the best places to feed you and your camera.
From the pastel-colored Butterfly Matcha to the quirky wallpaper and green pattern tiled walls, you'll want to take a picture of everything (it's best to go early for the best picture-taking opportunities). They say that their interiors are more photographed than Kate Moss!
What to order: Their menu offers a diverse selection of options — it's one of the best spots in London for vegan brunch! Don't skip ordering one of their Super Lattes and a stack of pancakes covered in sour cherry compote and coconut yogurt — you won't be disappointed.
Address: Locations in Soho, Notting Hill, South Kensington, Fitzrovia, & Belgravia
10. Peggy Porschen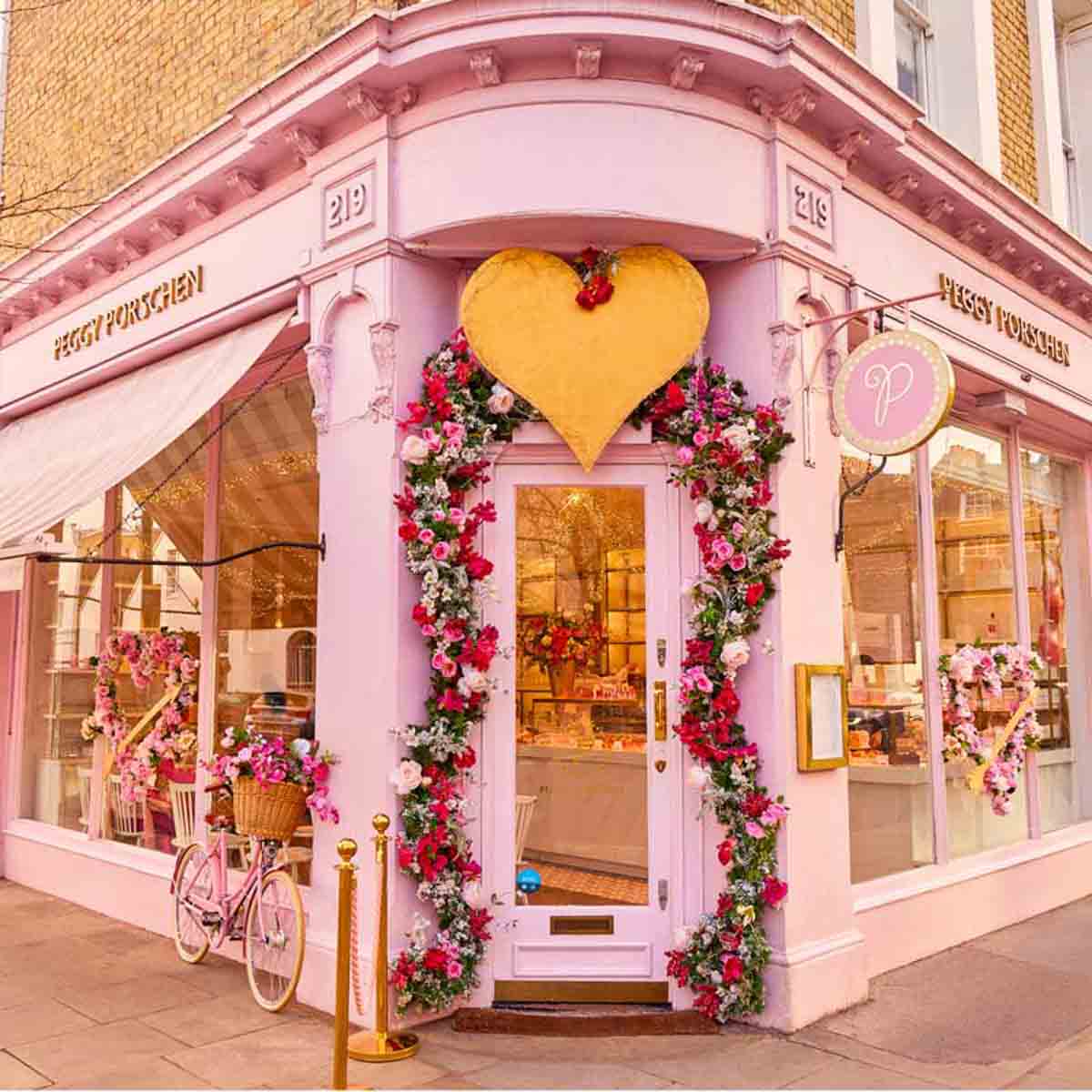 By Jiayi of The Diary of a Nomad
Peggy Porschen has got to be one of the most photogenic spots in London. They are known for changing their elaborate storefront to fit with the seasons. Whether this is lavender and blossoms in spring or festive foliage and snow in winter- the facade of this cafe is always Instagram-ready!
The cafe specialized in colourful cupcakes that are as aesthetic as its decor. However, they also offer a savoury breakfast and lunch menu, a seasonal afternoon tea and other sweet treats. You can also order larger cakes from the store in a range of flavours.
What to order: Be sure to try the Strawberry & Marc de Champagne cupcake. This photogenic treat is made with a champagne-infused vanilla sponge and topped with strawberry puree.
Address: 116 Ebury Street, Belgravia, London SW1W 9QQ + 219 King's Road, Chelsea, London SW3 5EJ
11. Dalloway Terrace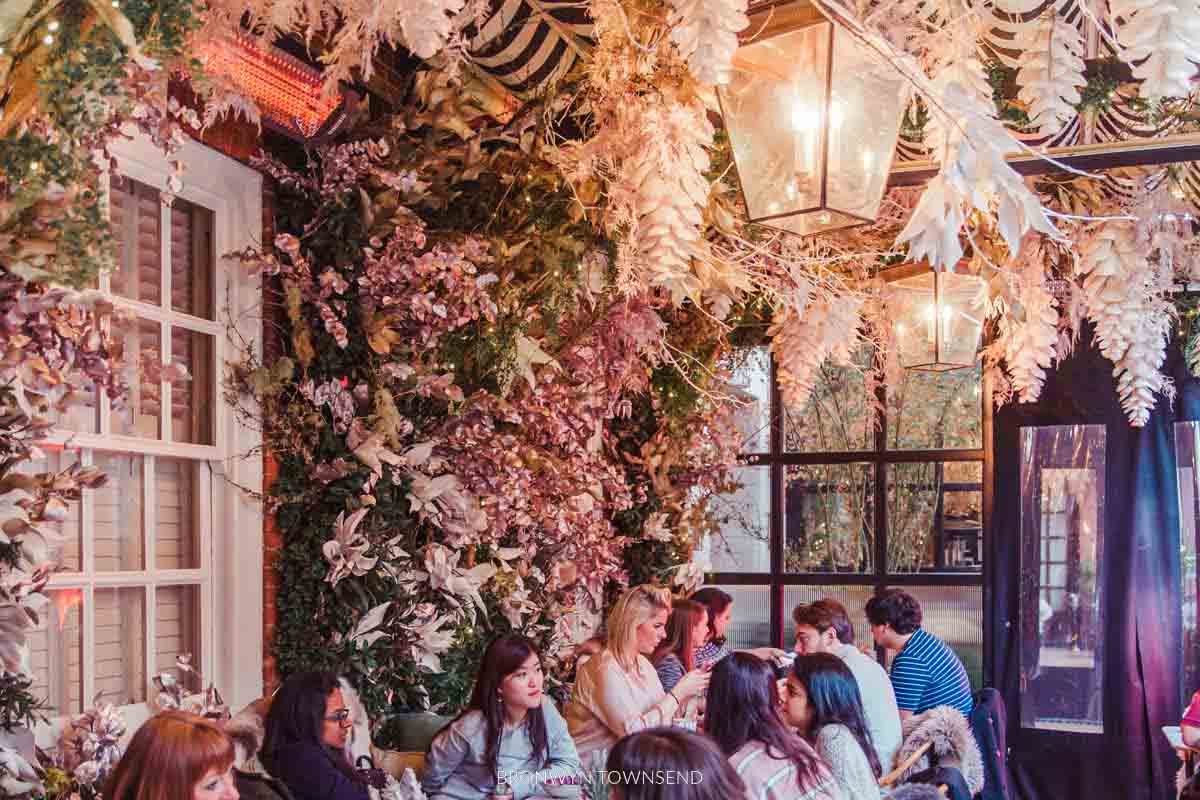 By Bronwyn Townsend
A seasonal rotation of floral and foliage decor makes Dalloway Terrace one of London's most Instagrammable cafes. Whether you opt for alfresco dining in summer or cosy up under some of London's best autumn foliage, this stunning cafe will be a hit on your feed all year round.
Tucked away in a quiet side street in Central London at the Bloomsbury Hotel, the elegant space exudes luxury with every detail. The cafe features a carefully curated menu serving weekend brunches and English afternoon tea. Expect classic sweet and savoury dishes with modern, seasonal influences.
What to order: If you're a sweet tooth, fluffy stacks of pancakes topped with lemon curd and summer berries is a winner. If you're after a savoury dish, don't miss the smoked haddock hash with saffron mayo.
Address: Dalloway Terrace at the Bloomsbury Hotel, 16-22 Great Russell St, London WC1B 3NN
Looking for activities to do in London?
12. ESPA Life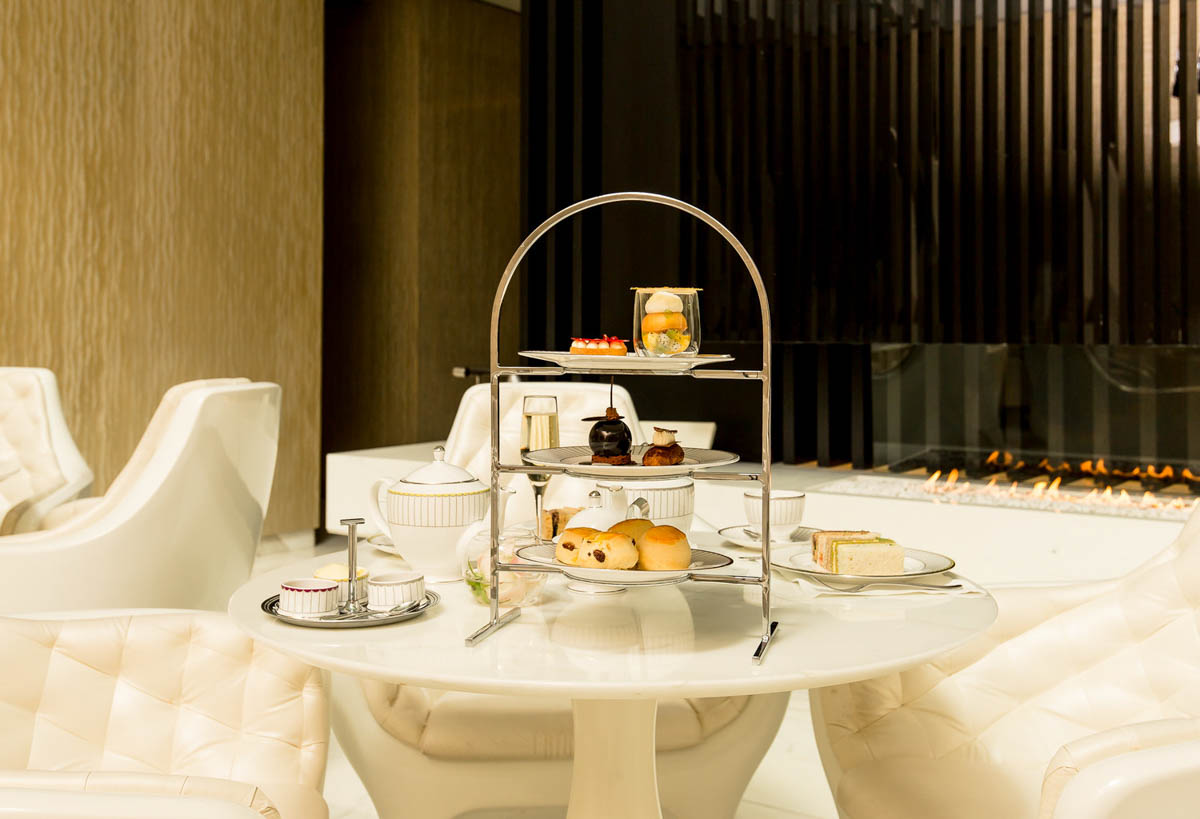 By Geeves from Real Girl Review
Don't miss the afternoon tea at ESPA Life, located inside London's elegant and sophisticated Corinthia Hotel. Forget dressing up… This unique (and very Instagrammable) afternoon tea takes place in a spa lounge, which means a bathrobe and cozy slippers are the only required attire!
After indulging your body in an afternoon of treatments and massage, it's time to indulge your tastebuds. The afternoon tea takes place in a bright, modern room, where you'll enjoy Champagne and tea alongside a selection of dainty sandwiches and sweet treats.
What or order: For the ultimate day of pampering, sign up for the ESPA tea and spa day. The experience includes a massage, body scrub, afternoon tea and access to all thermal spa facilities.
Address: Whitehall Pl, London SW1A 2BD
Want to experience a High Tea in London fit for royalty? Book a Kensington Palace Garden Tour with Royal High Tea!
13. Notting Hill Coffee Project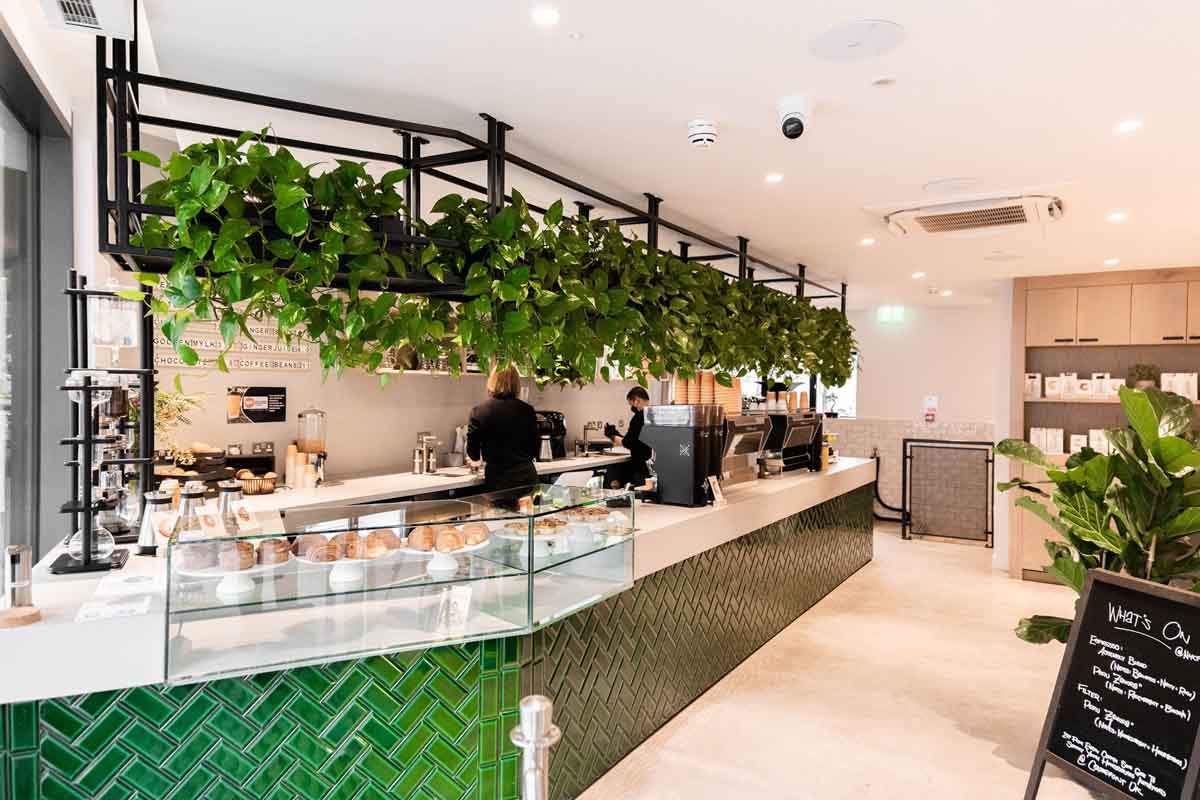 By Amber from Amber Everywhere
Located just a few blocks from Hyde Park is the beautiful (and very Instagrammable) cafe, the Notting Hill Coffee Project. The warm, bright space features a row of green ivy plants, vases of dried flowers and burlap bags of coffee beans lined against the wall/
Notting Hill Coffee Project is known for serving up some of the best coffee in the area. The cafe is relatively small, with seating available for about 6 people. If you can nab a seat, it's an ideal, laid-back spot to grab a picture-perfect latte in London.
What to order: You can't go wrong with ordering any type of coffee here. Alongside the drinks, they also carry a range pastries, baked goods and sandwiches.The pastel de natas (Portuguese egg tarts) are a must!
Address: 63 Notting Hill Gate, London W11 3JS
14. Grind Cafe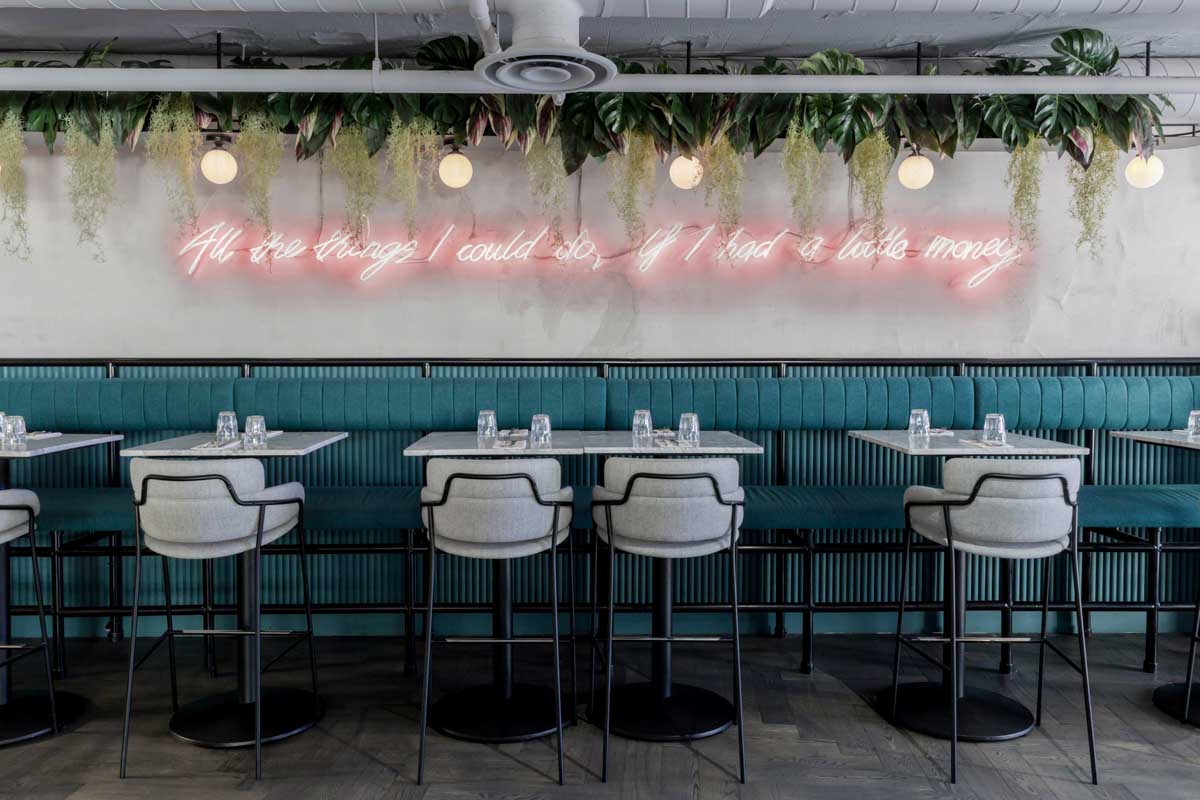 By Shireen from The Happy Days Travels
Grind is an Instagrammable cafe chain from Shoreditch in London established in 2011. You'll now find their signature pink neon signs, swanky espresso bars and pops of greenery in branches across London.
Aside from the cafes being extremely aesthetically pleasing, Grind offers really solid food and beverage options at all times of the day. That means you can come here for a quick coffee, a lazy weekend brunch or cocktails and share plates in the evening.
What to order: You can't go too wrong with the menu here as everything is delicious and super Insta-worthy in presentation. If you're coming for brunch, the vegetarian breakfast is loaded with goodness. If you come in the evening, don't miss their signature Espresso Martini.
Address: 38 Broadgate Circle, London, EC2M 2QS
15. Greenspeares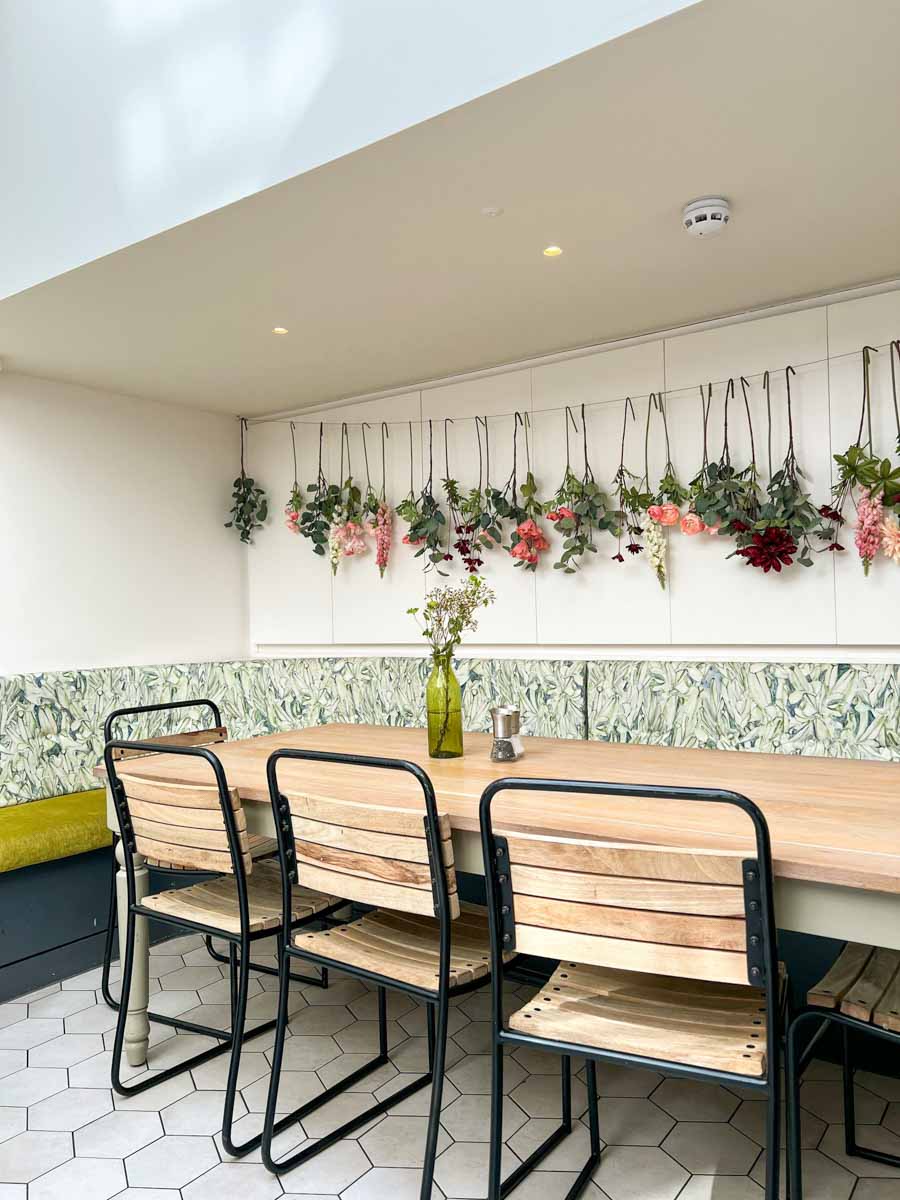 By Jina from By Jina Lee
Located near the Natural History Museum, Greenspeares is an understated cafe that serves delicious brunch and cozy vibes. It's the perfect spot to catch a break from sightseeing during your London trip (and grab a few cheeky pictures for the gram while you are at it).
Greenspeares offer an assortment of fresh, healthy food and drinks, with a strong focus on seasonal produce. For the best Instagram shots, make sure you nab a seat downstairs. This insta-worthy is beautifully decorated with hanging flowers and wooden furnishings and gets plenty of natural light.
What to order: You can't go wrong with the brunch classics here, like the eggs benedict or spring greens omelette. If you want to try something different, the cafe serves up some really interesting seasonal salads, like an artichoke, prosciutto and burrata number!
Address: 23 Walton St, London SW3 2HX, United Kingdom
16. EL&N Cafe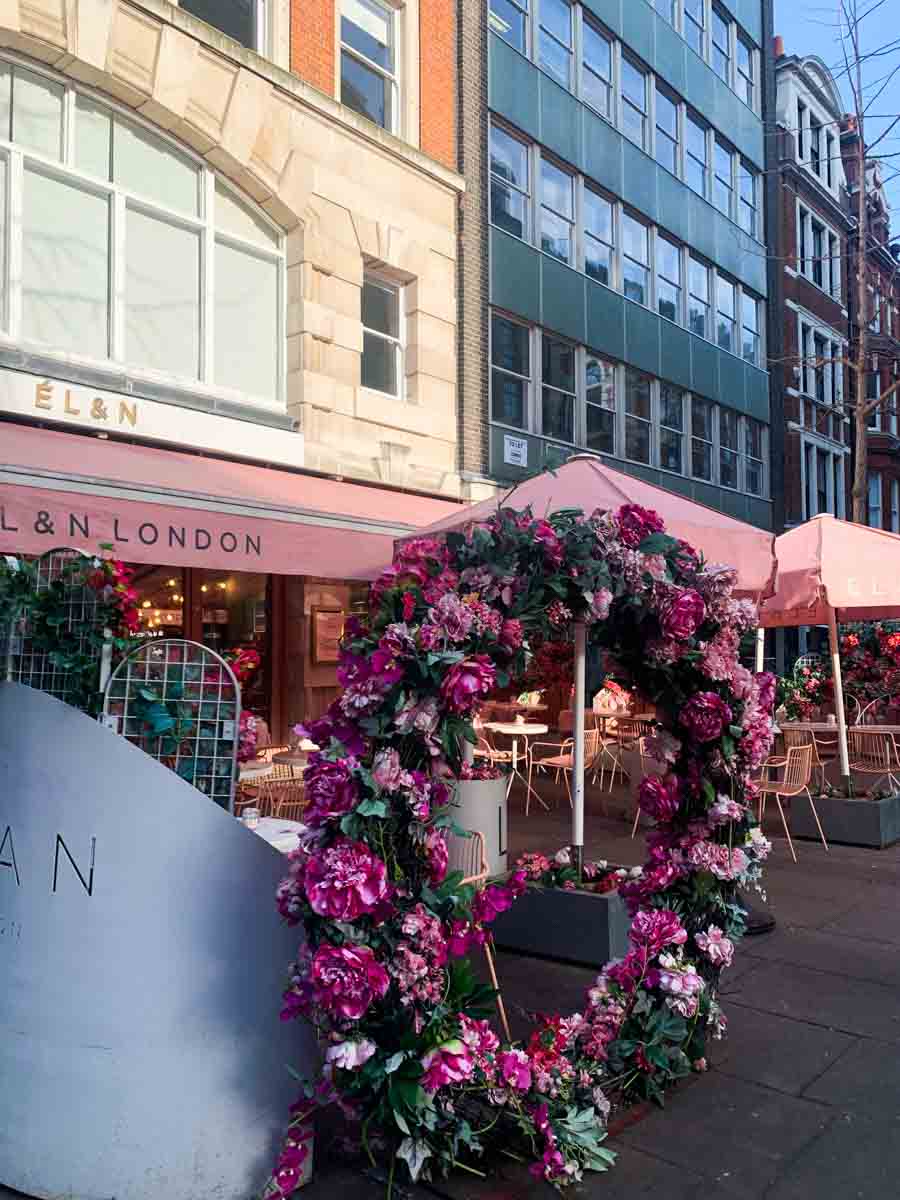 By Samatha from Coco Travels
It's almost impossible to walk through the city without spotting one of London's "most instagrammable cafes", EL&N. From the extravagant flower walls and neon signage to the slick rose gold and marble interior, every angle of these cafes makes for a photo opportunity.
Take a seat under the pink parasols on the terrace and indulge and indulge in one of EL&N's Instagrammable lattes. If you're hungry, the menu features a huge range of brunch dishes as well as an elaborate selection of sweet treats. On you're way out, don't miss the photo opportunity on the terrace in front of the large flower hoop!
What to order: For the ultimate photo opportunity, the red velvet or blue sapphire speciality lattes are not to be missed. The S'mores hot chocolate, featuring nutella, biscoff crumb, marshmallows and a chocolate dome is also sensational.
Address: 9 Market Place, Oxford Circus, London W1W 8AQ
17. Lady Dinah's Cat Emporium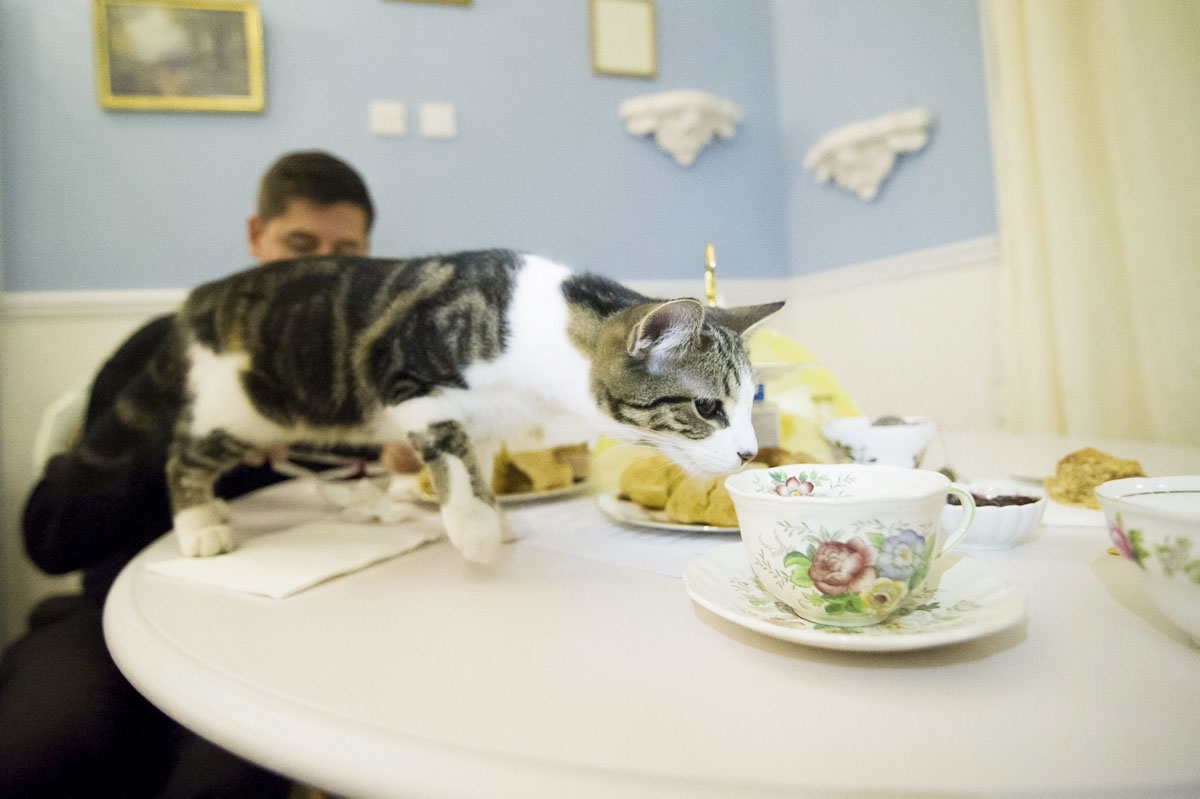 By Catrina from 24 Hours Layover
Lady Dinah's Cat Emporium is not only one of London's most Instagrammable Cafes, but it's one of the best places to visit in Bethnal Green. If you're an animal lover, this is the perfect place to get some Instagrammable photos and relax with kitties in between sightseeing!
London's original cat cafe is set over two different floors. Each floor features a different theme, so you can take your pick between the Basement Forest and the Mad Catters Tearoom. All the lovely cats at Lady Dinah's are rescues, so they are super calm and quiet and a delight to cuddle.
What to order: The cafe offers all sorts of cute cat-themed menu items. There are cappuccinos topped with paw prints, cat-shaped bao buns… Even scones in the shape of a cat head!


Address: 152-154 Bethnal Green Road, E2 6DG
18. Harrods Tea Room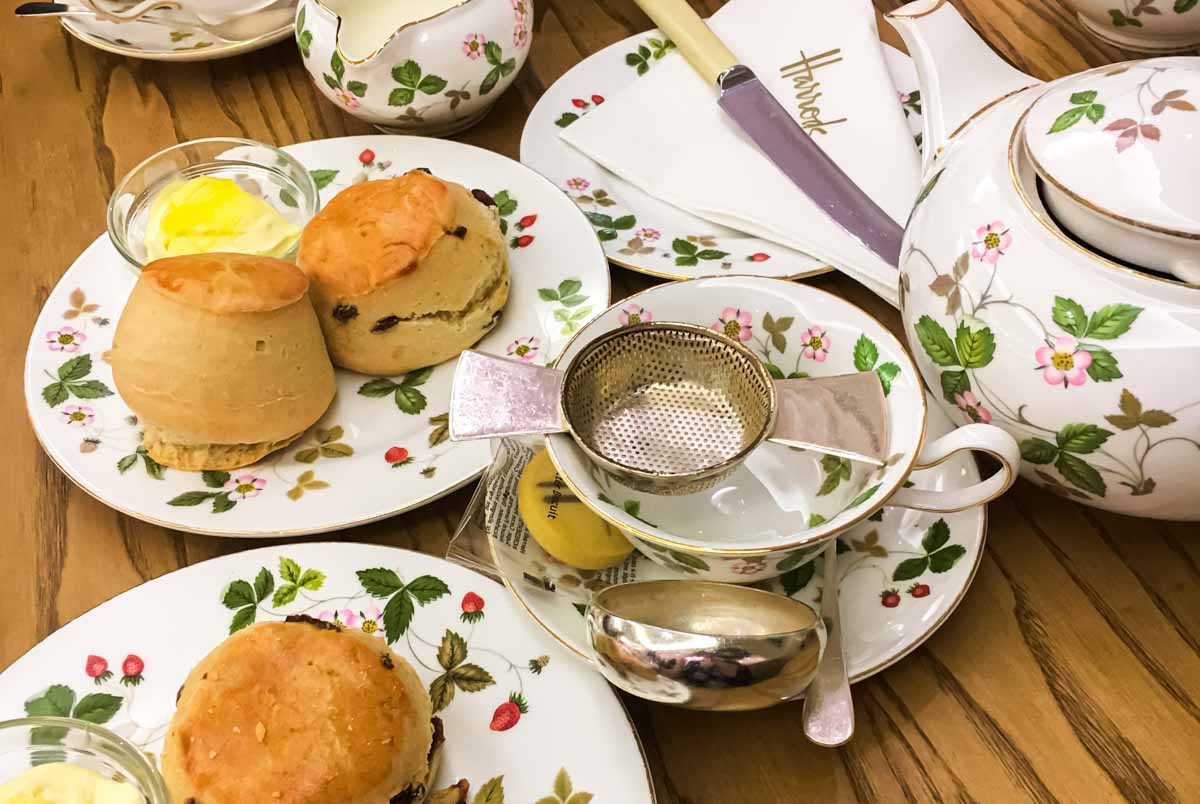 By Allison of Renovating Life
High Tea at the Harrods Tea Room is an iconic Instagrammable moment not to be missed in London. After perusing the iconic and massive department store, pop into The Tea Room and enjoy the art deco surroundings as you recover from your shopping adventure.
Harrods Tea Room offers the chance to sample some of the finest teas in the world. Of course, you can't have tea without pairing it with a serving of perfectly baked English scones served with a variety of jams and delicious clotted cream.
What to order: The Afternoon Tea experience at Harrod's is pretty unbeatable. Along with a bottomless selection of tea, you'll receive beautiful tiered trays of treats. Think fresh sandwiches, meticulously-crafted patisseries, and of course, fresh scones.
Address: 87-135 Brompton Rd, London SW1X 7XL, United Kingdom
19. Dauns Cafe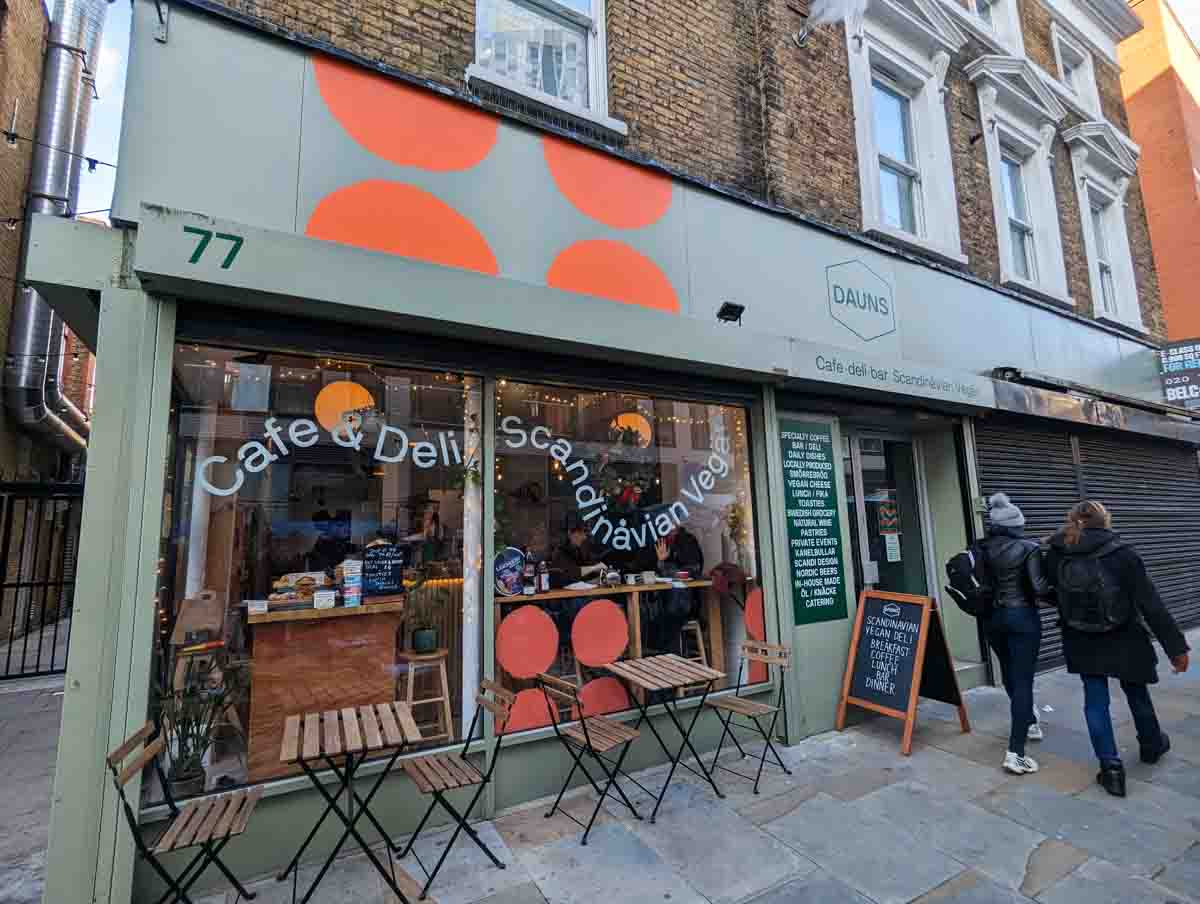 By Amy from The Sunrise Dreamers
Dauns is the first vegan Scandinavian-inspired cafe and shop to open in the UK. It's one of London's hidden gems around the corner from the famous Spitalfields market. The cafe also features a small shop that sells Scandinavian goods, vegan cheese and seitan.
If it's a nice day, take a seat outside Daun's charming exterior. It's the best place to people-watch whilst enjoying a warm drink and a baked good (or three!) Inside is warm, cozy and brimming with greenery.
What to order: The stars of the show at Dauns are the bakery products. You simply cannot go past the delicious vegan cinnamon buns!
Address: 77 Wentworth St, London E1 7TD (near Spitalfields)
Visiting London? Read these articles next:
Like this list of London's most Instagrammable cafes? Pin it for later!