Wondering how to go about doing the incredible Lauterbrunnen waterfall hike? This guide will tell you everything you need to know.
Disclosure: This post contains affiliate links, which means I make a small commission at no extra cost to you if you kindly choose to book via my links!
Lauterbrunnen is undoubtedly, unmistakably, unarguably one of the most beautiful places on earth. The scenery is straight from a postcard. Think vivid greenery, rugged snow-dusted mountains, cascading waterfalls and wooden chalets spilling with fresh flowers.
One of the biggest highlights of visiting Lauterbrunnen is hiking around its spectacular waterfalls. With 72 waterfalls cascading into its valley, this Lauterbrunnen waterfall hike is like nothing you've ever done before!
Lauterbrunnen Waterfall HikING GUIDE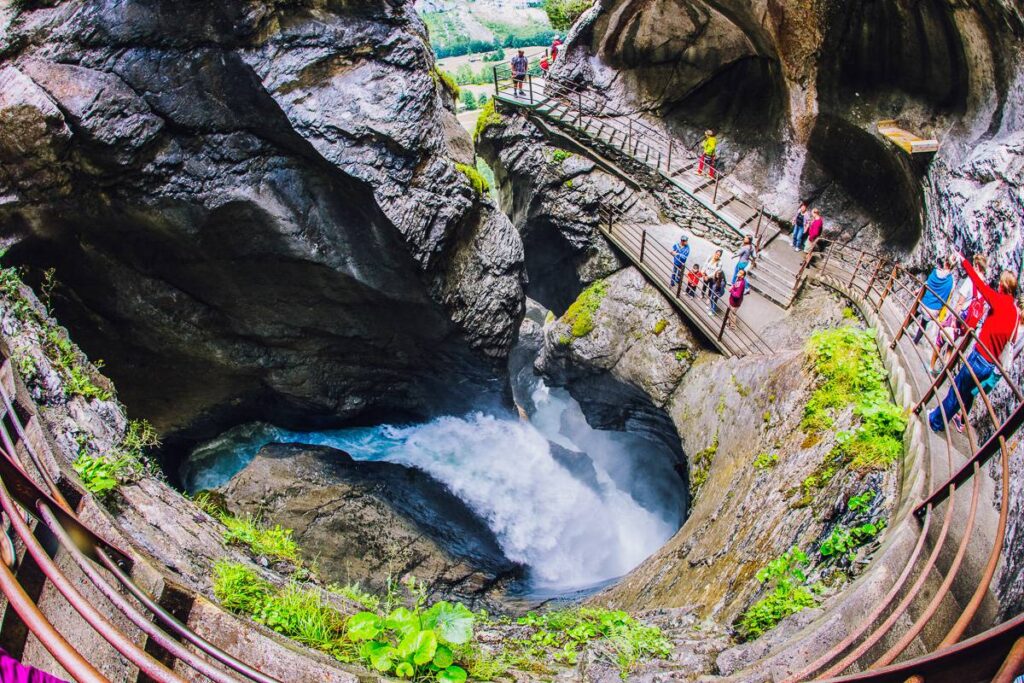 Lauterbrunnen to Trummelbach Falls
If there is one set of waterfalls you should hike during your time in Lauterbrunnen, it should be this one. Trummelbach Falls is certainly not your average waterfall. For starters, it is Europe's largest subterranean waterfall and a UNESCO World Heritage Site.
The falls have been uniquely formed by meltwater from the Jungfrau glacier flowing down a slot canyon. This has sculpted the canyon walls over time.
There are a total of 10 glacier waterfalls that you can explore through walkways and tunnels. You can also take an elevator up to a point between the 6th and 7th waterfall. This is an experience in itself!
Getting to Trummelbach Falls: You have two options for getting here from Lauterbrunnen. You can either take the bus from Lauterbrunnen Train Station to Trummelbach Falls. Alternatively, you can take a very scenic 3.5km (2.2 miles) hike through the valley to reach the waterfalls.
You can find comprehensive directions of how to get to Trummelbach Falls from Lauterbrunnen village here.
SEE ALSO: What to pack for a hiking trip
Lauterbrunnen to Staubbach Falls
The other must-visit spot in Lauterbrunnen is Staubbach Falls, which is Switzerland's third-highest waterfall. With a height of nearly 300 meters, they truly are a sight to behold.
Not only is this epic waterfall highly visible from Lauterbrunnen village, you can also hike right up to the falls to behold their magnitude from up close.
Getting to Staubbach Falls: From Lauterbrunnen village, it only takes about 10 minutes to hike to the foot of Staubbach Falls. If you visit in Summer, you can follow a steep path that leads to the Staubbach Gallery and literally walk behind the waterfalls!
See a detailed guide on how to get to Stabbauch Falls here.
Visiting Switzerland? READ NEXT:
Enjoyed this guide to the Lauterbrunnen waterfall hike? Pin it for later!