Visiting this incredible city on a time crunch? Here's how to visit Florence in 2 days and hit all the must-see spots!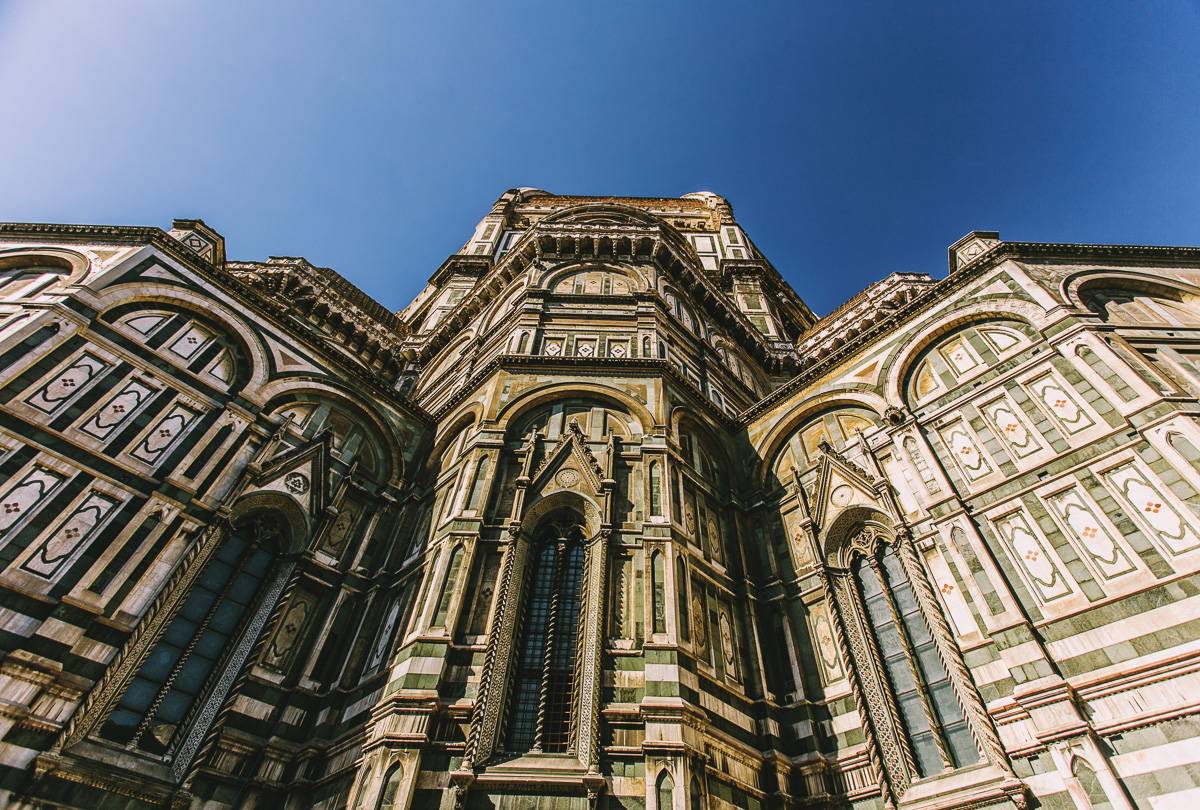 Tuscany, Tuscany, where to begin with Tuscany? This stunning region of Italy is teeming with mouth-watering food, sweeping countryside, welcoming locals and iconic Rennaisance sites. It is also home to the breathtaking city of Florence. Birthplace of one of the most remarkable sculptures to ever be created, everything in this aged city seems to reflect the skill and grace eminent in Michelangelo's David. Each building is so intricate in its detail, yet so beautiful in it's entirety.
Although only a mere two days of my travels were spent in Florence, this whirlwind tour left the sweet taste of Tuscany in my mouth and a yearning to explore the region further. If like me, you have a limited time to explore the region, here is a quick itinerary to ensure you hit all of Florence's top sights.
DAY 1 ITINERARY OF FLORENCE, TUSCANY
1. Explore Piazza del Duomo
Start your 2-day visit to Florence off in the heart of the city, the Piazza del Duomo. The majestic Cathedral of Santa Maria del Fiore is exquisite from both the outside and the inside and is well worth taking time to explore. I'd also recommend climbing up Giotto's Bell Tower for stunning panoramic views over the city. I wish I'd taken the time to do this during my 2 days in Florence!
2. Wander along Ponte Vecchio
Take a moment to wander across and admire the Ponte Vecchio (the Old Bridge) which crosses over the Arno river. It was the first segmental arch bridge to be built in the Western world. For the Middle Ages, this was quite the engineering feat!
3. Stop for gelato at Gelateria La Carraia
It's always gelato time when you're in Italy. Just off Ponte alla Carraia is one of Florence's top gelato spots, Gelateria La Carraia. The gelato here is soft, creamy and comes in such a beautiful assortment of both traditional and more inventive flavours. Grab a cup or cone of gelato to fuel your exploration of the city!
4. Visit the Accademia Gallery
A must-see in Florence, the Accademia Gallery is home to one of the most famous statues in the world. Visitors from far and wide flock here to see Michelangelo's masterpiece, David. The cues to get into the gallery are normally very long, so I'd recommend booking tickets in advance to skip the cue.
DAY 2 ITINERARY OF FLORENCE, TUSCANY:
5. Caffeinate at the Piazza della Repubblica
Start the day with an espresso at one of the Piazza della Repubblica's famous cafes- the Caffè Gilli, Paszkowski and Caffè Giubbe Rosse. The drinks may be a little overpriced, but it's worth it for the view onto the charming square. If you are feeling spritely, you could even take a ride on the iconic carousel while you're in the area.
6. Browse the vintage markets
The vintage markets scattered around Florence are another highlight of the city. Whether you are looking for leather goods, unique trinkets or local Tuscan produce and wine, the markets are a great way to shop in Florence. For handmade leather goods, head to Mercato Nuovo. For souvenirs, San Lorenzo Outdoor market is the place to go. To sample some of Tuscany's finest local produce, Central Market is the place to head.
7. Visit the Uffizi Gallery
Another must-visit for art lovers, the Uffizi Gallery. As one of Italy's most prominent museums, it's home to an outstanding collection of ancient artworks. Again, if you want to avoid wasting time cueing up, make sure you book tickets in advance.
8. BONUS DAY ITINERARY: Take a roadtrip from Florence to Orvieto
If time allows, jump in the car and take a two-hour drive from Florence to the small city of Orvieto. Positioned on a natural hillock amidst the countryside, the village is achingly picturesque. Wander down the cobblestoned laneways, past vine-covered terracotta walls and hand-painted shopfront signs. Make sure you take time to stop at Orvieto Cathedral, which stands in the main square of Orvieto. It's a truly grand centerpiece to an otherwise rather humble village.
WANT MORE ITALY INSPIRATION? READ THESE NEXT:
Enjoyed this guide to Florence in 2 days? Pin it for later!