These are the best European cities to visit at Christmas if you're looking for that magical holiday feeling!
It's that time of year again. Eyes begin sparkling with twinkling fairy lights. Ears are filled with the sound of Frank Sinatra singing carols. Noses are delighted by the aroma of chestnuts roasting over an open flame. Tastebuds are warmed by a delicious mug of mulled wine.
here's something wonderful about the diverse ways different cultures celebrate Christmas.
Whether your celebration involves a barbeque on the beach or a white Christmas sitting snug around a crackling fire, it's a rare and blissful time in which all cultures come together in their various ways to share a celebration of love, joy, and generosity.
The Christmas markets in Europe are one of the destinations in which the delights of Christmas are best exhibited, so of course I couldn't resist paying them a visit this year.
Exploring with Eurail Passes
I wanted my journey to be as stress-free and relaxing as possible, so this year I decided to visit the markets via train using a Eurail pass. I love travelling by train; I find it to be a much less stressful experience than flying.
Instead of having to battle through the many checkpoints an airport throws at you and being packed into a plane like a sardine, you can lounge in a leisurely manner on a seat that has plenty of leg space and gaze out the window as the countryside scenery flashes by.
Time-wise it doesn't end up being that much slower either, considering that if you are flying you have to be at the airport several hours prior to a flight.
Using a Eurail pass made the train travel even more convenient and flexible. All I had to do was select the duration I wanted for the pass, which acted as my golden ticket to around 28 European countries within the given time frame.
Hence, I decided to select a variety of cities in Northern Europe renowned for their Christmas markets or festivities, convinced my best friend to come along for the ride and planned our journey accordingly!
5 Best European Cities to Visit at Christmas
Stop 1: Stockholm
Our first destination was Stockholm, the hip capital of Sweden. During this time of the year, the whole city gets bedazzled with fairy lights and twinkling Christmas trees. The Old Town, Gamla Stan, provides a fairytale backdrop for the city's main Christmas market and was the perfect starting point for our festive adventures!
Old Town Christmas Market
The Old Town Christmas Markets are a small cluster of cheerful cherry-red stalls nestled in Stortoget Square, the oldest square in Stockholm, which dates back to medieval times and is surrounded by a mishmash of colourful buildings from bygone centuries.
The stalls sell a variety of Christmas goods ranging from hand-decorated local crafts to Swedish Christmas sweets. You can try your luck at one of the game-stalls or go for a wander whilst clasping a steaming mug of glögg (mulled wine) or hot chocolate topped with cream and marshmallows.
Marzipan Boat Market
This is a Christmas market located on a 1930s ferry moored at the quay. Tempting wafts of warm sugary air turn the heads of all those who pass by, and we happily scampered aboard to sample all the sweets we could get our hands on.
There is of course a bounteous supply of finest quality marzipan, but if the rather distinctive flavouring of marzipan isn't your thing, they have a great selection of other sweet treats in the form of chocolate, toffee, truffles, mints, and jams. It's the perfect place to buy a Christmas present for your loved ones.
World's longest art gallery
If you want a break in between the markets, Stockholm has much to offer. When I first arrived I actually spent a couple of hours catching the subway.
Around 90 or so of Stockholm's underground stations have been decorated by artists who have created a funky variety of designs for each station, making the 110 kilometere stretch of subway stations the world's longest art gallery.
Fika Time
Finally, while in Sweden partaking in fika is a must – particularly at Christmas time. This is a great Swedish tradition that consists of meeting with a friend to chat over coffee and a bun in the warmth of a cosy café or bakery.
Fika is regarded with an almost religious reverence in Sweden – a Swedish friend of mine informed me that it was common for some people to partake in it up to three times a day.
With the quality of the buns being so high in Sweden, I needed no second prompting. I'd recommend making a trek out to one of the bakeries renowned for its pastries in order to get your mitts around a good quality one.
Stop 2: Copenhagen
Our second stop was the picture-perfect city of Copenhagen. Two years ago I visited this city at Christmas so I couldn't resist dropping by once again to soak up the city's festive goodness.
Tivoli Amusement Park
I'm an overgrown child at heart and can never resist a good theme park, so the idea of a theme park decked with bells and holly had me singing tralalalalaa as I made my merry way to Tivoli, also known as the oldest theme park in Europe. Tivoli is transformed over Christmas into a winter wonderland, and boy it's quite a sight. Christmas trees, elves and reindeer decorate the park, and everything is covered in a light dusting of snow and wrapped in twinkling lights. There are countless stalls selling Christmassy treats to nom on, and dozens of rides to choose from, so if you find yourself overwhelmed as to choice I'd suggest buying a bag of warm sugar-roasted almonds and a mug of the ever-present glögg before going for a wander through the rides. Aside from Tivoli, I recommend going for a stroll along Nyhavn, the famous canal lined with colourful 17th century buildings. During the day it is one of the most picturesque spots in Europe, and at night its bustling restaurant scene is lit up with thousands of fairy lights.
If you want to find out more about the Christmas Markets in Copenhagen, check out my festive adventures from last time.
Stop 3: Hamburg
German Christmas markets are renowned world-over, and I have to say, Hamburg provides a stellar exemplification of why this is the case. While Hamburg city generally exudes a grungy vibe, its Christmas markets are as jolly as can be. Hundreds of timber stalls adorned with evergreen fir and fairy lights can be found throughout the city. They sell a huge assortment of classic Christmas treats, handcrafted goodies, and ever-present gluhwein. The markets are all conveniently located within walking distance of each other, which can be a great help in pacing oneself between episodes of indulgence. Before you go any further, make sure you read my guide on
City Hall Christmas Market
One of my favourite elements of Hamburg's markets is the variety in themes. The historic Christmas market on Rathausmarkt is one of Hamburg's largest and most enchanting markets; boasting around eighty architecturally designed stalls that are all situated in front of the majestic Neo-Renaissance-style town hall. This market is a must-see – its many stalls provide many renowned German treats, from eierpunsch (a form of eggnog blended with white wine – it tastes like alcoholic apple strudel in liquid form and packs quite a punch) to kartoffelpuffer (deep-fried potato pancakes served with a generous helping of sour cream). The Rathausmarkt market is a bit more extra than your average market in that every couple of hours Santa soars down on a reindeer-drawn sleigh and, hovering overhead, tell Rudolph's tale (at least I think that's what he was talking about, my German doesn't really extend beyond pathetic attempts at pronouncing ten-syllable placenames and nervously muttering danke whenever someone bumps me on the train).
Gänsemarkt (Gingerbread Village)
Another worthwhile market is the one at Gänsemarkt, a gingerbread village with huts that look so edible you just wanna dunk a chunk of them in your mulled wine. This market is famous for its handcrafted goods, decorations and, inevitably, gingerbread. Ι would recommend purchasing some of the latter to nom on – the novelty of eating gingerbread within a land of gingerbread made the experience that much better.
Jungfernstieg Christmas Market
Another market I'd suggest is the market along Jungfernstieg, a boulevard lined with modern white stalls that are illuminated with seemingly endless sparkling lights against a backdrop of Lake Alster. Visit these markets at night for best effect! Here, the scent of sweet roasted nuts and cinnamon-scented baked goods wafts through the air. If I can recommend one thing to try here it would the champignons- which are mushrooms topped with a creamy garlic sauce. They are absolutely divine and one of my favourite things that I tried from the Christmas Markets!
Hamburg Nightlife
Hamburg is also renowned for its nightlife – it boasts an innovative cocktail scene and some of the edgiest bars in Europe. If partying is your jam and you're not too stuffed to move after visiting the markets, head to the legendary district of St Pauli. Or if you're in the mood for a more classy affair I'd recommend heading up one of the sky bars offering spectacular views of the Hamburg skyline. Clouds is the newest sky bar with an open-air rooftop and panoramic view, or if you want to feed your inner Blair Waldorf I'd recommend 20up, a bar situated at the top of a hotel which offers jaw-dropping views and innovative cocktails.
Stop 4: Nuremberg
If a town is known throughout Germany as having some of the best Christmas markets in Europe, you know they're going to be good. Wherever we went beforehand, when people heard we were heading to Nuremberg they waxed lyrical about its 'truly traditional Christmas markets'.
Nuremberg Christmas Markets
The fabulous thing about the Nuremberg markets is that they cover a great part of the town – wherever you go you seem to be surrounded by cheerful red and white striped stalls and little temporary bars offering flowing supplies of gluhwein and eierpunsch (being permanently tipsy for December is not a bad stratagem the northern Europeans have to cope with the constant risk of losing a toe to frostbite). The Nuremberg markets sell a great collection of handcrafted goods and beautifully decorated knickknacks, however, when it comes to food stalls they are very traditional and focus on selling a few main dishes. The dishes it does offer have been perfected- the key selections being the inevitable bratwurst (Nuremberg has such a famous recipe that it is protected by EU law, glad to see they have their priorities in order), and some truly fantastic gingerbread. Unlike the gingerbread you'll find elsewhere in Germany, that which is sold in Nuremberg is soft and packed with spices and nuts. The traditional gingerbread comes either plain, dipped in dark chocolate or glazed. I'd highly recommend the glazed version!
Giant Cauldron of Feuerzangenbowle
If you've spent a while exploring Christmas Markets, and like me, had your fair share of Gluhwein, it might be time to try something with a bit more punch. Feuerzangenbowle describes a drink where a rum-soaked sugarloaf is set on fire and melts into mulled wine, creating an alcoholic punch very unique to Germany. In Nuremberg, you'll find the biggest Cauldron of Feuerzangenbowle in the world, which contains over 9000 litres of the drink. This is a favourite spot amongst locals and definitely worth checking out (be warned, the stuff that comes out of this cauldron is pretty potent)!
Nuremberg's History
Aside from the markets, Nuremberg is a picturesque town which, with its gorgeous medieval architecture, looks like it has come straight out of a fairy-tale. It even has a castle nestled at the top of the town. It's pretty magical wandering the streets, taking photos and frolicking in the autumn leaves. However, while it may be a picturesque town, Nuremberg has a very dark past. Nuremberg contains the site of the Nazi party's old rallying grounds – a colossal structure built to host Nazi gatherings before the end of World War Two. There is now a fascinating exhibition located in its grounds setting out a detailed exploration of the Third Reich's rise to power and the atrocities committed in its name. Nuremberg is also host to the court in which the elite members of the Nazi party faced their crimes after Germany's defeat in 1945. The court can be visited today, as can its exhibition about the history of the trials. Visiting these sites is highly educational and a sobering reminder about one of the darkest periods of human history.
Stop 5: Helsinki
This was my third time visiting Helsinki but my first time visiting during Christmas time- and I can confirm, this Nordic country knows how to do the festive season well.
Senate Square Christmas Markets
Helsinki's Senate square is filled over Christmas with a large, Scandy-chic market. It's definitely one of the most visually appealing markets that we visited – the city's grand cathedral provides a resplendent background for the muted-pastel coloured stalls and cheerful carousel. The markets themselves sell a mixture of Finnish and other Christmas goods, although the stalls are often less specialised than those you'd find in Germany. That being said, we still had some delectable treats – we had a delicious cinnamon roll (no one does them as well as the Scandinavians), some fantastic mushroom soup that warmed the soul (very necessary in the sub-zero temperatures of Helsinki) and some luscious fudge. You'll also find plenty of stalls selling Glögi, which is the Finnish version of mulled wine. Unlike in Germany, the standard Glögi that is sold is non-alcoholic, so if you are searching for a drink that warms the soul, make sure you find the version that is made with actual wine.
Architecture and Art
Apart from the market, Helsinki is a fun city to explore – it has a booming modern architecture scene, as exhibited by the incredible new public library, Oobi, and the Amos Rex gallery, which is a surprisingly innovative 1930s designed gallery which contains a small permanent display of early 20th century artworks as well as a much larger changing exhibition space with modern art shows.
The exhibition we visited was an incredible light display by Team Lab, a Tokyo-based inter-disciplinary art collective who work together to 'reconfigure reality'. It was a breathtaking display of modern technology which has been utilised as art and designed specifically for the wide concrete curvatures of the underground gallery. If you have an appreciation for magnificent yet unpretentious 21st century art, I'd highly recommend paying the gallery a visit.
For more recommendations, take a peek at my top reasons why you should visit Helsinki in Winter (and what to do whilst you are there)!
BONUS: Sibui, Romania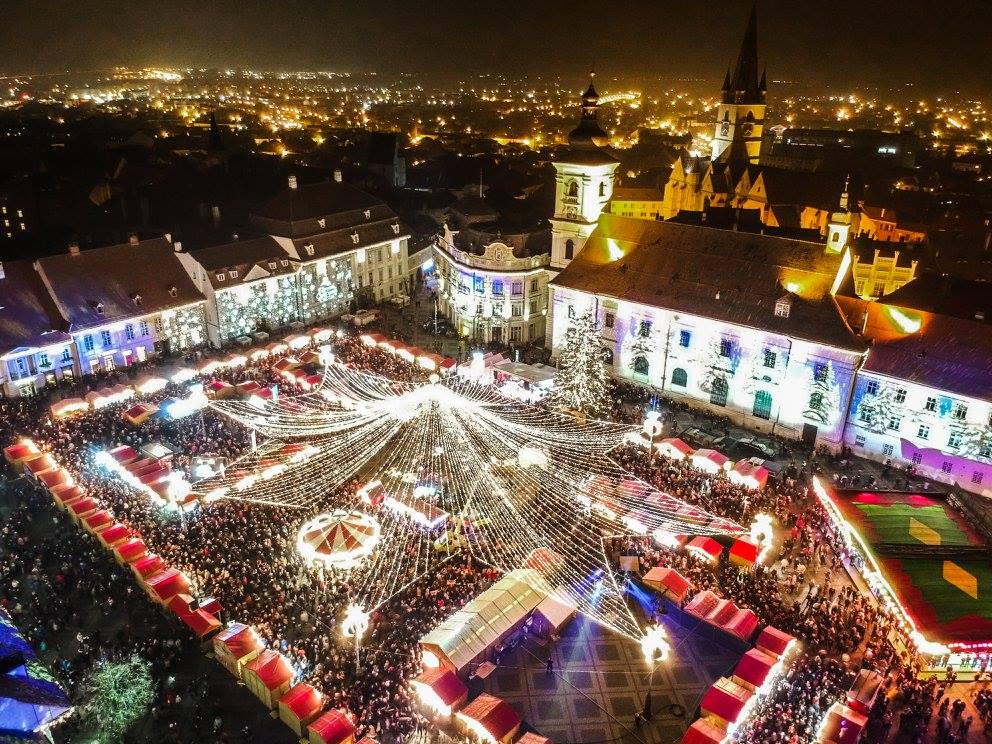 Probably the most underrated travel destination in Europe, Romania has a lot to offer. The bohemian city of Sibiu is located in the famous region of Transylvania. It is known for its multicultural architecture, buzzing cultural scene and laid-back lifestyle.
It's no surprise that the best Christmas Market in Romania takes place here with people from all over coming to visit. The entire Upper Square from the Old Town area is filled with small houses selling traditional Romanian Christmas foods and sweets, artisanal decorations, clothing and much more.
The Sibiu Christmas market is known for its 'made by locals' character since people from all over the country come here to sell their wares. One of the best things to do in Sibiu during Winter is to grab a mulled wine and go for a walk through the beautifully decorated Old Town area. The Christmas market typically lasts from 5 December – 5 January.
Getting to Europe:
Although I would always pick trains over planes, until technology progresses and invents a lightning-quick railway through the ocean, we had to substitute for the next best thing. We flew Finnair to and from Europe, as the airline offers great direct flights between Helsinki and Asia/ North America. If I were to describe Finnair in three words, it would be modern, slick and functional, with a distinctly Finnish flair.
Economy Comfort
On our way to Helsinki from Hong Kong, we flew Economy Comfort, which is a slight upgrade from a normal Economy seat. In Economy Comfort, we got additional legroom, a well-stocked amenity kit, noise-cancelling headphones, priority boarding and an hour of free Wifi (although I couldn't get this working during the flight). Although the seat itself and the food were the same as in Economy, the extra legroom and amenities certainly did make our 11-hour flight a little more comfortable!
Business Class
On our flight from Helsinki to New York, we got to experience Finnair Business Class. The Business Lounge at Helsinki airport was particularly impressive- in fact, it is one of my favourite airport lounges that I've visited. Designed in a very chic, Scandi-style, the lounge was spacious and well-equipped, containing everything from a napping area to a Finnish Sauna. They even served Mulled Wine and gingerbread for Christmas!
In terms of the airline's actual business class product, it was very comfortable, with lots of space and seats turning into lie-flight beds. Although the food was a big step up from the Economy meal, it was still served on a tray (rather than on plates in the normal multi-course format you get in Business Class). The drinks menu was expansive and included both champagne and a range of cocktails that incorporated typical Finnish liquors, which was a nice touch. The entertainment screens were a little on the small side, however, they were filled with enough movies and TV shows to keep me entertained for the duration of the flight. Most importantly, the service onboard was impeccable- all the staff onboard were very kind and did everything they could to provide make our flight pleasant.
Big thanks to Eurail & Finnair for the wonderful European Christmas Market experience!
What are some the best European cities to visit at Christmas for you?
For more Christmas travel, read these next:
Liked this guide to the best European cities to visit at Christmas? Pin for later!