Visiting L.A on a time crunch? Follow my ultimate Los Angeles itinerary to ensure you make the most of 2 days in la la land!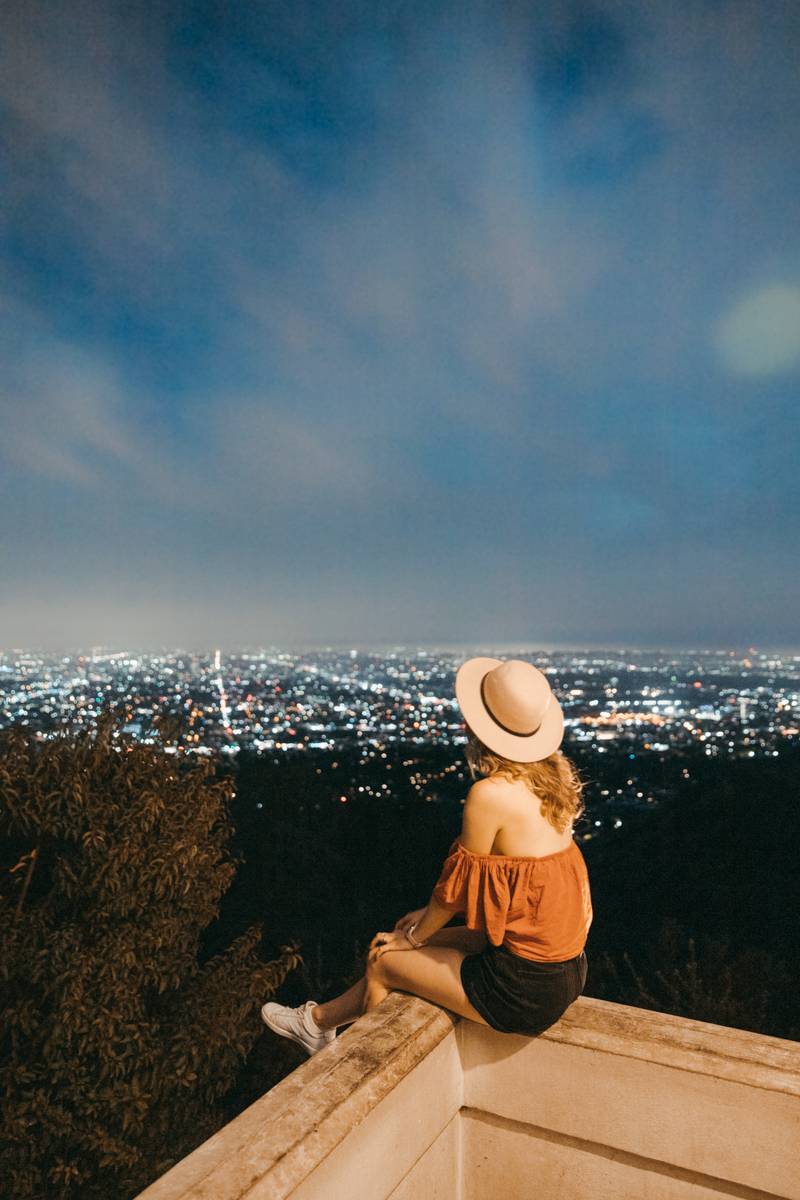 I must admit, the first time I visited Los Angeles, I was not very enamoured by the city of stars. Getting around was difficult, everywhere I visited seemed overcrowded and touristy, and the air felt clouded with pollution and superficiality. Despite flying into LA countless times over the years, I always made sure to leave the city as quickly as I arrived.
However, I am a big believer in giving destinations second chances. After seven years of avoiding Los Angeles, I knew it was time to revisit. This time, I was on a mission to dig deeper into the heart of the city. I wanted to see if there was more to L.A than I had initially perceived. First, I reached out to some locals for their top recommendations. Then, we jam-packed our 2 day LA itinerary full of the most recommended spots to visit.
I am happy to report that the mission was in fact successful. Although my initial thoughts about the city still ring true, I managed to see another side of Los Angeles that I really resonated with. A side filled with a richness of culture, a diversity of cuisine and a touch of classic Hollywood glamour.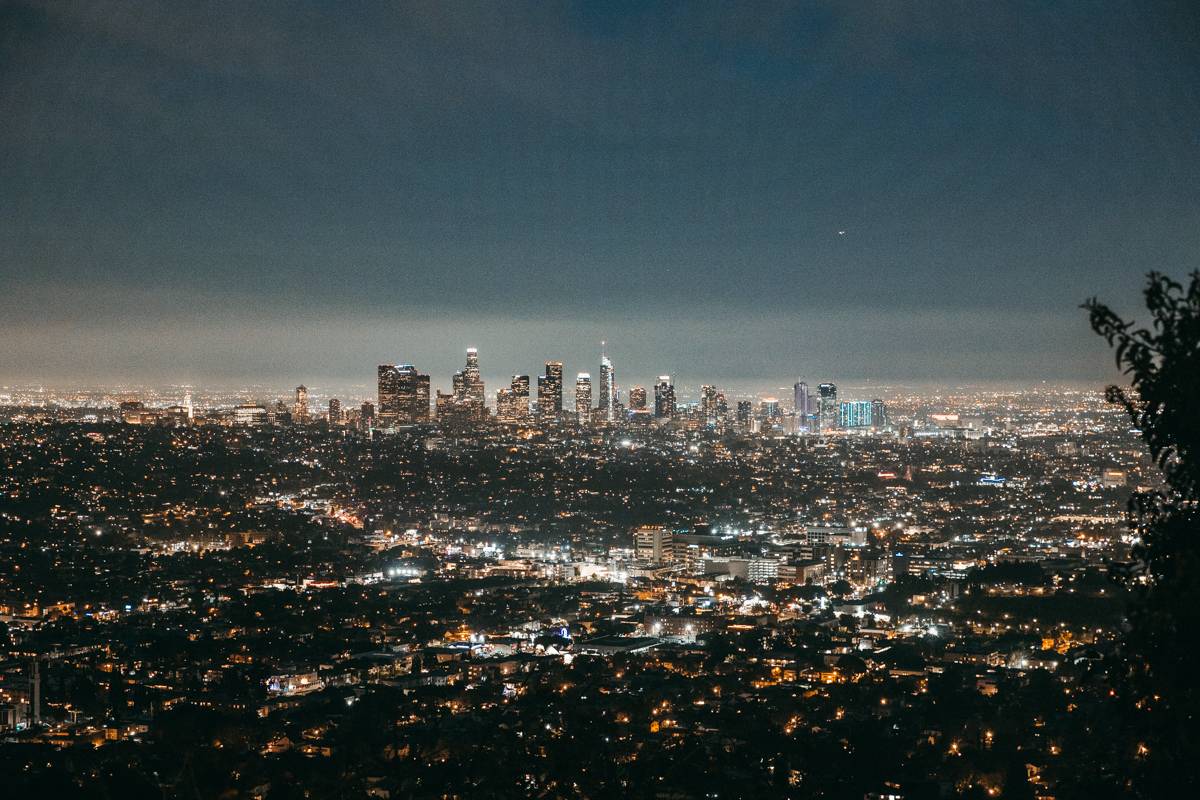 Without further ado, here is my ultimate Los Angeles itinerary, including everything you need to know if you are visiting LA for 2 days.
How to get around LA for 2 days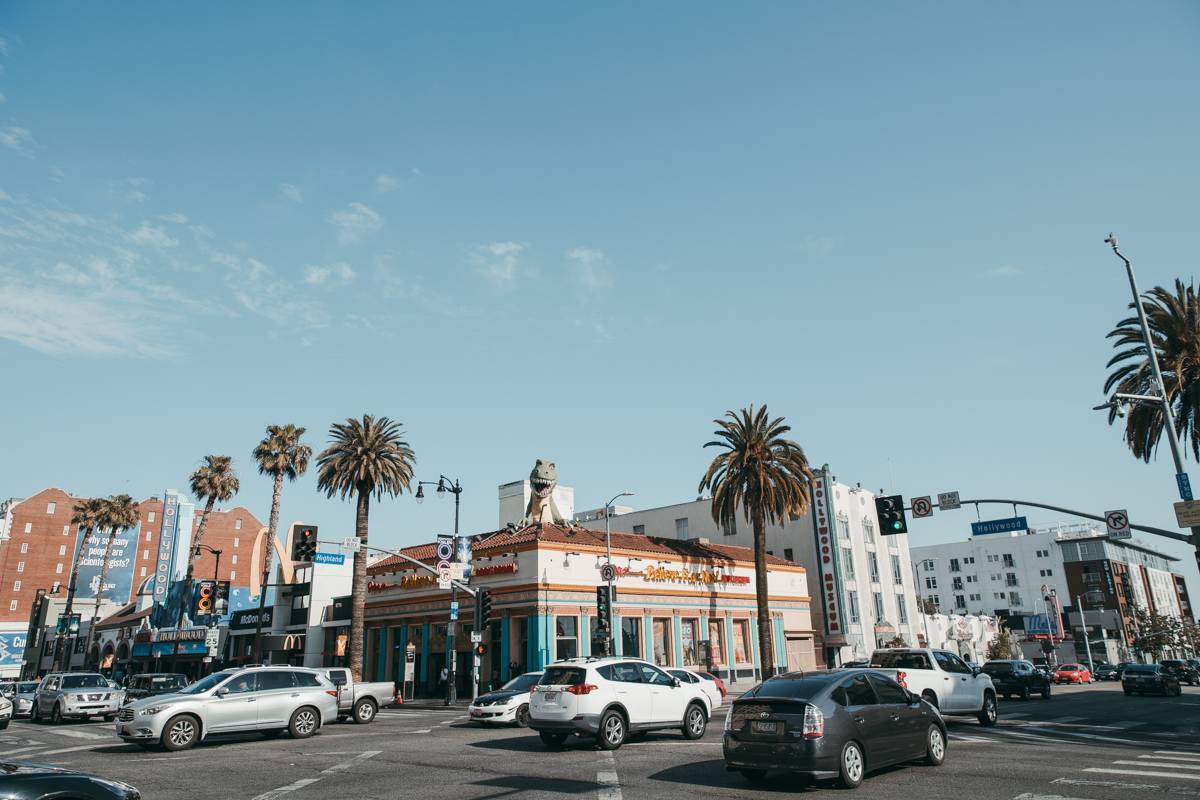 If you are visiting Los Angeles for 2 days, you have three main transport options.
Hire a car– If you're planning to travel to any of the regions surrounding LA, car hire is the best option. However, if you're just going to be in LA for 2 days, hiring a car will end up being expensive and a lot of hassle to organize.
Catch public transport- The cheapest way to get around LA is to catch public transport. You will find trains and buses throughout the city. However, the public transport system isn't great, and it will take you a long time to get from place to place
Use a ride sharing app- This is definitely the quickest and easiest way to get around LA. I would recommend downloading Lyft as this is the cheapest ridesharing app we came across. Plus, if you sign up to Lyft using this link, you can get $15 credit towards your first rides!
Where to stay for 2 days in LA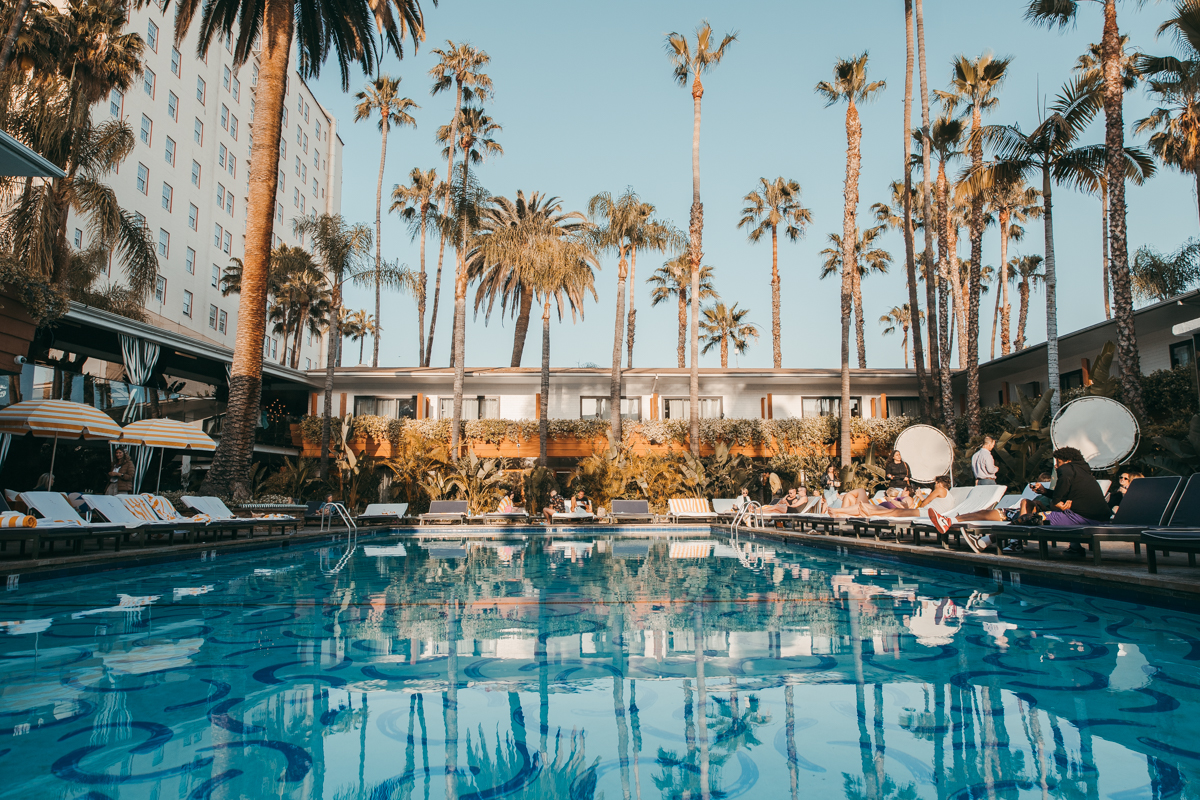 During our 2 days in LA, we stayed at the historic Hollywood Roosevelt. Located right on the Hollywood Boulevard, it is the oldest operating hotel in Los Angeles. In fact, the first-ever academy awards were held here in 1929.
Retaining much of its old-world charm and aesthetic, this hotel is the perfect place to stay if you want to be transported back to the golden era of Hollywood. The hotel is home to everything from a 60's style tropical pool area, an elegant cocktail lounge to a fabulous Italian-American steakhouse.
Check prices and availability for the Hollywood Roosevelt Hotel here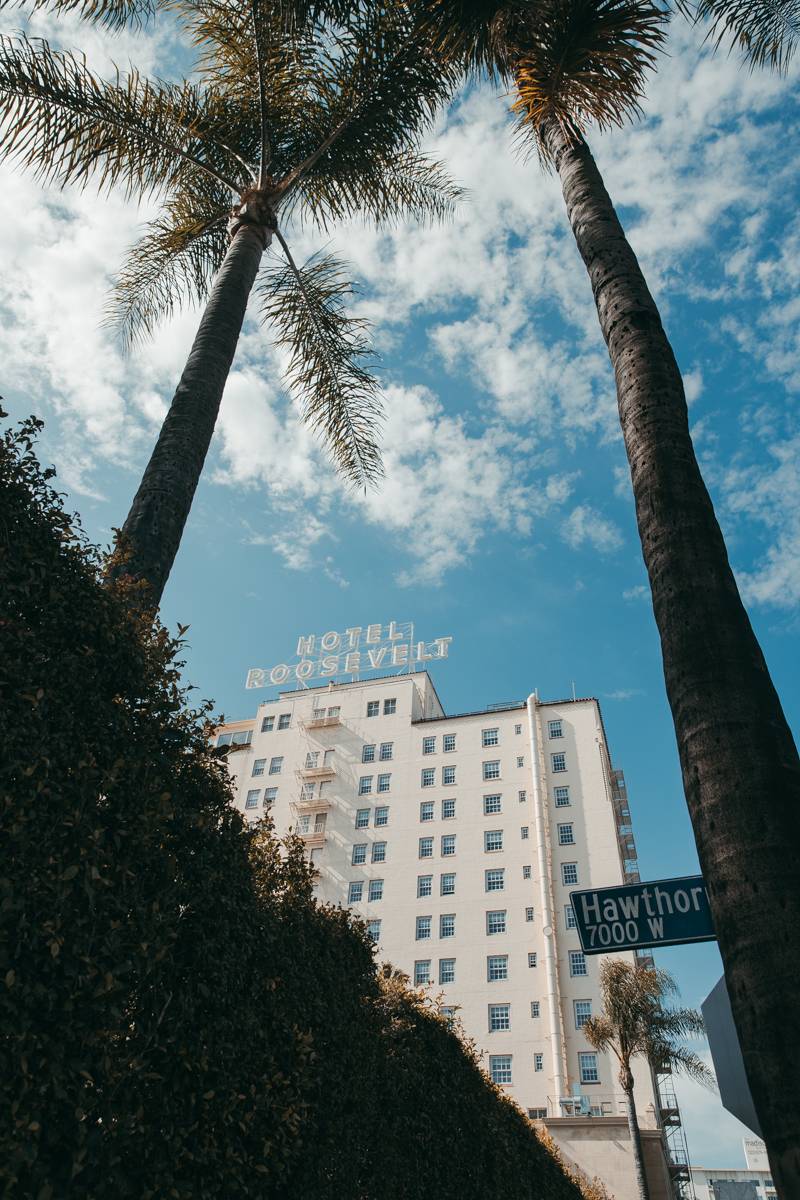 If you want to browse a curated selection of the very best hotels in L.A, I'd recommend checking out Safara. Booking through Safara means you get the best hotel rates as well as 10% credit back from every stay. If you sign up here, you can also get a $100 credit to spend on your first stay.
Los Angeles Itinerary: Day 1 in LA
Stroll down the Hollywood Boulevard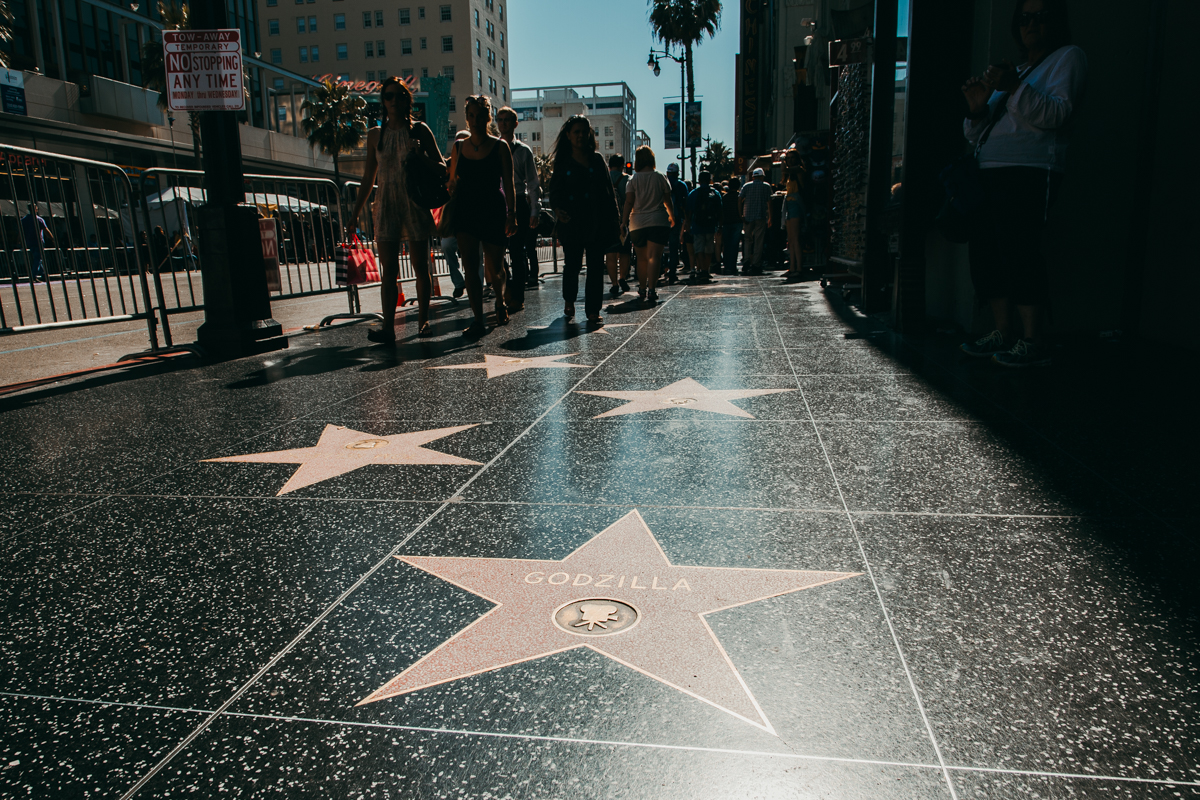 Kick off day 1 of your LA itinerary with the most iconic (and touristy) spot of all- the Hollywood Walk of Fame. Take a stroll down the 15 blocks of Hollywood Boulevard. Admire the 2,700 brass and terrazzo stars embedded in the sidewalks, honouring the Hollywood greats.
The Hollywood Boulevard is also a thriving hub of entertainment, so there are plenty of iconic LA things to do in the area. Along with the endless shopping and dining options, here are some other popular spots to check out along the Hollywood Boulevard:
TCL Chinese Theatre IMAX
Madame Tussauds Hollywood Wax Museum
Hollywood Museum
If you plan on visiting many attractions when you're in LA, it's worth looking into the Los Angeles Go City All-Inclusive Pass. You can purchase a pass for 1-7 days which will give you access to over 40 attractions around L.A , saving you up 40% off buying individual tickets. The pass includes entry to theme parks (including Universal Studios), museums and zoos, plus a huge range of walking, biking and boat tours.
Check prices and book your Go City All-Inclusive Pass here
Fuel up on caffeine at a hip coffee shop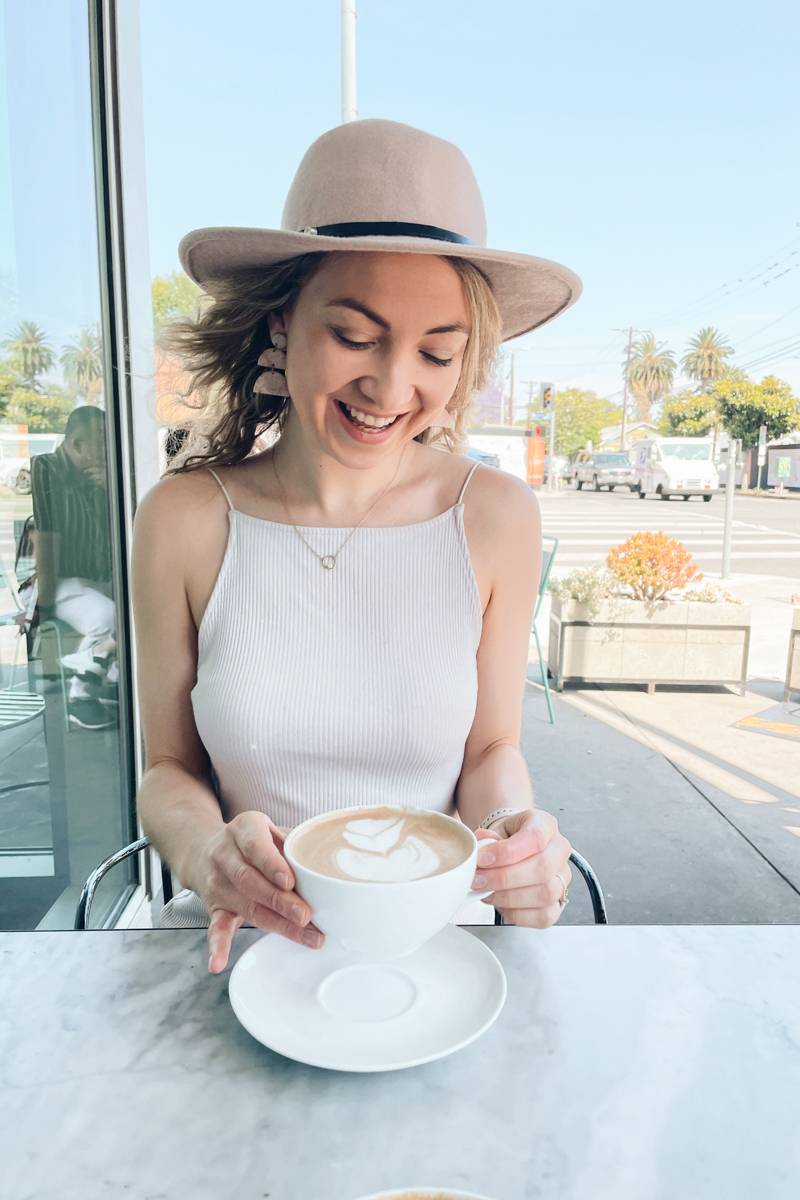 Gone are the days when drip coffee was the only option for a caffeine boost in the US. The coffee scene in Los Angeles is now thriving, with artisan coffee shops popping up all over the city. You'll find everything from single-origin pour-overs for the connoisseurs to sea salt caramel dark chocolate lattes for the sweet tooth. Here are some coffee shops in the Hollywood area to check out:
Sightglass Coffee- The ever-popular San Francisco coffee roastery has opened a massive outpost in Hollywood. Come in for a fabulous barista-made coffee and a freshly-baked pastry. Make sure you leave with a bag of coffee beans that have been roasted on-site.
Black Canvas Coffee– Stop by this chilled, airy cafe for a picture-perfect rainbow avocado on toast and a speciality latte. Black Canvas offers a very unique range of signature drinks, including a sour cherry-oat cold brew, blueberry maple latte and iced rosewater honey latte.
Blackwood Coffee Bar- This stylish coffee bar, located at the base of Runyon Canyon, offers high-quality espresso drinks and creative tea-based lattes. They also have a range of comforting, homemade breakfast options to choose from.
Grab a burger from the iconic In-n-out for lunch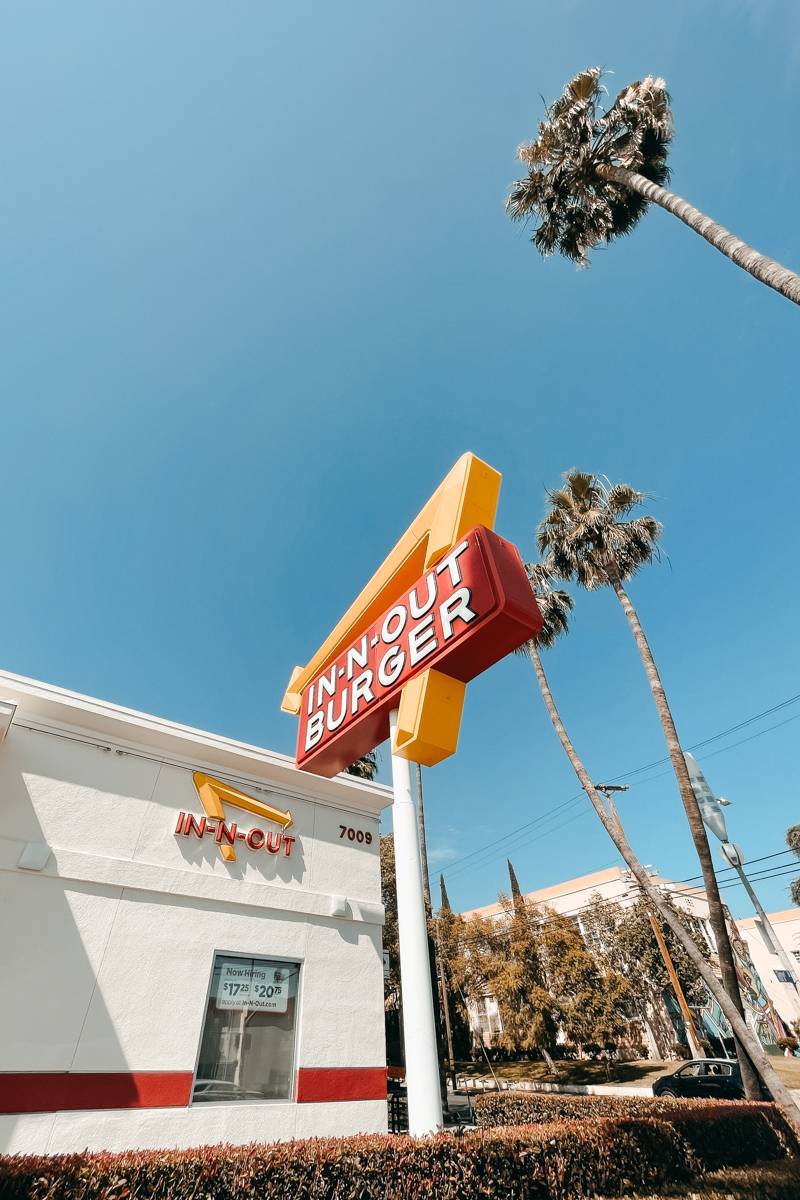 Think of visiting In-N-Out as your initiation to the West Coast of the US. This cult favourite burger chain offers a rare combination of fast food that is both cheap and high in quality. It may not be the greatest burger you'll find in L.A. However, for a few dollars, these burgers will seriously satisfy you.
At first glance, the menu at In-n-out looks very concise. However, there is a whole other secret menu that you can order from if you are "in the know". Ask for a burger 'animal-style' to add pickles, grilled onions and an extra helping of sauce to the mix. Similarly, 'animal-style' fries come topped with a slice of melted cheese, grilled onion and special sauce. If you're after a lighter option, asking for your burger protein-style will sub the bun for a lettuce wrap.
Hike to the Hollywood Sign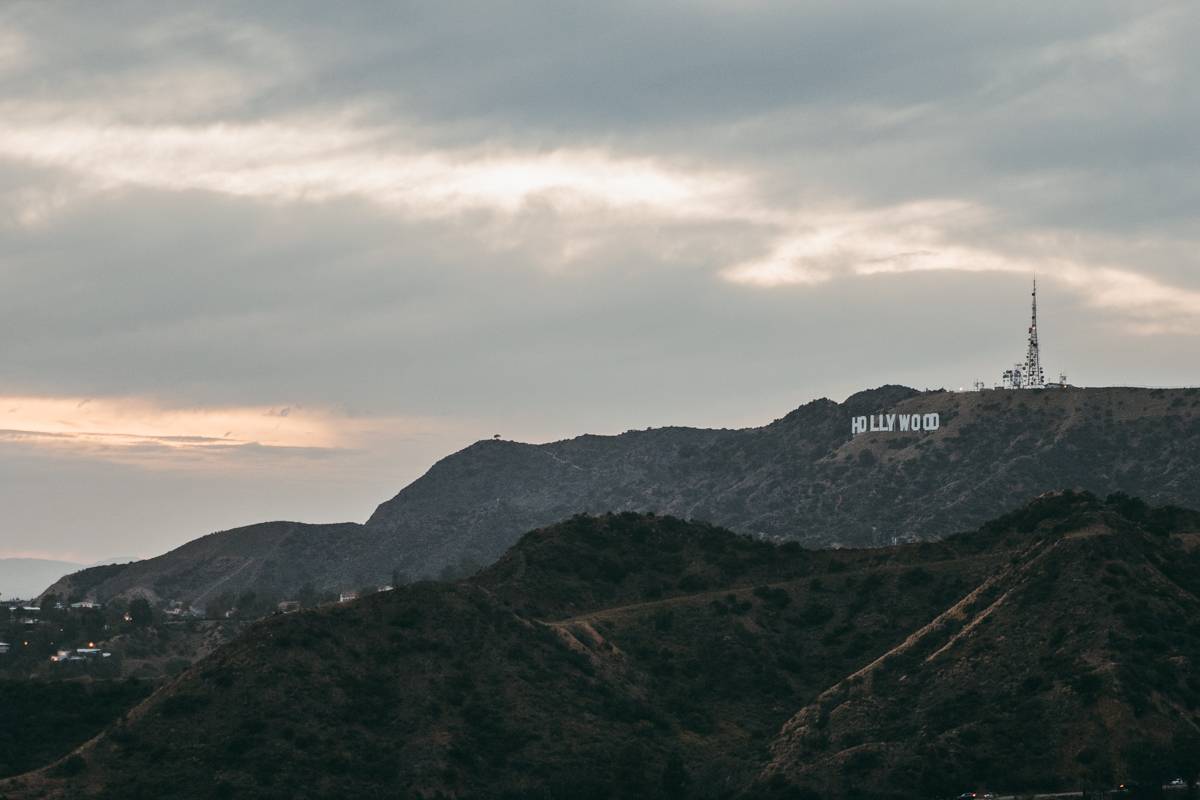 If you're feeling energetic, make sure you include a hike to get up close and personal with the Hollywood sign in your L.A itinerary. The actual sign is fenced off and guarded by cameras. However, you can hike up onto Mount Lee where you will get great views from behind the sign over the city. The hiking routes to get to this point unfortunately aren't super straightforward. If you aren't overly confident about where to go, it might be worth joining a group hike with a guide.
Check prices and availability for hikes to the Hollywood Sign here
Stop in for a drink at the Hollywood Roosevelt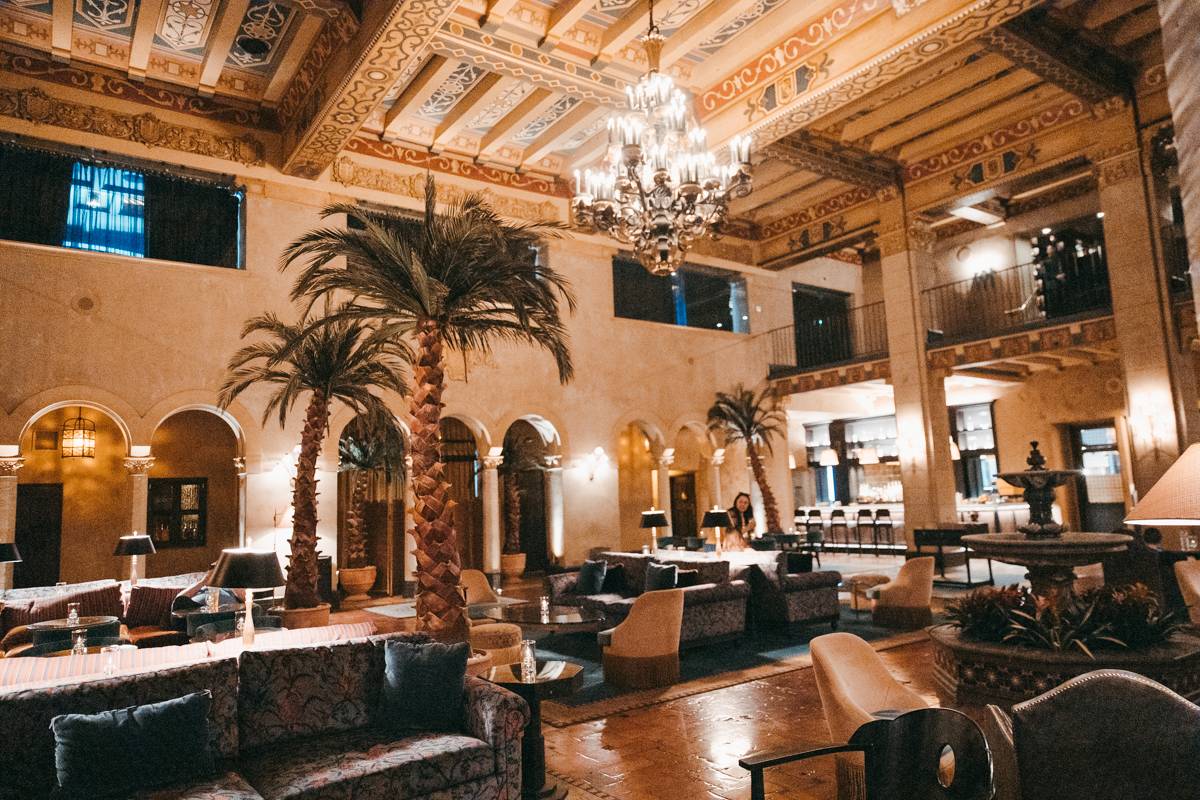 If you want to feel like you are on the film set of a movie, head to the historic lobby at the Hollywood Roosevelt. Unsurprisingly, the hotel has featured in many Hollywood blockbusters. The impressive lobby has been renovated in a Spanish Colonial style, featuring a grand cast-iron chandelier and tiled fountain as its centrepiece. It's the perfect spot to cozy up on a lounge for a glass of wine or a cocktail. Plus, there is live jazz most Wednesday evenings.
Head up to Griffith Observatory for views over L.A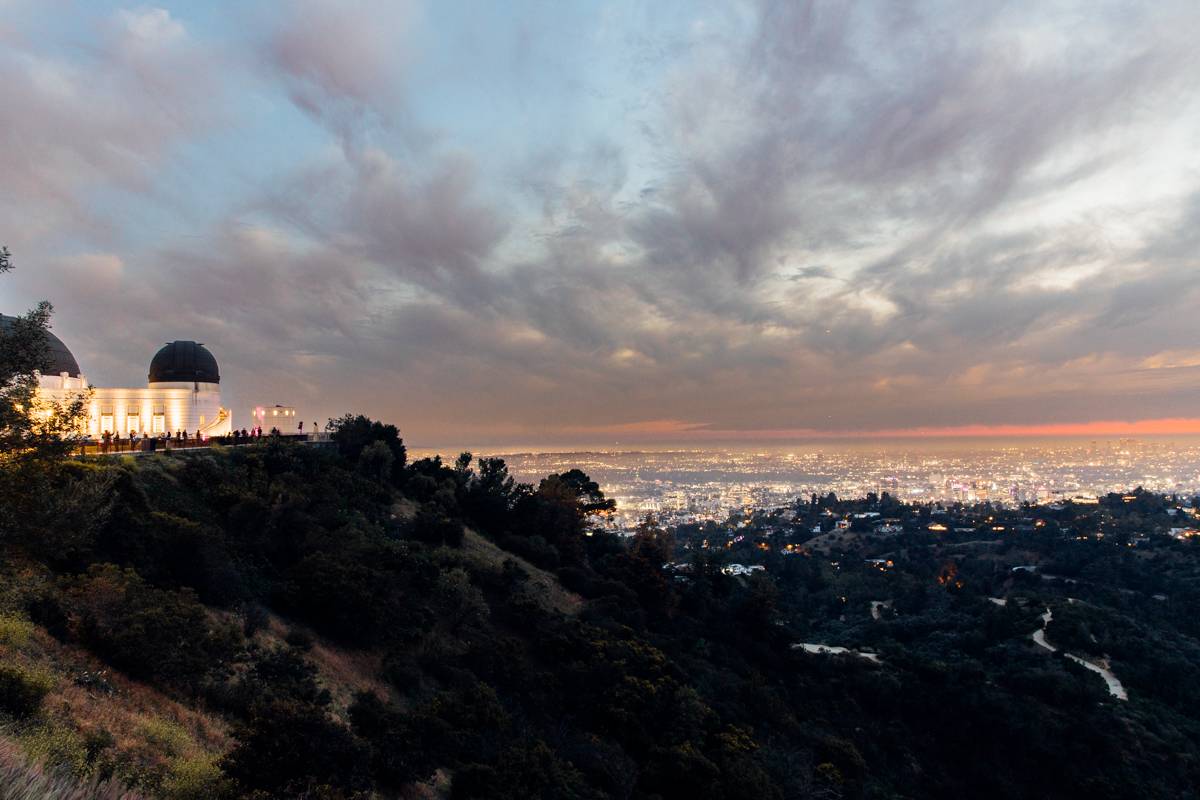 During your 2 days in LA, you absolutely should make time to head up to the Griffith Observatory. Here, you'll find some of the best views over Los Angeles. Head to the viewing platform at the back of the Observatory at sunset and stay until the city lights come on. It's a magical sight!
Beyond the views, you can enter the Griffith Observatory free of charge, with a planetarium and plenty of space exhibitions to explore. Just make sure you time your visit as the observatory only opens on Friday, Saturday and Sunday.
Check prices and availability for guided tours of Griffith Observatory here
Visit a Taqueria for Birria Tacos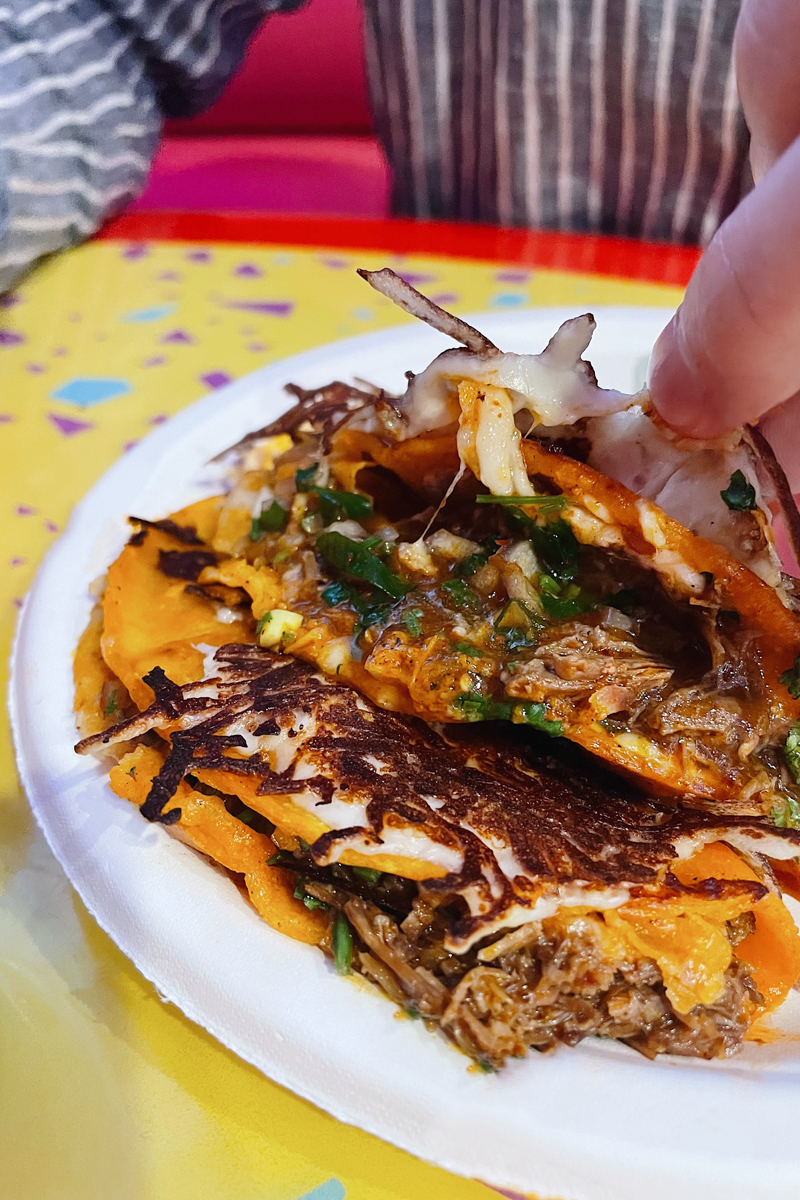 If you happen to be in the Hollywood area, I'd suggest paying ToDo Bien Taqueria a visit. The neon-coloured, retro fit-out isn't exactly what you expect from an authentic Mexican taqueria. Yet, when you're in LA, it somehow makes sense. Offering some of the BEST Birria tacos in town, ToDo Bien Taqueria deserves a spot on your 2 day LA itinerary.
The Mexican food scene in L.A has been strong for many generations. However, in recent years, it is the birria taco that has risen to fame in Los Angeles (mostly thanks to social media). Birria is a slow-cooked meat stew that is rich in spicy, savoury flavour.
At ToDo Bien, you can pick between beef or chicken birria to stuffed inside a taco alongside cilantro, onion and salsa. Make sure you order the queso tacos, where a thick layer of cheese is added to the outside of the tortilla and then fried to golden perfection. Ordering consume and spooning this flavour bomb over the tacos adds yet another level of juiciness and depth to the mix.
Day 2 in LA itinerary
Start the day with a Diner-style Breakfast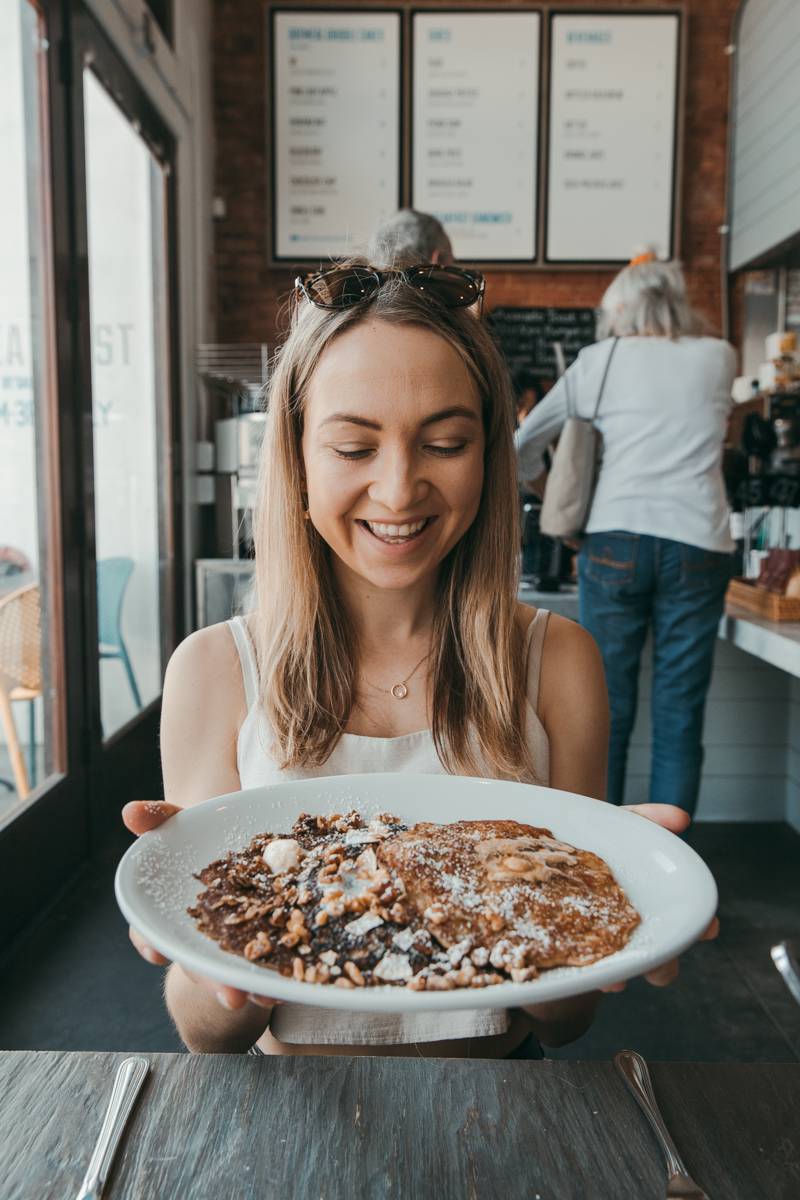 Skip the trendy LA brunch spot where you will pay a ridiculous amount for avocado on toast. Instead, come to Breakfast by Salt's Cure, an American diner-style breakfast specializing in oatmeal griddle cakes. These are basically the superior cousin of the pancake. One bite in, and you'll see why.
The texture of these griddle cakes is quite simply divine. They are lightly crisp and almost caramelised on the outside, yet so moist on the inside. The OG flavour with cinnamon butter may be the simplest flavour but it's definitely the standout. The butter infuses just the right amount of spice to take the already flavoursome griddlecake to the next level.
If you like a sweet and salty combo, Salt's Cure has you covered. You can order savoury sides to go with the griddle cakes, from soft scrambled eggs, cured ham or sausage patties. Wash down your breakfast with the simple drink selection bottomless filter coffee, cold brew or orange juice.
Explore Little Tokyo in DTLA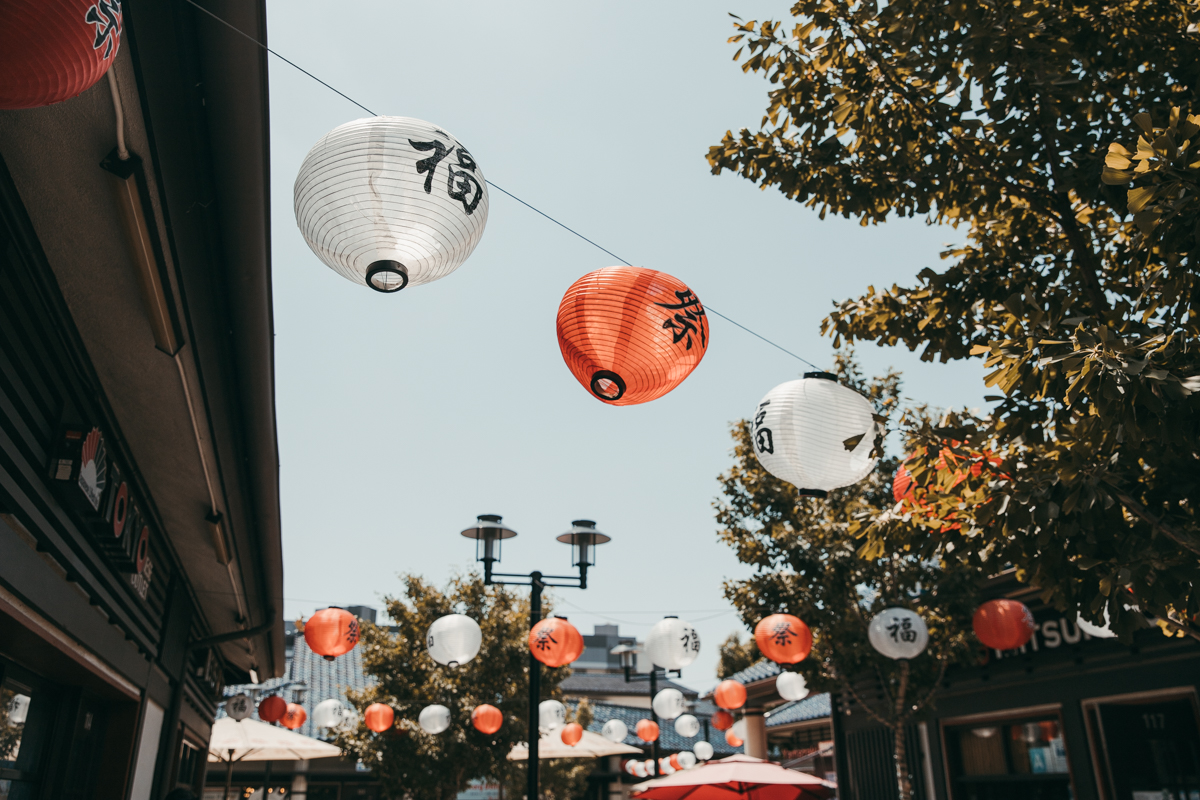 If you've got 2 days in LA and you want to see more than just the typical "Americanized" hotspots, head to Little Tokyo in DTLA. This hub of Japanese culture is a prime example of the rich ethnic diversity you'll find in Los Angeles. Filled with authentic sushi joints, mouth-watering Japanese bakeries, quirky gift shops and manga hotspots, you'll hardly believe you're still in America.
Browse the quirky Japanese stores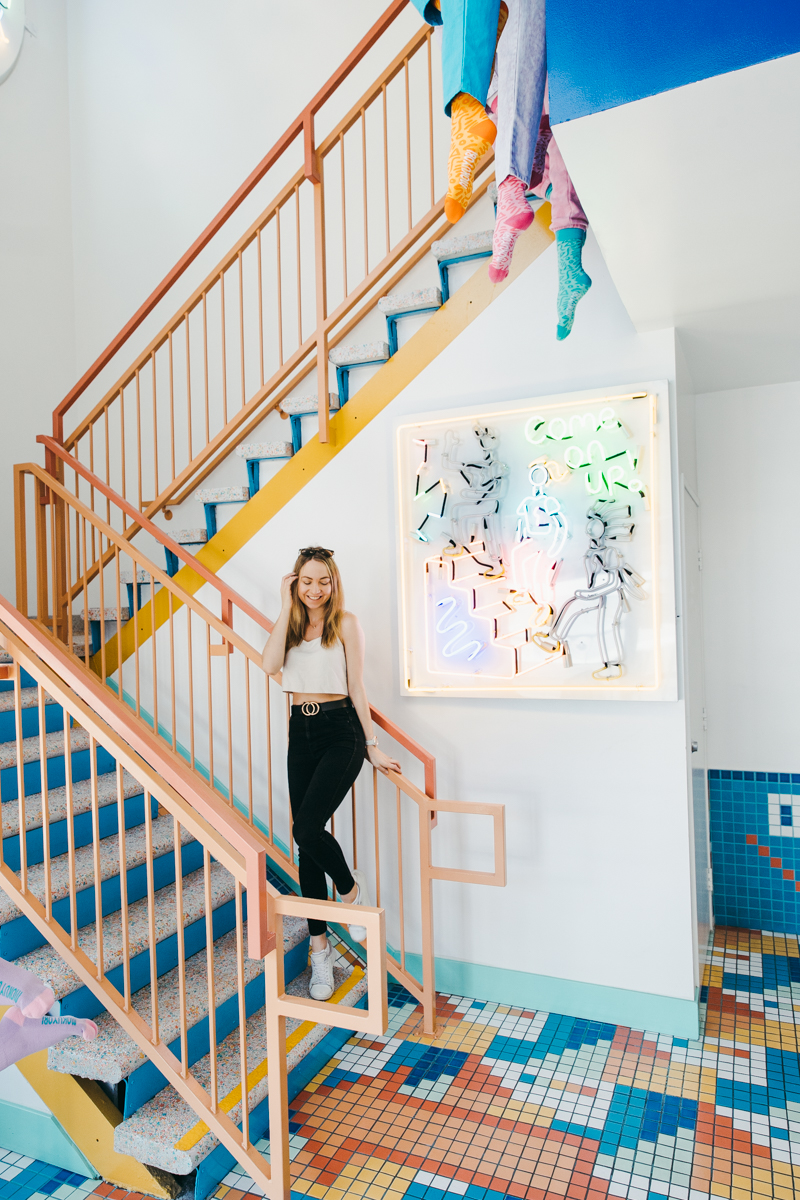 If you normally find retail therapy boring, shopping in Little Tokyo may just change your perspective. Here, you'll find some of the most quirky, colourful and "kawai" stores you've ever since (outside of Japan of course).
Head to the flagship Popkiller store for bold pop-culture apparel or search for hidden gems amidst the handpicked vintage threads of Raggedy Threads. For gorgeous ceramics and an endless range of Japanese knickknacks, head to Bunkado or Rafu Bassun. Or, if it's manga you are after, Kinokuniya Bookstore is the spot to go.
Get your matcha fix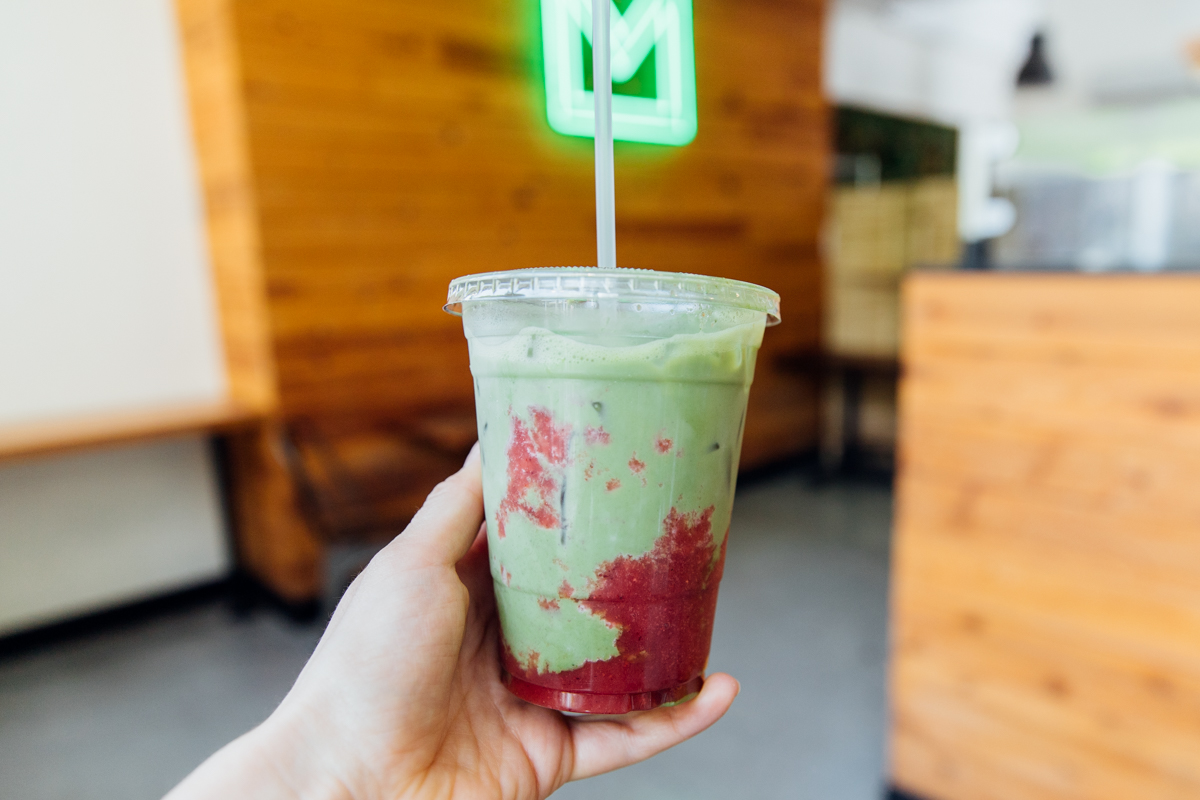 If you're onboard the matcha fan train, a stop to the Mindori Matcha Cafe is a must. Here, you'll find a range of matcha-based drinks and Japanese-style soft serve in all sorts of unique flavour combinations. Thankfully, the drinks here aren't overly sweetened, which really allows the fragrant matcha taste to shine through.
If you like something a little fruity, the iced matcha strawberry latte will not disappoint. For those with nuanced tastebuds, the matcha rose combination (which comes in both latte and soft serve form) is a match-a made in heaven.
Try authentic okonomiyaki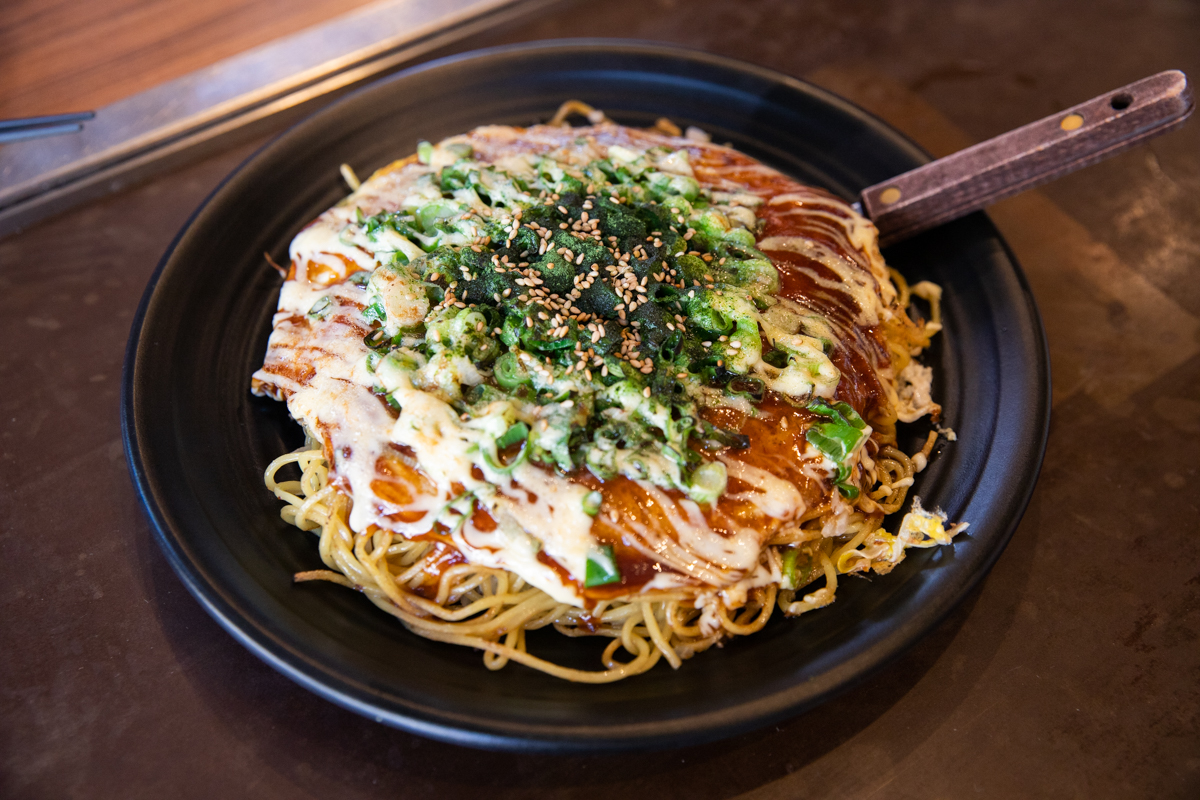 It's not easy to find authentic okonomiyaki outside of Japan, which makes Chinchikurin a true LA gem. These delectable layered Japanese pancakes are made with cabbage, egg, pork, tempura crisps and bean sprouts.
Okonomiyaki varies in the way it is made throughout different regions in Japan. Chinchikurin offers Hiroshima-style Okonomiyaki, which introduces a layer of noodles into the mix. For the most authentic taste, stick with the classic or the GOAM okonomiyaki, which is topped simply with spring onion and kewpie mayo.
Indulge your sweet tooth with a soft-serve filled Taiyaki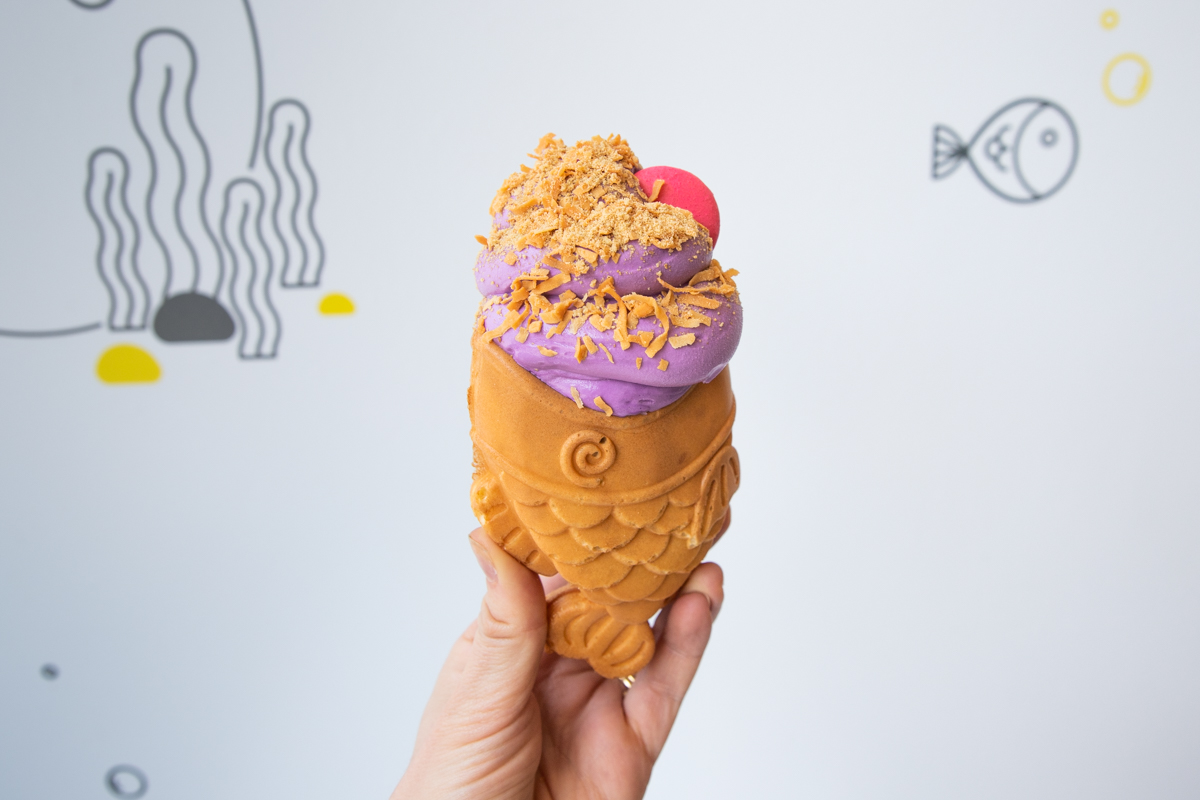 If you need to fulfil your sweet cravings, head to Somi-Somi for a unique and delicious treat. Taiyaki is a Japanese fish-shaped waffle that is stuffed with fillings such as red bean, taro or custard. At Somi-Somi, they use taiyaki as a cone and to fill with unique flavours of soft serve, such as matcha, ube or black seasame. This fish-stuffed creation is called ah-boong and it's absolutely delicious!
Explore the famous Venice Beach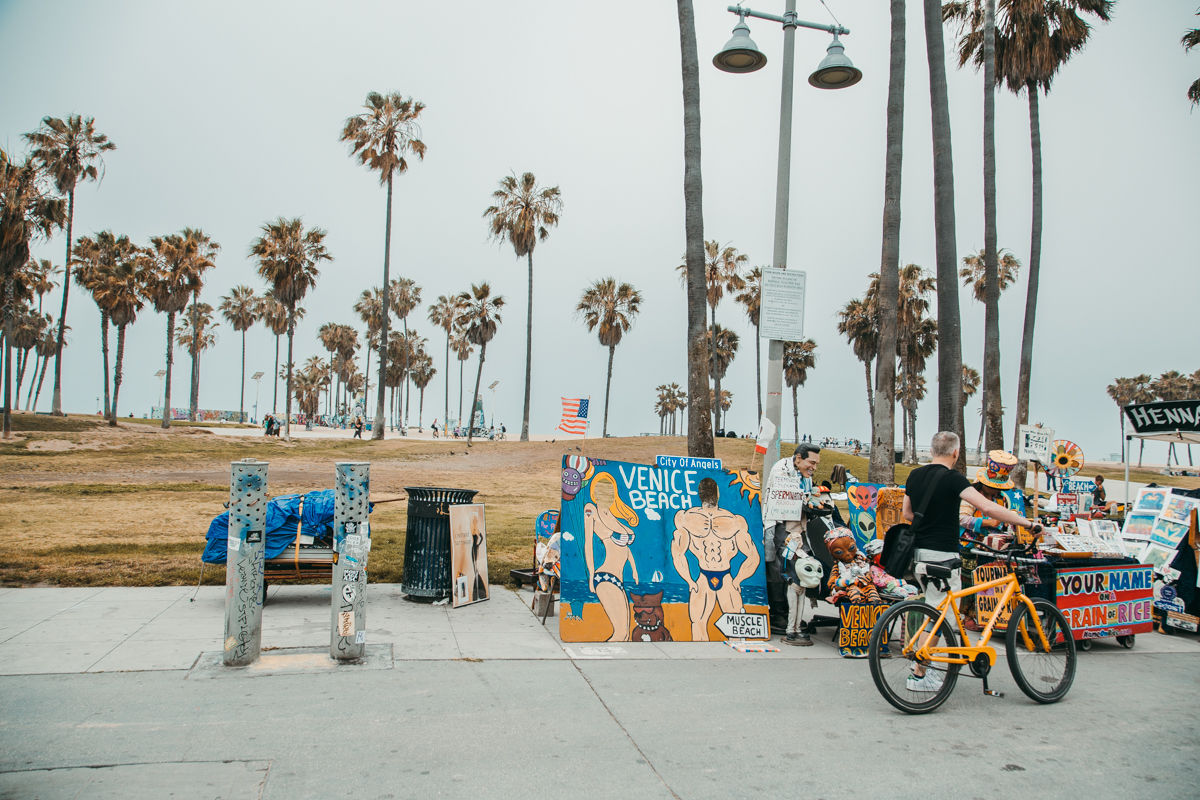 As one of Los Angeles most iconic spots, Venice Beach is a staple of every 2-day LA itinerary. Start off by exploring the famous Venice Canals neighbourhood and the unique range of houses in the area.
Next, head over to Abbot Kinney Boulevard. This vibrant mile-long strip is filled with art galleries, boutique shops and some of the best cafes and restaurants in L.A. Stop by Salt & Straw for uniquely flavoured icecream (think pistachio rose water with strawberry mochi and rhubarb crumble with toasted aniseed). If you're after a snack, swing by the bakery/ deli Gjusta for one of the insanely good bagels or sandwiches.
Finally, stroll along Ocean Front Walk to see Los Angeles in all of its glory. Here, you'll see everything from bodybuilders working out at Muscle Beach to graffiti artists creating art at the Venice Skate Park. If you love people-watching, you'll love this place.
Stroll along the Santa Monica Pier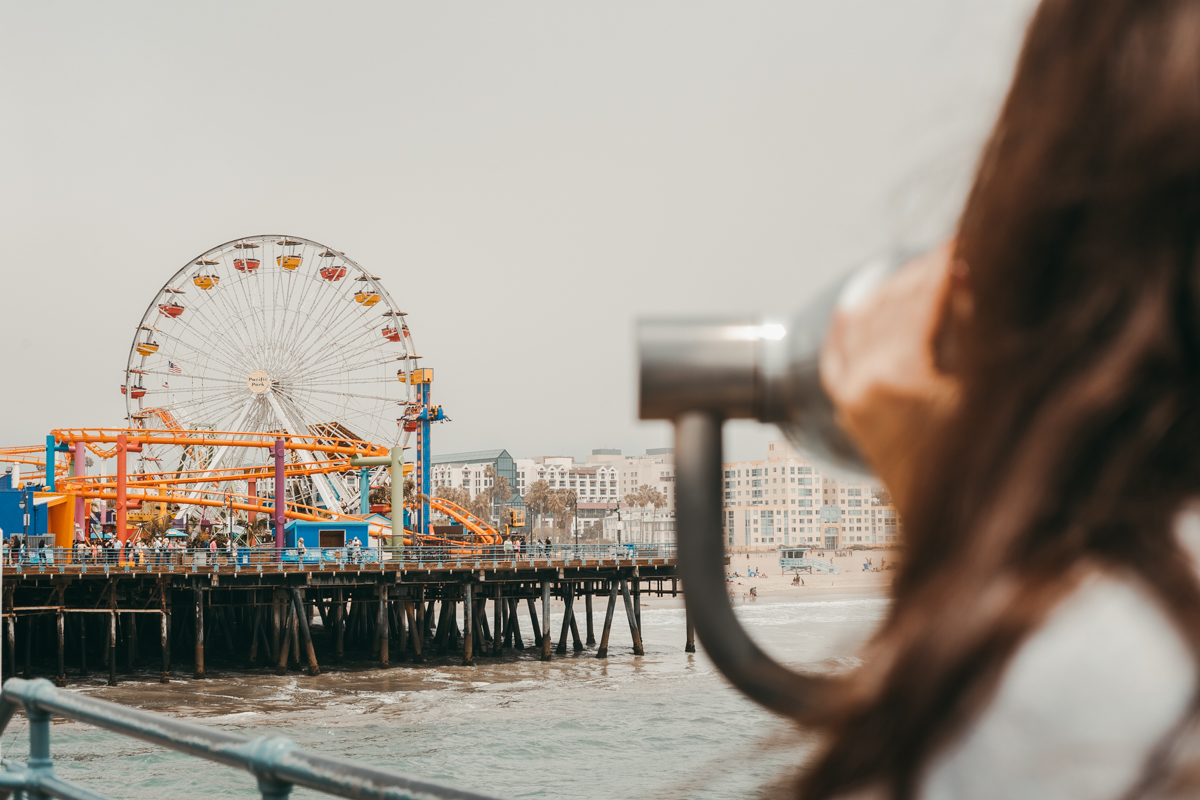 Continue down Ocean Front and you'll eventually make it to the famous Santa Monica Pier, another staple of a 2-day itinerary in Los Angeles. Take a ride on the Pacific Wheel if you want spectacular views over the Southern Californian coastline. Otherwise, just grab something greasy and delicious from one of the resident food trucks and enjoy the view from the pier.
Have an unforgettable meal at an Italian-American Steakhouse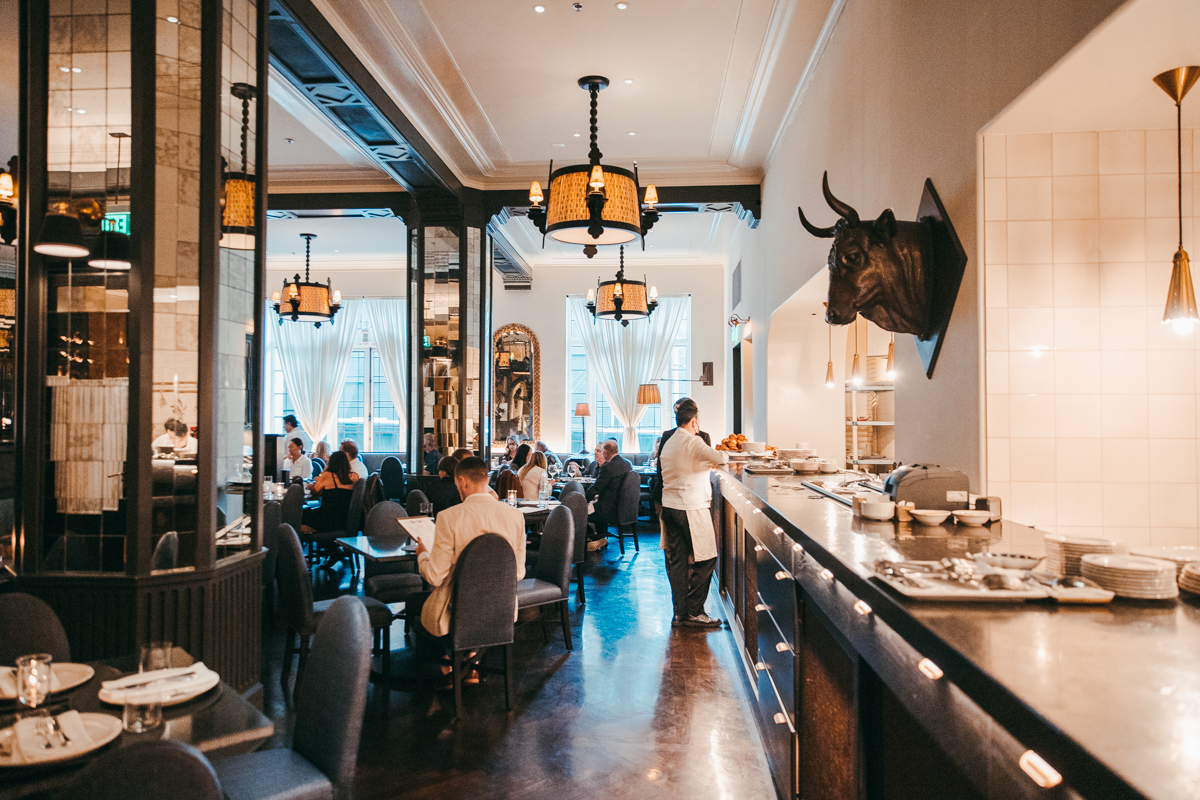 If you want an unforgettable finish to your 2 days in LA, I would suggest booking a table at The Barish. Tucked inside the Hollywood Roosevelt hotel, the chic old-world glamour of the restaurant will whisk you right back to the 30's. This Italian-American restaurant was started by famous chef Nancy Silverton. The menu was created in the style of a classic American steakhouse, with almost every menu item cooked over a wood fire in the open kitchen.
Begin your meal with the pizza fritta, a fluffy fried dough topped with fresh ricotta and a generous seasoning of black pepper. Order this along with the bagel-inspired smoked salmon with green garlic and cream cheese that will absolutely melt in your mouth. Moving onto the pasta course, the rigatoni is not to be missed. Stuffed with a sweet yet fragrantly spiced carrot and goats cheese filling and topped off with brown butter and crispy sage, it's incredibly moreish. Finally, move on to the gem of the menu, the 6oz ribeye cap American wagyu steak. This little morsel does not come cheap, but I can confirm it was the best steak I've ever eaten in my life.
Travelling around California? Read these articles next:
Planning on visiting Los Angeles? Make sure you save this 2-day LA itinerary before your trip!