From stunning Azulejo tile street art to the best views for sunset- here are 18 hidden gems in Porto that make the ultimate Instagram spots!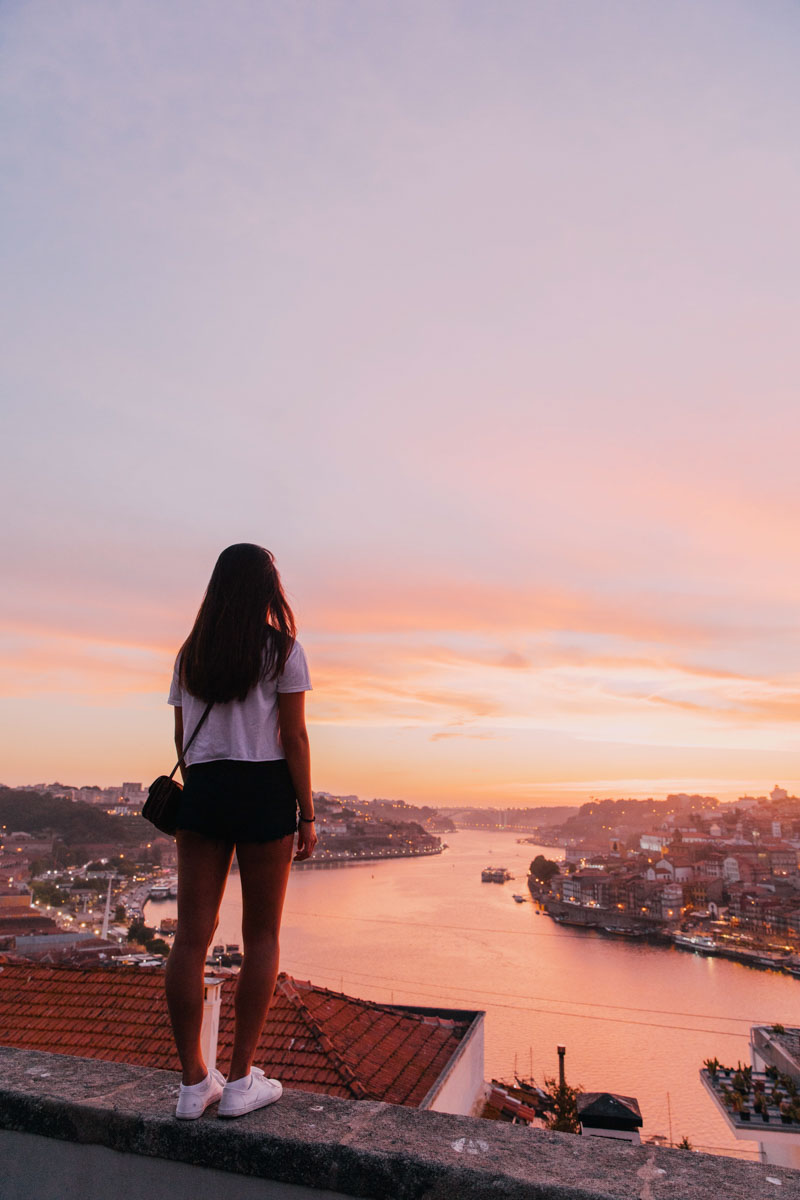 Located at the end of the Douro River, Porto has got to be the most photogenic city in Portugal. The unique hilly terrain on either side of the river in Porto creates a breathtaking cityscape that draws millions of tourists annually.
Home to several unique bridges, intricate cathedrals, stunning street art and more, Porto is brimming with photogenic hidden gems. Get your camera ready as you snap your way around the 18 best Instagram spots and views in Porto!
Travelling around Portugal? Make sure you also check out my 10 Top Lisbon Instagram Spots!
Best Views in Porto
1. Miradouro da Vitoria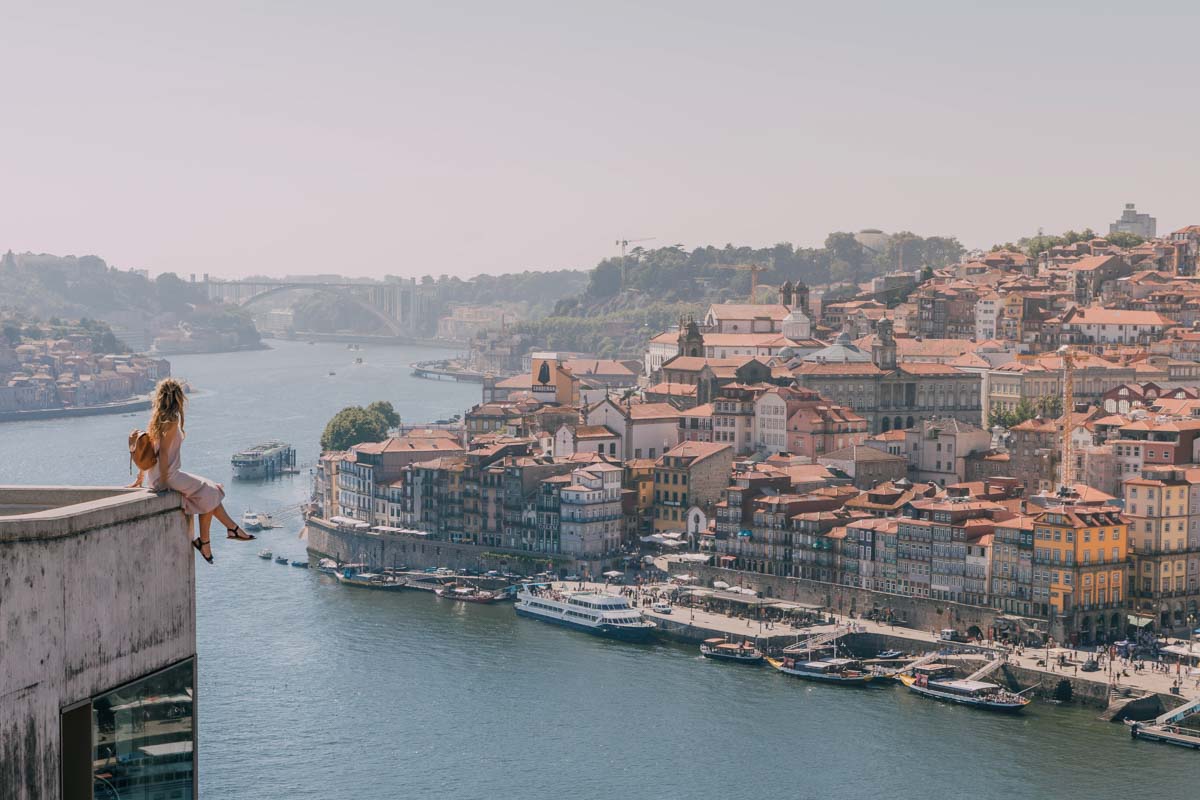 By Ann from The Road Is Life
One of Porto's best Instagram views can be found tucked away in the backstreets of the city. From Miradouro da Vitoria you can see a spectacular panoramic view looking out over Dom Luís I Bridge, Porto Cathedral and the Douro River. This stunning viewpoint allows you to capture these major landmarks in one frame.
A visit to this viewpoint is an absolute must-do on your Porto itinerary. Miradouro da Vitoria is usually pretty quiet, so it's easy to set up and spend as much time as you like taking photos. I'd highly recommend coming up here at sunset- it is a truly magical scene!
ADDRESS: R. de São Bento da Vitória 11, 4050-265 Porto
2. Clerigos Tower
By Lara from The Best Travel Gifts
One of the best views in Portohasz got to be at the top of the Clérigos Tower. While the climb to the top may be tiring, the breathtaking views over the entire city of Porto make it all worth it. It is without a doubt one of the most Instagram-worthy spots in Porto!
If you visit the Clérigos Tower during the day, the ticket costs 8 euros, including access to the museum. If you'd like to enjoy a seriously spectacular sunset view of Porto, tickets after 7pm cost 5 euros. If you buy a Porto Card, you can get 50% off entry and unlimited public transport for the duration of your stay.
ADDRESS: Torre dos Clérigos on Reu de São Filipe de Nery
3. Miradouro da Serra do Pilar
By Claire from Europe in Winter
Miradouro da Serra do Pilar undeniably offers some of the most spectacular views over Porto. To get here, you need to head over Ponte Luis I bridge, to Porto's neighboring city of Vila Nova de Gaia. Here, you can gaze over the River Duoro and take in landmarks like Porto Cathedral and Clerigos Tower.
The views over Porto from this Instagram spot are glorious, whether you're visiting Porto in winter or summer. However, the Serra do Pilar is also worth photographing. A 16th-century convent, it's a UNESCO World Heritage Site and is famous for its circular church and cloister.
ADDRESS: Largo Aviz, 4430-999 Vila Nova de Gaia
4. Arrabida Bridge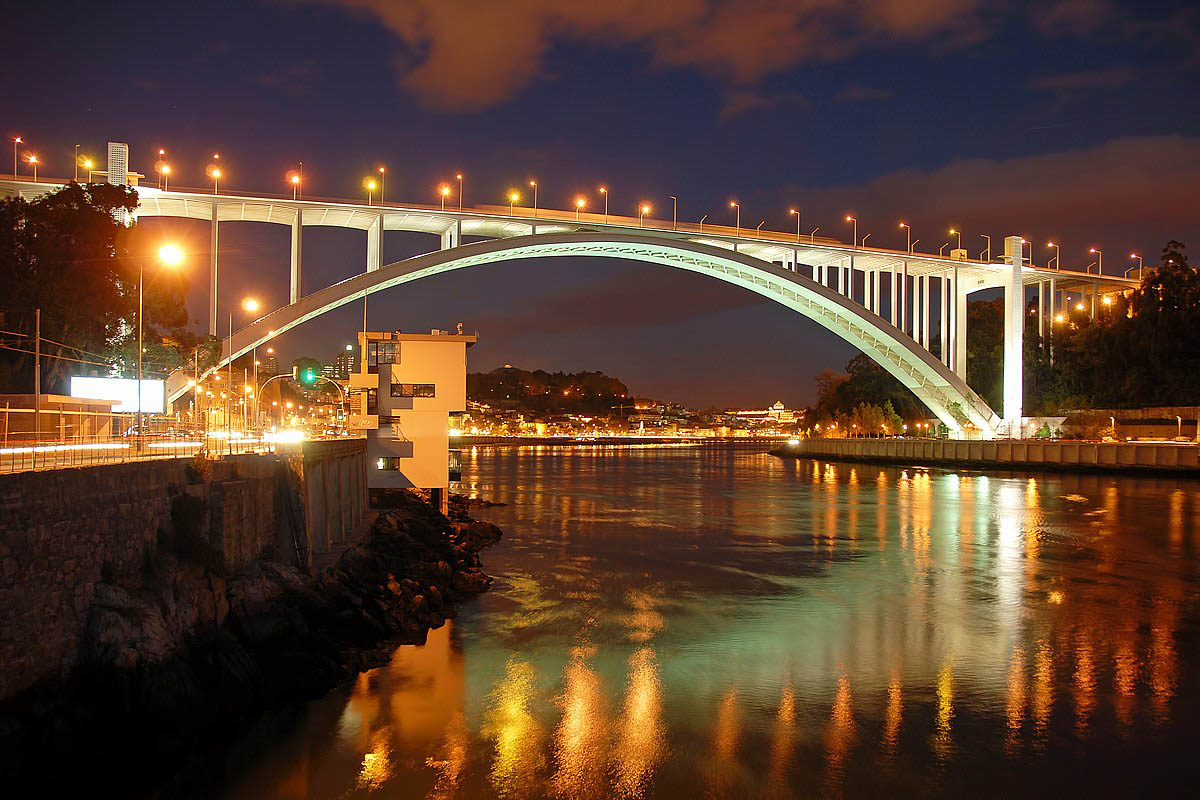 By Izzy from The Gap Decaders
The Arrabida Bridge is another one of the Porto Instagram spots you can't miss. This national monumen is located west of the Pont Dom-Luís, the bridge connects the city of Porto with Vila Nova de Gaia. At the time of its construction, in 1963 it was the largest reinforced concrete arch in the world.
The views of the Arrabida Bridge are spectacular from every angle. You can photograph the bridge for the surronding riverbeds, which makes for a particularly striking photo at nighttime. Or, if you are feeling brave, you can actually climb up the Arrabida Bridge (read more about that below!)
ADDRESS: Ponte da Arrábida, Via de Cintura Interna, 4400-492 Porto
5. Arrabida Bridge Climb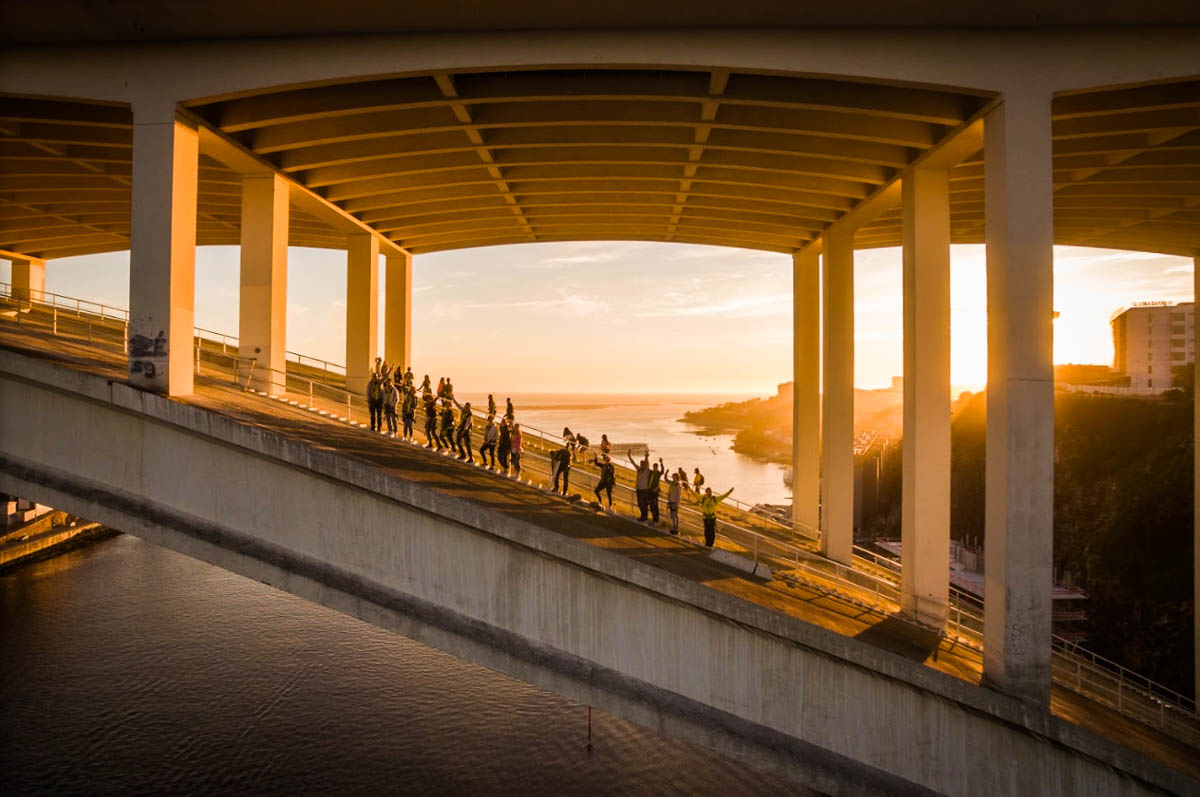 By Kenny from Knycx Journeying
If you want one of the best views of Porto from above, strap on and take a climb up the Arrabida Bridge. The bridge climb is one of the few epic bridge climbs in the world. There is no better way to truly appreciate and capture the beauty of Porto!
For the bridge climb, participants walk the stairs on the 65-meter high arch to the top and are rewarded with a truly Instagram-worthy view of Porto. The bridge climb takes off multiple times daily.
ADDRESS: Ponte da Arrábida, Via de Cintura Interna, 4400-492 Porto
6. Boat Ride on the Douro River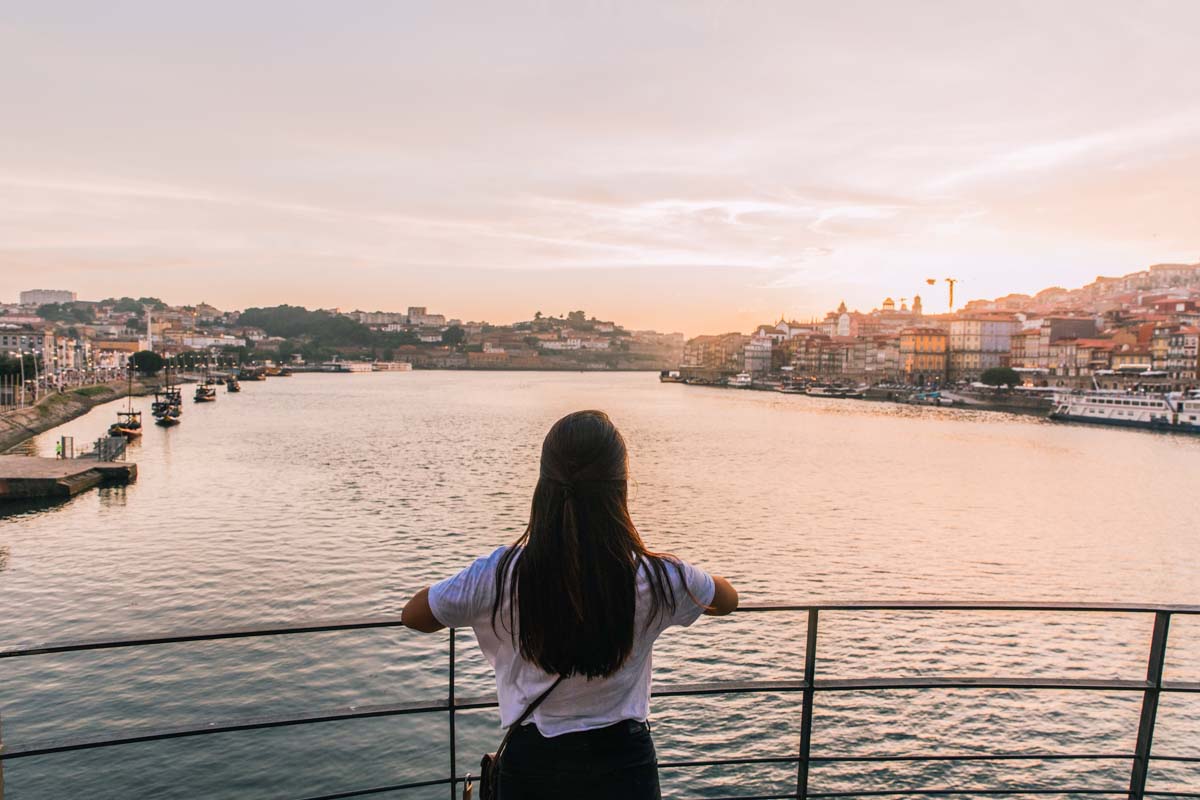 By Melissa from My Beautiful Passport
For those who want to capture the best views in Porto, there's nothing quite like doing so on a boat cruising along the Douro River. A Porto boat tour offers some of the most unique views of the city from the water. You can get great Instagram shots of the bridges, colourful buildings, churches and other monuments as you sail along.
For an even more Insta-worthy experience, you can book a private Yacht to take you and your friends down the Douro river at sunset. Or, opt for this very popular boat tour that includes a wine-tasting experience, a traditional lunch and plenty of photo opportunities of the Duoro Valley.
ADDRESS: Cais da Ribeira (check for individual boat rides)
7. Luís I Bridge (Ponte Luís I)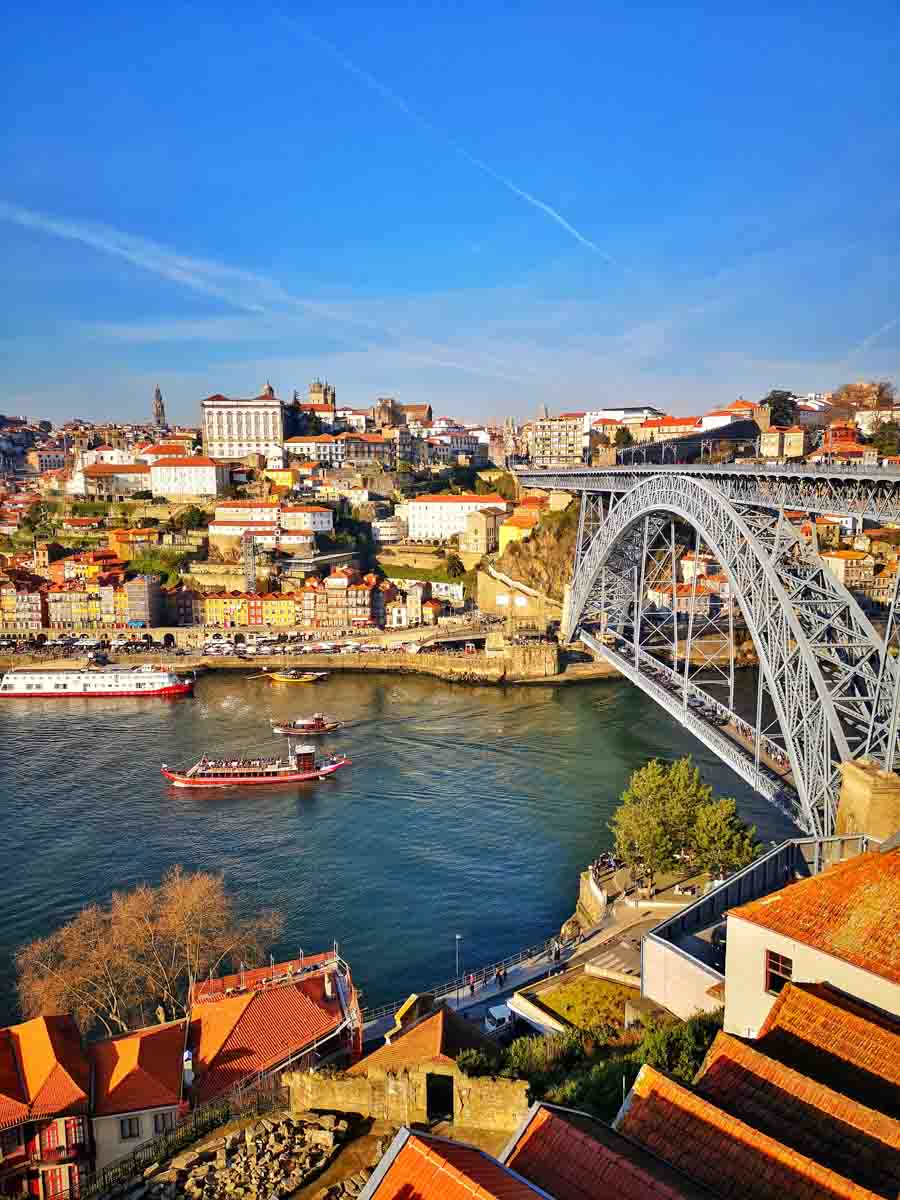 By Claire from Tales of a Backpacker
The impressive Luís I Bridge is a two-level arched bridge that spans the River Douro and connects Porto with Vila Nova de Gaia. Walking across the bridge should be on any Porto itinerary. Whether you are taking photos of it or from it, the Luís I Bridge is a truly iconic Porto Instagram spot!
You'll find some of the best views in Porto from the top section of the bridge, where you can see the historic centre of Porto climbing the hill from the river. To get great photos of the bridge itself, there are viewpoints on both sides of the river. Or, catch the cable car in Nova de Gaia to get a perspective from up high.
ADDRESS: Pte. Luiz I, Porto
Looking for more fun things to do in Porto? I'd highly recommend going on a food tour with a local. This is one of the best ways to see the city and experience the cuisine!
Porto Street Art + Murals
8. Mount Carmel Mural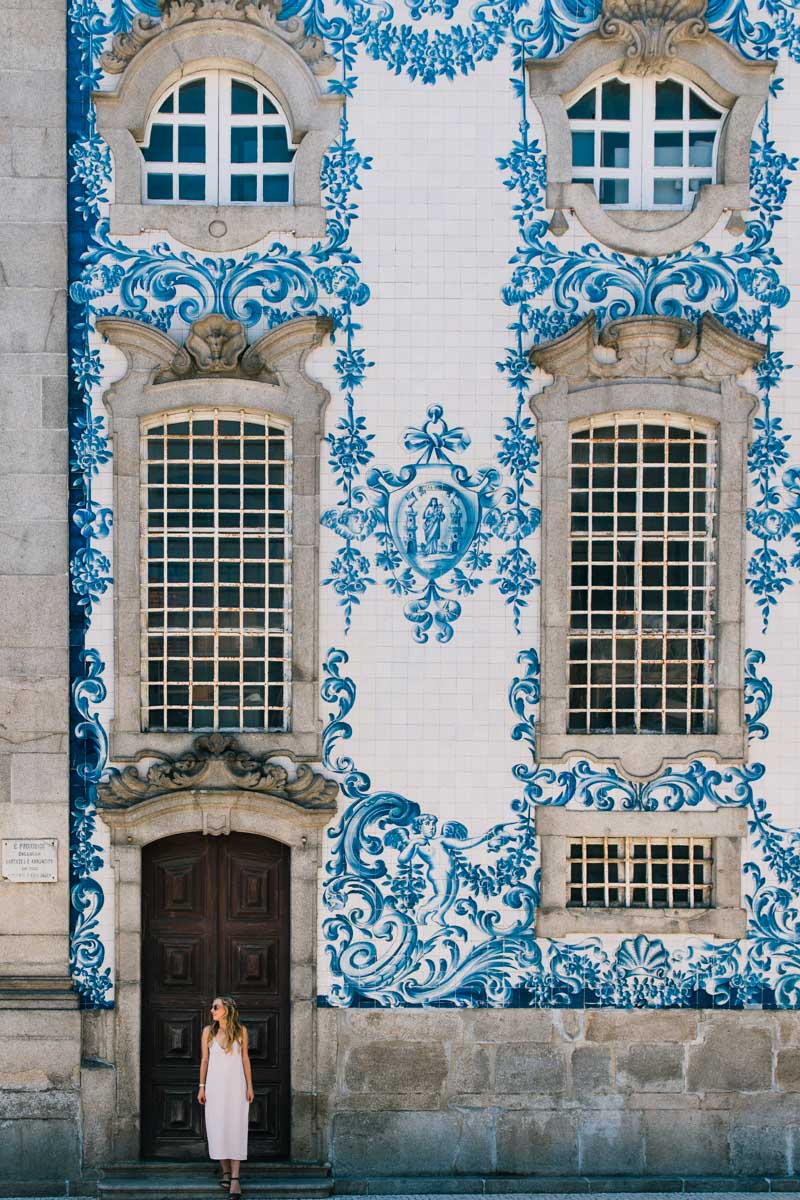 By Stephanie Craig from History Fangirl
The Mount Carmel mural is possibly Porto's most famous Instagram spot. This blue-and-white azulejo tile mural spams accross the eastern facade of the Carmo Church. The tiles were hand-painted by Carlos Branco based on some of Silvestre Silvestri's drawings between the years 1907 and 1912. They narrate stories by Our Lady of Carmel and the Carmelite order.
As well as being steeped in history, the iconic mural is one of the most popular spots for tourists to pose. If you only have twenty-four hours in Porto, I'd recommend getting here early to get your shot with this iconic Porto street art. Otherwise, prepare to be patient to get your Insta-worthy photo!
ADDRESS: R. do Carmo, 4050-164 Porto, Portugal
9. Joana Vasconcelos Mural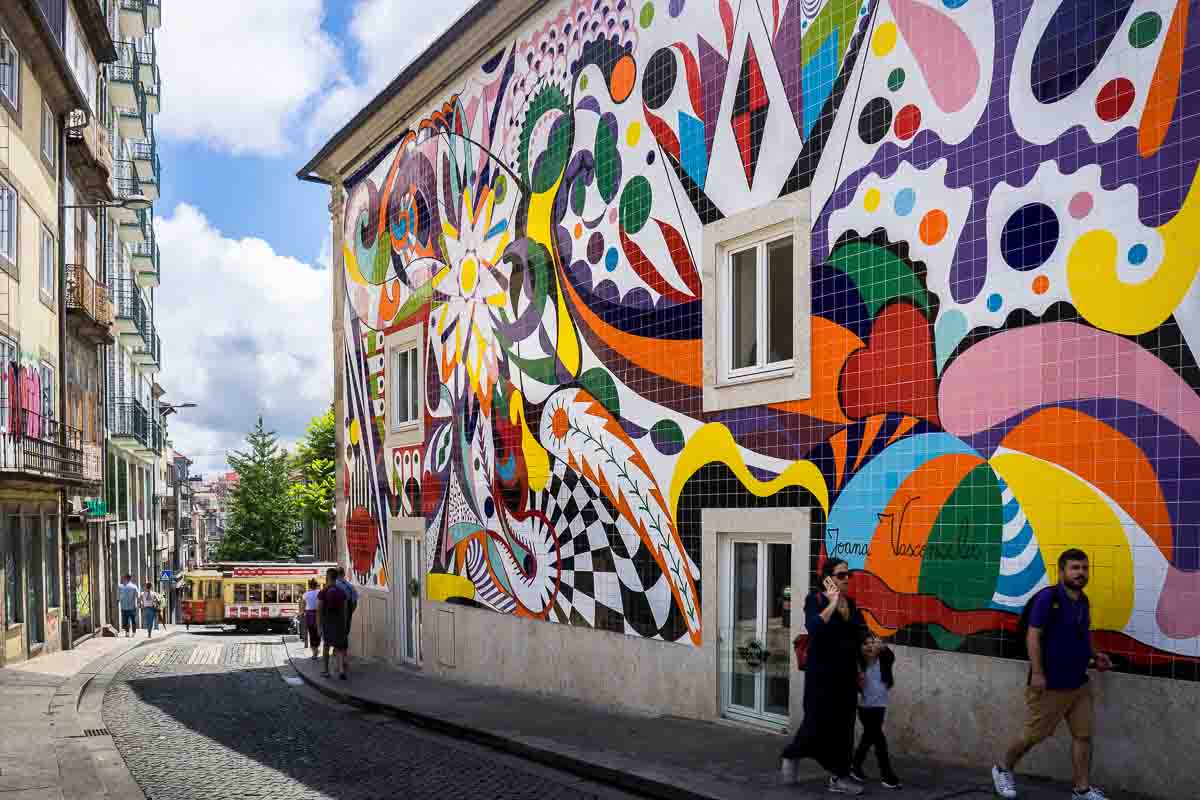 By Jenifer from The Evolista
For vibrant street art in Porto that will make your Instagram feed pop, look no further than Steak n' Shake. This restaurant is home to the world-famous mural of 8,000 hand-painted tiles by the internationally acclaimed artist, Joana Vasconcelos.
The mural is almost 65 feet wide, spanning the entire side of the building. Make sure you arrive early as Instagram spots like this one can get very crowded. Stay nearby at one of the best boutique hotels in Porto so you don't miss the shot!
ADDRESS: 67 Praça Guilherme Gomes Fernandes, Porto
10. Half Rabbit Street Art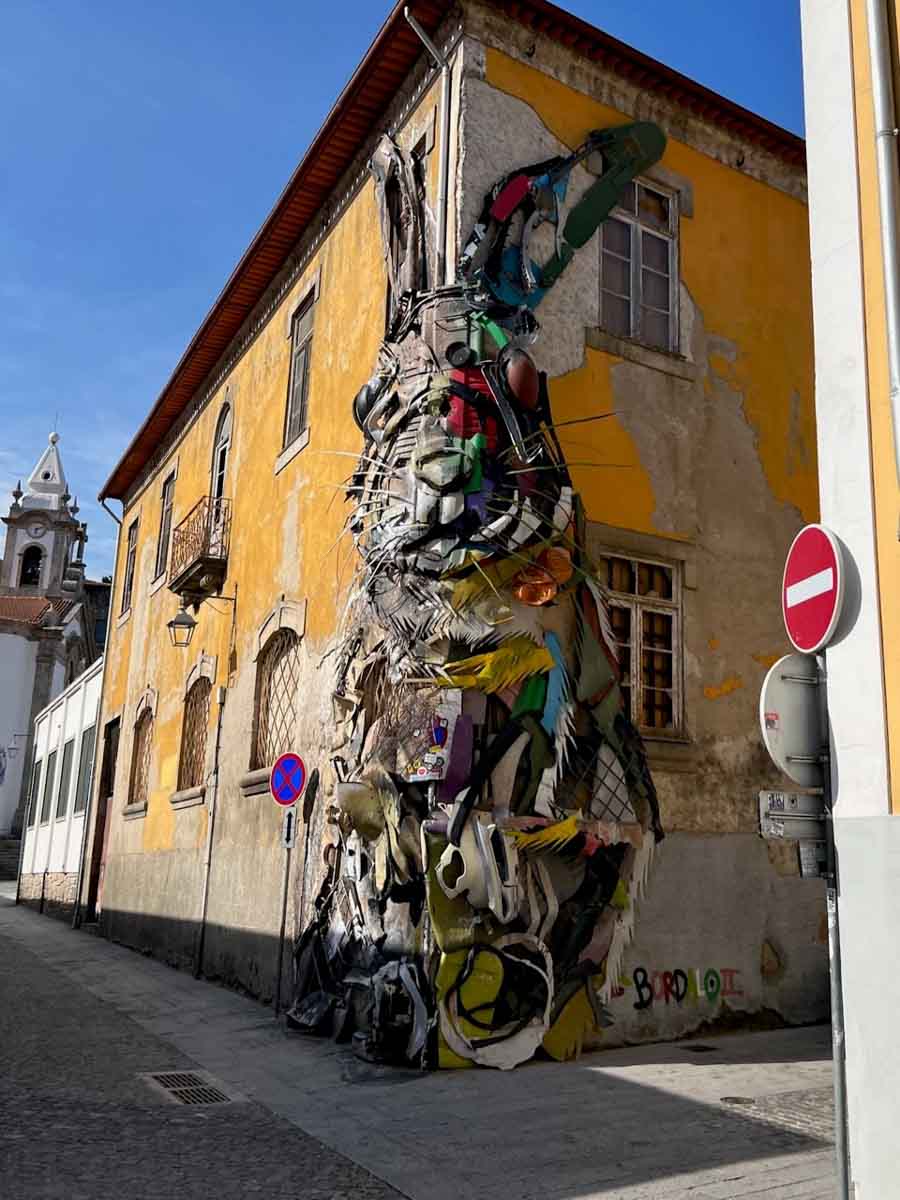 By Melodie Rush from Travel Must Do's
The Half Rabbit is a hidden gem in Porto that happens to be one of the city's most eye-catching pieces of street art. The multicoloured rabbit is made up of repurposed materials that have been fixed onto the corner of a building. With its vivid colours and intricate details, it's a truly mesmerising sight!
The Half Rabbit also happens to be a great Instagram spot, especially if you want to break away from the usual sights in Porto. With its subtle messages of sustainability, this Porto street art makes the perfect backdrop for a unique and very Insta-worthy shot.
ADDRESS: R. de Santa M.nha 5-39, 4400-266 Vila Nova de Gaia
Most Iconic Porto Instagram Spots
11. Livraria Lello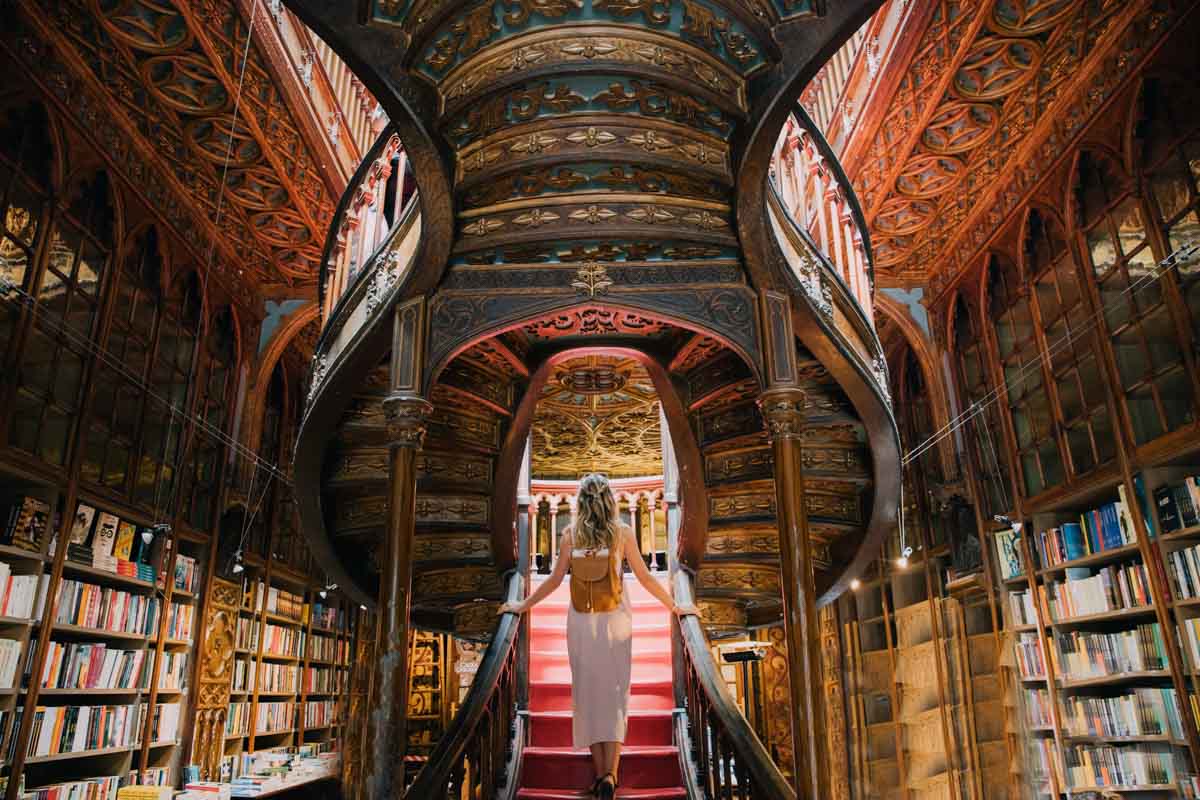 By Kate Storm From Our Escape Clause
With its striking wooden staircase and walls of books, the famous Livraria Lello is easily one of the most iconic Instagram spots in Porto. The bookshop is famously compared to the Hogwarts Library, making it a very popular Harry Potter location to visit. It is a memorable addition to any Portugal itinerary!
It happens to be one of the only bookstores in the world where you need to buy a ticket to enter. THankfully, the entry price is worth it- this magnificent bookstore is photogenic from every angle! Livrara Lello does get extremely crowded, so consider booking a ticket for when the store first opens.
ADDRESS: R. das Carmelitas 144, 4050-161 Porto
12. Porto Cathedral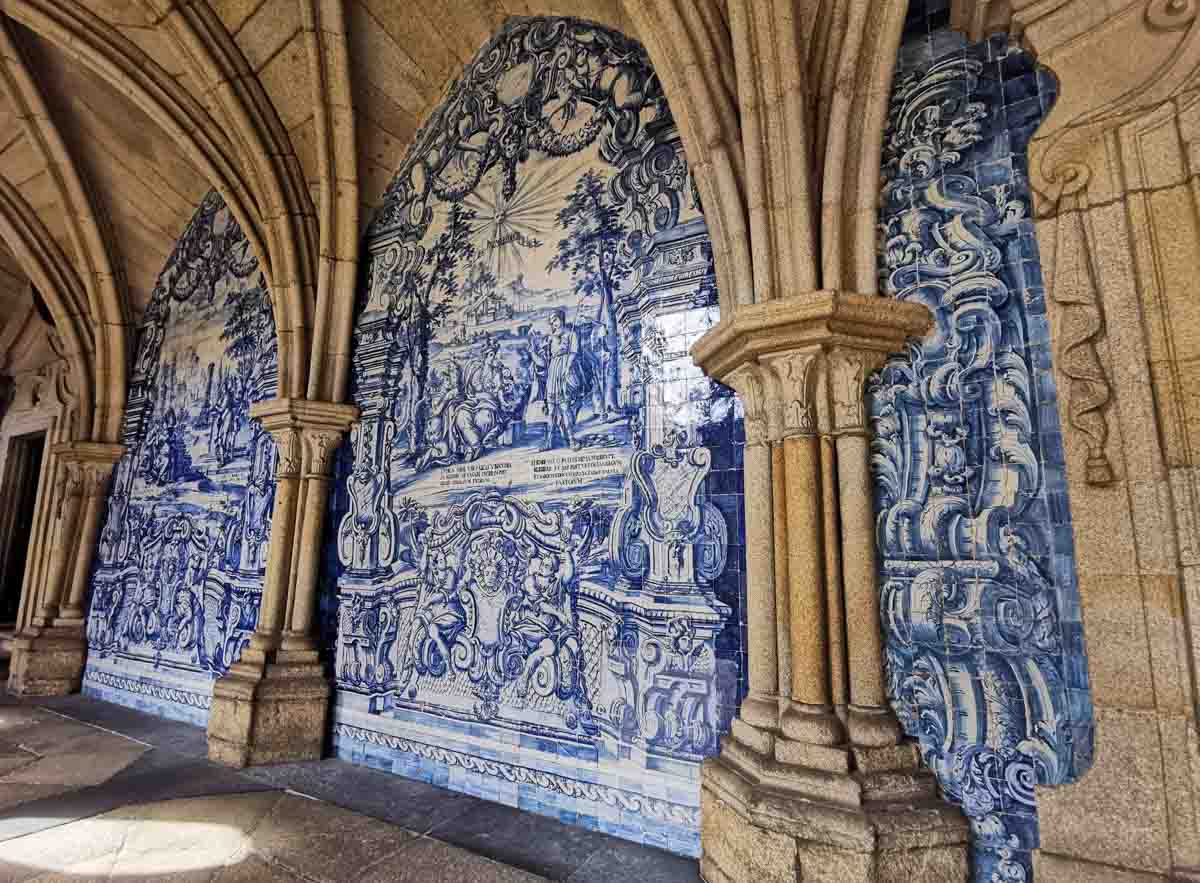 By Jacs from Flashpacking Family
Dating back to the 12th century, Porto Cathedral (Sé do Porto) is one of the oldest and most important buildings in Porto. From the outside, it isn't much to look at but inside you will find one of the best Instagram spots in Porto.
The stunning blue and white Azulejo tiles and cloisters here make for an ideal photo opportunity. The cathedral also has incredible 360° views over the rooftops of Porto. Climbing the tower is highly recommend if you are looking for things to do in Porto with kids.
ADDRESS: Sé do Porto, Terreiro da Sé, Porto 4050-573
13. Clerigos Church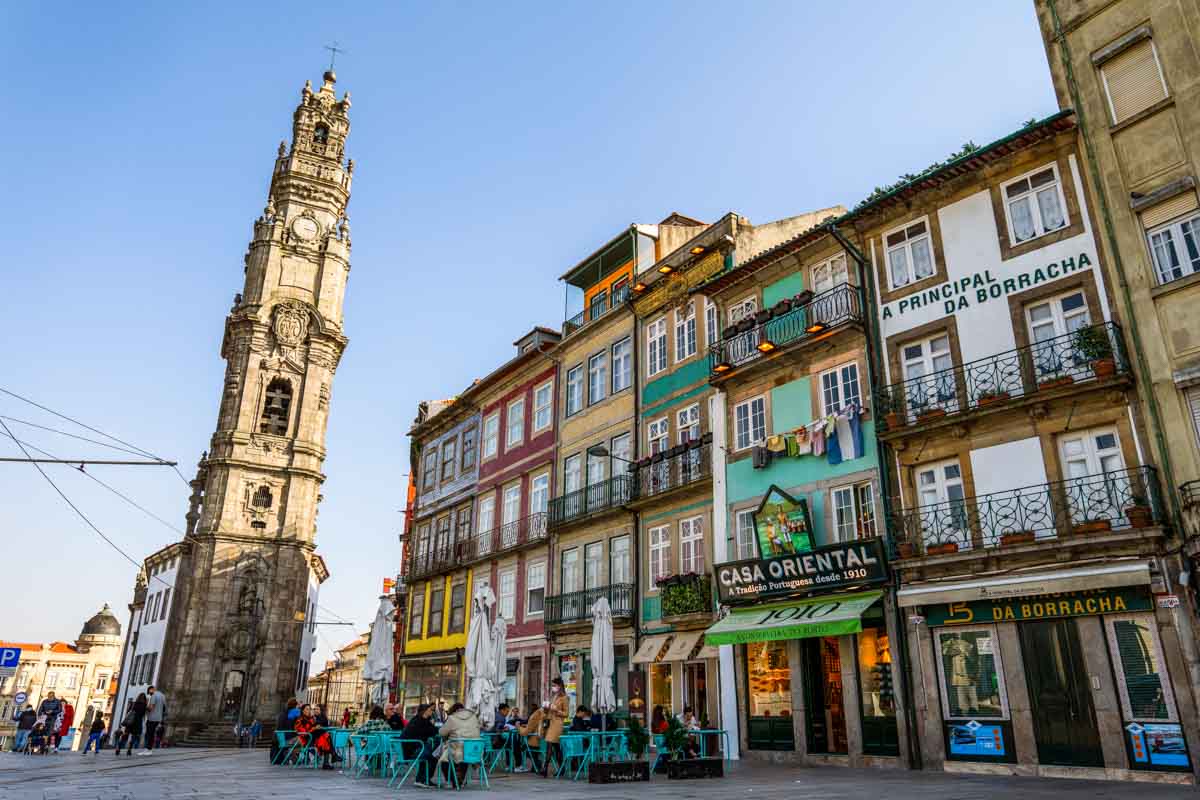 By Erin From Pina Travels
Whether you're spending just a weekend in Porto or longer, the Clerigos Church is an Instagram spot you won't want to miss. This baroque-style Church was built between 1735 and 1748. Attached to the church is Clerigos Tower, one of the city's most recognizable monuments.
There are two iconic photos to take with the Clerigos church. The first is at ground level, where you can get a photo with both the church and the tower in the background. As mentioned above, you'll be rewarded with second photo opportunity when you climb 200 steps to the top of the tower. Here, you'll find one of the best views in Porto!
ADDRESS: R. de São Filipe de Nery, 4050-546 Porto, Portugal
14. WOW Cultural District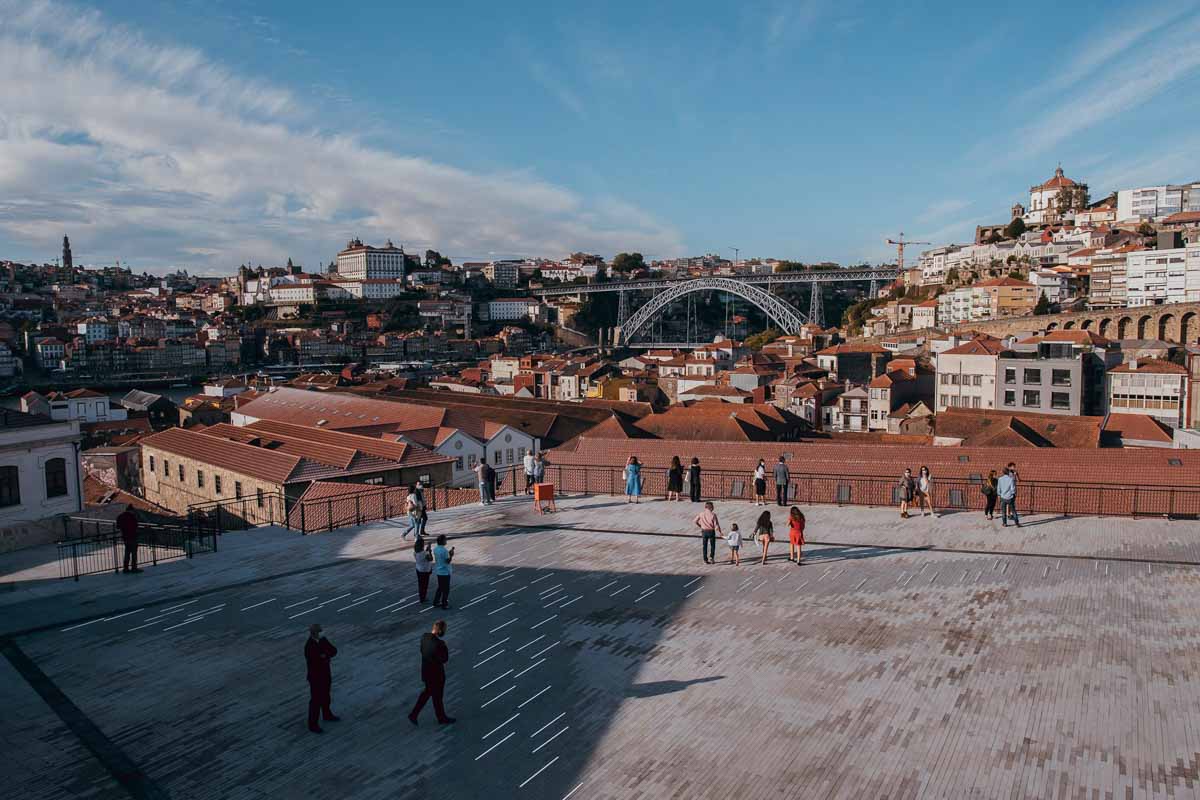 By Dan Bagby from Honeymoon Always
Opened in 2022, the WOW Cultural District is a collection of museums and restaurants located in Cais de Gaia. Whether you are interested in history, fashion, wine or chocolate, you'll find a range of museums here to suit everyone's tastes. It's also home to some of the most Instagrammable spots in Porto!
The most Instagram-worthy spot in the district has to be the Pink Palace, an immersive experience exploring Rose wine. Each area is dedicated to a different Rose wine, with plenty of photo opportunities along the way.The view from WOW itself also provides an amazing backdrop for photos.
ADDRESS: Rua do Choupelo 39, 4400-088 Vila Nova de Gaia, Portugal
15. SAO FRANCISCO CHURCH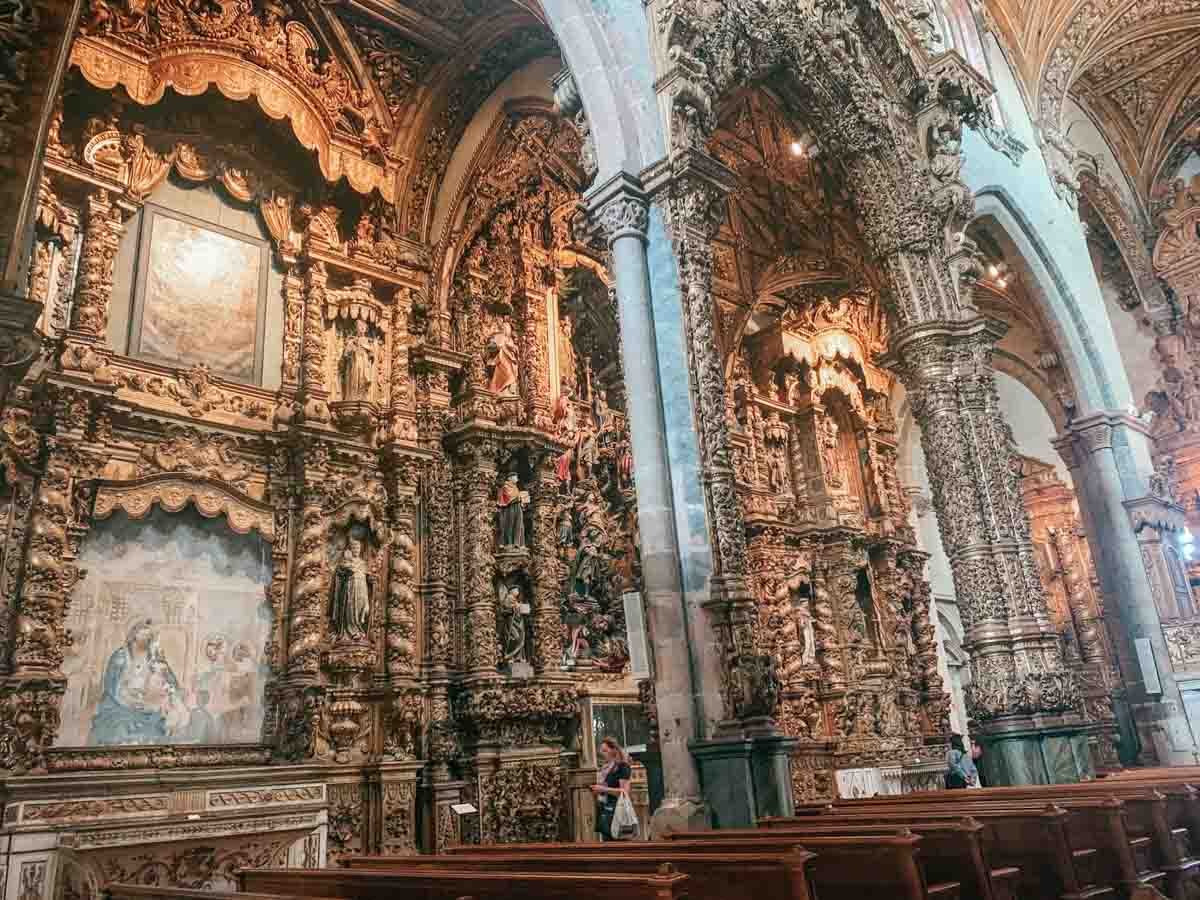 By Pafoua from Her Wanderful World
One of the best Instagram spots in Porto is inside the Sao Francisco Church. The church is one of the oldest and most iconic buildings in the city. Its interior features intricate details such as beautifully carved wooden altars and colourful stained glass windows.
The walls are lined with gilded gold carvings, making for a breathtaking backdrop for photos. Also, make sure you take an Instagram photo underneath the arches on either side of the big hall. Head to the church after lunch in Porto to find fewer crowds- this will allow you to snap a photo in the middle aisle of the church.
ADDRESS: Rua do Infante D. Henrique, 4050-297 Porto, Portugal
16. Santo Ildefonso Church
By Soumya from Stories by Soumya
The Church of Saint Ildefonso is one of Porto's most photogenic hotspots. It is a classic Baroque church dating back to the 18th century. Located atop a flight of stairs, the impressive façade of the church is covered in more than 10,000 blue and white azulejo tiles.
The best time to visit Igreja de Santo Ildefonso, especially for photography, is in the afternoon. At this time, the sun shines brightly on the façade highlighting every detail. The interior of the church, featuring stained glass windows and a 19th-century pipe organ, is also worth checking out.
ADDRESS: Rua. de Santo Ildefonso, right next to Batalha Square
17. Casa da Musica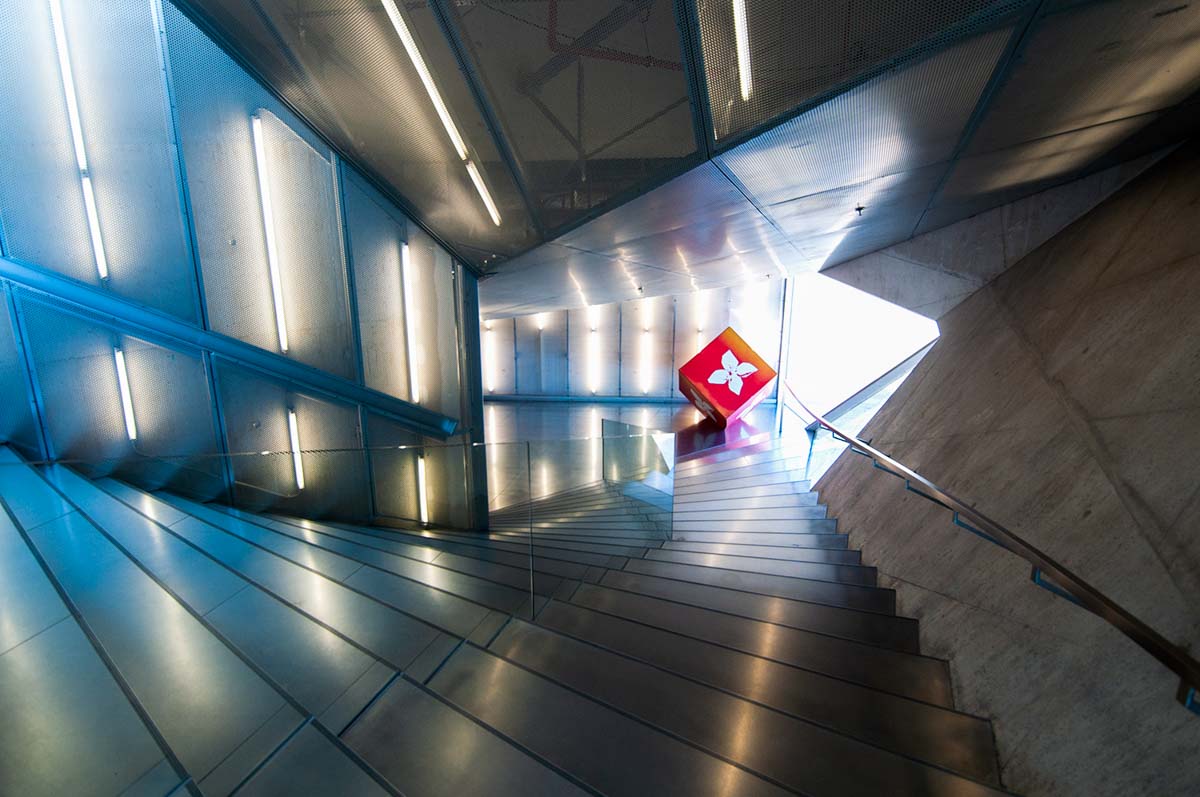 By Ausra Osipaviciute from The Road Reel
The home to the National Orchestra of Porto, Casa da Musica, instantly grabs your attention with its bold polyhedron shape. Covered in white cement pallets and cut by large glass windows, the building is a stark contrast to the tiled historic buildings around Porto.
The Casa da Musica is an architectural adventure not only from the outside but also inside. Its experimental and daring approach to unconventional architectural shapes is reminiscent of Champalimaud Foundation in Lisbon. The extraordinary structure of Casa da Musica is a playground for photography and definitely a great Instagram spot in Porto!
ADDRESS: Av. da Boavista 604-610, 4149-071 Porto, Portugal.
18. Carmo & Carmelitas Churches
By Maddy from Venice Travel Tips
The twin Carmo & Carmelitas Churches may look like one singular church. However, they are actually two distinct churches, separated by one of the world's most narrow houses. Built back in the 18th century, they are one of the most important examples of Rococo-style historical buildings in Porto.
As mentioned above, Carmo church is most famously known for the azejulo tiles mural lining its eastern facade. However, the interiors of the churches are also worth visiting for their incredible golden woodwork and neoclassical-style tiles. These are two Porto Instagram spots that you don't want to miss!
Address: Rua do Carmo, 4050-164 Porto
Want more Instagram inspiration? Read these posts next:
Like this article on Porto Instagram spots + views? Pin it for later!