These gluten-free arepas with cheese (arepas con queso) are delicious Colombian fried cornbread made with masarepa flour. You may recognize them from the Disney movie Encanto! You can have arepas on their own as a snack or use this recipe to turn them into a meal by filling them with halloumi, avocado, and refried beans.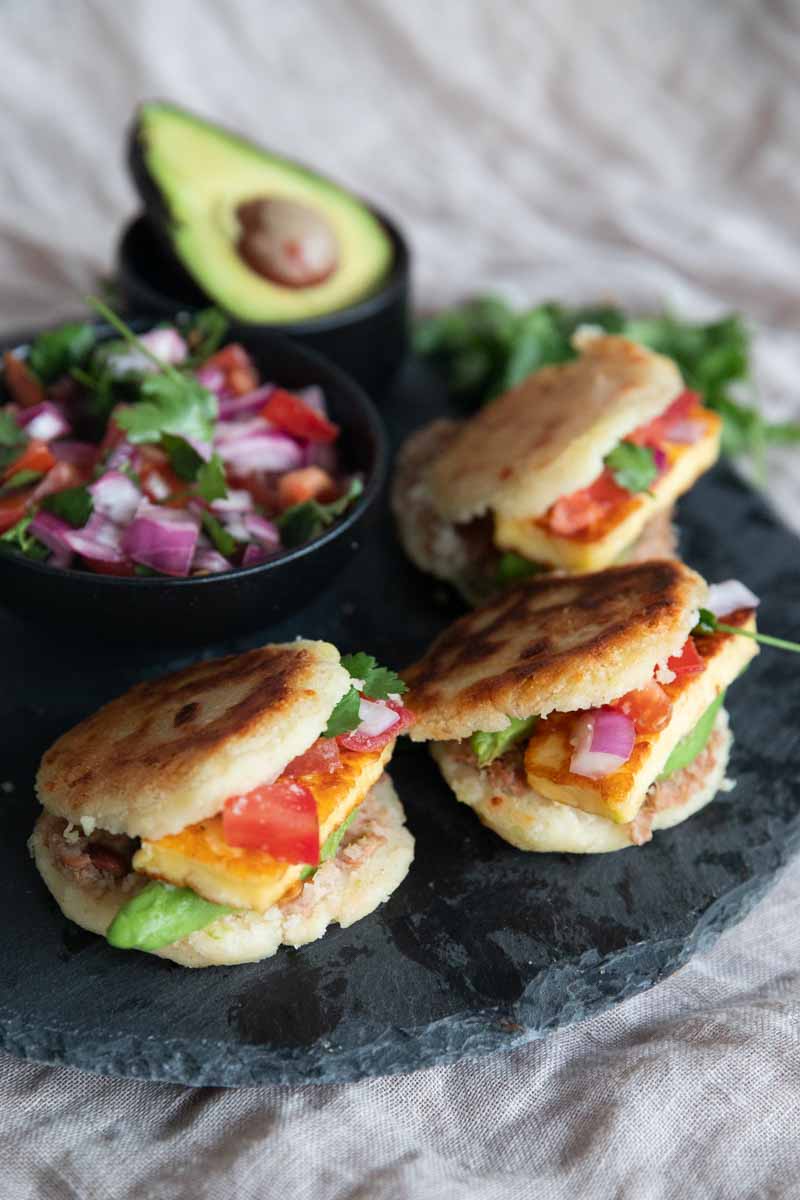 Overview of Colombia
Buenos días and welcome to Colombia! Colombia is a large country situated at the northern tip of South America. It has a large coastal border and a largely mountainous terrain. Colombia's name derives from Christopher Columbus (would you ever have guessed?!). It is heavily influenced by its Spanish colonisation, and its population is largely mestizo (mixed Indian and Spanish descent), although it has large African and European minorities.
Colombia has a few standout features you might already know about. Firstly, Colombia possesses a colourful and diverse culture. This is in part because of its varying terrain, with the country's interior abounding with snowy cordilleras, savannas and forests. Some of the country's indigenous population still inhabit these regions.
The modern cities are found mostly at mid-level elevation, and the low-elevation Atlantic-bordering lands are filled with livestock haciendas with a varying population. The varying culture is also due to the mixed indigenous, African, and European heritage.
Secondly, Colombia has the world's second-fastest growing economy behind China. This is in part due to its high level of petroleum and coal, as well as exports in technology and electronics. Thirdly, and perhaps most importantly, Colombia has bestowed us with Shakira, a true gift to the world. As we all know, those hips don't lie.
History of Colombian Cuisine
Due to its varying terrain, Colombian cuisine changes a lot depending on the area. It shares a lot of similar staples with its South American neighbours including cereals, potatoes and cassava, legumes, a wealth of fresh fruit, meat, and seafood.
Strong Spanish and indigenous influences impact the cuisine, and the African slaves brought across by the Spanish also imparted an African influence. Most meals incorporate rice, beans and meat, and soups are also very popular.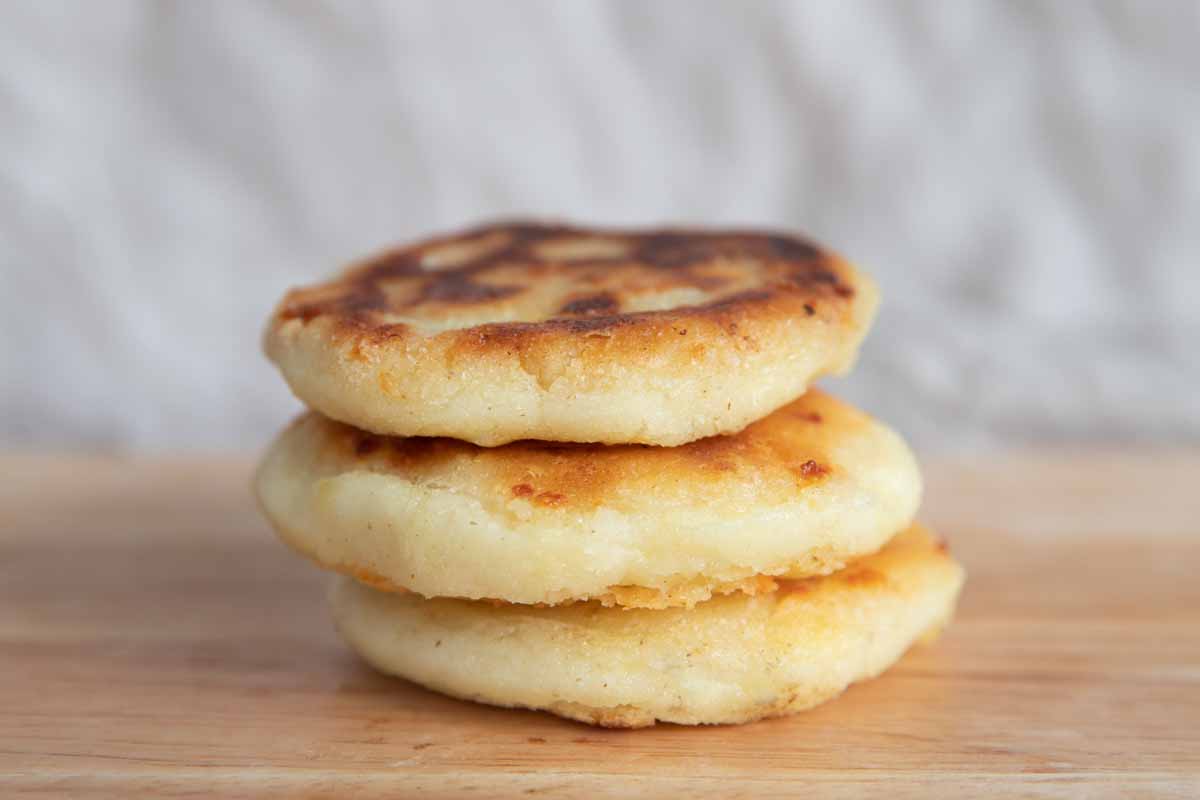 Popular Colombian Recipes
Patacones – twice-fried plantains served as a side to many dishes.
Empanadas – deep-fried pastry pockets stuffed with vegetables, potatoes, cheese, or eggs (meat ones are also common).
Cheese Arepas – Gluten-free corn-meal based pockets stuffed with a variety of toppings.
Postre de Natas – a dessert made of boiled foamy milk, eggs, raisins and rum.
Obleas – giant round wafers stuffed with various sweet toppings (including arequipe, the Colombian dulce de leche) served by street stalls.
Salpicon de Frutas – a sweetened fruit salad/cocktail.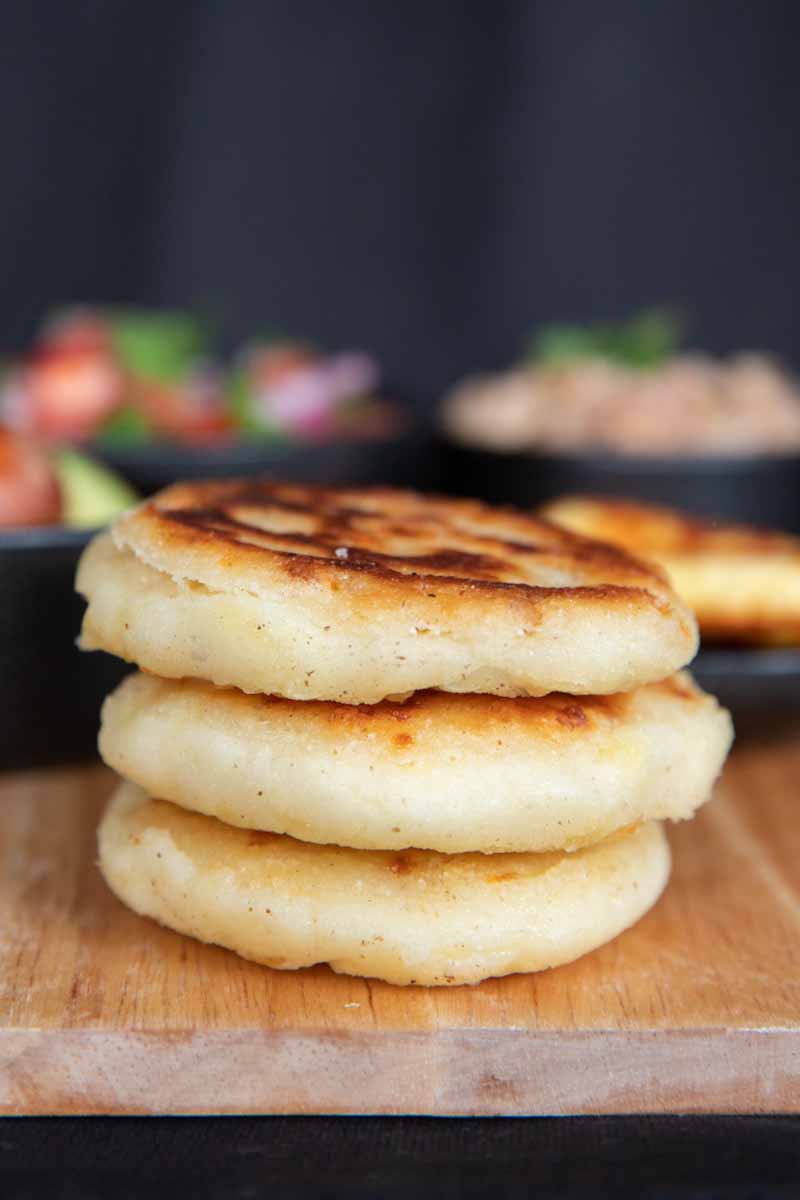 Making Colombian Arepas with Cheese
Arepa is a Colombian staple that is eaten for breakfast, lunch and dinner. Although different places in South America prepare arepas in different ways, in Colombia they are made from pre-cooked cornmeal, water, salt, cheese and butter. They can be eaten as is, or filled with various toppings.
To make arepas, you simply combine the ingredients into an easy dough (which doesn't need any rising time), which you roll out, shape and then griddle-fry. They are so easy to make and so very delicious!
Are Arepas Gluten-free?
Yes, arepas are completely gluten-free. They are made using pre-cooked cornflour, masarepa. It's absolutely essential you get the right flour to make arepas. Regular cornmeal won't work (if you want to know more about the differences, take a look at this article).
Arepas in Encanto
You may recognize these cheese arepas as the food that they eat in the Disney movie Encanto. They are a huge part of Colombian culture so it is very fitting they would include arepas in Encanto!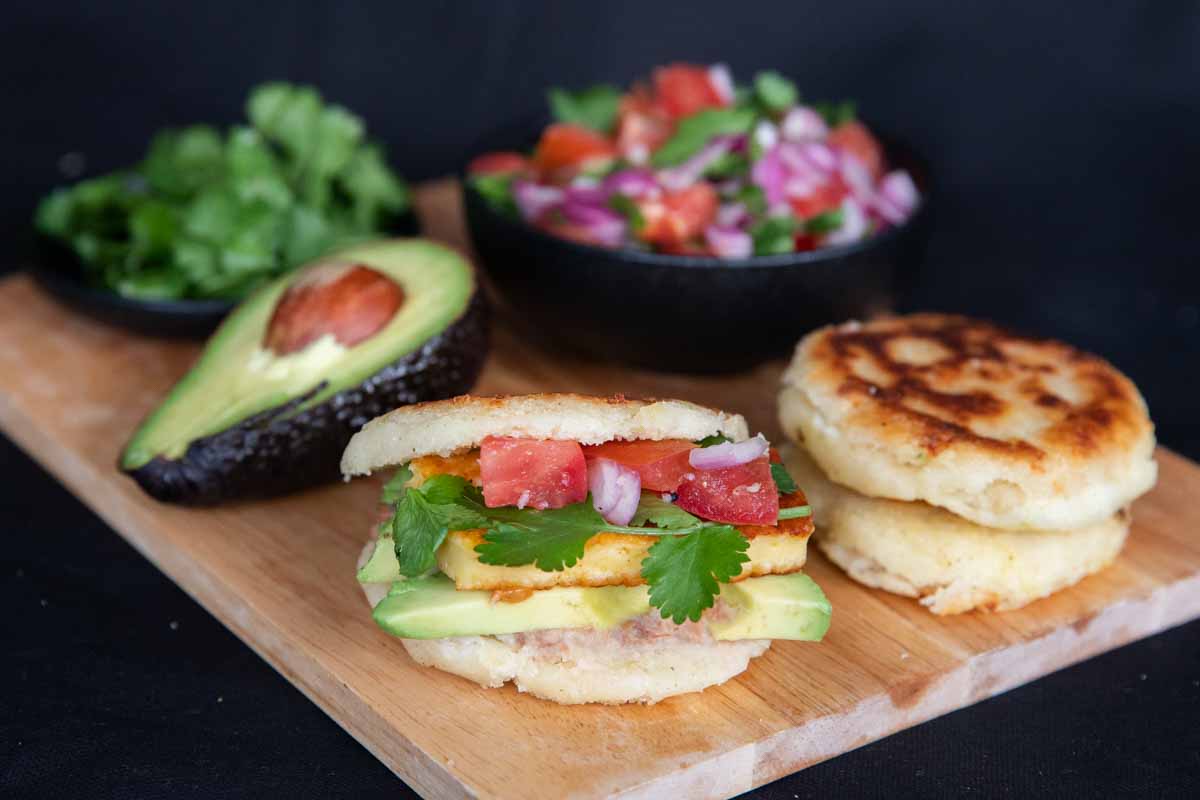 Vegetarian/ Vegan Arepas filling ideas
As mentioned, you can keep these arepas con queso simple (like they do in Encanto!) and eat them as is. If you want to make your arepas into a more substantial meal, you can cut them in half and fill them up. Some vegetarian/ vegan arepas filling ideas include eggs, guacamole, black beans, roasted sweet potato, or pulled jackfruit.
We've made arepas many times, and our favourite filling combination has been halloumi, aji (salsa), avocado and refried beans. These filings aren't all typically Colombian. However, the flavour and the textural combination worked together really well when stuffed inside the cheese arepas.
How to make Colombian Gluten-free Arepas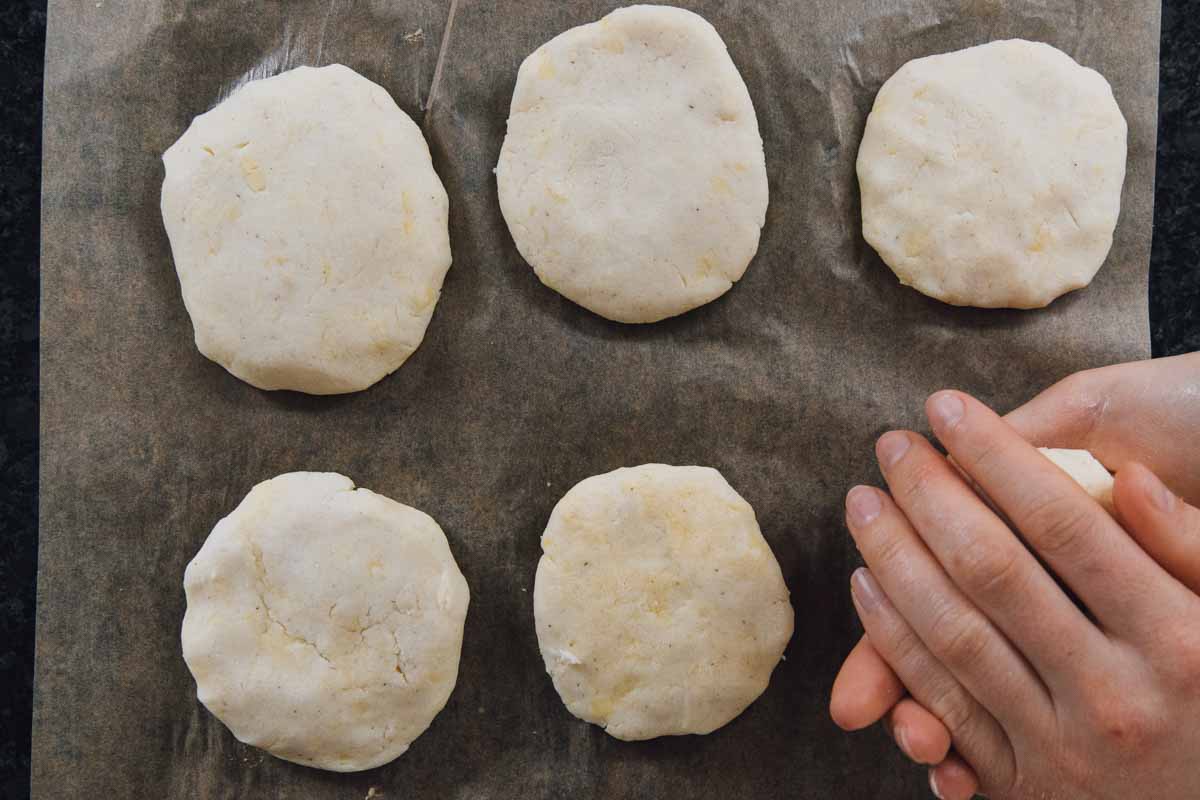 1. Make arepas dough by mixing cornmeal, water, mozzarella cheese, butter and salt together in a bowl. Knead until soft, then smooth into a ball, place between two sheets of baking paper, and roll to 1cm thickness. Cut into circles using a glass.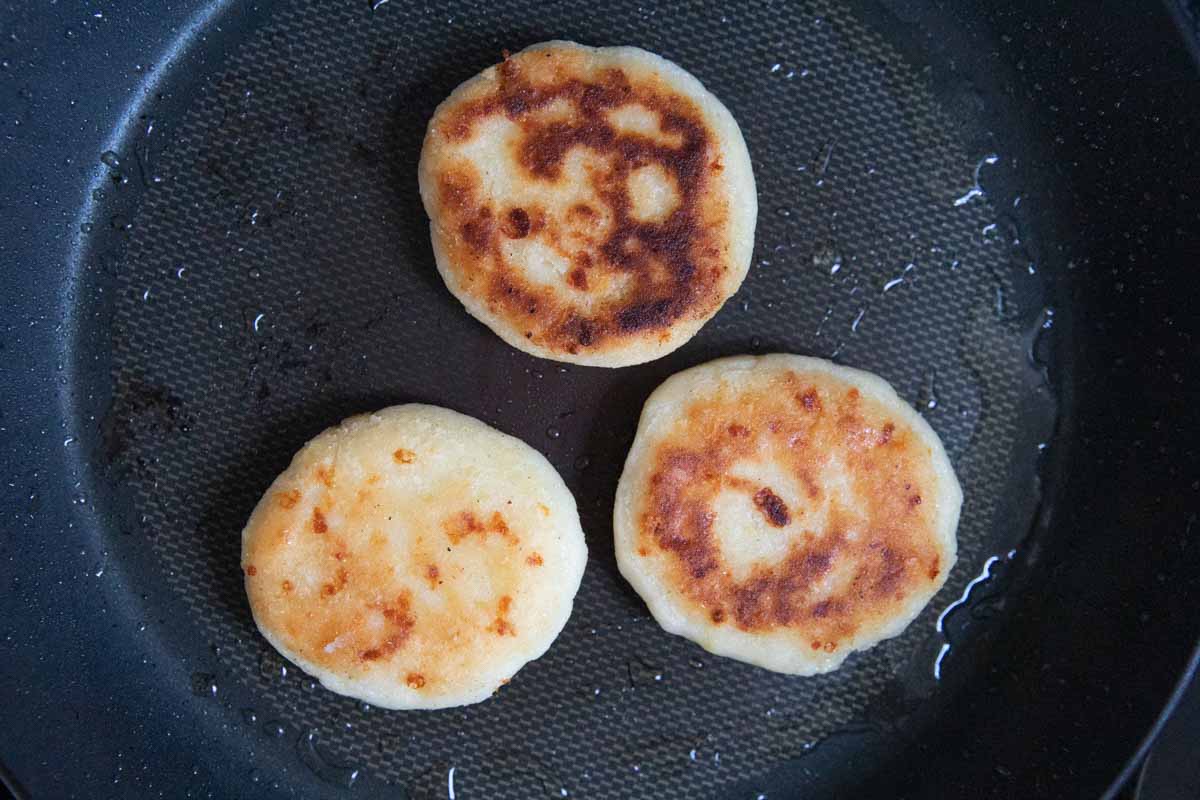 2. Cook arepas by frying each circle on a greased griddle or frying pan on medium heat until golden, between 3 and 5 minutes per side. Eat cheese arepas as is or slice in half and stuff with the suggested fillings.
Ingredient notes for Arepas
Masarepas flour- Masarepa flour generally can't be found in a normal supermarket. We purchase ours from our local Argentinian store, so you might need to seek out a specialty store in your area or purchase the flour online. Brands to look for include Harina PAN, Areparina, Harina Juana, and Goya.
Cheese/butter – omit cheese and substitute butter with a dairy-free alternative to make these arepas vegan.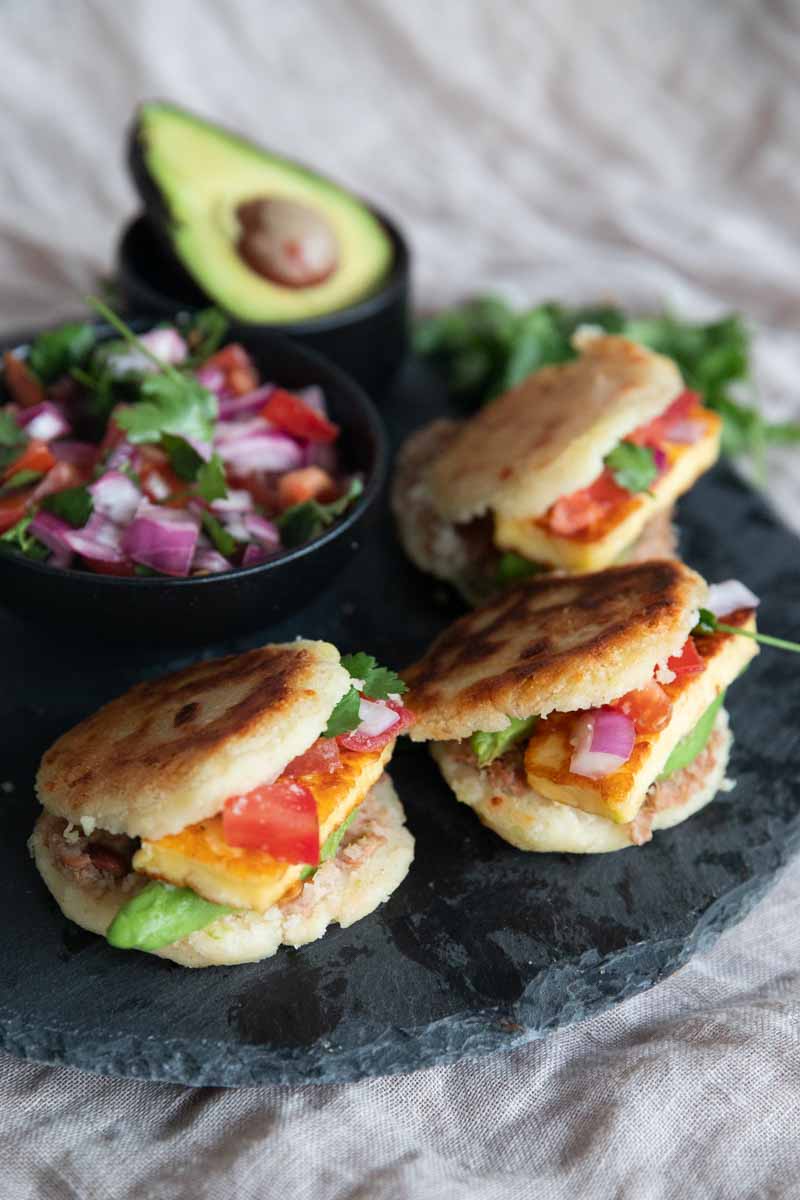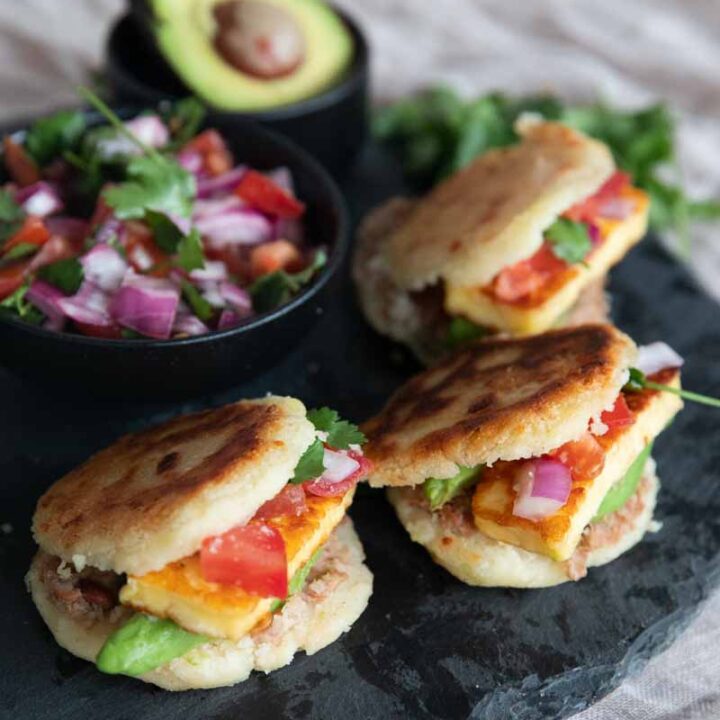 Colombian Gluten-free Arepas with Halloumi, Refried Beans & Salsa
These gluten-free arepas with cheese (arepas con queso) are delicious Colombian cornbread made with masarepa flour. In this arepas recipe, they are filled with halloumi, refried beans, salsa and avocado.
Ingredients
Arepas
2 cup warm water
2 cup masarepas flour
2 cup mozzarella cheese, shredded
1 tbsp butter
1/2 tsp salt
Salsa (aji)
2 tomatoes, diced
1/2 red onion, diced
2 limes, juiced
1/4 cup fresh coriander
Salt and pepper, to taste
Refried beans
3 tbsp vegetable oil
1 white onion, diced
2 cloves garlic, minced
1 tin of kidney beans
1/4 tsp chilli powder
Salt & pepper, to taste
To top
Sliced avocado
Fried halloumi
Salsa, pico de gallo
Refried beans
Instructions
Make Arepas:
Mix water, flour, mozzarella, butter and salt together in a bowl. Knead until soft. Roll into ball, place between two sheets of baking paper, and roll until 1cm thick. Cut into circles using a glass.
Make Salsa:
Toss tomatoes, onion and coriander together. Squeeze over lime juice and season with salt and pepper.
Make Refried Beans:
Sauté onion in oil on a frying pan over medium heat until soft, around 5 minutes. Add in garlic, kidney beans, chilli powder and seasoning. Cook for a further two minutes, then transfer to a blender. Pulse until a chunky consistency, then return to pan and cook for a further 5 minutes.
Compile Arepas:
Fry arepas on a greased griddle pan or regular frying pan on a medium heat until golden on each side, between 3 and 5 minutes. In a separate pan, fry sliced up halloumi at a medium-high heat until crispy and browned on each side, around 1 minute.
Once everything is cooked, slice arepas in half horizontally and stuff with various toppings. Enjoy!
Other recipes to try:
Liked this Colombian arepas recipe? Pin it for later!