Cuba has long been a destination that has intrigued me. As a result of the complicated political situation it shares with America, it has not been an easily accessible country either in terms of visitation or information.
Still, what I had heard of Cuba gave me a burning desire to visit the place. To me, the draw expanded past the turquoise waters and lush jungle which it shares with its Caribbean island neighbours. Rather it was the tales of lively, colourful cities filled with eclectic and warm inhabitants, a rich culture which fostered the birth of salsa and many unique forms of music, a most unusual history and the rare and fascinating opportunity to see communism in practice in the 21st century.
Therefore, when the opportunity arose to travel with G Adventures to Cuba, I jumped at it. It's one of those destinations where there is oh so much to see and do. I've narrowed our activities down to 15 of the best things to do in Cuba to give you a full taste of the country.
Best Things to Do in Havana, Cuba:

1. Cruise around in a vintage car
Due to the trade embargo Cuba has a surplus of vintage '50s cars cruising through its streets (hey, every cloud has a silver and chrome lining). In Havana you can hire one of these cars to drive you around the city for a couple of hours, so channel your inner Katherine Hepburn, chuck on some sunnies and a headscarf, and go for a spin.

2. Catch the Buena Vista Social Club live show
Cuban music is famed worldwide for creating the irresistible urge to dance, which is exactly what the audience do at the Buena Vista Social Club. The show entails a large band of talented musicians and singers performing traditional Cuban music. The performers use the entire room as their stage, frequently walking amongst and serenading the audience to great applause.
3. Visit Fusterlandia
In the once nondescript impoverished suburb of Jaimanitas a kaleidoscopic work of art is ever expanding to cover the houses, walls, and gates. Their creator, the artist José Fuster, turned his house into one giant mosaic in order to bring life to its drab exterior. His neighbours began to request he do the same to theirs, and it eventually turned the entire neighbourhood into a work of art reminiscent of the works of Gaudi and Picasso, and garnered international renown.

4. Have a meal at La Guarida
Many a famous figure has sipped a coffee or eaten a meal under the sweeping ceilings of La Guarida restaurant. While the food itself may not blow one away, the beauty of the art nouveau building and the atmosphere inside the restaurant makes it well worth the visit.
Best Things to Do in Viñales, Cuba:

5. Horse-ride through the countryside
Viñales is a world-heritage protected valley filled with lush jungle, mountain-like caves, and waterfalls. There are many ways to explore it, but we chose to do so on horseback. Many of the local farmers still use horses as their primary means of transport. It felt quite cool getting to ride alongside them and get a feel of the beautiful place they call home whilst admiring the sweeping vistas of the valley. Our guide also broke up the ride by taking us to swim at a dam and visit local tobacco, coffee and rum plantations.

6. Learn how to roll a cigar at a tobacco farm
It is commonly acknowledged that Cuban cigars are the finest in the world. Even though I'm not exactly a chain smoker, it was still a cool experience to see how the products of one of Cuba's biggest and most renowned exports are created, and try a puff or two. I'd recommend stopping at a local less touristy place if possible (like the one we visited on our horse-riding tour). Their cigars are sweet to the taste (ours had strong notes of honey and guava) and are much cheaper than bigger farms.

7. Take a boat ride through the Indian Cave
Viñales may look like it is surrounded by mossy-green mountains, however these 'mountains' in fact consist of the longest cave network in Latin America (i.e. Gollum would love Cuba). Over 43kms of caves stretch their way around the valley, parts of which are available for caving. The most renowned of these caves is the Indian Cave. A visit here will include a boat ride down an underground river amongst stalagmites and tites before popping out of a crevice at the other side.

8. Visit the Mural de la Prehistoria
Spread out on a cliff face amidst the moss-covered cliffs and verdant jungle of Viñales is the huge, brightly coloured Mural de la Prehistoria. The mural was painted by Morillo in homage to evolution and depicts natural history ranging from Jurassic-age dinosaurs to humans. Using a colossal natural canvas seems like the most apposite creative tribute to nature.
Best Things to Do in Trinidad, Cuba:

9. Explore the colourful world-heritage streets
One of the first things I do when I come to a new city is to set aside some time to explore the city on foot. Nothing quite gives you a feel for a city like roaming through its twisting alleyways, peering into local stores or people-watching while sitting in a café sipping a strong coffee, and the vibrant streets of Trinidad seem designed for this.
10. Take a salsa dancing lesson
With salsa bars all over the city and street salsa a real thing, I'd highly recommend getting a lesson in order that you at least learn the basic steps. I mean, one lesson will not put you on par with the locals who practically salsa-ed their way out of the womb but at least when you get asked to dance you won't hear laughs when you shimmy or have your partner tell you that you're a bad dancer (true story).

11. Visit the beach
We didn't personally visit the beach at Trinidad as we prioritised seeing the city, but we heard recommendations from other members of our tour who hired bikes and cycled down. Apparently for a small fee you can have a private beach to yourselves, the perfect way to cool down under the hot Caribbean sun.
12. Go hiking in the mountains
Similarly to Viñales, the region around Trinidad is known for its gorgeous natural beauty. There are many sites to be seen and gorgeous waterfalls to chase, so a hike through the mountains can be a lovely break from the city.
Best Things To Do in the Rest of Cuba:
13. Go snorkelling at the Bay of Pigs
We stopped off at the Bay of Pigs to break up the drive from Viñales to Cienfuegos. There is a 77 metre-deep underground cave you can dive, or the tropical fish-filled ocean is always a good option for snorkelling.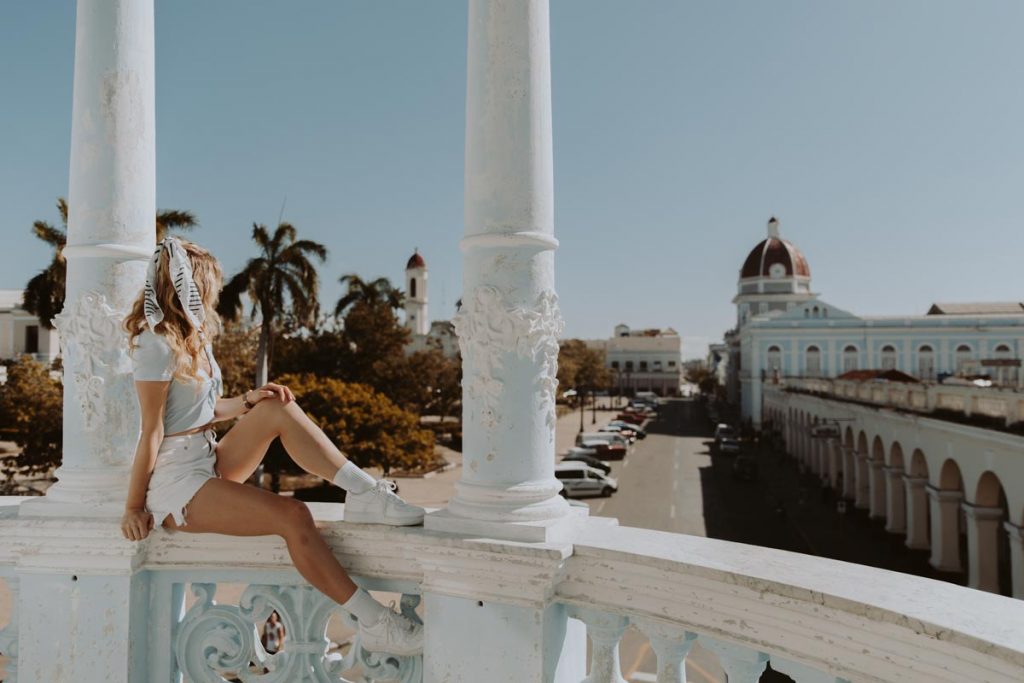 14. Visit the Palacio de Valle in Cienfuegos
This early 20th century manor is a breathtaking example of Moorish architecture. It has been named the most beautiful building in Cienfuegos, and with its finely decorated architecture, I can see why. The Palacio also has a rooftop terrace with a gorgeous view and a restaurant with great cocktails if you have the time.

15. Learn about Cuba's intriguing history and political system
For me, one of the highlights of visiting Cuba was getting an inside perspective on how Cuba works as a communist state. Our tour included visiting state-run stores to see how people collected their rationed food, visiting the Girón museum which provides information on the Bay of Pigs invasion, and paying a visit to the Che Guevara memorial at Santa Clara. In fact, you'll find photos of Fidel Castro and Che everywhere in Cuba- whoever said communism isn't religious has clearly never seen a 22-foot bronze statue of Che. It was also very interesting to hear the Cuban perspective on their conflict with the US, and hear about the tribulations and occasional benefits of living under communism.
Exploring Cuba with G Adventures:
Given this was my first time visiting Cuba, I decided that going on a group tour would be the most convenient and comprehensive way to get a taste of the country. I opted for the 9-day Cuba Explorer tour with G Adventures, which took us around Havana, Vinales, Cienfuegos and Trinidad, giving us the opportunity to experience all the things I mentioned above.
The tour included all transport, some meals and accommodation every night in Casa Particulars, which is the Cuban equivalent to a homestay/ bed and breakfast. All the Casa Particulars we stayed were clean, comfortable, and the host would always provide a wonderful breakfast spread in the morning. Not only does staying in this style of accommodation give an authentic taste of Cuban life, it also provides invaluable income to locals (who under the communist regime, receive the equivalent to $40 per month). This is one of the reasons I love travelling with G Adventures– as a socially-responsible tour provider, they always opt to use small, locally-run businesses in order to support the local economy (rather than take away from it).
Another great part about going on an organised tour was having a local guide taking us around. Our tour guide, Carlos, gave us such fascinating insight into the history, political situation and day-to-day life in Cuba, and he was very open to answering any questions we had. I certainly came out of the tour with a far deeper understanding of the country than I could have imagined. On top of this, Carlos was there to help translate, recommend us places to eat and things to do, and book in any activities we wanted to partake in.
You can check prices and availability for the Cuba Explorer tour here.
If you want to explore Cuba in more depth, G Adventures also offer an extended 16-day tour. Or, if you prefer an active style of travel, they also offer a biking trip around the country (which I would love to do next time)!
If you aren't already inspired to visit, here are a few more snaps from the trip…
General Tips
Travel Insurance
I highly recommend getting travel insurance before ANY international trip. World Nomad's offer the most flexible worldwide cover that I have come across, and you can purchase a policy online, even if your trip has already commenced. If their prices are too high for you, you can also check out SafetyWings, though SW doesn't cover tech.
Booking Flights
To book flights, I always use flight search engine, Skyscanner. I find it the easiest way to compare flight prices across airlines and get the best deals. Skyscanner also have a free App (available on iOS or Android) which is great for booking flights on the go.
Booking Accommodation
When it comes to accommodation, I either find deals on hotels or hostels through Booking.com, or stay at self-contained Airbnb's. If you haven't signed up with Airbnb already, you can use this link to get $38 off your first visit!
Photography Gear
Here is a list of the photography gear that I always travel with:
Photo Editing
I use Lightroom and Photoshop for all my photo editing. Both these programs are included in the Adobe Creative Cloud subscription (which you can get a free 30-day of here).
For more North American travel, read these next:
Enjoyed this guide to the best things to do in Cuba? Pin for later!
My trip to Cuba was supported by G Adventures. However, as always, all opinions are my own :)