In a hurry to sample all the best snacks in NYC? Eat your way through this list of popular American snacks + international foods to try in NYC!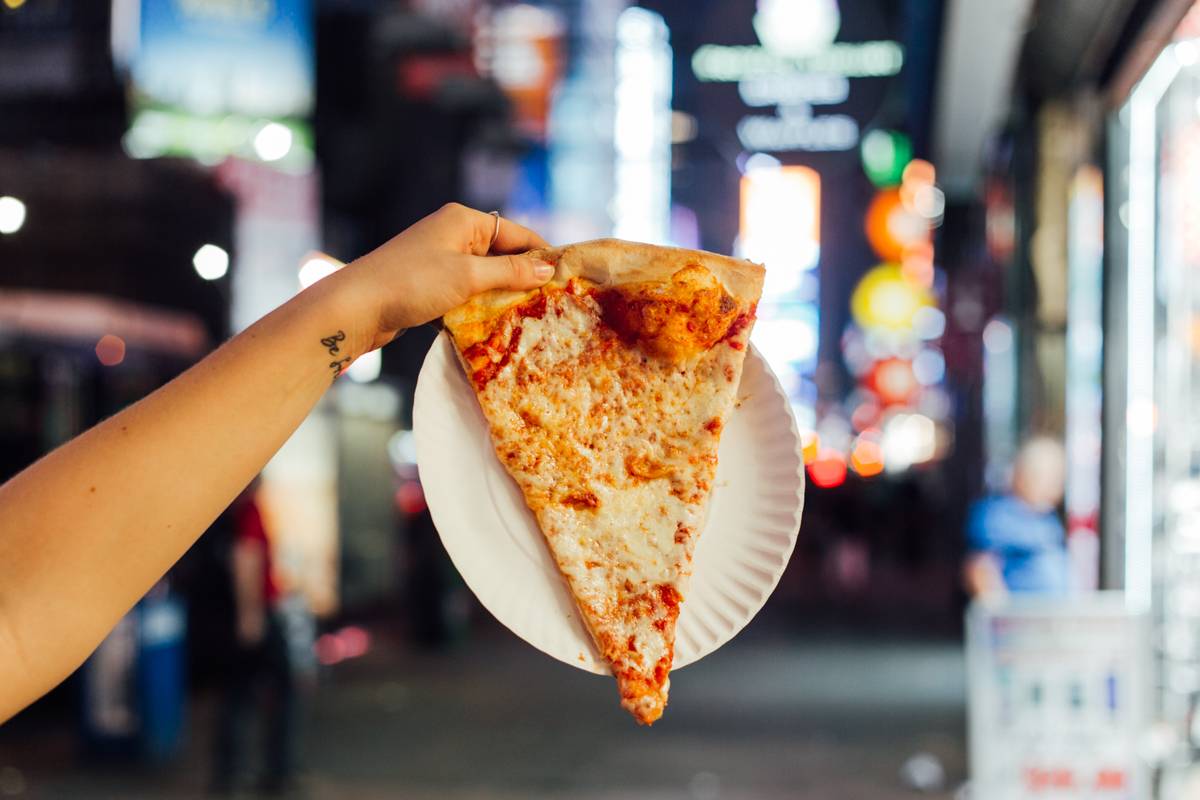 Disclosure: This post contains affiliate links, which means I make a small commission at no extra cost to you if you kindly choose to book via my links!
I don't know if I've eaten as much food in my lifetime as I did the first time I went to New York City. If you are an avid foodie like me, this city is quite literally food heaven. From Michelin-star restaurants run by some of the world's best chefs to food trucks slinging delectable street food, NYC has something to tantalize everyone's tastebuds.
One of the things I love the most about the culinary scene in New York City is its diversity. Thanks to the metropolis being rich with many different ethnic groups, within just one city you can try food from all around the world. Of course, New York is also the ideal place to try all the best American snacks and dishes.
Is it worth going on a Food Tour of New York City?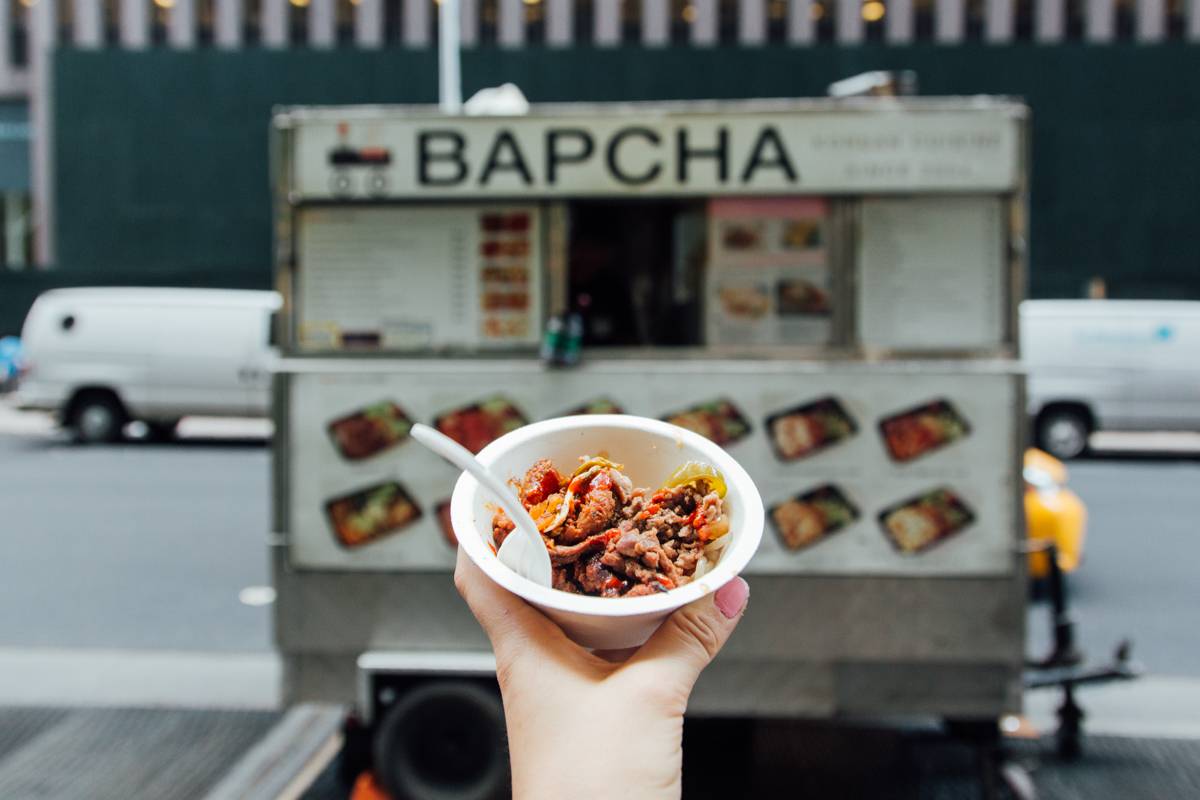 If you have a limited amount of time in New York City and want to sample as many iconic NYC snacks as possible, I'd highly recommend going on a food tour. This 3-hour Manhattan food tour is a fantastic introduction to the diversity of the NYC culinary scene. It will take you to the best foodie spots on the Lower East Side.
The first time I came to New York I went on a street food tour and it was one of my favourite NYC experiences to date! On the tour, we had a professional foodie show us some of his favourite food spots around the city. I am not exaggerating when I say some of the tastiest street food I have ever tried was during this tour.
Booking a New York City Food Tour
If you are considering doing a food tour when you are in New York City, I would highly recommend booking ahead of time as they often do sell out.
Check prices and availability for food tours of NYC here
If you have more time on your hands, you can snack your way through New York City at your own pace using this list as a starting point.
What are the Best Snacks/ Foods to try in New York City?
I've compiled this list to try and reflect both the best international foods as well as the most popular American snacks to try across New York City. I've also broken it down by NYC neighbourhoods to make it easier for you to plan out your own little food tour across the city.
Without further ado, here are my top 17 snacks/ foods to try across New York City!
Best NYC Snacks in Midtown:
1. Lamb Rice from Kwik Meal NYC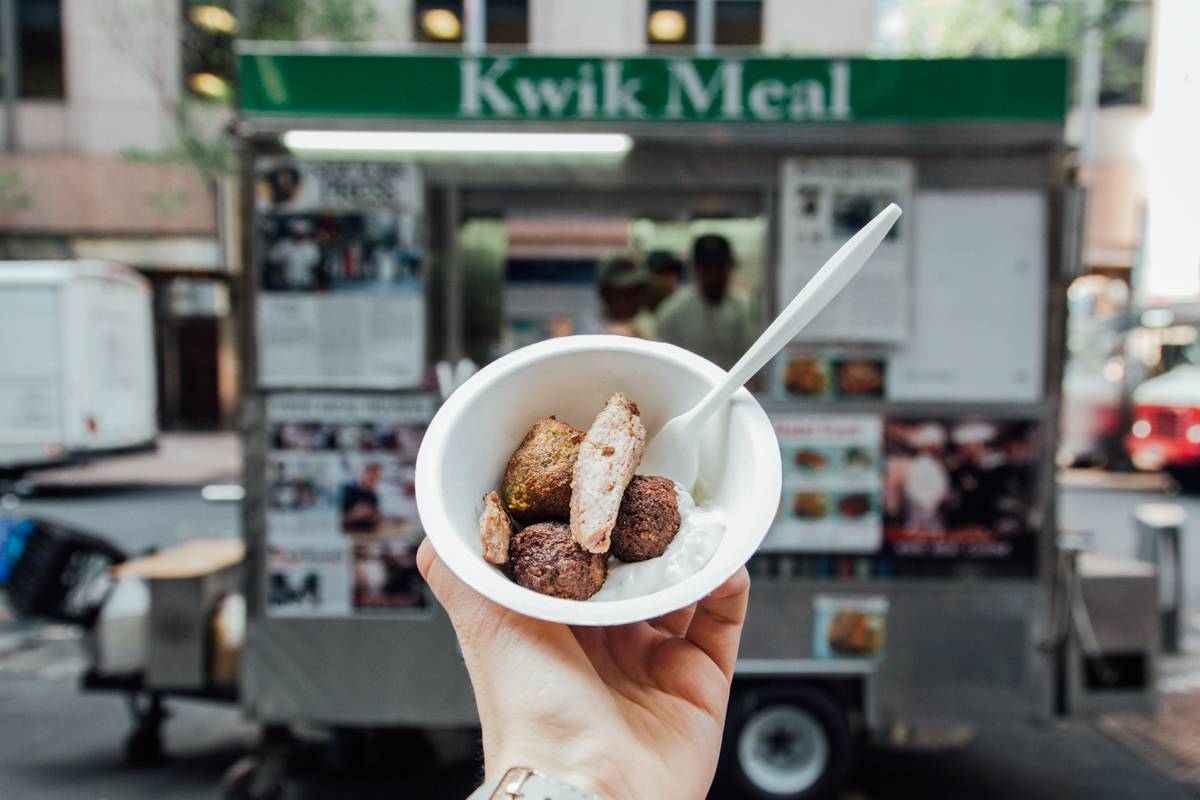 If you think food trucks in New York City are only selling hot dogs and pretzels, get ready for your mind to be blown. Food trucks are a revolution sweeping over NYC. The diversity and quality of food made out of the back of a vehicle is absolutely mind-blowing.
One of the most popular spots to grab a cheap eat in Midtown is Kwik Meal. This food truck, run by a Bangladeshi immigrant, is famous for its lamb marinated in a unique combination of green papaya and yogurt. Have it stuffed inside puffy pita or over basmati rice for an iconic NYC snack!
Kwik Meal NYC Location: 100 W 45th St, NYC
2. Belgian Waffles from Wafels and Dinges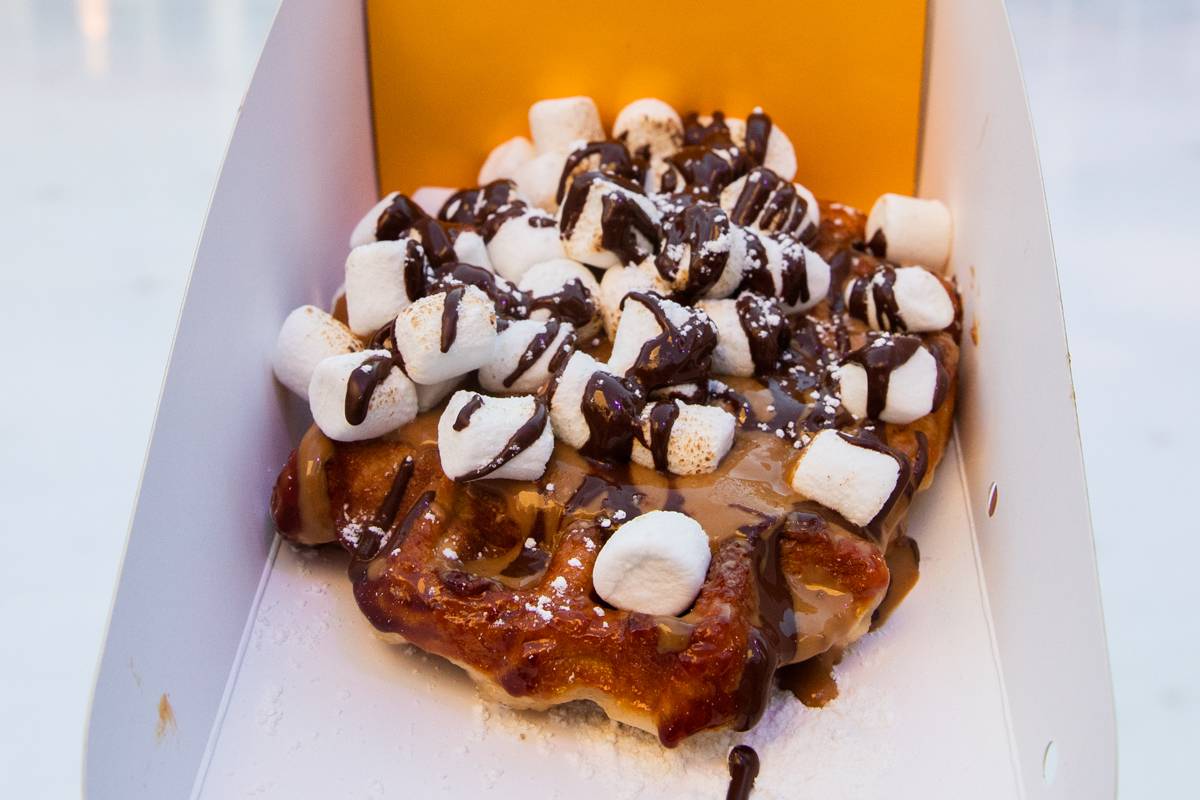 For the absolute best Belgian waffles in NYC, you HAVE to visit Wafels and Dinges. This iconic yellow food truck was started by a Belgian man who was saddened to find out about the soggy excuse for waffles that were being served across America. The solution? Start Wafels and Dinges, a store offering authentic Belgium liege waffles.
Liege-style waffles are crisp and caramelised on the outside, soft and crisp on the inside, and superior to normal waffles in everyway. You can choose all sorts of toppings to go on your waffles, but if you want to try the most classic Belgian flavours, get the Throwdown. This comes with whipped cream and spekuloos spread (a Belgian cookie butter spread similar to lotus biscoff) and is simply delectable. The S'mores waffle is also delicious.
PS. If you want to make waffles like these at home, check out my recipe for authentic Belgian Liege Waffles!
Wafels and Dinges Location: 6th Ave & W 42nd St, NYC (plus other locations)
3. Kati Roll from Biryani Cart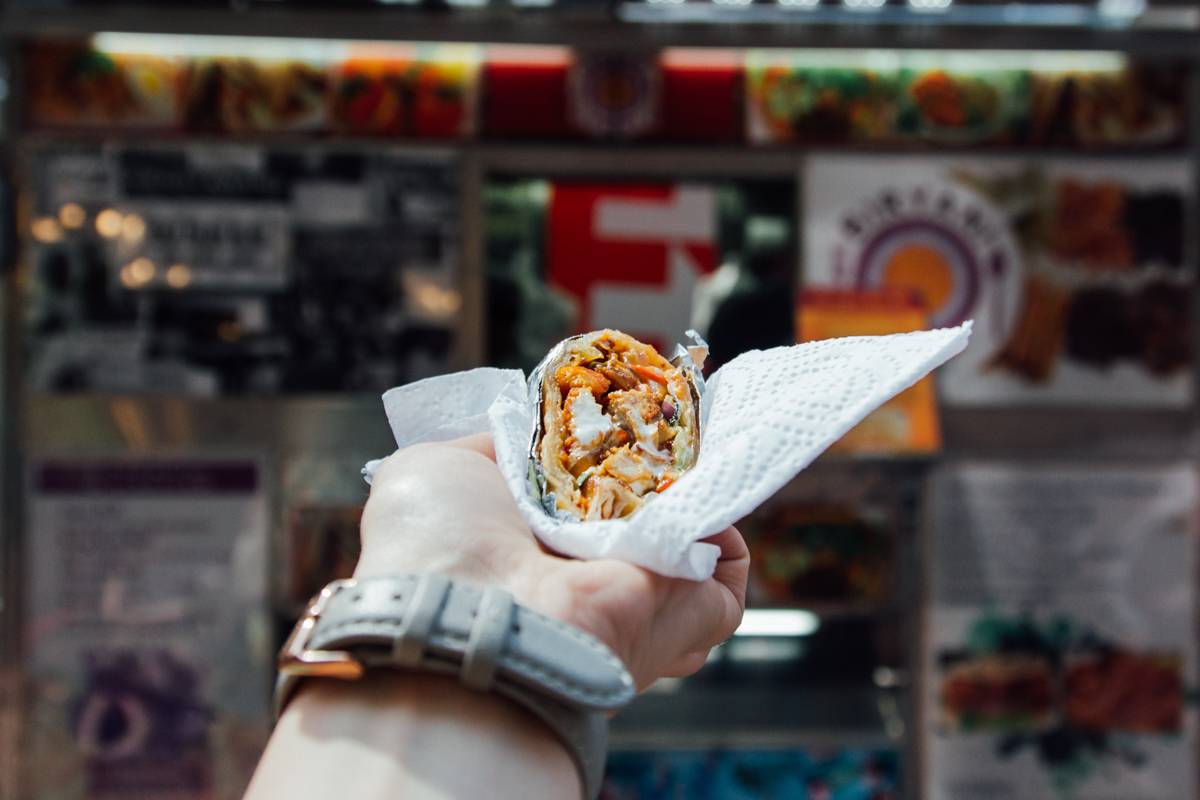 Get ready for your tastebuds to be blown away. Biryani Cart is an award-winning Indian food truck famous for its mouth-watering Kati Roll. A Kati Roll is a type of kebab originating from Kolkata, where skewer-roasted meat is encased in Indian flatbread. Delicious is an understatement. Leaving New York without grabbing one of these quick, delicious snacks would be a tragic mistake.
Biryani Cart Location: 112-100 W 46th St, 6th Ave, NYC
4. Banana Pudding from Magnolia Bakery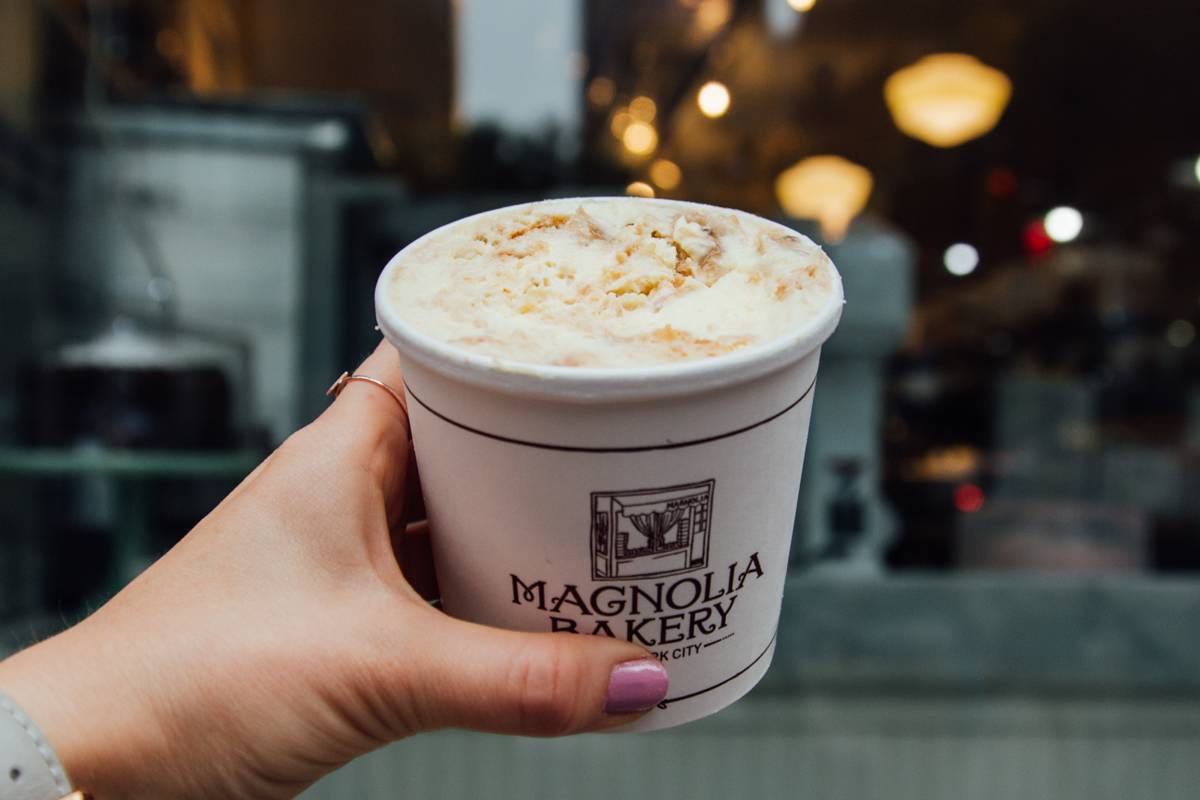 Magnolia Bakery is one of New York City's institutions when it comes to sweet, indulgent treats. Walk inside one of their bakeries across the city to feast your eyes on a colourful range of picture-perfect cupcakes.
The banana pudding sold here may not look quite as aesthetic, but it is the reason most people visit Magnolia Bakery. This NYC sweet treat has become world-famous. Packed with rich vanilla pudding, fresh bananas, and crunchy vanilla wafers, it's creamy indulgence at its best.
Magnolia Bakery Location: 1240 6th Ave, NYC (plus other locations)
Check here for accommodation in Midtown
Best NYC Snacks in the Upper East Side:
5. Frrrozen Hot Chocolate from Serendipity 3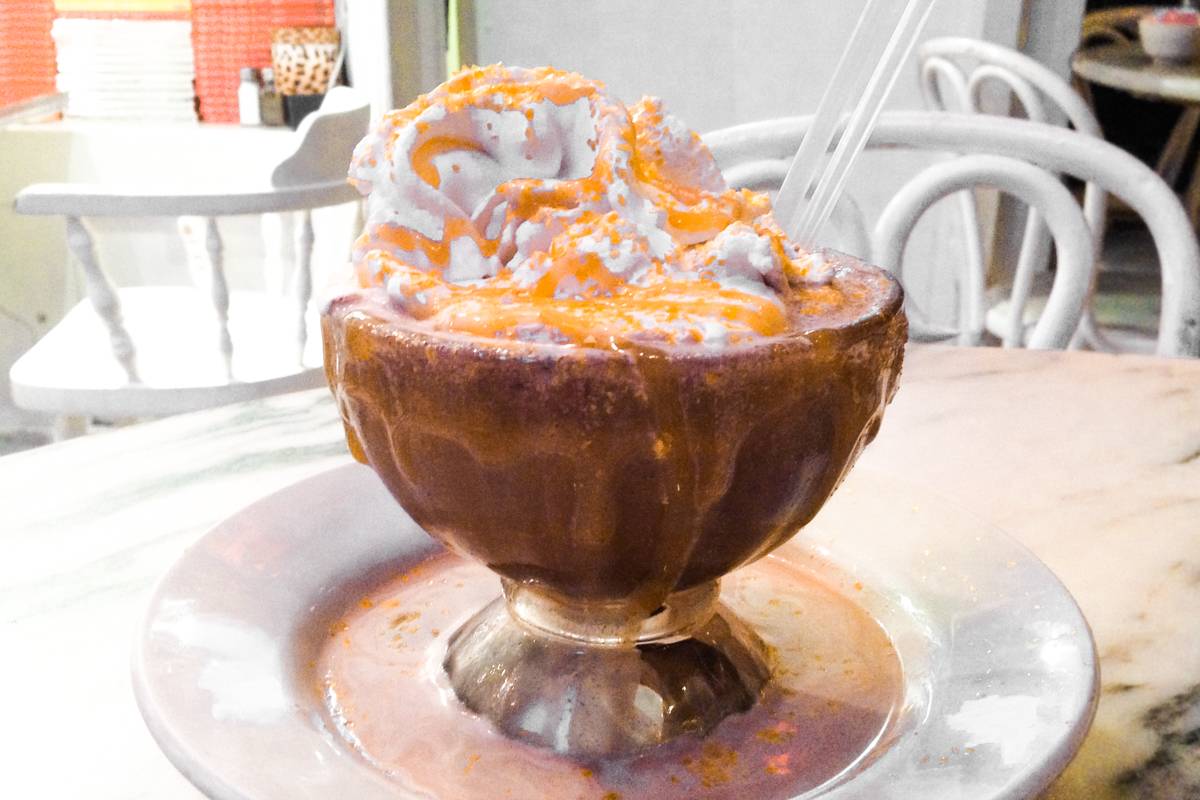 Walking in to Serendipity 3 is like walking into Alice's wonderland. The frrrozen hot chocolate really does transport one to another universe. Whether this is from the heavenly taste or the brain-freeze is anyone's guess. This decadent drink is made from room-temperature hot cocoa mix blended with ice and topped with lashings of whipped cream.
Go for the classic or try one of the many frrrozen hot chocolate flavours on offer, including peanut butter, salted caramel and s'mores. You can even get one spiked with liquor! Hot tip: the frrrozen hot chocolate at Serendipity is not modest in size or cost, so I would definitely recommend sharing!
Serendipity 3 Location: 225 E 60th St, NYC
6. Chocolate Chip Walnut Cookie from Levain Bakery
Another one of the most iconic foods from New York is Levain Bakery's chocolate chip walnut cookie. Located on the Upper West Side, Levain was the original pioneer of the ultra-thick, chunky NY-style cookie.
Levain's cookies have now become popular across the world. It's well worth visiting the original bakery and trying one of these delectable cookies fresh from the oven!
Levain Bakery Location: 168 West 74th Street, NYC
Best NYC Snacks in the Flatiron District:
7. Chocolate Babka from Breads Bakery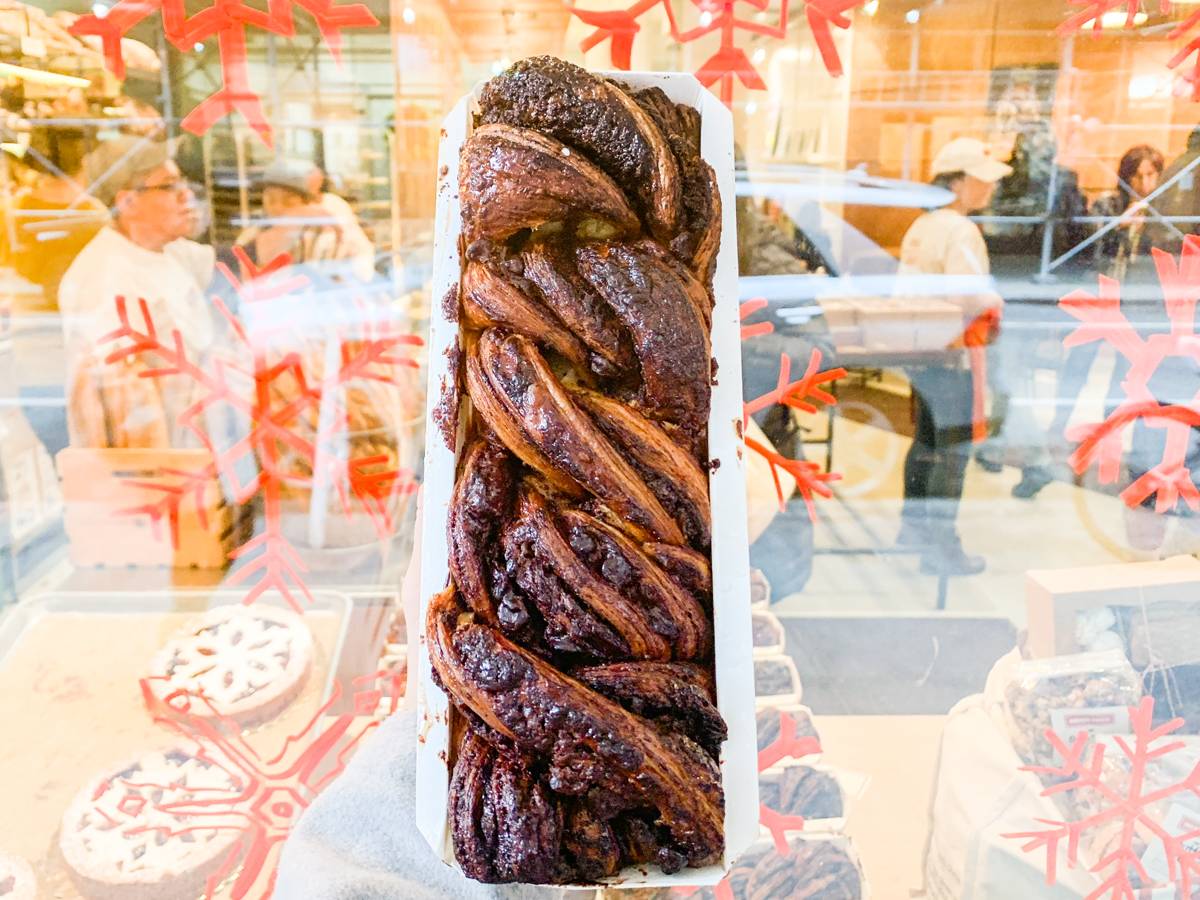 It's hard to walk past Breads Bakery in Union Square and not be lured in by the smell of freshly baked bread. Although their slow-fermented sourdough is some of the best bread in the city, it's the world-famous chocolate babka that you really need to come here for.
If you haven't had babka before, it is an Eastern European invention made of a rich brioche dough swirled with cinnamon or chocolate filling. Bread's rendition of babka is truly divine. It's moist and tender on the inside with a slightly croissant-like texture on the outside.
The filling features rich dark chocolate with subtle cinnamon notes that sing through. The icing on the cake (or chocolate on the babka) are the fat chunks of chocolate dotted throughout the loaf. This is a New York food you need to try.
Breads Bakery Location: 18 E 16th Street, NYC
8. Dulce De Leche Doughnut from Dough
Full disclosure, I am not the biggest fan of doughnuts (I know, it's shocking). However I could not leave doughnuts off the list of foods to try in New York. After all, they are another of the most popular American snacks!
Dough is one of the many great doughnut shops in NYC, offering handmade, artisanal doughnuts in a variety of inventive flavours. Out of the flavours we tried, the dulce de leche with almonds was the standout. Even for someone impartial to doughnuts like me, I can admit this was a good one!
Dough Doughnuts Location: 14 West 19th Street at, 5th Ave, NYC
Best NYC Snacks in the Lower Manhattan:
9. Pork & Chive Dumplings from Fried Dumpling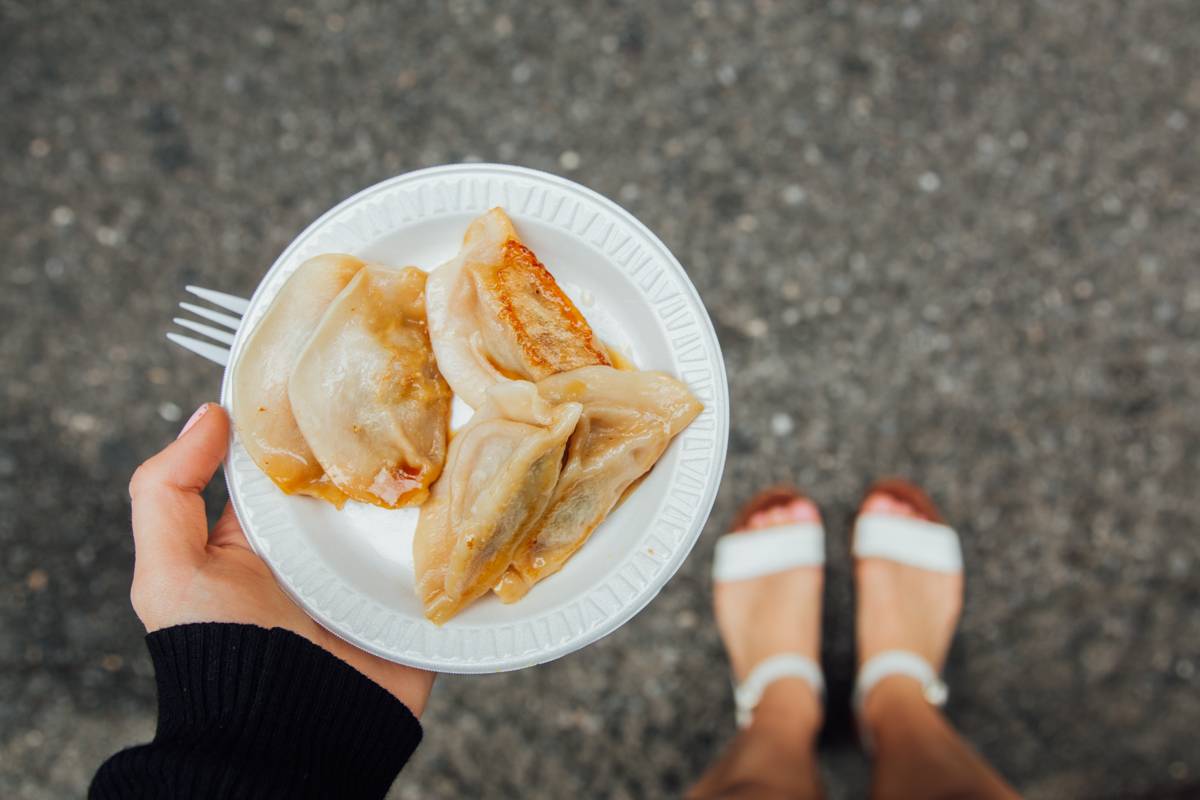 When I first visited New York, there were a handful of authentic hole-in-the-wall shops in Chinatown that would serve you a plate of dumplings in a matter of seconds in exchange for a crisp dollar bill.
Although most of these spots have upped their prices in the past few years, at Fried Dumpling (106 Mosco St), you can still snack on a steaming plate of 5 dumplings or 4 pork buns for $1.25. Just try to find a cheaper and more satisfying snack in NYC than this, I dare you.
Fried Dumpling Location: 106 Mosco St, NYC
Check here for accommodation in Chinatown
10. Cannoli from Ferrara NYC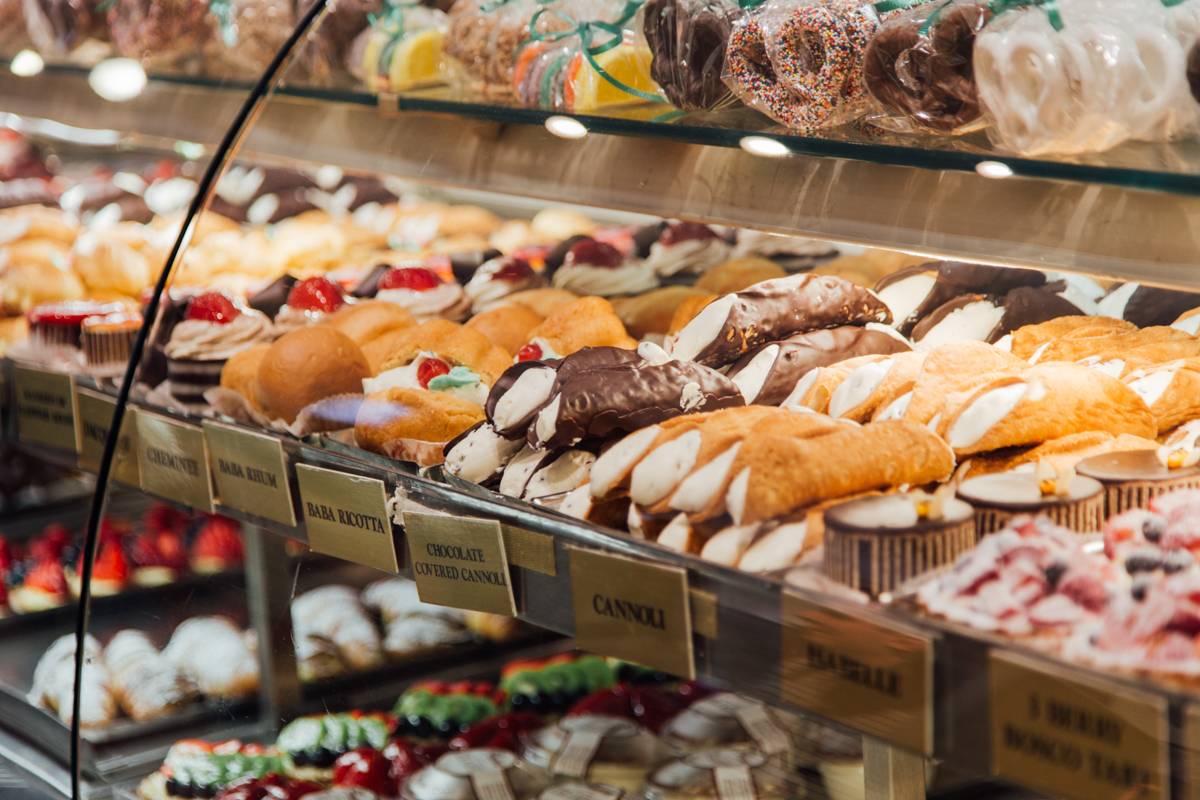 A few minutes roaming the streets of Little Italy and you'll feel as though you've taken the metro to Rome. Filled with pizzerias, gelaterias and bakeries, here you'll find a limitless number of delicious foods to snack on.
For the best cannoli in Little Italy, make sure you stop by Ferrara NYC. This Italian cafe is said to be America's very first Pasticceria and espresso bar, opening its doors back in 1892. They are particularly famous for their cannoli, which are crisp hand-rolled pastry shells are filled with a sweet spiced ricotta cream.
These make the perfect snack to have alongside a strong espresso as you stroll the streets of Little Italy.
Ferrara Bakery & Cafe Location: 195 Grand St, NYC
Check here for accommodation in Little Italy
11. Corn on the Cob from Cafe Habana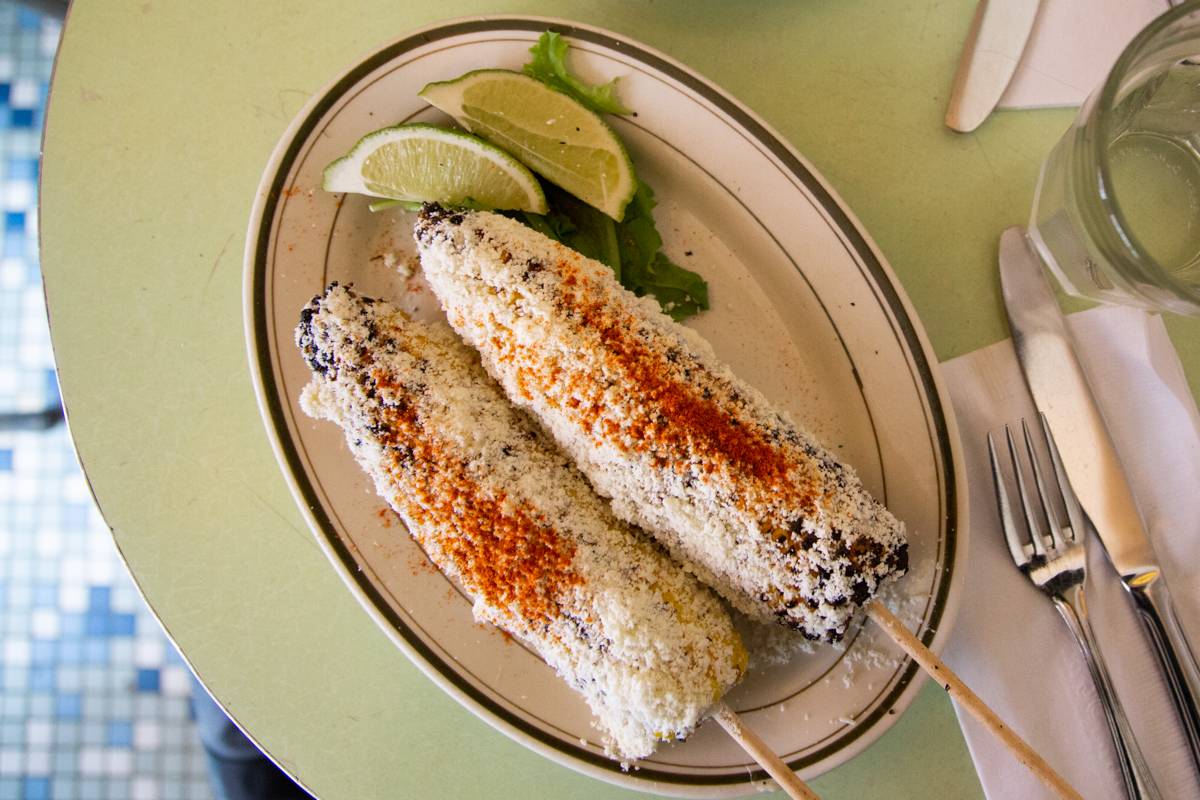 Head over to Cafe Habana in NoLita for a taste of Cuba that you won't forget in a hurry. If you come here, you've got to try the Cafe Habana speciality- the mother of all corn-on-the-cobs.
The corn comes grilled to perfection, topped with lashings of mayonnaise, cotija cheese chilli and lime. However, the dish does come with a warning: once you eat it, you may be ruined for corn forever. This one really does take some beating.
Cafe Habana Location: 17 Prince St, NYC
Check here for accommodation in NoLita
Best NYC snacks to try in SoHo:
12. Cronut from Dominique Ansel's Bakery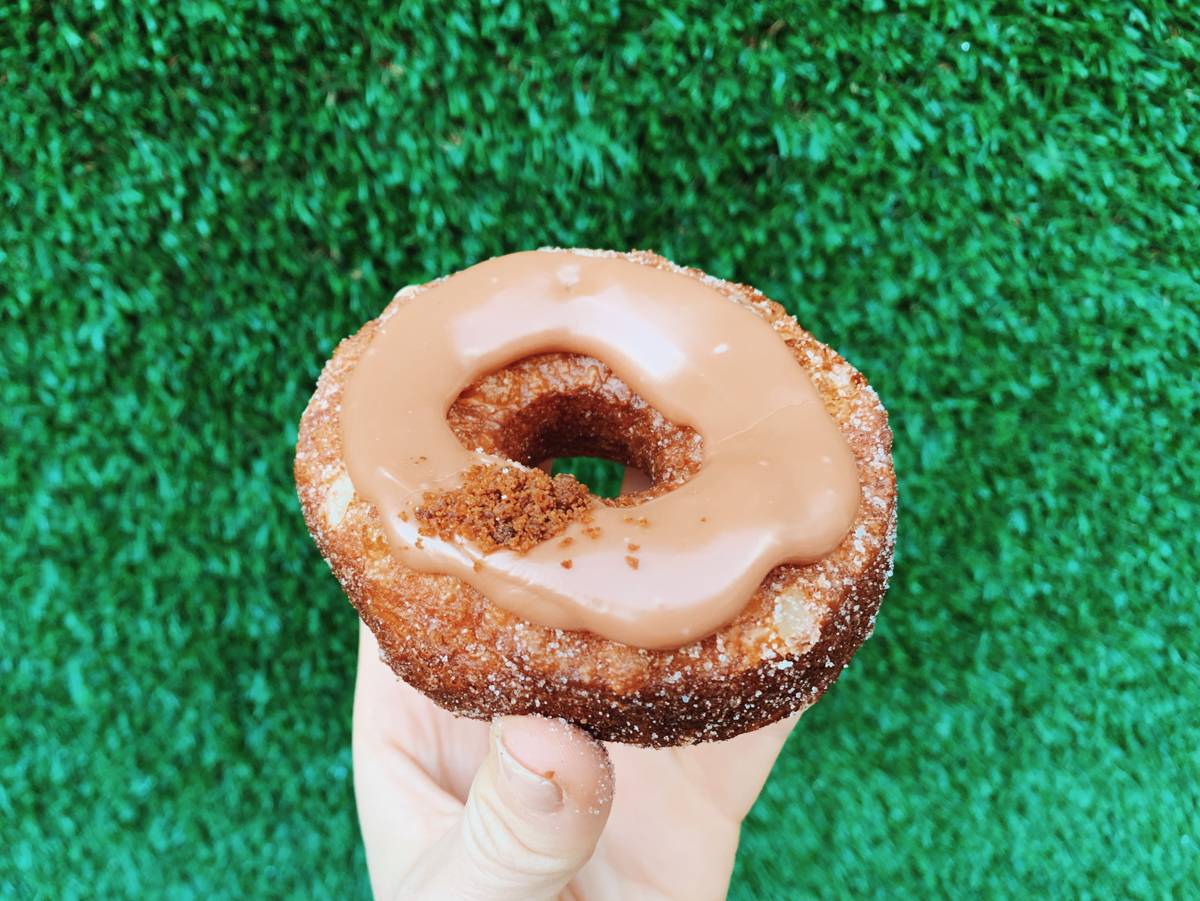 Dominque Ansel is know far and wide as the French pastry chef responsible for bequeathing humanity with what could be one of the best American snacks of all time- the cronut. It would be remiss to visit New York without a trip to this famous bakery to try the OG croissant-doughnut hybrid.
I now understand why the queue outside the bakery is so long. These cronuts are SO worth the hype! The flavour of cronut rotates each month, and I was fortunate enough to visit when that flavour was ginger snap and dulcey flavour. Firm and juicy, with a flaky, buttery and sweet pastry and a generous amount of filling that oozed out of the centre, this cronut was love at first bite.
If you have room left for a little more sugary goodness, I'd also recommend trying the Frozen S'mores. This is yet another favourite American snack that gets an Ansel makeover.
Decadent, vanilla ice cream is topped with a crispy layer of chocolate wafer and encased in homemade marshmallow. For a bit of theatre, the whole thing is lit on fire in front of your eyes, producing a gooey inside and cracking creme-brulee-style outer.
Dominique Ansel's Bakery Location: 189 Spring St, New York, NYC
13. Bagel from Black Seed Bagels
It would almost be criminal to leave New York City without snacking on a warm, toasty bagel. After all, these are one of most popular American snacks! There are many highly-rated bagel shops around the city, and Black Seed Bagels is certainly up there as one of the best.
When ordering at Bagel Seed Bagels, you really are spoilt for choice. With 12 types of bagels, 9 types of cream cheese and a million different toppings options, this is like Starbucks of bagel shops.
The bagels here are chewy on the outside and dense yet still soft on the inside. Ironically, they are more like the Montreal-style bagel than a bready NY-style bagel. If you are wanting the later, I'd recommend trying Ess-a-bagel.
Black Seed Bagel Location: 170 Elizabeth St, NYC (plus other locations)
14. Soba noodles from Cocoron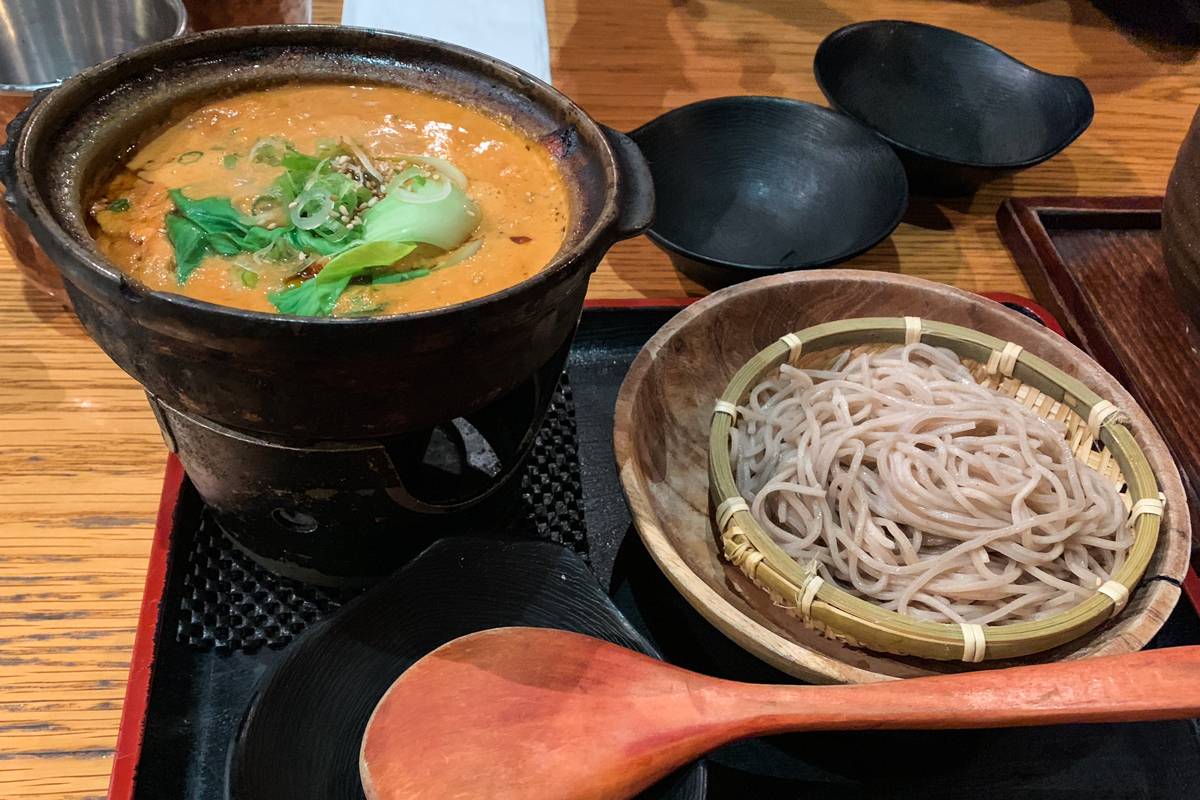 Never did I expect to try some of the best soba noodles of my life in New York City. However, the soba noodles from Cocoron were truly phenomenal. This little hole-in-the-wall noodle shop offers a taste of Japan in New York's lower east side. With its dim lighting, crammed bench seating and handmade ceramic serve ware, it's almost an exact replica of what you'd find down an alleyway in Tokyo.
Here, you can choose between dipping soba or having your noodles as part of a complete soup. There is even a whole section devoted towards vegetarian and vegan options, which is often a rarity at Japanese eateries.
I would highly recommend ordering the spicy vegan dip soba as these turned out to the stand-out dish of our meal. The broth was rich, creamy and the perfect amount of spice, and opting for the dip soba means the noodles don't go soggy.
Cocoron and Goemon Location: 16 Delancey St, New York, NYC
Check here for accommodation in Soho
Best NYC snacks to try in Brooklyn:
15. Cheesecake from Martha's Country Bakery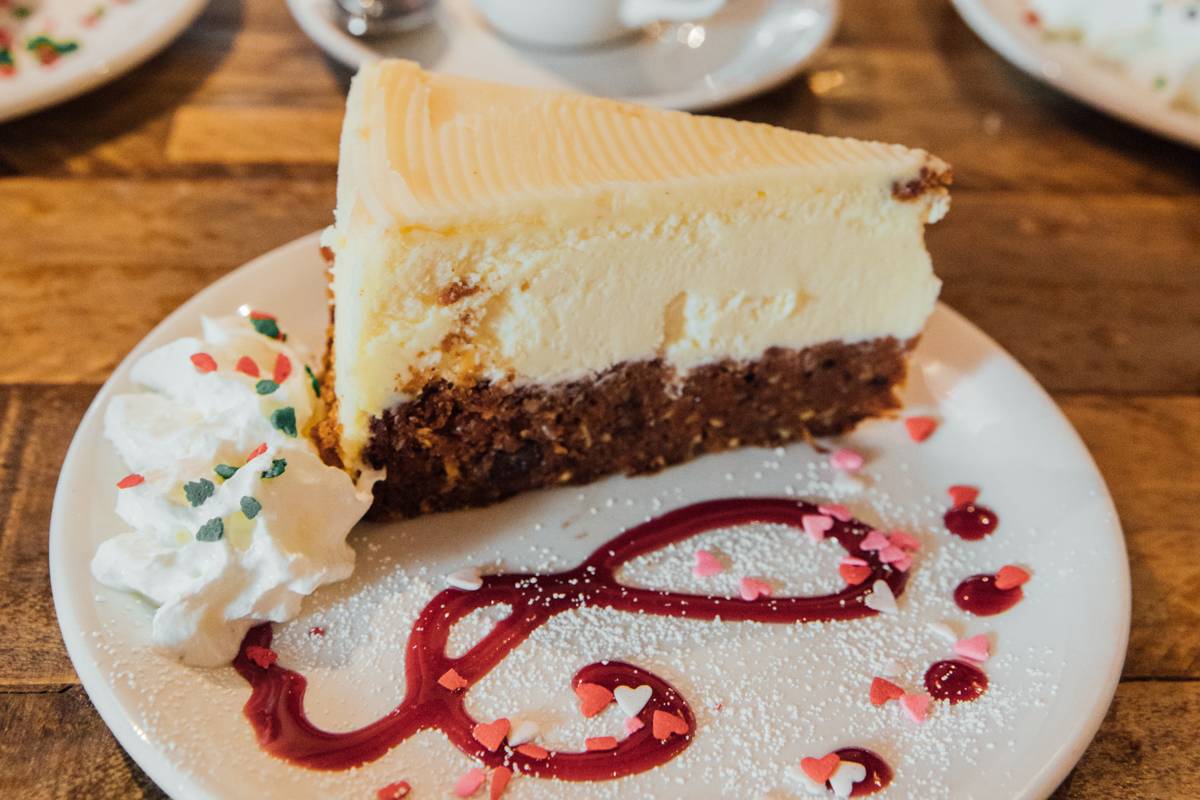 If you want to sink your teeth into some of the tastiest baked goods in NYC, head over to Martha's Country Bakery in Brooklyn. The endless selection of cakes, pies and tarts is overwhelming to say the least, so be sure to come with a few friends so you can try as many sweet treats as possible.
There is an abundance of cheesecake flavours to try. I opted for the carrot cake number and hand over heart, it was some of the most delicious cheesecake I've ever palleted.
The coffee here is also surprisingly good, so I would highly recommend washing down your sins with some caffeine.
Martha's Country Bakery Location: 263 Bedford Ave, Brooklyn, NYC
16. Ice Cream from Brooklyn Ice Cream Factory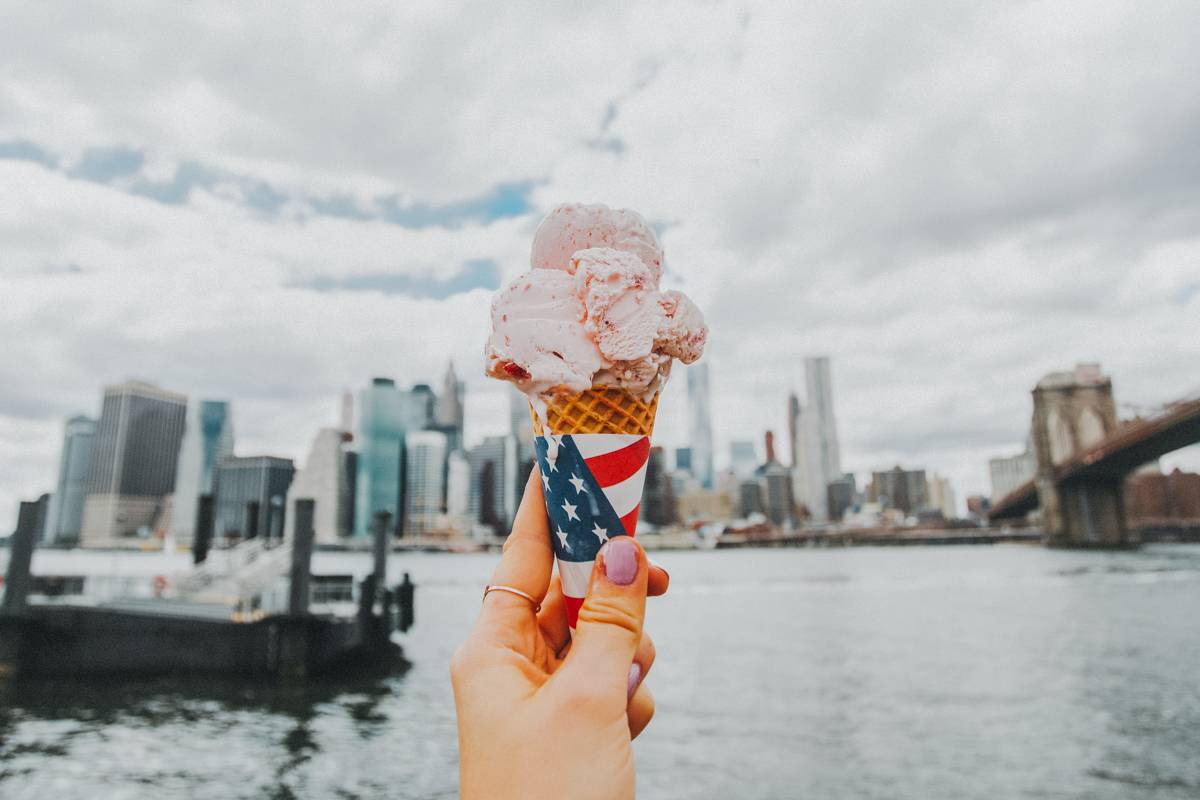 If you find yourself walking over the Brooklyn Bridge on a sweltering hot New York summer day, be sure to stop into Brooklyn Ice Cream Factory once you reach Dumbo.
With only a few basic flavours on the menu, the ice cream is simple, creamy and delicious, and really hits the spot. The ice cream eating experience is thoroughly enhanced by the insane view of the NYC skyline!
Brooklyn Ice Cream Factory Location: 14 Old Fulton St, Brooklyn, NYC
17. Bee Sting Pizza from Roberta's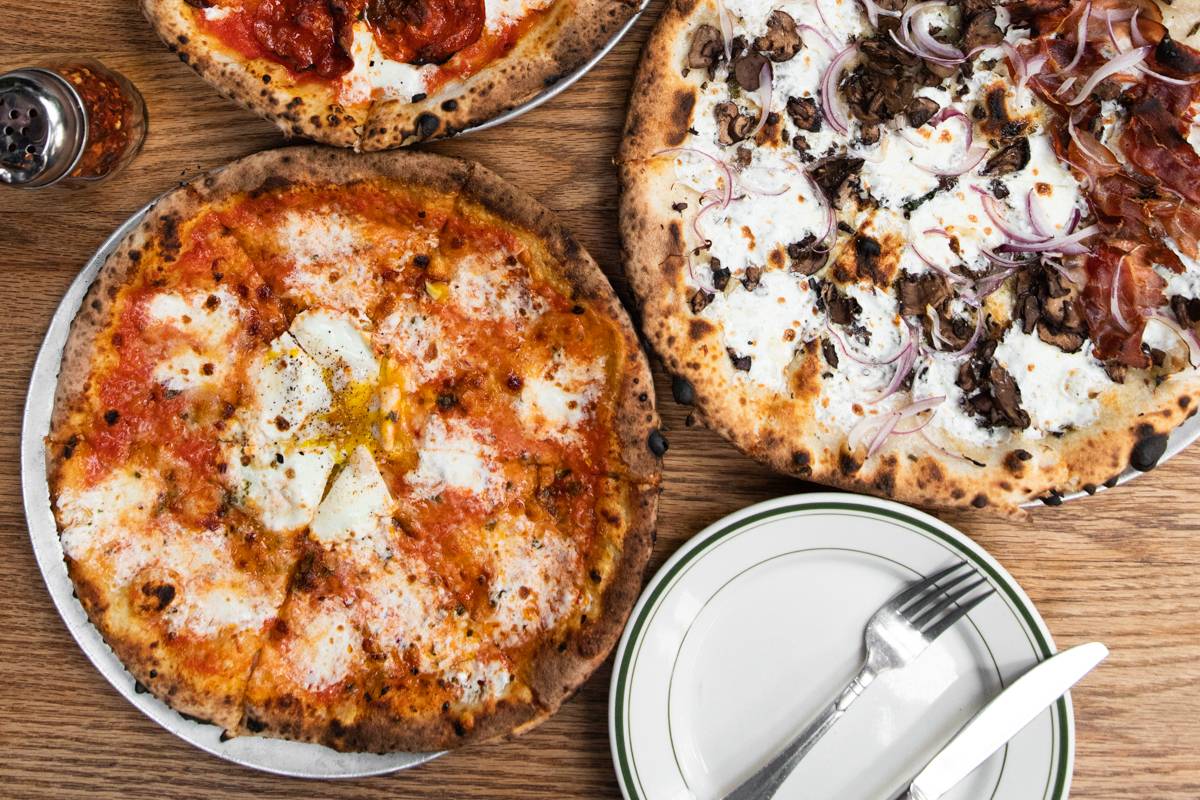 It is a big claim, but Roberta's Pizza in Brooklyn is known for being one of the best pizza joints in New York City. Known for its wood-fired pizza and hipster vibe, its well worth the trip over the bridge.
I tried a few of the pizzas from Roberta's, and although they were all delicious, there was one that truly stood out above the rest.
The Bee Sting pizza is topped with tomato, mozzarella, soppressata (an Italian salami), basil, chilli and the key ingredient- honey. The sweet, familiar tang of honey perfectly balanced the kick of chilli and headiness of the tomato which took this pizza to a whole other level.
Roberta's Pizza Location: 261 Moore St, Brooklyn, NYC
Check here to see accommodation Brooklyn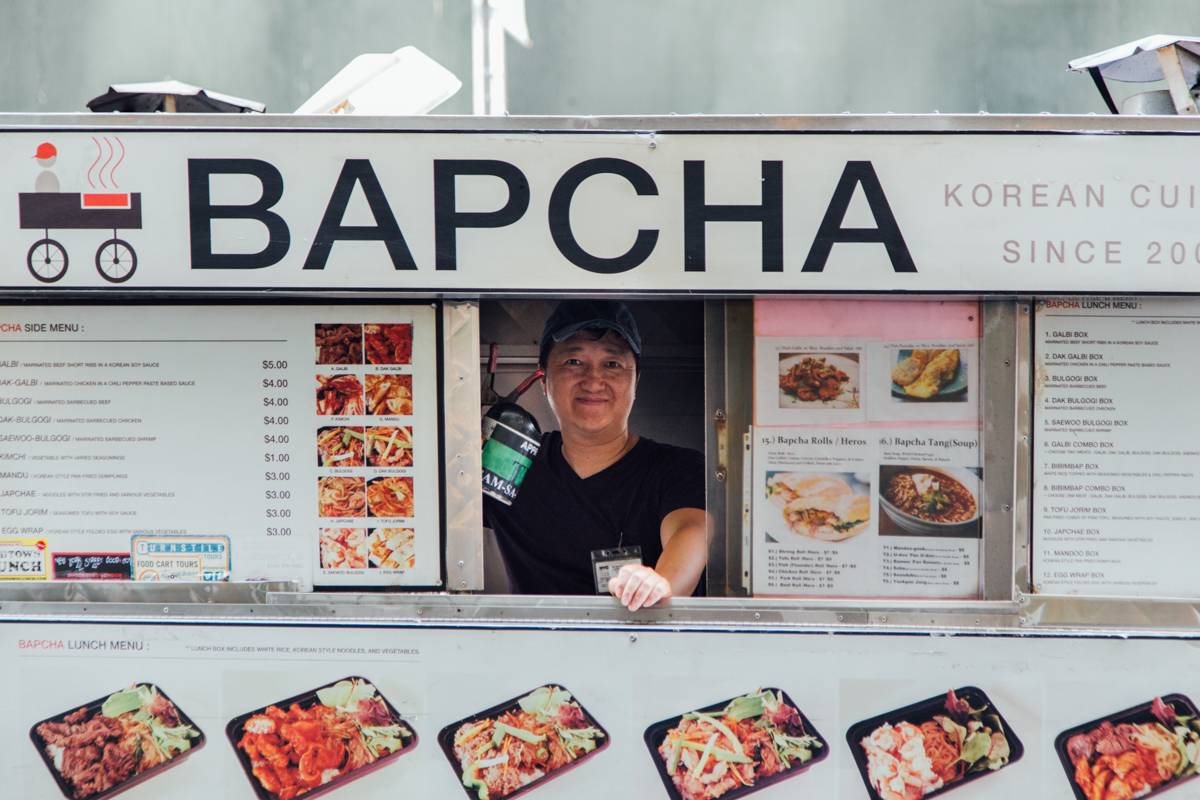 Other Food Tours in NYC
If you want even more ways to enjoy NYC's gastronomy scene, try some of these food tours:
Been to New York? Let me know your favourite snacks/ foods in NYC in the comments below!
Like this guide to the best snacks in NYC? Pin this post for later!