Are you planning a romantic getaway to the Maldives? Here are two of the best places to stay in the Maldives for couples in 2023!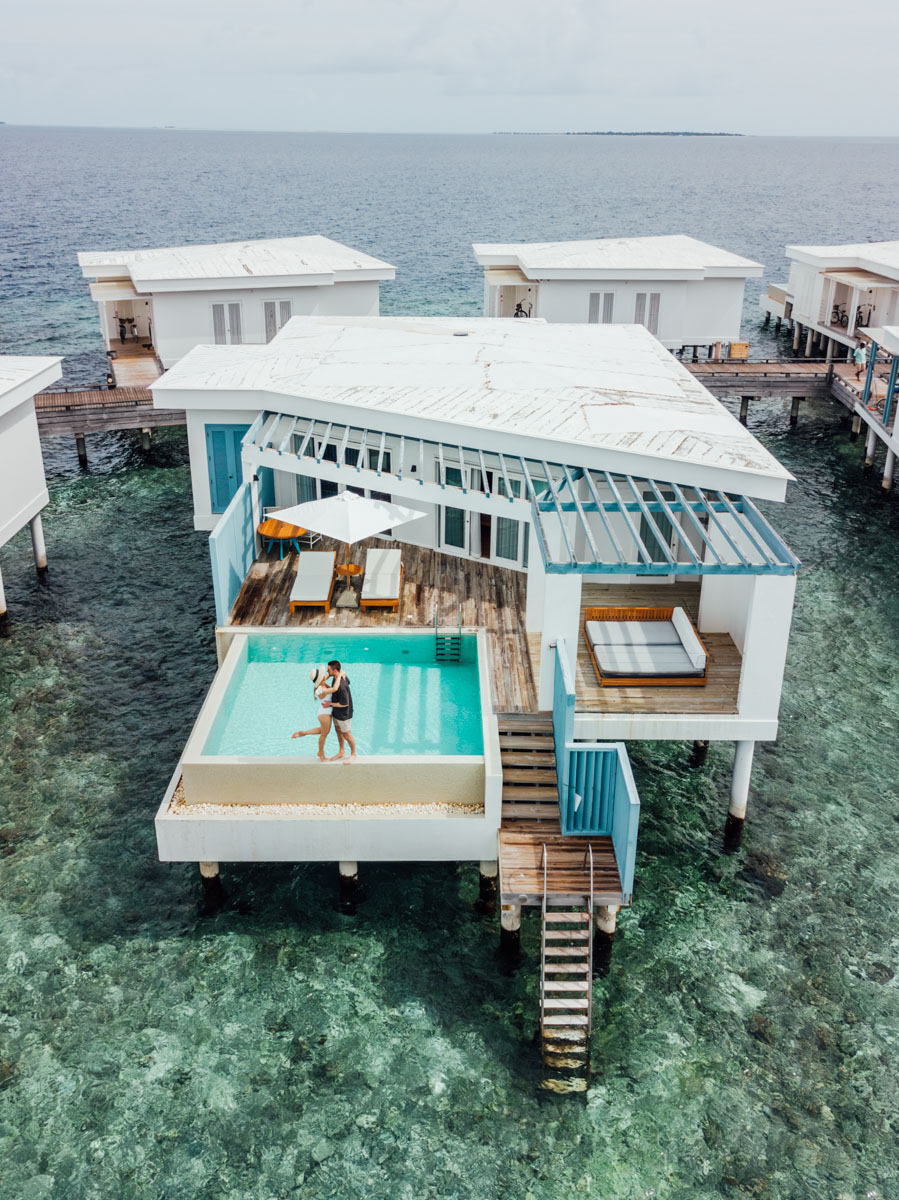 I've been a travel blogger for over 9 years now. I've been very lucky to stay in some pretty incredible places throughout this time. But NONE of these places have blown me away quite as much as the two resorts we stayed at in the Maldives for our honeymoon.
We stayed for three nights at each of these resorts. Although both places had a very different look and feel, they were equally as spectacular (and romantic!)
So if you are looking for the best place to stay in the Maldives as a couple in 2023, let me present you with two brilliant options.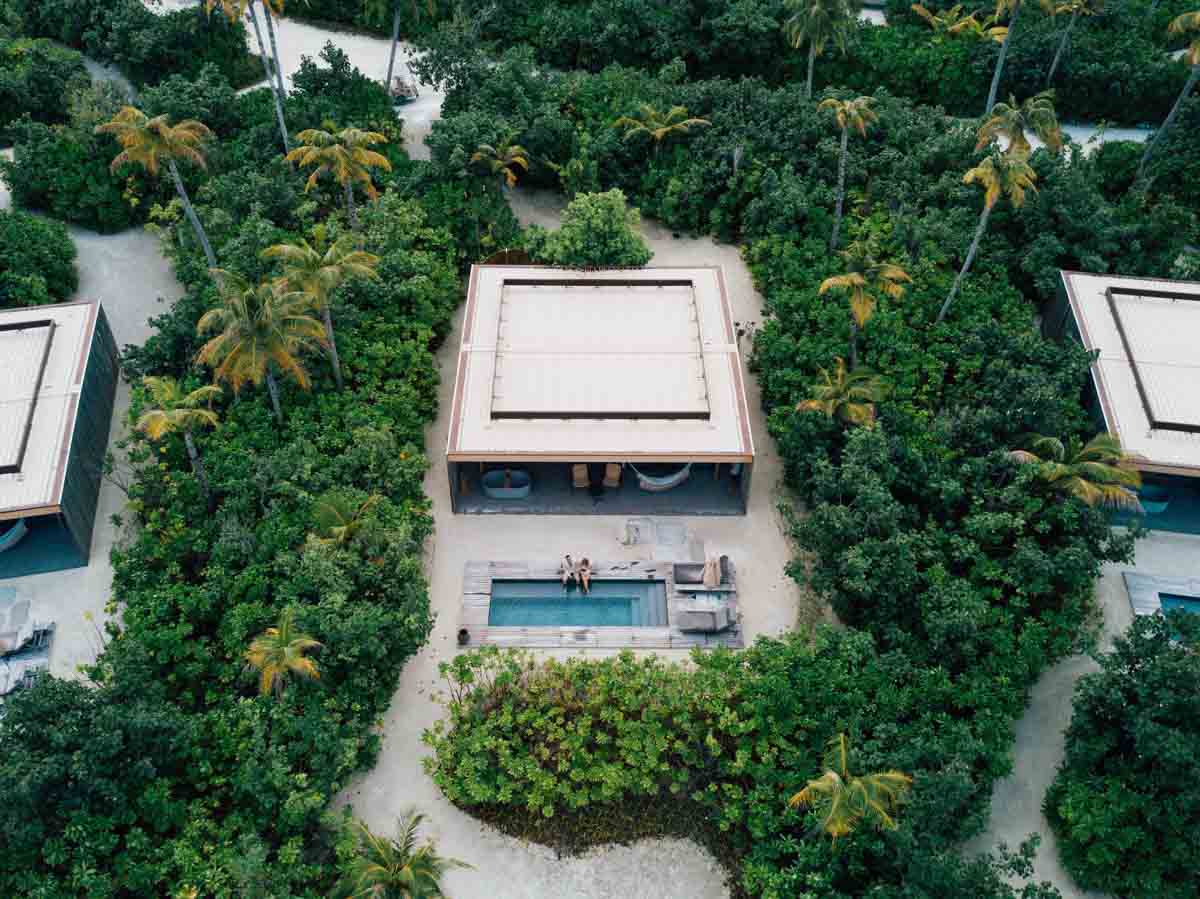 Patina FARI ISLANDS: MOST LUXURIOUS RESORT IN THE MALDIVES for couples
Having opened its doors in 2021, Patina Maldives is one of the latest luxury resorts in the Maldives. The resort's sleek, contemporary design and the calming, earthy colour palette are a refreshing new addition to the paradisical islands.
From the stunning spacious villas, and incredibly accommodating staff to the endless list of dining options and activities to take part in, Patina Maldives is a truly special resort. It is without a doubt one one of the best places to stay in the Maldives for couples in 2023!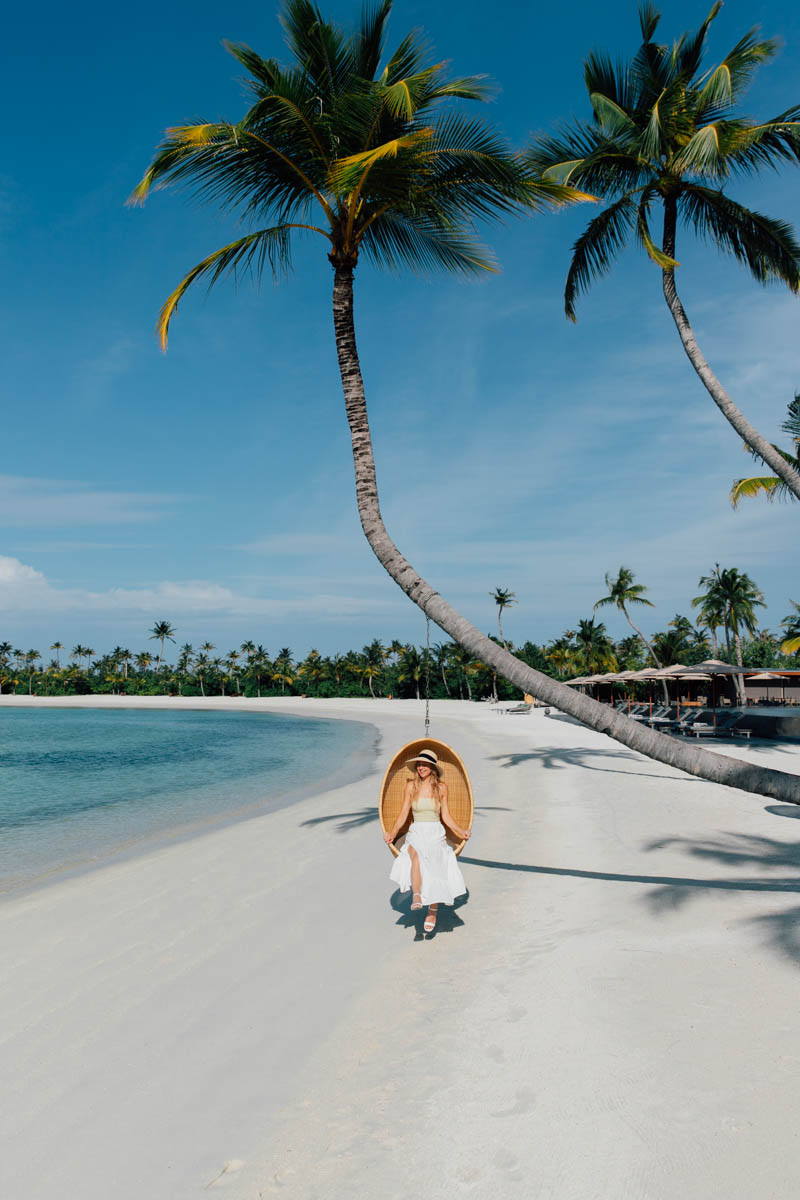 Location of Patina Maldives
Patina Maldives is located on one of the four Fari Islands. The resort is set across 42 sprawling hectares of manmade island, where white sand beaches are lapped by turquoise lagoons and lined by palm trees.
One of the biggest benefits of this location is its accessibility. While most resorts require a seaplane transfer, you can get to Patina in 45 minutes with a private speedboat from Male Airport.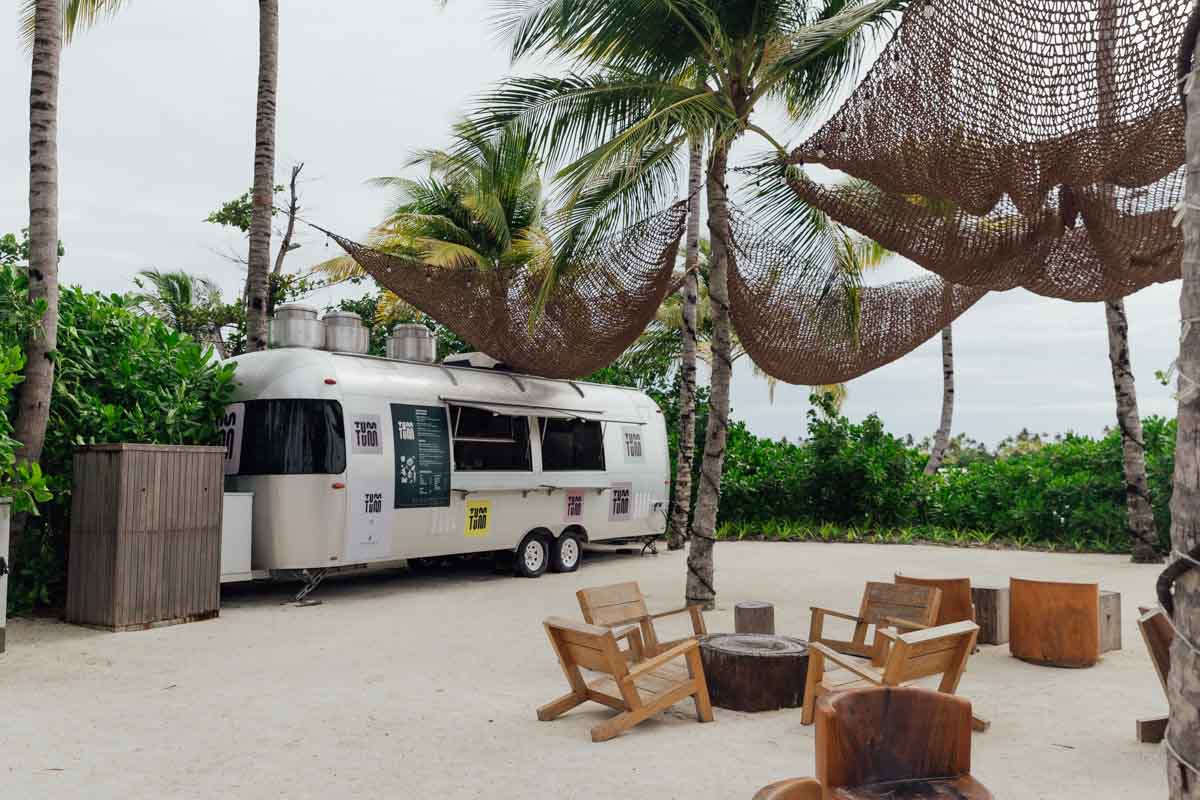 The island is also home to Fari Marina Village, a hub filled with restaurants, bars and food trucks. This buzzing area is shared with guests of the adjoining Ritz Carlton resort.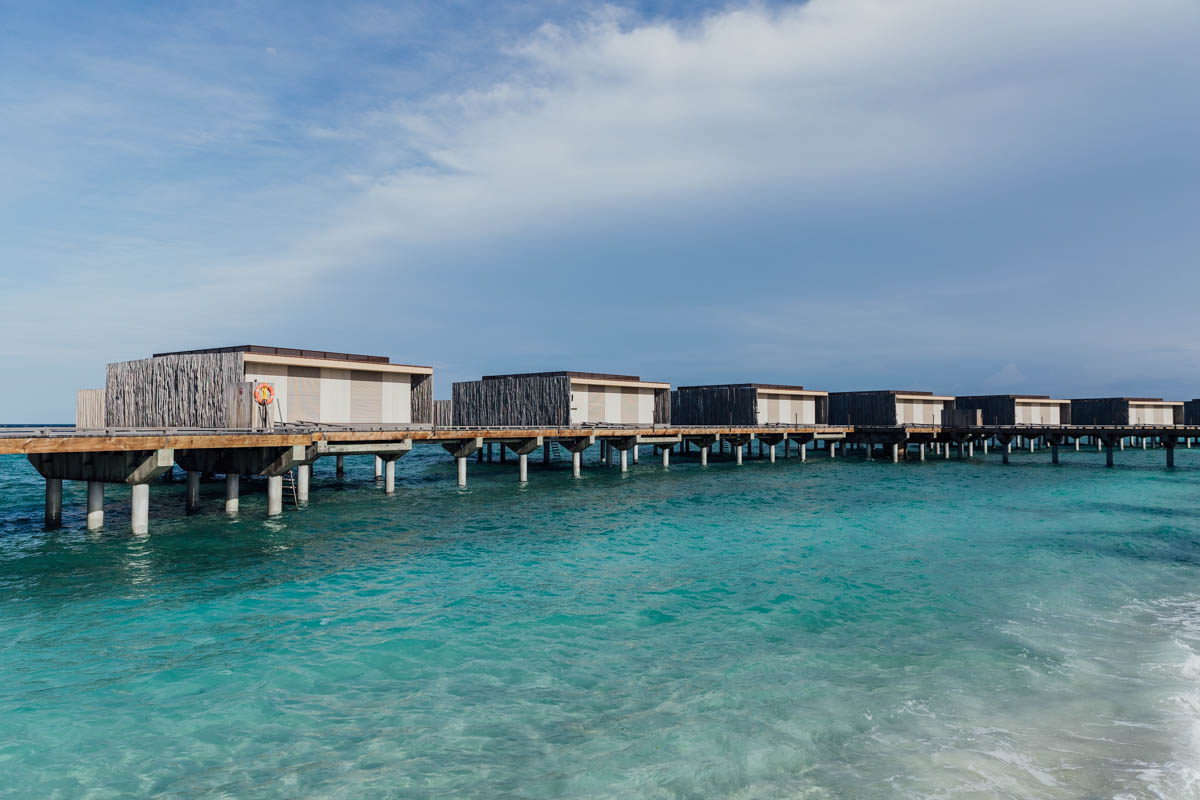 Accommodation at Patina Maldives
Patina is home to 90 one-to-three-bedroom villas and 20 studios in total. The beach villas are set on the beachfront nestled by lush tropical gardens, while the iconic water villas are set right out on the glimmering ocean.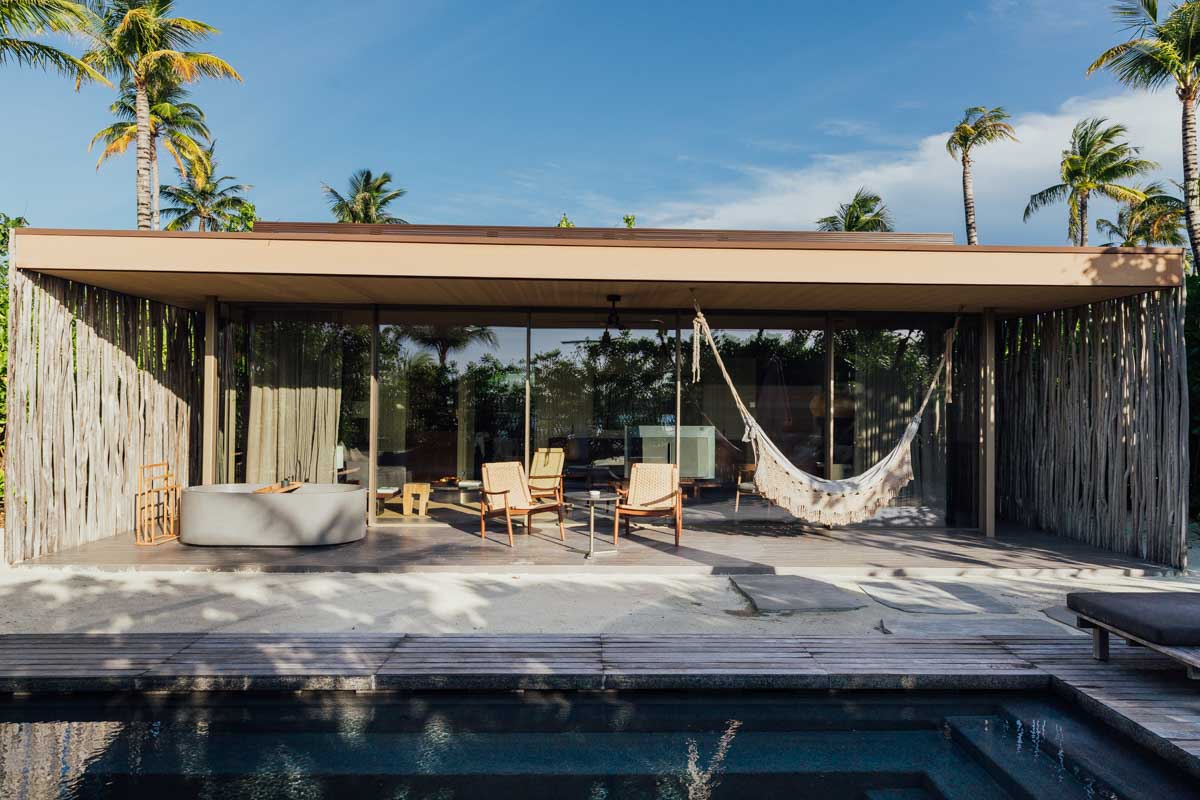 We stayed in a one-bedroom beach pool villa. We didn't have a view of the ocean from the villa, however, the beach was just a few steps away. I liked that the villa was surrounded by greenery, so it felt very private.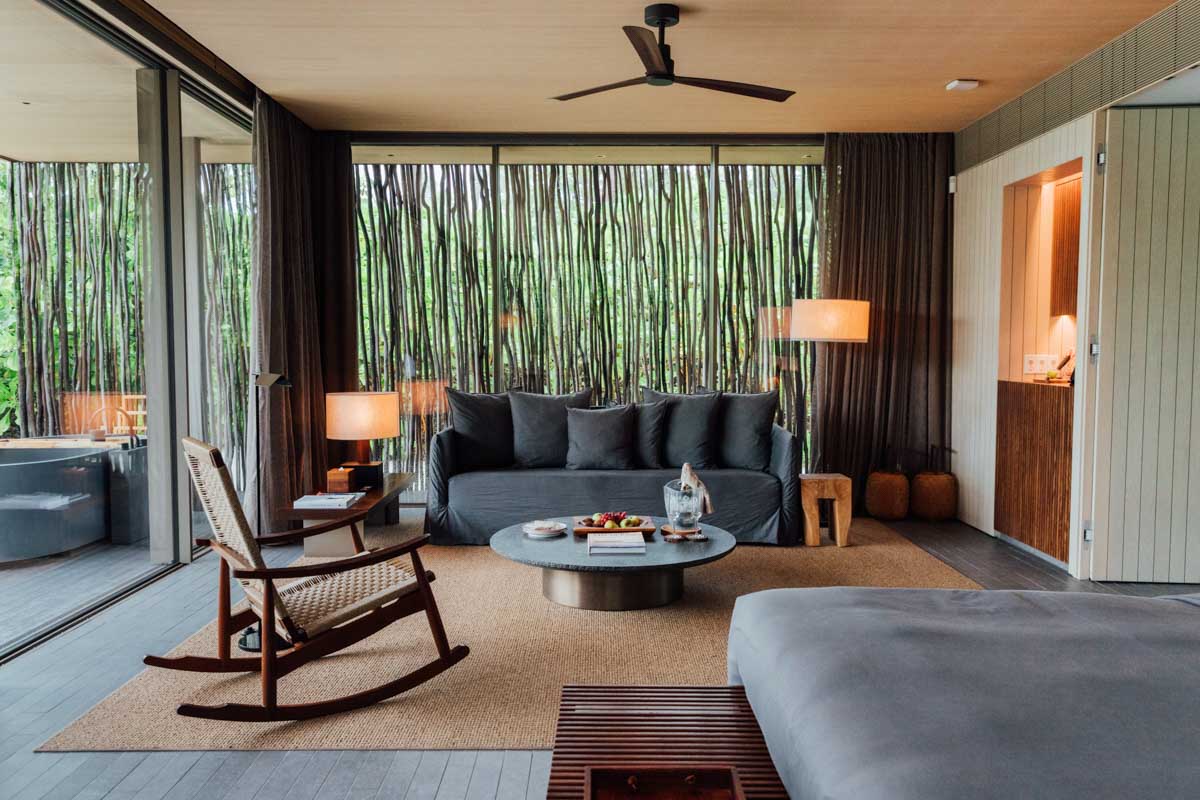 The interior of the villa was impeccably designed and extremely spacious. Retractable, floor-to-ceiling windows on three sides of the villa created a fantastic indoor-outdoor flow and really made you feel one with nature.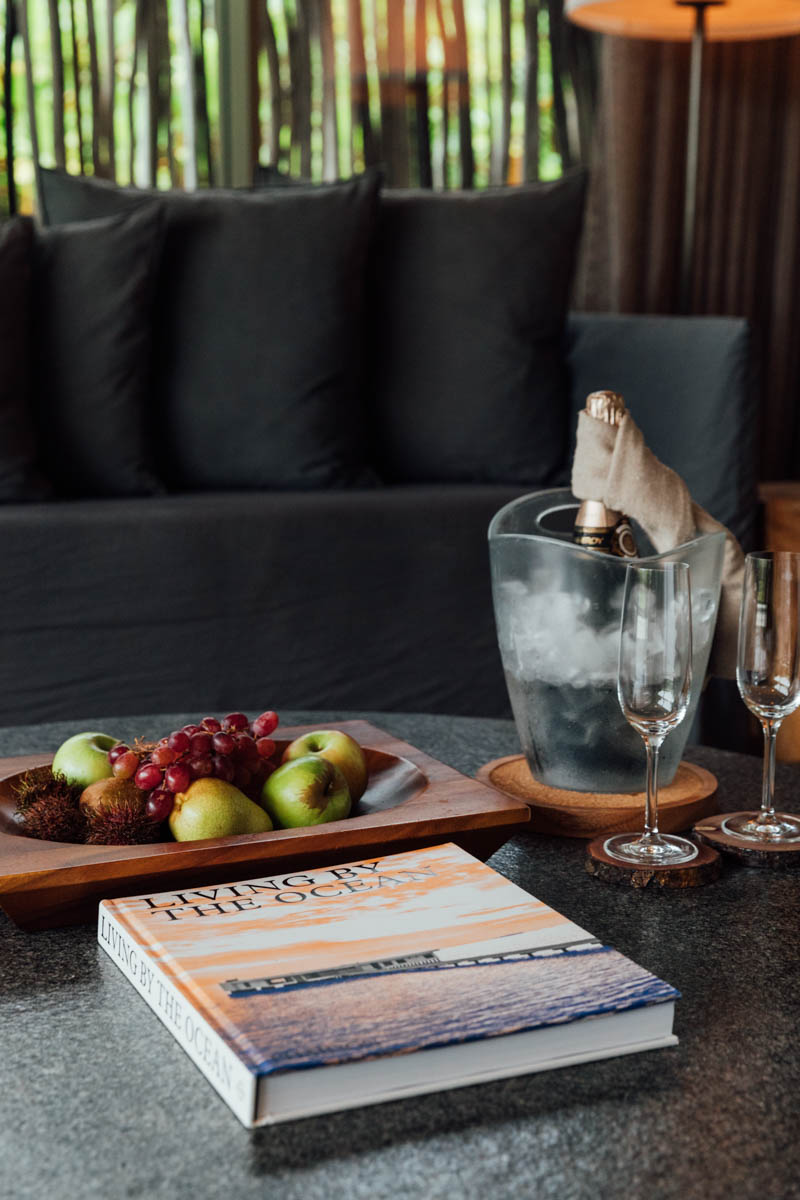 Highlights of the Villa:
Floor-to-ceiling windows with automatic black-out blinds
Private garden with a plunge pool, sunloungers and hammock
Outdoor oversized bathtub
Indoor rain shower + outdoor shower
Mini-bar featuring cocktail ingredients + complimentary non-alcoholic beverages
Smart TV, tablet, high-speed Wi-Fi, consoles on request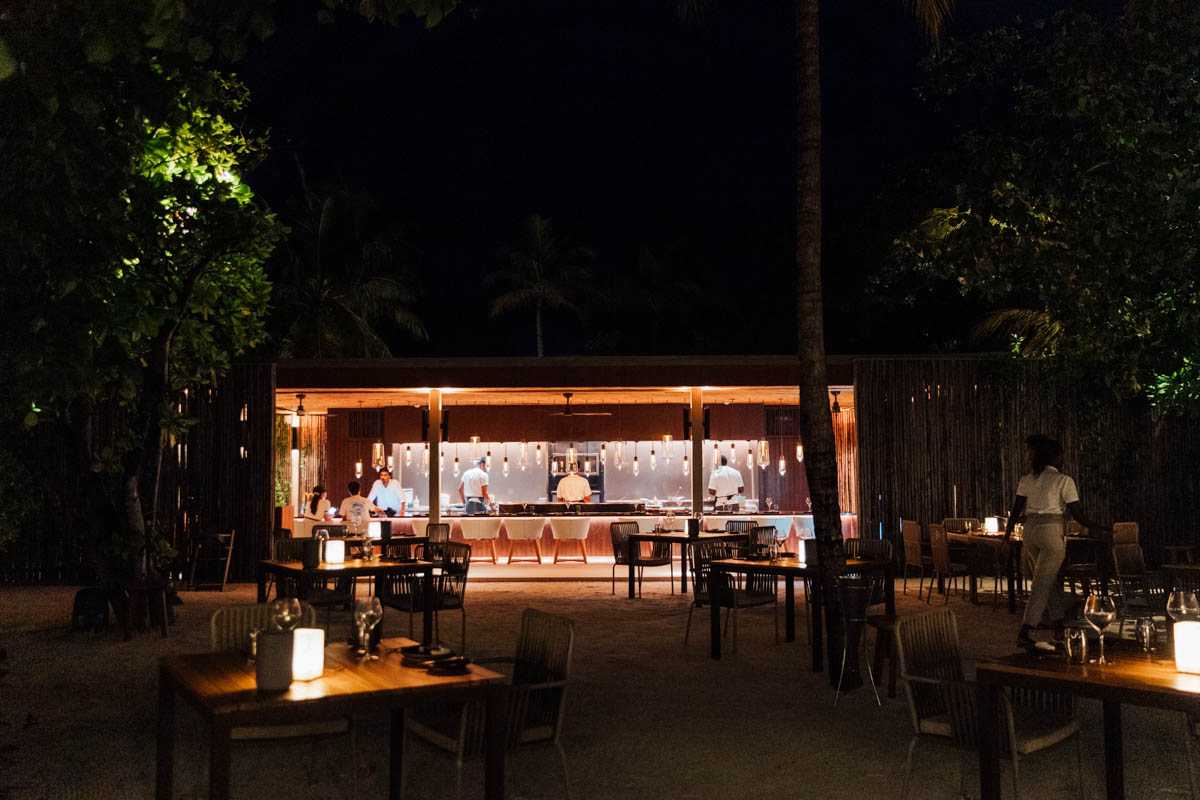 Dining Options at Patina Maldives
As it goes for most resort islands in the Maldives, the only dining options you really have are the restaurants of the accommodation you are staying at. So if you are a foodie like me, you want to make sure you stay somewhere that actually offers good food.
Thankfully, all the food at Patina Maldives was sensational. The resort offers 12 individual dining concepts on-site, and I was honestly so impressed that they managed to uphold such a high standard across all of them.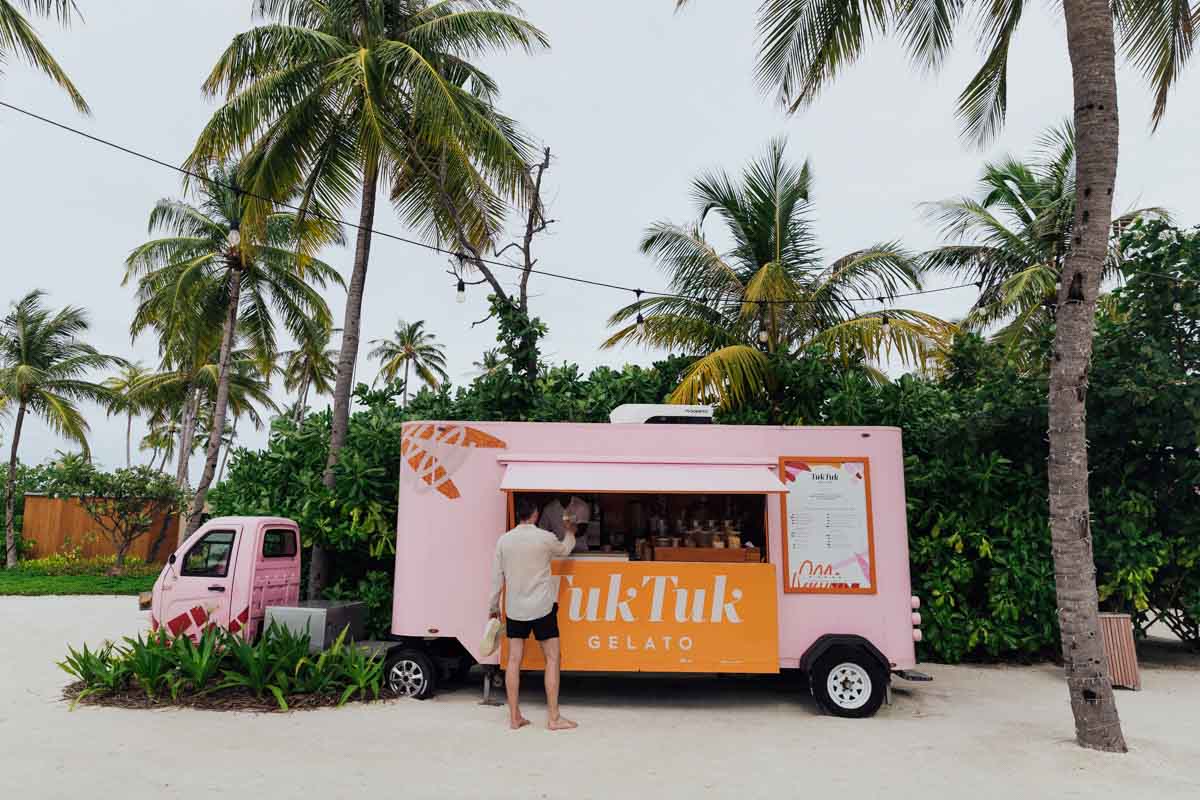 Dining Packages:
When booking your stay at Patina, there are different packages you can book that include either breakfast, half-board or full-board. Note there is no all-inclusive option, so beverages are an additional cost.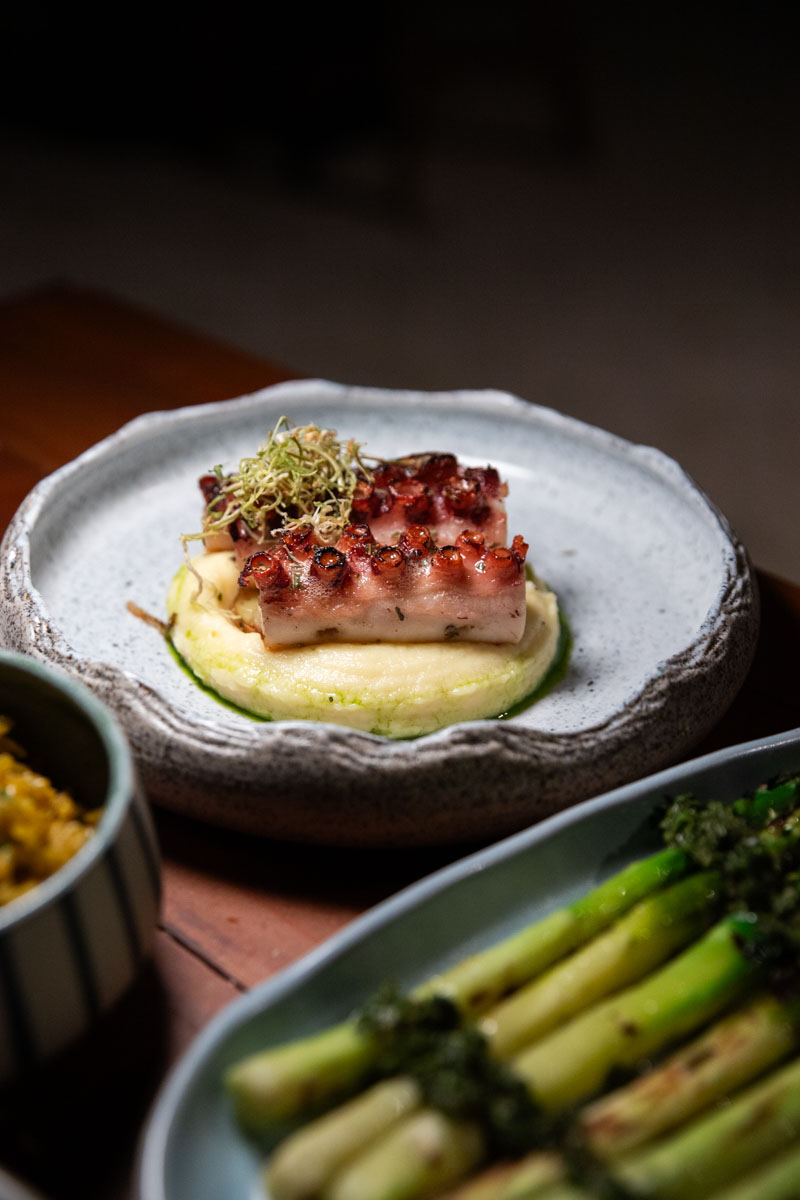 Dining Highlights at Patina:
HELIOS– A beachfront restaurant serving up fantastic Aegean cuisine (this was our favourite restaurant at Patina by far)
FARI BEACH CLUB- A poolside bar and restaurant offering fresh sushi and Japanese-inspired dishes
BRASA- Open-fire cooking and rustic grilled meat dishes with South American flavours
ROOTS– A plant-based dining experience centred around organic, home-grown produce
KŌEN– A unique and modern fusion of Japanese and Nordic cuisine
PORTICO– All-day dining spot offering local specialities as well as Western classics
WOK SOCIETY– A contemporary Asian restaurant offering a range of dishes like dim sum and noodles.
TUK TUK GELATO– A gelateria that serves up complimentary ice cream for guests from 12pm to 5pm.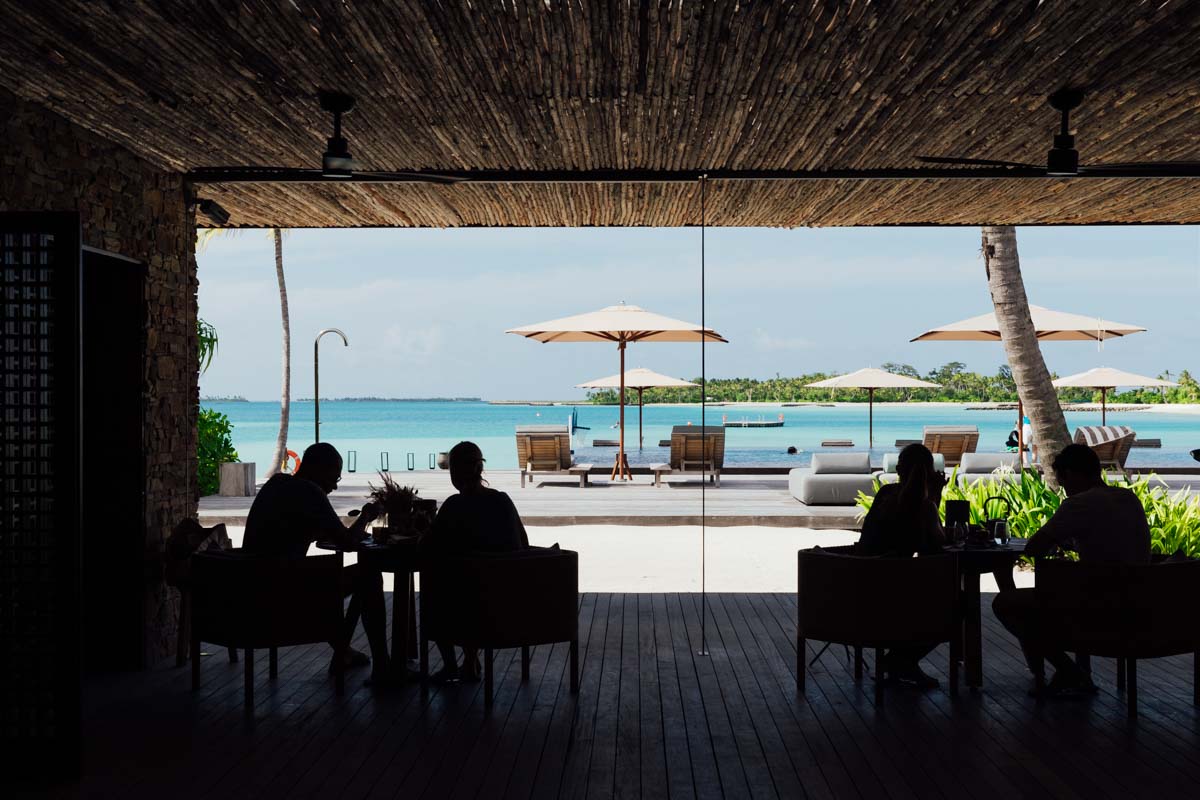 Breakfast at Patina Maldives
One of my favourite parts of staying at Patina Maldives was its spectacular breakfast offering. Not only did they offer an expansive a-la-carte menu, but there was also a buffet featuring every breakfast item you could dream of (and more).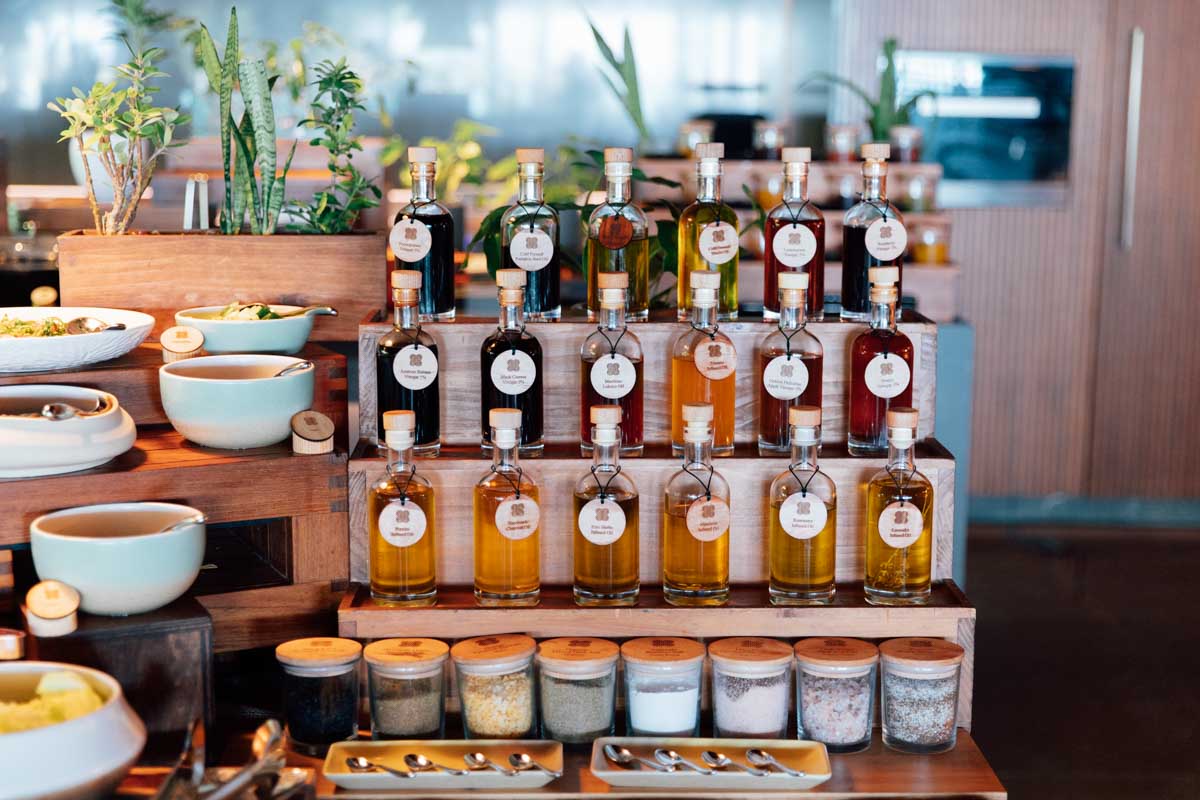 Breakfast highlights:
Barista made coffee
Freshly-squeezed juice from over 20 types of fruits + vegetables
Expansive selection of cheese + cold cuts
Fabulous selection of freshly-made pastries & cakes
A section dedicated to dim sum
Salad bar with 18 different types of oils + vinegars
Live dosa station
Live noodle bar
Waffle, pancake + crepe station
Staff at Patina Maldives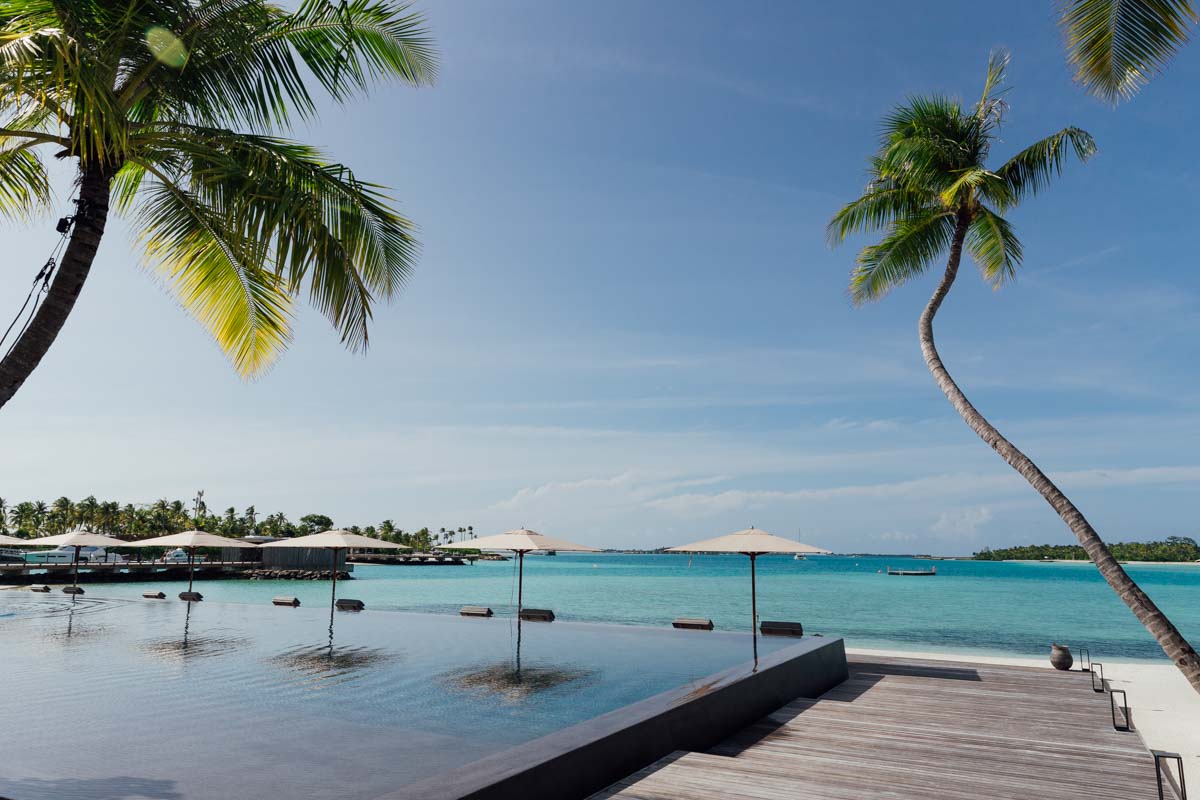 The wonderful staff at Patina Maldives were undoubtedly one of the highlights of our stay. Every single staff member we encountered was warm, friendly and went above and beyond to make sure we had an enjoyable stay.
When you stay at Patina, you are assigned an 'Essentialist', which is basically your own personal concierge. Our essentialist, Amnee, was on hand throughout our stay to help us with whatever we needed. This included buggy pick-ups, dining reservations, activity organization and more.
Activities at Patina Maldives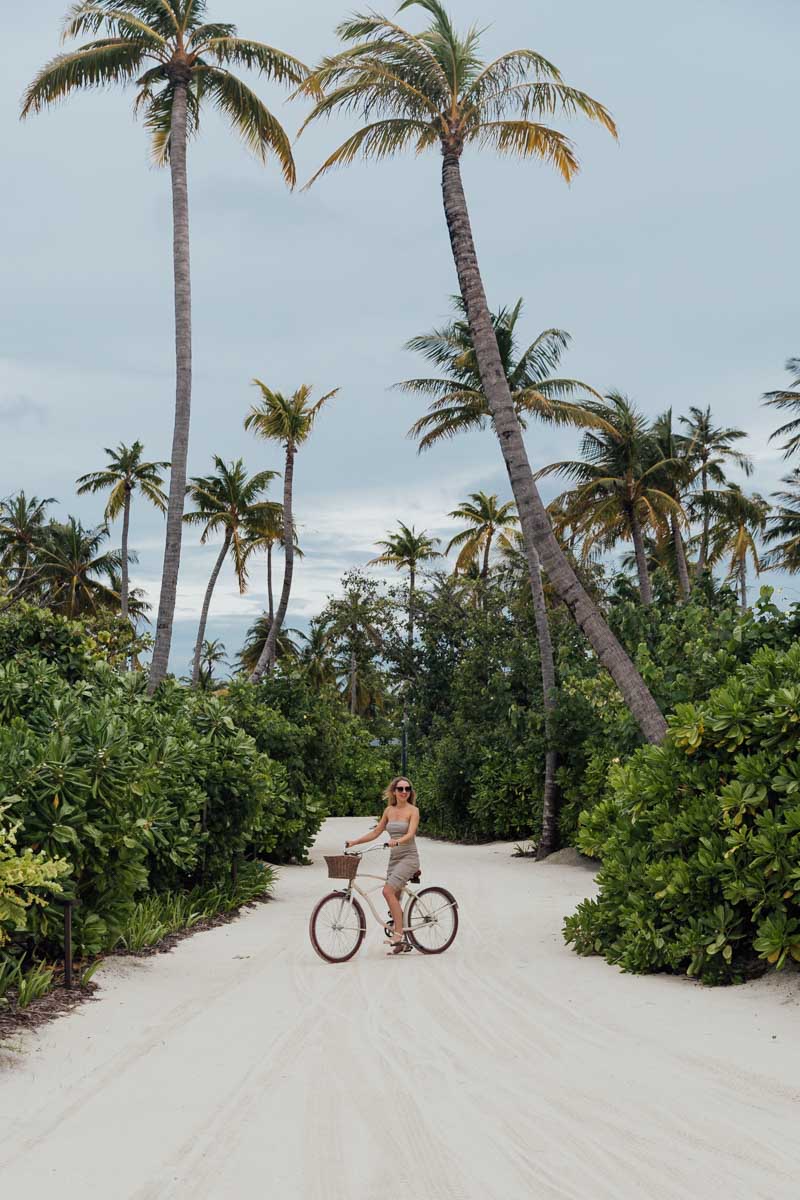 My husband and I haven't done many 'resort holidays' before this as we always thought we would get bored really quickly. But honestly, there was so much to do at Patina Maldives, we could have happily stayed at the resort for weeks!
Even with it raining for about 90% of our stay (teaches us for booking during rainy season), there were still a surprising number of activities we could take part in.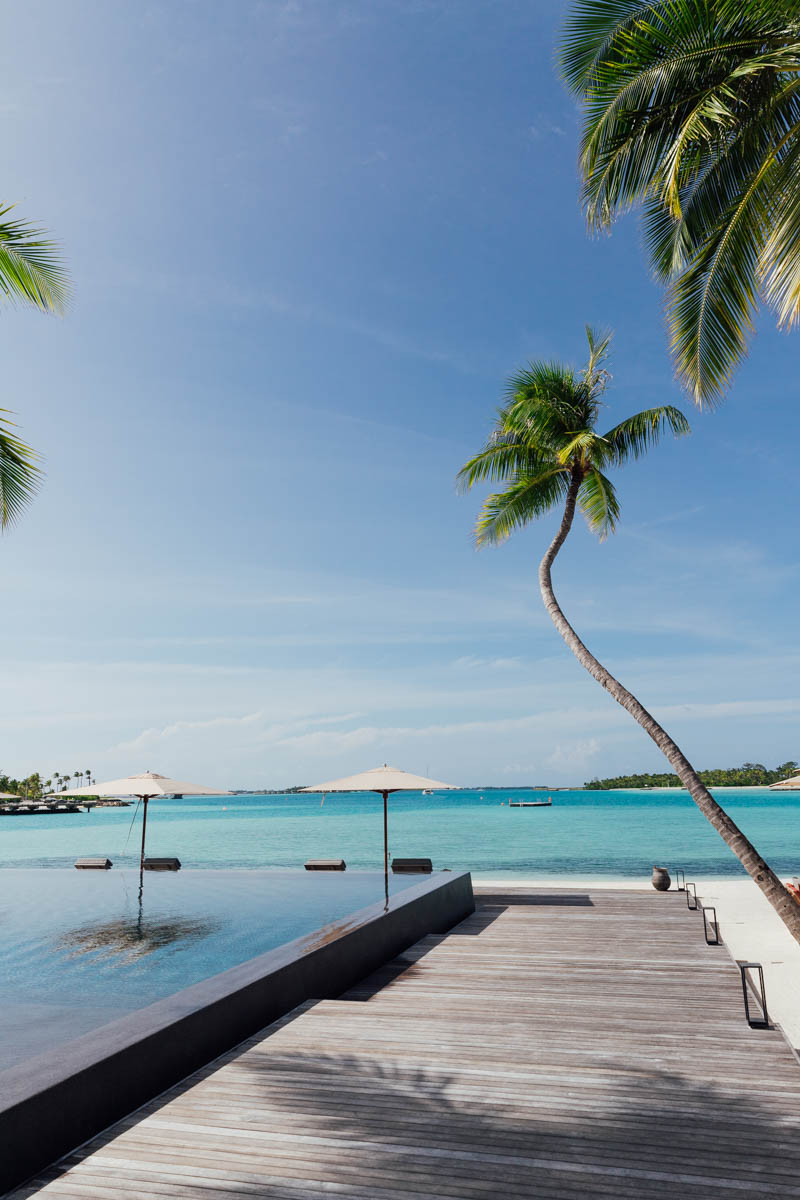 Activity Highlights:
Diving Centre– At Patina's dedicated Dive centre, you can book diving courses, guided diving or snorkelling trips or rent equipment.
Watersports Centre– Here you'll find over 15 different water activities including jet skis, SUP's and more
Cooking Classes- There are different types of classes on offer, including a traditional Maldivian cooking class and one learning how to prepare plant-based meals at home.
Art- Patina is home to multiple large-scale art installations, exhibitions and more, including an incredible James Turrel light installation.
Tennis– If you want to up your tennis skills, the resort's court hosts a regular lineup of tennis professionals and coaches.
Ceramics and Coral Conservation Workshop: This free workshop will teach you how to make your own ceramic coral reef with the resort's resident artist.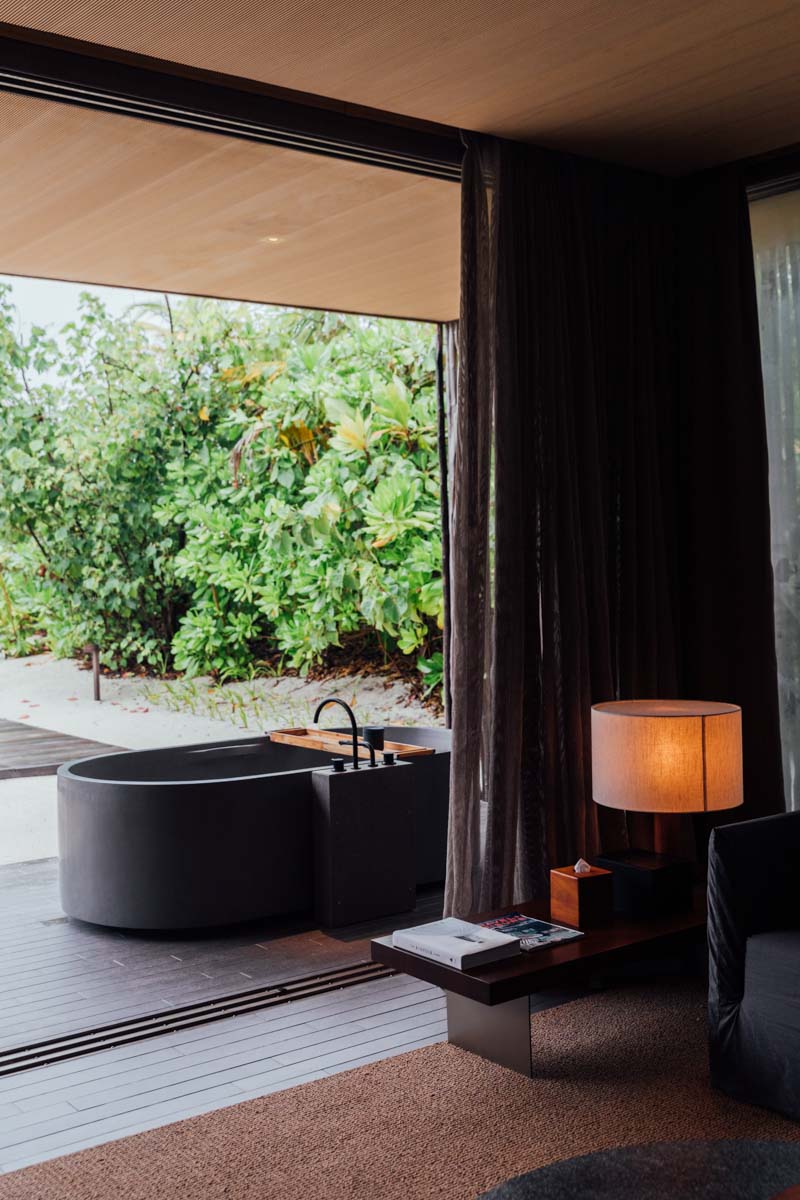 Wellness at Patina Resort
Patina offers every wellness facility you could dream of for a rejuvenating stay in the Maldives. There is an incredible spa facility, a well-equipped gym and endless treatments on offer at the resort.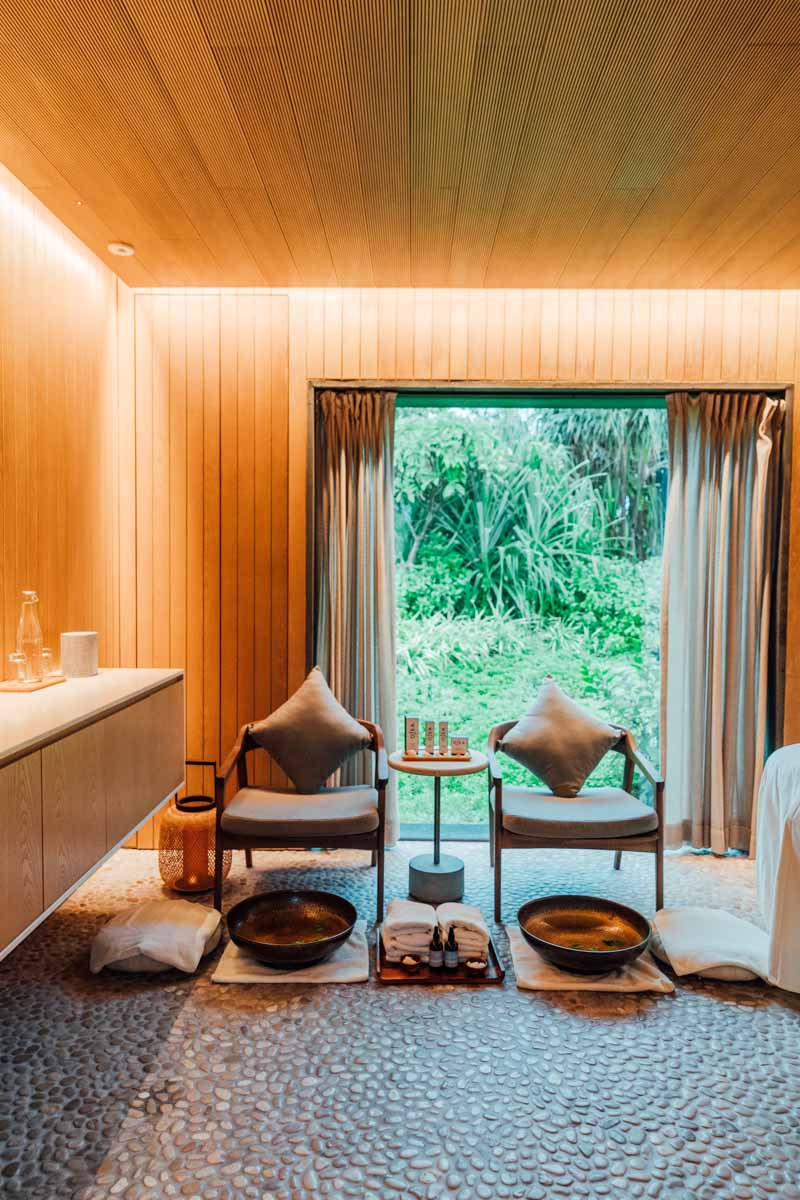 Wellness Highlights at Patina:
Watsu pool
Flotation tanks
Steam room & sauna
Cold plunge pool
Treatment rooms
Workout & breathing classes
Fitness center
AMILLA RESORT: Best Resort in the maldives FOR NATURAL BEAUTY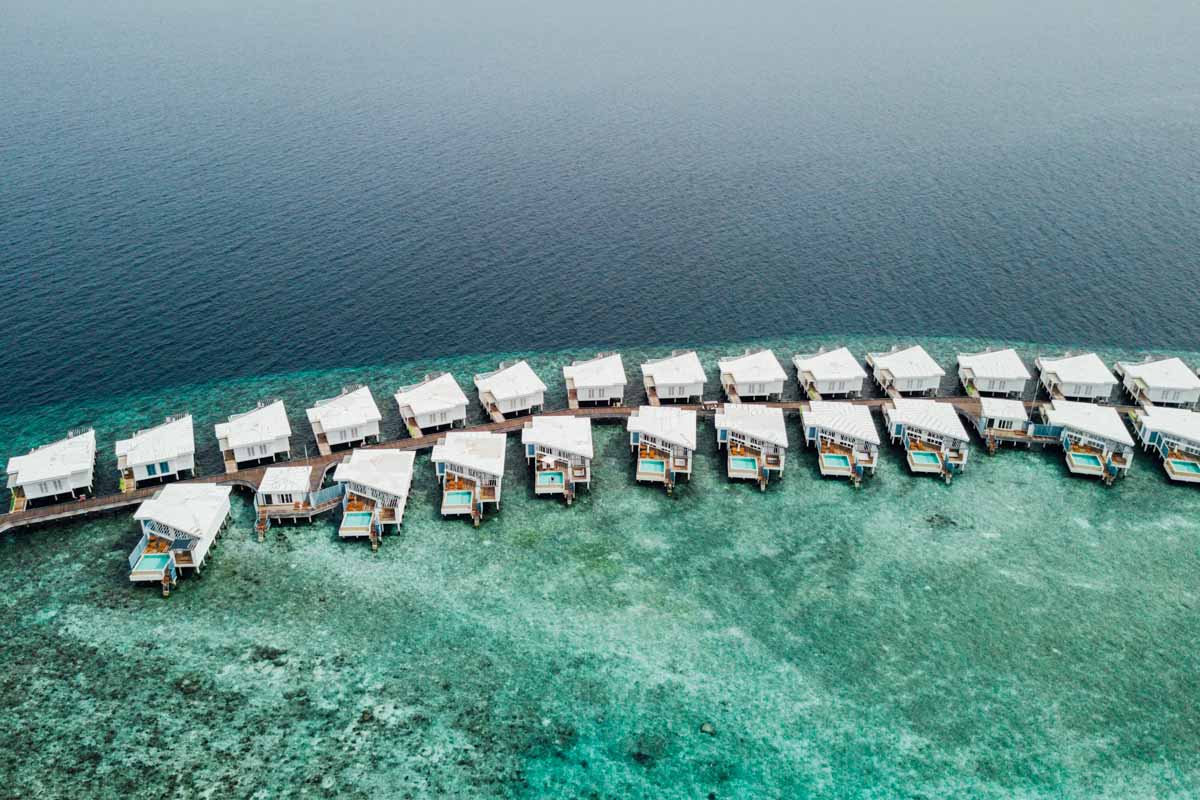 If you're looking for one of the most naturally beautiful places to stay in the Maldives, look no further than Amilla Resort. It is one of the only Maldivian-owned and operated five-star resorts in the Maldives, with sustainability and conversation at its core.
Set on a spacious private island covered with lush jungle and white sand beaches, the resort is a true paradise on Earth. With its luxurious overwater villas, stunning natural beauty and romantic dining options aplenty, it's no surprise that Amilla is one of the best places to stay in the Maldives for couples.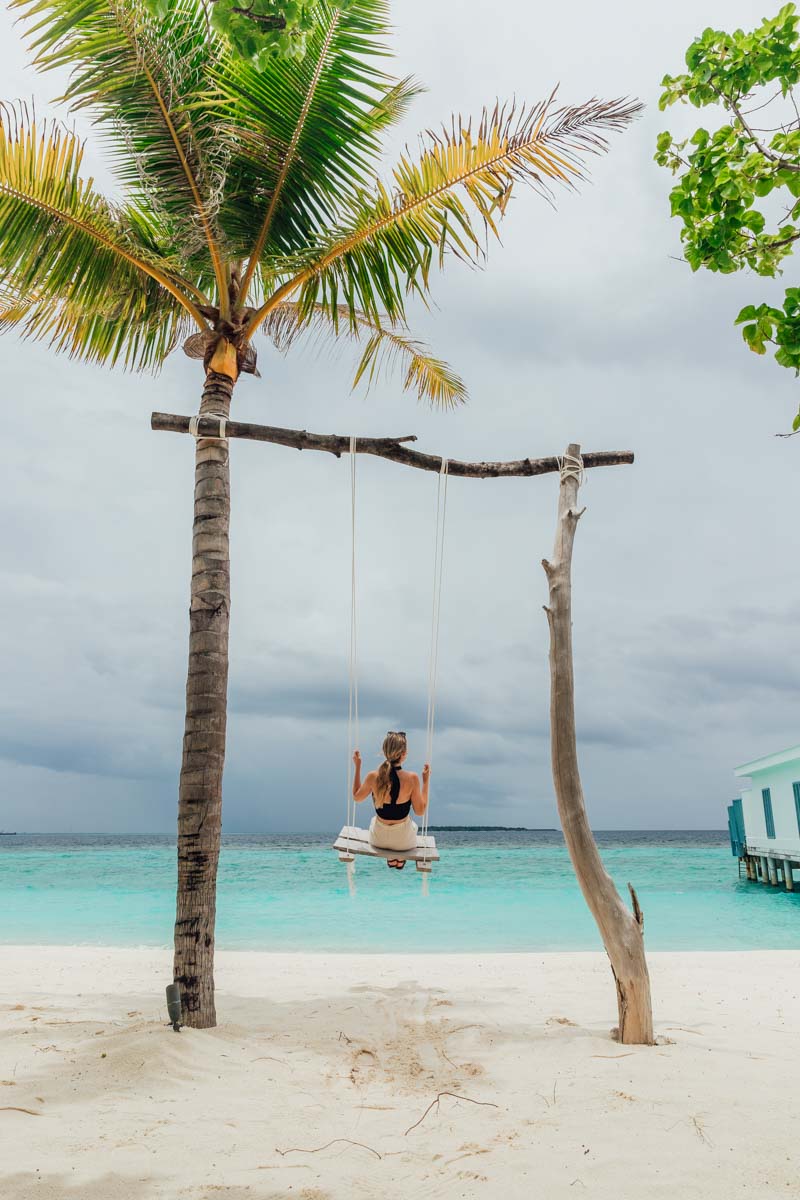 Location of Amilla Resort
Amilla Resort is set on a 23.5-hectare private island on the Baa Atoll UNESCO Biosphere Reserve. This eco-friendly paradise is covered with 70% lush jungle and 2500 coconut trees. The island is unspoilt by construction, with plenty of walking trails and pristine white sand beaches to enjoy.
There are a few different ways you can reach Amilla Resort. The quickest is by Seaplane, which takes 45 minutes from Male airport. You can also catch a domestic flight or a speedboat transfer to get to the island, although these options will take longer.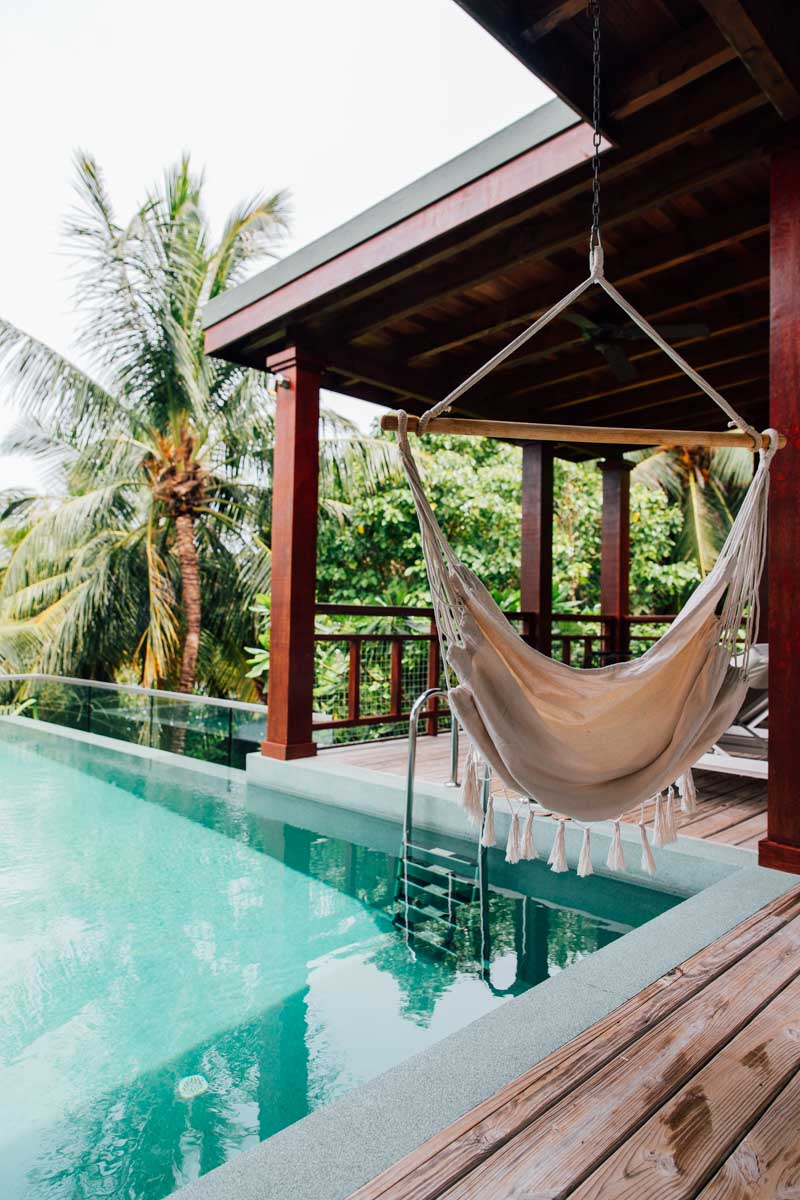 Accommodation at Amilla
Amilla Resort Maldives is home to 59 villas and 8 residences scattered across the island. The different room categories include:
Water Pool Villas (1 or 2 bdrm)
Treetop Pool Villas (2 bdrm)
Beach Pool Villa (1 or 2 bdrm)
Beach Residences (4 or 8 bdrm)
Amilla Estate (bdrm)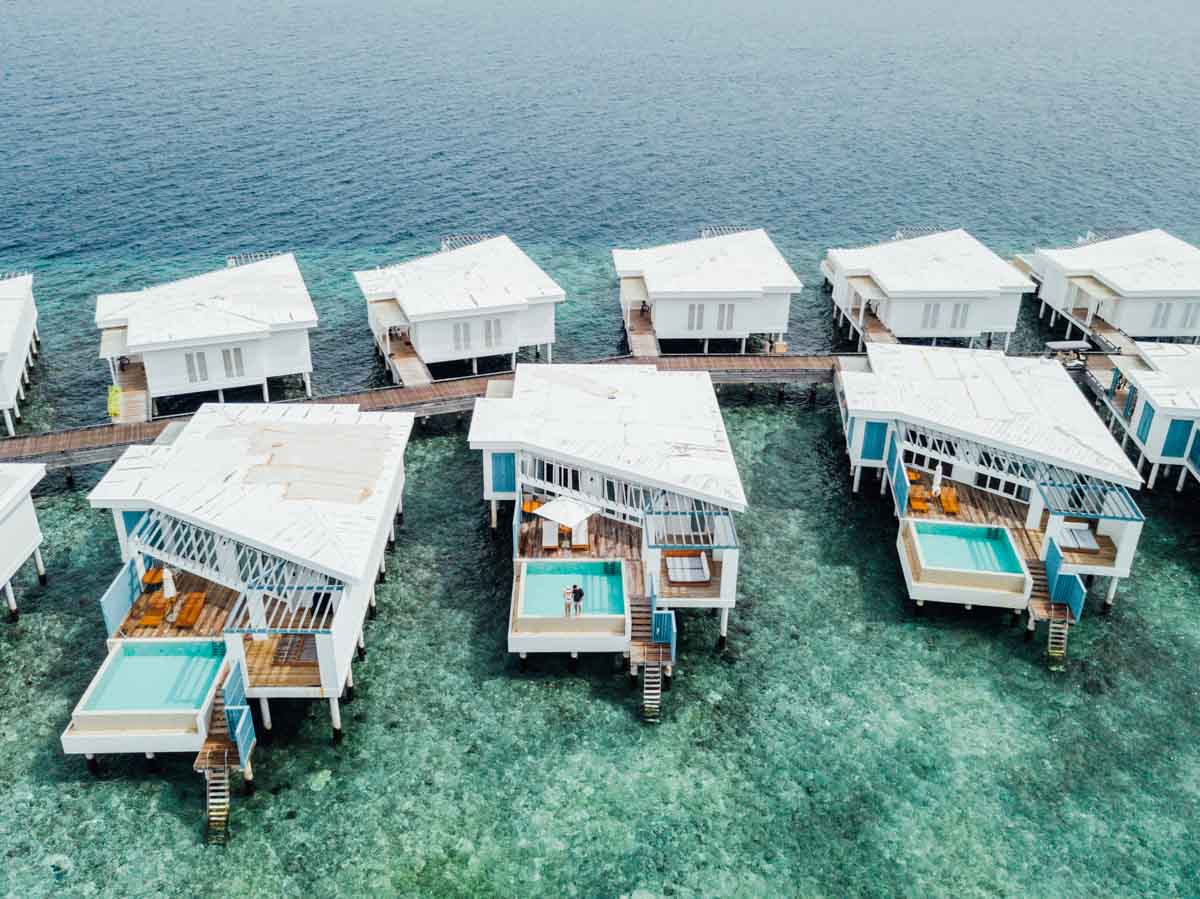 We stayed in a stunning 1 bedroom reef water villa house, which was perched over the iridescent turquoise water. The villa was super spacious and was decorated in an airy, island style.
The best part of the villa was the private deck. It features an infinity plunge pool, sun loungers, an outdoor shower, and direct access down to the coral reef!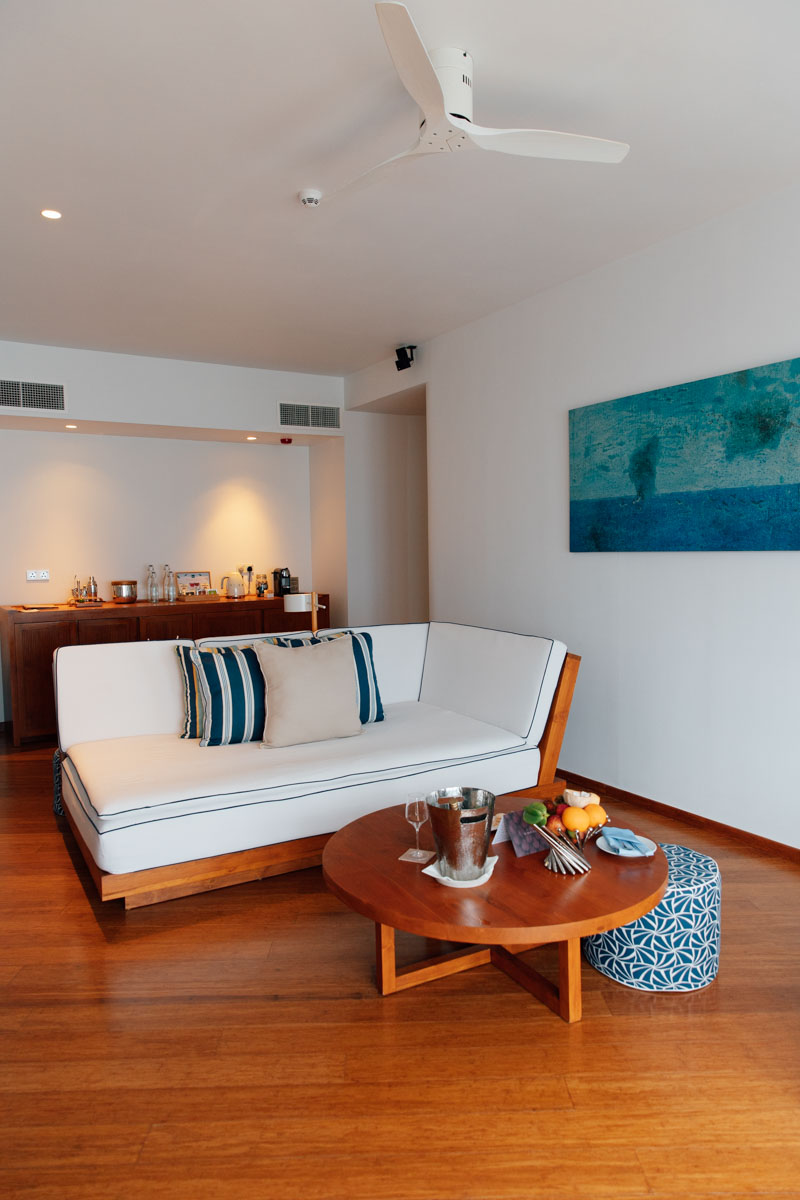 Highlights of Reef Water Villa:
Huge open-plan bathroom with freestanding tub and rain shower
Fully stocked minibar + Nespresso Machine
King-sized bed overlooking the ocean
Living room with a desk + sofa
Cruiser bikes to get around the island
Outdoor shower + sun loungers
Infinity plunge pool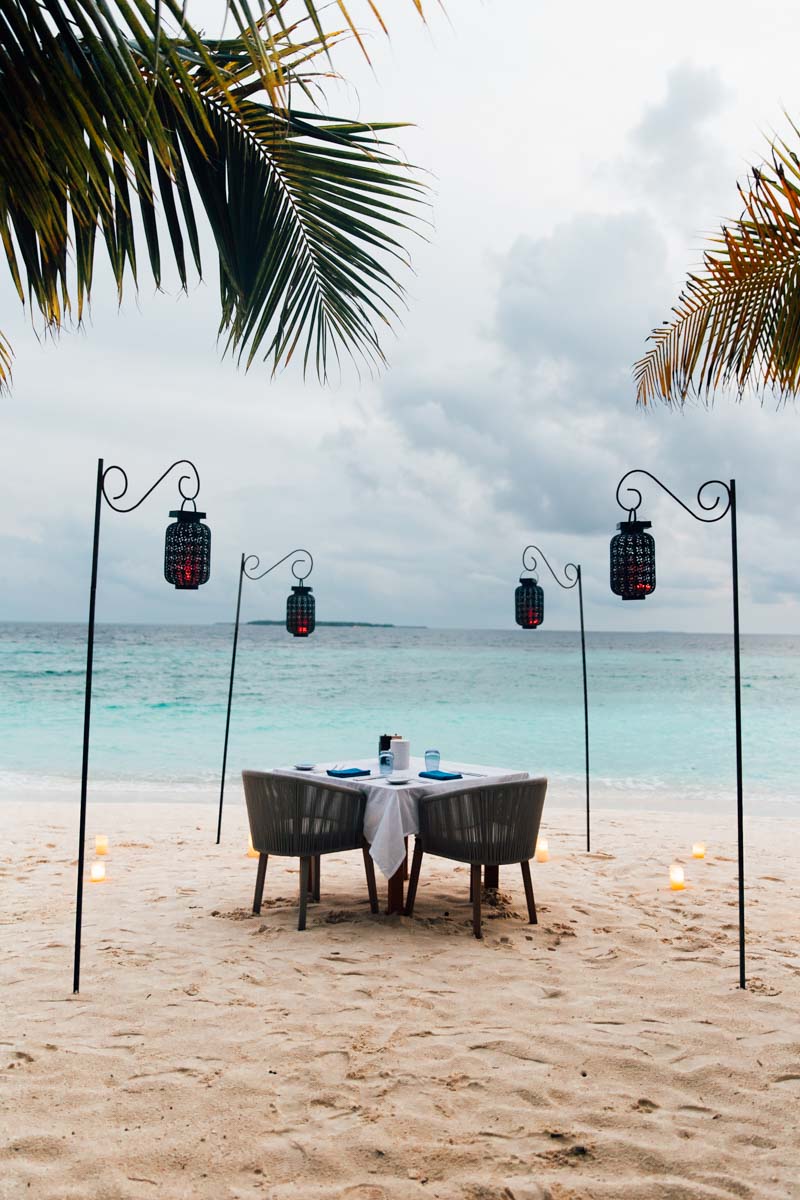 Dining at Amilla Maldives
I was honestly so impressed by the variety and quality of the dining options at Amilla Resort. Apparently, Gordon Ramsay has stayed here four times with his family, so I think that speaks a lot about the quality of the food here!
The resort has seven restaurants and three Bars, each with a different type of cuisine. Each venue utilizes homegrown produce from the island and offers customized menu items to cater for all dietary lifestyles.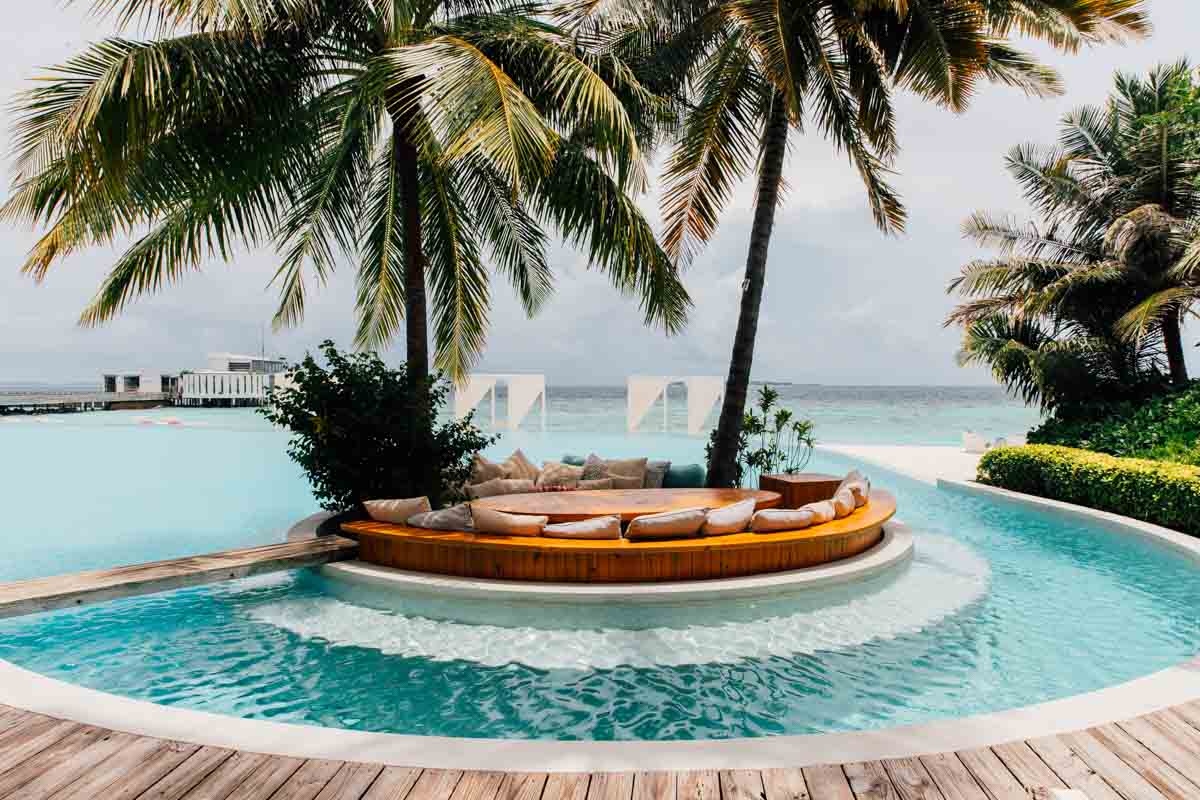 Dining Packages at Amilla
There are various meal plans available, including half-board, full-board, and dine-around inclusive which includes a selected variety of alcoholic and non-alcoholic beverage options.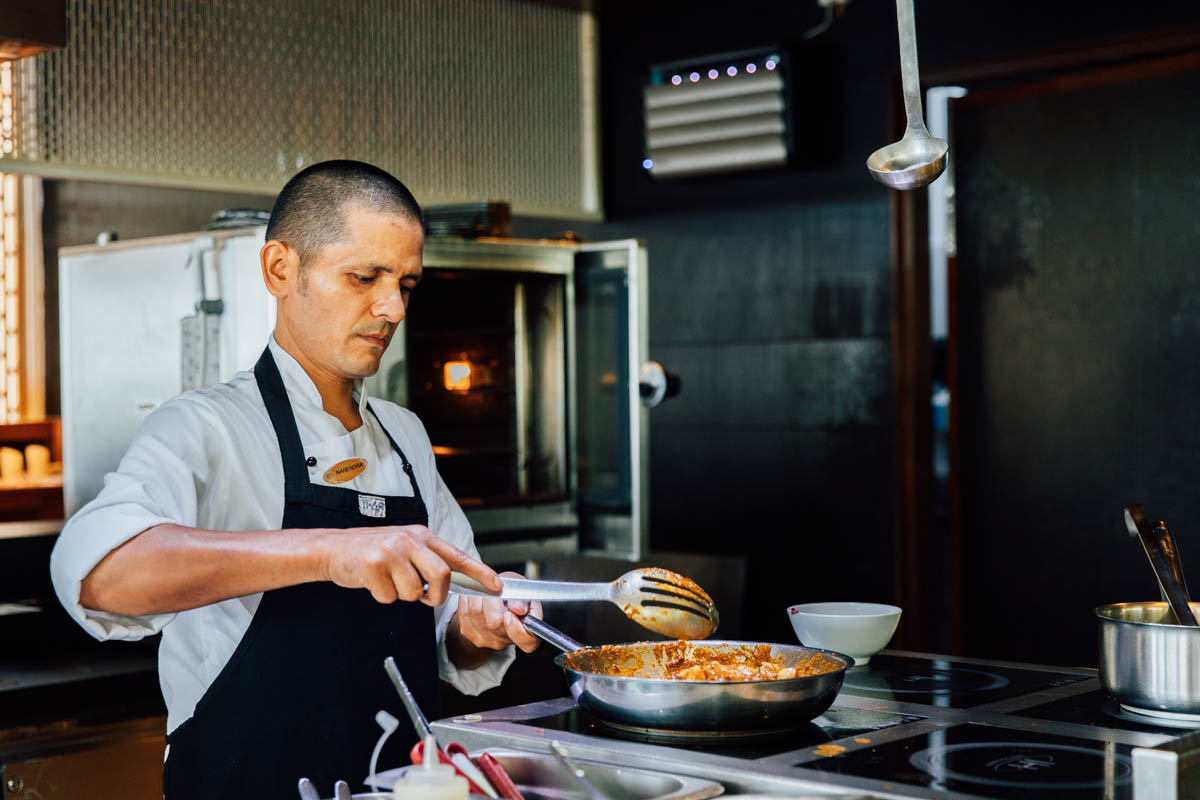 Dining Highlights:
Feeling Koi: A Japanese fusion restaurant that serves sushi, sashimi, tempura, and teppanyaki. This was our favourite restaurant- everything was delicious!
Barolo: An Italian-inspired beachside restaurant serving up homemade pasta, grilled meat and other Italian classics.
Chill'd Cafe: A casual all-day eatery serving up salads, sandwiches, burgers and smoothies, plus complimentary ice cream!
East: A South India restaurant serving up tandoor specialities, curries and traditional desserts.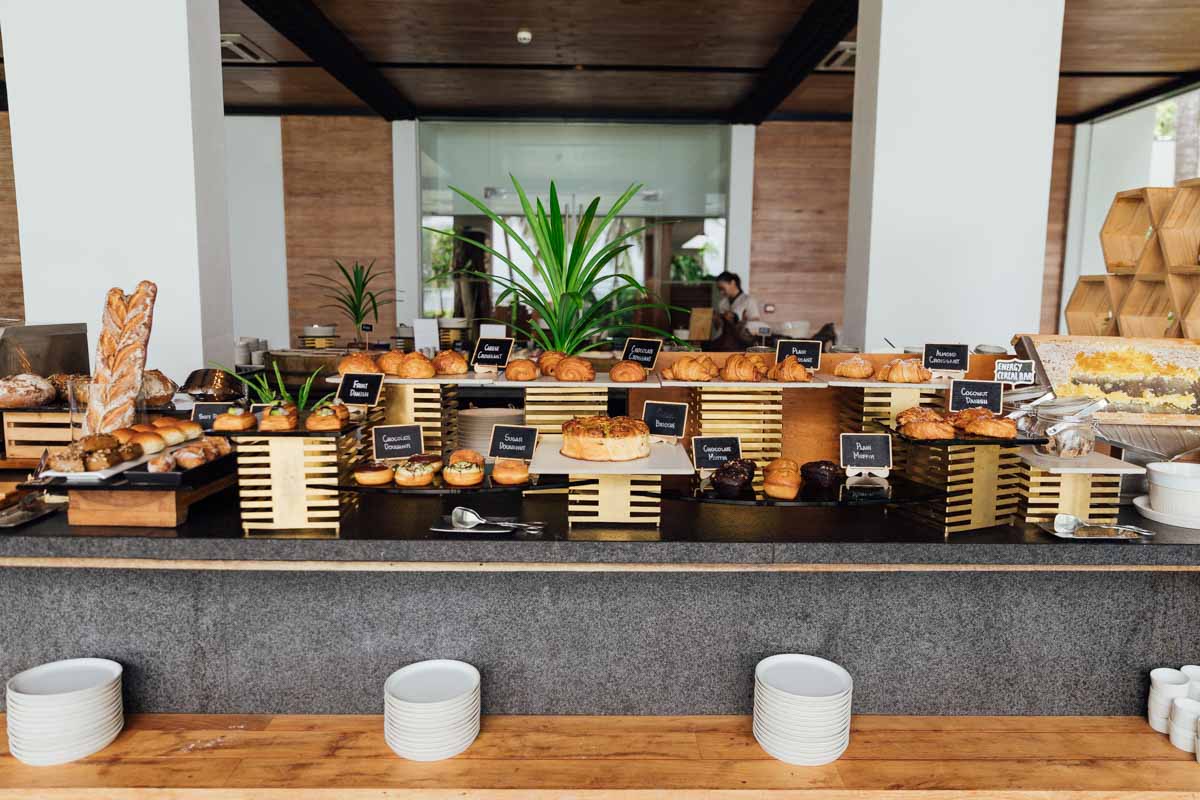 Breakfast at Amilla Maldives
Breakfast at Amilla Resort Maldives took place each morning at Fresh and it certainly did not disappoint. It included an expansive three-section buffet as well as a very comprehensive a la carte menu. I was particularly impressed by the range of healthy options and food that catered to dietary requirements.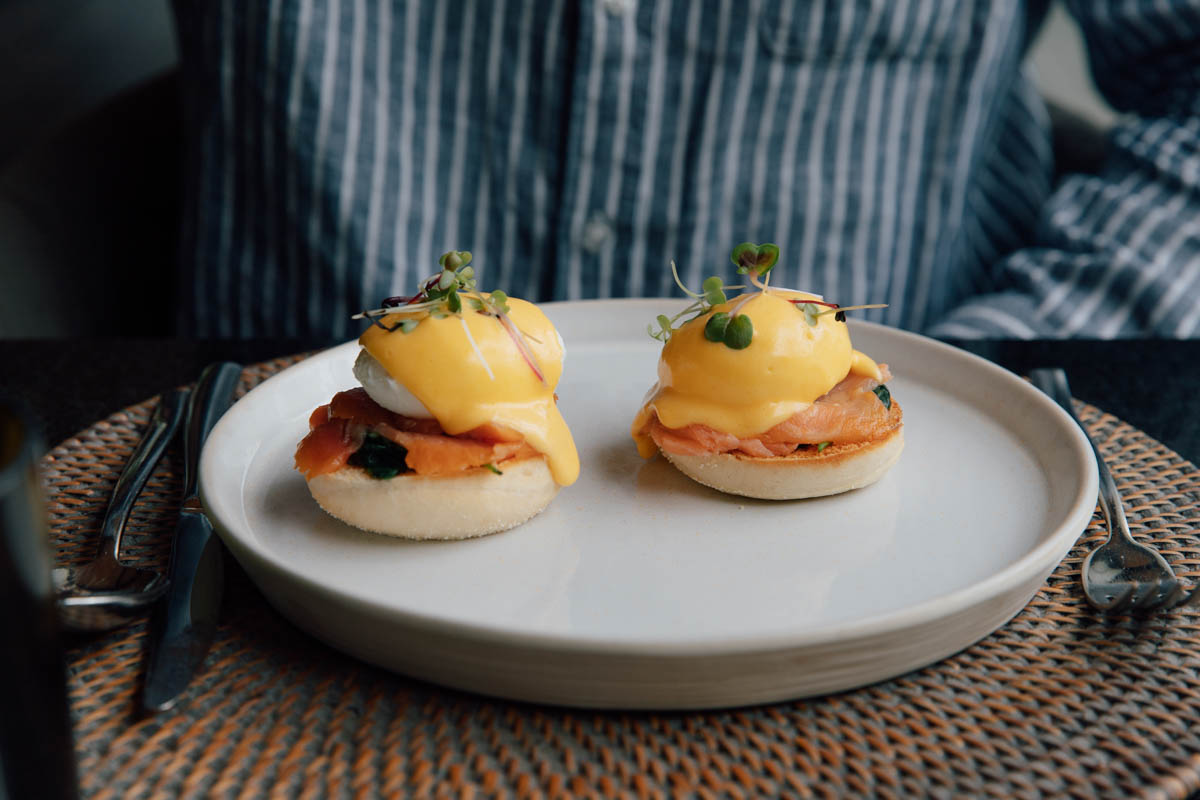 Breakfast highlights:
Fresh tropical fruits & juices
Wellness tonics, smoothies & sparkling wine
Homemade pastries and cakes
Cold cuts, cheese, salad bar & sushi
Live crepe, waffle and pancake station
Asian section featuring noodles, curries & Maldivian dishes
A la carte menu featuring every egg dish under the sun
Staff at Amilla Maldives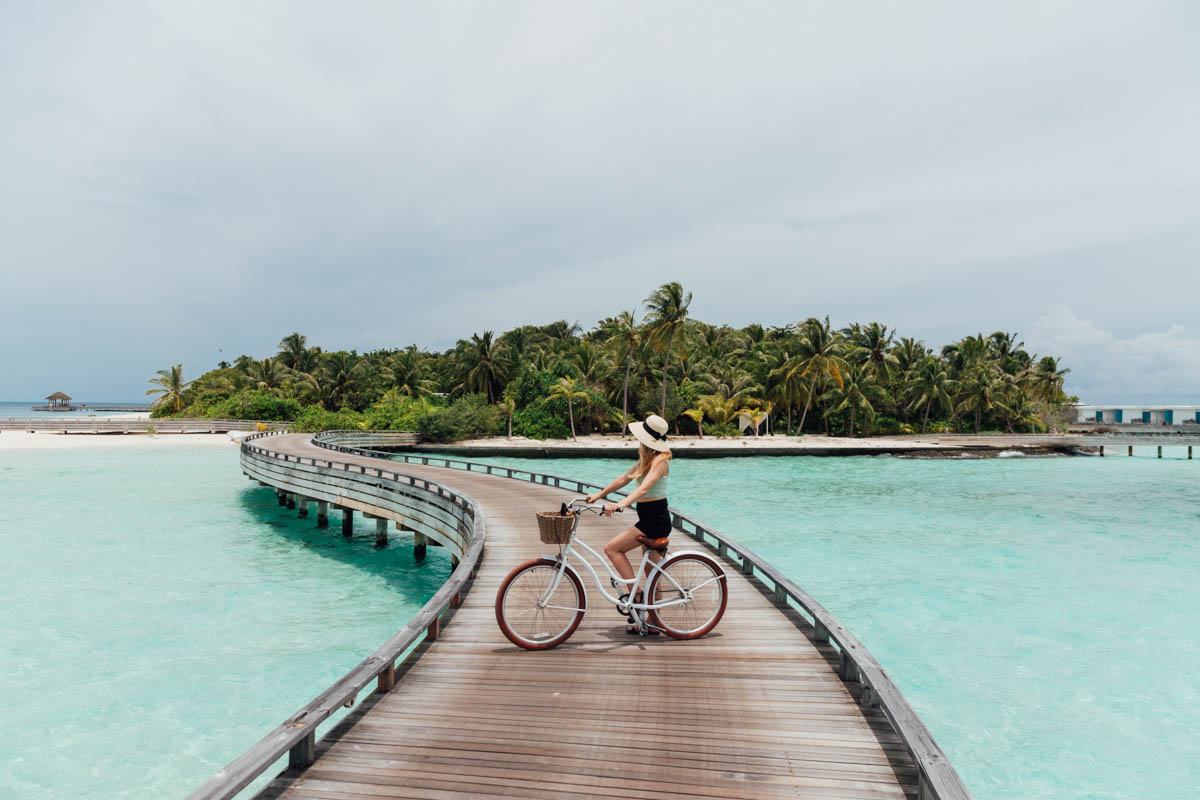 All of the staff at Amilla Resort Maldives were friendly, attentive and made sure we had everything we needed throughout our stay. As part of staying at Amilla, you get assigned a Katheeb, which is your own personal guest experience liaison.
Your Katheeb is basically on hand to help with anything you need throughout your stay, whether this is picking you up in a buggy, booking meals and activities or arranging transfers.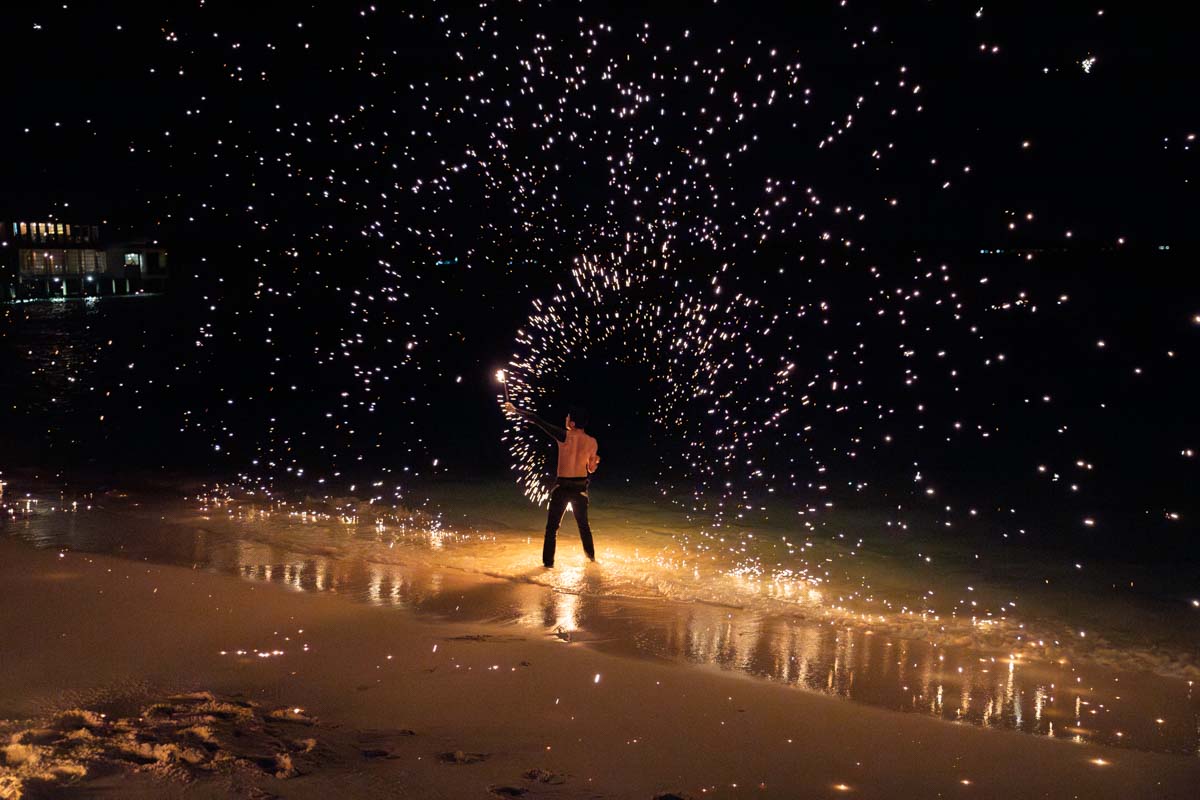 Activities at Amilla Maldives
We honestly did not have a dull moment at Amilla Resort Maldives. I was genuinely so impressed by how much there was to see and do on the island! My only wish is that we had longer to enjoy all the activities that the resort had on offer.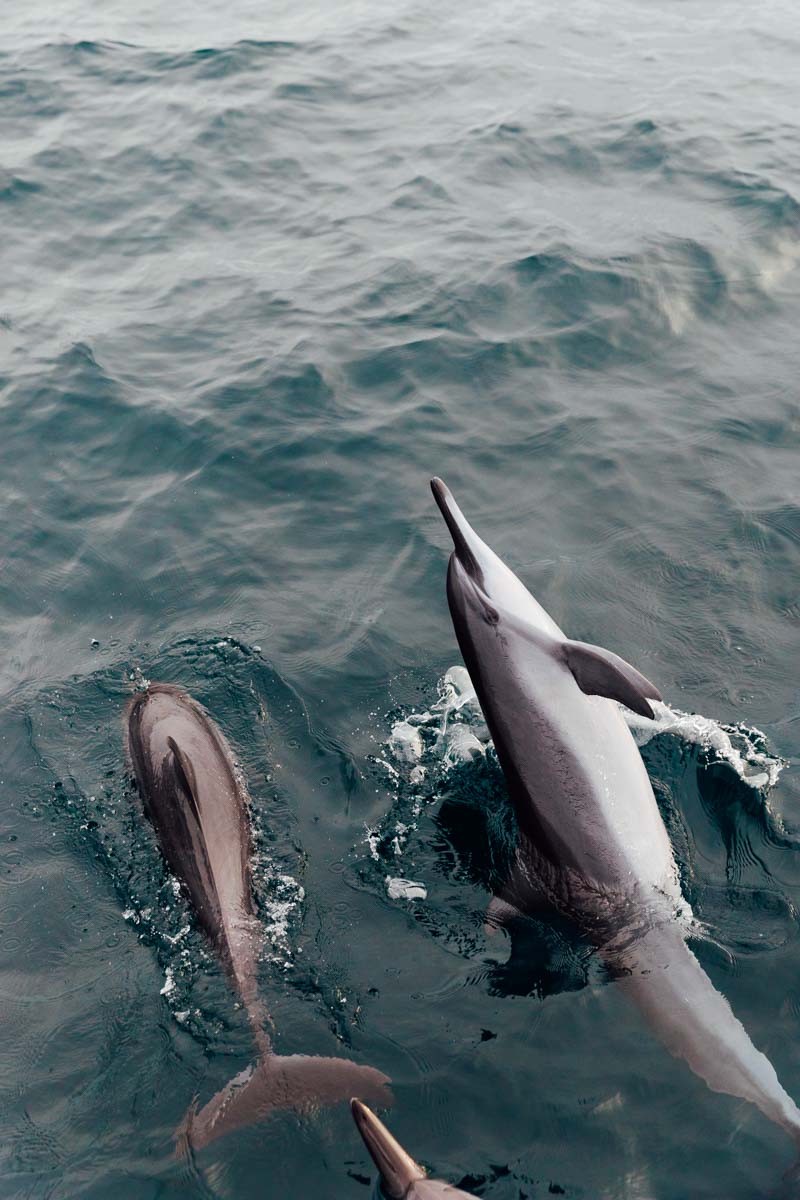 Activity Highlights at Amilla:
Workshops + Classes: Amilla has a fabulous weekly schedule filled with activities like traditional Maldivian cooking class, Kombucha workshops, Wine clubs and more
Dive Center: Amilla has a certified PADI Dive centre which offers dive trips and all sorts of speciality courses. If you're like me and don't have your dive license, you can still do an introductory dive!
Motorised Watersports: From wakeboarding, seabobbing, jetpacking or fun-tubing… There are watersports available here to suit all kinds of adrenaline seekers!
Sunset Dolphin Cruise: Although we didn't get much of a sunset when we went on our cruise, we did get to see many pods of beautiful spinner and bottlenose dolphins!
Complimentary Watersports: Amilla offers a range of non-motorized watersports complimentary for guests, including snorkelling, stand-up paddleboarding, kayaking and windsurfing.
Private Cinema: If you want a truly memorable experience, you can arrange to have dinner and a showing of your favourite film under the stars, either on the beach or in the jungle!
Ball Sports: Amilla is home to two professional tennis courts and a large football pitch where you can square off against a team of local islanders!
Outdoor Jungle Gym: Not only does Amilla have a fully-equipped indoor gym, it's also got an epic outdoor jungle gym if you feel like breaking a sweat!
Wellness at Amilla Maldives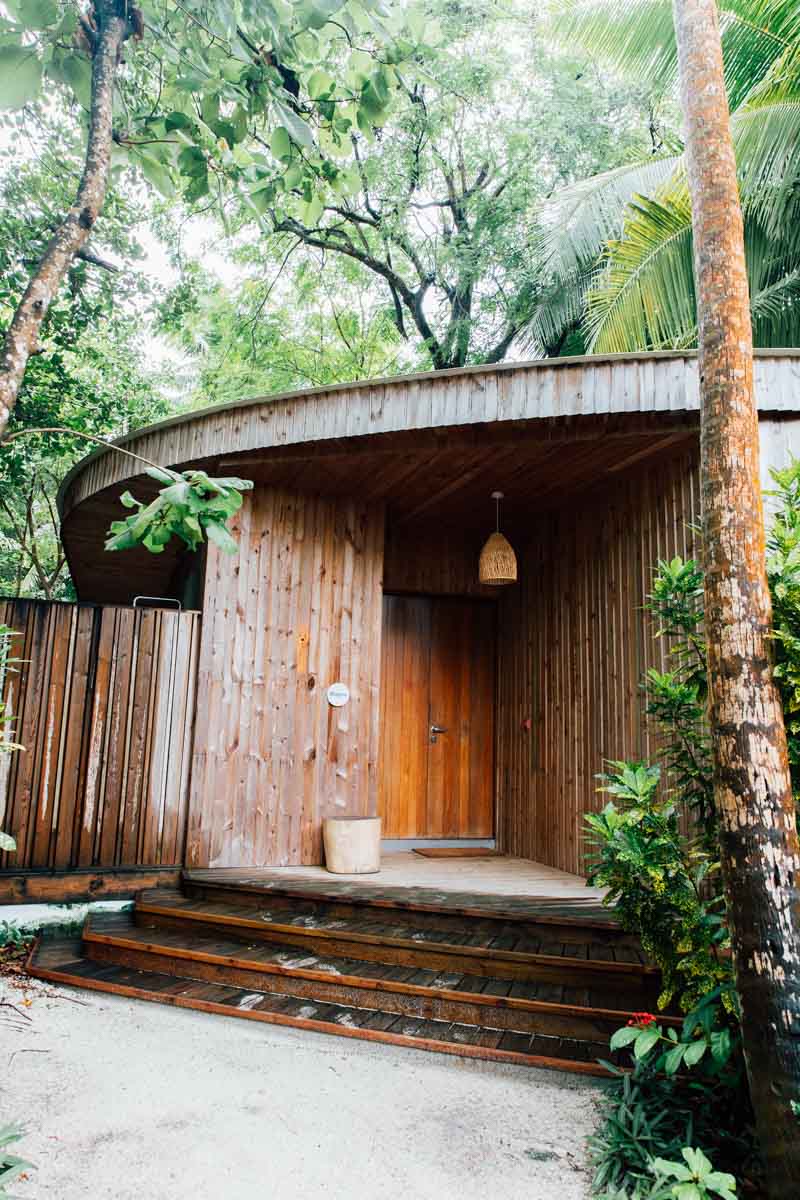 Amilla Resort Maldives wellness centre, the Javvu Spa, was truly impressive. This tranquil oasis was home to ten treatment pods, plus a sauna, a steam room, a jacuzzi, a saltwater pool to enjoy before or after your treatment.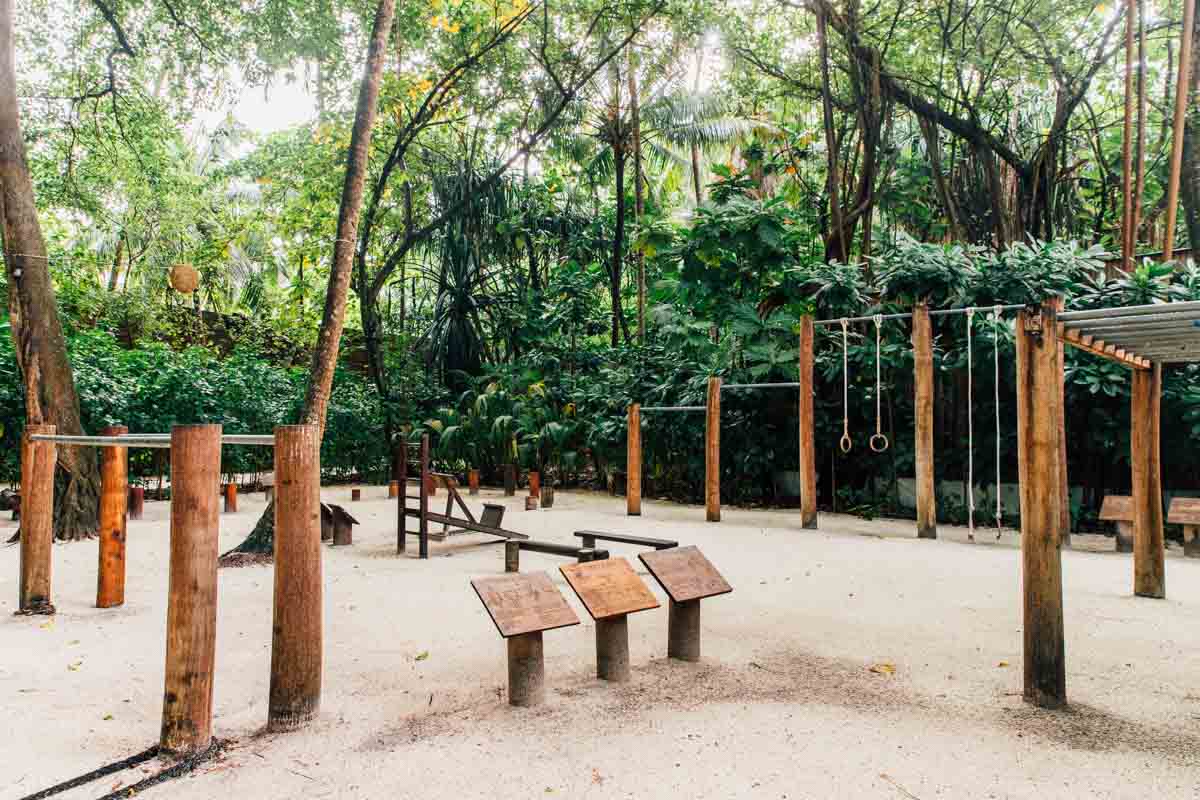 Wellness Highlights at Amilla:
Endless list of signature spa treatments
Manicures, pedicures, facials, haircuts
Light, sound & kinesthetic vibration therapy
Private yoga & movement sessions
Indoor & outdoor gym facilities
Homemade soaps, scrubs and balms
Sauna, steam room, jacuzzi, saltwater pool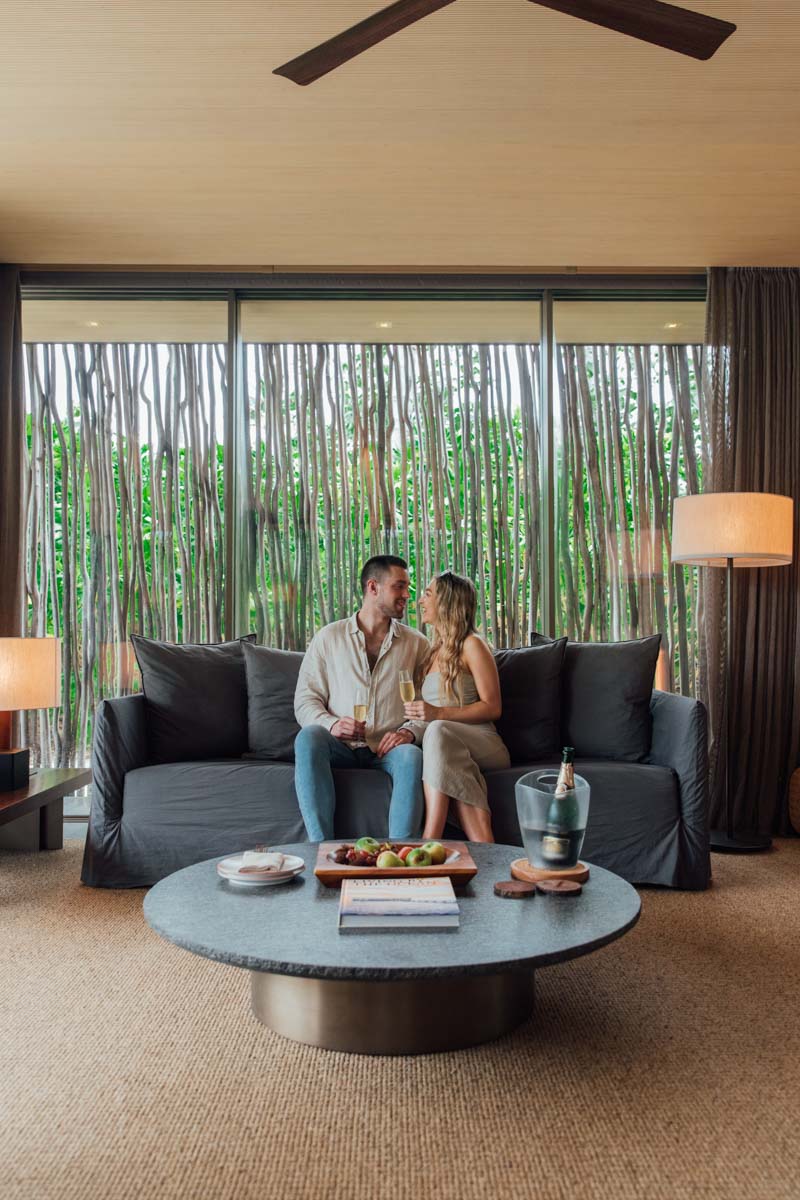 Final Thoughts
Overall, we had the most magnificent time at both Patina Maldives and Amilla Resort. If you are visiting the Maldives as a couple, I couldn't recommend either of these places highly enough!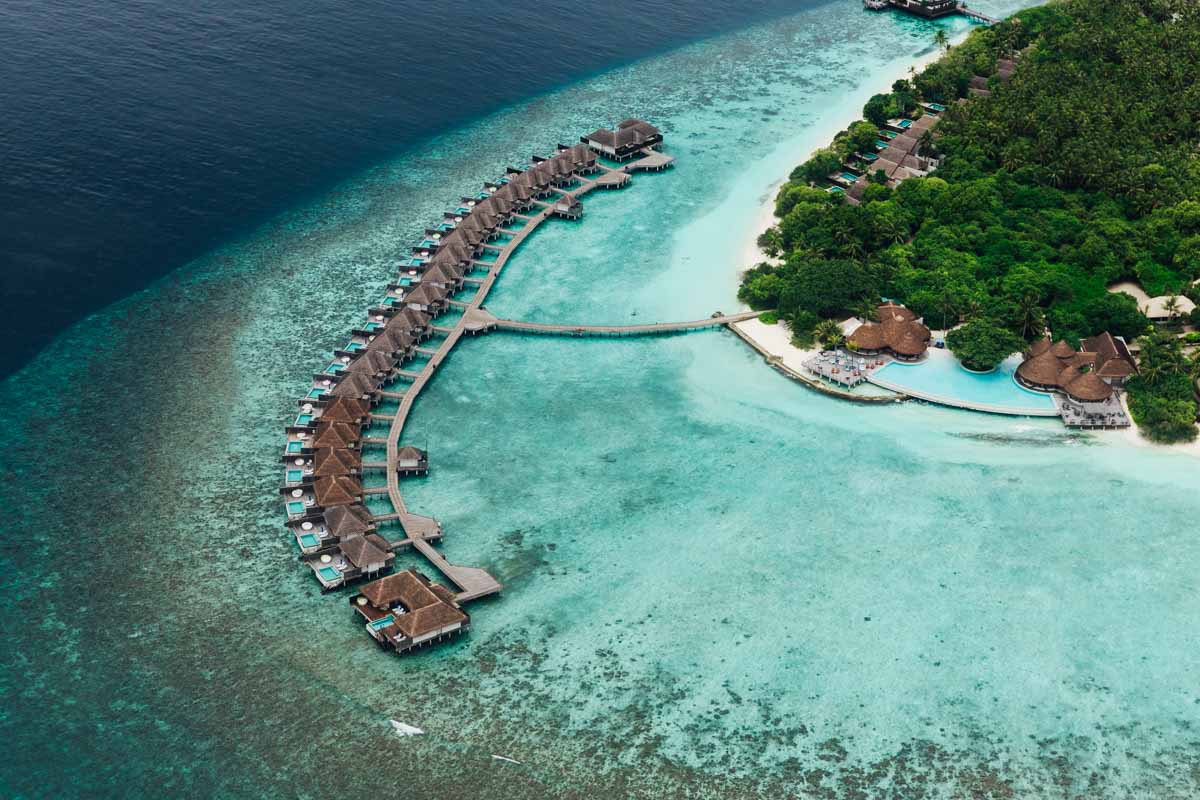 Rather visit the Maldives on a budget? Read these articles next:
Liked this article on the best Place to stay in the Maldives for couples? Pin it for later!