There's something just a little bit magical about Morocco. Known as the 'Gateway to Africa', it's a mere one-hour ferry ride from Spain across the Strait of Gibraltar. The blend of African, Arabic and European influences make Morocco a dazzling destination rich in culture, history and breathtaking scenery. It's one of those places that will leave you spell-bound long after you've left its rugged shores. Morocco is exotic, chaotic and ridiculously photogenic. Let the love affair begin!
---
1. Maze-like Medinas
Getting lost in the labyrinthine alleyways of Morocco's ancient medinas is all part of the experience. Take a wrong turn down a narrow, spice-scented lane and you'll find yourself stumbling upon an authentic scene from local Moroccan life. Just don't expect to find your way back to the same spot the next day!
2. Amazing Architecture
Moroccan architecture is truly magnificent. Imagine ornate arches, intricate zellige tiling, geometric patterns, towering minarets and splendid Andalucían gardens. The Imperial cities of Fez, Marrakech, Rabat and Meknes are crammed with grand city gates, opulent palaces, mosques, shrines and tombs. It's little wonder that Morocco has a reputation for being so Instagrammable.
3. Colourful Cities
If the kaleidoscopic handicrafts, textiles and mosaic tiles weren't enough – entire cities are splashed with colour. For instance, the dusty pink walls of Marrakech have earned a title of the 'Red City'. Tucked away in the Rif Mountains is Chefchaouen, a hidden gem painted a palette of powdery blue. The striking blue village boasts the prettiest medina in North Africa and is truly a photographer's paradise.
4. Romantic Riads
Riads are centuries-old Moroccan mansions, often transformed into boutique guesthouses. Design-lovers will be in their element with boutique lodgings that could be straight out of the pages of Vogue Living. Think intricate mosaic tiling, tadelakt walls, exotic interiors and ornate Islamic architecture. Riads are inherently romantic, with peaceful courtyards secreted away behind heavy doors in the heart of an old medina. Although hidden from view, there are hundreds of riads in Marrakech. My absolute favourites are Riad Yasmine and Riad Secret Jardin.
5. Secret Gardens
Escape the heat of North African sun by finding sanctuary in a secluded garden, where you can rest under the shade of palm trees and listen to the gentle sound of a running fountain. Luxury hotels such as the Beldi Country Club have lush interior courtyards that feel a world away from the crowded streets and hum of motorbikes. Meanwhile, Marrakech's Majorelle Garden is an absolute must-do. Affectionately referred to as the 'YSL Gardens', the famous fashion designer Yves Saint Laurent once owned the dreamy property that is now (thankfully!) open to the public. Beyond the iconic electric blue facade are whimsical grounds bedecked with bright bougainvillea and sky-scraping cacti.
6. Unbeatable Breakfasts
One of the perks of travelling around Morocco is breakfast. To begin with, breakfast is usually served in an atmospheric patio or set out on a sun-soaked rooftop terrace. A typical breakfast includes homemade bread still warm from the oven, baghrir (also known as 'the thousand hole' pancakes), local honey, house-made jams, yoghurt and seasonal fruit such as pomegranate, fresh figs or, in the summertime, watermelon. Eggs are made to order and you have to sample the authentic 'Berber breakfast' – a tasty omelette made with vegetables and spices. Linger over brekkie with tea, coffee and a glass of freshly squeezed orange juice.
7. Team Time
'Berber Whiskey' is an affectionate name for the amber-coloured mint tea that pervades Moroccan life. I know what you're thinking, but despite the misleading moniker there's not a drop of alcohol to be found. The traditional tea is made from black tea leaves, spearmint and generous lumps of sugar. It's best enjoyed sitting at a rooftop cafe with sweeping views punctuated by minarets and palm trees.
8. Shopping Sprees in the Souks
Be warned, you will need to leave plenty of room in your suitcase. Morocco is a treasure trove for shoppers. It's too easy to spend all your dirhams after a day meandering around the souks and sipping tea with the vendors. Let's start with the furnishings. There's simply everything you need to make your home Pinterest-worthy – designer ceramics, Aladdin's lamps, Berber carpets, geometric pillows and ottomans. Jazz up your wardrobe with handmade jewellery, glamorous scarves and leather babouches (slippers). Pamper yourself by adding argan oil and heavenly perfumes to the list. After bartering for a bargain, make sure you say shukran (Arabic for thank you).
9. Rocking the Kasbah
One of the most enchanting places is located along an old caravan route between Marrakech and the Sahara Desert. Here you'll discover Ait Benhaddou, an old settlement made of mud-brick kasbahs. Does it look familiar? Well, you're not wrong. It's the set for Hollywood films such as Lawrence of Arabia, Gladiator and HBO's cult television series Game of Thrones. If, like me, you're enamoured by kasbahs then you'll be please to know that few that have been transformed into amazing hotels such as Dar Ahlam and Kasbah Bab Ourika.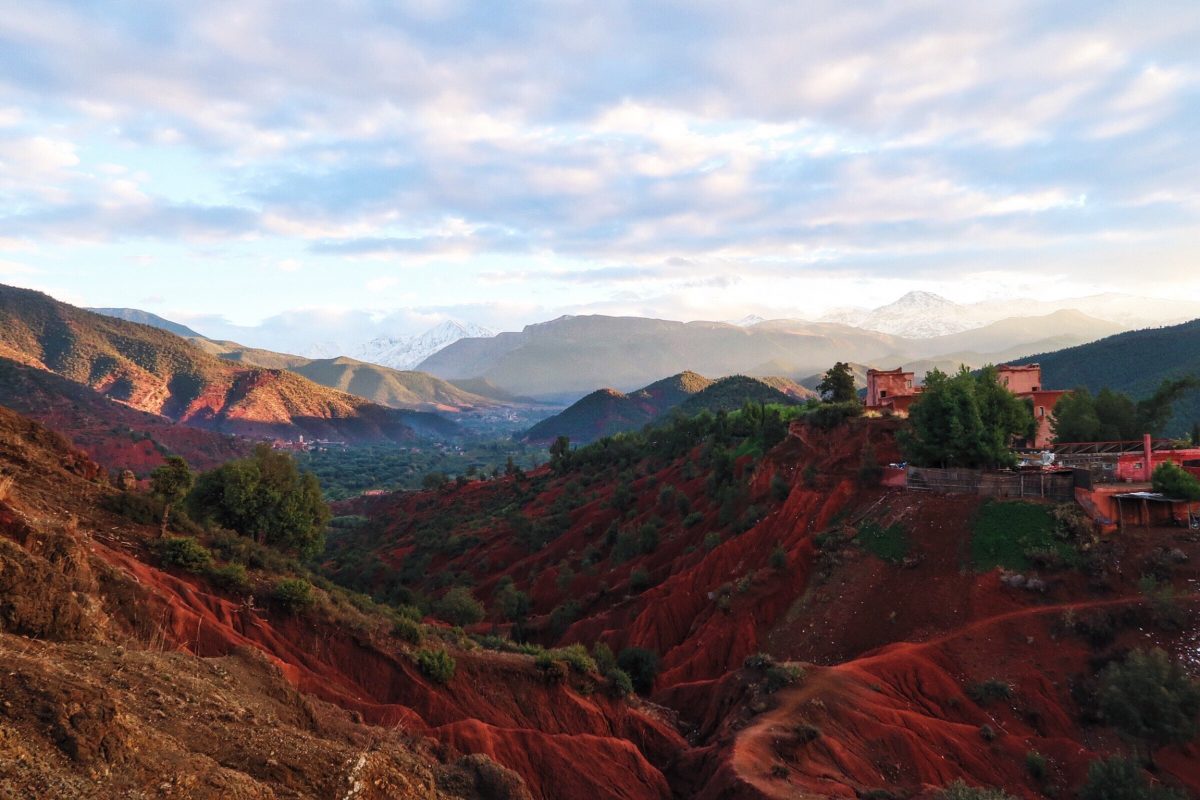 10. Lyrical Landscapes
What never ceased to delight me throughout my month-long Moroccan escapade was the breathtaking scenery. You'll find yourself disoriented in the bustling souks of a chaotic city, next you're enjoying the breeze at a boho-chic beachside town, skiing the snow-capped High Atlas Mountains, hiking to Berber villages in a lush valley, picking dates in a palm-lined oasis or traversing the Sahara Desert on the back of a camel.
11. A Dalliance with the Desert
A quintessential Moroccan adventure is camping underneath the expansive, starry-sky in the desert. There's nothing quite as dreamy as riding camels across the golden dunes towards your camp at sunset. Well for full disclosure – that's until your backside starts to ache and you have to hold on for dear life with each ungainly lurch! In the evenings sit around the campfire and swap life stories with Bedouin nomads. For one of the most luxurious camping experiences in the world, try glamping at Merzouga Luxury Desert Camp.
Note from the Editor: If this article has inspired you to visit Morocco…. I still have a couple of places left on my Photography Tour to Morocco in November! Email [email protected] if you are interested in joining.
---
Eddie Hart is a Sydney-based travel blogger, writer and photographer who feels most at home living out of a suitcase. Eddie's wanderlust has seen her travelling to 40+ different countries and residing in London, Paris, Berlin and New York.  You can follow along on more of her adventures over on her blog, The Portmanteau Press, and on Instagram, Facebook and Twitter.
For more Africa travel, read these next:
Enjoyed this post? Pin it for later!