Visiting Neuschwanstein castle is a must for any lovers of fairytales and Disney! Here's all you need to know about getting there.
Always dreamed of laying your eyes on a fairytale castle? Well, you are in luck my friends. Tucked away in the rugged Bavarian mountains lies the magical Neuschwanstein, a REAL LIFE fairytale castle. In fact, this very castle inspired the one in Disney's Cinderella Castle. Here is a guide on exactly how to visit Germany's most magical fortification!
A Guide to Visiting Neuschwanstein Castle
Getting to Neuschwanstein Castle from Munich
The closest major city to Neuschwanstein Castle is Munich. It takes about an hour and a half to reach the castle from here. First, you take a picturesque hour-long train from München Hbf (Munich's central station) to Füssen. Trains leave hourly and don't require a reservation.
Once you reach Füssen station, hop on a public bus- either the RVA/OVG 73 towards Steingaden/ Garmisch-Partenkirchen or line RVA/OVG 78 in the direction of Schwangau. For both buses, get off at the Hohenschwangau / Alpseestraße stop. The buses cost 2.30 euros one way and take about ten minutes.
The other option is to take a day tour to the castle from Munich, which includes all transport from Munich as well as a local guide.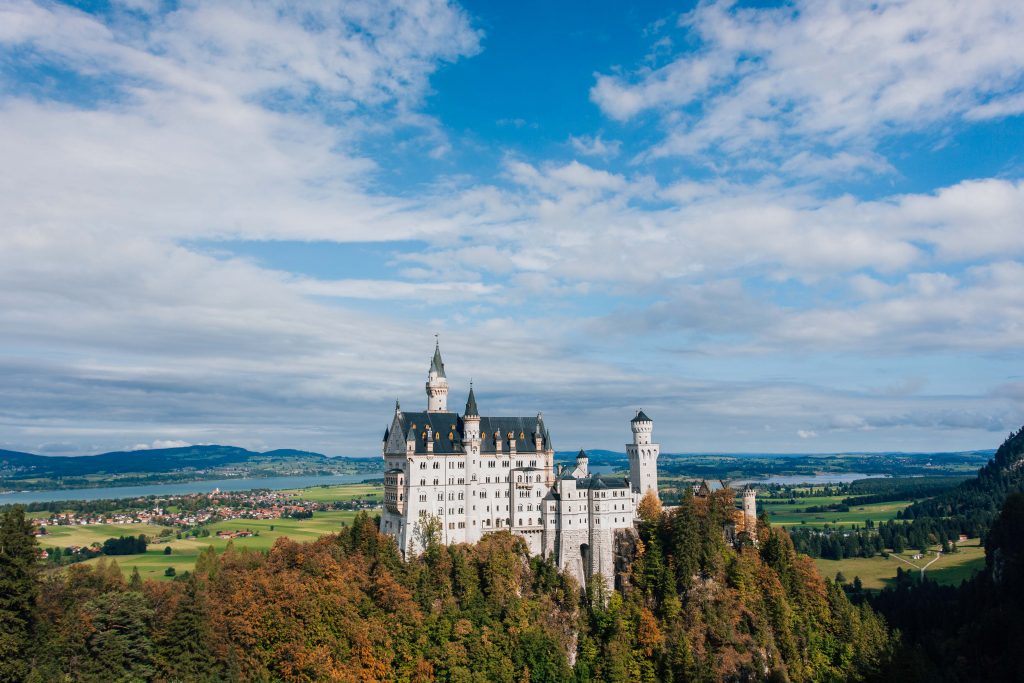 Buying Tickets for Neuschwanstein Castle
When you get to the village of Hohenschwangau, follow signs towards the ticket office. If you'd like to go inside the castle, the only way to do so is by purchasing tickets for a guided tour. The admission charge is 12 euros, and you can either buy your tickets on the day or pre-book in advance to avoid missing out as it can get very busy.
I did the guided tour when I visited, and to be honest, I wouldn't say it is a must. The tour only lasted about 20 minutes and took us through only a few rooms in the castle as the inside was never actually completed. It was interesting to find out a little more about the history of the castle and King Ludwig, but if you're expecting anything like the Palace of Versailles, you'll probably come out underwhelmed. Also, you cannot take any photos inside. Personally, I found the outside of the castle a lot more enchanting and fairytale-like!
Getting up to the Castle from Hohenschwangau
From the village of Hohenschwangau, there are a few different ways to get to Neuschwanstein castle.
Catch a horse and carriage up the mountain
Although this sounds like an idyllic way to arrive at a fairytale castle, the romance of the idea was lost when I saw how unhappy the horses looked, and I personally don't agree with tourism at the expense of an animal's well-being
Walk up the mountain
It's a semi-steep 30-minute walk up the hill, but a very beautiful one at that. Surrounded by pine forests, tinkling brooks and moss-coveted rocks, it was such a peaceful way to get up the mountain and avoid the crowds.
Take the shuttle bus
This is the best option if you don't fancy walking. The shuttle can take you directly to the castle or to the viewing bridge near the castle.
Do a tour
You can book a tour from Hohenschwangau and skip any of the lines waiting to go in.
The Best Spots to Photograph the Fairytale Castle
From Marienbrucke
The most classic photograph of Neuschwanstein Castle is taken on Marienbrucke, a pedestrian bridge which is clearly signposted from the castle itself. However, if you want to find a much better spot for a photo, I would recommend heading over the bridge and following the path for about 10 minutes up the mountain. Here, you'll find a quiet little spot, and you won't have to battle the hordes of tourists to do so.
Take a Cable Car up to Tegelberg
Another great place to get a unique photograph of Neuschwanstein Castle is on the cable car up to Tegelberg (see above photo). Framed by the dramatic Bavarian mountains and the glistening Lake Forggense, it's almost impossible to get a shot that doesn't look magical.
For more other unique perspective to photograph Neuschwanstein Castle, check out this guide.
Have you visited any other fairytale-like castles? I'd love to hear about them in the comments below!
My General Travel & Photo Tips:
Travel Insurance
I highly recommend getting travel insurance before ANY international trip. World Nomad's offer the most flexible worldwide cover that I have come across, and you can purchase a policy online, even if your trip has already commenced. If their prices are too high for you, you can also check out SafetyWings, though SW doesn't cover tech.
Booking Flights
To book flights, I always use flight search engine, Skyscanner. I find it the easiest way to compare flight prices across airlines and get the best deals. Skyscanner also have a free App (available on iOS or Android) which is great for booking flights on the go.
Photography Gear
Here is a list of the photography gear that I always travel with:
Photo Editing
I use Lightroom and Photoshop to edit all my photos. Both these programs are included in the Adobe Creative Cloud subscription (which you can get a free 30-day of here).
For more German travel, read these next:
Enjoyed this post on visiting Neuschwanstein Castle? Pin it for later!