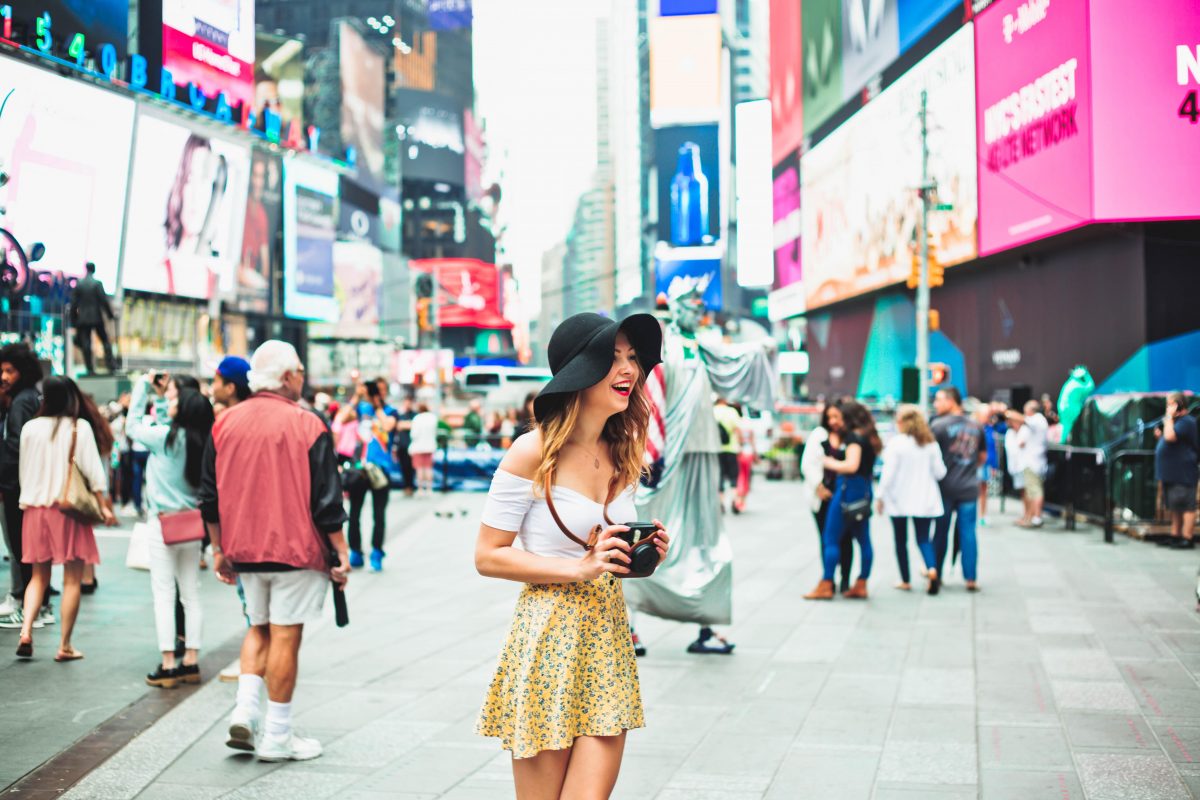 Boutique shopping in NYC sounds like the stuff dreams are made of. Yet, if you don't know where to look, this city can quickly feel more like a concrete jungle.
After years of fanaticizing about visiting NYC, my chance to visit The Big Apple finally came and I was ready for my shopping dreams to come true. Before heading over, I was determined not to get swallowed up by the magnitude of stores but rather, find every gold gem the city has to offer. Through plenty of research and word of mouth from my trusted fashionista friends, I compiled a list of quirky stores that screams curated and one-of-a-kind pieces, because what's the point of shopping in New York if you can get the same thing everywhere else?
Of course, we can't all justify jetting off to New York to fulfil our fashion fantasies. The good news is, you can still shop all of these boutiques online and bring NY fashion home to you! Now, for all the Aussie's out there, I know how frustrating online shopping can be… Particularly when you find amazing US-based stores, only to discover they don't ship internationally. To prevent this rather heart-breaking situation from occurring, you can use ,  a parcel-forwarding service which basically gives us online shoppers access to U.S. brands, sales and products that aren't available in Australia. And for a limited time, ShopMate is offering a 20 per cent discount on shipping fees when you sign up for the service here.
So everyone, get your wallets ready… Here's my guide to boutique shopping in NYC
Boutique Shopping in NYC: 7 Places to Try
1. STEVEN ALAN
WHERE: 87 FRANKLIN STREET, NEW YORK, NY 10013
WHAT: Steven Alan is that store your wallet wished you never walked in to. With a very unique collection of curated pieces from up and coming designers, you'll find a beautiful selection of women's and men's clothing and accessories, jewellery, and homewares. Steven Alan also has an optical store, designed for all the creative-thinking, coffee-drinking individuals out there. Their range really pushes the boundaries of the optical market, offering creative options for those who want more than just a pair of generic glasses. If you are shopping online, they even offer a virtual try on feature so you can see what glasses suit your face shape!
WEBSITE: http://www.stevenalan.com/ or https://www.instagram.com/stevenalan/
2. MEG SHOPS
WHERE: 312 E. 9th St., New York, NY 10003
WHAT: Meg Shops gives you an authentic insight of what the brand represents and how they were established. A locally made independent clothing line that empowers women and supports neighbourhood schools, local factories and print shops! Meg shops stocks those gorgeous, investment pieces that never date. You can be sure they will look good on you, designed and made by women for women!
WEBSITE: https://www.megshops.com or https://www.instagram.com/megshop/
READ ALSO: 12 of the BEST Snacks to Try in New York City
3. THE VINTAGE TWIN
WHERE: 594 Broadway, New York, NY 10012, USA
WHAT: The Vintage Twin makes its mission pretty simple: Make it affordable to own items that nobody else can have. You have the peace of mind knowing that you won't be rocking up to a party wearing the exact same thing as someone else; every piece is unique, it's individual. Not only does the Vintage Twin support individuality, it's eco-friendly, by recycling vintage clothing. In here you'll find a range of women's and men's clothing and accessories, shoes and homewares including art and décor.
WEBSITE: http://www.thevintagetwin.com/ OR https://www.instagram.com/thevintagetwin/
4. LIFE CURATED
WHERE: 186 Grand St, Brooklyn, NY 11211, USA
WHAT: SO you completely forgot about your best friend's birthday and you need to get her/him something quirky and thoughtful? Thank goodness for Life Curated! In here you'll find things you never knew you needed, with a unique range of women's and men's clothing, featuring original designs, home décor, and accessories, including (I'm saving the best for last); a rad sock collection. Everything stocked here is well-curated and high-quality.
WEBSITE: https://life-curated.com/ OR https://www.instagram.com/lifecurated/
5. Article&
WHERE: 198 Smith Street Brooklyn, NY 11201
WHAT: Not only does Article stock the most beautiful mug collection you've ever seen (big brownie points from this tea addict), but also brings you a not-over-the-top priced shoes, clothing, bags and accessories that will make everyone ask where you bought it! Be sure to check out this place if you're ever pondering the streets of Brooklyn. Alternatively, if you can't afford the airfare, check out their online store.
WEBSITE: https://www.articleand.com/ OR https://www.instagram.com/articleand/
6. Swords Smith
WHERE: 98 South 4th St Brooklyn, NY 11211
WHAT: Where are my ladies and gentlemen of luxury at? Swords Smith is your go-to for quality, original pieces from international and your local New York designers. This store doesn't put anything on the shelves that won't make you double take; everything here is original. You'll be dressed head to toe with a selection of curated men's and women's clothing, bags and accessories.
WEBSITE: https://swords-smith.com/ OR https://www.instagram.com/swordssmith/
7. American Two Shot
WHERE: 135 Grand Street, New York 10013
WHAT: I would put American Two Shot in the "New York Must See Tourist Destinations." They have a pink wall in store, PINK… (think of the instagrams!) Aside from that, and the fact their website has super cool graphics; you'll find here a selection of high quality statement pieces from clothing to "things" that embrace uniqueness. American Two Shot are for my boys and girls that don't mind standing out!
WEBSITE: http://americantwoshot.com/ OR https://www.instagram.com/americantwoshot/
---
At the end of the day, shopping in New York isn't all about the designer brands on Fifth Avenue… Instead, you've got to take the time to find the hidden gems that will actually make your NY fashion dreams come true!
Do you know of any amazing boutiques in NYC to add to the list? Let me know in the comments below…
---
For more shopping guides, read these next:
Enjoyed this guide to boutique shopping in NYC? Pin for later!
This post was sponsored by Australia Post. As always, all opinions remain my own.