Istanbul really is a place like no other. Spanning over two continents, the city's exceptionally unique position is just one of the many ways Istanbul brims with juxtapositions. Although Turkey's most-visited city exudes an eclectic modernity, the country's deep-rooted history, culture and tradition still remains undeniably prevalent.
One minute, you can be perusing European designer handbags on the high street and the next you'll be amongst a wild flurry of colourful rugs and insistent vendors at a marketplace.
A day in this city could begin with drinking Turkish Coffee at a hidden alleyway cafe and end in drinking cocktails and experiencing the vibrancy of Istanbul nightlife. Walking down the street, you can pass by the sleek glass facade of a towering high-rise on the same stretch of road as a thousand-year-old stone wall.
Even the spirituality of Istanbul comes with its contrasts. The largely Muslim city is a cornucopia of exquisite mosques, with calls to prayer filling the air at every street corner.
Yet, Istanbul still remains home to one of the world's largest cathedrals (now turned museum), the Hagia Sophia, which reflects the city's era of Orthodox Christianity. These rich contrasts are just one of the many things that make Istanbul such a fascinating place to see!
With so much to see and do in this bustling and vibrant city, Istanbul has quickly become one of my favorite places to explore. Without further ado, here are my top things to do in this amazing city…
The Best Things to Do in Istanbul
1. The Blue Mosque
Possibly one of the most incredible buildings I've ever entered, the Sultan Ahmed Mosque, or the Blue Mosque as it is commonly known, is truly a sight to behold. This grand mosque is made up of five main domes and six slender minarets and the interior has been decorated with over 20,000 handmade tiles which are coloured blue. When visiting the Blue Mosque, you are given scarves to cover your head, but I suggest dressing modestly for your visit.
Check here for a guided tour of the Blue Mosque and the Hagia Sophia
2. Basilica Cistern
This incredible underground cistern is unlike anything you've seen before. The cistern, which was originally built in 532 to bring drinking water into Istanbul, was constructed using 336 columns, mostly salvaged from ruined temples. Be sure to check out the column with a magnificent-looking Medusa head on its end.
3. Hagia Sophia
The Hagia Sophia reveals a timeline to Istanbul's religious history. Formerly an Orthodox Cathedral from 532 to 1453, the building was then converted into a Mosque, until it became secularized in 1931 and turned into a museum. It is still technically considered to be the world's second largest cathedral and is an awe-inspiring display of giant domes and intricate mosaics (even when half the building was covered in scaffolding)! I'd recommend booking a guided tour in advance so you can skip the queues.
4. Topkapi Palace
Home to generations of Sultans and their wives, Topkapi Palace provides a fascinating look into the history of royals in Turkey. There is a lot to explore on the premises, including a treasury for the crown jewels.
If you want to skip the line, check out this option, or if you want a general guided tour with Topkapi and the Grand Bazaar, check here.
If you'd like to gain a deeper knowledge of Istanbul and it's history, Serhat Engul is local tour guide in Istanbul who offers comprehensive tours through the city. You can hire him to take you around and teach you about the fascinating Ancient Greek, Roman and Byzantine history of Istanbul. To get in touch with him, head over to his Istanbul Clues travel blog.
How to get around Istanbul
5. Take a Ferry Ride down the Bosphorus
After spending days exploring this sprawling city, I came to the conclusion that Istanbul is best appreciated from the river. TURYOL run ferry services costing only 12TL for an hour and a half guided tours along the Bophorus. I would definitely recommend doing the cruise at sunset– it adds that extra bit of magic to the whole experience! Alternatively, you can make the experience a little more memorable and book a 3-course dinner cruise, which includes entertainment in the form of folk dancing and traditional music!
For other cruise options, check these:
6. Catch the Tram at Taksim Square
To experience the true heart of Istanbul's modernity, head to Taksim Square. Now a major tourist hotspot, you'll find a plethora of restaurants and cafes, hotels and high-end shops in the area to keep you entertained. If you want to kick it old-school, catch the nostalgic tram from Taksim down Istiklal. The tram runs down an insanely busy street, which means the Tram Driver spends the whole time tooting to trying to get oblivious tourists off the tracks. When we rode the tram he even let us have a go at honking the horn! Make sure you also wander down Istiklal Street in the evening, when the area transforms into a lively hub of restaurants, bars, and street performers- it's an Istanbul must-do!
7. Get an Istanbul Tourist Pass
If you are spending a few days in the city and planning to do a lot of the things on this list, pre-purchasing a 3 or 7 day Istanbul Tourist Pass could be good value for your money. The passes include everything from the entrance to all of Istanbul's main attractions, a public transport card, a Bosphorus Dinner Cruise, Turkish Bath Experience, and Hop-on Hop-off Bus Tour.
Visit the markets in Istanbul
8. Get lost in the Grand Bazaar
The most-visited tourist attraction in the whole city, the Grand Bazaar is a place you simply must experience during a stay in Istanbul. A never-ending hive of activity, you'll find this marketplace overflowing with insistent locals selling everything from exquisite hand-embodied rugs to intricate silver jewelry to dazzling lanterns in every color of the rainbow. Shop owners seem to beckon from every direction, luring many in with cups of warm apple tea and samples of their delicious Turkish delight. Getting lost in this unique maze of Turkish goods may be a sensory overload, but it is an enchanting one at that.
9. Delight your senses at the Spice Market
Similar to the Grand Bazaar, the spice market will overwhelm your senses from the moment you walk in. If it's a taste of Turkey you are after, you've come to the right place! Here, you can purchase just about every spice under the sun, alongside delicious teas, dried fruits, nuts, candy, baklava and of course, Turkish Delight. It is the perfect spot to purchase cheap, easy and edible souvenirs. Plus- the vendors love to give out samples to lure you in, and let's be honest- who doesn't love free samples?
Unique things to Do in Istanbul
10. Eat seafood under the Galata Bridge
If you want to eat dinner in Istanbul with a unique view, you can't beat a seafood dinner under the Galata Bridge. Here, you'll find a throng of slightly overpriced seafood restaurants that aren't afraid to hassle you to get you through their doors. Skip these establishments and head straight to a local vendor, grab a fish sandwich, and enjoy unbeatable views over the shimmering Bosphorus river.
11. Visit a traditional Turkish Bathhouse
To truly immerse yourself in the culture of a country you sometimes have to get out of your comfort zone, and visiting one of Istanbul's Hamams is the perfect way to do this. Hamams have been a Turkish tradition for thousands of years, used as both a place to socialize and a place to cleanse. Most bathhouses are separated by gender, and yes, it is normal for everyone to be walking around naked, or at least topless. A traditional Hamam experience involves transitioning through different rooms of varying temperatures, including a hot steam room and cold and hot pools. Once you reach the end, you generally receive a brisk scrub down by an attendant. Yep, this is a once-in-a-lifetime experience you won't forget in a hurry (plus, you'll never feel cleaner)! If you are still hesitant about visiting a Hamam, check out Lonely Planet's Guide to Istanbul's Bathhouses.
12. Drink Turkish Apple Tea with a shop owner
Tea (or çay) is a very big part of Turkish hospitality and you will find it in virtually every café, restaurant, and house you go to. Along with regular cay, Turkish Apple Tea is a popular specialty and is a very sweet, delicious drink that resembles warm apple juice. Often, shopkeepers will offer tea to customers, a sign of friendship and hospitality. Make sure you say yes to the offer- doing so will give reveal to you the warmth and kindness of the Turkish people and allow you to gain a glimpse into one of Turkey's strongest traditions.
13. Have Dinner with a local family
To understand the true meaning of Turkish hospitality, you can't beat having a home-cooked dinner. Obviously, the most authentic way to experience this would involve getting invited over to a local's house. However, if this isn't possible, you can book in to enjoy a home-cooked feast with a local family in the historic neighborhood of Sultanahmet and get a deeper insight into the Turkish culture.
The best street food to eat in Istanbul
14. Kumpir (Baked Potato)
Kumpir is a very popular street food in Istanbul and is definitely worth sampling. A giant potato is baked, cut down the middle, then the soft insides are mixed with a generous slathering of butter and cheese, then is finished off with an endless mirage of toppings.
15. Corn on the cob
You can't walk far in Istanbul without seeing the billowing smoke of a roadside vendor and the scent of freshly cooked corn. A street food classic, these vendors really know how to perfectly grill corn on the cob. It's a perfect snack to have on-the-go… Just remember your toothpick!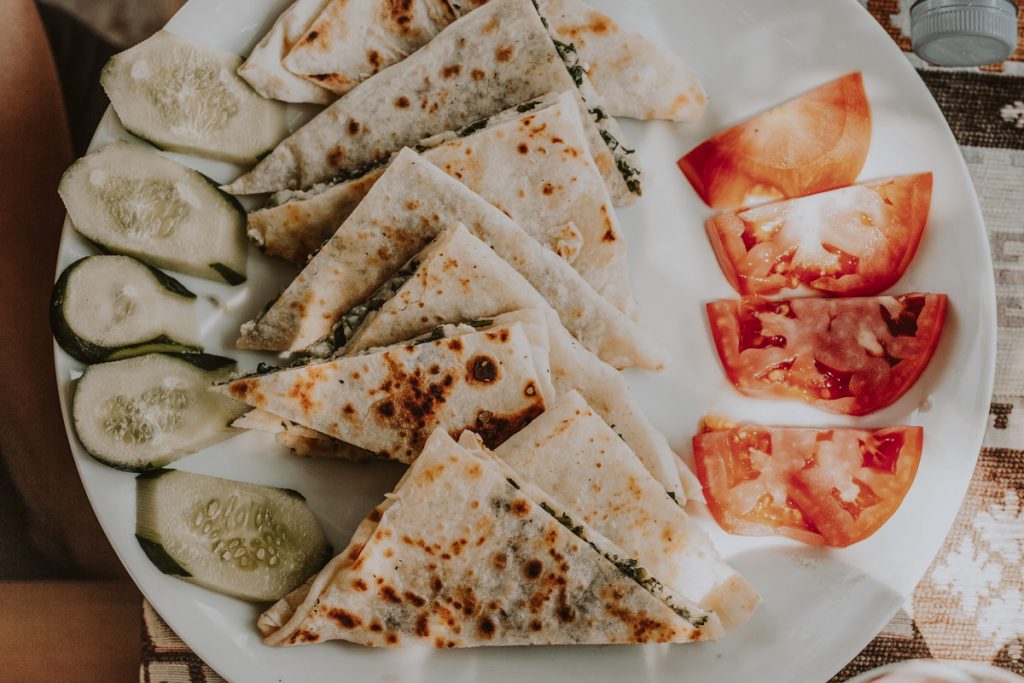 16. Gözleme
Possibly one of the easiest fast foods to find in Turkey, Gözleme is a favourite among locals. Similar to a crepe, this savoury Turkish flatbread is made from hand-rolled dough and is filled with various toppings, such as cheese, meat, vegetables or potatoes, then is sealed and cooked over a griddle.
17. Simit
Another very popular street food, Simit lies somewhere between a pretzel and a bagel. The cheapest snack you'll find on the streets, these circular bread are typically encrusted with sesame seeds and can be eaten plain or with preserves like jam, cream cheese or for an extra special treat, Nutella.
18. Dondurma (Turkish Icecream)
It may look like normal ice cream, and it may even taste like normal ice cream, but Dondurma has a texture unlike any other ice cream in the world. The ingredients used make it resistant to melting and impart a sort of chewiness to the consistency. Dondurma vendors are known for putting on spectacular shows, spinning around giant masses of ice cream on long paddles and playfully flipping customer's cones upside down.
To learn more about Istanbul's culinary scene, check out these tours
19. Get lost in the backstreets of Istanbul
Once you've ticked off your Istanbul tourist bucket list, it's time to go a little deeper with this city. Make your way out of the touristy areas and instead, go and explore the local neighbourhoods dotted around the city. Here, you'll be able to get a taste of genuine day-to-day life in Istanbul.
Istanbul Travel Tips
Where to stay in Istanbul:
When I visited Istanbul, I stayed in an Airbnb near Taksim Square.
If you don't see an Airbnb you like, compare different hotels in Istanbul here.
Getting to Istanbul:
If you are planning to fly to Istanbul, I would recommend using Skyscanner to book your flights. It's free to use and doesn't have any hidden fees like other flight search engines, whilst still comparing prices across every airline to ensure you get the best deal possible. Plus, You can download the free Skyscanner App on iOS or Android.
From the airport, you can book this transportation service to and from. Otherwise, if you want the flexibility of driving yourself, you can hire a car in Istanbul.
Staying Connected in Istanbul:
You can find Wifi at many hotels and restaurants in Istanbul, however, if you want to stay connected to the internet throughout your time in Turkey, I would recommend getting a Mobile Hotspot. Rent n Connect offer portable modems provide unlimited, fast wifi for €5.99 per day which can be delivered directly to your hotel/ Airbnb (and if you use the discount code, NICOLA2018 you can get free shipping)!
If I can leave you with a piece of advice it's this- when visiting Istanbul, try let go of any pre-conceived ideas, expectations or plans. Instead, allow yourself to get lost in this unique and wondrous city and fully immerse yourself in the rich Turkish culture. In the end, isn't this the essence of what travel is all about?
Have anything to add to this list of things to do in Istanbul? I'd love to hear in the comments below!
For more European travel, read these posts next:
Enjoyed this guide to amazing things to do in Istanbul? Pin it for later!