Here's what to expect in this full Cathay Pacific business class review.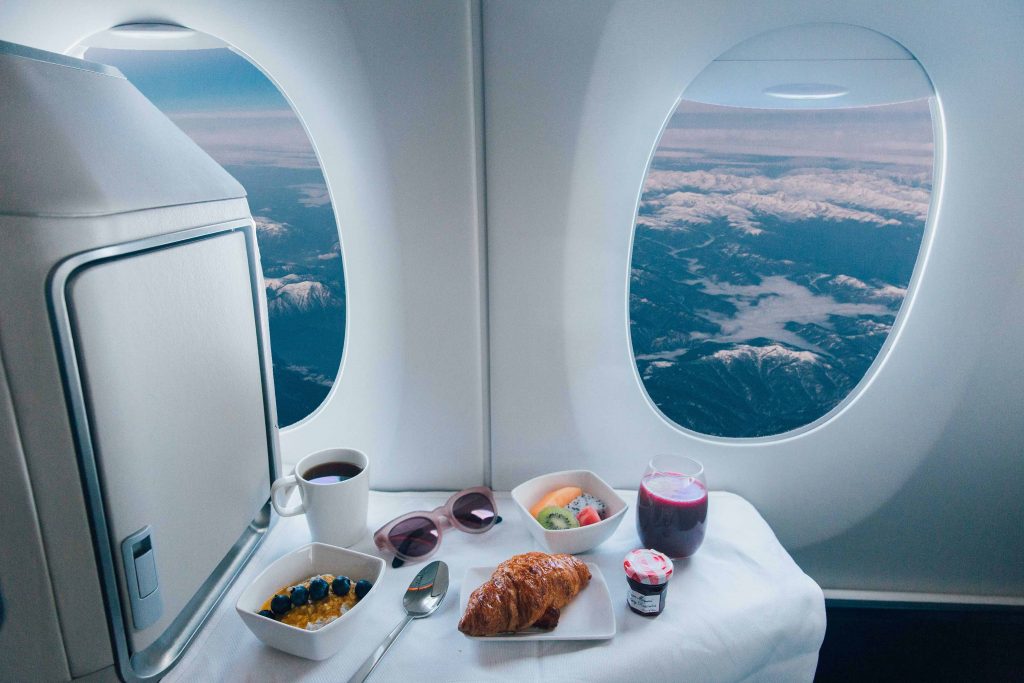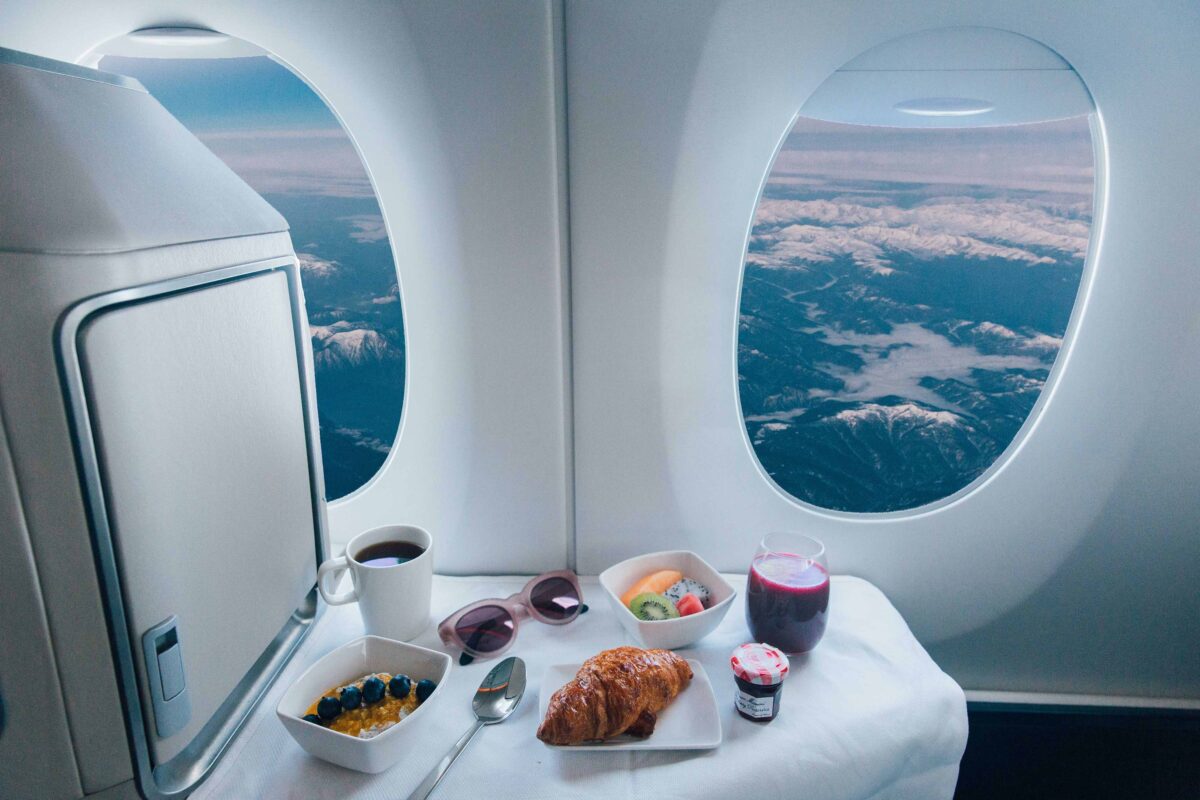 There are certain airlines that stand out above the rest, and for me, Cathay Pacific has always been one of them. I've flown economy with Cathay many times, and have always been impressed with the supreme service, state-of-the-art aircraft and even the food, which is generally a cut above normal airplane gruel. On a recent trip to Hong Kong, I got the pleasure of experiencing Cathay Pacific's business class cabin, and it certainly did not disappoint.
Let me tell you this- as I boarded the CX343 bound for London, for the first time in my life, I actually found myself looking forward to the 13-hour flight ahead!
The Pier Business Class Lounge
The scale of Hong Kong's international airport never ceases to amaze me. To give you an idea of its magnitude, it took me a solid 20 minutes to walk from security to The Pier Business Class Lounge. Having said that, if you are too lazy to walk, you can catch a train to the end of the terminal. Cathay Pacific has a staggering six lounges located within its airport, with The Pier being the biggest of the selection (and in fact, the biggest CX lounge in the world!).
The Space
From the moment I walked into the lounge, I was blown away. The design of the lounge is flawless- it manages to ooze sophistication yet still feeling warm and relaxed. There are ample places to hang out, from communal lounging areas to one-seaters workstations with built-in desks, lights and power points. There is even a relaxation room, which is a dimly-lit rest area at the back of the lounge that offers resting pods for those who want to take a nap. Facilities wise, there is a luggage storage area, private meeting rooms and shower suites equipped with fluffy towels and Jurlique toiletries.
Food & Drink
In terms of food and beverage selection, you are truly spoilt for choice. The first food hall is designed to resemble a market, offering all the Western classics like salads, sandwiches, soups, sweets and of course, a coffee cart. In the next room is a swanky, low-lit bar offering signature cocktails and a wide selection of wines and beers. Then, there is the noodle bar, which serves up made-to-order Asian cuisine, including a selection of noodles and dumplings. Finally, you have my favourite space- the Teahouse. Offering a sublime range of loose-leaf teas alongside a little snack bar, this place really does transport you away from an airport lounge and to a quaint teahouse in Japan.
After a few hours in the lounge, my flight announcement was finally made. It was a struggle to tear myself away from this place, but my business class seat awaited!
Cathay Pacific Business Class Review: Onboard the Airbus A350
I boarded flight CX343 bound for Gatwick and made my way to seat 15A. The flight had 38 business class seats in 1-2-1 Herringbone configuration, which means each seat is forward-facing at an angle. This configuration offers direct aisle access and a great amount of privacy, especially if you are in a window seat.
First Impressions
As soon as I sat down, I was instantly greeted with a welcome drink and a warm towelette. Given it was 1:00am, I didn't opt for the champagne (this time around). Instead, I try Cathay Pacific's signature drink, a kiwifruit and coconut milk concoction which turned out to be quite delicious. I settled into my spacious seat and was happy to discover plenty of nooks and crannies to store all of my gadgets. The air hostesses handed out amenity bags, which were filled with a few Jurlique products, including a lovely rosewater hydrating mist that kept me very refreshed throughout the flight.
The Entertainment
The entertainment system included noise-cancelling headphones, a generous 18.5 inch screen and a video handset, which allows you to make all your selections without having to reach for the screen (laziness at its finest). In the little storage unit next to the seat, there was also a power socket and USB charger, which was perfect for me as I needed to get lots of work done on my laptop. The only flaw I found with the entertainment system was that every time you had something plugged into the power socket, the noise-cancelling headphones would make a really annoying buzzing sound. There was a decent selection of movies and TV shows on the entertainment system, although it wasn't the most expansive selection I've come across.
Dinner Service
About an hour after take-off, meal service began. I had filled myself up in the lounge prior to the flight and it was well past dinner time, so I wasn't extremely hungry. Thankfully, there were a few lighter options on the menu for anyone who didn't want a full meal. I opted for a potato and leek soup which just hit the spot. Served alongside the soup was an assortment of dips and bread sticks, garlic bread and a mixed berry salad.
Sleeping on the Flat Bed
After dinner, the lights in the cabin dimmed and I was ready for a sleep. I transformed my seat into a flat-lying bed in the quick press of a button, popped on an eye mask and earplugs and snuggled down. The blanket provided was nice and cozy- my only thought was it would have been nice to have some sort of sheet or padding to put on the seat and lie on top of. Once I woke up from a blissful nap, I cracked open my window shade and was greeted with one of the most magnificent sights I've ever witnessed from an airplane. We were flying over the Atlas mountains, and I had a view of snow-capped peaks as far as the eye could see!
Breakfast Service
Shortly after, the lights in the cabin came back on and breakfast service began. I was served a berry smoothie, bircher muesli, fruit salad and pastry selection- basically my dream breakfast. They did also offer a hot breakfast, however I had forgotten there was no meat-free options and I had forgotten to pre-order a vegetarian meal. Before I knew it, we had landed in London. 13 hours may have passed since take-off, but it certainly felt like one of the shortest flights of my life!
So the real (first-world) question is… How does one ever go back flying economy after flying Cathay Pacific business class?!
Booking Business Class Flights
If you want to find the best deals on business class and first class flights, I'd recommend checking out Skyclub.com, as often you can cheaper fares on here than booking directly with the airline!
For more luxury travel, read these next:
Enjoyed this Cathay Pacific business class review? Pin it for later!
I was kindly invited to experience business class as a guest of Cathay Pacific.