Disclosure: This post contains affiliate links, which means I make a small commission at no extra cost to you if you kindly choose to book via my links!
How to travel India… with or without a group… that is the question
When I found out I would be visiting India for two weeks as part of a project with the Goa Tourism, I fell into a predicament. I knew that if I was coming all the way to India, I needed to see more of the country than merely the state of Goa. At the same time, so many people had told me that India was unsafe to travel solo as a female, and I hadn't been able to rope anyone into travelling with me.
Hence, the idea of doing a group tour in India popped into my head. I will admit, I was hesitant to look into this option at first. I have a love/ hate relationship when it comes to group travel. Over the past few years, I've done my fair share of group tours (albeit it, mostly for work). Through my experience of travelling both in a group and independently, I've personally find that I prefer to travel solo or with one other person as I enjoy the freedom and flexibility of determining my own schedule.
However, India was very different from the places I'd travelled solo in the past. Knowing that solo travel in India (particularly as a female) was far from a walk in the park, I made the decision to go with a group tour with G Adventures for my first visit. Below I've outlined all the positives and negatives of going on a group tour versus travelling solo through India. Hopefully it will help you if you are planning a trip to India and you are not sure which way to go!
Picking a Group Tour
I went on the Uncover India- Delhi to Goa trip with G Adventures, which was a 15-day tour which went through Delhi, Agra, Jaipur, Tordi Sagar, Pushkar, Udaipur, Mumbai and Goa. The trip included accommodation, a tour leader throughout, transportation and some activities.
I picked this particular trip for a few reasons:
The route of the trip felt like a good introduction to India as it showcased a diverse mix of big and small cities and rural areas
It was G Adventure's 'YOLO' style trip, meaning it was specifically designed for young people aged 18-35
It was one of the most affordable trips that G Adventures offers. The service level was considered 'basic', meaning we stayed in simple hotels, paid for most our own meals and caught local transport.
Why G Adventures?

I became fascinated by the tour company G Adventures after reading Bruce Poon Tip's book, Looptail (a great read for any budding entrepreneur). As a company that claims to have built its foundations on sustainable tourism, I was very interested to go on a G Adventures Trip and see these principles action. From my prior research, I discovered that G Adventures only uses local vendors for all their activities, meals and accommodation. In order to invest back into the local communities that the tours pass through, the company has also started numerous community development projects through their non-profit organization Planeterra. Based off what I experienced firsthand on my India tour, I was pleased to see that the tour company living up to its sustainable tourism model and for this reason, I would travel with G Adventures again.
Below are 6 reasons I decided to go on group tour through India instead of travelling solo:
1. Ease and convenience
Positives:
I'm not going to lie, travelling full-time does make me a little lazy from time to time. If planning a regular trip is time-consuming and frustrating, planning a trip to India is at a whole new level. As they say, once you travel to India, you can travel anywhere. Going on a group tour meant EVERYTHING was organized for me in advance. This included accommodation, transport, walking tours, optional activities and places to eat. I just had to get to the initial meeting point and then I could switch off my brain for two weeks, unlike if I had decided to travel India solo and would have to plan the whole thing out.
Negatives:
The downside to having everything arranged for you is of course not having the freedom to go where you like when you like, removing the chance for spontaneity. This was particularly frustrating in certain situations, such as when I found places that I really enjoyed and would have loved to stay on longer. If I were travelling solo, I would have had the flexibility to do this, but as I was on a group tour, I was locked into the schedule they had set.
2. Local knowledge
Positives:
Having a local tour leader to take us around was a major positive of travelling with a group as oppose to travelling solo. Our tour leader, Manu, worked so hard to make the trip run smoothly and was there to solve any problems we had. He provided a great overview of every place we visited and also taught us so many interesting things about Indian culture that we wouldn't have known otherwise. He made sure we didn't get ripped off when buying things, ensured every restaurant we ate at had a good level of hygiene, and even suggested which foods we should try.
Negatives:
I can't pick out too many negatives to having a tour leader. The only thing I found frustrating was the fact we were taken to many 'westernized' Indian restaurants that were full of tourists. I did often find myself wanting to eat at more local, 'hole-in-the-wall' places so I could have the true Indian experience, rather than places that served both India and Western food. There is something very disarming about seeing pizza on the menu of an India restaurant. Having said this, I do have to give kudos to our tour leader as no one on our tour came down with serious food poisoning (which is always a possible hazard in India).
3. Activities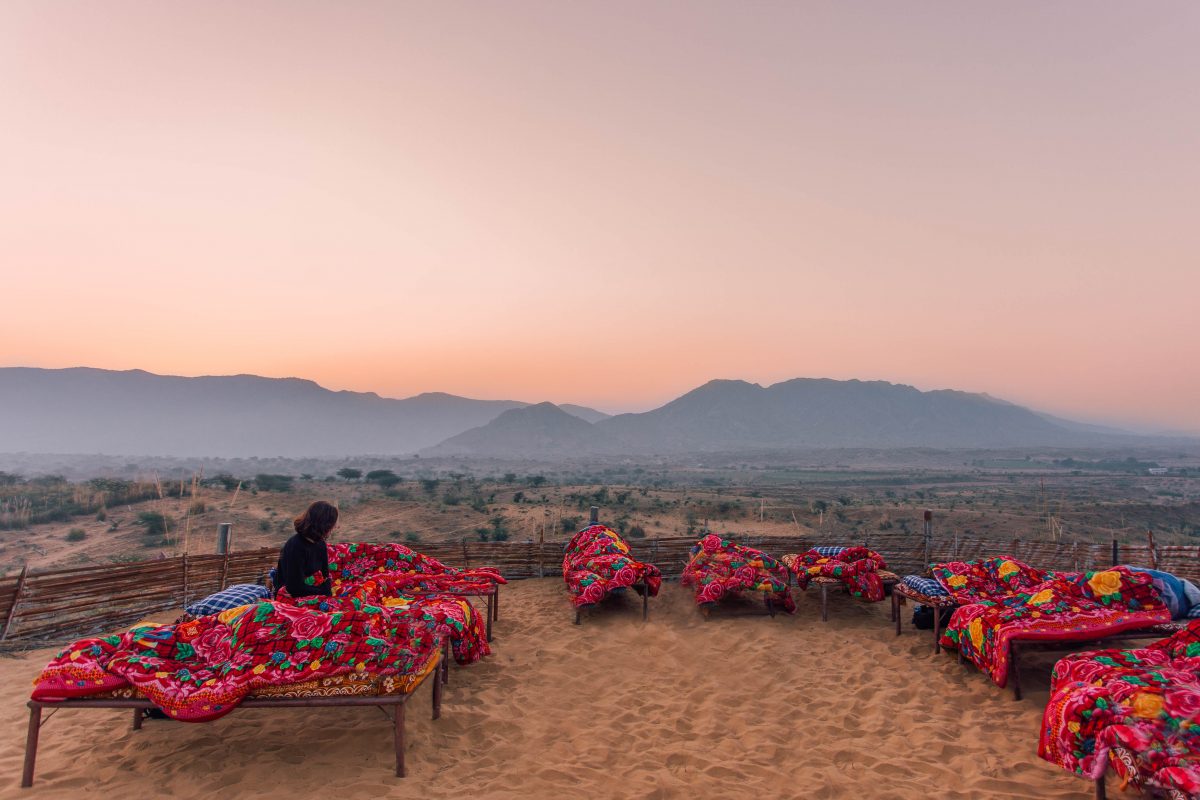 Positives:
Another positive of being on tour was that there were some worthwhile optional activities arranged for us. I partook in some really unique experiences that I probably wouldn't have thought to do had I not been on tour- things like cooking classes, watching a Bollywood film, hopping into a cycle rickshaw and going 4x4ing through sand dunes. The best experience of all was camel-riding through the desert. This entailed spending the evening around the bonfire, eating a feast cooked by the cameleers, watching gypsy dancers and magicians perform, and then falling asleep under the stars. Of course, these are all activities you could seek to do on your own, however, it's obviously a lot easier having it all arranged for you!
Negatives:
As with any tour, there is a general schedule that needs to be adhered to. Having a schedule and pre-planned activities does make it difficult when there are things you want to do or places you want to go. We still got some free time on the tour we were on to do our own thing but as someone who is used to travelling solo, I was always wishing for more time to enjoy each place I was in, without worrying about having to be certain places at certain times.
4. Transport
Positives:
One of the coolest part of tour I went on was getting to experience all the different forms of transport that locals actually. During the course of our 14-day tour, we traveled by sleeper trains, public buses, 4x4s, taxi, tuk-tuks, cycle rickshaws and even camels. Again, if I had been travelling solo, I might not have gotten to experience all these things.
Possible the biggest logistical nightmare of travelling India is navigating the chaotic public transport system. The country simply does not have the infrastructure to support a population of over one billion, meaning public buses and trains are always overcrowded and overbooked. As a result, booking transport can be very difficult and has to be done well in advance. Going on a group tour saved me the nightmare of having to worry about transport.
Negatives:
When booking a group tour, it is important to be aware of the type of transport that will be used on your trip. Many tours these days will stuff you into a private coach, where you will end up spending the majority of time on your trip. Of course, this style of travel may suit you perfectly. Personally, if had I been stuck on a tour bus two weeks, I think I do not feel I would have gotten the same rich culture experience as I did catching local transport (even if it was a little uncomfortable at times!)
4. Safety
Positives:
I'm sure you've heard it said a million times- India is not the safest place to travel solo, especially as a female. Naturally, travelling with a group made me feel much safer than if I had been travelling alone. At the end of the day, the knowledge that I had my tour leader and a whole tour group looking out for me was very comforting. When I was alone, as expected, I did find that I would attract a lot more male attention than when I was in a group.
Negatives:
India tends to get a bad rap when it comes to safety and there is a real stigma around travelling alone as a female. I did spend a few days in Delhi by myself and I also separated from the tour group quite often, and, personally, I never felt very unsafe or threatened. Of course, everywhere you go, there are bad people, and India is no exception. But that doesn't mean that 99.99% of the population aren't genuinely good, honest and kind people.
Whilst it is essential to remain street smart when travelling in India, it is also important to not become overly cautious and closed off to interacting with locals. If you have the mindset that everyone is out to get you, you can miss out on really special experiences. One of my favourite memories from India was the time I separated from the group and ended up sitting drinking chai tea and having a deep and meaningful chat with a shopkeeper for an hour. If I had been closed-off and fearful of being alone, I would have missed out on this very meaningful experience.
5. Affordability

Positives:
To be honest, it's hard to say if I would have saved money or spent more money when travelling on my own. It was nice knowing that all my accommodation and transport had been paid for and that I only needed to budget for food and optional activities. The price of the tour was $1000 USD all together, so for a fifteen day tour it worked out to be about $100 a day, and I probably spent $40 per day on top of that for food and activities. It would definitely be cheaper to travel on your own if you were staying in hostels and catching local transport everywhere, however we were staying in budget hotels and using a mix of local and private transport.
Negatives:
The tour didn't include as many meals or activities as I had expected, and so I found myself spending more than planned. I later found out that the reason for this is that G Adventures offers different levels of trips and we were on the most basic level, meaning less activities and meals were included. There were many optional activities that everyone was expected to do anyway (such as riding camels and sleeping under the stars in the desert), so it seemed strange to not include such things. Next time, I would rather pay extra for a tour that included more so I didn't have to think so much about budgeting for everything. But again, that is just my laziness kicking in.
6. Freedom
Positives:
Compared to tours I have done in the past, this G Adventures tour did offer a lot of free time and activities and meals that were optional. As we were a fairly small group ( ten in total), most of the time everyone would opt to do the optional activities and eat together anyway. I liked the fact that the schedule wasn't too jam-packed as I am the kind of person who needs my down time!
Negatives:
Obviously, the biggest negative to any type of group tour is ultimately the lack of freedom. The schedule is set, activities and meals are planned, transport is fixed. As I am a spontaneous person and enjoy my independence when I travel, this was the most difficult thing for me to come to terms with. Particularly when we were doing things like walking tours, I found being in a group really frustrating, as I obviously take a long time to take photos and so found I was always being rushed along (or making the group wait)! Again, this is just one of those things you have to accept when taking part in a group tour.
THE VERDICT:
Overall, I think I made the right decision to do a group tour for my first visit to India. The reality is that India is a difficult place to travel solo, particularly if it is your first time visiting and if you are a female (as much as I hate that gender comes into play). However, now that I've done a group tour and become better acquainted with the country, I would feel a lot more confident to travel India independently. I am already planning to revisit and explore this incredible country even more!
If you are interested in booking a group tour or just finding out more information about group tours through India, you can head over to the G Adventures website. For the sake of full disclosure, I was lucky enough to have G Adventures host me on the Uncover India Tour, however all opinions stated in this article are completely my own.
Have you travelled to India solo or on a group tour? I would love to hear your thoughts about which style of travel you prefer!
For more travel to southern Asia, read these next:
Enjoyed this post on how to travel India? Pin it for later!