Check out these incredibly instagrammable spots in Sri Lanka
Disclosure: This post contains affiliate links, which means I make a small commission at no extra cost to you if you kindly choose to book via my links!
After my first visit to Sri Lanka in 2016, I had been itching to go back and explore more of this dynamic and diverse country. When opportunity arose to return to Sri Lanka for a travel blogging conference, I jumped on it straight away.
Last trip I had spent most my time inland, frolicking through tea plantations, climbing up rock fortresses and spotting elephants in the wild. This time, I got to experience a taste of Sri Lanka's east coast, a mecca of relaxed surf towns and luxe beachside resorts.
Although I've still barely scratched the surface of this island gem, I thought I would share with you a compilation of the 10 most instagrammable locations that I've visited in Sri Lanka (plus a few tips on how to get the best out of your photos in each place)!
TOP 10 MOST INSTAGRAMMABLE SPOTS IN SRI LANKA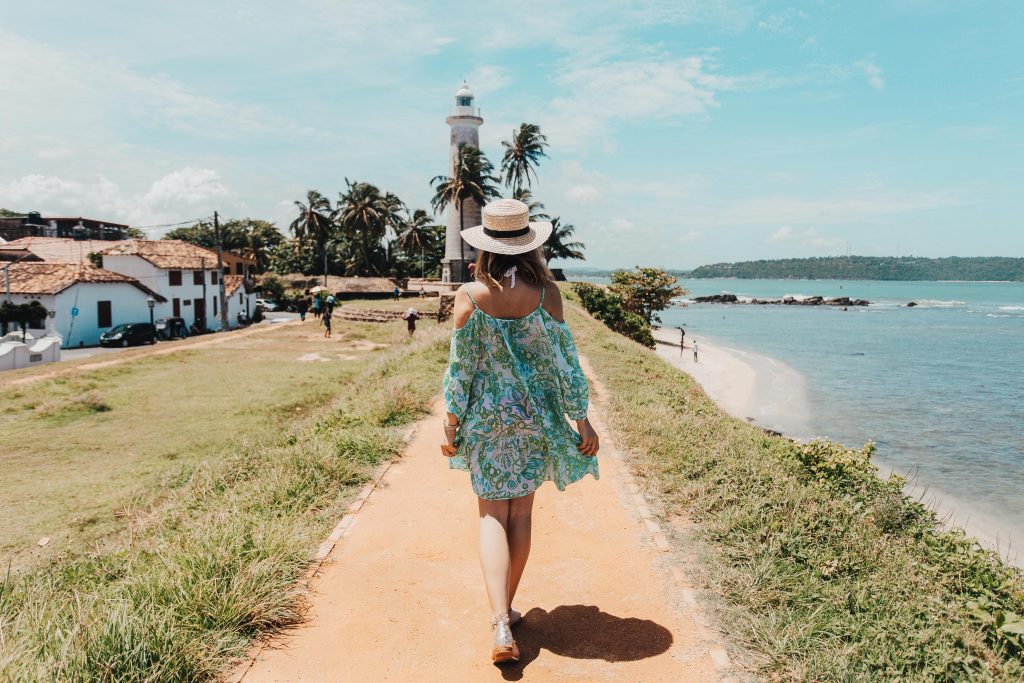 1. Galle Fort
Located a two-hour drive south of Colombo lies Galle Fort, which was first built in 1588 by the Portuguese and further fortified by the Dutch in the proceeding years. The fort boasts beautifully preserved colonial architecture and quaint cobblestone streets, many of which are now filled with quirky cafes, boutiques and hotels.
From the walls of the fort, you'll get idyllic views of the ocean, making the whole place a photographer's dream.
Top Photo Tip: Whenever possible, I try to avoid taking photos during the middle of the day, as this is when lighting is at its harshest. Instead, I like to take photos around sunset or sunrise as this is when the lighting is at it's softest, which makes for far more aesthetically-pleasing photographs.
2. Unawatuna Beach
Just 6 kilometers away from Galle lies Unawatuna, a beach-lover's dream. With plenty of resorts and restaurants to accommodate for tourists, this hot spot flaunts photogenic palm-lined beaches and turquoise waters and makes for a nice little place to have sundowners.
Top Photo Tip: Often when I go to the beach, I leave behind my DSLR and just bring my GoPro to take my beach happy snaps.
I find it so much easier to have a camera that I can get wet and sandy without any worries, and the quality of the photos on the GoPro these days is surprisingly fantastic.
3. Kandy to Ella Train
My absolute favourite Sri Lankan experience has to be catching the train. There is something so liberating about being able to hang out the train window and soak in the beautiful countryside in all of its glory.
The most iconic train ride you can do will take you from Kandy to Ella, where you'll past dazzling emerald tea plantations and endless rolling hills.
Top Photo Tip: When shooting from any fast-moving vehicle such as a train, be aware of what shutter speed your camera is set on. If you are finding all your shots are coming out blurred, you simply need to increase the shutter speed of your camera.
An easy way to do this is to change your camera to TV mode and make sure the shutter speed is set to 1/250th of a second or higher.
4. Kandy Market
In my opinion, there is no better way of getting insight into a culture than visiting the local markets. Step off the train in Kandy and you'll find an authentic food market that swarms with locals.
With stalls overflowing with colourful fruits and vegetables, it's a great place to pick up some fresh produce, get to know some locals and gain an understanding of local life.
Top Photo Tip: These markets and are really photogenic, but it's important to be respectful of the shopkeepers and others who are around.
Personally, I'll ask before taking someone's photo and will always show them the photo afterwards as a sign of respect. All the locals I chatted to were very friendly and open to having their photos taken.
5. Nuwara Eliya Tea Plantations
Often called 'Little England', you could be in Nuwara Eliya and feel like you were in a village in the middle of the British countryside. Beyond the colonial houses and attractive, well-groomed gardens,  the highlight of Nuwara Eliya has got to be its spectacular tea plantations.
Head to Mackwoods Tea Centre and you can gain insight into Ceylon tea production AND get stunning snaps of salubrious tea fields whilst you are at it.
Top Photo Tip: If posing for Instagram photos is your cup of tea, make sure to wear an outfit that is going to contrast well with you surroundings.
For example, with the green of the tea plantations, whites, pinks and yellows tend to work best.
6. Knuckles Mountain Range
If you really want to get back to nature, head to the Knuckles Mountain Range located near Kandy. The rugged peaks are said to resemble the knuckles of a clenched fist (hence the name), with the range covering an area of 18512 hectares.
The region is great for trekking, and the everchanging landscape takes you through grassland, over streams, past cascading waterfalls and offers sweeping vistas.
Top Photo Tip: When shooting sweeping landscapes like the one above, I like to put myself or someone in the frame. This always gives the landscape a sense of scale and also adds far more interest to the shot.
If I'm by myself, I'll set up a tripod and put my camera on self-timer mode so I can jump in the shot.  If you are concerned about lugging around a big, heavy tripod, go for something more portable such as the Joby Gorillapod.
7. Arugam Bay
Named as one of the top surf spots in the country, people travel far and wide to experience the epic waves, soft sands and laid-back vibes that Arugam Bay serves up.  Unfortunately, we didn't visit during peak surfing season, so we spent our time simply hanging about this tranquil hippy town.
This consisted of strolling along palm-fringed beaches, eating delicious vegan icecream at relaxed beachside cafés and stumbling upon photogenic nooks around the town.

8. Sigiriya Rock Fortress
Possibly Sri Lanka's most striking landmark, the Sigiriya Rock Fortress is a truly fascinating place to visit- both visually and historically. It was said to serve as a religious retreat as far back as 3rd century BC, and was once the centre of the short-lived kingdom of Kassapa.
To get to the top of the fortress you have to climb up a succession of dizzying staircases, but it is all worth it once you reach the flat-topped summit. Here, you'll find ruins of an ancient civilization and hypnotic vistas of the surrounding lush forest.
Top Photo Tip: Patience is key when taking photos at popular tourist attractions. If I really want to get an iconic shot without people in the background, I will wait until the crowds have cleared to take my shots or try get creative with angles to block people out.
If worst comes to worst and I can't get a shot without other people in it, I will either use Photoshop or the phone app TouchRetouch to clone people out.
Download TouchRetouch here
9. Minneriya National Park
If you want to see elephants in Sri Lanka, skip out on the cruel tourist trap that is Pinnawala Elephant "Orphanage" and instead go visit the magnificent beasts in their natural habitat. I went on a jeep safari in Minneriya National Park and got to get up-close with dozens of beautiful elephants.
Driving through the forest and wetlands you can also spot deer, buffalo, crocodiles, toque macaques and even leopards if you are lucky!
Top photo tip: When going on Safari, you ideally want to be shooting with a telephoto lens. However, telephoto lenses are heavy and expensive, and I personally tend to only travel with my all-rounder 24-70mm lens.
To compensate, when shooting wildlife I focus on framing my shot with the knowledge that I am going to crop in later on. Make sure you are shooting on RAW in the highest quality so you lose as little image data as possible.
 
10. Sri Lanka from above
It is one thing to experience the beauty of Sri Lanka from the ground, but seeing this lush country from above is a whole new ballgame. After a stay at the resort town of Trincomalee, we caught a Cinnamon Air flight back to Colombo and were treated to a visual feast during our time in the sky.
We peered out at endless mountain ranges, patchworks of farms and tea plantations, dazzling lakes and even caught sight of Sigiriya from the air.
Top photo tip: Shooting out of plane windows can be difficult, particularly when you get strong reflections off the windows.
To counter this you can buy a circular polarizer that screws on the front of your lens and helps to cut through those reflections, which is perfect anytime you are shooting through glass.
SHOP CIRCULAR POLARIZER LENS HERE:

Where to stay in Sri Lanka
Kandy- Cinnamon Citadel
Although Cinnamon Citadel is located right near the heart of Kandy, this tranquil oasis feels far removed from civilization. The resort is nestled amongst lush forest and misty mountains, right next to the calming Mahaweli river. The rooms in the hotel aren't the absolute height of luxury, they are comfortable and aesthetic, designed to reflect the traditional Kandyan art. Now, I am not generally a big fan of buffets, but the restaurants at Cinnamon manage to do buffets REALLY well. There is always a really diverse and delicious selection of Sri Lankan, Indian and Western food on offer (I personally avoided the Western food and stuck to the curries, but each to his or her own).
Trincomlee- Trinco Blu Cinnamon Hotel
Located in the tropical heart of Sri Lanka's east coast is the Trinco Blu by Cinnamon. The hotel is styled somewhere between retro and nautical with white-washed walls, arch motifs and pops of orange and navy blue running throughout the property. Located right on the beachfront, the property is in an ideal position for marine life lovers, with activities such as whale watching, snorkelling and diving all on offer. Unfortunately, it was raining when we visited, so we didn't get to do much more than lounge by the pool and indulge in the ridiculously expansive buffets. Life could have been a lot worse…
Pidurangala- Back of Beyond
Easily one of the most unique places I've spend the night, Back of Beyond in Pidurangala was one of my favourite experiences in Sri Lanka. This eco retreat is hidden within four acres of a forest where birds, monkeys, squirrels and even elephants freely roam around. This is the place where my jungle book dreams came true as we got to stay in a fully open-planned tree house. Each night, after being fed a spread of local, homemade dishes, we'd fall asleep to the gentle sound of the birds in the forest and the sight of fireflies dancing over our heads. If you don't want to spend all your time in this tranquil sanctuary, Back of Beyond is within walking distance of Sigiriya and is also a 30-minute drive from Minneriya National Park.
Getting to Sri Lanka
Flying to Sri Lanka is a lot easier than it once was, with Sri Lankan Airlines flying to over 114 destinations around the world. I flew on a direct flight from Melbourne to Colombo which took a little under 11 hours. I was pleasantly surprised by the whole Sri Lankan Airlines experience. The service onboard was smooth, the cabin crew were polite and accommodating, the onboard entertainment was comprehensive, even my pre-ordered vegetarian meal wasn't half bad. My biggest criticism would be the comfort of seats in economy- I obviously wasn't expecting a plush throne but the seatback and headrest were particularly hard and uncomfortable to sit back on. It may not be a 5-star airline, but overall, Sri Lankan Airlines manages to provide a pleasant flying experience.
Big thanks to Cinnamon Hotels and Sri Lankan Airlines for hosting me in Sri Lanka for TBC Asia 2018!
Enjoyed this guide to the most instagrammable spots in Sri Lanka? Pin it for later!