Harry Potter fans, listen up. This spellbinding list reveals all the BEST Harry Potter locations + things to do in London and beyond!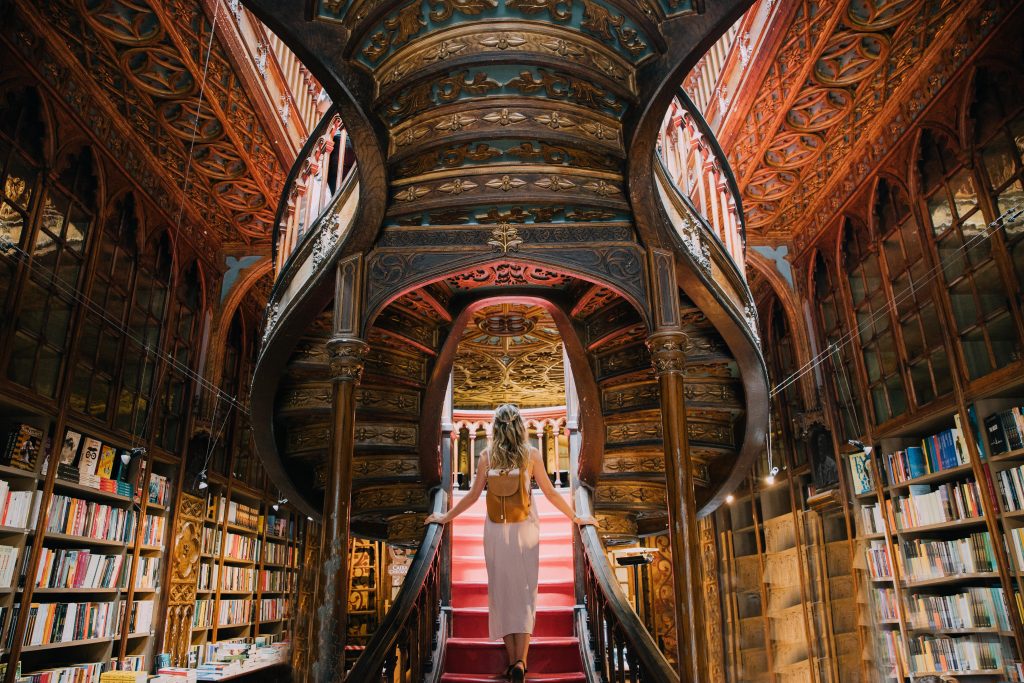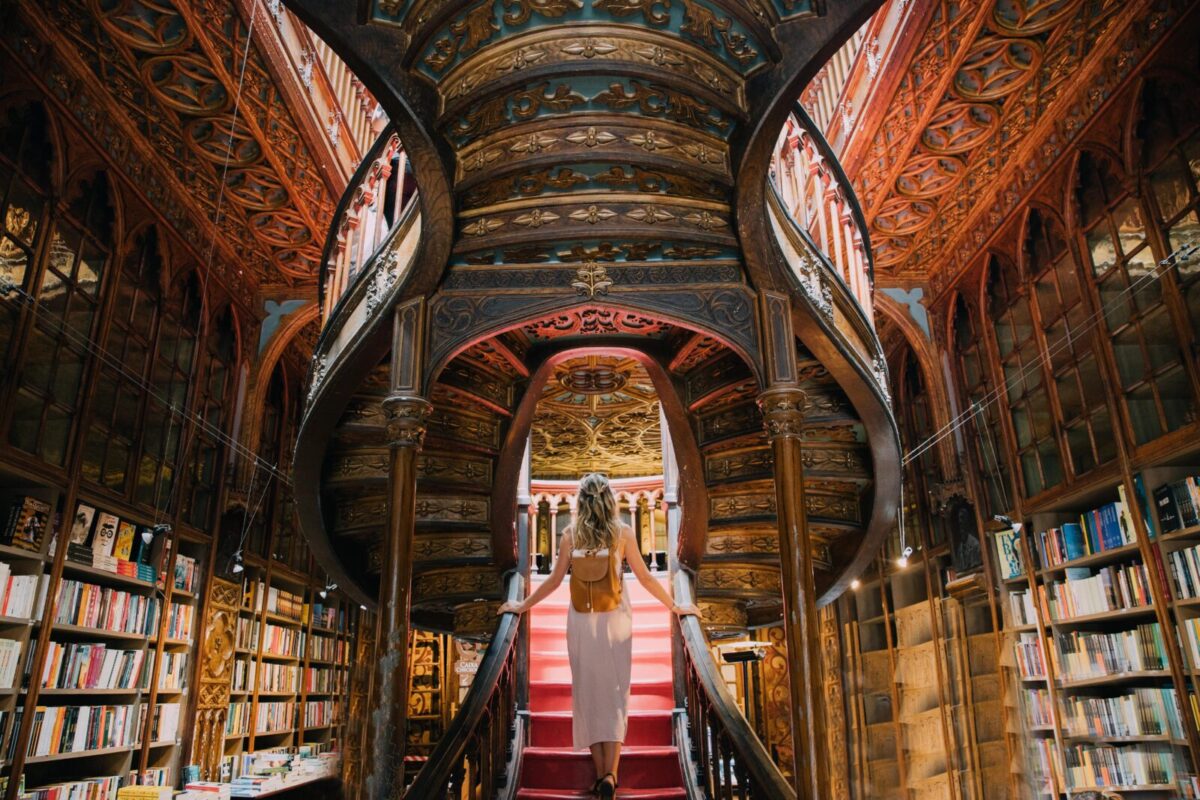 What would three young Gryffindors, such as yourselves, be doing inside on a day like this? Some people might think that you ought to be outside, chasing Harry Potter locations any true fan dreams of visiting.
The most charming spots for Potterheads to visit are around the UK. Unsurprisingly, you'll find many of these HP hotspots in the capital city of London.
I've concocted a list of the best Harry Potter locations in London, which, if you pay them a visit, will have you as chuffed as Dobby with a pair of mismatched socks. You'd better get Rowling if you want to see them all! (Sorry, was that a tad too on the nose?)
The best Harry Potter locations to visit in London
To kick things off, here are the best spots for Harry Potter fans to visit in London. All of these locations are easily accessible by tube, overground or bus and are free to visit!
1. Platform 9 and 3/4 at King's Cross Station, London
Now I know its clichéd, but there really is no better way to start a Harry Potter London exploration than the same place Harry does, at Platform 9 and 3/4. For those Muggles who don't know, this is the legendary boundary to the magical world which Harry first crosses to catch the train to Hogwarts.
If you're happy to wait in a queue as long as Dumbledore's beard you'll be able to pose for a photo with the baggage trolley. A wand and house scarf of your choice is provided. If you pick Slytherin, feel free to adhere to Mrs Weasley's advice. When you try to go through the platform, that 'it's best to do it at a bit of a run if you're nervous'.
Next-door to the platform is a souvenir shop with a hefty supply of souvenir merchandise for you to spend your galleons in.
How to get to Platform 9 and 3/4 :
If you want to check out this iconic Harry Potter location in London, it's (unsurprisingly) beside Platform 9 at King's Cross Station. Just sure you come to Kings Cross Railway Station, and not the Tube station.
2. The Leaky Cauldron at Leadenhall Market, London
If you're a fan of Harry Potter, Leadenhall Market is non-negotiable. This elegant Victorian market, with its soaring glass ceilings and bright storefronts, was used for several Diagon Alley scenes. It's a wonderful spot to come, both to photograph and simply to wander around.
Leadenhall Market was also used as the storefront of the Leaky Cauldron. In the first Harry Potter film, Harry and Hagrid stroll through the market and enter through a blue door to get to the Leaky Cauldron Pub. You can find this blue door at 42 Bull's Head Passage.
How to get to Leadenhall Market:
Leadenhall Market is located in central London and you can easily get here by underground, overground or bus.
Nearest Underground Station: Monument Street
Nearest Rail Station: Liverpool Street
3. Diagon Alley at Cecil Court, London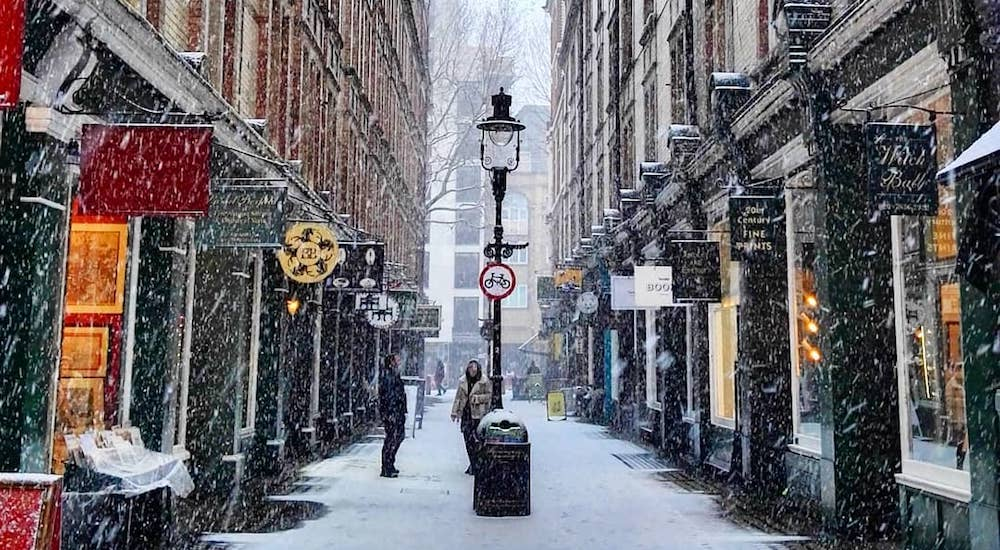 Another must visit Harry Potter location in London is Cecil Court. The area is said to have been the inspiration for Diagon Alley in the Harry Potter movies. The charming streets are lined with bookstores and curiosity shops selling a variety of magical curios.
How to get to Cecil Court:
You'll find this bewitching Harry Potter location in the heart of London's West End, a short walk from the Leicester Square tube station.
4. Diagon Alley at Goodwin Court, London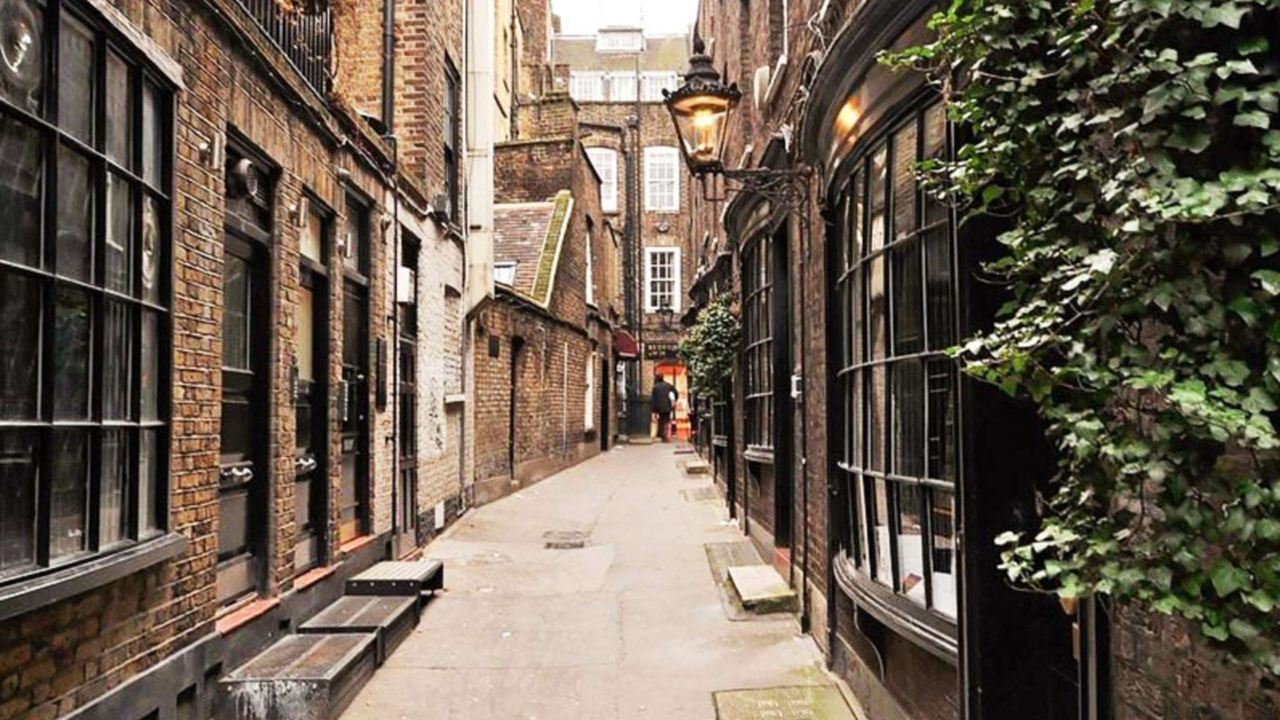 Similar to Cecil Court, Goodwin Court is another location that is said to have inspired Diagon Alley in Harry Potter. Cecil Court has the same higgledy-piggledy, twisted appearance of everyone's favourite magical street.
How to get to Goodwin Court:
This charming passageway can be found between Covent Garden and Leicester Square, just off St Martins Lane.
The best Harry Potter things to do in London
As well as visiting the famous Harry Potter filming locations, there are some seriously epic Harry Potter things to do in London. From wizard-themed hotels to bewitching afternoon teas, these are some of the best experiences to have around the city as a Potterhead.
5. Stay in the Wizard Chamber at the Georgian House Hotel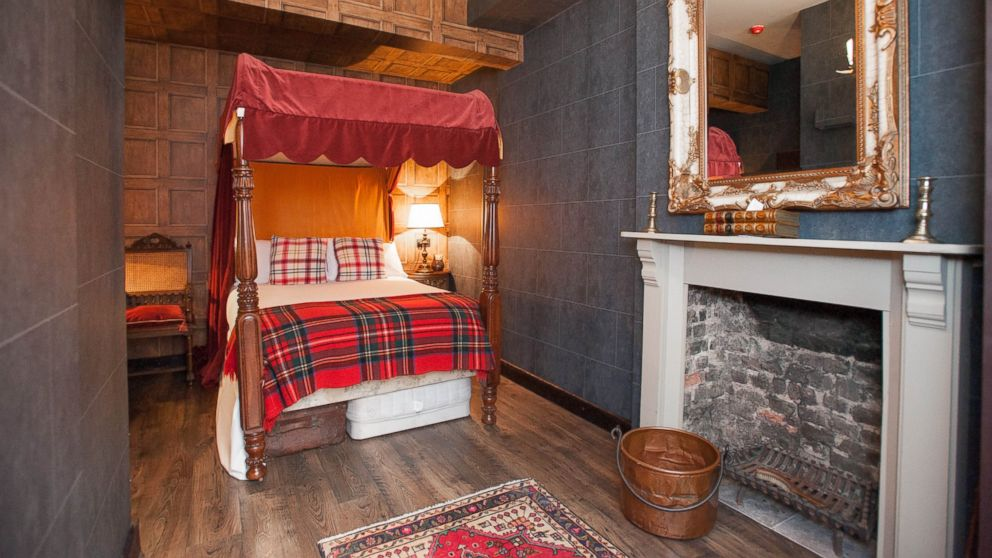 For the full Harry Potter wizarding experience, stay over in a Wizard Chamber at the Georgian House Hotel in London. Pass down a candle-lit, portrait-lined passageway and enter your room through the bookshelf door as you experience what it is like to sleep as a wizard.
View more photos, prices and availability for the Wizard Chamber at the Georgian House Hotel
6. Try your hand at Wizard potion making
If you're looking for a unique Harry Potter experience in London, look no further. As well as accommodation at the Wizard Chambers, the Georgian House Hotel also offers Wizard potion-making classes (even if you aren't staying at the hotel. And by potions, we're talking spellbinding cocktails (or mocktails).
The experience takes around 40 minutes, during which you'll concoct two different drinkable elixirs from an array of potions and powders. The Wizard potion experience is available for £25 or £20 for the non-alcoholic version.
7. Watch the Cursed Child at the Palace Theatre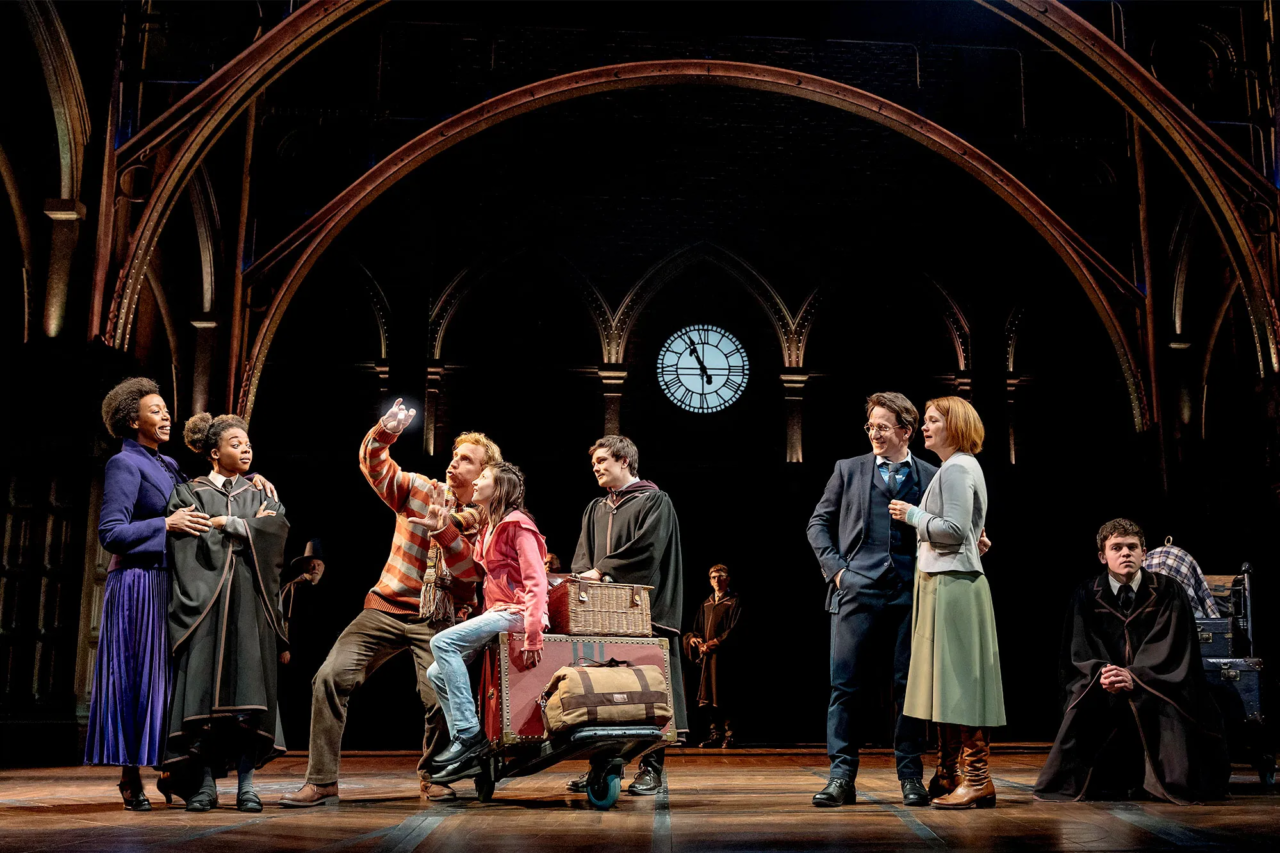 Watching the Cursed Child has got to be one of the most popular Harry Potter things to do in London. This two-part play brings J.K Rowling's original novels to life in a one-of-a-kind theatrical experience. As the play is split into two parts, when booking tickets, you select two different times to watch each part.
View ticket prices and availability for the Cursed Child in London.
The best Harry Potter locations outside of London
While London may have the biggest selection of Harry potter locations and things to do, there are many other Harry Potter places to visit around the UK! Many of these you can do as a day trip from London.
8. Warner Bros. Studio Tour, Leavesden
The Warner Bros Studio Tour provides a behind-the-scenes tour of the making of the Harry Potter films. It features many of the sets, props and costumes actually used in the making of the films.
I defy any true Potter fan to remain unemotional walking along the streets of Diagon Alley or peering into Harry's cupboard under the stairs at No. 4, Privet Drive. The café sells delectable butterbeer which any Harry Potter has got to try.
There's a chance even Hermione's beaded bag might be filled with the substantial number of wizarding mementos one can purchase from the store at the end of the tour. 
Check prices and availability for a Harry Potter day tour to Warner Bros Studio and Oxford.
9. Lacock Abbey, Wiltshire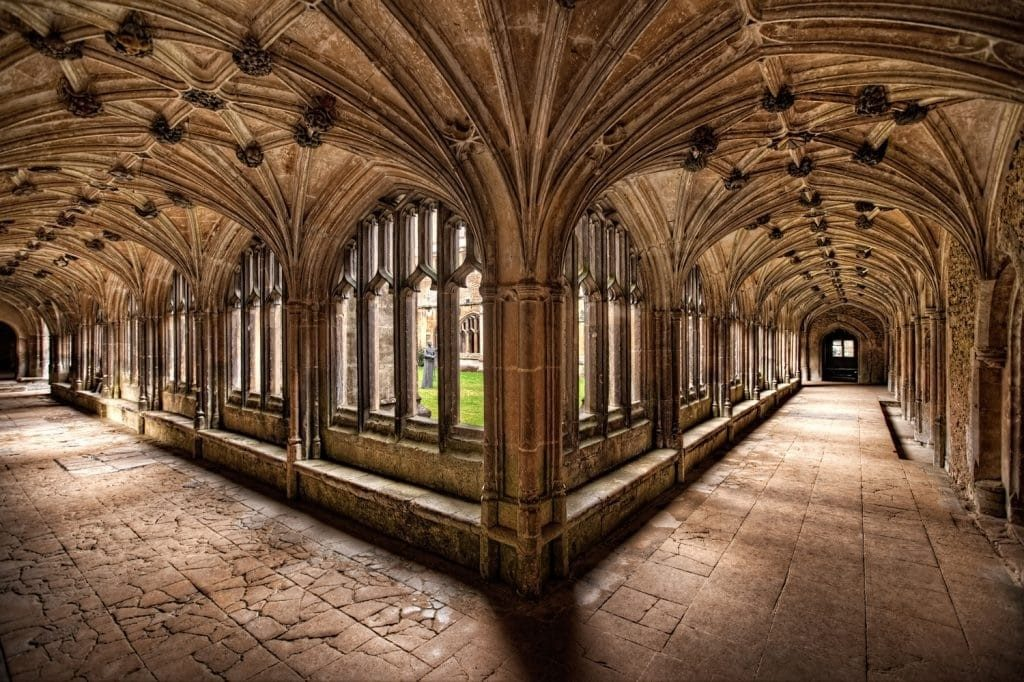 This magnificent, medieval abbey contains cloisters used in many famous corridor scenes (think Alan Rickman stalking along the corridor, robes billowing majestically out behind him), and the interior was used as Quirrell and Snape's and classrooms in the early films where we learnt how to bottle fame, brew glory, and even… put a stopper… in death.
Make sure you read my complete Harry Potter Filming Location Guide to Lacock Abbey before visiting!
10. Alnwick Castle, Northumberland
This 11th century castle might look familiar to you as exterior shots of Hogwarts during Harry's flying lessons and Quidditch matches. If you've always wanted to learn to fly a broomstick but didn't want to wing it, there's no need to fly off the handle.
You can take a flying lesson in the same part of the Hogwarts grounds that Harry did, happily surrounded by other Potter fiends who aren't going to judge you if you fly like Neville.
11. Christ Church College, Oxford
It should come as no surprise that the hallowed halls of Oxford featured heavily in Harry Potter. The Great Hall at Hogwarts was inspired by Christ Church's own, and the college's staircase is the same as that upon which Professor McGonagall first met Harry, Ron, and Hermione upon their arrival at Hogwarts.
12. Bodleian Library, Oxford
The resplendent Bodleian library was also used to shoot the hospital wing and library scenes, including the restricted section (although this section- the Duke Humfrey's Library- is likewise off limits unless you book a private tour or pull a Harry and don an invisibility cloak).
13. The Elephant House, Edinburgh
While many Edinburgh cafes claim to have seated JK Rowling, The Elephant House has proof in the form of photos and quotes from Queen JK herself that she used to frequent the back room overlooking Edinburgh castle to write her beloved series.
Many writers, dreamers, and fans have travelled to the nondescript coffee shop in order to gain inspiration. If you decide to follow their footsteps, be sure to pay a visit to the toilets (yes, it sounds odd to me too but the walls, ceiling and windows have been graffitied with messages from thousands of adoring fans, which the café owner has long since given up trying to remove).
Once you've found your creative inspiration inside this little cafe, hire a car in Edinburgh and venture to some of the most magical landscapes around Scotland which feature throughout the movies.
14. Gloucester Cathedral
This Cathedral was built in the 11th century; about the same time that Salazar Slytherin was building the Chamber of Secrets. Which is apposite for the hallway in which the bloody words 'the chamber of secrets has been opened" were written in the second film (thanks Ginny).
Watch out for the ghosties and ghoulies when you pay the cloisters a visit, as if you hear odd noises, chances are it's a sobbing Moaning Myrtle or a troll loose in the bathroom.
15. The Jacobite, Scotland
For a befitting end to the tour, catch the Muggle-world equivalent of the Hogwarts express- the Jacobite steam train. This runs along the West Highland line, and is the train used in the movies. The line begins near the highest mountain in Britain- Ben Nevis. It concludes near to the deepest seawater loch in Europe- Loch Nevis.
It has been described as the greatest railway journey in the world, and I'd have to agree for the flying car scene over the sweeping vistas of the Glenfinnan Viaduct alone.
Harry Potter locations outside of the UK
There are many more enchanting Potter destinations one could visit outside of the UK, so I couldn't resist including one on this list!
16. Livraria Lello, Porto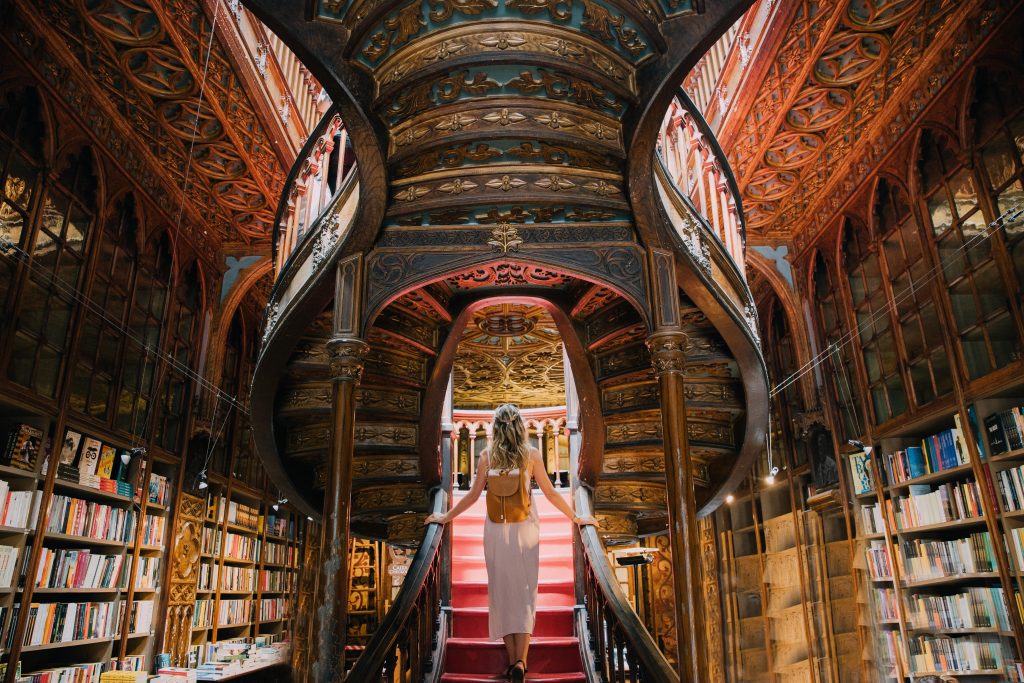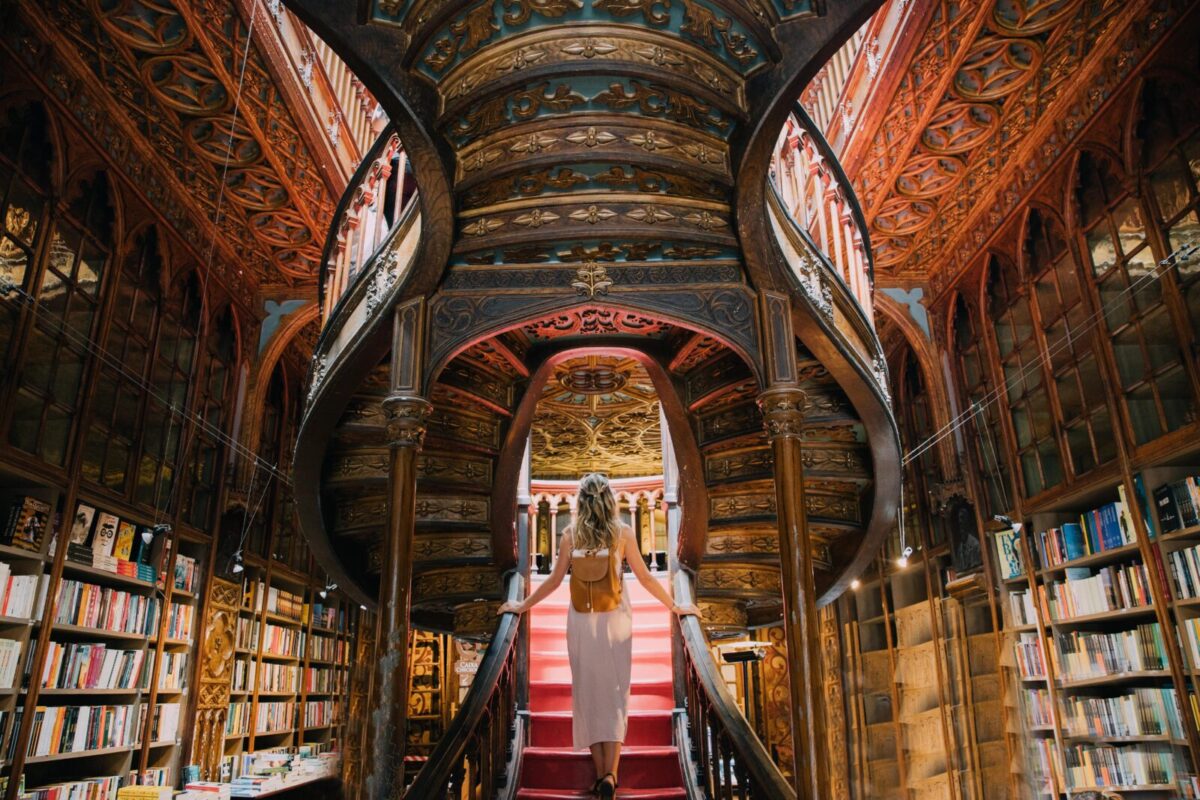 The bewitching Livraria Lello is in located in Porto, where Rowling lived and taught English in the early 90s, and apparently is the inspiration for much Hogwarts architecture.
One can see why the neo-Gothic Art Deco blend captivated Rowling with its curved, grandiose stairs, striking mouldings, and stained glass illuminating a plethora of books. It's easy to see how this beautiful, whimsical store of knowledge could provide inspiration for such rooms as Dumbledore's office.
Do you have any other Harry Potter places to visit? Let me know in the comments below!
READ NEXT:
Enjoyed this guide to Harry Potter places to visit? Pin it for later!