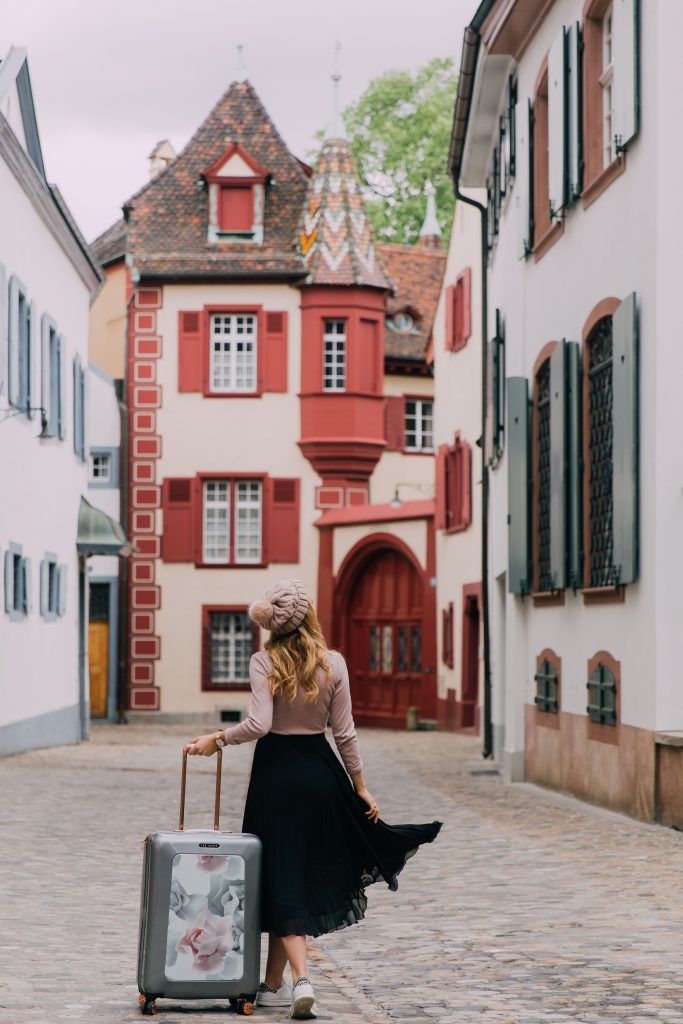 Pre-departure preparation has to be one the most ominous parts of travelling. Attempting to coordinate how many pairs of underwear you will require whilst deciding if Ryanair will notice your bag is 2kg over the limit can get very stressful.
With such burdens on your shoulders, it is almost impossible to recall everything you should put on your pre-travel to-do list. But fear not! I've compiled a list of 10 tricks to follow BEFORE you depart, so you can be travelling like a pro in no time.
1. Be over-prepared
We'd all like to hope for the best, but in the case that you get mugged and have all your travel documents stolen, or you trip and drop them in a big puddle of mud, it's ALWAYS necessary to have plenty of backup.
Make printed copies of all your passport, insurance information, plane tickets, itinerary and any other important forms to store in a separate place then the ones you carry with you. Also, take photos of all your travel documents and store them on your phone (try use cloud storage in case you are really unlucky and your phone gets nicked as well!).
If you or someone in your travel party has mobility challenges, pre-planning becomes even more vital. It's necessary to research destinations in advance to ensure their accessibility and potentially arrange suitable transportation, like wheelchair accessible vehicles.
2. Seal the deal
Everyone knows that deep, dark sinking feeling you get when opening your toiletries bag and see that your shampoo has spilt EVERYWHERE. Save yourself the heartache.
Seal up all your leaky toiletries before you leave- put glad wrap over the tops of bottles and then screw the caps on over the top, then secure all your liquids in a snap lock bag. It will be SO worth the effort.
3. Bring a pack of cards
Cards are like the Ryan Gosling of games. An instant crowd-pleaser and a constant source of entertainment. Even if you are not much of a card-playing person, having a pack of cards when you are travelling will be worth its weight in gold.
4 hours wait for your next flight and all your devices are dead? Whip out the cards. Need to make some new friends at a hostel? Play a card game together to break the ice (Kings Cup anyone?). Or, if you REALLY want to impress them, learn a card trick. To be honest, that could go either way…
4. Back it all up
With the amount of phones, iPads and laptops getting stolen or going missing in the midst of travel, backing up all your photos and documents before you leave should be super high on your to-do list.
Don't risk losing every memory you've stored (and every selfie you've taken) on your device, back them all up to a computer or a hard drive that you leave at home.
5. Go download crazy
Finding internet when you are travelling is nothing short of a mission. Finding RELIABLE internet when you are travelling… You might as well be looking for snow in the Sahara Desert (it has happened in the past, if that gives you any glimmer of hope.)
Point being, your best bet is to go to town on downloads on your phone BEFORE you leave home. Don't forget to load up with the all the useful travel apps like a language translator, currency converter, units converter, google maps and destination guides.
6. BYO Water bottle
Ain't nothing worse than blowing a day's travel budget on a SINGLE BOTTLE OF AIRPORT WATER. To avoid this happening at every single security screening you go through, bring a nice big empty bottle of water and fill it up once you are past security.
Most airports have water fountains scattered around the terminals. Unless of course you're in a slightly, uh, dodgy airport, then it's probably not worth the risk of spending the duration of your flight in the bathroom.
7. Buy yourself sleep
You would think of sleep as one of those entities that money can't buy, right? Go spend a night in a noisy hostel in Spain where the light streams in the window at 5am. Now add earplugs and an eye mask to the equation.
Two magic accessories you can buy that will in turn buy you SO MUCH MORE SLEEP. Unless you are a superhuman immune to sound and light when you sleep, you will NOT regret making these two little purchases.
Alternatively, look into more comfortable sleeping options like Sonesta weekly hotels. You can normally get discounted rates for extended-stay hotels, and these tend to be very quiet, peaceful environments to catch up on sleep/

8. Save your phone bill
Every dollar counts when travelling. So want a super easy way to save money? Stop paying your bills! Wait, let's rephrase that. Don't stop paying all your bills, you might get in trouble.
But as for your phone bill, most phone companies will let you suspend paying off your plan for up to 3 months. Also, turn off mobile data the minute you leave the country or you might have a VERY nasty phone bill waiting for you at home.
9. Put locks on everything
Okay, this may sound excessive. But locking all your bags, or at least bringing locks for your bags can seriously put you at ease when you are travelling. Thieves are damn sneaky, and can catch you out when you least expect it.
Plus, if you use a lock with a tether, you can tie up your bags when you are waiting for your plane/ train/ bus and you can grab yourself some precious shut-eye without worrying about someone nicking off with your things!
10. Buy a one-way ticket
Because, let's be honest, no one REALLY wants to go back to mundane life after travelling the globe. Buy a one-way ticket and the problem is solved, you can now tan and drink mojitos for the rest of your life!
This post first appeared on The Collective by Topdeck Travel