From visiting grand castles to learning how to make soba noodles, these are the best thing to do in Matsumoto, Nagano in Japan.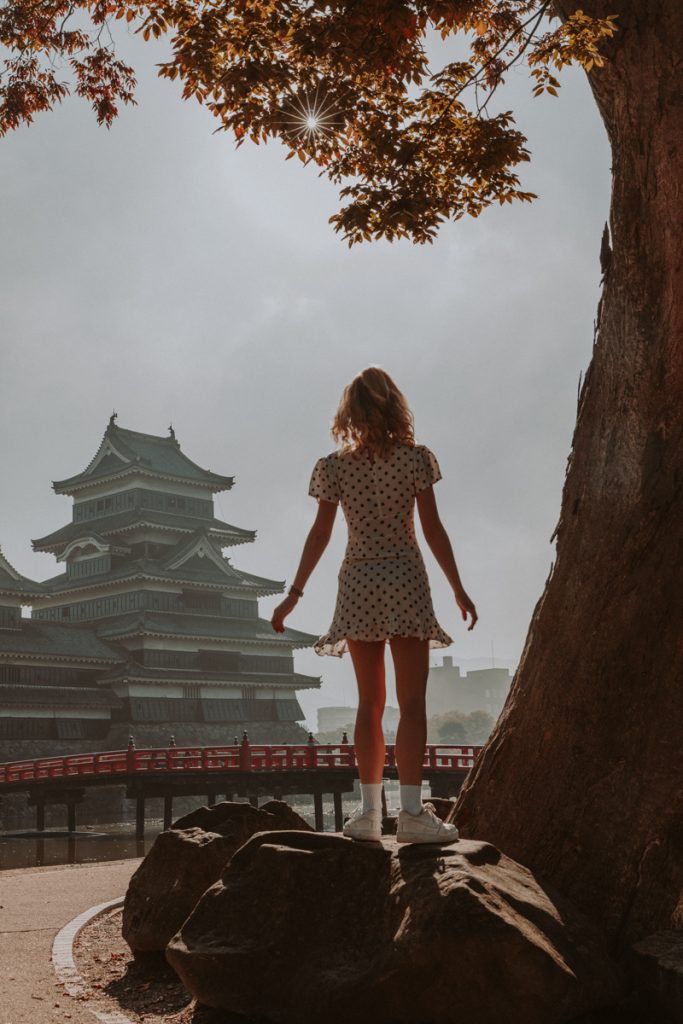 Matsumoto is the second-largest city in Nagano Prefecture and the gateway to the Japanese alps. Cradled by mountains, the city is home to one of Japan's most picturesque castles, and to a strong arts and crafts culture. It's a great city to stay entertained in for a few days, or to use as a launching pad to explore the surrounding regions such as Kanazawa.
If you are visiting Matsumoto, Nagano for the first time, I'd recommend getting a private walking tour from a local guide. This will give you a solid overview of the city and allow you to get your bearings before exploring further!
5 things to do in Matsumoto, Nagano:
1. Climb Matsumoto Castle
Built-in the late 16th century, Matsumoto Castle is among the oldest surviving castles in Japan. Visiting this caste is easily one of the best things to do in Matsumoto! The striking five-story structure is situated on a picturesque lake with a stunning backdrop of the alps. You can actually enter the castle and climb up all five stories of ridiculously steep steps. From the top, you can peer through the narrow windows to get some nice views over the city.

2. Take a Soba Noodle Making Workshop
One of my favourite ways of diving deeper into the culture of a place is through its cuisine, and doing a cooking workshop provides a great way of doing this. At Takagi, you can learn to make soba noodles completely from scratch from a soba master. The best part is then you get to go down to the restaurant and eat the soba you just made!
3. Try craft beer at the Matsumoto Brewery Tap Room
Japan has been known worldwide for its beer for a long time, but, just recently, craft beer has become very popular. Matsumoto Brewery Tap Room is a cozy spot to sample some of the country's great craft beer on tap and they are always coming up with inventive flavours. I tried a grape-flavoured IPA when I visited which was surprisingly good (and that's coming from a non beer-drinker!)
4. Find out how miso is made at the Ishii Miso Brewery
If you are a fan of Miso (aka the soybean paste that is one of the most essential ingredients in Japanese cuisine), take a visit to the Ishii Miso Brewery. Founded in 1868, this is one of the only places that still produce miso through a unique traditional and natural method. Take a visit to brewery to see how their Miso is made, then head to the store to sample some of the miso products offer, all featuring some of the finest miso in Japan.

5. Visit the Yayoi Kusama Exhibition at the Matsumoto City Museum of Art
Matsumoto is the birth place of the famous Japanese artist Yayoi Kusama, who is known worldwide for her eccentric polka dotted artworks. The museum has a permanent collection of her work titled "The Place for My Soul", which is a fascinating glance into her life as an artist.
Best places to stay in Matsumoto, Nagano:
For a traditional Japanese inn experience in Matsumoto, I would recommend staying at Tsuki no Shizuka Ryoken. This Ryokan is located slightly outside of Matsumoto, however, the city can be accessed easily via public transport. The property is equipped with a traditional hot water spring bath and a fabulous restaurant. Rooms start at $73 per night.
Exploring Japan? Read these articles next:
Enjoyed this guide to the best things to do in Matsumoto? Pin for later!