Want to start your own travel blog but don't know where to begin? Simply follow this step-by-step guide and you'll have a travel blog live in no time!
1. Pick a Name for Your travel blog
Picking a name is one of the most important steps to starting a travel blog. It can also be one of the hardest steps. It's worth taking the time to pick the right name as you want to avoid changing names down the track!
Tips for coming up with a travel blog name:
Brainstorm like crazy– Write down every single world that you can think of relating to travel/ the niche of your blog. Try out different combinations of words to figure out what sounds and looks catchy.
Think outside the box– Try your best to avoid clichés like "Wanderlust" and "Explore". These words have been used to death so may not stand out from the pack. Experiment with words that are a little more unique!
Choose something memorable- Above everything, you want your name to be catchy enough that people will actually remember it. Using things like alliteration or rhyming can help with this!
Don't pick anything TOO obscure– The key is having a name that people will remember, so make sure it isn't too long or difficult to spell.
Don't pick a name that you will grow out of- Many travel content creators make the mistake of choosing a name that is too specific and doesn't allow room for growth. For instance, putting the word 'budget' is your name limits you from covering higher-end travel experiences down the line.
Get help from others– It is always very useful getting a second, third or even eighth opinion! Write down your top 5 names and then ask your friends and family to pick their favourites.
Check the name is available– Before you get too excited about a name, check that the URL and social handles are all available!
Be sure that you love it– Whilst everything else above your brand can evolve in time, your name is not something you want to change down the track. Make sure you pick something timeless that you really love.
2. Sign up for a blogging platform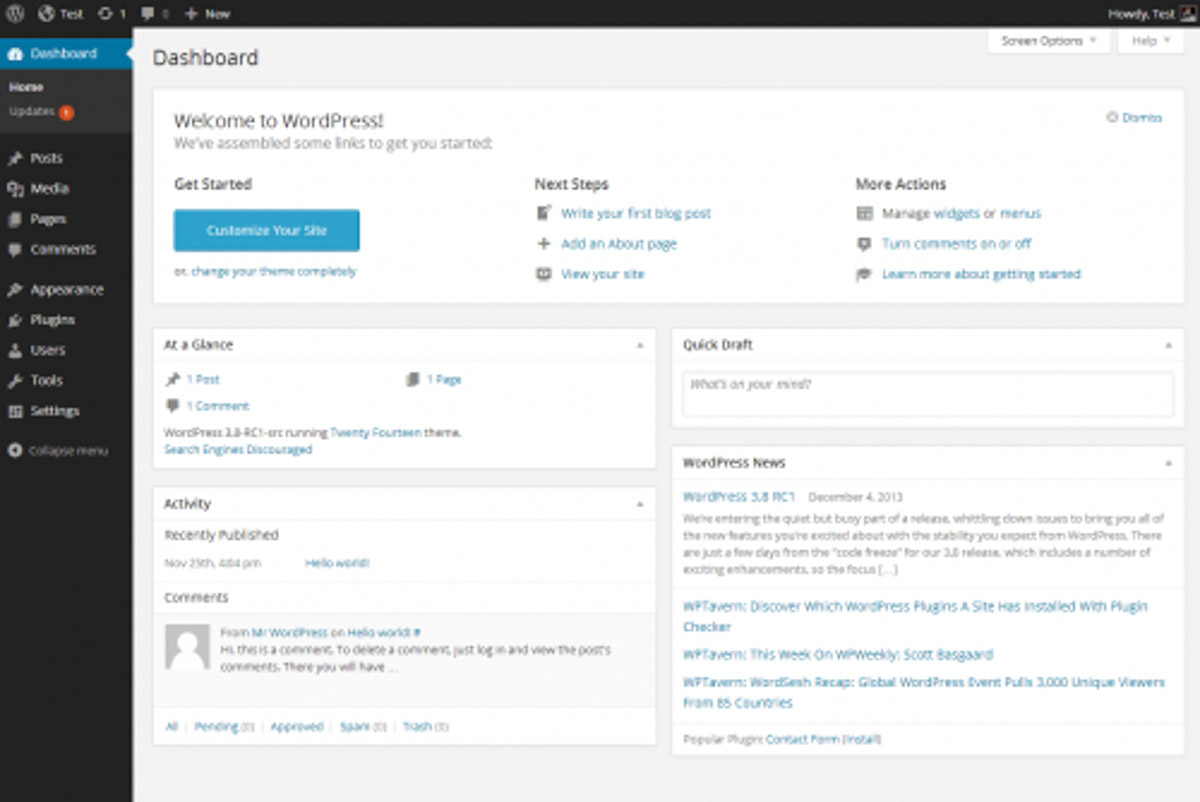 Although there are many free and easy-to-use blogging platforms available, I would highly recommend using a self-hosted WordPress.org account. This is the platform that I personally use and what 90% of professional travel bloggers use.
Choosing this option will require you to invest some time and money in your blog, but I promise that it will be worth the investment in the long run.
If you've already started a blog on another platform, you can switch over to WordPress.org fairly easily without losing your data. There are lots of tutorials that will show you exactly how to do so.
Why I recommend using WordPress.org:
You OWN your site and all its data
You have a custom URL
You have full control to install custom themes and plugins
You can monetize your site with advertising
You have access to tools such as google analytics
3. Get web hosting
Web hosting is like renting a house. Instead of renting physical space, you are renting virtual space on the internet which stores all the files that make up your blog! Just like rent, the cost of hosting can vary greatly.
The good news is, even if you don't have a lot of money to invest in starting up your blog, there are lot of budget-friendly hosting options out there.
The cheapest hosting that I've come across and would recommend for starting your blog is HostGator. They offer plans for as little as $3.46 a month, including a domain name, which is by far the lowest price I've seen.
Step-by-step instructions for getting hosting:
1. Getting Started
Firstly, head over to HostGator and you should see the screen below appear.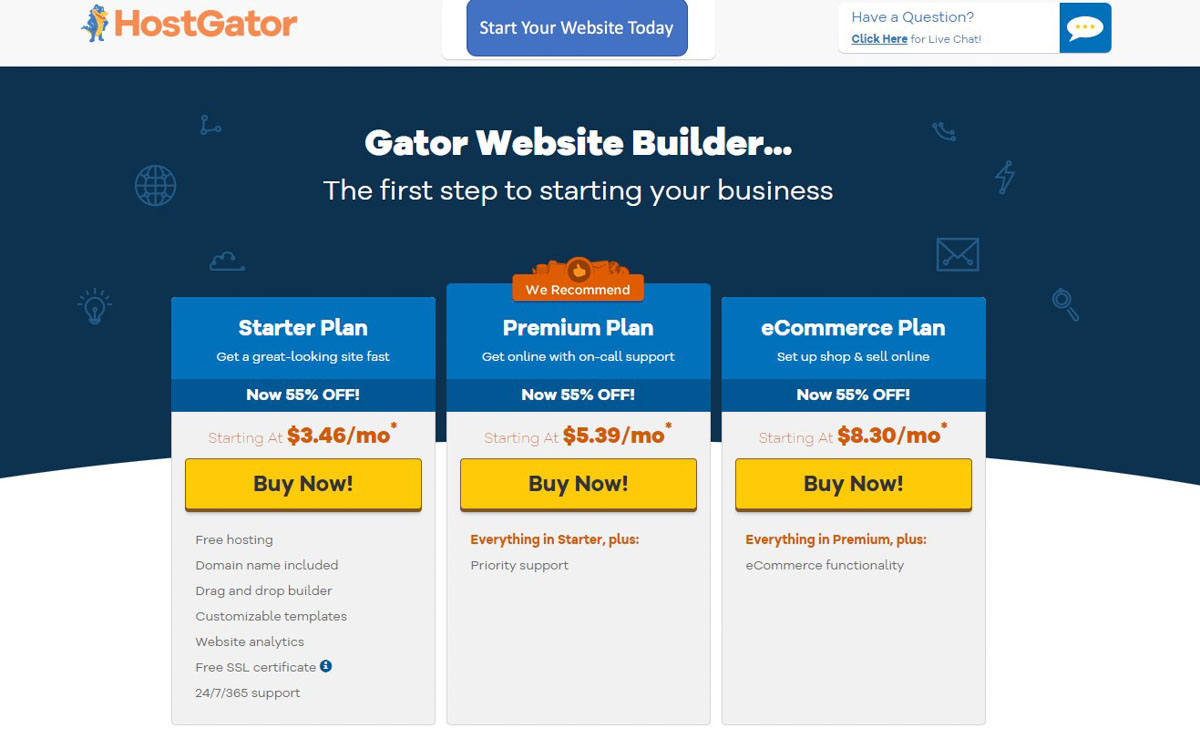 2. Select your domain
Now, you'll need to select a domain name for your site, which is included in your web hosting package. If you already have one, click the button that says "Already own a domain? Connect it here."

3. Choose your plan
Select the plan you would like. For starting out, the best value plan is the Express Start billed monthly on a 2-year plan.

4. Enter username and password
Sign up with a username and password, or sign in through google or facebook if you prefer.
5. Fill out billing information
Fill out your payment method and billing information. Scroll down to order summary and under coupon code, enter "GATORMODEL" to get 55% off. Click confirm and you'll be set!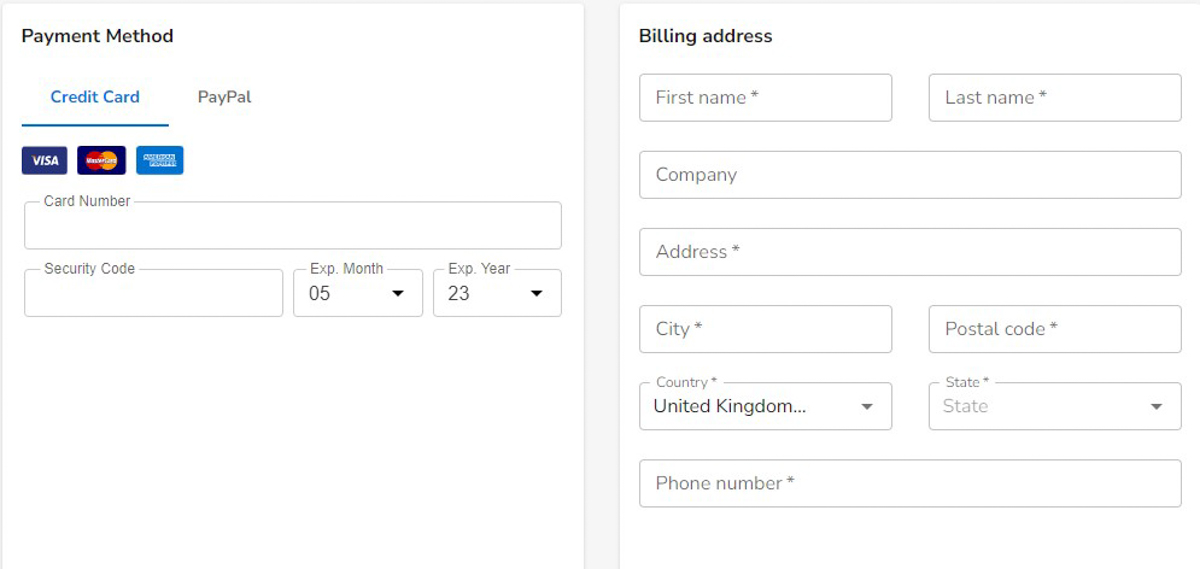 4. Get WordPress Running
Now you've purchased your hosting, head to your C-Panel and click 'WordPress Installer'. Follow the instructions and in minutes, you'll have your site set up and ready to rumble.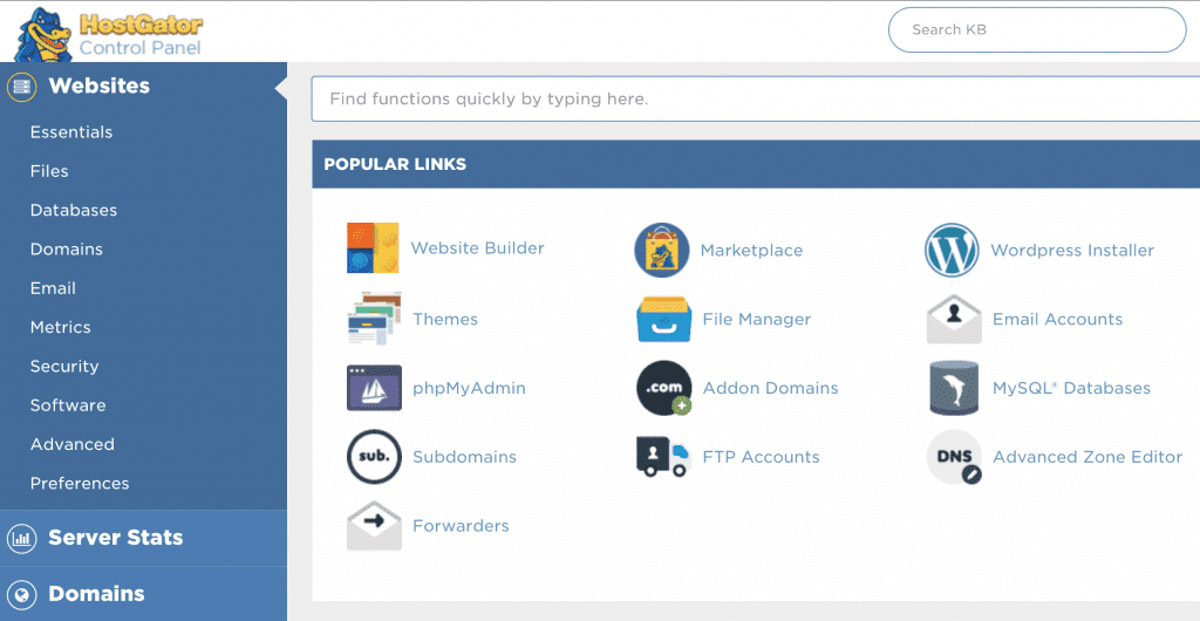 Once WordPress has been installed, you'll be given information on where to access your WordPress login, username and password. Now, you can sign in to your WordPress at http://yourdomain.com/wp-admin.
4. Install a Theme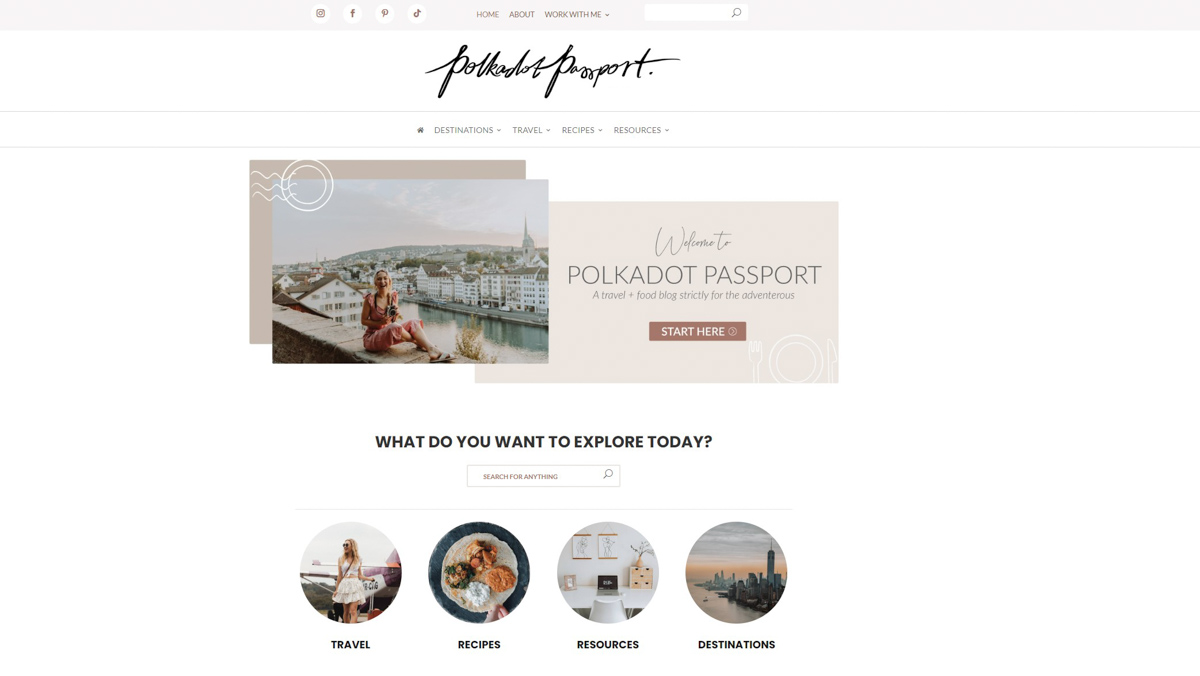 We've got the technical part of the blog setup out of the way, so it's time for the fun part! WordPress had a plethora of fantastic, easy-to-customize themes on offer, meaning you can get your blog looking professional in no time.
If you are strapped for cash, there are plenty of free themes that are simple to set up. However, I do think it is worth investing in a premium theme as you'll get much better functionality and customization.
Recommended theme for a travel blog: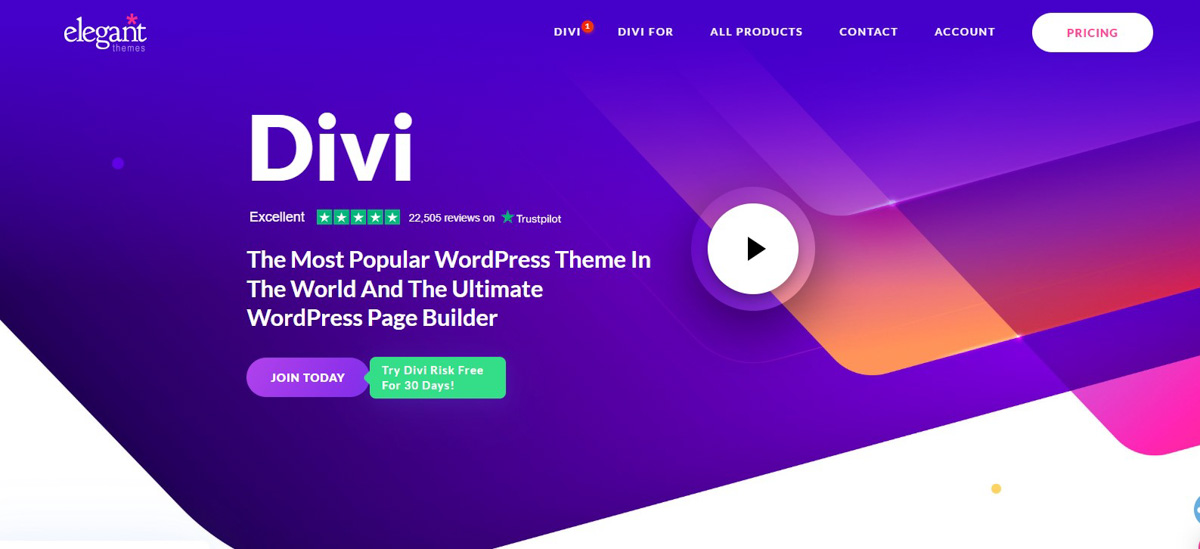 I personally use Divi Builder as it has tons of pre-made templates to choose from, incredible customization and great customer support. Divi offers a 30-day money-back guarantee so I would recommend giving it a go to see if it's a good fit for your travel blog.
Try out Divi Builder risk-free for 30 days
5. Install Plug-Ins
Plug-ins are the keys to customizing your new blog. They are pieces of software you can install to add extra functionality to your blog to take it to the next level!
Essential plug-ins to install on your travel blog:
Wordfence– adds an extra level of security to your site to protect it against spam and hackers
Yoast– the best plug-in for SEO Optimization (read this intro to SEO if you have no idea what that is)
WP Optimize– Keeps your site running smoother and faster by deleting unused data
Google Analytics Dashboard– Keeps track of your traffic and gives you deleted analytics on who is visiting your site
Social Media Sharing– Connecting your social media accounts to your blog is a must!
6. Start Blogging!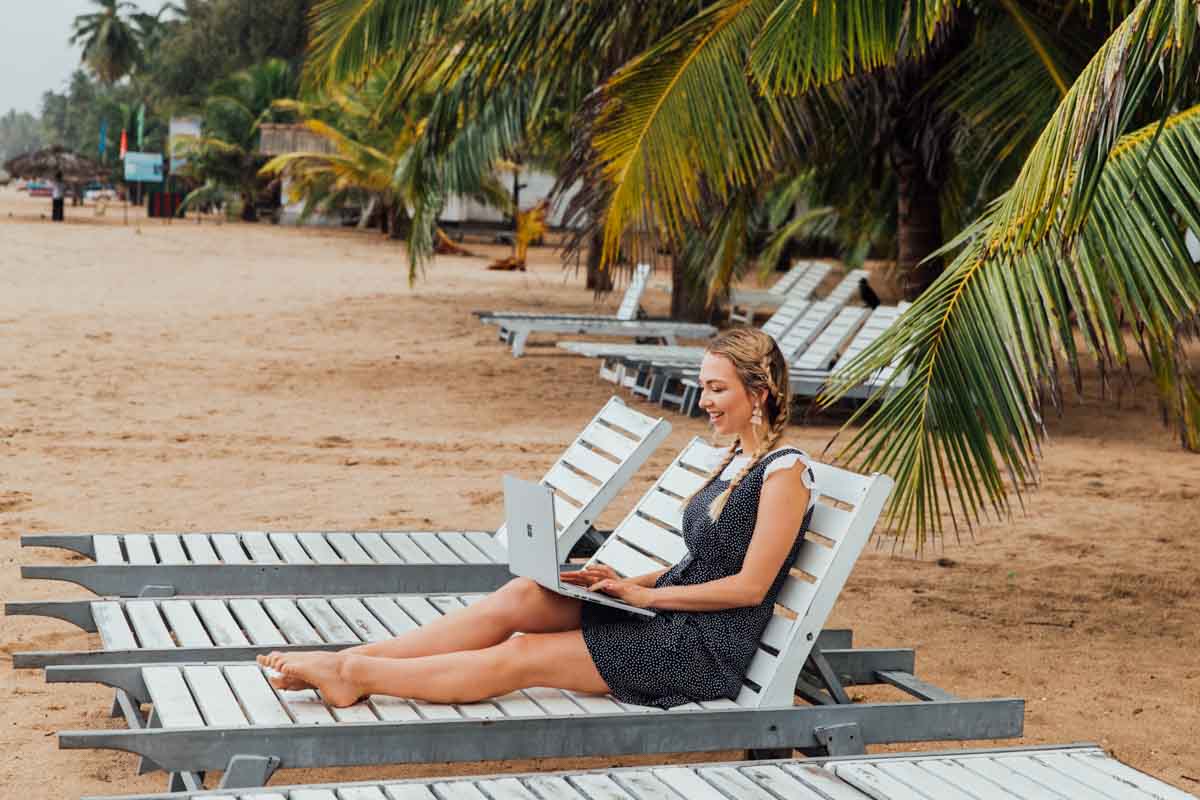 Now it's time to create content! Remember, starting a blog doesn't mean you are going to attract thousands of readers overnight. It takes time and patience.
Here are a few key tips when starting the blogging journey:
Create quality content- Creating unique, high-quality content is the single most important thing to invest your time in. Give people a reason to read your travel blog over the millions of others that already exist on the interwebs!
Be authentic- People read travel blogs as they want REAL advice and recommendations. Be honest, authentic and don't be shy about injecting your personality into your writing!
Stay consistent- Create a posting schedule, whether it's daily, weekly, fortnightly or monthly! Just remember, the more your post, the quicker your blog will gain traction.
Don't do it for the money- Blog because you love travel blogging or you'll find yourself burnt out very quickly. You can make great money off having a travel blog, but it take a lot of time and commitment.
Don't get discouraged- Like everything, good things come to those who wait. Don't lose hope if you aren't attracted thousands of readers to begin with… These things take time. Don't get caught in a trap of comparing yourself to other bloggers- everyone is at a different stage and if you want to succeed you need to focus on your own journey.
7. Get your Travel Blog out there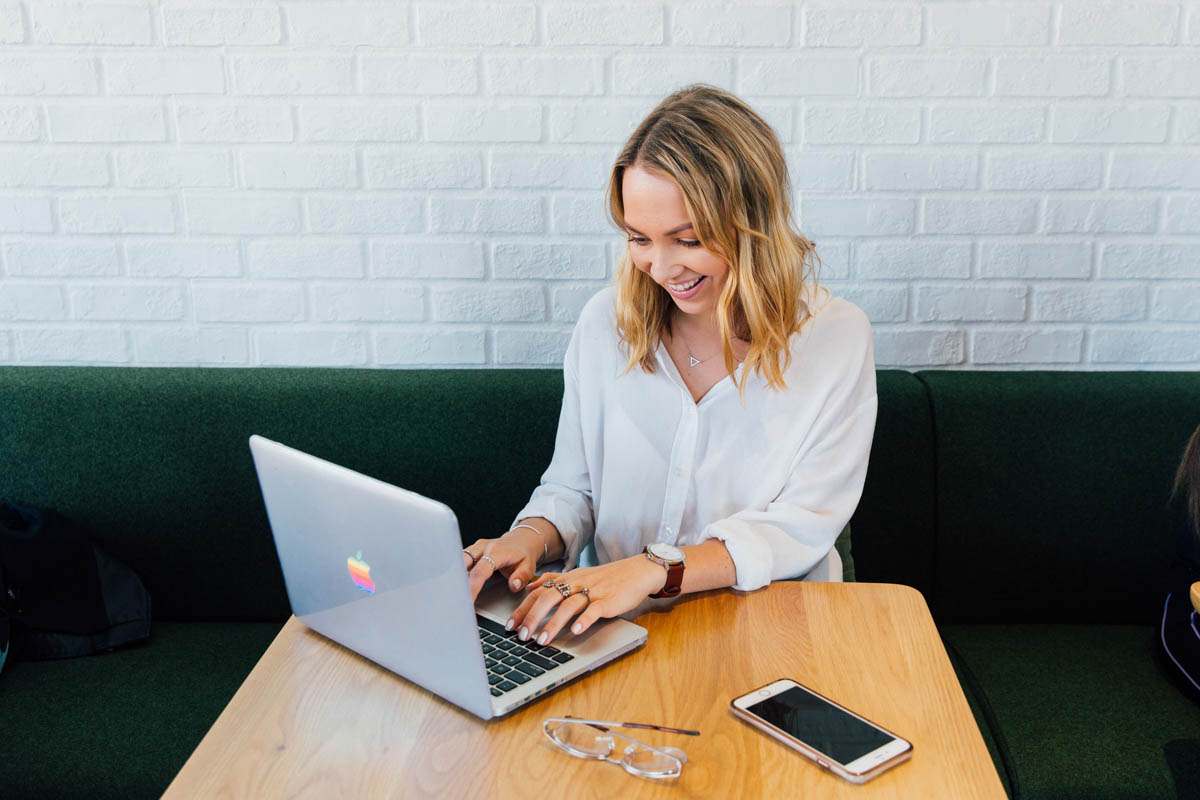 Now you've started your awesome blog, it's time to find some people to read it! There are a few key ways of getting your blog out there. Remember, patience is key, and although it may take some time before you see traffic flooding through, it will be worth it in the long run!
Be active on social media- As soon as you decide on a name, make sure you get the handles on every social media channel you can. I would suggest focusing on just a couple of social media channels to begin with and figure out what works best for you.
Get SEO Savvy- If you aren't familiar with SEO (Search Engine Optimization), it is an algorithm that determines how highly your blog ranks in search engine results. It is the single most important tool for driving traffic to your blog. Learning basic SEO may be one of the most beneficial things you can do when starting a blog.
Create community- Community is SO powerful when it comes to the travel blogging world. Join blogging groups on Facebook (eg. Ultimate Travel Group, We Travel We Blog, We See The World Bloggers), connect with other bloggers both online and in real life. Not only will this build up your blog's community, you will also learn so much by connecting with experienced bloggers!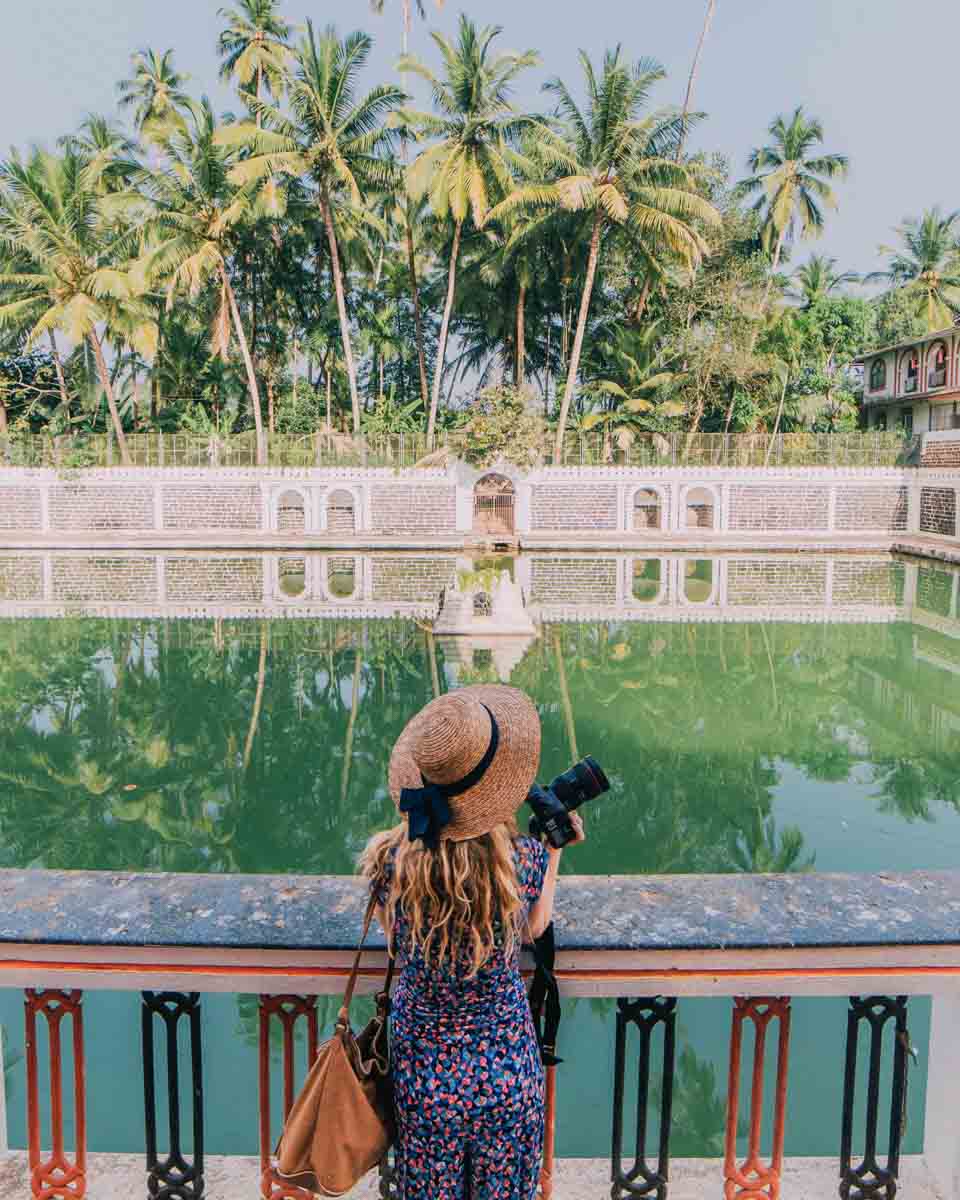 I do hope this guide has helped you realize starting a travel blog isn't as daunting as it seems. If you've recently started a travel blog or this post has inspired you to do so, comment below with your blog's URL so I can check it out!
For more tips on blogging, read these next:
Enjoyed this guide to starting a travel blog? Pin for later!