Barcelona is undeniably home to some of the beach clubs and bars in the world. These are the spots to visit if you want to experience the city's vibrant nightlife!
Disclosure: This post contains affiliate links, which means I make a small commission at no extra cost to you if you kindly choose to book via my links!
Barcelona is one of Spain's most popular destinations, thanks to its rich culture, delicious food and lively atmosphere. During the day, the city teems with tourists looking to visit some of Spain's most iconic attractions, like Gaudi's Basílica Sagrada Familia, Parc Güell and the Picasso Museum.
At night, Barcelona comes alive. In the height of summer, locals and visitors alike flock to Barcelona's fantastic selection of bars and clubs on the beach. Whether you are wanting to sip on cocktails at sunset or party all night long, Barcelona has a beachside venue for the occasion.
Fun activities to get the night started in Barcelona:
The best Barcelona beach clubs
If you are looking to experience the best nightlife in the city, these are the most iconic and exclusive Barcelona clubs on the beach to visit!
1. Opium Barcelona Beach Club
Opium, another Barceloneta hotspot, is arguably the most famous club in Barcelona on the beach. It welcomes DJs and visitors from all over the world to experience its unrivalled party atmosphere.
During the day, the restaurant at Opium serves up delicious Mediterranean cuisine. By night, this Barcelona beach club is heaving with house music, strobe lights and dancers. The club is open every night of the week, with specific nights dedicated to R&B, hip hop and top hits.
If you want a guaranteed fun night out in Barcelona without the hassle, you can book a Club Opium VIP Party Tour. The tour gives you free drinks and skip-the-line access to 4 different venues, finishing the night at Opium!
Things to know before you go: Make sure you check the minimum age limit for individual parties at Opium. Some are limited to those aged 21+ while others are suitable for 18+.
Location: Pg. Marítim de la Barceloneta, 34, 08003 Barcelona, Spain
2. Eclipse Bar, W Hotel Barcelona
Situated right next to Barceloneta beach, the iconic W Barcelona is an impressive contemporary landmark on the city's coastline. The towering hotel looks like the sail of a ship. It's renowned for delivering a luxurious guest experience and incredible ocean views.
The W is not just a hotel. It's also home to Eclipse, an elegant rooftop bar that sits on the 26th floor. The bar offers the most spectacular panoramic view, over Barcelona beach, and is the perfect spot to come for a sundowner.
Come nightfall, Eclipse turns into one of Barcelona's best beach clubs. The venue comes alive with performances from famous DJs and a pumping dance floor. The best part is this exclusive nightclub in Barcelona is open every night of the week!
Location: Eclipse Bar, W Hotel, Moll Oriental, 08039 Barcelona, Spain
3. Wet Deck, W Hotel Barcelona
For those seeking out the best nightlife on Barcelona beach, head to the Wet Deck. This pool and terrace hosts Sunday night pool parties throughout the summer. Wet Deck parties welcome some of the world's best DJs, such as Duke Dumont, Aphex Twin and Monki.
Things to know before you go: These exclusive pool parties in Barcelona are always incredibly popular. For the best chance of getting in, book a VIP table in advance. Keep in mind the dress code is smart, so dress accordingly to avoid getting turned away!
Location: Wet Deck, W Hotel, Moll Oriental, 08039 Barcelona, Spain
Read next: 10 Fun Things to Do in Barcelona – Ultimate Barcelona Bucketlist
Explore the best of Barcelona's Nightlife without the hassle:
4. Carpe Diem Lounge Club (CDLC)
CDLC is renowned for being one of the most sophisticated clubs in Barcelona on the beach. It's situated in a prime position on Barcelona's most famous beach, Barceloneta. By day, CDLC serves as a restaurant and lounge where you can enjoy delicious Mediterranean-Asian fusion dishes and exotic cocktails.
When midnight comes around, look out for the custom outdoor neon signs as CDLC transforms into a nightclub. Deep house, tech, hip hop, reggaeton and R&B play until the early hours of the morning. The best part is, you can party at this renowned Barcelona beach club every day of the week!
Things to know before you go: If you want the VIP clubbing experience in Barcelona, pre-book a table or series of lounge beds at CDLC. The exclusive VIP zone is the ideal place to enjoy the beach club's atmosphere with a little extra privacy and premium service.
Location: CDLC, Pg. Marítim de la Barceloneta, 32, 08003 Barcelona, Spain
5. Pacha Barcelona Beach Club
If you're looking for a Barcelona beach club that offers Ibiza-style party vibes, you need to visit Pacha. Think futuristic vibes, ultra-modern white décor and pops of red to match the iconic Pacha branding.
This renowned Barcelona beach club has an idyllic terrace right in front of the sea. Here, you can enjoy food from the restaurant throughout the day and into the early evening. Or, simply come to order a cocktail, soak up the atmosphere and escape the heat of Barceloneta beach.
By night, the venue transforms into a thriving club with different music styles for every day of the week. Pacha hosts DJs and musicians from all over the world so look out for its special events.
Location: Pacha Barcelona, C/ de Ramon Trias Fargas, 2, 08005 Barcelona, Spain
Best Beach Bars in Barcelona
If you're looking for a more relaxing spot for a drink or a bite to eat, Barcelona is home to many incredible beach bars. In Spain, these beachside establishments are called chiringuitos!
6. Vai Moana Beach Bar
For an island escape right on Barcelona beach, pay a visit to Vai Moana. This fabulous beach bar is decked out with Polynesia-inspired decor and offers a relaxed atmosphere to enjoy some food or a drink.
The all-day food menu offers a range of nutritious dishes for breakfast, fresh sandwiches and salads for lunch or tapas to share in the evening. On the drinks menu, you'll find a fun selection of fresh, fruity signature cocktails alongside all the classics.
If you want to make the most of lounging on the beach, the bar even offers sunbeds for its customers. This offering alone makes the beach bar in Barcelona worth visiting!
Location: Av. del Litoral, s/n, 08005 Barcelona
Want to eat & drink your way through Barcelona? Try one of these:
7. Jefferson Beach Club
Offering idyllic views over Barceloneta Beach, Jefferson Beach Club is another favourite hang-out spot in Barcelona. The relaxed atmosphere and Hamptons-inspired decor attract a young, hip crowd.
Come here to try the signature coconut and chilli margarita- it really goes down a treat. If you're hungry, the paella is another Jefferson Beach Club speciality. Alternatively, the tapas menu offers a great selection of typical Spanish dishes.
Keep in mind, the Jefferson (as well as a number of Barcelona beach clubs) closes over the winter. Make sure you check the website before visiting!
Location: Av. del Litoral, s/n, 08005 Barcelona
8. Bambu Beach Bar
If you want to visit a Barcelona beach bar where the locals actually hang out, come to Bambu. This laid-back venue directly overlooks the glistening ocean and is a popular spot to go for both food and drinks.
Bambu features a fabulous bar, offering cold beer, gin and tonics, frozen margaritas and more. As for food, the menu caters for all tastes. You'll find a range of internationally-inspired sandwiches, classic burgers or small dishes to share.
Bambu Beach Bar does get very busy and doesn't take bookings. I'd recommend coming early or at off-peak times if you want to secure a table. Keep this in mind when you visit!
Location: Ronda Litoral, s/n, 08005 Barcelona, Spain
9. Xiringuito Escriba
This family-run chiringuito was opened back in 1992, and to this day is still one of the best beach bars in Barcelona! Positioned right on the beachfront, this relaxed restaurant is a great spot for summer dining or a cocktail.
Not only is Xiringuito Escriba in a prime beachfront location, it also offers some of the most authentic Spanish food in the area. The restaurant is particularly famous for its paella, made with the freshest seafood imaginable. They also have a delectable range of homemade cakes for a sweet finale to the meal.
Location: Xiriguito Escriba, Av. del Litoral, 62, 08005 Barcelona, Spain
10. The Coconut Club Barcelona
Situated in Villa Olimpica, The Coconut Club is a relaxed, Miami-style beachside bar and restaurant. Here, you'll be whisked away to a tropical paradise filled with Caribbean foods, cocktails and music.
Come here from Wednesday to Friday for the lunch special to get a plate of food for just €9.99. Think pulled pork burgers, Cuban rice platters and Caribbean-inspired burritos. Or, soak up the buzzing atmosphere in the evening while sipping on a mojito or a pina colada!
Location: The Coconut Club, C/ de Ramon Trias Fargas, 2, 08005 Barcelona, Spain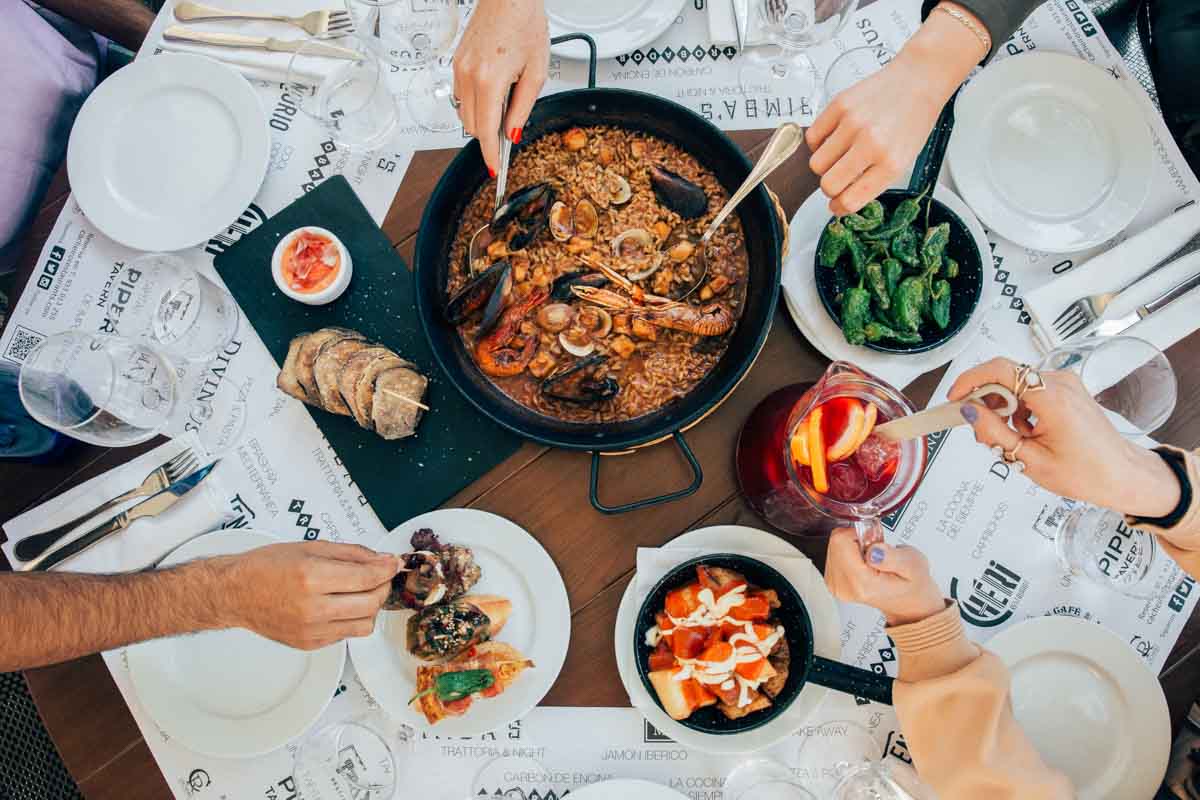 If you're visiting Barcelona, be sure to stop by at least one of these beach clubs to see the very best of this city's nightlife!
Visiting Barcelona? Read these next:
Like this article on Barcelona beach clubs and bars? Pin it!