This one-day itinerary of Vienna will take you through how to get around, what to see and where to stay when visiting Vienna for the first time!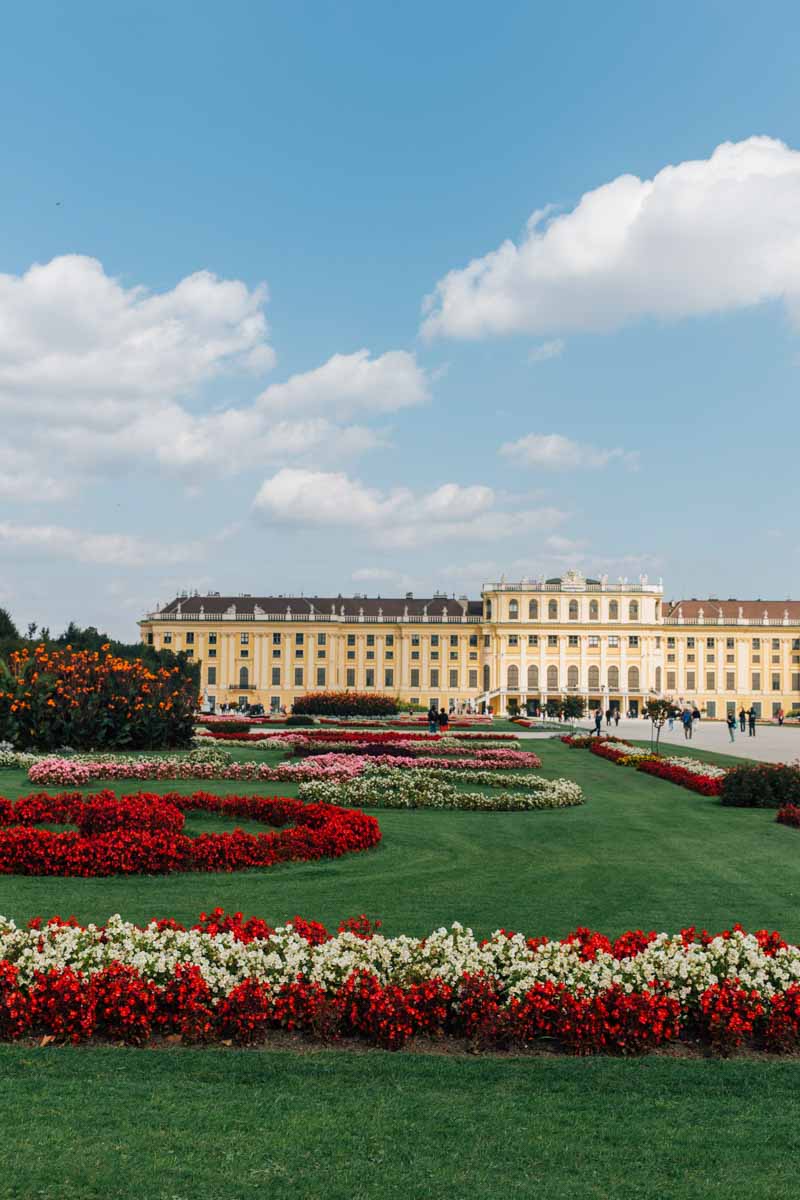 Disclosure: This post contains affiliate links, which means I make a small commission at no extra cost to you if you kindly choose to book via my links!
Vienna, Austria's imperial capital, exudes an unparalleled sense of sophistication. It takes just minutes of walking around the city centre of Vienna to see this.
From remarkable historic buildings to fascinating museums, extravagant coffee houses to world-class classical music… It's easily one of the most culturally-rich cities in Europe.
Visiting Vienna for the first time can feel a little overwhelming, especially if you only have one day in this stunning city. This post will take you through everything you need to know to spend one day in Vienna!
How to get around Vienna's City Centre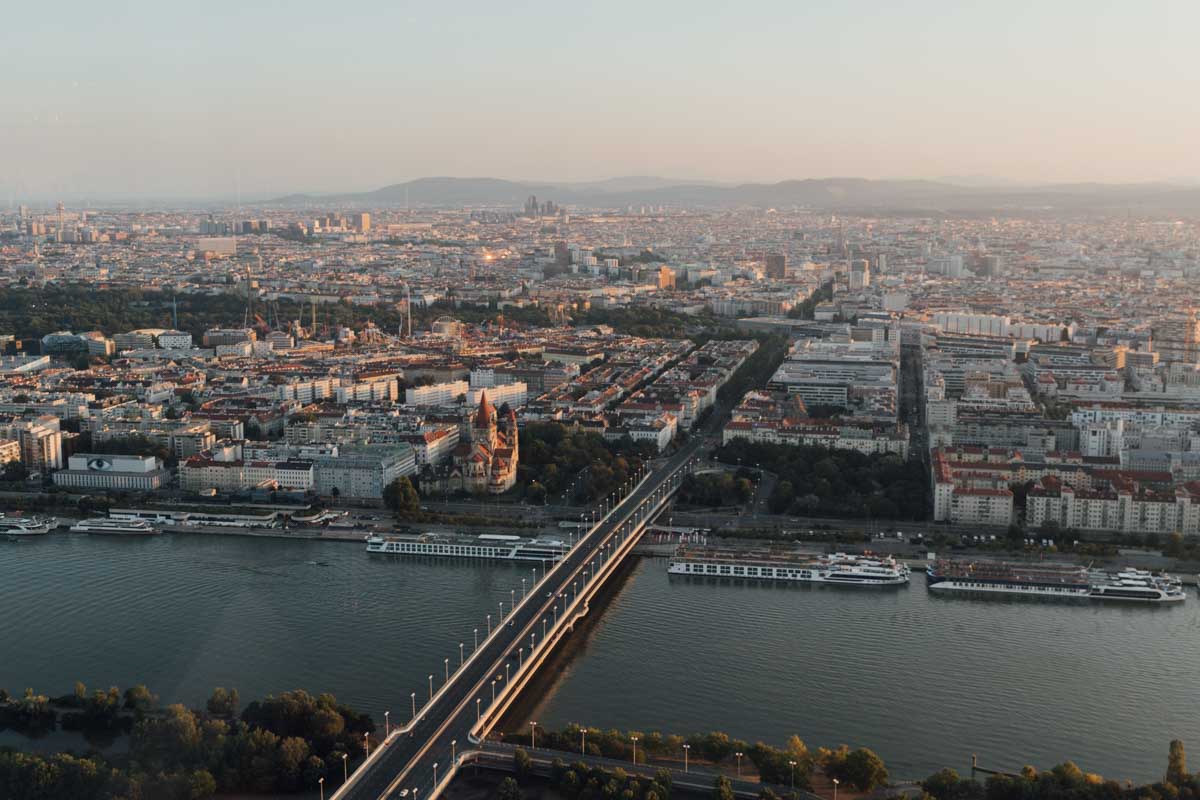 There is a lot to see on different sides of the city centre in Vienna. If you don't want to do a lot of walking around Vienna, the easiest way to get around is via the U-Bahn.
You can buy tickets at any U-Bahn station, or if you want to be more economical, pre-purchase a Vienna Card online to get unlimited public transport use for 24, 48, or 72 hours.
Is Vienna walkable?
Yes, Vienna is walkable! The city centre of Vienna is fairly compact, which makes it easy to walk or even bike ride around. In fact, there is one main ring road that encapsulates the city centre, so it is hard to get lost.
What to See in one day In Vienna
If you only have one day in Vienna, here are some of the highlights of the city centre that I would recommend checking out:
Viennese Breakfast at Café Central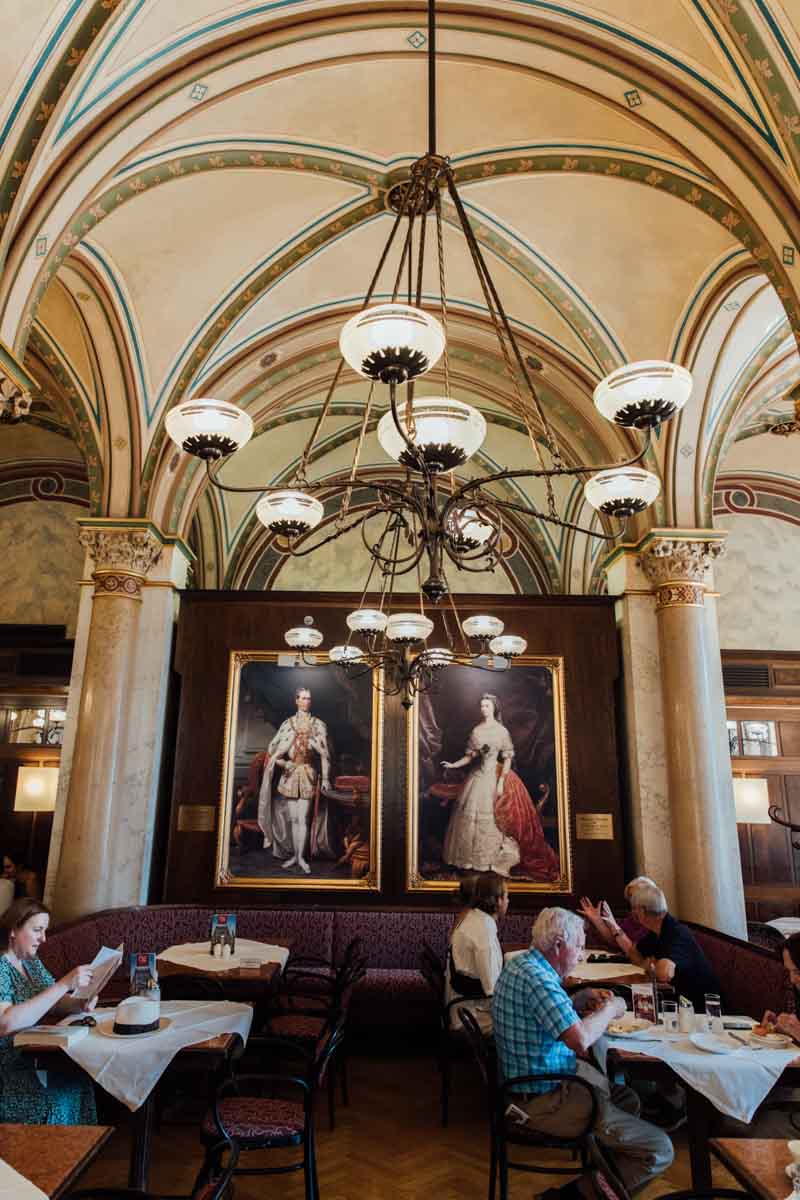 If there is one thing that the Viennese are known for, it's their coffee culture. In fact, Vienna's city centre is home to some of the most magnificent cafes in the world. Many of these have served as important meeting spots for Viennese intellectuals for decades.
I'd recommend starting your day in Vienna at the Café Central, one of the city's finest establishments. Its grand vaulted ceilings and ornate archways will whisk you back to 1876, when this traditional coffee shop was first opened.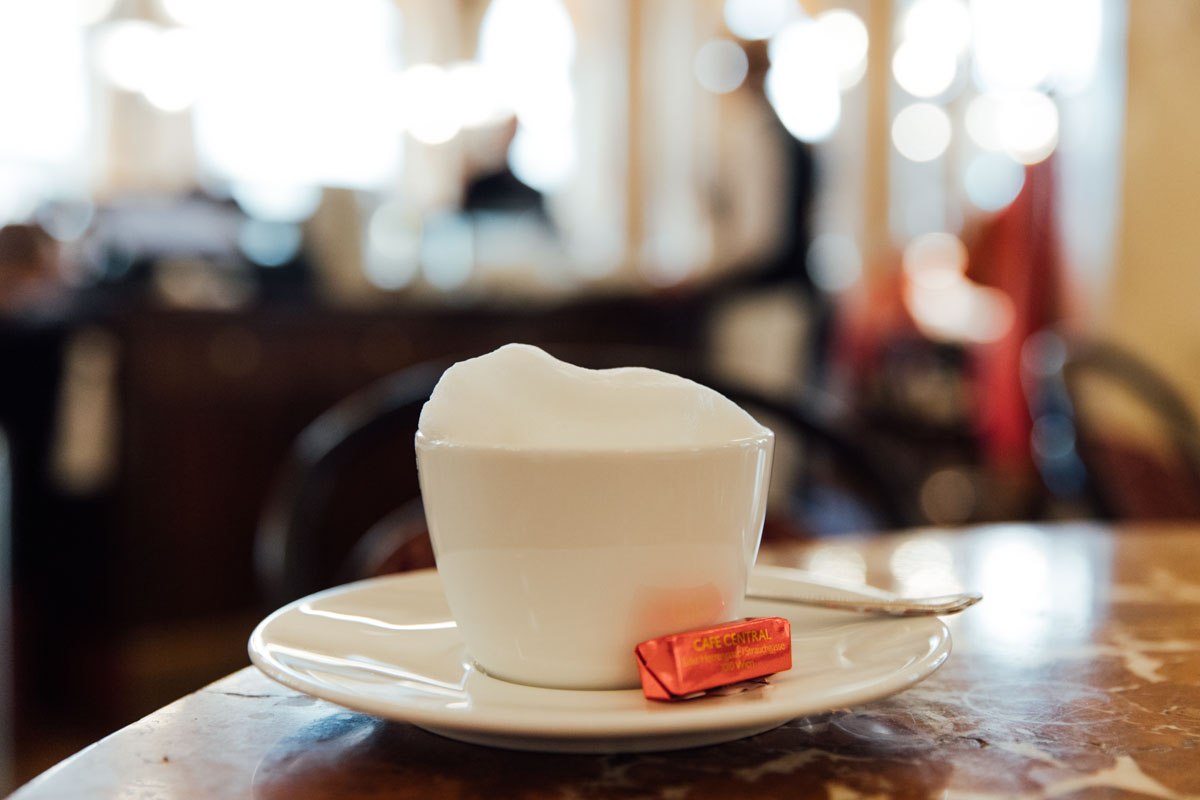 Try the traditional Viennese breakfast, which comes with a hot drink, juice, a roll, a croissant, jam and a soft-boiled egg. If you want a typical Viennese coffee, order a Melange, which is similar to a cappuccino.
If you're a real coffee and dessert lover, consider taking a tour to gain a deeper insight into Vienna's sweet side.
Admire the State Hall at the Austrian National Library
Next up on your 1-day itinerary of Vienna is strolling down to the Austrian National Library. Here, you want to visit the State Hall, which is one of the most splendid baroque libraries in the world.
The State Hall is a massive 80 meters long and 20 meters home, home to over 200,000 historical books. The space features an elaborate dome, imperial frescoes and four striking Venetian globes. It's one of the most stunning spots in the city of Vienna!
Wander around the Museum Quarter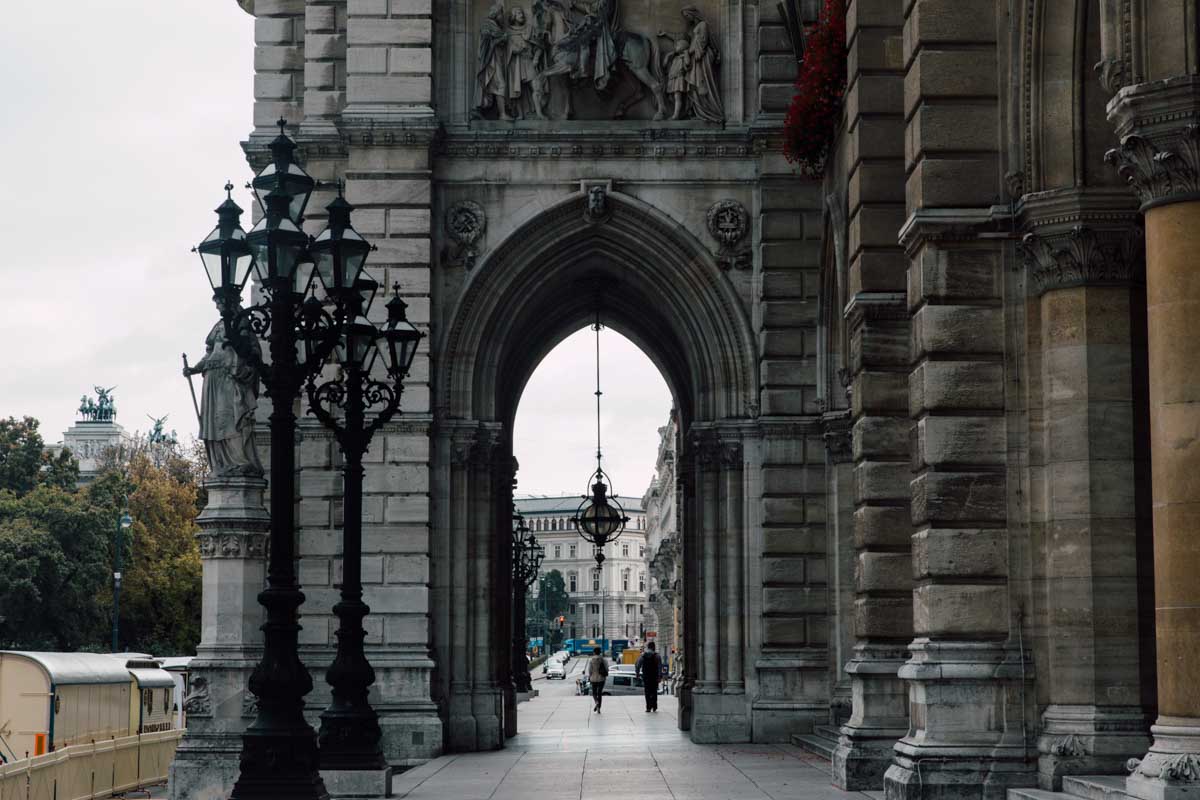 Inside the city centre of Vienna is the impressive Museum Quarter, encompassing over 60 cultural institutions. You could spend 1 day in Vienna exploring the MQ alone!
If it's your first time visiting Vienna, I'd recommend you check out one of the following museums (depending on your interests):
Architekturzentrum Wien
This museum is a must-visit for architecture lovers. The highlight of Architekturzentrum is the permanent exhibition that takes you through 200 years of Austrian architecture. Inside the museum you'll also find special exhibits and a research library accessible to visitors.
Mumok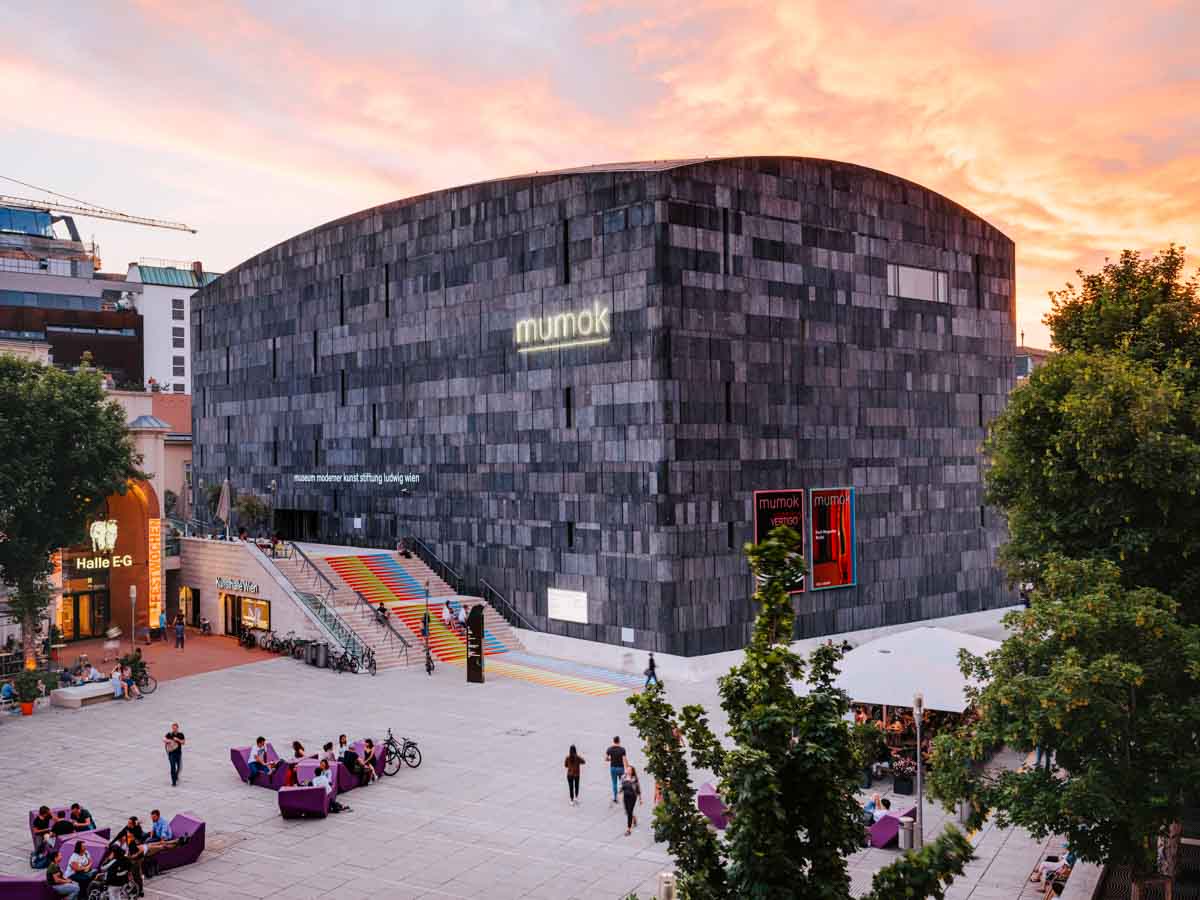 Mumok is the largest museum for modern art in Central Europe. It is home to a fabulous collection of works by many famous international artists. This includes the likes of like Max Ernst, Pablo Picasso, Cindy Sherman and Andy Warhol.

Leopold Museum
The Leopold Museum is home to some of the most important works of modern art in Austria. Here, you'll find over 8,300 works by famous Austrian artists such as Egon Schiele, Gustav Klimt and Oskar Kokoschka.
MQ Libelle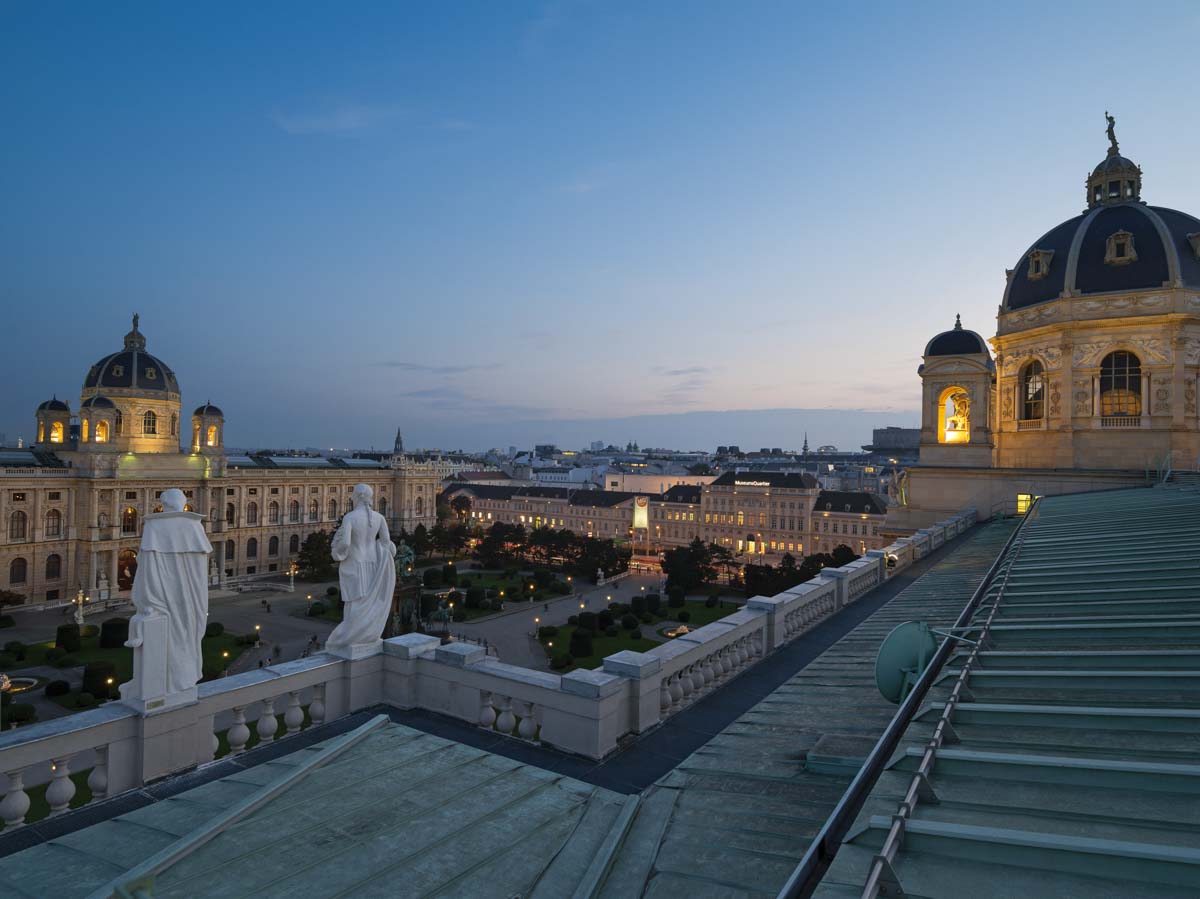 If you do visit the Leopold Museum, make sure to pop up to the terrace at the MQ Libelle. Here, you'll find beautiful views over Vienna. On the terrace, you'll also find a stunning glass facade by Eva Schlegel as well as a photo-worthy light installation by Brigitte Kowanz.
Kunsthalle Wien
For contemporary art lovers, the Kunsthalle Wien is a fantastic gallery to explore. Founded in 1992, the space hosts a vibrant collection of avant-garde work. The gallery has no dedicated collection. Instead, it hosts a thought-provoking range of thematic exhibitions.
Grab lunch at Naschmarkt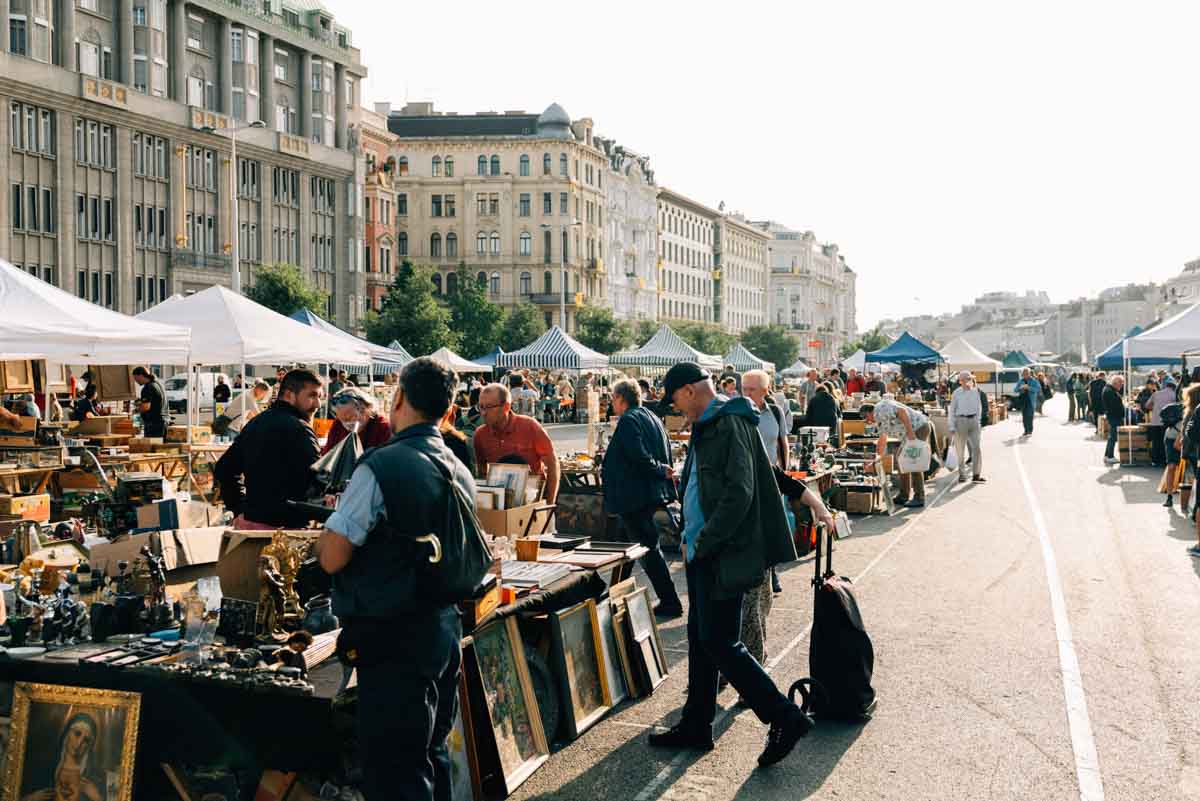 Once you've done your share of museum hopping, it's time for lunch. Head to Naschmarkt, which is Vienna's most famous market. Here, you'll find a delightful selection of traditional Viennese and international specialties.
It is a great spot to grab a bite to eat for lunch or pick up some fresh produce. If you visit on Saturday, the space becomes a hub of activity as it turns into a flea market.
 Book a gourmet tour of Naschmarkt here
Try Vienna's famous Sacher Torte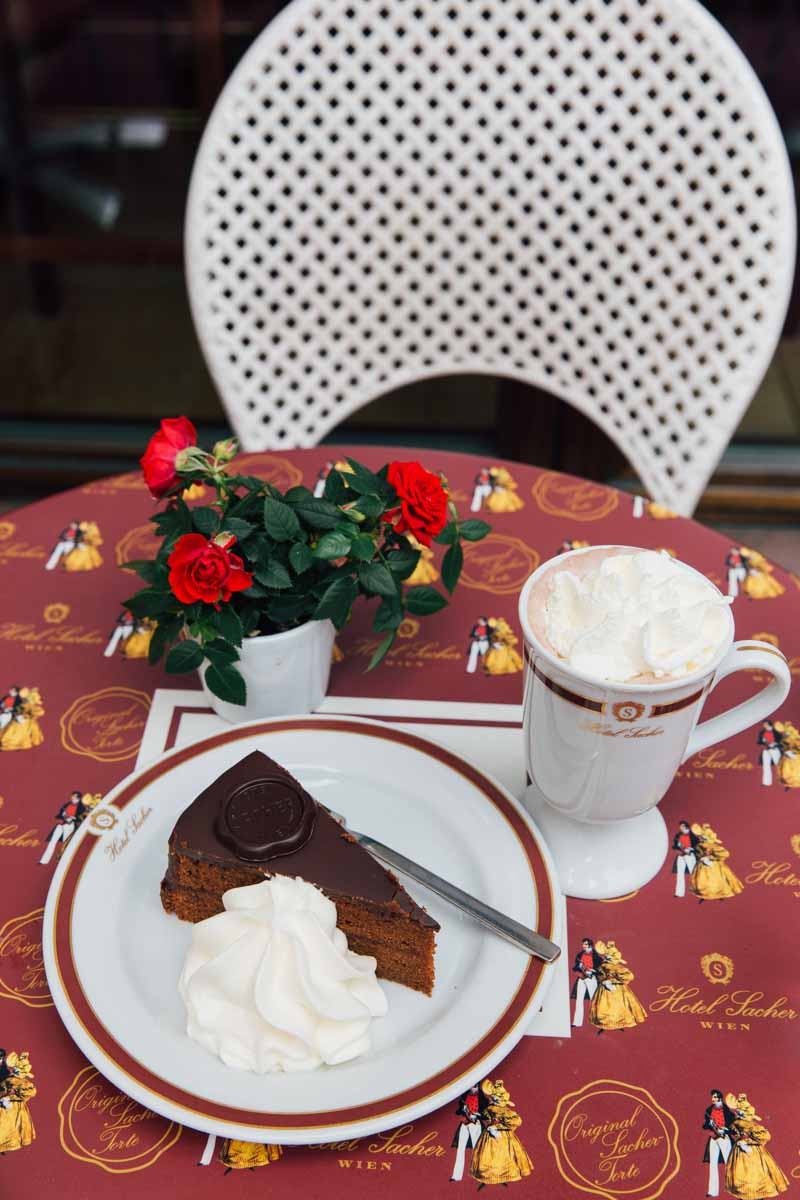 Possibly the most famous culinary delight of Vienna, Sacher Torte is a rich, dark chocolate cake filled with orange marmalade. It is something that must be tried when visiting Vienna for a day.
Although you'll find it in cafes all over the city, Hotel Sacher is the original birthplace of the dessert. Of course, this means it is the busiest and most expensive place to try it. However, it is an experience to tick off the bucket list!
Spend the afternoon at Schönbrunn Palace & Gardens
If you have just 1 day in Vienna, it's well worth scheduling in time to explore the Schönbrunn Palace & Gardens. The easiest way to get here from Vienna's city centre is by hopping on U4 of the U-Bahn.
Home to the Habsburg emperors from the 18th century onwards, both the palace and gardens are a magnificent display of the baroque era. The gardens are free to wander around, but you do need to buy tickets if you want the entrance to the palace.
Skip the line by booking this ticket, which also includes a city tour
See the eye-catching Hundertwasserhaus apartments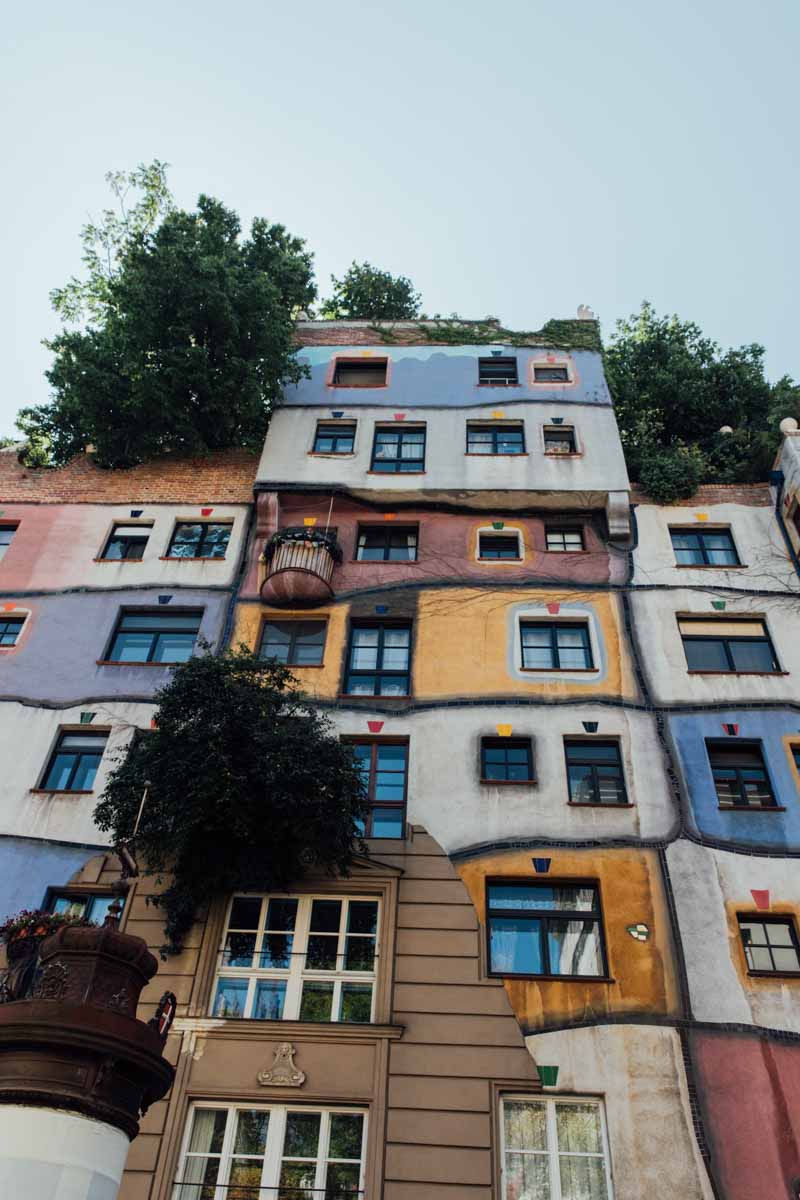 This colourful apartment house was built after the idea and concept of Austrian artist Friedensreich Hundertwasser. It has the most amazing facade! It is outside the city centre of Vienna so is a little bit of a mission to get to, but definitely worth checking out.
Get a Wiener Schnitzel for Dinner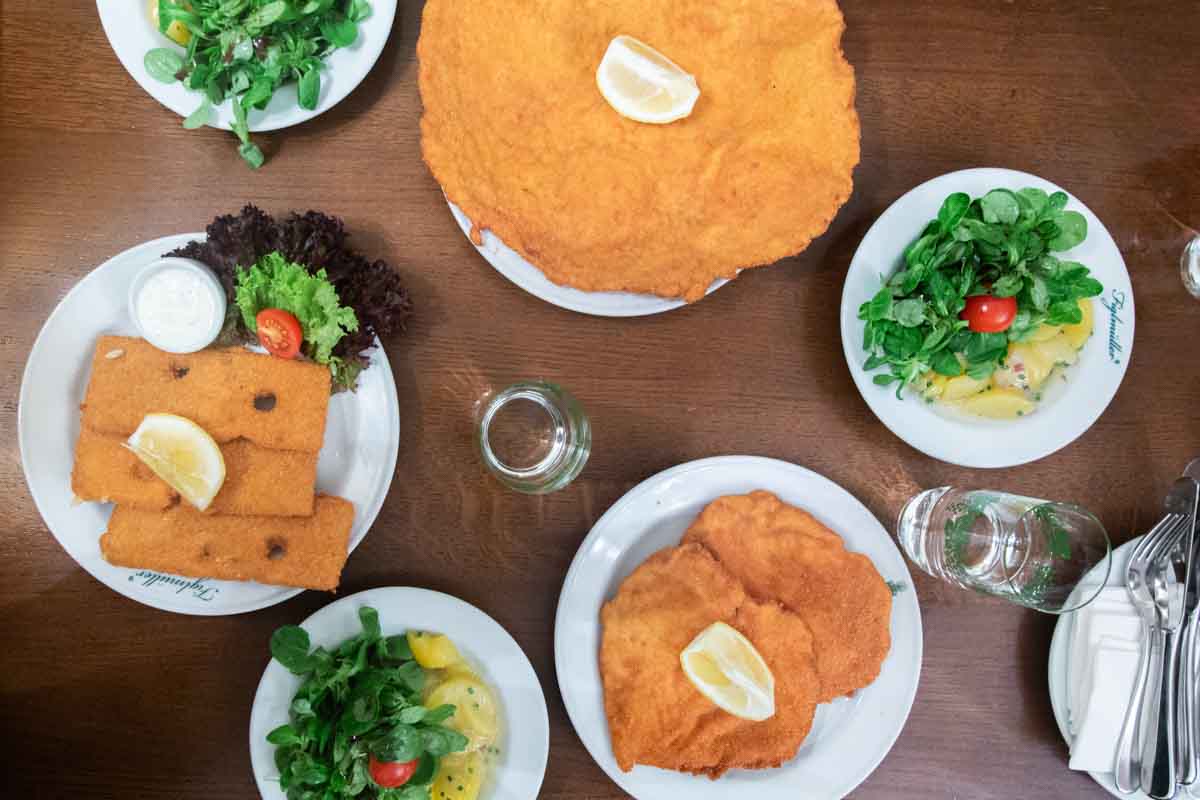 If you have one day in Vienna, you simply have to have try a traditional wiener schnitzel. After all, this city is the birthplace of the iconic dish! The Viennese take this dish very seriously. In fact, there is an Austrian law that states 'wiener schnitzel' must be made with thin slices of veal in order to be called by its namesake.
Figlmüller is one of the most popular places to try weiner schnitzel in Vienna. The place gets very busy so make sure you book in advance!
If you want to learn more about Vienna's cuisine, I'd highly recommend booking a food tour!
Experience a night of classical music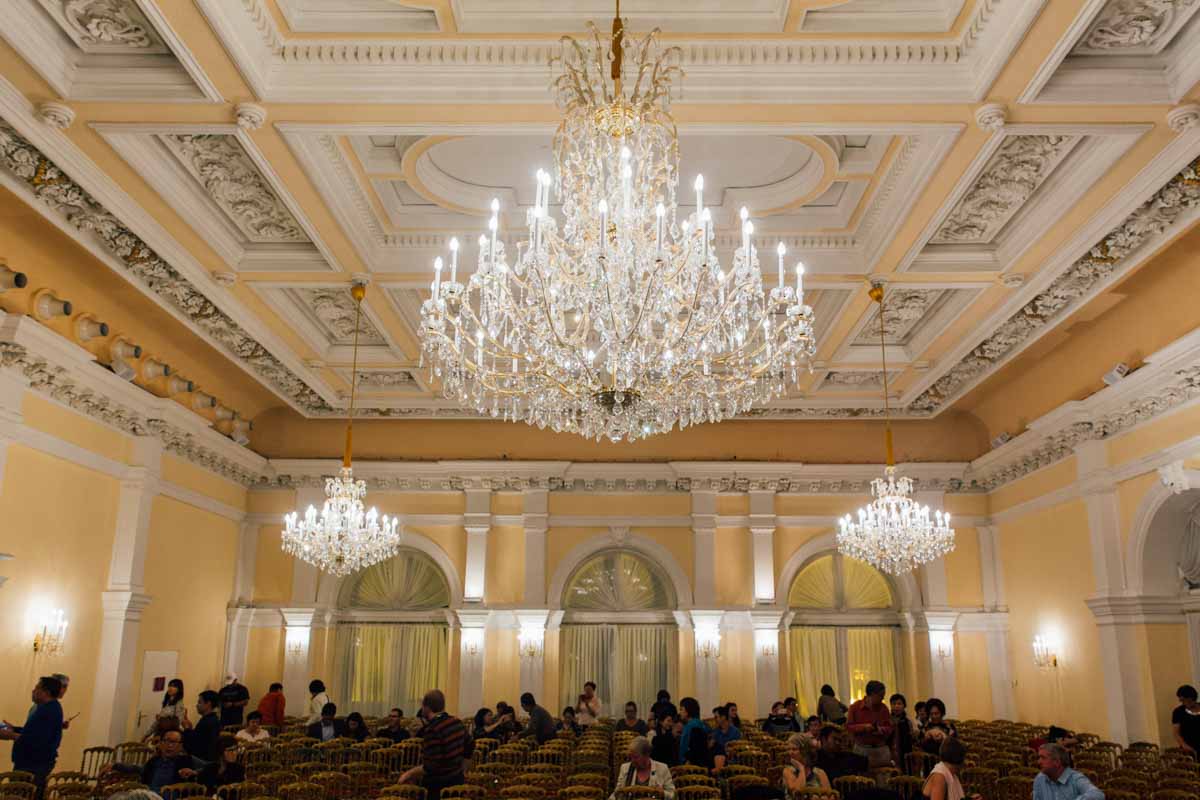 After exploring Vienna for a day, it's time to dive into a cultural experience through sound. For lovers of classical music, the concerts at the Kursalon make for an unforgettable night.
The performance showcases the rich heritage of Vienna through the flawless playing of Strauss and Mozart compositions. The show takes place in a gorgeous ballroom adorned with massive chandeliers Expect two hours of spectacular symphony, vocal, and ballet performances!
Check prices and availability for Kursalon concerts
Have a Nightcap at the Highest Rooftop Bar in Vienna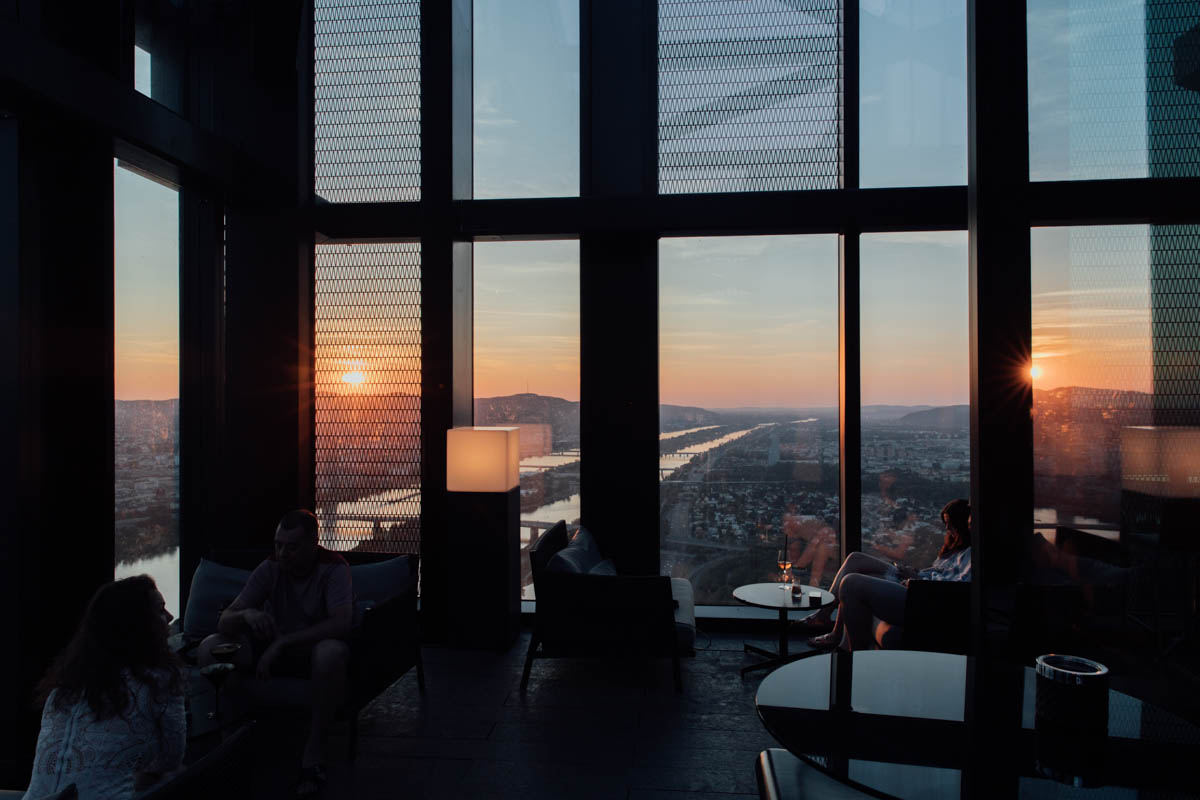 If you have any energy left after an action-packed one day in Vienna, head to 57 Restaurant & Lounge for a nightcap. Sitting at 220 meters, this is not only the highest rooftop bar in Vienna, but in the whole of Austria!
The sky bar offers delightful panoramic views over Vienna's city centre and beyond. The menu is packed with exotic cocktails inspired by destinations around the world, as well as a great selection of wine and beer. The spot becomes extra lively on the weekend as a DJ plays some great beats!
best vienna one-day guided tours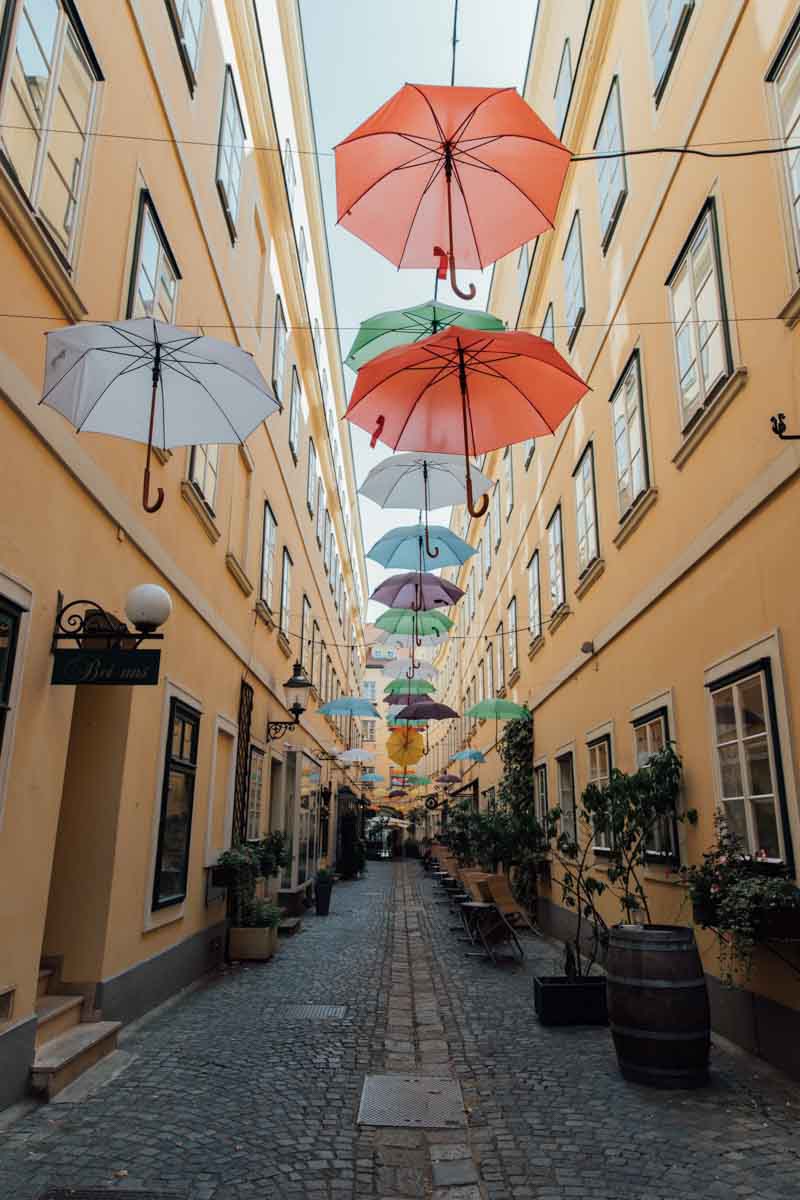 If you are visiting Vienna in one day and want a more guided experience, try one of these tours:
Where to Stay in Vienna for first-time visitors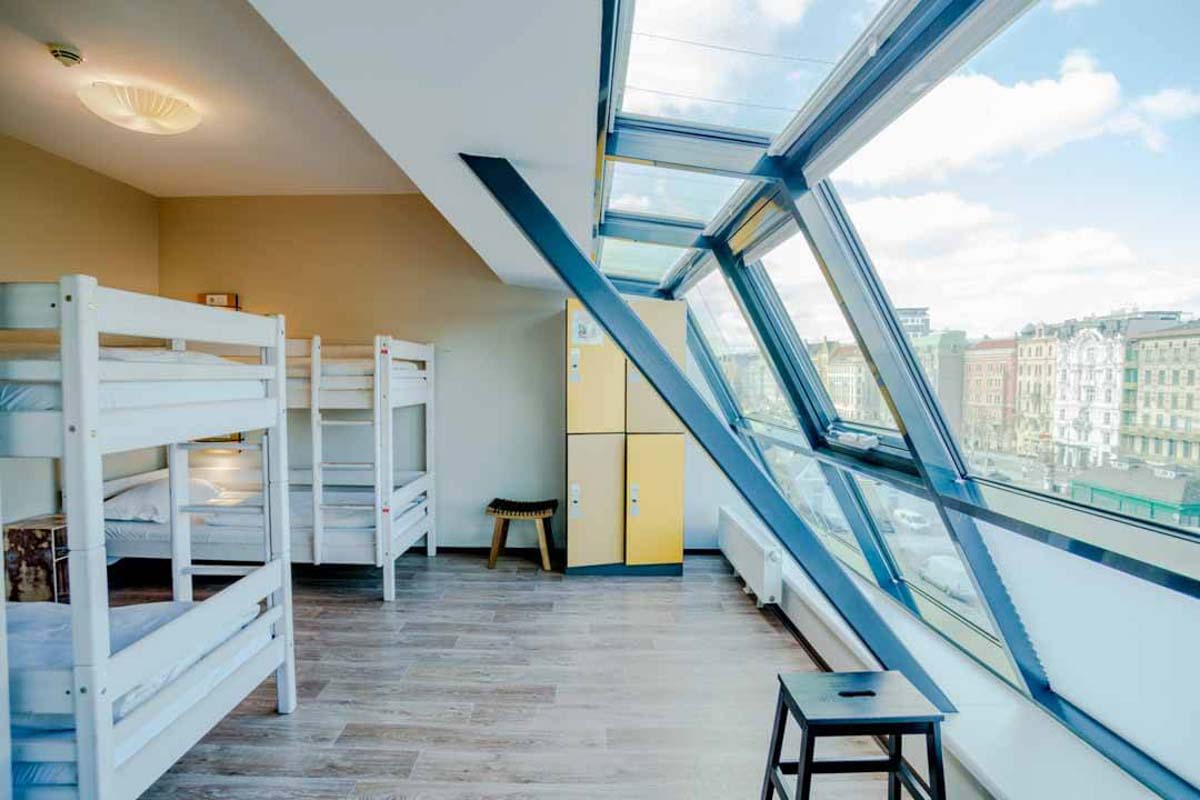 If you're staying in Vienna for one day and want an affordable accommodation option, Wombats City Hostel is a great option. Located in a fantastic spot overlooking the Naschmarkt, it offers the best value-for-money accommodation in the city centre of Vienna.
The hostel itself is super modern and clean. It offers excellent facilities, including a cool communal room, luggage storage facilities, free wifi and an affordable breakfast.
Check here for more photos, rates and availability of the Wombats City Hostel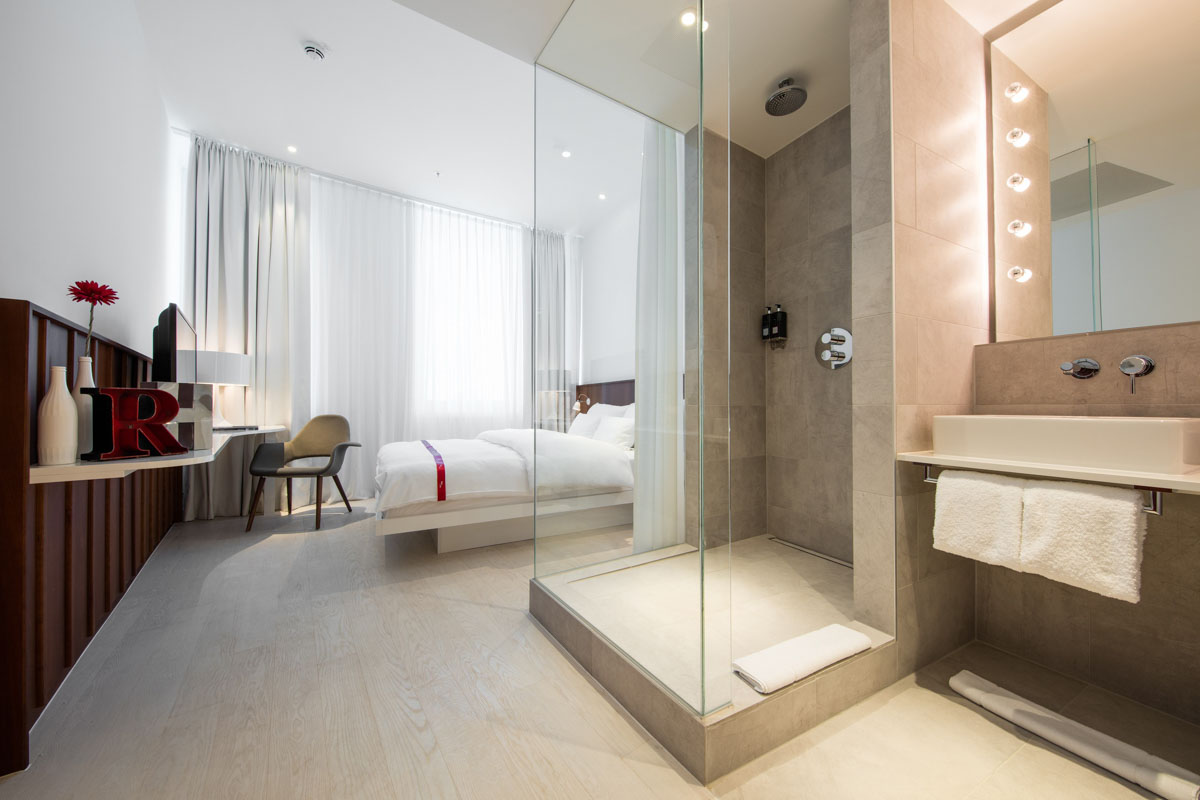 The Ruby Marie Hotel is a quirky boutique accommodation that pushes the boundaries of a conventional hotel experience. If you're looking for a unique, affordable place to stay for your first time in Vienna, this is the spot for you!
The hotel offers chic, modern rooms and an expansive breakfast buffet to fuel up for a day in Vienna. Onsite you'll find facilities such as a yoga room, a movie theatre and a shared workspace room with books and complimentary tea.
Check here for photos, rates and availability for the Ruby Marie Hotel Vienna
If you're looking for a luxury hotel in Vienna, I'd highly recommend the Park Hyatt Hotel. It's one of the best five-star establishments in the city, striking the perfect balance of grandeur, sophistication and cosmopolitan flair. Located very centrally within the famous museum quarter of the city, the hotel is an ideal base to explore Vienna's city centre.
The Park Hyatt offers 143 rooms and 35 suites plus a day spa, pool, and fitness centre on-site. The rooms are beautifully decorated and spacious, featuring lovely window terraces. The buffet breakfast selection is phenomenal – in fact, it is one of the best I've ever had!
Check here for rates and availability.
For more Austrian travel, read these next:
Enjoyed this 1-day guide to visiting Vienna? Pin it for later!