Looking to go glamping in Northern Ireland in 2023? From glamping pods with hot tubs to luxury yurts, these are the 10 best places to go glamping in NI!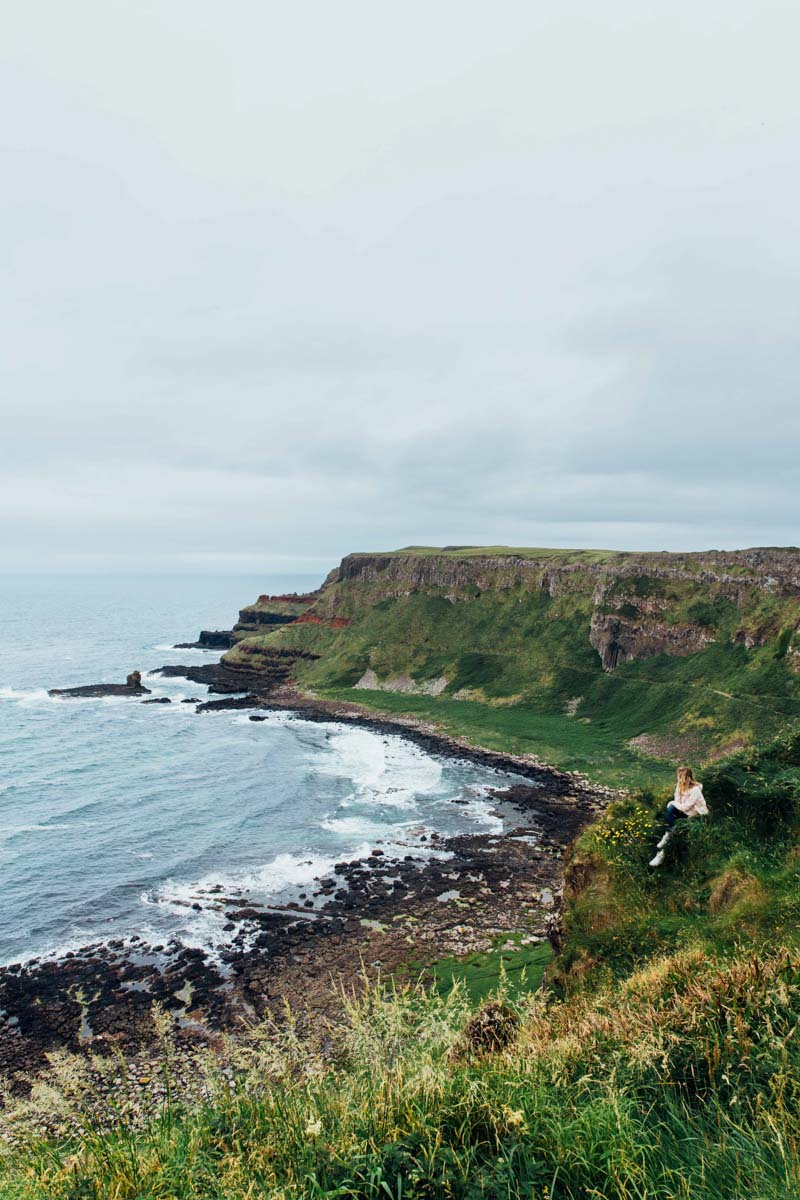 Northern Ireland is easily one of the most beautiful and underrated places in the world. From its luminous greenery to its dramatic coastline, NI has a postcard-worthy landscape at every turn of the corner.
There is no better way to immerse yourself in this natural beauty of the region than staying amongst it. Thankfully, this doesn't mean having to rough it. If you want both nature and comfort when staying in Northern Ireland, you're in luck.
While Northern Ireland has plenty of humble camping sites, it's also brimming with some of the best glamping spots in the world. The region is home to many luxury glamping pods equipped with hot tubs, plush beds and luxury amenities. All of these comforts can be enjoyed while being nestled in nature under a blanket of stars.
Best Glamping with Hot Tub in Northern Ireland
Dreaming of a glamping escape where you can plunge into a hot tub under a canopy of stars? These are the best glamping spots in Northern Ireland with hot tubs…
1. The Pods, Streamvale
The Pods at Streamvale are arguably the most luxurious glamping option with a hot tub in Northern Ireland. Conveniently nestled in the heart of Belfast's countryside, this glamping spot is the perfect nature retreat near the city.
The premium pods offer panoramic views of both the countryside and the city. Each one has an outdoor deck, which is the perfect spot to relax with a book and a glass of wine. The best part of these glamping pods is being able to soak in the surroundings from the private hot tubs.
Prices start at £135. View availability + more photos of The Pods Glamping here.
2. Pebble Pods, Killinchy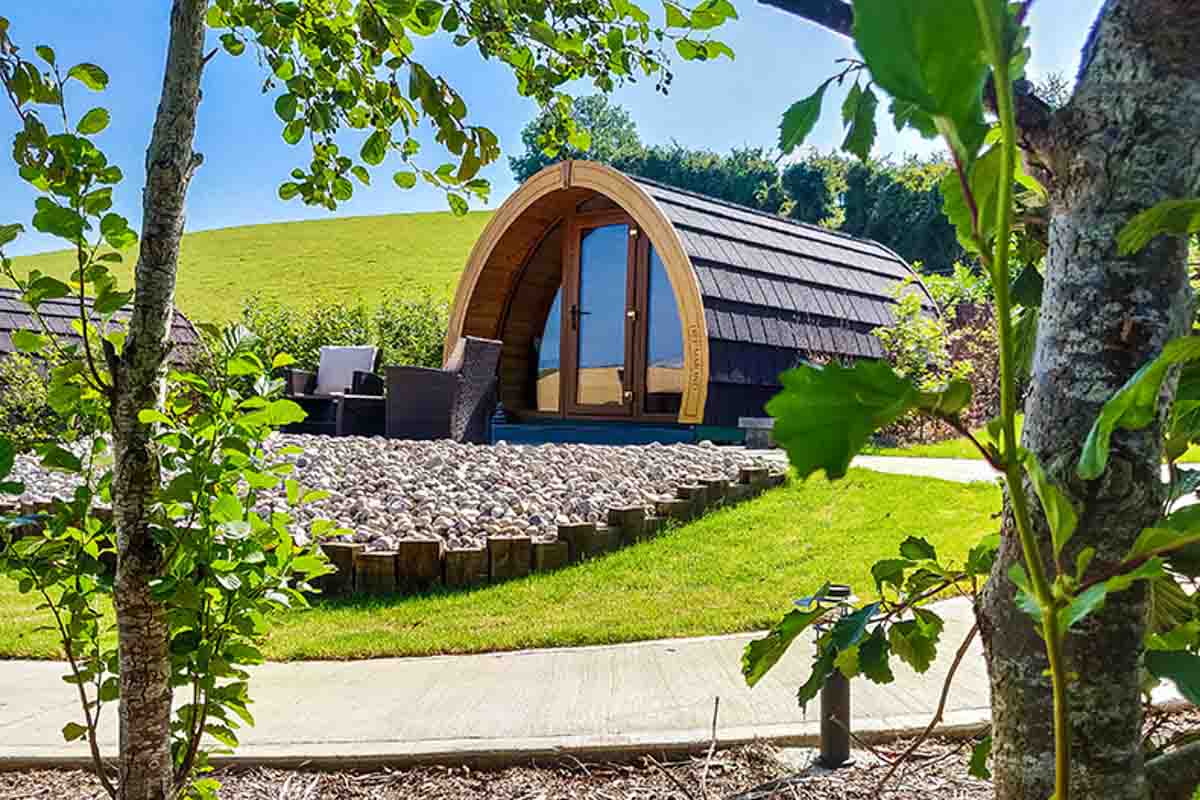 If you're on a budget and want to go glamping with a hot tub in Northern Ireland, Pebble Pods is a fantastic option. Situated next to the tranquil shores of Killinchy, this NI glamping spot is truly an oasis of natural beauty.
The glamping pods are cozy, comfortable and well-equipped. Each one comes with a plush king-sized bed, a kitchenette, heating, and the best part- a private hot tub! On the glamping site, you'll also find a thermal sauna, firepit and BBQ area, as well as kayaks and paddleboards to take out on the bay.
Prices start at £165. View availability + more photos of Pebble Pods here.
3. Sycamore Luxury Glamping, Carncastle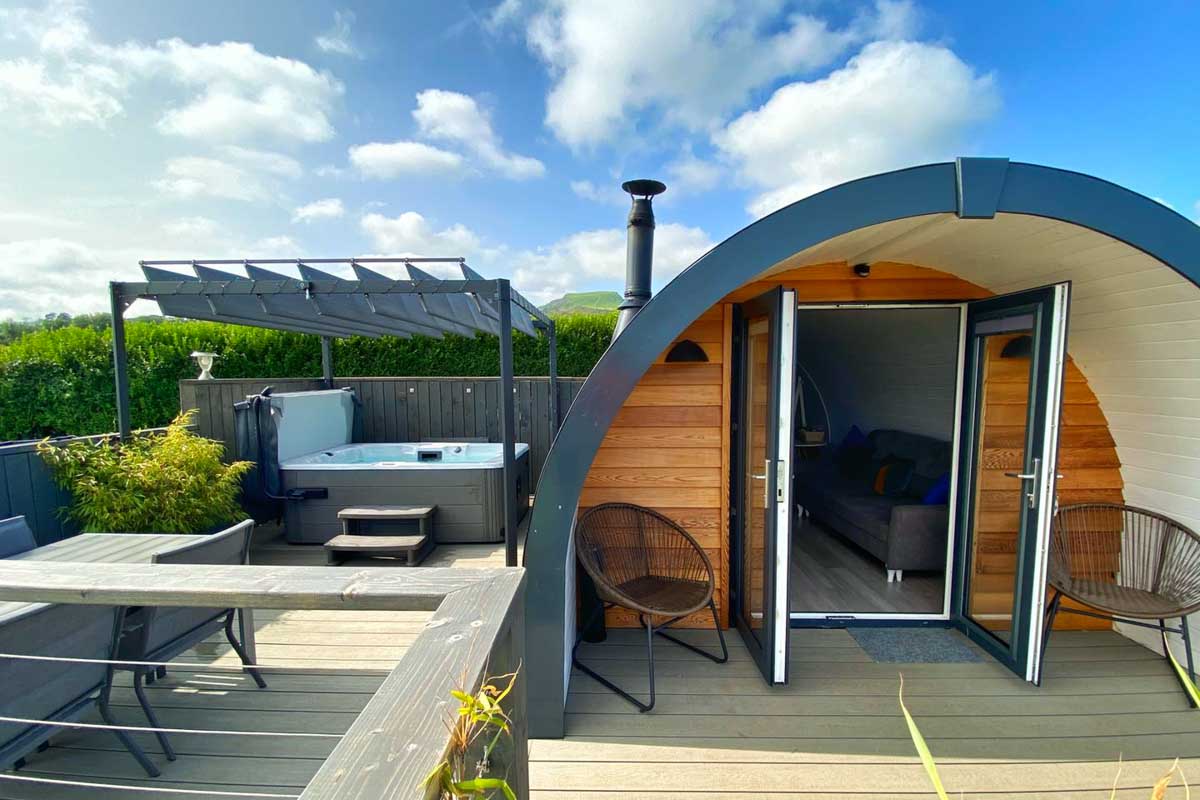 If you're looking for glamping with a hot tub in Northern Ireland, look no further. Sycamore Luxury Glamping is located in the heart of Carncastle, a short 35-minute drive from Belfast. The NI glamping spot offers guests the chance to stay in luxurious lodges while being completely immersed in nature.
The two luxurious lodges come equipped with all the amenities you need for a comfortable stay. This includes electric heating, woodfired stoves, en-suite toilets and showers. The best part is that each glamping site comes with its own private hot tub and firepit!
Sycamore Luxury Glamping makes an ideal base for anyone wishing to explore Northern Ireland. The site is within easy driving distance of iconic attractions such as the Giants Causeway, the Dark Hedges, and the Gobbins cliff path.
Prices start at £160. View availability + more photos of Sycamore Luxury Glamping here
Best luxury glamping in Mourne Mountain
If you want a truly memorable glamping experience, stay in the heart of Ireland's most famous mountain range. Filled with bewitching natural beauty, Mourne Mountain has become a hub for luxury glamping pods. Here are a few of the best:
4. Leitrim Lodge, Mourne Mountain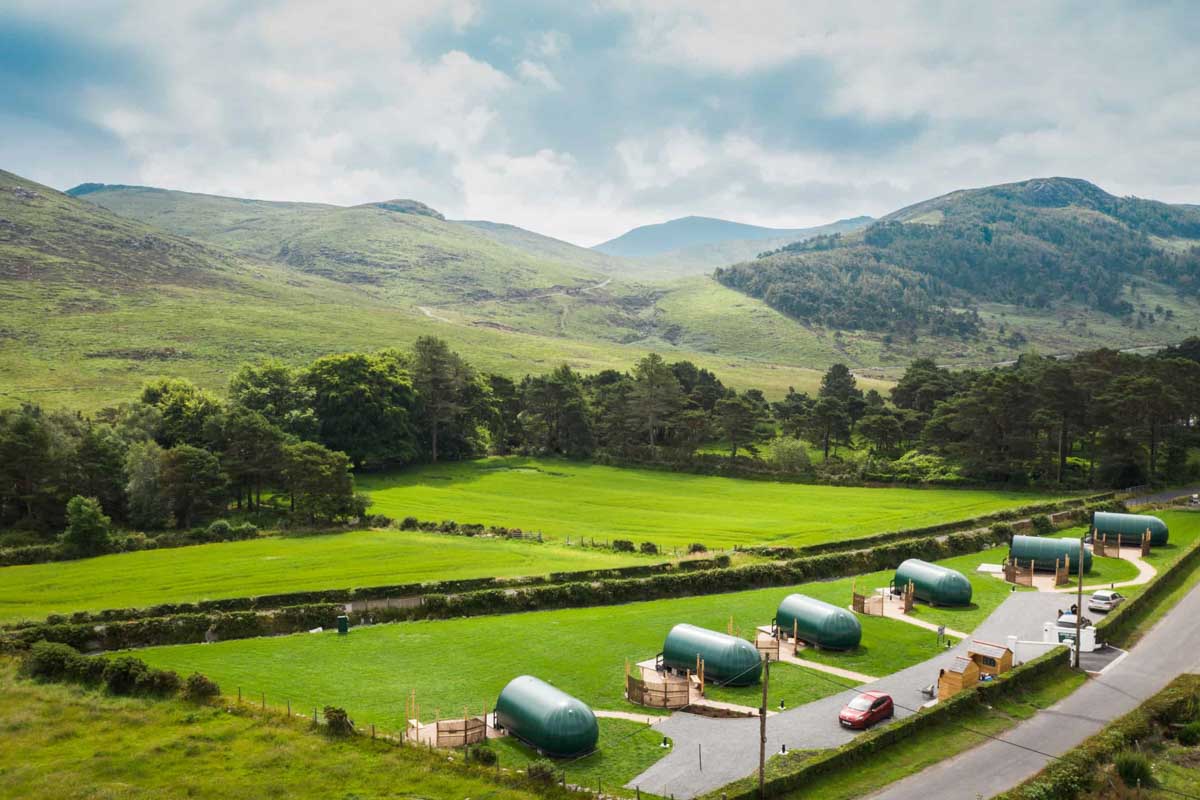 If you are looking for luxury glamping in Mourne Mountain, Leitrim Lodge is the place to go. These glamping pods, nestled in the breathtaking foothills of the mountain, are the ultimate nature retreat.
These minimalist glamping pods are decked out with soft double beds, fridges and spacious private bathrooms. You also get a private fire pit with log seating where you can spend the evening toasting marshmallows under the stars. The pods sleep up to 4 people, making them ideal for a family getaway.
If you're a fan of Game of Thrones- Leitrim Lodge is within walking distance of Old Batts Estate, which was a filming location for the tv show! There is also plenty of picturesque forest trains and mountain hikes nearby.
Prices start at £145. View availability + more photos of Leitrim Lodge Glamping here
5. East Coast Adventure Glamping, Knockbarragh Valley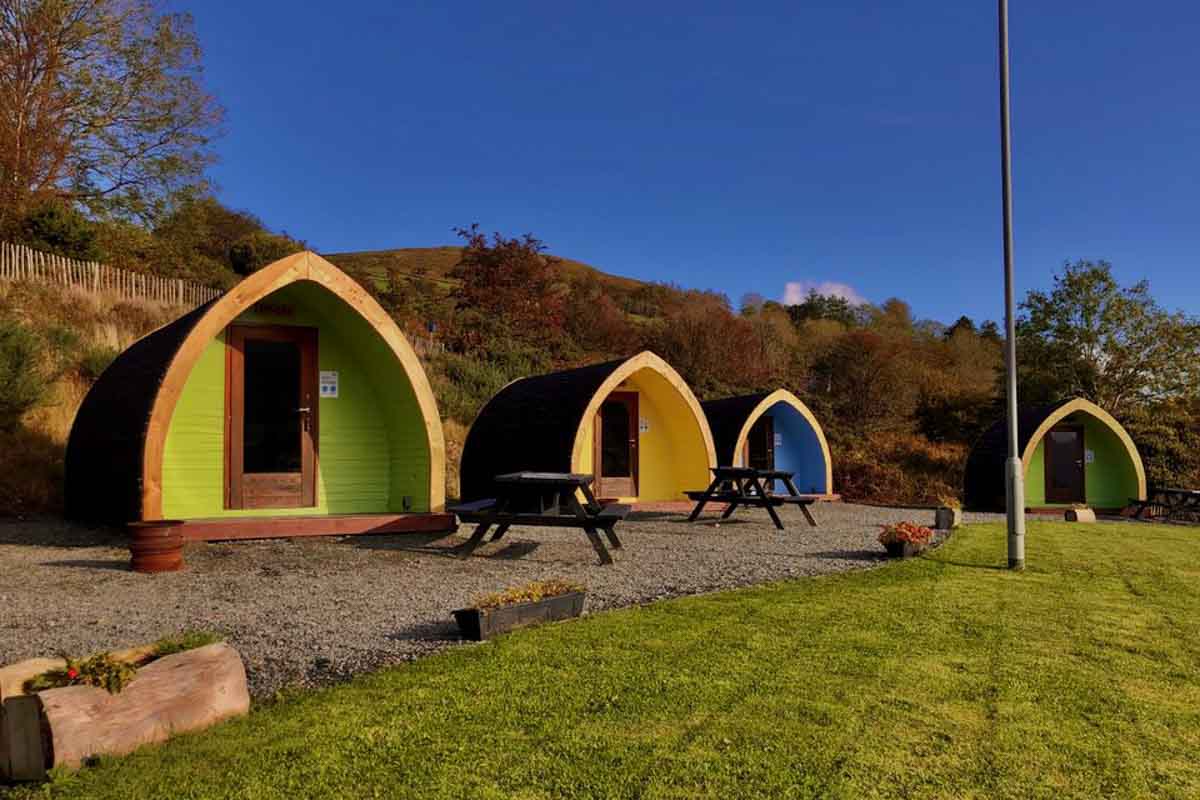 If you are looking for a more exciting getaway, head to this glamping spot in Northern Ireland. Situated in the picturesque Knockbarragh Valley, East Coast Adventure welcomes visitors to sleep under a blanket of stars.
This glamping spot overlooks the Mourne Mountains and is a gateway to all sorts of exciting activities in the area. With experiences such as bouldering, mountain biking, hiking and yachting on offer, boredom is not an option at East Coast Adventure!
This Mourne Mountain glamping spot has six different pods on site. Each pod sleeps up to 4 people, catering well to small families. Onsite at East Coast Adventure is a communal pod with kitchen space to cook meals. Alternatively, you can barbecue in the fire pits outside.
Prices start at £145. View availability + more photos of East Coast Adventure Center Glamping here
best Belfast glamping spots
Looking for a peaceful weekend getaway but not wanting to venture too far away? These are the best glamping spots in Belfast within a 40-minute drive of the city.
6. Castle Ward Glamping Pods, Strangford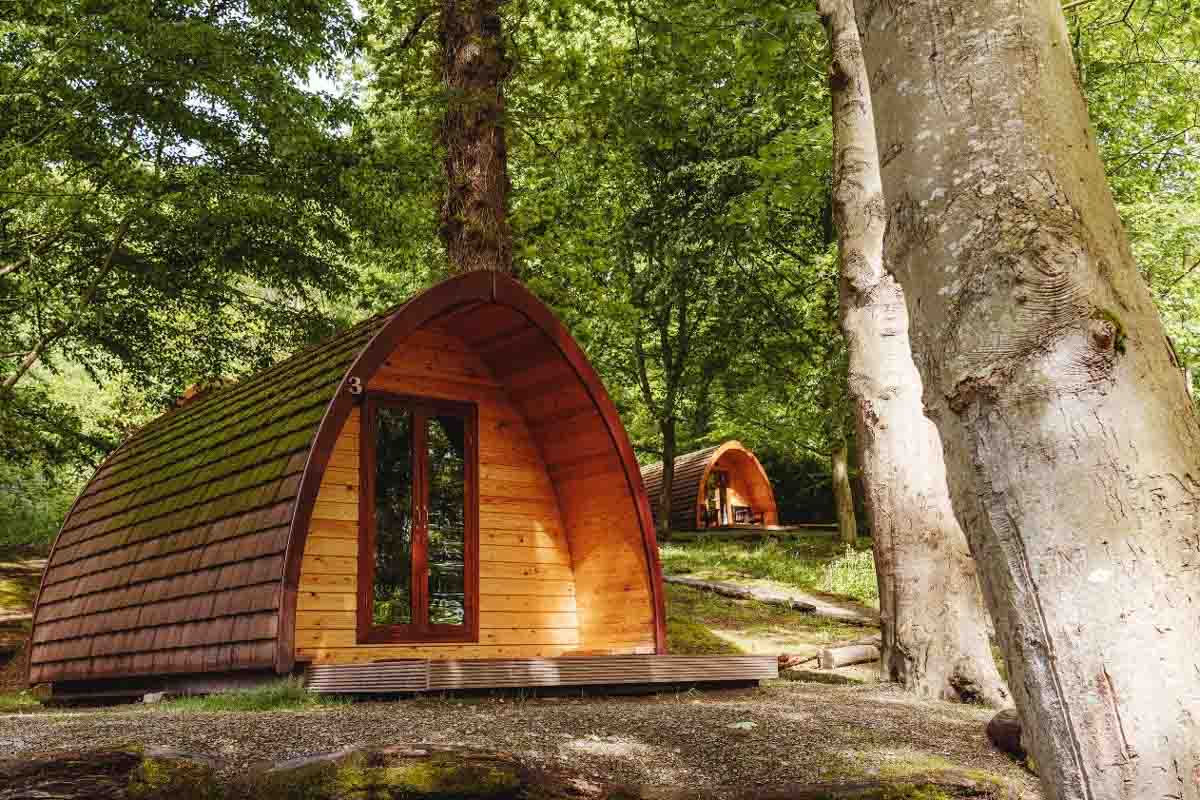 Tucked away in the lush green forest, Castle Ward Glamping is a great affordable getaway from the bustle of Belfast city. The glamping site is situated on the historical Castle Ward estate, right next to the tranquil shores of Strangford Lough.
Castle Ward Glamping offers three styles of glamping pods. The standard pod and family pod require you to bring your own beds and bedding. The premier pods accommodate 4 and come furnished with comfy beds. All the pods feature internal heating, double-glazed French windows and sound-proof insulation.
Prices start at £58. View availability + more photos of Castle Ward Glamping Pods here
7. Glenarm Castle Glamping, Glenarm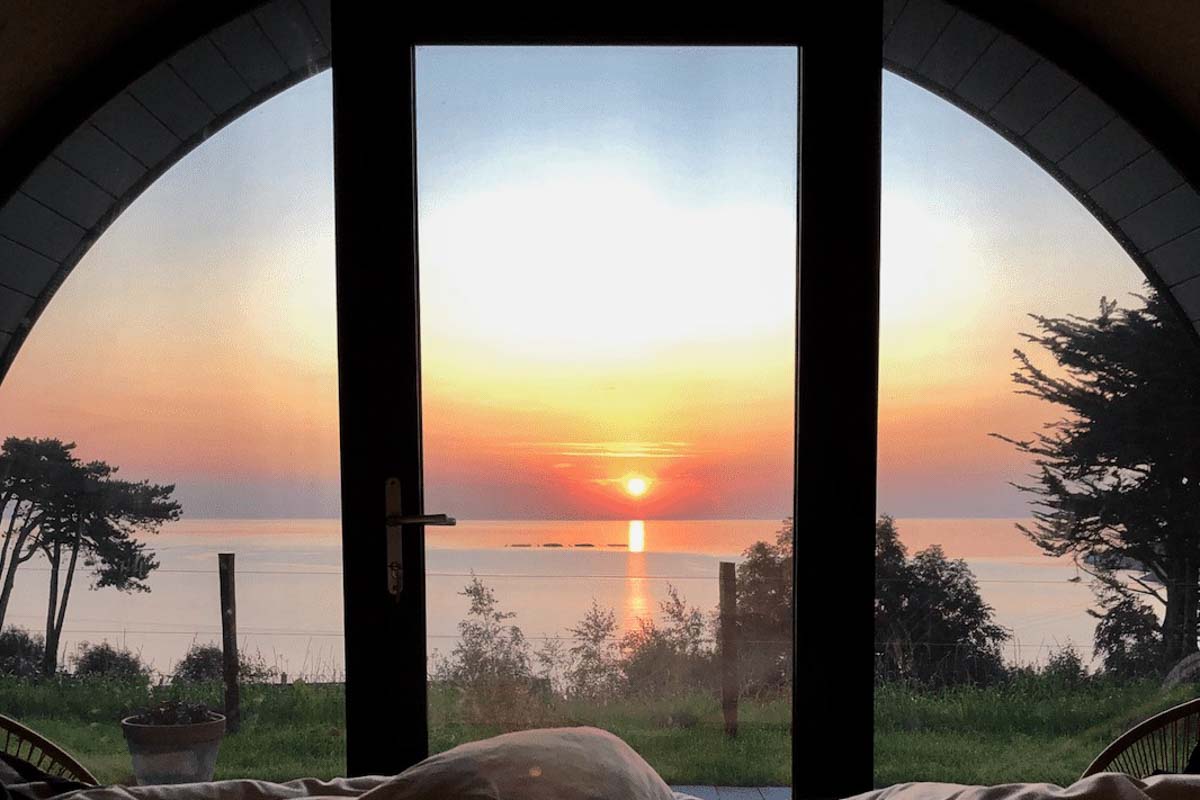 Glenarm Castle is one of serval important historical landmarks in Northern Ireland. Glenarm Castle Glamping gives you the opportunity to stay within a two-minute walk of this iconic estate. A perfect place to stay for any history buff!
If you want to go glamping near Belfast, Glenarm Castle glamping is ideally located just 45 minutes from the city. Recently named one of the top 10 places to stay in Ireland, the site offers spectacular ocean-view glamping pods. Each pod is individually decorated and features a comfy double bed and bunk beds, a private shower room, power sockets and wifi.
There is plenty to see and do around this NI glamping spot. There are gardens and woodlands to explore, museums to browse, and e-bikes to hire… There's even is a mini land rover tour around the estate for the kids! If you're lucky with the weather, you can simply spend your time soaking in the Northern Irish sun and even brave a dip in the ocean.
Prices start at £111. View availability + more photos of Glenarm Castle Glamping here
Best glamping in Donegal
8. Portsalon Luxury Glamping, Donegal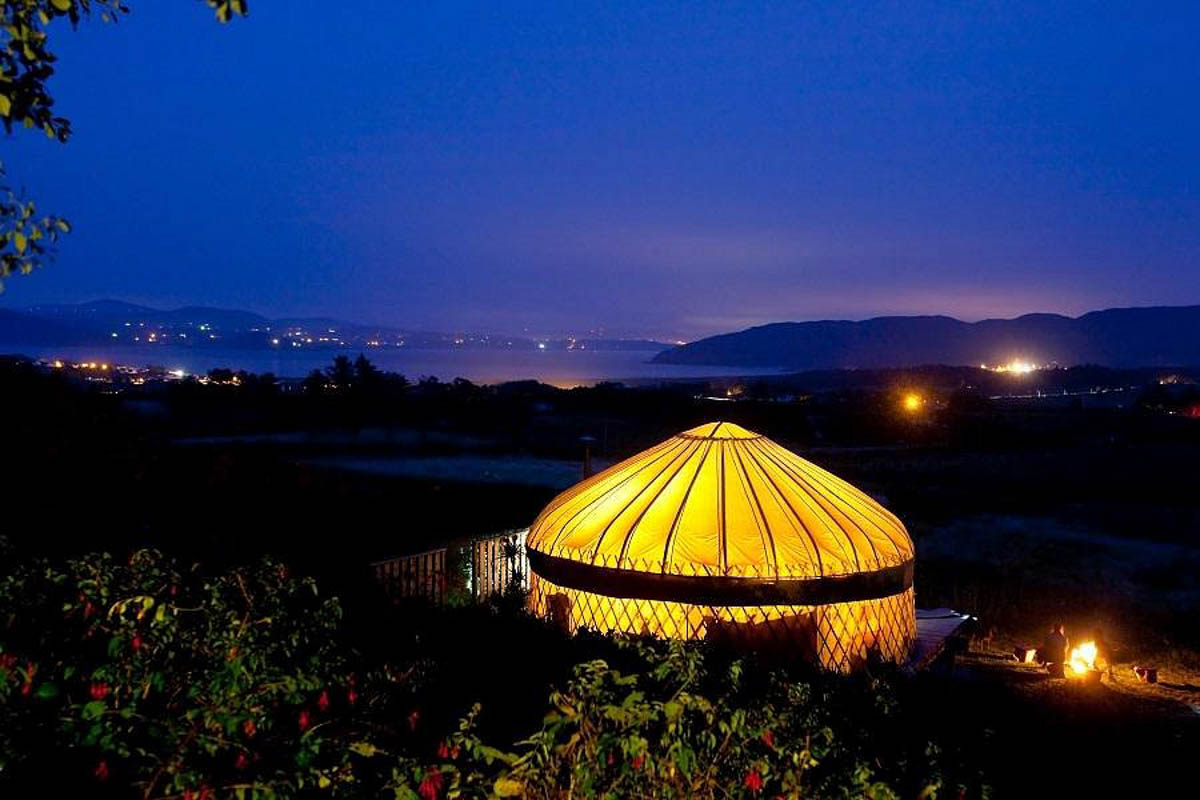 Portsalon Luxury Glamping has to be one of the most iconic glamping spot in Northern Ireland. Situated in the midst of Donegal's stunning coastal town Portsalon, this adults-only glamping site is home to five luxury yurts.
Each spacious yurt features a king-sized bed, luxurious bedding, a double-sofa bed and a wood burning stove to keep the inside cozy. Outside is a private deck with a hammock, outdoor seating, a fire pit and a BBQ, all with idyllic views over the ocean and mountains.
Nearby you'll find the golden beaches of Ballymastocker Bay, the rugged wilderness of Gleneveagh National Park and the awe-inspiring Sliabh Liag sea cliffs. There is so much to explore in the surroundings of this stunning glamping pod in Donegal!
Prices start at £92. View availability + more photos of Portsalon Luxury Glamping here.
BEST NI Glamping Pods FOR STAR GAZING
Dreaming of a glamping getaway in Northern Ireland under a blanket of stars? These are the best spots to glamp in NI for star gazing!
9. Black Knowe Luxury Glamping, Ballycastle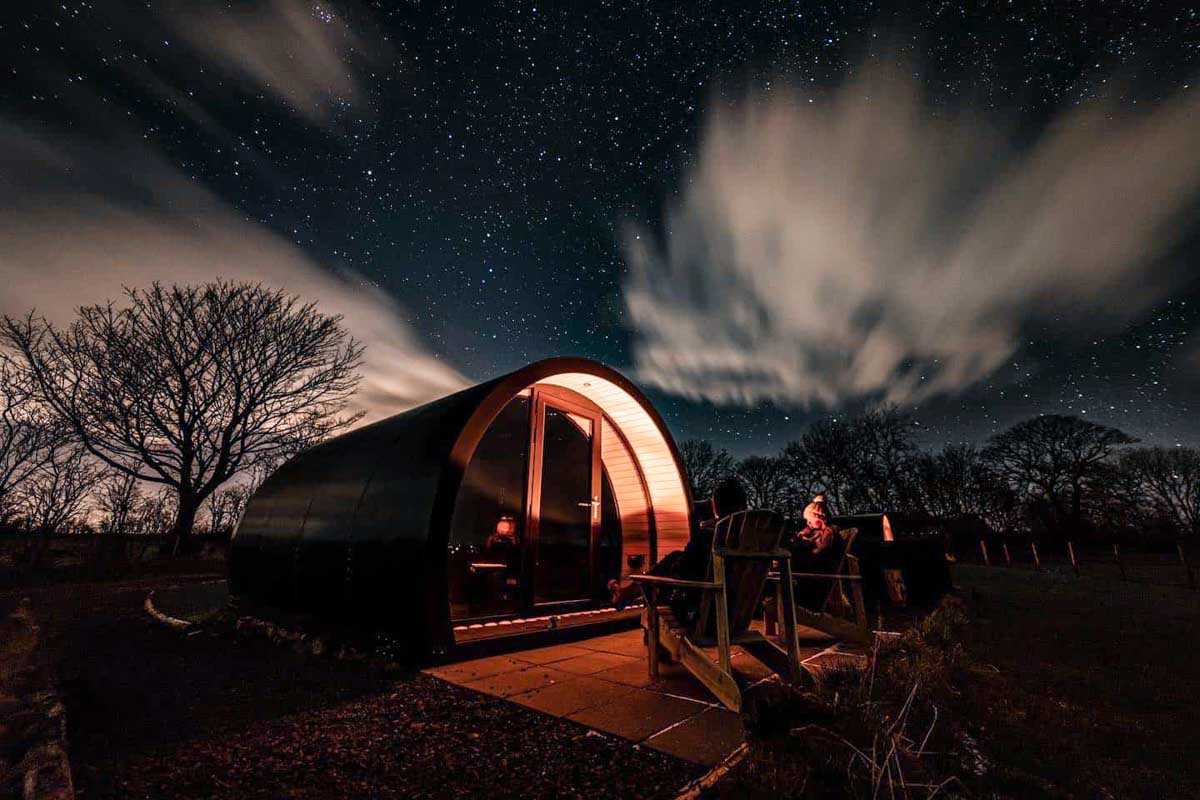 Near the quaint seaside town of Ballycastle, you'll find Black Knowe Luxury Glamping, aka the perfect spot for a romantic country getaway. Nestled amongst the endless rolling hills of Northern Ireland, glamping pods don't get much more secluded than this.
These luxury glamping pods in NI are modern, stylishly decorated and come fully-equipped. Each is furnished with a comfy double bed and bunk beds, heating, a shower room and a kitchenette. You can choose to self-cater, or if you want a hassle-free stay, opt for a breakfast or BBQ pack.
As Black Knowe Luxury Glamping is located on a farm, there are plenty of peaceful walks and breath-taking views to enjoy without leaving the premise. If you do want to explore the surrounding areas, its a short drive to some of Northern Ireland's most iconic attractions. This includes Dunluce Castle, Giants Causeway and the Dark Hedges.
Prices start at £103. View availability + more photos of Black Knowe Luxury Glamping
10. Sperrin View Glamping, Sperrin Mountains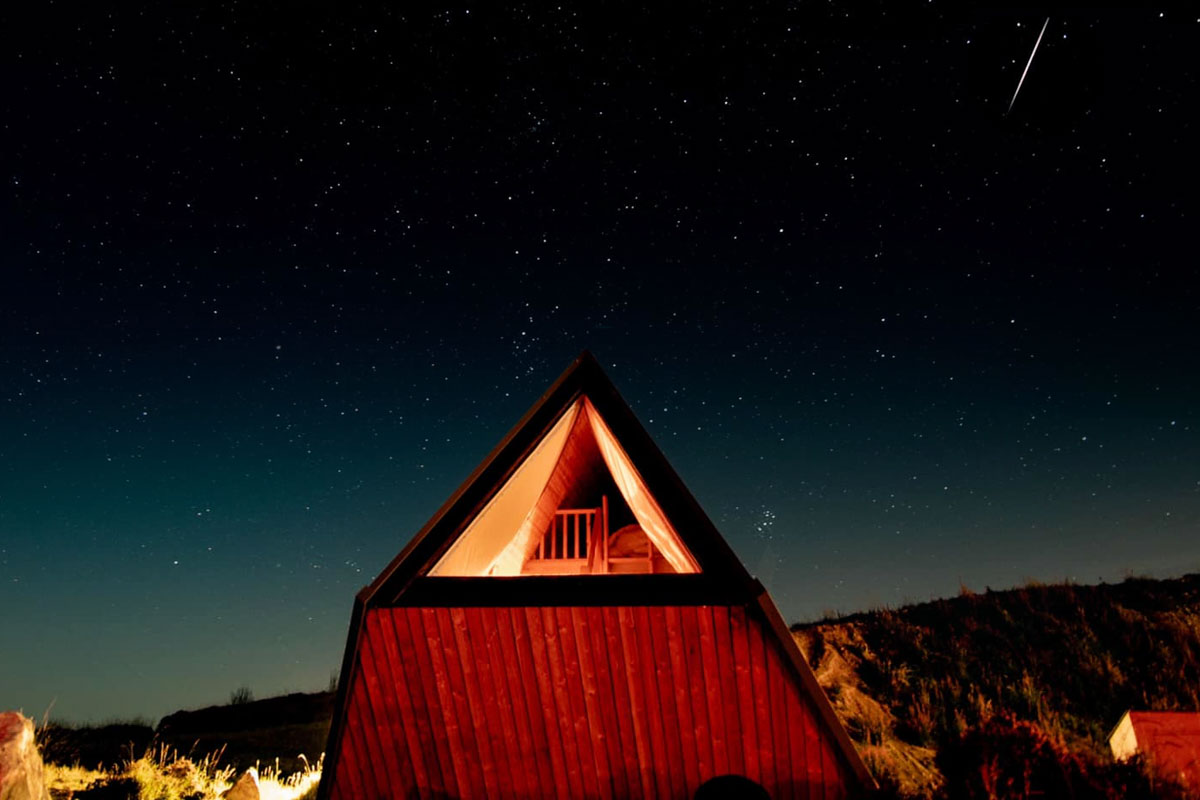 If you want to experience some of the best stargazing in Northern Ireland, Sperrin View Glamping is the place to come. Located in the foothills of the Sperrin Mountains, the location of these glamping pods has been recognised as one of Northern Ireland's best Dark Sky Sites.
The NI glamping spot offers luxury A-line Nordic pods featuring a "viewing window" built specifically for stargazing. Each glamping pod is comfortably furnished, featuring its own shower room and kitchenette. The communal hub offers a fully-equipped kitchen and huge fireplace on the porch.
Asides from stargazing, Sperrin View Glamping is in a prime position for other nature-based activities. It's meters away from the iconic Beaghmore Stone Circles and a short distance from the stunning Davagh Forest. Here, you'll find numerous biking and walking trails.
Prices start at £130. View availability + more photos of Sperrin View Glamping here
Get inspired with these epic glamping spots around the world:
Planning on glamping in Northern Ireland? Pin this article to save it for later!