Looking for the best eco-friendly places to stay in Thailand? Try these below!
One of the constant quandaries I struggle with as a travel blogger is how to balance living sustainably with discovering the charms the world has to offer. As I'm sure you are already aware, travelling can have a high environmental cost, however there are steps you can take to reduce your carbon footprint. One of the most feasible ways is to stay at eco-friendly accommodation. This is accommodation that has taken steps to become green by conserving resources, reducing waste, investing in clean energy, and offering organic, locally sourced food. And don't worry, sustainable accommodation doesn't necessitate stinting on luxury. You'll simply get to sojourn in paradise with the added bonus of knowing you're helping to protect our world. Thailand has become a forerunner in eco-friendly accommodation in Southeast Asia, encouraging its best resorts and hotels to go green. So, if you're planning on heading to Thailand any time soon, make sure to check out these 8 eco-friendly places to stay!
Top 8 Eco-friendly Places to Stay in Thailand
1. Villa Belle- Koh Samui
What better way to stay in the island paradise of Koh Samui than to indulge in a sumptuous, open-plan villa offering stunning panoramic views of the Gulf of Siam? Perched on a hillside surrounded by lush tropical plants, Villa Bella has to be one of the most stunning homes in Thailand. Located near to Wat Plai Laem, Koh Samui's famed temple complex, as well as Choeng Mon beach, the villa sleeps six and boasts an infinity pool, an outdoor soaking tub and shower, a yoga area, a personal chef, and a beautiful wood and glass interior. The villa also offers guests the opportunity to receive in-villa Thai cooking classes, massages, and yoga. It's pretty incredible how much the villa has to offer all whilst being designed to maximise its sustainability.
Check rates & availability at Villa Bella
2. Soneva Kiri- Koh Kood
Located a short private plane and jet-boat ride away from Bangkok, Soneva Kiri is a resort comprised of pool villas either backing onto rainforest or on the beachfront. Soneva Kiri is located on Koh Kood, which is Thailand's least populated island and is host to an incredibly diverse ecosystem, making for wonderful snorkelling, diving, and adventuring. Soneva Kiri is part of the Soneva Resort chain, which is renowned for working with the environment to create the most sustainable luxury accommodation possible. This means that Soneva have been carbon neutral (carbon emissions are offset by positive actions) for six years, and improve the sustainability of each resort by constructing the resorts using sustainable materials, supplying fresh produce from their own vegetable gardens, and taking an active role in preserving the ecosystems of the surrounding areas. They supply all their rooms with sustainably sourced bedding, furniture, and decor. The experience is as close to nature as you will find in a luxury resort.
Check rates & availability at Soneva Kiri
3. Zeavola- Koh Phi Phi
Zeavola luxury resort is situated on the gorgeous Phi Phi Island, and consists of teakwood suites nestled amidst a lush tropical rainforest. One of Zeavola's proudest claims is their self-sufficient lifestyle, recognised with the World's Best Sustainable Boutique Hotel Award. The villas are luxuriously furnished and decorated with earthy tones, and have been planned into a village style setting to protect the mature trees in their midst. These villas are connected by white sand pathways, which one can amble along barefoot, adding to the sensation of immersing oneself in nature. Behind the scenes of these more aesthetic features, Zeavola has engaged in an energy conservation system, water is sourced from local wells and rainwater collection systems and waste water is treated before being used to water the jungle garden, natural waste is composted, and the resort is engaged in beach and coral cleaning programs. To top it all off, Zeavola is engaged in money rescue and resettlement and first aid and survival assistance for birds. This is one cool resort!
Check rates & availability at Zeavola
4. Tongsai Bay- Koh Samui
Tongsai Bay was the first five-star luxury hotel on Koh Samui. The founder first built the hotel with an aim to construct it without cutting down a single tree so that the suites blend harmoniously with the natural environment. Tongsai Bay is situated in a private bay, and the 28 acres of natural verdure surrounding the hotel add to its overall tranquillity. With an active involvement in nature conservation, animal and plant protection, waste management, energy reduction, and minimising chemical usage, it's no surprise that Tongsai Bay has an impressive number of accolades recognising its commitment to the environment.
Check rates & availability at Tongsai Bay
5. Keemala- Phuket
Keemala pool villa resort is nothing short of paradise tucked away as it is on a hill amidst the Kamala rainforest, with a view overlooking the azure Andaman Ocean. The four different styles of villas reflect the philosophies of the four mythical clans who first landed on Phuket Island. The Clay Pool Cottages are situated on ground level, adorned in warm russet colours and tribal patterns offering views of the rainforest, it's the perfect option for those who prefer to stay grounded. The Tent Pool Villas consist of elegant, tent-like structures that put glamping to shame. The Bird's Nest Pool Villas are for the more indulgently inclined, being raised off the ground and sporting a woven bird's nest exterior, spacious interior, and stunning views. And finally, my personal favourite, the Tree Pool Houses, which are seemingly elevated from the ground and feature hanging furniture and cocoon-like beds. Because really, who doesn't love the idea of living suspended up in the air? At the same time as having such creative designs, Keemala engages in many practices to lessen its carbon footprint, including water management, supplying much of its fresh produce, and the design of the resort itself has been arranged so as to protect the existing ecosystem and minimise need for synthetic lighting or excessive use of natural materials.
Check rates & availability at Keemala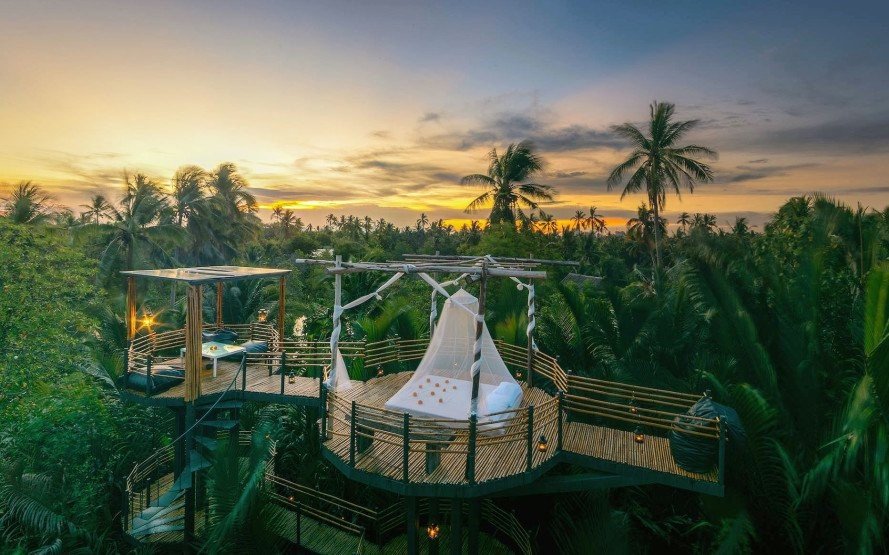 6. Bangkok Tree House- Bangkok
If you're planning a visit to Bangkok on your journey to Thailand (and let's be honest, you most likely are) but are feeling trepidatious about hanging out in a bustling city for too long, try hanging out in a treehouse instead. It seems crazy that somewhere so relaxing and in tune with nature can be so close to such a hub of activity, but it's the perfect getaway for those who are looking for a rather whimsical break. The Bangkok Tree House offers avant-garde forms of accommodation, which vary from "nests" which are designed after insect hives and are raised up in the sky with open rooftops, to the even less mainstream "river nest", which consists entirely of a bed floating on the river. The hoteliers have also done well in creating a green environment. The nests are built of of bamboo and upcycled articles such as discarded juice cartons, plastic drums and reclaimed wood. The hotel also grows its own vegetables, composts its natural waste, powers its restaurant and outdoor lights with solar and wind energy, and remove one kilo of rubbish from the river for every booking.
Check rates & availability at Bangkok Tree House
7. 137 Pillars House- Chiang Mai
137 Pillars House is a glamorous hotel refurbished out of a turn of the 20th century manor. It is comprised of a graceful fusion of historic Thai architecture and stylish modern design. This is evidenced in its suites, which include elegant touches such as teakwood floors, mammoth four-poster beds, sunken marble or claw bathtubs, and at the same time provide a comprehensive supply of modern facilities. If you're visiting, be sure to take a dip in the renowned 25-metre lap pool bordered by a highly photogenic overgrown-vine covered wall. The coolest thing about 137 Pillars House however is their active participation in protecting the environment. This includes partnering with WarmHeart Environment to create charcoal from organic waste, as well as maintaining a non-toxic mosquito control program, using eco-friendly lighting, and sourcing seasonal local food.
Check rates & availability at 137 Pillars House
8. Rabeang Pasak Treehouse Resort- Chiang Mai
If the introvert in you is seeking somewhere a little more humble and off the beaten path, Rabeang Pasak Treehouse Resort provides an enchanting solution. I know I've already provided a couple of treehouse options, but really, does one ever get sick of the sense of nostalgia awoken by treehouses? The resort consists of only eight suites poised amidst the branches of a secluded teakwood forest. The surroundings are quiet enough to hear the gentle sounds of birdsong and flowing water. The simple facilities have a low environmental impact, and the treehouses have been designed to minimally impact the surrounding environment. It is apparent looking after nature comes naturally to this family-owned resort.
Check rates & availability at Rabeang Pasak Treehouse Resort
Have you stayed in any amazing eco-friendly accommodation on your travels? I'd love to hear about it in the comments below!
For more Southeast Asia travel, read these next:
Enjoyed this guide to eco-friendly places to stay in Thailand? Pin it for later!