Choosing an airport outfit that looks stylish and comfy enough to wear on a long-haul flight is no easy task. Follow this guide to help you determine exactly what to wear travelling for your next overseas trip!
Whenever I spot a woman at the airport dressed to the nines, I don't know whether to envy her glamorous ways or feel a little sorry for her.
While my favourite sneakers and country road bag may not be as aesthetic as a pair of Louboutin heels and a Louis Vuitton carry-on, I can't imagine having a particularly fun time shuffling through the terminal or sitting on a long-haul flight in such stylish airport attire.
When it comes to travel outfits, I feel that there is a happy medium between the 'i-just-got-out-of-bed' and the 'i-just-stepped-off-the-runway' look. I'm talking travel outfits that are simultaneously casual and effortless chic.
Clothes that will be comfy in the confines of your plane seat yet still look good once you step off the plane and into the airport. Without further ado, here are my top suggestions on what to wear on a long-haul flight and look stylish…
READ NEXT: Minimalist Packing List for Females
The ultimate travel outfit: what to wear on a long-haul flight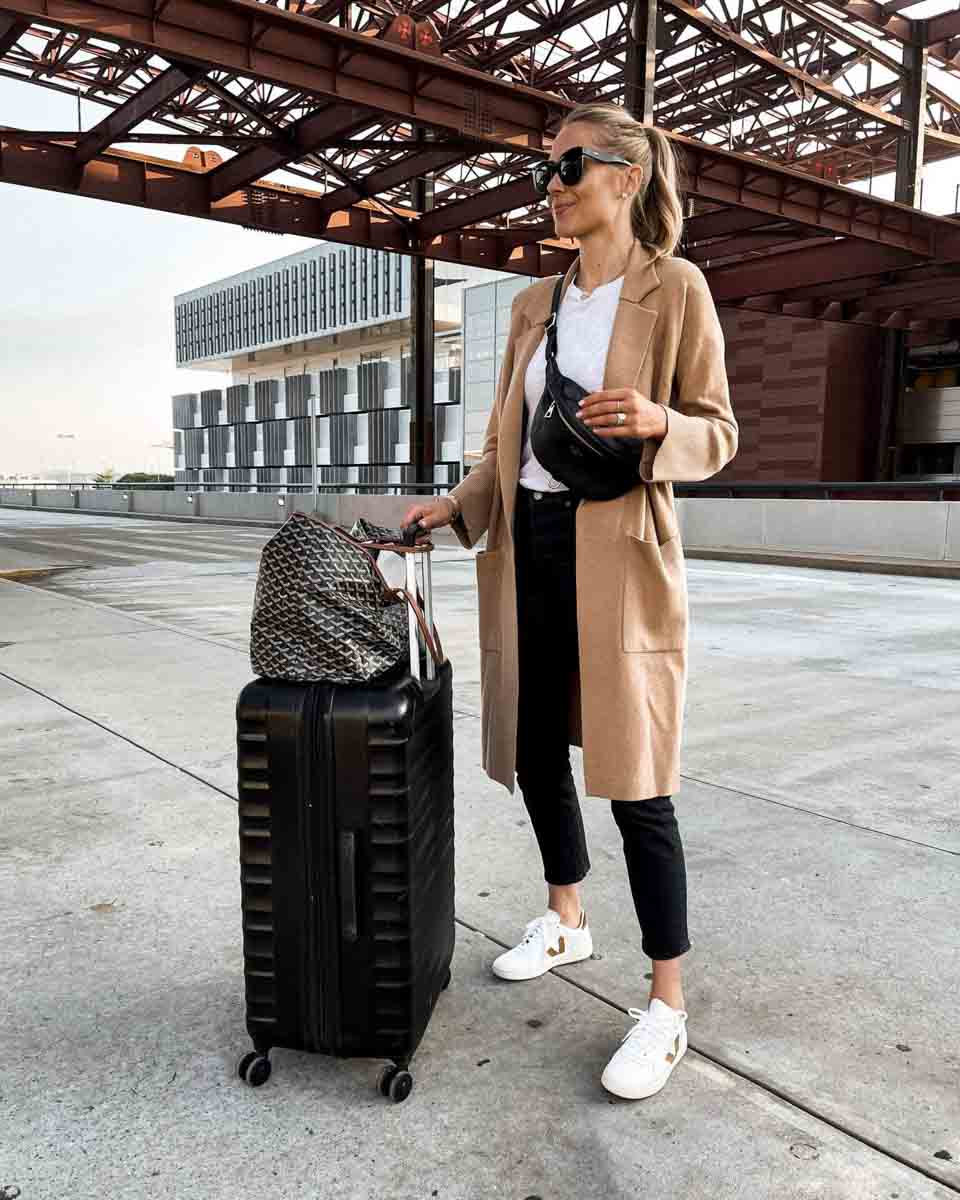 Best shoes to wear on a flight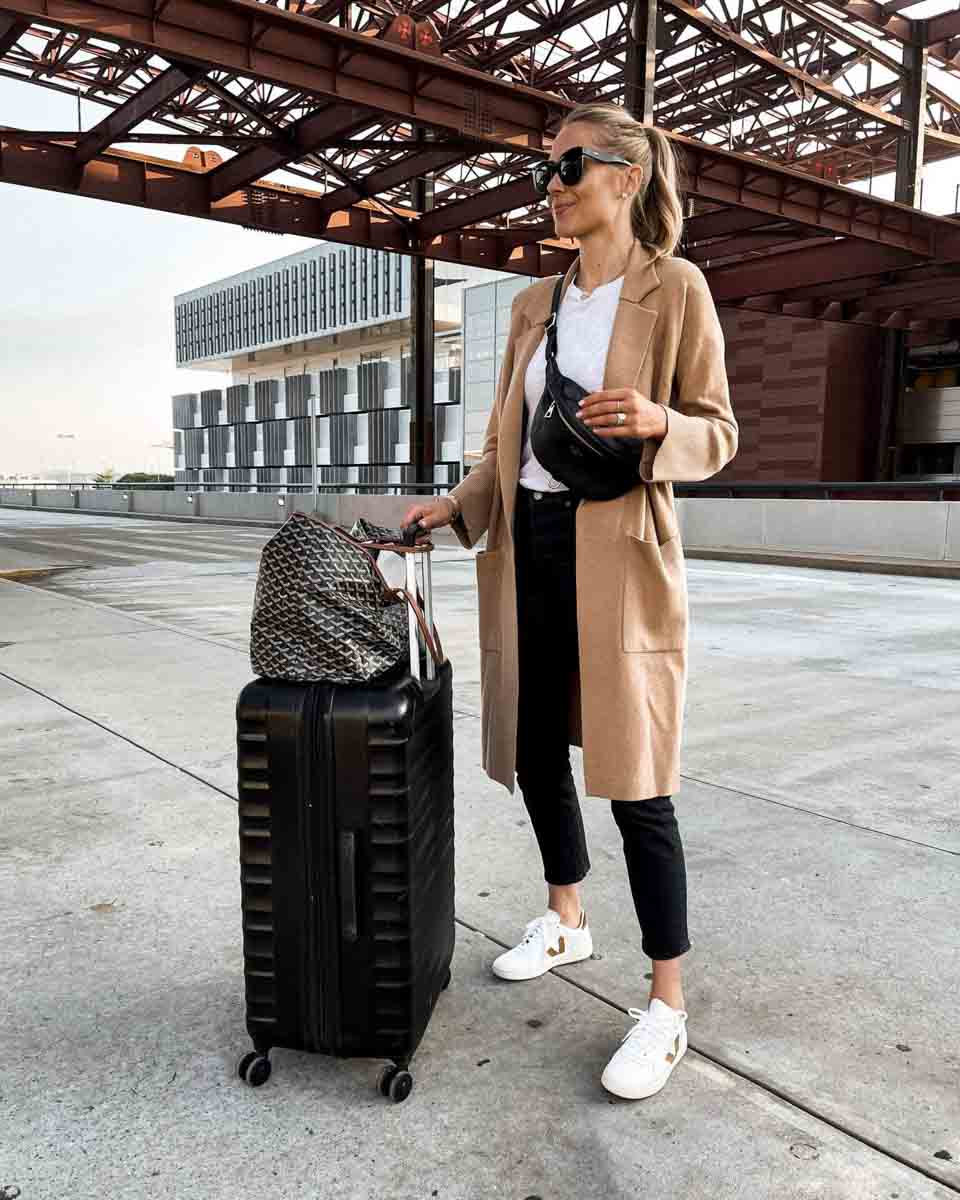 If you are wondering what shoes to wear on a long-haul flight, my number one recommendation would be plain white sneakers. Sneakers are super comfortable, look stylish, and go with basically everything. They are also easy to slip on and off during a flight.
If you are looking for a sneaker recommendation, I personally adore these Veja Esplar Sneakers. Not only are these comfy and high-quality sneakers, they are also made ethically and sustainably.
READ NEXT: 10 Ethical/Sustainable Clothing Brands that You NEED on Your Radar
SHOP THE LOOK:

Loungewear outfits for the plane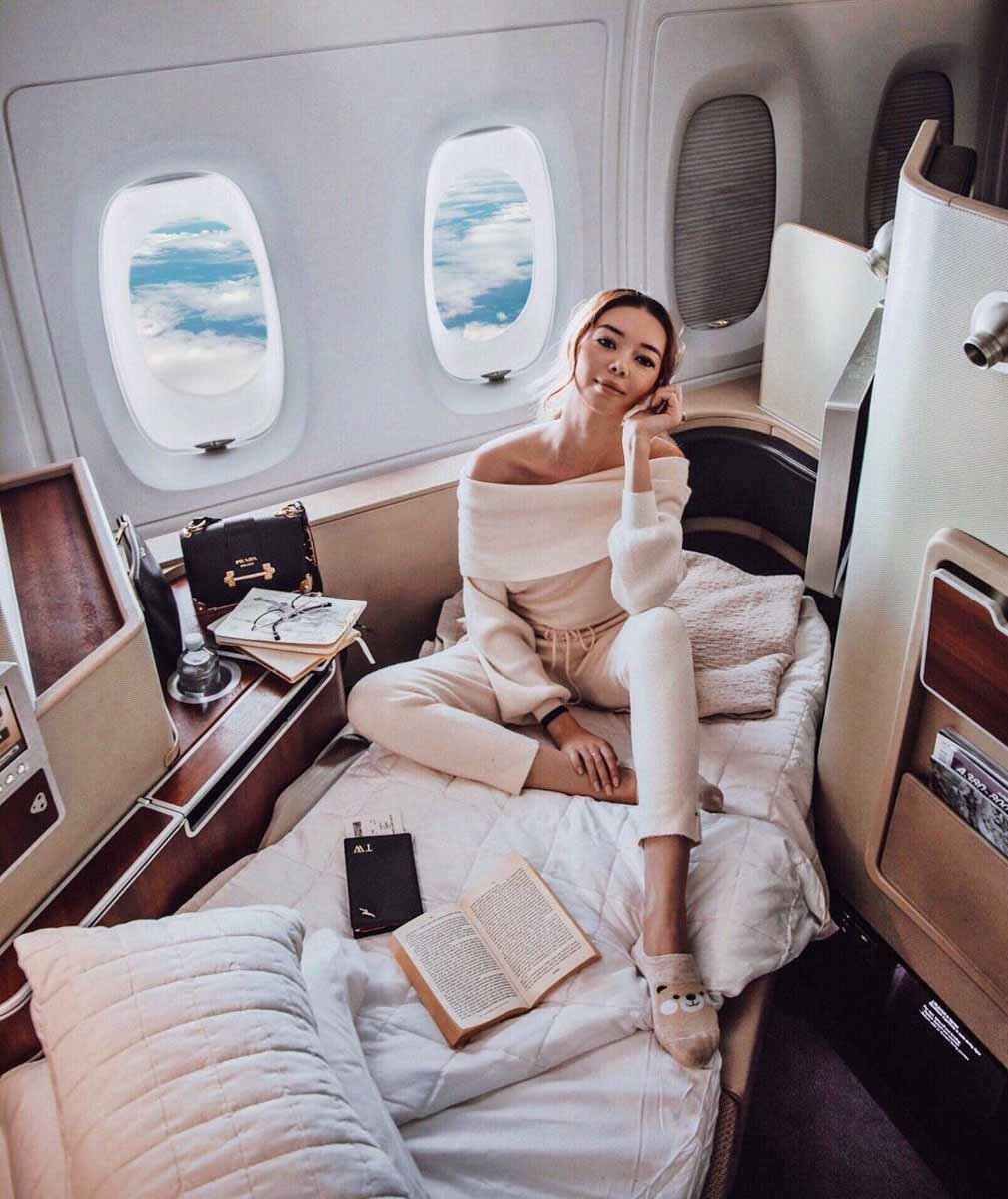 For the ultimate long-haul comfort, pack a set of loungewear to change into on the plane. Having something to change into for sleeping will greatly add to the comfort of your flight, particularly if you are flying business or first class!
For the ultimate luxury loungewear, I'd recommend investing in cashmere. These cashmere track pants are the comfiest pants in the world, and you can get a cashmere cardigan to match! Both are made from 100% recycled cashmere and available in oatmeal or black.
SHOP THE LOOK:

Best socks to wear on a flight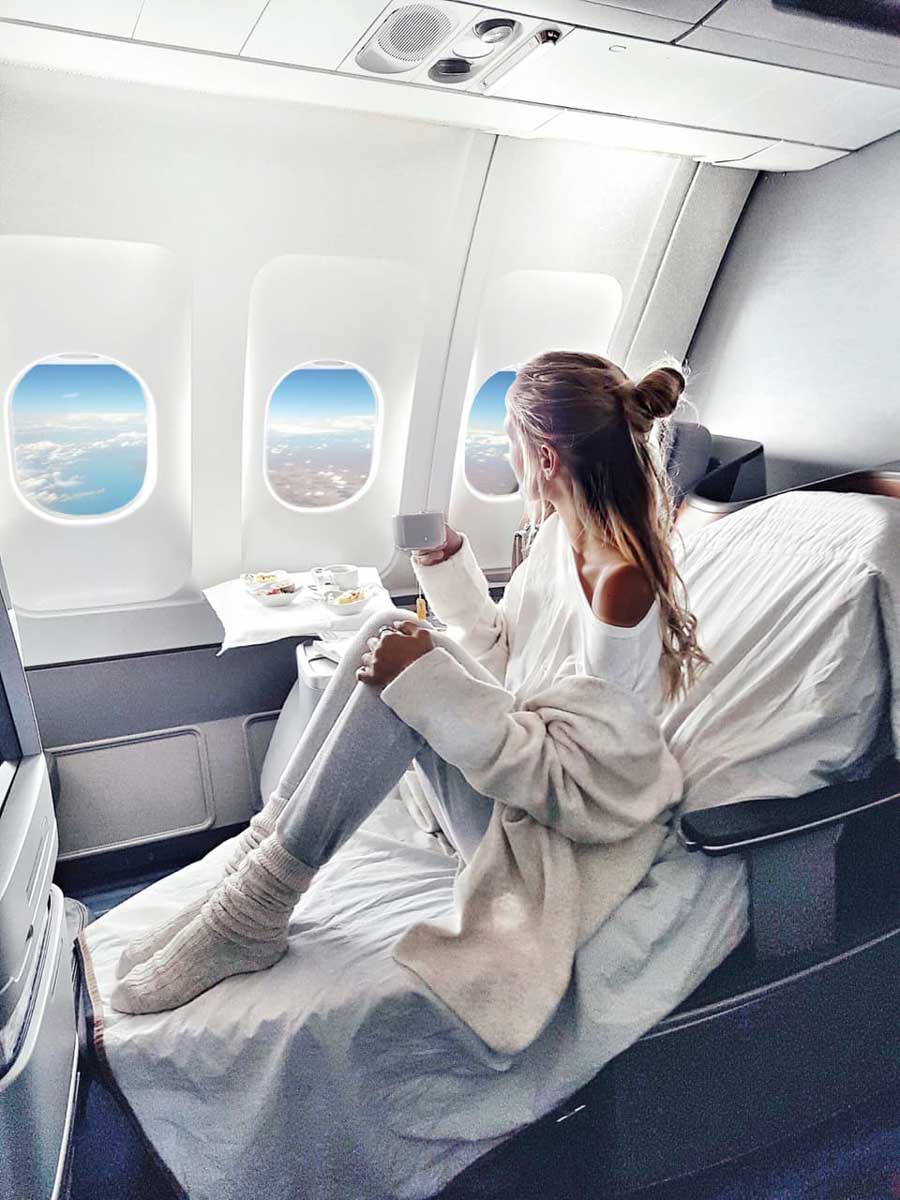 If you have legs and feet that are prone to swelling during or after a flight, you might want to consider investing in a pair of compression socks. These basically help to stimulate circulation around your calves and feet. The only problem is that most of these types of socks tend to be a bit of an eye-sore.
After some research, I did manage to find sheer compression socks which basically just look like stockings.  This means you can wear them underneath your travel attire and no one could even tell!
SHOP THE LOOK:

Best tops to wear on a flight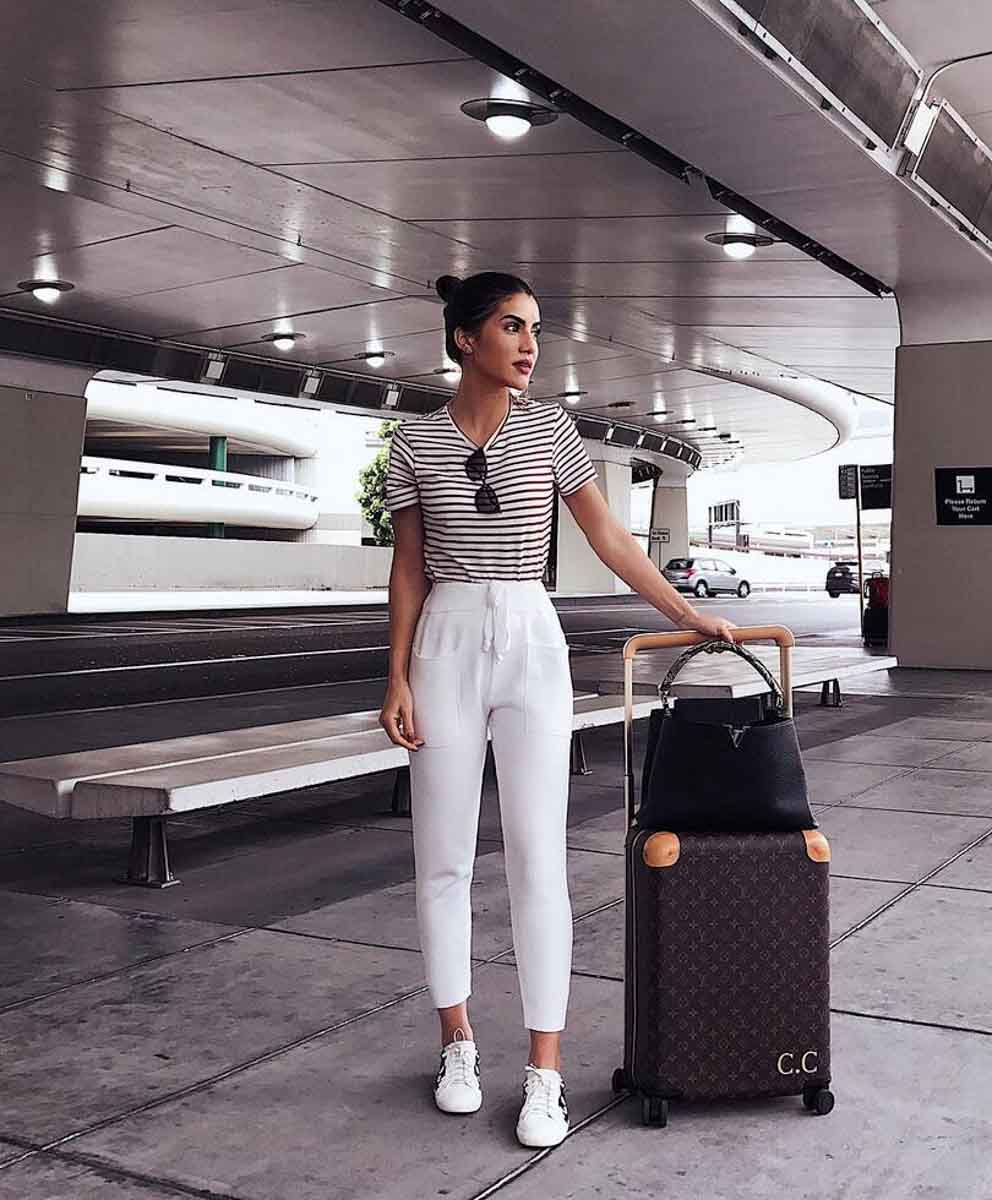 It's important to choose a top that works with your airport outfit and is comfortable for a long haul flight. If you are going for a more casual airport look, I would suggest a plain, high-quality t-shirt, like this 100% cotton tee from Free People.
If you want to wear something a little more dressy for your flight, you could try a lightweight linen button-up shirt like this one. Either of these can be paired with black leggings, or flowy linen pants.
SHOP THE LOOK:

Best pants to wear on a flight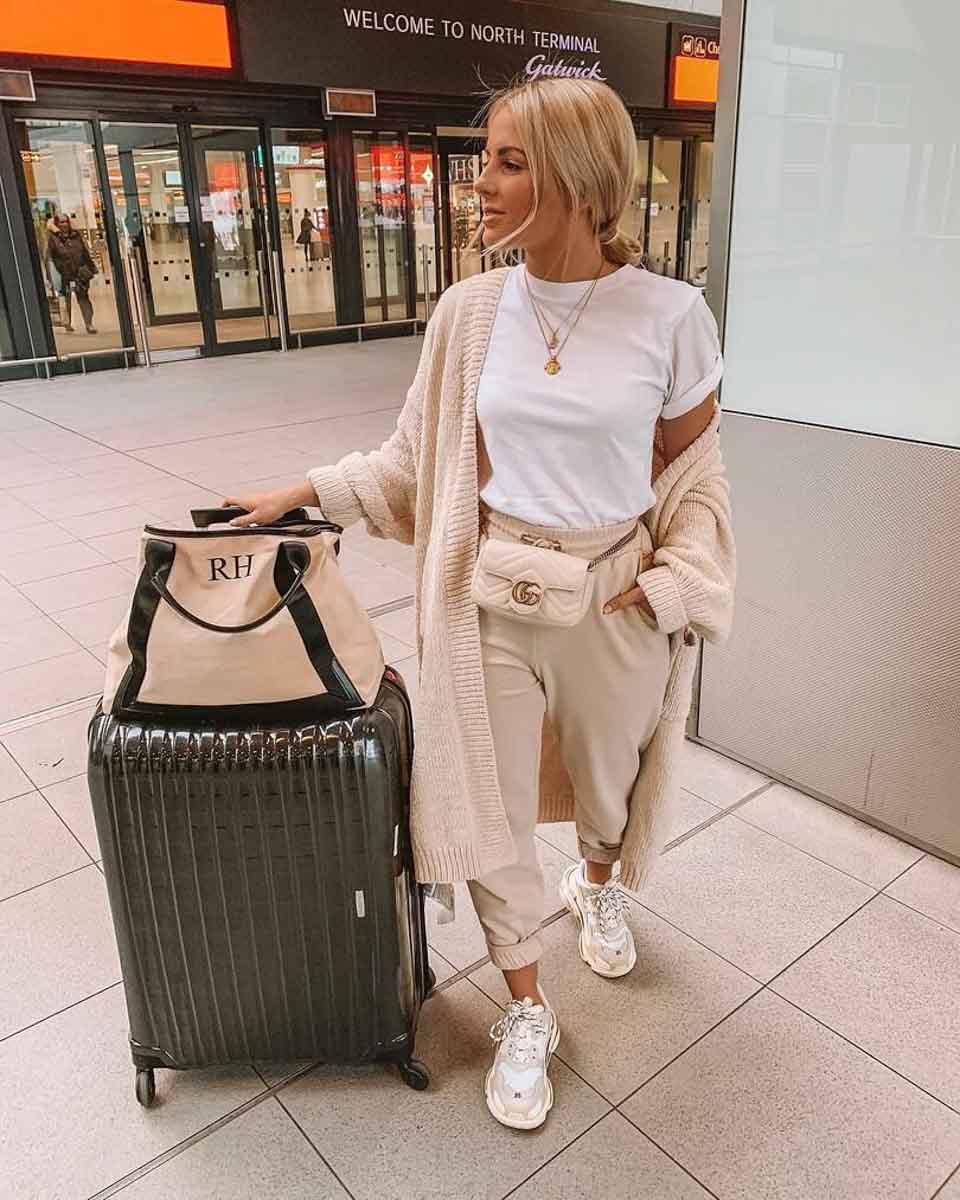 If you want to opt for the most comfortable thing to wear on a long-haul flight, track pants/ joggers are the most comfortable thing to wear on a long-haul flight.
Given athleisure is all the range at the moment, you can find many cute and comfy matching sets to rock on the plane. I'm a big fan of these neutral joggers. This light pink knit cardigan would complete the look!
Plain black leggings (like these super comfy ones) would be my next choice of what to wear on the plane. These feel a little sleeker than track pants but are still super comfortable. If you style them with the right top and plain white sneakers, you can make them look stylish.
SHOP THE LOOK:

Best jacket/ coat to wear on a flight
A jacket/ coat is an essential part of an outfit to wear on a plane for a few different reasons. Firstly, jackets and coats tend to be quite bulky, so wearing one on a long-haul flight can save you precious suitcase space.
Secondly, a coat can make a great extra blanket on the plane if you do tend to get cold. Thirdly, you can really dress up a casual plane outfit with a nice jacket or coat.
If you are travelling in winter, my suggestion would be a trench to throw over a neutral pair of pants and top, like this stunning beige trench coat. If you are traveling in summer, opt for a light cropped jacket like this one. You could even personalize a jacket with custom iron on patches.
SHOP THE LOOK:

Carry-on Essentials for a Long-Haul Flight
Now you can hopefully master the art of knowing what to wear on your next flight,  it's time to figure out what to pack in your carry-on! To help you, below I've listed all of the top items that I won't hop on a plane without:
1. Noise-Cancelling Headphones
These Bose Noise-Cancelling Headphones are the best investment I've ever made for traveling. They do a stellar job at clocking at all the white noise (and screaming babies) on an airplane, making plane trips a lot more enjoyable. Just make sure you buy an airplane adapter so you can plug them into the entertainment system.
2. Phone Power Bank
Power banks are an absolute life-saver when travelling, particularly when you're on a plane that doesn't have a USB charger. I'd suggest going for a 10000mAh version like this one so you can get as many phone charges as possible before having to recharge to the power bank.
3. Silk Eyemask
Essential for getting beauty sleep both on and off the flight. If you are sick of itchy, uncomfortable eye masks, this silk number is the softest, comfiest, prettiest one I've come across. It's a bit of an investment, but if it helps you sleep, it should be worth its weight in gold!
4. Melatonin Tablets
These tablets are an absolute game-changer for combating jetlag. Your body naturally produces melatonin, and these tablets simply help with the process by producing sleep-inducing signals. This is very useful when trying to sleep on a plane or when you are feeling jetlagged.
5. Neck Pillow
Travelling with a neck pillow is another carry-on essential for me. I've tried many different styles out and have found this neck pillow to be my favourite. It is filled with microbeads as opposed to memory foam, which I personally find a lot more comfortable.
6. Travel Bottle Set
Ideal for carrying all your liquids onboard, these little travel bottles are TSA and carry-on approved, leak-proof and BPA free.
SHOP CARRY-ON ESSENTIALS:

TRAVEL INSURANCE
Whenever I fly, I always make sure I am covered by travel insurance before I start my trip. Some of the most affordable travel insurance I have come across is by SafetyWing, who allows you to pick your start date, and automatically extends until you cancel unless you choose an end date. Worldwide travel medical coverage starts at $37 per 4 weeks.
Like this post? Pin it!