Get away from the bustling cities of HCMC and Hanoi and the more touristy Hoi An and Ha Long Bay! This slice of paradise might just be the best kept secret in Vietnam until now. Here's all you need to know about visiting Quy Nhon, Vietnam!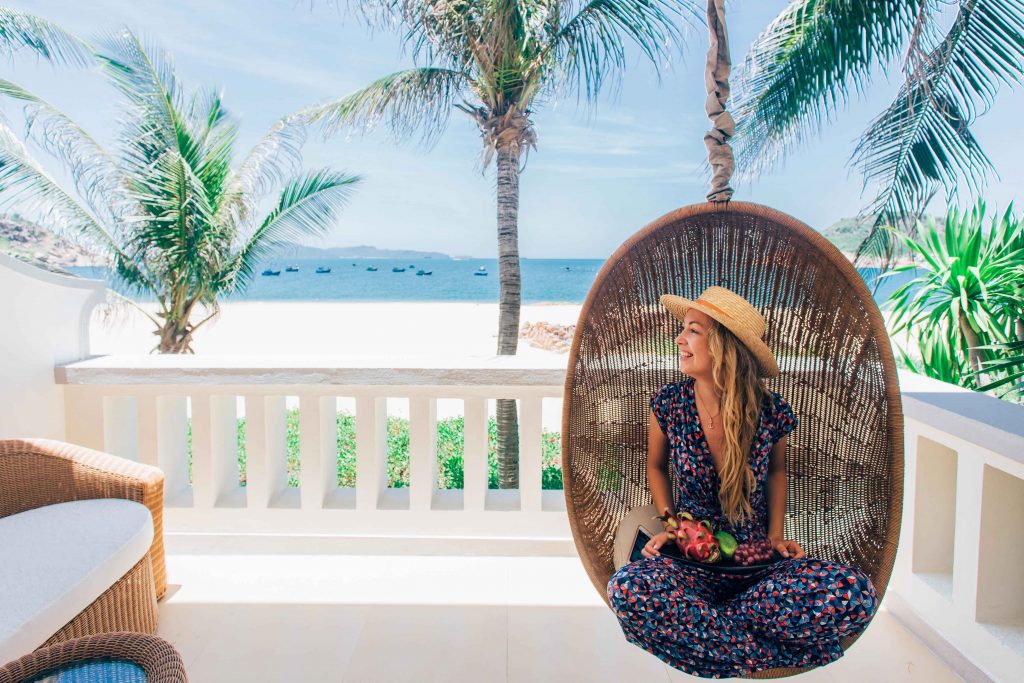 I always find it mildly amusing when people call travelling a "holiday". Anyone who has travelled (beyond a cruise ship or an all-inclusive resort) would know that travelling is as exhilarating as it is exhausting. I've spent the past few years gallivanting across the world.
However, I can't tell you the last time I've taken a proper relaxing holiday… You know, the kind of holiday where you don't feel like you need to do anything but lie by the pool with a book in one hand and a cocktail in the other.
After four months of non-stop travels, I welcomed the idea of staying at a beachside resort in Vietnam. In fact, I learned the true meaning of fully and completely relaxing at the AVANI Resort in Quy Nhon.
Four days of imbibing the view of sparkling blue water strewn with little fishing boats, morning yoga classes amid lush greenery, swims in the bluest of oceans, and massages to die for managed to iron every little stress away. This tranquil little haven could only be likened to a little piece of paradise- and a rather undiscovered one, at that.
Quy Nhon, Vietnam: A Hidden Gem
Quy Nhon is a coastal city in the Binh Dinh Province in central Vietnam. Unlike the touristy likes of Da Nang or Ha Long Bay, the region is still relatively unspoiled. Between its pristine beaches, lush mountains, picturesque islands, and exceptional seafood, it is a miracle that a place as beautiful as this hasn't been overtaken by throngs of tourists or massive chain resorts.
Although, with new development underway and talks of an international airport opening up, I have a feeling this gem of a place isn't going to stay undiscovered for long. All the more reason to experience the paradise of Quy Nhon sooner rather than later!
Checking in to the AVANI Resort Quy Nhon
I couldn't have asked for a better welcome to Quy Nhon. As soon as I stepped out of the car into the resort, four members of staff were waiting with big smiles, cold scented towels and iced lemongrass and ginger tea.
Our check-in was accompanied by a ten-minute neck and shoulder massage in armchair whilst we casually took in the breathtaking vista of sea and islands. This was just the beginning of the incredible service I received through my stay. The staff were amazing and did everything they could to make my time at the resort memorable.
The Location
Positioned on a pristine secluded beach, with views of the azure ocean filled with striking archipelagos in front and rolling green mountains behind, the AVANI Quy Nhon could not be in a more paradisiacal location. The only nearby civilization is a little fishing village. For those who crave the city lights, Quy Nhon city center is just a twenty-minute drive away.
The Rooms
AVANI Quy Nhon is made up of 63 rooms. Each room overlooks the resort's stunning private beach. The rooms are bright, spacious, and have been styled in a sleek contemporary-modern fashion.
Of course, the highlight of each room is the view out of the sliding glass doors… The frame of palm trees, white sand and azure water could quite literally be mistaken for a painting. Move into the open-planned bathroom and a beautiful, arched full-length window next to the shower creates a similar illusion. (Don't worry, strategic palm trees have been planted in front of the glass so you don't have to worry about anyone peeking in!)
The Facilities
With a generous selection of facilities and activities, this resort is the kind of place you could spend days at without getting bored. For those who want to relax, there is the AVANI Day Spa. It offers a range of treatments alongside daily yoga, meditation, and Tai Chi classes on the veranda.
Those that are more active will enjoy swimming in either the pool or ocean, kayaking, and exercising in a gym that overlooks the ocean. For those who want to try something different, AVANI even offers activities like cooking classes and martial arts workshops.
The Spa
The AVANI Day Spa was certainly one of the biggest highlights of the resort. Standing high above, the spa sits in a stunning traditional Vietnamese-style wooden structure nestled amongst the trees.
On my first day, I enjoyed a 60-minute massage, and I couldn't have picked a better way to commence my stay. Upon arrival, the staff handed over a glass of cleansing rosella tea. They then asked me to fill in a lifestyle survey in order to customize my massage experience.
After a detoxifying herbal steam bath, I was led into one of the treatment room inside an open pavilion, looking out onto tree-tops with peeps of the sea beyond. The setting couldn't be more perfect. After 60 minutes, all the stresses of travel had washed away, and I was already booking in for another massage the next day.
The Activities
Although it was tempting to spend my time doing nothing but lounging around the resort, I still wanted to get outside to see more of Quy Nhon and its surroundings. The resort helped organize a variety of activities for me so I could get a taste of the local culture. This included a trip in a traditional fishing boat around some of the stunning surrounding islands, a night-time tour of Quy Nhon city, and a visit to the local markets.
The highlight of my time was going on a motorbike tour with a local guide. We toured around the city — eating local food, visiting a history museum, and seeing a few towers that date back to the Shang Dynasty. Also on our itinerary, we visited my tour guide's grandmother's home in the countryside. This was the most memorable part of the day for me. Here, I got a taste of local village life. I was welcomed inside a villager's home and even sampled some homemade rice wine.
The Food
Onsite at the resort was a cliff-side restaurant, which served breakfast, lunch, and dinner. It was rather lovely waking up every day to an expansive buffet breakfast, which I ate overlooking the glistening ocean.
The lunch/ dinner menu at the resort catered for Asian and Western taste, and included a LOT of locally-sourced seafood(which makes sense given that Quy Nhon is known for its seafood). The food on offer was all very good, however, as a vegetarian, I did find the menu options rather limited.
During my time in Quy Nhon, I also visited a few local restaurants to sample authentic Vietnamese cuisine.
One morning, a local took me to try a traditional breakfast of Banh Canh Cha Ca, which is a soup filled with rice-noodles, vegetables, beansprouts and fishcakes, followed by a Vietnamese iced coffee, which I fell in love with. I don't normally like sweet coffee, but somehow the combination of ice, strong coffee and condensed milk was simply addictive. I also visited a local restaurant called Gia Vy 2, famous for its Banh Xeo, which is a type of Vietnamese pancake filled with prawns and fresh vegetables, wrapped up in rice paper.
Here is a little photo diary from my time in Quy Nhon:
Flying into Quy Nhon
Sunrise from my balcony
Riding in a traditional fishing boat
Exploring the nearby islands
Motorbike tour through a local village
Meeting the village locals
Trying home-made rice wine
Walking through 1,000-year-old towers
Eating Bahn Xeo (Vietnamese Pancake)
Wandering around the local markets

Exploring the nearby beach
Watching the moon rise during a candle-lit dinner at the resort
Sunrise at the resort
Watch My Quy Nhon Travel Vlog Below!
If you are traveling Vietnam and want to get off the typical tourist trail, or you are looking for an affordable luxury getaway, I would highly recommend visiting Quy Nhon- and do it BEFORE too many people find out about this hidden slice of paradise!
Prices at AVANI Resort start at just $126USD a night for a Deluxe Studio Room & Breakfast.
Click here to book now or here to compare booking site prices.
My General Travel & Photo Tips:
Travel Insurance
I highly recommend getting travel insurance before ANY international trip. World Nomad's offer the most flexible worldwide cover that I have come across, and you can purchase a policy online, even if your trip has already commenced. If their prices are too high for you, you can also check out SafetyWings, though SW doesn't cover tech.
Booking Flights
To book flights, I always use flight search engine, Skyscanner. I find it the easiest way to compare flight prices across airlines and get the best deals. Skyscanner also have a free App (available on iOS or Android) which is great for booking flights on the go.
Photography Gear
Here is a list of the photography gear that I always travel with:
Photo Editing
I use Lightroom and Photoshop to edit all my photos. Both these programs are included in the Adobe Creative Cloud subscription (which you can get a free 30-day of here).
For more South East Asian adventures, read these next:
This post was sponsored by AVANI, however, all opinions are (as always) my own!
Enjoyed this guide to Quy Nhon Vietnam? Pin it for later!